Greetings and salutations everyone and welcome to another blog here on BlueCollarBlueShirts.com.
On Sunday afternoon, with a rare 12:30PM start time, the New York Rangers hosted the depleted Anaheim Ducks. Before the first period was even complete, the Rangers were easily cruising to victory. In fact, this was probably the Rangers most dominating win of the season. That said, you must also consider the opposition, which I'll get into as I move along here.
Prior to today's game with the Ducks, I talked about the situation with Lias Andersson. You can find that blog, and my most recent blogs, below:
---
---
---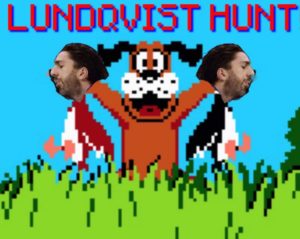 ---
---
---

Real quick, to give you an update on the Lias Andersson story, the Rangers have officially suspended Andersson for leaving the Hartford Wolfpack. The Rangers won't be able to trade him until after the Christmas break, so for right now, this story is now on hold for the time being.
If you read my last two blogs or my stuff on social media, I was very confident about the Rangers handling business against the Ducks today. As mentioned, the west coast Ducks played less than 24 hours prior to this game, played a 65 minute hard-fought game and were going to be using their back-up goalie, in Ryan Miller. If that wasn't enough, before the game, the Ducks tweeted this out: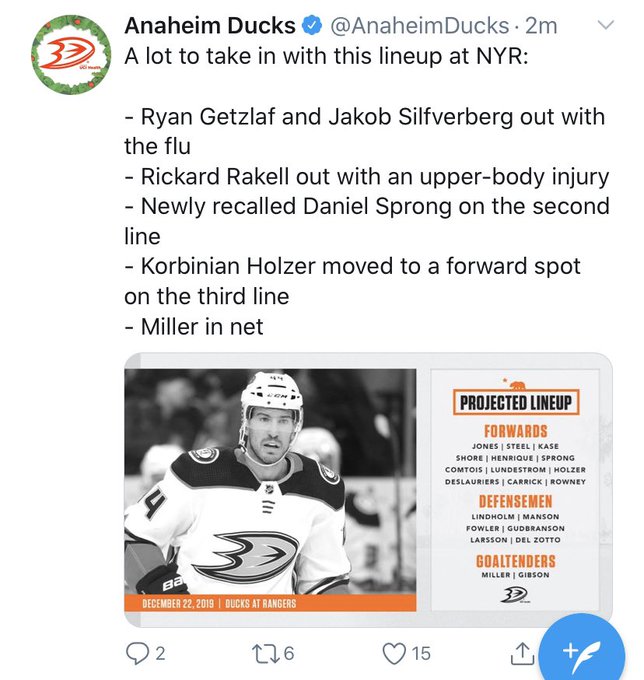 With everything that was against the Ducks entering this game, it just got worse, as the Ducks were missing arguably three of their best players, in Getzlaf, Rakell & Silfverberg. The Ducks not only came into this game spent, they came into this game with a decimated roster.
As I said a few times before puck drop and on last night's blog, if the Rangers lost this game, they could forget about the playoffs. If the Rangers lost this game, they then should've packed in this season. However, the Rangers did not lose this game. They crushed the Ducks like Drago fighting Creed.
Normally, in the rare few times that the Rangers blow someone away, I'm all excited and rah-rah. In the case of this game, I'm not, just because of the circumstances. My attitude about this win is "act like you've done it before." I'm not trying to rain on anyone's parade here, but I don't think you can get a true assessment of the Rangers after this one. They did what they were supposed to do.
If there is anything to gripe and/or be concerned about, it is the fact that the Rangers were 0-5 on the power-play today. The Rangers are now without a power-play goal in their last 14 attempts. I think this will get swept under Sam Rosen's rug today, because all the M$G Networks could talk about is how Lundqvist got his first win in a month. Kind of sad, isn't it?
That said, to his credit, Lundqvist was somewhat subdued after this win and called it like it was – the Ducks stunk, were tired, and were a mess. I'll get more into him later on, but I wanted to mention that even he, despite needing a win desperately, knew exactly what this game was. In the post-game, even as Dave Maloney was pushing Lundqvist to celebrate, Lundqvist talked about how bad his opponent was today & all the stuff the Ducks are currently going through.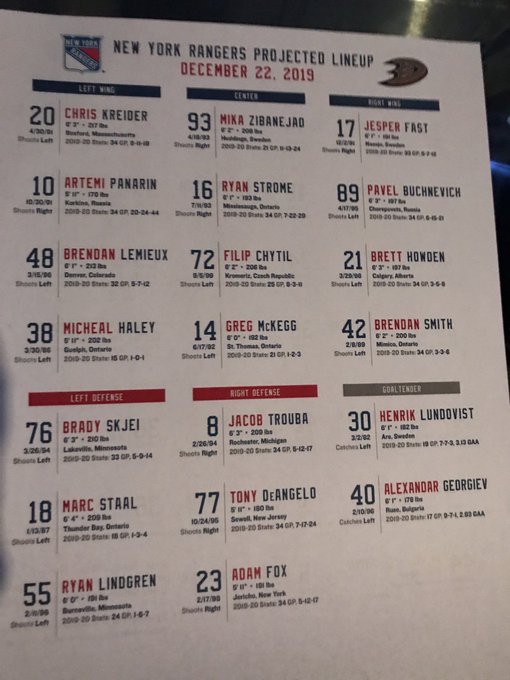 On the Rangers end of things, as mentioned last night, Kaapo Kakko wasn't skating for the Rangers today. He is still hurt after blocking a shot against Toronto on Friday. There was no reason to force Kakko to play today. After all, he should have plenty of games in his future. There's no reason for him to play if he's not 100%. Furthermore, with the line-up the Ducks had today, Kakko wasn't really needed. If this was a game in late March/early April and with the playoffs on the line, it's a different story. This game wasn't that though.
GAMBLING SEGMENT TIME. This is what I said before the game:
Season over-under record: 17-17

A line of -5.5 today! It's a gift from the gambling gods!!! Merry Xmas! BET THE OVER!

Two back up goalies going today and Rangers should be angry. #nyr #PlayLikeANewYorker pic.twitter.com/0KGfTTHYW4

— BlueCollarBlueShirts (@NYCTheMiC) December 22, 2019
I'm now back over the .500 mark, as my record now improves to 18-17. It's funny, the Rangers could've hit the over by themselves in the first period. This blowout could've actually been much worse today. However, the Rangers power-play failed them and Miller made some big saves. However, in the end, the over hit.
And isn't it amazing Suzyn, that despite a season of -6.5 over/under lines, that this line was down by a full goal, yet the over hit by the bare minimum of six total goals scored? I'll get into this as I get into the period-by-period review, but it just seemed that once the Rangers knew they had this in the bag, they kind of sleepwalked through the rest of the remaining two stanzas.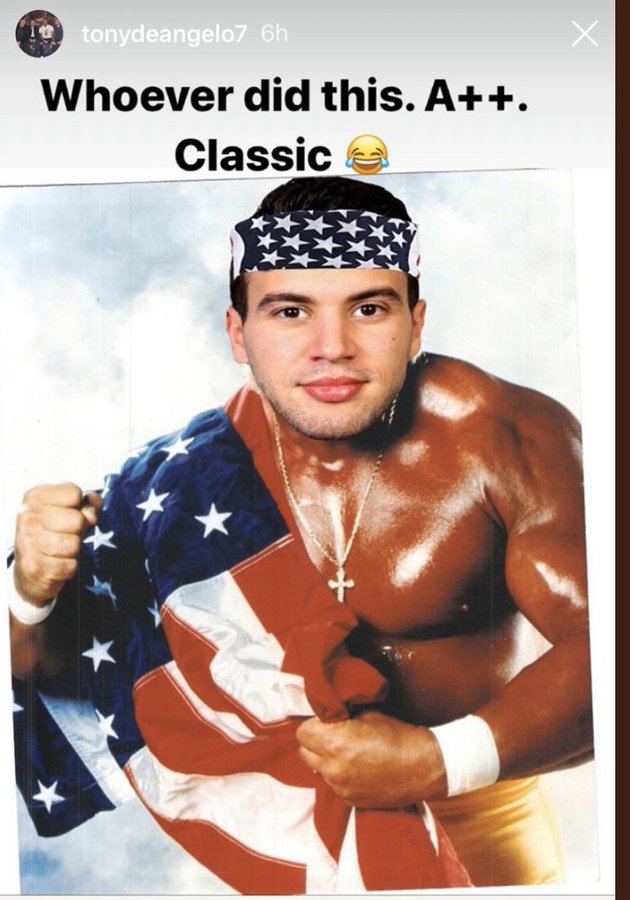 I don't have the instantgram, but I was forwarded the above image from several people today. Seems like Tony DeAngelo likes my bad photoshops!
If Tony DeAngelo wants to show some gratitude, all I ask for is this – a signed Make America Great Again hat! I just want that hat to troll people with! After all, I'm not one of these greasy overgrown man-child's, that barrel over little kids at the arena, with their "PLEASE GIVE ME A STICK, I AM A DESPERATE LOSER" or "I FLEW 3000 MILES TO SNIFF KAKKO'S UNDERWEAR" signs. No, I'm just some ball-breaker who wants a Trump hat signed by the best Rangers offensive-defenseman, since the days of Brian Leetch!
And wow, this might be the shortest intro I've ever done. It's just so hard to really go nuts about this game today. In all honesty, once the first period was over, I was already thinking about Philadelphia, Kevin Hayes and Alain Vigneault.
At this time, let's go to the official box score, courtesy of ESPN.com:
SCORING SUMMARY: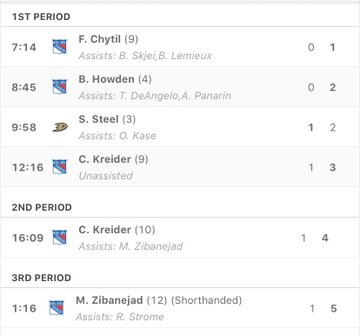 PENALTIES: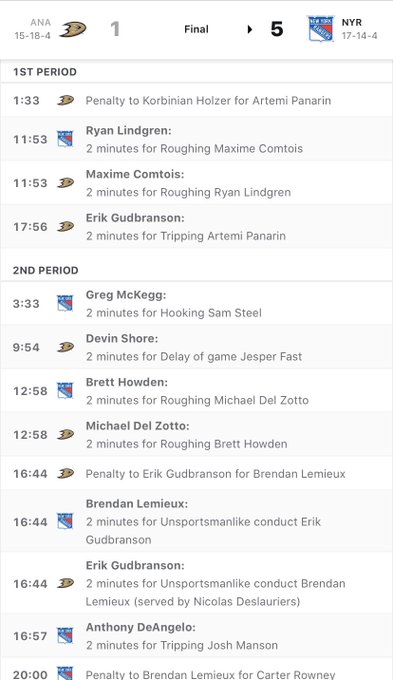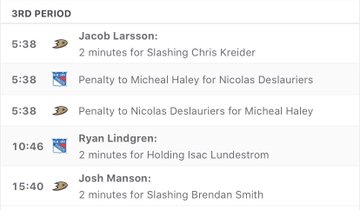 TEAM STATS: (I'm including this today, just because I want to show you how dominating this game was. Look at the shots on goal. Also, take note of the penalty minutes. 60 minutes of penalties assessed. Another horrendous game officiated by that pile of shit, in a one Jean Hebert.)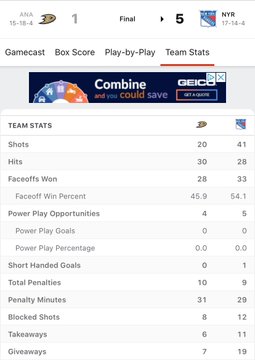 GOALIES:
| | | | | | | | | | | |
| --- | --- | --- | --- | --- | --- | --- | --- | --- | --- | --- |
| SA | GA | SV | SV% | ESSV | PPSV | SHSV | SOSA | SOS | TOI | PIM |
| 20 | 1 | 19 | .950 | 16 | 1 | 2 | 0 | 0 | 59:32 | 0 |
| | | | | | | | | | | |
| --- | --- | --- | --- | --- | --- | --- | --- | --- | --- | --- |
| SA | GA | SV | SV% | ESSV | PPSV | SHSV | SOSA | SOS | TOI | PIM |
| 41 | 5 | 36 | .878 | 25 | 3 | 8 | 0 | 0 | 60:00 | 0 |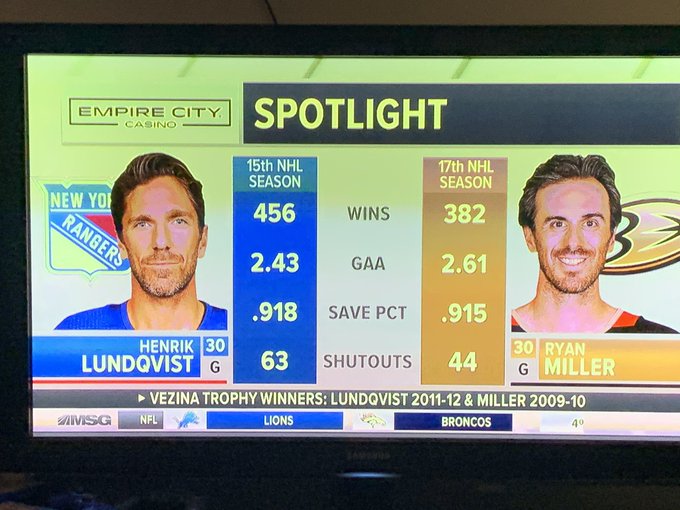 As usual, let's talk about the M$G Networks & their cracked crew. Actually, let me start off with this:
Holy crap, someone has 3 Vally jerseys! To each their own I suppose! #nyr https://t.co/Ge8olG9EQd

— BlueCollarBlueShirts (@NYCTheMiC) December 22, 2019
Listen, you're talking to a guy who has jerseys that you rarely see around M$G, unless I'm wearing them. In my jersey collection, I have jerseys of players like Frank Boucher, Anthony Duclair, Petr Nedved, Cam Talbot, Vinni Lettieri, Tony DeAngelo & Theo Fleury.  So when I say this, it means something – unless you're related to Steve Valiquette, Steve Valiquette donated a kidney to you or Steve Valiquette pulled your kid out of a burning house, WHO IN THEIR RIGHT FATHER FINKIN' MIND BUYS THREE FATHER FINKIN' STEVE VALIQUETTE JERSEYS!?!?!?!?!
Speaking of Valiquette, he was in full Lundqvist News Network mode today. To Vally's credit, his lips never get chapped. I guess his lips have built a tolerance from kissing Lundqvist's ass 24/7. After predicting Georgiev would give up five goals the game prior and after campaigning for Georgiev to be traded after every game this season, Vally said that Lundqvist would play great today. After the win, a game where the Rangers just owned the Ducks, Vally spent about 10 minutes talking about Lundqvist and how things weren't fair for him at times. In related news, Vally has the best drugs on the planet.
In today's game, you could've started the goalie from my high school hockey days. I talked about my horrible hockey career in the past. We would lose games by scores of 18-1, 19-2 and 20-0 routinely. That said, ROCCO, the goalie from my team in the 1990's, could've had a shutout today. Shit, even reader Al Demauro would've had a no-no today!
All I'm saying is this – this was the easiest game of the season for the Rangers. Even Lundqvist admitted that himself. Instead, Vally was pretending that Lundqvist just won Game 7 of the Stanley Cup. No mention of this being Lundqvist's first win in a month, but hey, that doesn't fit Vally's narrative.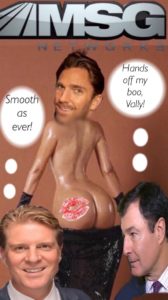 When it comes to Sam & Joe today, these two were more honest about things and talked about the Ducks struggles. As I've been saying for the last month, I think Micheletti has actually gotten better at his job. If there is one thing that drives me up a wall with him now, it's whenever you have off-setting penalties, where you don't know exactly what happened. And really, you don't know what happened because these referees just make shit up as they go along. This happened twice in today's game.
During two different off-setting penalties, including penalties of the 10 minute misconduct variety, the public address announcer was reading off all the penalties and minutes. While this was happening, during both times today, Micheletti just yammered on like a jackass, as he kept pondering what the penalties were. If he would just shut the Father Fink up for two seconds, he would've heard what the penalties were from the public address announcer.
This isn't the first time with Micheletti either. This happens ALL THE TIME. You will have a player from each side going to the box and sometimes a misconduct will be called too. Instead of letting the broadcast breathe, so we can hear what's being called, Micheletti goes into one of these "I don't know what happened Sam. I think that's a penalty for hooking, maybe holding, I like ketchup on my eggs, is it normal to poop blood after a Taco Bell take, do you know what the weather is going to be tomorrow?" spiels. SHUT UP JOE!
Besides that, Micheletti was fine to me today! He even said what I said at the top of the game – "this should be a gimmie win for the New York Rangers."
I'll save my CZAR IGOR stuff for the end, but as you'll see as you read along, this was an easy game for the Rangers.
The Ducks started off this game by pulling a Rangers, as one Duck was all alone in front of Lundqvist and in shades of Pavel Buchnevich, the Duck decided not to shoot, forced a pass and turned over the puck.
Very early into this game, the very same Buchnevich would have two chances to score. He didn't.
Just 1:33 into the first period, Artemi Panarin drew Korbinian Holzer for a penalty. The Rangers PP would go to work, if that's what they call it.
Zibanejad would have the best chance during this PP, as he blasted a puck that almost squeezed through the right armpit of Miller. However, this horseshoes Rangers power-play lived up to their billing. Close, but no ringer. The Rangers were now 0-1 on the PP at this point.
I didn't worry about the Rangers not scoring here, but once again, the Rangers get an early PP and once again they fail to execute. Just another missed opportunity to put the other team on their heels. The Ducks even had as many shots on goal short-handed, as the Rangers had on this early power-play.
After this PP failure, both goalies looked "VINTAGE", as Miller was stopping everything, including a good attempt by Chytil and a Rangers two-on-one. Lundqvist would then stone Nicolas Deslauriers on a breakaway, a breakaway that was created after a Captain Happy turnover.
Despite Miller playing well to start, the Rangers were just dominating the puck. You could feel the floodgates about to open. In fact, by the time the period was over, the Rangers were out-shooting the Ducks by a 3:1 ratio, with a shots on goal tally of 18-6. For the record, this is the most amount of shots on goal the Rangers have recorded in a period this season.
The Rangers would pick up two quick goals in a period of 90 seconds. Check them out:
First it was Fil, then it was Brett 1:31 later 🚨 🚨 #NYR | @NYRangers pic.twitter.com/8vmNrn0gDf

— Rangers on MSG (@RangersMSGN) December 22, 2019
At the 7:14 mark, Filip "Lias Andersson Who?" Chytil picked up his 9th goal of the season, after beating Miller with a pretty backhand. 1-0 GOOD GUYS. I was happy for Chytil here. Not only were his parents and girlfriend in the building today, the guy has broke his hole to be here. He's not a whiny bitch like Lias Andersson. It's nice to see hard work pay off.
90 seconds later, Howden cleaned up after getting a puck off of DeAngelo's stick, making the score 2-0, GOOD GUYS. How about Tony DeAngelo picking up yet another point! MAKE ASSISTS GREAT AGAIN:
At this point in the game, and I know this sounds cocky and conceited to say this – I knew this game was over. There was just no effing way the Ducks were coming back, even with Henrik "Two Goal Lead Blown" Lundqvist in net.
Funny enough, right after making the score 2-0 Rangers, I tweeted out the following:
Lundswiss blew a two goal lead to this team last week. Sam and Joe don't mention that. #nyr #PlayLikeANewYorker

— BlueCollarBlueShirts (@NYCTheMiC) December 22, 2019
Do I even have to tell you what happened next? Sam Steel immediately scored. 2-1, good guys. You can say this was tough to stop and blah blah blah, but this always happens. It's predictable, as you can see from my tweet. Fortunately, because of the Rangers dominance, this would be the last Ducks goal of the game.
At the end of the day, this goal allowed really didn't matter, unless you wanted to see Lundqvist finally record his first shutout in 2+ years.
I will say this – at this stage in his career, I don't think Lundqvist could even shut out the pee-wee teams who play on M$G ice during intermission! Two plus years folks!
Right after this goal, the game slowed down for a bit, as the Rangers didn't want to see this two goal lead erased. Oh, and at this point in the game, with 8 minutes remaining in the first period, the Rangers were out-shooting the Ducks by a tally of 14-3.
A few minutes later, Ryan Lindgren and Maxime Comtois got into a minor scrap. Off-setting penalties here. Of note, just like last week, Sam was calling Comtois "CUMSQUASH" all game again.
During the four vs four play, with seven minutes and change remaining in the period, Chris Kreider scored his best looking goal of the season:
KREIDS!!!

"OH BABY WHAT A GOAL!" pic.twitter.com/oh2Im6s6By

— Rangers on MSG (@RangersMSGN) December 22, 2019
3-1, GOOD GUYS!
This goal was all Chris Kreider and stuff Ranger fans want to see consistently.
Kreider forced a turnover on Manson in the Rangers D zone, streaked up the ice, faked out Miller and deposited the puck into the back of the net, with a John McEnroe looking backhand.
This was pure perfection. I don't mean to sound like a dick here, but now do this against Philly tomorrow.
Right after this, the Rangers continued to apply pressure. Strome almost had an easy goal, but the puck short-hopped, as it approached him all alone and in front of Miller.
The Rangers would get another power-play, with 2:04 remaining in the first period, when Erik Gudbranson tripped Panarin. That's two penalties that Panarin drew today, for those keeping count.
On the Rangers power-play, they did oo-gatz. Panarin turned the puck over, choosing fancy passing over shooting. It's tough to kill Panarin, because he's head and shoulders above everyone else. He's just not fault-free either, when it comes to the Rangers PP failures.
Buchnevich would then emulate Panarin, as while all alone in front of Miller, Buchnevich decided to pass the puck to the blue line. The puck wound up going to Lundqvist and he tried to force the puck up the ice. No goal here. The PP was now 0-2.
At the end of one period, Rangers 3, Ducks 1.
The second period was a complete bore. Despite this being "Kids Day", there wasn't even a shriek, outside of Vally finger-blasting himself across the street, in the M$G Studios.
I get it. The Rangers have a two goal lead, so there was no reason to do anything crazy or loose here. However, this period was sleep-inducing. It was like ambien.
No joke, Morgue $quare Garden, despite the Rangers having a two goal lead here and the win pretty much in hand, sounded like the funeral of a small child, who was hit by a Mack Truck while holding his dog and baby sibling. It was like one of those old Western movies, with the hay just drifting aimlessly.
Now don't get it twisted – the Rangers weren't bad here or anything, but this was just boring. The crowd was completely dead. You could hear the urinals flushing. And it's sad too, because the Rangers were doing what they were supposed to do. However, these early Sunday games and with people not juiced up on booze like they'd normally be, you turn an arena that's usually quiet to begin with anyway, into an old man mid-day nap.
I've never said this once this season, even in games when the Rangers were getting blown out – I just wanted this game to end. The result was pretty much determined and it just seemed like a chore for the Rangers to complete this game and for me to watch this game. In my six years of doing this blog, I've never been more bored when watching a Rangers game. The crowd's lack of participation helped to check me out of this game too. As mentioned earlier, I was already thinking about the Philadelphia Flyers at this point.
3:33 into the second period, Gregg "Buck Tooth" McKegg took a dumb penalty. This put the Ducks on the power-play. It's tough to say here, but the Ducks power-play may be worse than the Rangers power-play. I've never seen two teams look so abysmal, in the same game, while on the power-play. The Rangers killed this with ease. The Ducks didn't even get off a shot on goal.
The lone Ducks action of this period saw Lundqvist misplay a puck, leave his net and the Ducks got a puck to deflect towards Lundqvist. Luckily, the puck went wide about 2-3 inches. Then, Lundqvist turned over the puck and made the quick & easy save off of his turnover.
In this boring period, Sam & Joe started crooning and raving about Michael Del Zotto. They talked about him being a mentor. What does he do, teach the Ducks how to stalk porn stars online?
As we hit the ten minute mark of the period, the Rangers totally played like it was the final minute of a blowout game. I get it, but at this point in the game, all it would've took was one goal and the Ducks would've been right back in it.
At the 9:54 mark, the Rangers would get their third pp of the game, after a delay of game call on Devin Shore. For the third time, the Rangers failed on the power-play, against this crappy Ducks team. I just don't get how this Rangers team could dominate the Ducks all game, but still finish 0-5 on the power-play. This is not good.
At 12:58, Howden and Del Zotto had a sissy slap fight. This led to another portion of four vs four foreplay. After those penalties expired, with just under four minutes remaining in the period, Kreider took a pass from Zibanejad and beat Miller. 4-1 GOOD GUYS. The crowd politely golf clapped for this.
After this goal, Brendan Lemieux baited Erik Gudbranson into dropping the gloves. Gudbranson got an unsportsmanlike penalty here. For some reason, so did Lemieux. Then, after this, Gudbranson broke his stick on the bench, right after a whistle. Gudbranson got a 10 minute misconduct here.
To me, to give Gudbranson a ten minute minor here was bullshit. After all, we always see Lundqvist slamming and breaking his stick. We never see a penalty called for that. How come Gudbranson gets one here?
I've watched many games this season, both Rangers and non-Ranger games, and we're seeing too many game misconducts being doled out left and right. Of course, Jean Hebert, the horrible ref from the game with Nashville, was calling this game. How this asshole is allowed to still do Ranger games is beyond me, especially twice in one week.
Of note, this was the first time that Micheletti kept yapping on like a yenta in hair salon, while the public address announcer was reading off the penalties.
Soon after Lemieux and Gudbranson went to the box, Tony DeAngelo was boxed for tripping. The Ducks power-play sucked again and the Rangers PK killed this with ease.
At the end of the period, the Rangers led 4-1. However, after the horn went off, Brendan Lemieux was attacked by Manson & Rowney. SOMEHOW, LEMIEUX GETS A ROUGHING AND A MISCONDUCT CALL HERE, FOR DEFENDING HIMSELF.
This sucks man. Lemieux now has an Avery reputation, that whenever Lemieux farts, he's going to get a penalty called against him. And again, we got Jean Hebert here.
To recap Jean Herbert this week, Ryan Ellis decimating Pavel Buchnevich with an intentional elbow to the head is a two minute minor. Brendan Lemieux defending himself from two people punching him, is a two minute minor against him, plus a 10 minute misconduct.
WILL SOMEONE PLEASE HOLD THESE REFS ACCOUNTABLE?
Quinn needs to talk to the league. Lemieux is 100% being singled out. It's going to hurt his game and the Rangers as time goes on, because Lemieux can't be himself. It's like he took a shit on the teacher's desk and from that day on, Lemieux gets suspended for just breathing in the classroom. (This is a true story about someone I know by the way!)
The Rangers have to talk to the league before this gets out of hand. We saw this last year too. Lemieux was getting five minute major calls, just based on his reputation. Now he's getting a misconduct for defending himself. I'm just sick to my stomach talking about this. Something needs to give here. And really, Jean Hebert should be banned from doing Ranger games.
Oh – and this is when Micheletti would not shut the hell up again. I had to check Twitter to find out what the penalties were, because Micheletti could not keep his trap shut when the penalties were being read out.
The third period of this game was less boring than the second period, just because of all the nonsense that happened at the end of the second. The Ducks started off the period with a power-play, but they failed once again. I don't know how much credit you want to give to the Rangers flawless PK today, because the Ducks were just bad.
While short-handed to open the period, Zibanejad trickled in a goal. 5-1 GOOD GUYS. A little puck luck/Eff You Refs justice, if I say so myself.
Five minutes into the period, Micheal Haley & Nicolas Deslauriers had a hell of a fight. It felt like a minute long, which is a long time. If you go by who falls down first, Deslauriers went down first, thus giving Haley the slight edge in victory. I will say, Haley's face was pretty jacked as he went to the bench.
There wasn't much going on in this period. The two biggest things were Chytil being tripped (NO CALL) and colliding into the boards. For some reason, as Chytil was down (he would need assistance to get to the bench after the whistle) the M$G Network cameras panned and zoomed in on the faces of Chytil's parents and girlfriend. Classy.
Thankfully, Chytil was able to shake it off, and would return to the game, after missing two or three shifts.
The other thing of note here, was that the Rangers would get two more power-plays in this period. They wouldn't score on either, making them 0-5 on the game and without a PPG in their last 14 attempts. Something has to be done here.
Oh and I should mention this – while on the fifth and final power-play, Jesper Fast was elbowed right to the face. No call. It's funny how referee Jean Hebert feels on elbows. Someone should elbow him in the face. Maybe he will change his opinion on them.
Mercifully, this game finally ended, with the Rangers winning 5-1. I can't stress enough, while I'm happy the Rangers took care of business here, after the first period, this game was one long drag.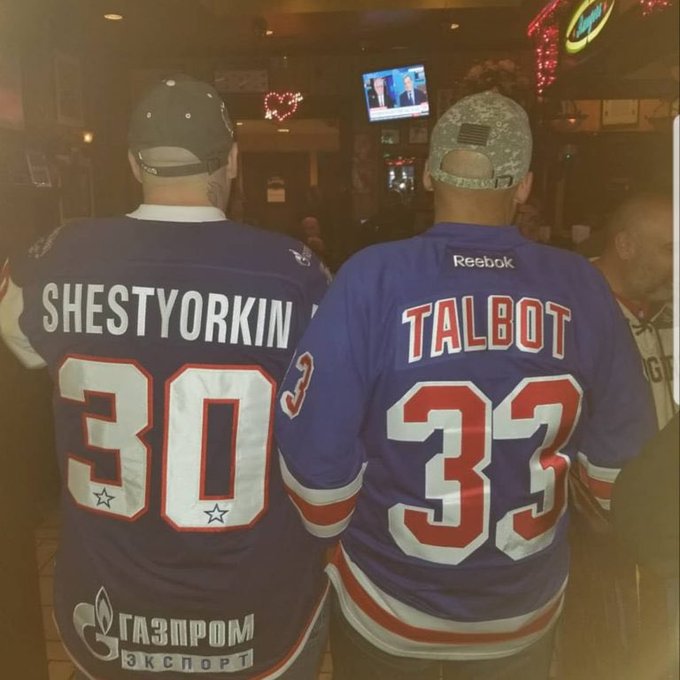 All in all, a good win for the Rangers. Again, the Ducks issues and blah blah blah, but the Rangers did what they were supposed to do.
Prior to this game, starting on Friday night and up until puck drop, I said that I would've loved to see CZAR IGOR get called up and play in this game. To me, this Ducks team was easier to play against than those Buffalo Sabres teams that MacKenzie Skapski once swept, during the 2014-2015 season. I'll save you my Lundqvist to the press box rant, but are we really going to let Igor sit in the AHL all season? THIS GAME WOULD'VE BEEN PERFECT TO DEBUT HIM IN. And as mentioned, this is not hindsight being 20/20.
As I was politicking for CZAR IGOR to get this start, guess what he did in his start on Saturday night for the 'Pack? He logged a shut-out, picked up an assist and almost had an empty net goal. The anticipation is building folks. I want to see this kid in M$G, pronto.
In the post-game, all Vally could talk about was how this was a great win for Lundqvist. Really? If Lundqvist didn't win this game, he should've been shot behind a barn. And that's an issue – people are going nuts about Lundqvist winning this game, a game that any goalie would've won. That's why this would've been perfect for CZAR IGOR – everything was in the Rangers favor.
Screen shot this one folks, because I don't say it often – I thought Lundqvist gave a perfect interview in his post-game with Maloney:
I found Lundqvist to be realistic and on-point about this win. It's truly SAD, that you have this jackass Steve Valiquette doing back-flips about this win, while Lundqvist was accurately putting this game into perspective.
I'll close this segment by saying this – if you ever wanted to get Igor going, this was the game to do it in. Instead, the Rangers went to the 38 year old $8.5M cap hit goalie for this game. What would've been better for a team during a rebuild? Getting a rookie going or trying to pad a W on Lundqvist's record?
NEXT.
The Rangers return on Monday night, in their last game before the X-Mas break, when they travel to Philadelphia. This is the first Rangers/Flyers game of the season, and the Rangers will see Alain Vigneault and Kevin Hayes.
If you're not familiar with my opinions on AV, check the archives. I'll say this quick – I always liked AV and I thought he wrongly fired. He's one of the best coaches in franchise history. In his last season here, he never had a chance. The team traded off everyone, Lundqvist had his worst season to date, Shattenkirk & Kreider went down with injuries and AV got no support from the front office. For what AV did here, I thought he deserved a crack at this rebuild, especially since the Rangers extended his contract.
In hindsight, while I'm not anti David Quinn like some people, would have AV been that bad? I like DQ, but is he really better than AV for this rebuild? I don't want to go down this rabbit hole now, all I'm saying is that I thought AV was unjustly fired. He's a good coach.
AV is currently doing interviews for the Flyers and NHL websites, as he talks about this upcoming game. It's the same old shit that you see from people in similar situations. "I had good years there." "It's going to be interesting. "I wish them luck except when we play them", and all that other jazz.
As far as who starts in net tomorrow, Lundqvist has asked for the start. While I want Georgiev & Igor starting every game here, I wouldn't care if Lundqvist starts this rivalry game. Let's see what he really has against a team with an NHL roster dressed.
Away from Lundqvist, let's see what this team does against a team that wasn't shot to shit like the Ducks were today. And if the power-play goes 0-5 again, you can forget about getting two points against the Flyers.
And as I'm trying to wrap this up, we got BREAKING NEWS here. The Rangers just announced this: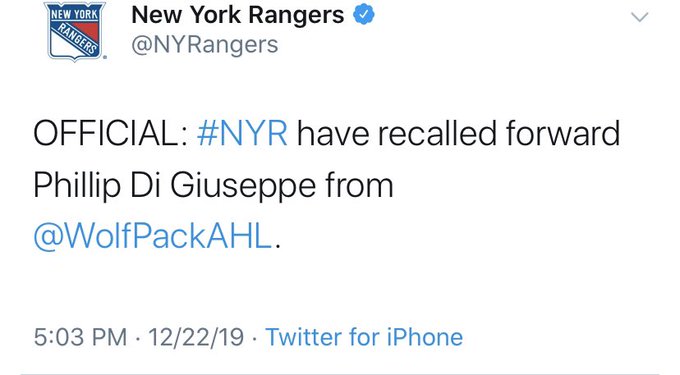 Wrong Italian-American folks. Vinni Lettieri has been better in Hartford and should've got the call-up.
The real issue is why are the Rangers calling up Di Giuseppe right now? After all, this game with the Flyers is the last game before the holiday break. Is Kakko out for a period of time after that blocked shot? Is Chytil hurting after his collision today? I guess we will find out tomorrow. I'm sure a Canadian reporter will break the news, for the reason of this call-up!
I'll be back tomorrow night. If you haven't already, check out the blog on Lias Andersson, linked at the top of this blog.
See ya Monday Night.
As always, thanks for reading and…
"LET'S GO RANGERS!"
Sean McCaffrey
BULLSMC@aol.com
NYCTHEMIC on tweeter