Greetings and salutations everyone and welcome to another blog here on BlueCollarBlueShirts.com.
When I finished doing my Florida Panthers vs New York Rangers review blog on Saturday night, I teased that I would be back between then and Wednesday night, when the Rangers play again. I noted that I would chime in with a new blog, providing the Rangers made some news. Well, I'm here and you're here, which means the Rangers made some news.
On Sunday, after returning home to New York after their follies in Florida road-trip, the Rangers made three separate transactions. Those transactions were sending Lias Andersson down to Hartford, recalling Timothy Gettinger to New York and waiving Micheal Haley. Since I'm writing this blog 24+ hours after those transactions, I can tell you that Haley has since cleared waivers. In fact, Haley is still practicing with the Rangers, as he was on the practice ice today. (If you clear waivers, you don't have to go automatically go back down to the AHL. While that may be Haley's fate eventually, it's not his destination for the time being.)
Before jumping into everything, as usual, here are my last few blogs in case you missed them. I always plug my most recent work here, because I don't feel like typing out the same stuff over and over again: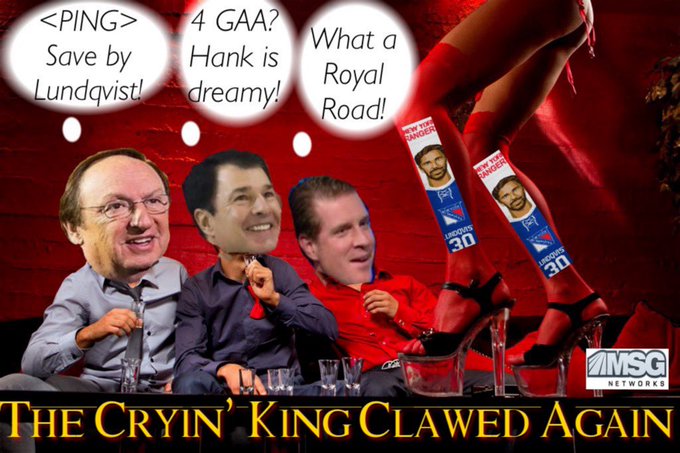 ---
---
---
---
When looking at the Ranger transactions from this weekend, the easiest topic to talk about is the Rangers saying "Adiós and vaya con Dios" to Micheal Haley. Funny thing about "Adiós and vaya con Dios", which in English, means "Goodbye & go with God". I learned this Spanish phrase, while having a beer in a redneck Nashville bar, during my trip to Nashville two weeks ago. Apparently, this Zac Brown and his country music hillbilly band are a big deal and "Adiós and vaya con Dios" is one of their big hits. The more you know!
Like many of you reading this, I never saw any value in Micheal Haley. That said, I understand why the Rangers thought they needed him. The Rangers saw this season's version of Tanner Glass or Cody McLeod, in Micheal Haley. And really, to lump Tanner Glass in here with these two is unfair, as Glass was a much better player for the Rangers, and in general, than either McLeod or Haley. Glass also provided locker room value, which Haley was never going to be able to provide. I think the Rangers organization saw these same traits in Glass too, hence his current role with the franchise today.
My opinions on Tanner Glass aside, the point here is the same – the Rangers wanted a new-age enforcer and saw Haley as that guy. And to be clear, there is no such thing as a true enforcer anymore. Instead, you have players like McLeod or Haley, who are more known for their fighting than anything else. Like a Dylan McIlrath, these types of guys would be more valuable in a different era.
It was my opinion then, just like it is my opinion now, that the Rangers were better off giving one of their prospects, or draft kids, a shot with the team than dressing Micheal Haley. (Specifically, I'm talking about Vitali Kravtsov here.) However, the Rangers obviously wanted some toughness on the team. Perhaps they were worried about their kids getting roughed up and wanted some ruggedness, just in case. That being said, as we've seen, did you really need Haley, when guys like Tony DeAngelo, Brendan Lemieux, Ryan Lindgren and Brendan Smith, have all shown us a willingness to throw down when things get heated? I guess the Rangers have also taken notice of this fact, hence them waiving Haley.
Again, in my opinion, signing Haley was a waste of time. What's the point of signing a veteran player that will have no long-term future with the club? In the very best case scenario, Haley was only going to last here for a season anyway. It's not like the Rangers were hitching their hopes to the Haley wagon and hoping that Haley's Comet would rocket them to the Stanley Cup.
Just like how I think the rebuilding Rangers need to move on from Henrik Lundqvist and Marc Staal, bringing Haley into the fold was a waste of time. Even if Haley did play well, the Rangers were never going to keep him past this season. Ironically, Haley played himself out of a job, rather than a baby-faced Ranger taking a job from him.
During the past two games in the state of Florida, Haley took something like 676789699 penalty minutes in the game with Tampa. He then took a terrible penalty during the opening minutes of the game with Florida. Each time Haley took a two minute minor, the opposing team responded with a power-play goal. While you can't blame Haley for the Rangers penalty killing issues, you can blame him for taking dumb penalties.
As mentioned, despite being waived by the Rangers, and clearing waivers 24 hours later, Haley was practicing with the team again today. Whether Haley goes to Hartford or not remains to be seen. Perhaps Haley hangs on, and will play again, if the Rangers lose any more man-power due to injuries or illness. Whatever the case may be, what is known is this – Haley does not have a future with this organization. At least not a long-term future.
I also want to mention this too – the Rangers never officially announced that they waived Micheal Haley. Those reports came out of Canada and those reports were confirmed later on. However, as of this writing, the Rangers have yet to comment on Haley. I expect they are waiting until Wednesday, when the team plays again, to make an announcement on Haley.
What the Rangers did announce on Sunday, was this: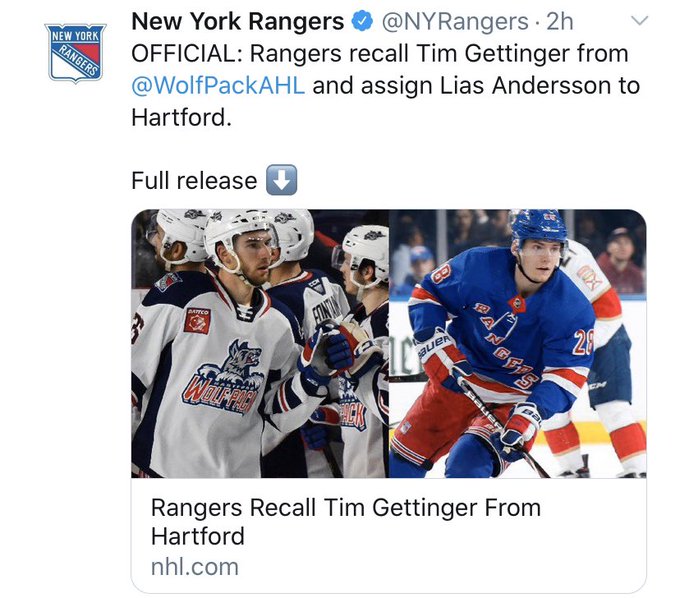 Before weighing in, and giving you all of my opinions and takes on Andersson going back to Hartford, let me give you all the facts and news first.
Here's the Rangers press release on this transaction:
The New York Rangers announced today that the team has recalled Tim Gettinger from the Hartford Wolf Pack of the American Hockey League (AHL). In addition, the Blueshirts have assigned Lias Andersson to Hartford.

Gettinger, 21, has skated in 17 games with the Wolf Pack this season, registering four goals and two assists for six points, along with six penalty minutes. He is tied for fourth on Hartford in goals this season. Gettinger has tallied a point in three of his last four games with the Wolf Pack (two goals, one assist), and he registered the game-winning goal on Nov. 10 at Providence.

The 6-6, 218-pounder has skated in 81 career AHL games over parts of two seasons (2018-19 and 2019-20), both with the Wolf Pack, registering 18 goals and 15 assists for 33 points, along with 33 penalty minutes. Gettinger led Hartford rookies in goals (14), assists (13), and points (27) last season. In addition, he has skated in four career NHL games with the Rangers. Gettinger made his NHL/Rangers debut on Nov. 24, 2018 vs. Washington.

The Cleveland, Ohio native was selected by the Rangers in the fifth round, 141st overall, of the 2016 NHL Entry Draft.

Andersson has skated in 17 games with the Rangers this season, registering one assist and four penalty minutes.
After practice today, David Quinn spoke to the NY Ranger beat reporters. Adam Rotter was kind enough to transcribe Quinn's interview. You can read Rotter's full report, including news on other Ranger related items, by visiting: https://nyrangersnews.com/2019/11/18/zibanejad-out-wednesday-david-quinn-on-lias-andersson-and-more/
Here's what Quinn said in regards to Andersson and about the woeful New York Rangers penalty kill. I mention the PK here too, because I think that's why Gettinger was called up:
On the PK, "obviously we need to do a better job of understanding what our responsibilities are and whatever decisions we are making have to be quicker. One of the things we walked through today was clarifying what responsibilities are. These last two games have been a disaster from a PK standpoint and we have to be better."


---

On practicing the PK, "It's more dificult to emulate what you are going to see in a game but continue to create clarity in what your role is and supposed to be doing on the PK. Once you have that you make better and quicker decisions and we were just going over refreshers of what we need to do."


---

On sending Lias Andersson to Hartford, "obviously we just want Lias to get more playing time and touch more pucks. We thought it did wonders for Fil and hoping it will do wonders for Lias as well. With Hales, it was just an opportunity to give us some roster flexibility."


---

What do you need to see from Lias, "there has to be a consistency in his game. One of the things he has to continue to work on is playing faster. I know that is a simple answer but a lot of times it is the answer for a lot of players when they ask you what they need to do and you have to play faster. There has to be quicker play from one play to the next and it's not just skating fast it's playing fast and I think that the more you play the better chance you have to do that, I understand that but from a playing standpoint he has to play faster. I thought there were times he did that and he was effective and times when he wasn't playing quite fast enough. He's done an awful lot of good things in the last year plus, again, it's a 21-year old going to play in the AHL to gain some confidence, play more, touch the puck more, and put him in a better position to have success."


---

Andersson couldn't take Kakko's minutes at wing, "no, I didn't. I thought McKegg was more prepared for that, he was plus six in scoring chances and played well."


---

Did Andersson's linemates impact his game "I get that and everyone talks about that but there are things in this game that you need to do regardless of who your linemates are. This isn't about points, you watch a game and a player should be doing this and they are doing that, doing this quicker and they are not doing it quick enough, they should be physical and they are not physical. That has nothing to do with who your linemates are. Those are the things, and I'm not just talking about Lias, I'm talking in general. A lot of players think along those lines and, to me, it's a big mistake. That is a big mistake if that is what a player is thinking because you should be an effective player regardless of who you are playing with, there are things this game demands and you should be able to do it regardless of who is on your wing or who your d-partner is or whoever. I understand that you may be in defensive positions more depending on who your wingers are or whatnot, but at the end of the day there is an easy evaluation process for an individual regardless of who their linemates are or d-partner is."


---

On not seeing what is needed in practice and in games for Lias, "it's both, he was playing 10 minutes a night and his minutes have decreased the last few games."


---

Are you sure Andersson is a center, "We are open to everything, moving him to wing is also an option."
Is there a spot right now for him at center, "I think that if he plays well there is an opportunity for him on the wing. Everything is on the table for him, if he goes down there and plays well and we bring him up, maybe we do put him at the wing. At his age I still want to give him a fair opportunity in the middle."


---

Did you consider moving him up to spark his game, "yea. I don't want to take one guy out that I think should be playing. It's not just a small sample, guys build trust and a bank account where they make good plays. We certainly thought about that but didn't do it."


---

What between training camp and now changed for Lias, "consistency. There were shifts where I thought he did a lot of good things and there was a drop in his play, which can happen to a lot of young players. He's no different, to me, he has to be consistently good."


---

Do you sense Lias feels extra pressure because of his draft position, "I'm sure..without question. It's not easy situation for any 21-year old that has all of these expectations. Once your career starts no one cares where you got drafted, you have to play."


---
I'm saving the Lias Andersson stuff for last, as that's the main event of today's blog.
When the Rangers announced that they were waiving Lias Andersson, I thought for sure that I would get my wish and that Vinni Lettieri would be called up. After all, Lettieri is the best skater in Hartford right now. Instead, the Rangers called up the 6'6″ Timothy Gettinger.
When I saw that Gettinger, and not Lettieri, was getting the call-up, I looked at why the Rangers would make such a move. After all, according to both reporters and fans of the Hartford Wolfpack, Timothy Gettinger hasn't been that great there this season. I can't attest to any of this personally, as I have only watched two Wolfpack games off a crappy internet stream this season.
In the effort of full disclosure here, I only watched those games to see how Shestyorkin & Lettieri were doing. I can't tell you that I was tracking Gettinger when watching these games. What I can tell you, is that fans and reporters alike, that watch every Wolfpack game, pretty much said the same thing – Gettinger isn't ready yet. Again, their opinions and thoughts, not mine personally.
So why did the Rangers call Gettinger up? It is my opinion, that due to his size, the Rangers called up Gettinger for both toughness and for the penalty kill. That being said, in his four games last season with the Rangers, despite his massive frame, Gettinger wasn't much of a bruiser. As others said, he's kind of like Brian Boyle, but less skilled. Both Boyle and Gettinger have great size and as we know, size can't be taught; but very rarely do you see these two involved in the fisticuffs. Maybe Quinn thinks he can get it out of Gettinger.
Whether or not Gettinger becomes a major physical force or not remains to be seen. Gettinger, who replaced Andersson on the fourth line today (McKegg is back to the third line, at least until Kakko is ready to return) will most likely be needed most on the penalty kill. With his size, at the very least, with a long wing span, Gettinger should be able to clear pucks on the PK.
With Gettinger now here for the penalty kill, at least in my opinion, perhaps Lettieri will get the next call up, especially if the Rangers start to struggle on their power-play.
And now, Lias Andersson time.
Let me preface my Andersson comments with this. I harbor no ill-will for the guy. He's a Ranger. I want him to succeed. Furthermore, what I like about Andersson, at least off-the-ice, is his sense of humor.
When Andersson tripped over the cord on opening night (a cord that should've never been there in the first place) he took it well. He retweeted his slip to the world. He laughed about it. On social media, Mika Zibanejad busted Andersson's chops about it and Andersson continued to be good-natured about it.
Ranger super-fan, Steve Voogel, who would be the first person to board a rocketship to Mars if the Rangers signed a 13 year old Martian prospect, even shared a laugh with Andersson over "the trip":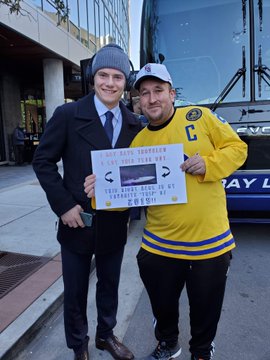 My point with all of this? Andersson doesn't wallow in the mire when things get bad. He has a good attitude, is willing to laugh at himself and is able to move on. He's not as sulky or as moody as other players. He's not Kravtsov. (Okay, settle down, I already defended Kravtsov on my past blogs. I just thought Kravtsov scrubbing his social media was the act of someone who was extremely butthurt. No matter how you feel on that, it was just unnecessary. It's like cutting out your ex-significant other from all of your family pictures.)
These comments on Andersson's attitude now being said, you can be the funniest and nicest guy in the world. If your talent level isn't up to snuff, you're not going to be playing in the National Hockey League.
When Lias Andersson was sent to Hartford, it opened up the NY Ranger social media floodgates. Most of the criticism was the same, as I saw a lot of this floating around Ranger Facebook and Ranger twitter:
— "BUT, BUT, BUT, BRETT HOWDEN STINKS!"
— "ANDERSSON HAS A (Insert some random nerd stat here) WHICH MAKES HIM GREAT!"
— "DAVID QUINN HAS NO CLUE WHAT HE IS DOING!"
— "IT'S NOT FAIR. ANDERSSON IS STUCK WITH SMITH AND HALEY." (Ignored by those people, Haley & Smith have a goal each, Andersson has 0. Maybe Andersson is holding them down? <Elbow nudge, raise eyebrow.>)
— "FIRE DAVID QUINN!"
— "THE RANGERS DON'T LIKE ANDERSSON BECAUSE HE'S A EURO." (Ignored once again by those people, is the albatross in goal named Henrik Lundqvist.)
— "DAVID QUINN IS A LOOSER!" (These people always confuse the words "loser" and "looser".)
— "ANDERSSON DESERVES THE SAME CHANCE AS KAKKO! (Do I even have to side-bar on this one?)
When I look at the above complaints on social media, the majority of them come from people under the age of 25. While there are some older fans crying too, the bulk of the tears are from the 18-25 male demographic.
To me, as I'll get into, Andersson going to Hartford is no big deal. However, when I see these people crying, as if their dog got hit by a Mack truck, I tried to see things from their point-of-view. That led me to thinking about Manny Maholtra.
Obviously, in this age of social media, blogs, vlogs, Twitch and whatever other medium you can think of, everyone has an opinion. It's not like we're in 1926 and people are using the Pony Express to cry about Lester Patrick not giving Hal Winkler more starts in net.
Oh, and you imagine if social media existed in the 1975-1976 season, when the Rangers waived Giacomin and traded Park & Ratelle? Can you imagine the tears then? (Of course, all those tears would be dried up three years later, when the Rangers went to the Cup Final. Don't get me started on my Giacomin vs Lundqvist stuff and how the Rangers need to embrace moving past Lundqvist!)
When I saw the wet collars, full of salty tears from the folks on social media, because of this Andersson news, I tried to see it from their view. That brought me to Maholtra.
For those who don't know, or need a refresher, just like Lias Andersson, Manny Maholtra was once a first round, seventh overall pick, by the New York Rangers. That is why I'm using Maholtra as an example here, rather than Jamie Lundmark & Pavel Brendl, who both had bigger hype than Maholtra ever did. It's amazing the things you remember. At the time, I really thought Brendl & Lundmark would help Leetch, Graves and Richter win another Cup. If you could buy jerseys as easy and as cheap as you can now, I would've had a Brendl jersey!
During Maholtra's stint with New York, I was a huge fan of his. He is two years older than me, so when I was 16 years old, I thought that was pretty cool. An 18 year old playing with the Rangers? Amazing. Not that I could relate to playing professional sports or anything, but I could relate to someone my age doing it.
While with the Rangers, I would cheer for Maholtra. However, time and time again, the Rangers would send him to Hartford for work. For 3 1/2 seasons, Maholtra would bounce around between New York and Hartford. Keep in mind, this was also in the Dark Ages of New York Ranger hockey, when the team didn't make the playoffs for 7 years. And to be fair, at the time, no one ever dreamed of the Rangers missing the playoffs for 7 years in a row. Keep in mind, during these Dark Ages (as my buddy Travis Jackson coined this era as) the Rangers would sign big name free agent after big name free agent.
When it was all said and done, the Rangers could never find a real role for Maholtra. They would trade Maholtra to Dallas, and Maholtra would spend the next 13+ years bouncing around all over the league, before finally retiring with the Montreal Canadiens. Not a bad life, but obviously, Maholtra never lived up to the expectations that the Rangers had for him.
At the end of the day, Maholtra never panned out like how some other Top 10 picks do. However, Maholtra made a nice life for himself with his career and parlayed his playing days into coaching. Who knows what the future holds? Maybe Maholtra becomes a head coach in the NHL one day? You already see Vancouver moving in the right direction, in their new post Sedin's era.
For Lias Andersson, I've said this countless times and I'll say it again here. Chytil hurts him. Andersson has all the hype around him, while Chytil does not. Quinn said the same thing himself today – there is much more pressure on Lias Andersson to succeed, than pressure on Filip Chytil to succeed.
Furthermore, Andersson was the seventh overall pick in the 2017 draft. However, the Rangers also gave up a great teammate and center for him, in Derek Stepan. They also gave up a starting goalie in Antti Raanta. As it stands now, Tony DeAngelo is the crown jewel of that trade. Organizationally, I think because of Stepan's bad contract, Raanta's issues with staying healthy and because of TDA putting up Leetchesque numbers, the Rangers would still make this trade 10/10 times, if they had to do it over. That said, I don't know if they would've chosen Andersson with the 7th overall pick.
When it comes to criticizing Andersson's game and role on the team, as fans, I think that's tough to do. That's why I used Quinn's comments above. He's with the team every day, not me. He knows what he's looking for. When Quinn first spoke up about Andersson a few weeks ago, I started to look at Andersson differently, even if it was with "Quinn-vision". What does Andersson do truly well, where he should be bumping off any guy? If you want to say Brett Howden, as he's the latest Ranger to be raked over the coals by the chart humping mooks, are you telling me that is where Andersson is at? Slightly better than Brett Howden? Certainly, a seventh overall draft pick should be heads and shoulders better than Brett Howden.
A big talking point, a talking point that Quinn addressed himself, was Andersson's linemates. Listen, we all know that Smith, the defenseman-converted-into-a-forward and the recently waived Micheal Haley, doesn't do Andersson much favors. That said, both Smith & Haley have scored this season. Andersson doesn't even have a fluke goal to his name.
And really, for as bad as Smith's contract is, he hasn't been bad this season. He's done well in his new role. I'm not saying to throw a parade or throw your underwear at him, like he's some old-school crooner like a Tony Bennett, but what I am saying is that you can't knock Smith either. If you want to knock Haley, well then like that song from "The Little Mermaid", "Be our guest, be our guest!" (I have no explanation of why that song came to my mind right now! Maybe the song comes to mind because that movie dealt with a lot of salt water and all I'm seeing are salt water tears on social media right now about Andersson.)
If you're one of these momos in the "FIRE DAVID QUINN" camp, Andersson's demotion is the latest log to the fire. As we've seen, Vitali Kravtsov bailed this season and is in Russia now. Andersson isn't panning out. Shestyorkin remains in Hartford while Lundqvist's GAA balloons to the size of a Thanksgiving Day parade float.
One thing that people need to keep in mind – there is not one franchise in the history of any sport, where every draft pick and every prospect pan out the way you hoped. Just hitting .250 in this department is considered a win.
What hurts Andersson is that he's been on a fourth line grind line, with players known as "pluggers". That said, he hasn't shown Quinn, or anyone in the organization, that he's much more than that. Despite his limited ice-time, when was the last time you saw Andersson play, and say, "wow, look at what he's doing out there?"
While you can say Andersson is forced to play more defense than offense, because of his line, he hasn't really shown that he's being held back. He hasn't been the superstar of that line, where when you watch him, you say, "if only he wasn't with those guys." You say "if only he wasn't with those guys", as a way to defend Andersson's demotion and not because of what he did while playing.
At 21 years old, this isn't the end of Andersson's NHL dream. It may be the end of his time with the Rangers though.
As talked about several blogs ago, Larry Brooks is pushing for the Rangers to trade Andersson. If there is anything we know about Brooks, it is that he's a mole, a messenger pigeon, for the Rangers. When he puts out negative articles or suggests transactions, that means he's been tipped off. Just a week ago, Brooks was talking about Andersson being traded. A week later, here is Andersson in Hartford.
For the Rangers and Andersson, the best case scenario is that Andersson tears it up, like a digested White Castle slider destroying your intestines. The Rangers are hoping that Andersson has the same experience that Chytil did in Hartford. If anything, we know this – Andersson has a great attitude. While this news obviously blows for him, he can't let it eat him up. He needs to go to Hartford and use that anger to wreak havoc in the AHL. If not, maybe we'll see that Andersson for Edmonton's Jesse Puljujarvi trade, that everyone is talking about.
Of note here, I think the Puljujarvi trade does make sense, just because he's Finnish, in a similiar boat as Andersson, and could help Kakko. I just hope this trade doesn't happen, because I don't want to type out Puljujarvi in every blog. When the Rangers traded Namestnikov, that was a godsend for bloggers!
At the end of the day, if Andersson doesn't pan out in Hartford, or even if he does, it might be time to come to terms with the fact that Andersson was a high draft pick in a weak draft class. Perhaps his maximum potential is on a third line. Maybe he's a career fourth liner, a fate that Mannny Maholtra once accepted. Then again, maybe Andersson is like Brendl & Lundmark, a player with great hype, that could never earn a spot in the NHL. Time will tell.
The Rangers return Wednesday night, on prime time national television, when they host the Washington Capitals. Two quick notes here. David Quinn has already ruled out Mika Zibanejad for the game. We know the deal, they are hiding a concussion.
As far as Kaapo Kakko goes, his status is up-in-the-air. Quinn said he's still sick, as of Monday afternoon.
Recently on this site, I brought up the argument that maybe Kakko's Celiac Disease & diabetes, could be a reason for his health issues. I have no way of knowing if that's a fact or not, it's just a theory I threw out there. A reader of this blog responded to my comments and I feel they are worth sharing with you. The following comes from Rick:
I'm going to venture out here and say this – unless you have Celiac Disease or are a doctor, you're probably not familiar with the disease. I'll even admit this – I never heard of Celiac Disease until Kakko signed with the Rangers.
Obviously, I wish Rick the best and hope he's able to feel well all the time. That being said, when I read his comments, I think it gives more credibility to the fact that Kakko's Celiac Disease could be effecting him. For starters, Kakko is in a new country, so his immune system isn't used to the bugs in America. As someone who travels all the time, I'm sure all these new restaurants and hotels are something Kakko needs to worry about too.
Granted, the Rangers are not tight with the purse strings when it comes to doctors, nutrition, travel or any other sort of amenity. Kakko is in good hands. However, and yes, I'm spitballing and theorizing here, perhaps there is some sort of give-and-take and/or wait-and-see process going on. Perhaps as time goes on, and as the Rangers see what triggers Kakko's disease, they can do stuff to limit these bouts with Kakko's health. Again, I'm not a doctor (shocker) and I'm just free-styling here. However, I do think it's something to think about.
As we wind down here, I wanted to share some stuff about the Ranger alumni.
It's being reported that MacKenzie Skapski, the ex-Ranger goaltender, has announced his retirement. I have yet to see him make an official announcement, but I did see this:
In other nee regarding former Rangers/WolfPack, goaltender MacKenzie Skapski announced his retirement. Seemed to be on a fast track to NY after a really good 2014-15 season in Hartford but injuries halted all of that #PlayLikeANewYorker #NYR #HWP #RunWithThePack

— Greg Markiewicz (@GMTech924) November 18, 2019
The Ridge Meadow Flames, a Junior "B" ice hockey team based in Maple Ridge, British Columbia, Canada, a team where Skapski once shone for, recently tweeted the following:
Last night we had Flames alumni and former @NYRangers goaltender Mackenzie Skapski out working with our goalies! Mack will be working with our goaltenders for the balance of the season! #WelcomeBackMack
🔥🔥🔥🔥 pic.twitter.com/hgB0h0rpNE

— Ridge Meadows Flames (@flamesjunior) November 12, 2019

Skapski, who is 25 years old, looks to have given up his playing days for coaching.
If you're a regular reader of these blogs, you know that I was a huge fan of Skapski's. His story, which I've printed in the past, was a hell of an ordeal. In short, Skapski overcame a life-threatening bus accident, spent nearly a year hospitalized and would work his way back into hockey and eventually into the NHL.
In the 2014-2015 season, the season where the Rangers won the Presidents' Trophy with Lundqvist out for 30% of the season, Cam Talbot was made the starter after a throat injury to Lundqvist. Skapski would be called up to be the new back-up goalie.
In two games that season, Alain Vigneault started Skapski against the worst team in the league, in the Buffalo Sabres. At the time, whoever got the number 1 pick of the 2015 NHL Draft would select Connor McDavid. The Oilers would win the draft lottery, the Sabres would get the second pick and they would select Jack Eichel.
In Skapski's first start, he let up a goal early. That would be it. In 120 minutes of hockey, Skapski finished with a 2-0 record, with one shutout. Unfortunately, once Lundqvist returned, that was it for Skapski's days with the Rangers. Skapski would return to Hartford, where he would play behind some of the worst defenses in AHL history. Injuries would later plague Skapski and he could never work his way back up to the NHL level.
I always thought Skapski had a great attitude about everything. While he's only 25 years old and probably could give it one more "college try", perhaps coaching is better for his life personally. I really don't know. That said, I wish him the best in his new endeavor. You can never take those two NHL wins away from him, and I'm sure he has footage of both of those games in his house somewhere.
Contest time!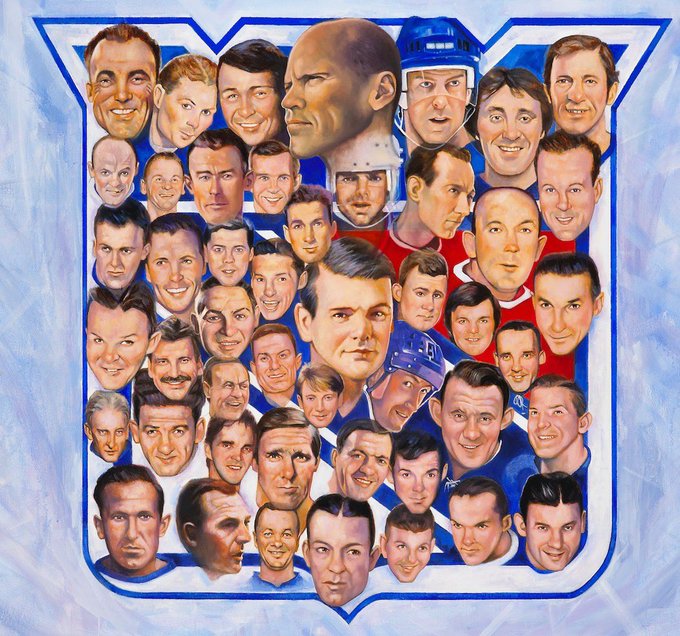 Recently, I came across the graphic above. I have no clue who made it, so I don't know who to credit here. I will say this, I would buy a shirt, a hoodie or a hat with this graphic on it! Shit, I would love to have a poster of this graphic in my house!
If you can't tell, the above graphic depicts every Hall of Famer that ever played with the Rangers, including Lester Patrick, the original GM & HC of NYR, but also played one game, in net, as an emergency relief goalie, in the 1928 SCF.
When I saw this picture, I had to Google one player, to name every player in this graphic. (It was one of the Canadiens, but I won't tell you which one yet.)
Here's your task, should you choose to accept. Starting left to right, and going row-by-row, comment in the COMMENT section at the end of this blog, with every player in the above graphic. I have several signed Ranger pucks and 8×10's. First three people to comment (and I'll also let you email me at BULLSMC@aol.com too) and name every player correctly, will get a randomly signed Ranger puck or signed Ranger photo. This is my thank you to you, for giving this blog record traffic last week. That said, I'm going to make you earn it!
Oh, and I'll be nice here. I have 3 Emerson Etem signed pucks. None of them will be shipped or given to the winners! I'll keep that crap for myself! (Every time I try flushing the puck, I have to call a plumber!)
And please, before people ask – Adam Graves and Mike Richter aren't in the Hall of Fame. That's why they aren't on this graphic. This graphic depicts any one in the Hall of Fame, that played with the Rangers, no matter how short their stint here.
To start, I'll give you one correct answer. Frank Boucher is in the bottom left corner. Your turn now!
Up next for the Rangers, a duel with old friend and foe, in Alex Ovechkin and the Washington Capitals. I'll do a blog after that game. After that, I'm heading to Canada, for the two games with Ottawa and Montreal. As mentioned in my last blog, I'm going to meet the Boucher family during this trip, so I'll have a report of that. I'm being told I will see a lot of old Boucher/Ranger memorabilia, so I'll have plenty of pictures!
As far as who is starting in net, David Quinn hasn't said anything. Knowing Lundqvist and his yellow-back ways, I wouldn't be surprised to see Georgiev vs Washington and Montreal, and Lundqvist taking the start against Ottawa. We'll see.
Until next time, as always, thanks for reading and…
LET'S GO RANGERS!
Sean McCaffrey
BULLSMC@aol.com
@NYCTHEMIC on tweeter
P.S.: Look a whole blog without the "f-word", "effing" or "Father Fink"! That said, I'm still hoping to make "Father Fink" a part of your vernacular!