Greetings and salutations everyone and welcome to another blog here on BlueCollarBlueShirts.com. After dropping a game on Tuesday night against the Flyers, a game the Rangers should've won, the Rangers rebounded on Thursday night and beat their cross-river rivals, in the NJ Devils, by a final of 4-3. For the Rangers, while I guess no game is truly a "must-win" at this stage of the game, this was definitely a win the Rangers needed. You don't need to lose back-to-back games to two of your most heated rivals.
While the Rangers did win this game, fans and the team themselves must keep things in perspective, especially with the league best Tampa Bay Lightning coming into town on Saturday night.
For the Rangers, they just beat a team missing their MVP in Taylor Hall and their starting goalie in Corey Schneider. The Devils also had multiple injuries up and down their roster. However, despite the advantage in talent & man-power, the Rangers still didn't take control of this game until the final five minutes of the third period. Not that the Devils should've won this game in the same vein that the Rangers should've beat Philly on Tuesday, but here, in this win over the Devils, the Rangers escaped with two points, rather than stomping down on a last place team missing their star players.
To me, this game was very boring and not good for the first thirty minutes. The Devils would get the first two goals of the game, both on the powerplay. Mika Zibanejad would then score a fluke PP of his own, with only two seconds remaining in the first. However, the bulk of the first period saw the Rangers very turnover happy, stale, and it didn't look like they wanted it that bad. That trend would continue into the second period.
The Rangers would get another PPG in the second period, once again off the stick of #93. The game then picked up a bit, but as I mentioned in my Philly review, these games are not a brand of hockey for long time fans of this rivalry. Even newer fans, fans of the Lundqvist Era, should be able to remember when these games were more heated than the emotionless game that we saw today.
That said, can you believe this video is almost seven years old:
Sadly, I feel as time goes on, and as the millennials take the fighting out of hockey, the fight above will start to fade in the memory and it will seem like it was a black & white relic from eras ago. I would take Rupp, Prust and Bickel over the fancy pass Rangers any day.
It's not just the Rangers that aren't fighting as much, as we all know it's a league-wide mandate to cut down on the physicality in hockey. Who knows, in another era, Dylan McIlrath could've been a huge fan favorite on the 80's Oilers teams, as an enforcer for Wayne Gretzky. Maybe McIlrath would've been remembered as fondly as a Bob Probert or a Joey Kocur. Today, McIlrath can barely hang on in the AHL.
Every generation believes their generation is the best, whether it comes to sports, music, way of life or anything else. While I don't necessarily feel that my generation is the best, I certainly believe that my generation of hockey was much better than the stuff we see today. Again, this stuff is league-wide, which is why NBC got rid of the "Rivalry Night" and the fighting promo videos to promote those games.
It's a shame for people like me and fans older than myself, who can remember that whenever the Rangers played the Flyers, the Devils or the Islanders, it was a game of war. (Older fans can include the Whalers, Bruins and Canadiens in here too.)
In the times of today, when the biggest heel of the Flyers, in Wayne Simmonds, challenges the Rangers top fighter of this 2018-2019 season, in Cody McLeod, the refs are there to break it up faster than the Knicks trading Kristaps Porzingis. Oh, and while on KP – what do you think gets the backpage on tomorrow's newspaper – the Battle of the Hudson or the Knicks trading some loser who never played one game this season? SAD!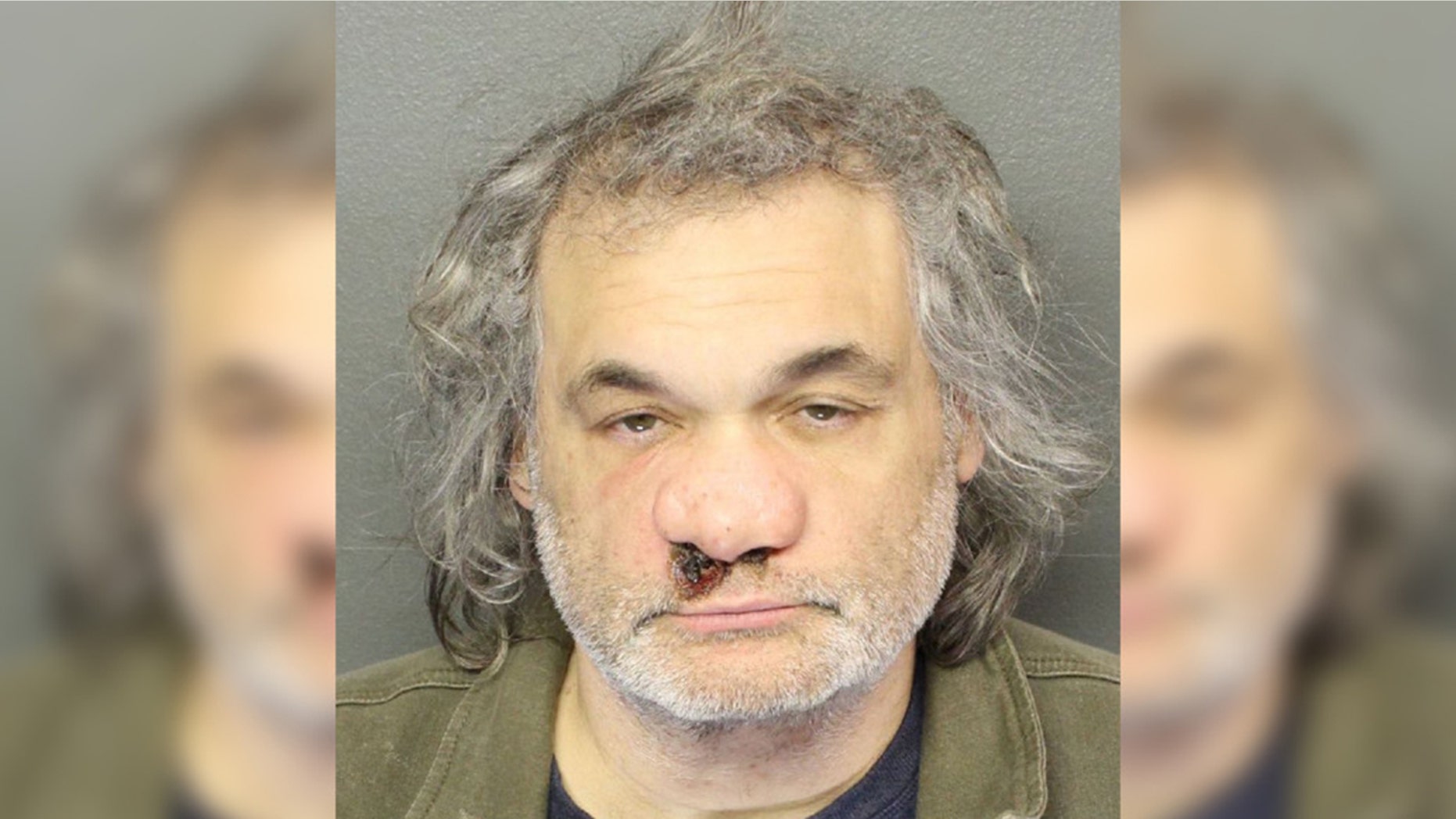 While this game would pick up a bit in the third period, as the Rangers out-scored the Devils in the third 2-1, thus giving the Rangers a 4-3 victory, outside of a cross-check/boarding hit on Vladislav Namestnikov, which ironically wasn't called, this game felt like any other game on the slate. Maybe I'm making too much of this, but the European sissy style of hockey does take some of the entertainment value out of these games. I'm not asking for "Slap Shot" here, I'm just asking for the rivalry games to be a little more special.
Granted, the Rangers, Flyers and the Devils are all in down times, but you would like to see the players just get up a little bit more for these types of games. Yes, the Rangers won, but they had luck on their side too, as Lundqvist bobbled many pucks and the Devils couldn't finish with loose pucks in front of Lundqvist. They also got a hat trick from Mika Zibanejad, and who knows if the Rangers win this game without the returning Mats Zuccarello? And again, keep in mind that the Devils are in last place and missing a ton of players.
If the Rangers lost this game, of course, you'd hear some moaning and groaning. While I'm not "upset" after a win, as I was watching this game, which was more boring than exciting on a minute-by-minute scale, it just made me long for the days of old. Maybe that's also because the MSG Networks were running the 1994 commercials relentlessly. Screw Joe DiMaggio. Where have you gone Jeff Beukeboom?
Before moving along on this blog, let's get to the PLUGS section. As usual, here are my most recent blogs, in case you missed them. Keep in mind, each blog is anywhere from 6k-10k words. In other words, one click and not 37846378963789643 clicks to artificially boost site traffic. Plus, no spyware! Enjoy:
---
---
---
---
---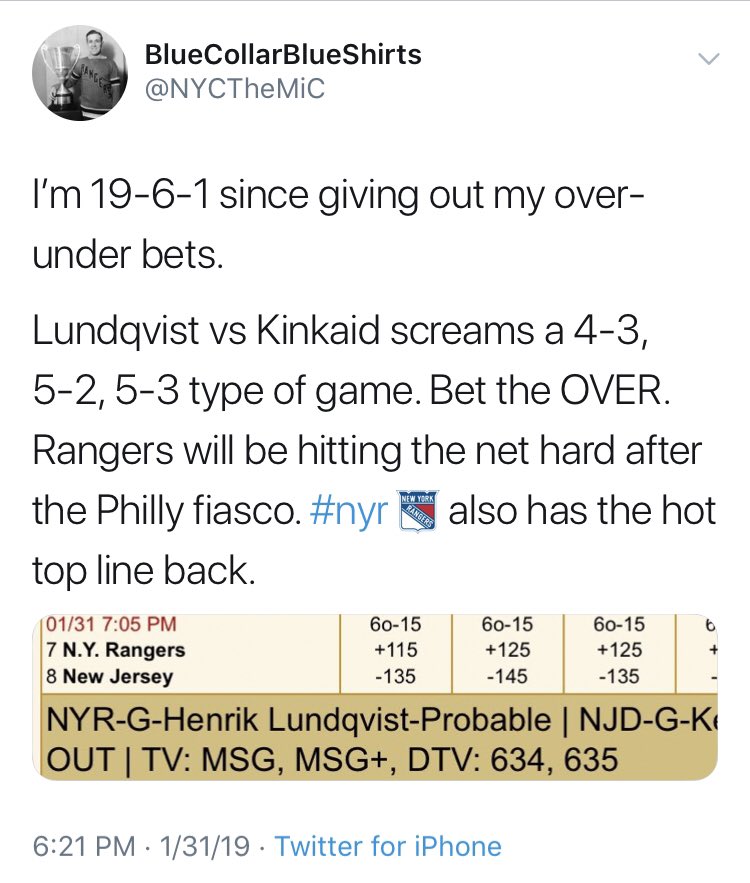 As usual, a Henrik Lundqvist start meant the game went into the OVER territory. Betting the over whenever Hank starts is like taking candy from a baby or taking a chart from a millennial! And not for nothing, my prediction was pure money tonight. Another over from Lundqvist, the top line did dominate, and Kinkaid gave up one soft goal, which was all the difference between a push and a win!
In the latest news from the Scratch List of Quinn, Quinn's list was affected by the injury to Brett Howden on Tuesday night. On Thursday afternoon, the Rangers announced this: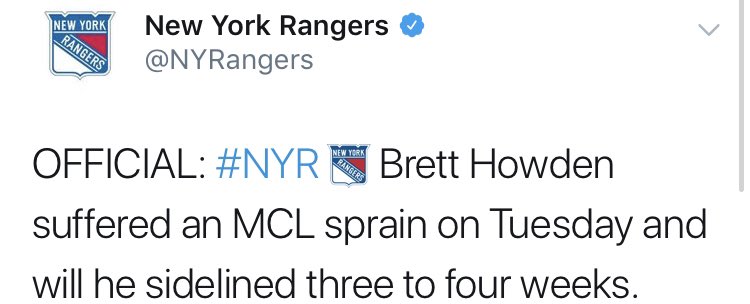 With Howden potentially missing a month's worth of games, he might not be back until after the trade deadline. On the bright side, after the Rangers make all their potential trades, Howden should be back and should get more playing time to showcase his stuff. There's never a good time for an injury and it's a shame for Howden to go down right after the bye week. Best of luck to him.
With Howden out, Zuccarello returned. To replace Howden in the line-up, David Quinn returned the much talked about Pavel Buchnevich into the line-up, rather than going back to 11F/7D as Quinn did on Tuesday. One must also wonder if #89 would've played today if Howden didn't go down.
As far as a roster call-up, Newsday reporter Colin Stephenson told me that the Rangers thought with the Wolfpack coming off the AHL All-Star break, that the Rangers didn't think anyone from the Wolfpack would be 100%. I guess that makes sense, but it's not like the Rangers themselves were lights out either after the All-Star break. New blood, especially hungry blood, could help rejuvenate the team.
You know my spiel already, I rather see Vinni Lettieri get a shot than see Pavel Buchnevich mope around.
With the injuries and 89 back, Quinn rolled out these lines:
FIRST LINE: Kreider/Zibanejad/Zuccarello (The top line once again dominated in this game. It's great to see your top players play and produce like top players.)
SECOND LINE: Vesey/Hayes/Fast (Hayes looked better than he did against Philly. Vesey got himself into some trouble, which I'll get into later on in this blog.)
THIRD LINE: Chytil/Strome/Namestnikov. (Is it me, or is Strome the "fleece" trade of the 2018-2019 season?)
FOURTH LINE: McLeod/Nieves/Mr. Mopey (To be fair, Buchnevich wasn't terrible, but he still made his usual turnovers.)
Defensively, Quinn went with this:
FIRST PAIR: Staal/Pionk
SECOND PAIR: Skjei/McQuaid
THIRD PAIR: Smith/Shattenkirk
That means that Tony DeMAGAngelo was the lone healthy scratch of the game. I guess TDA is getting blamed for this: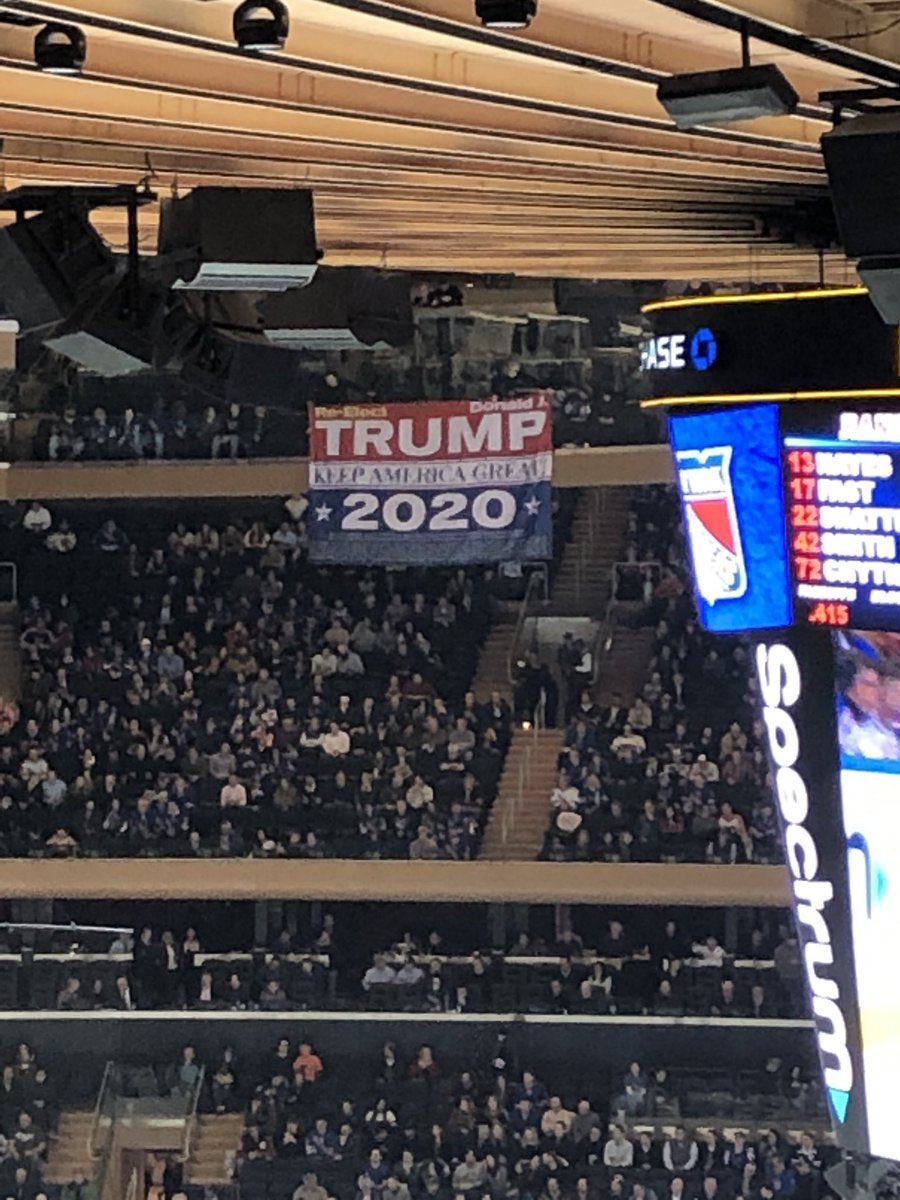 The Trump jokes aside, I don't see why Tony DeAngelo was scratched in favor of Brendan Smith. As I watched this game tonight, I really wondered why, as Smith took another bone-headed penalty and just seems to be an albatross on this team. You can say the Rangers are trying to showcase him a bit, but really, who's going to make a trade for him and his contract?
Oh, and for anyone who can't figure out why these Ranger/Devil games are a home game for the Rangers, check out these ticket prices for tonight's game: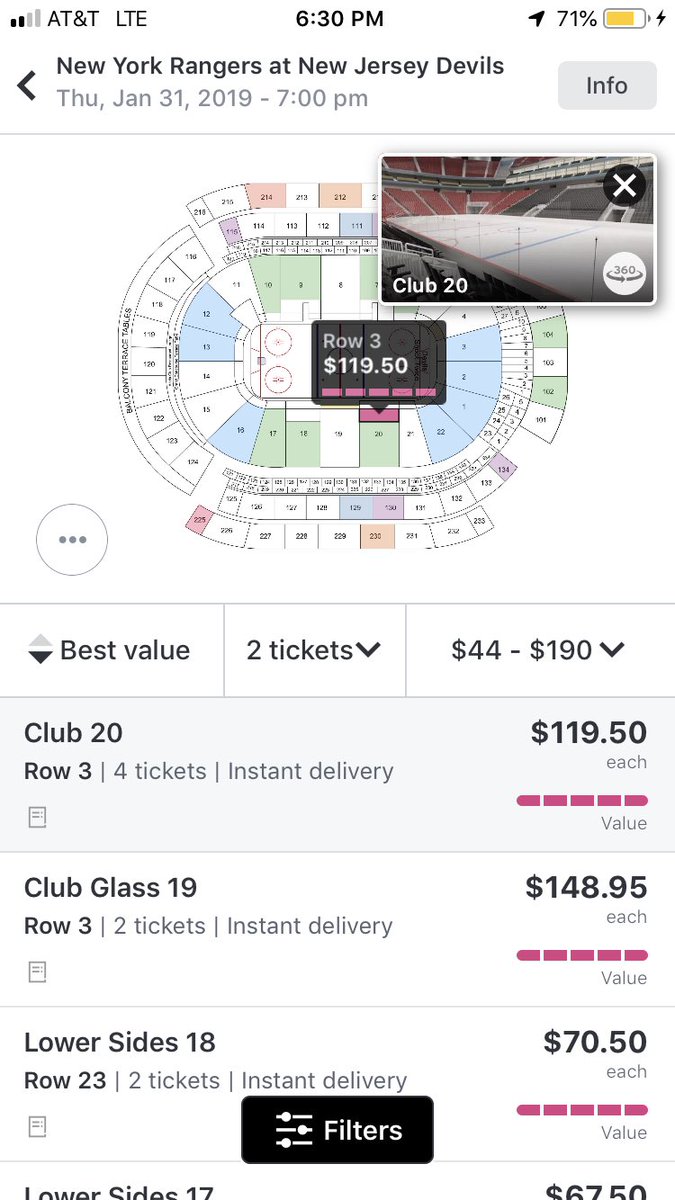 I'm telling you, I would have much more money in my bank account if I was a Devils fan.
As usual, let's go to the ESPN.com box score:
SCORING SUMMARY:
1st Period
5:10

Nico Hischier

(14)

(Power Play)

Unassisted

0
1
16:18

Marcus Johansson

(8)

(Power Play)

Assists: Brian Boyle, Damon Severson

0
2
19:58

Mika Zibanejad

(18)

(Power Play)

Assists: Kevin Hayes

1
2
2nd Period
16:36

Mika Zibanejad

(19)

(Power Play)

Assists: Mats Zuccarello, Kevin Hayes

2
2
3rd Period
4:43

Chris Kreider

(23)

Assists: Mats Zuccarello, Mika Zibanejad

3
2
5:36

Egor Yakovlev

(2)

Assists: Marcus Johansson, Nico Hischier

3
3
15:24

Mika Zibanejad

(20)

Assists: Mats Zuccarello, Pavel Buchnevich

4
3
PENALTIES:
1st Period
1:00

Blake Coleman:

2 minutes for Tripping

3:51

Marc Staal:

2 minutes for Holding

10:43

Brendan Smith:

2 minutes for Tripping

14:58

Jesper Fast:

2 minutes for Tripping

19:53

Marcus Johansson:

2 minutes for Interference
2nd Period
13:11

Miles Wood:

2 minutes for Interference – Goalkeeper

16:22

Blake Coleman:

2 minutes for Hooking

19:23

New York Rangers:

2 minutes for Too Many Men/Ice – Bench (served by Chris Kreider)
3rd Period

No Penalties This Period
GOALIES:
| | | | | | | | | | | |
| --- | --- | --- | --- | --- | --- | --- | --- | --- | --- | --- |
| SA | GA | SV | SV% | ESSV | PPSV | SHSV | SOSA | SOS | TOI | PIM |
| 25 | 4 | 21 | .840 | 17 | 2 | 2 | 0 | 0 | 58:05 | 0 |
| | | | | | | | | | | |
| --- | --- | --- | --- | --- | --- | --- | --- | --- | --- | --- |
| SA | GA | SV | SV% | ESSV | PPSV | SHSV | SOSA | SOS | TOI | PIM |
| 22 | 3 | 19 | .864 | 12 | 0 | 7 | 0 | 0 | 59:57 | 0 |
The first period of this game was very slow and not very good for the Rangers. In fact, on social media, I saw fans wanting to press the fast forward button to the NHL draft and lamenting that the Rangers should just forfeit the game.
The Rangers got a PP one minute into this game, but would get no shots on goal. That's not exactly a recipe for success. Then, at 3:51, Marc Staal took a blatant penalty. The Devils, who have one of the worst PP's in the league, especially with Taylor Hall out, would score at the 5:10 mark, courtesy of Nico Hischier. Luckily for us, Joe Micheletti & Sam Rosen, who are obsessed with ages, started shrieking like school girls when Nico scored, as both informed us that Nico is only 20 years old. Here's Nico:
NICO HISCHIER OPENS THE SCORING UP FOR NEW JERSEY!#NJDevils pic.twitter.com/WTQglxIbPc

— Hockey Daily (@HockeyDaily365) February 1, 2019
1-0, bad guys. As would be the case for most of the game, the Rangers would have trouble clearing the puck, make a turnover and let the Devils forecheck go to work.
Around the ten minute mark of this game, the shots were 5-1, in favor of the Devils. The Rangers had chances but got into their groove of making the extra pass to nowhere or over-skating. In one case, the INTOXICATING Pavel Buchnevich was all alone with the puck and rather than shooting, he settled for being stripped of the puck and making a turnover. And some people think this guy is the next Gretzky. SAD!
Brendan Smith, for some reason, was in this game. He took a dumb penalty, but it wouldn't result with a puck in the back of the Rangers net.
Then Jesper Fast, who has been quite the little penalty machine, took a penalty at 14:58. At 16:18, Marcus Johansson doubled up the Devils lead:
What a dive and what a goal by Marcus Johansson #NJDevils #NYR pic.twitter.com/6n8okwB2pM

— Rob Taub (@RTaub_) February 1, 2019
2-0, bad guys. I gotta say, Lundqvist looked jumpy tonight, but got lucky that he was playing the Devils. I don't think this style of play would've been successful against a team that wasn't pretty much half an AHL roster.
The Rangers would get their first best chance to get a goal in this game, late into the period, when Egor Yakovlev lost a blade and literally skated around 45 seconds in front of Kinkaid. The Rangers couldn't do anything with this advantage.
With this period being absolutely dreadful, the Rangers got some luck, when a questionable interference call was called on Johnansson at 19:53. Five seconds later and with only two seconds remaining in the period, Zibanejad scored his first of three goals of the night. And really, this goal here was a sigh of relief goal:
MIKA ZIBANEJAD TIPS ONE HOME WITH TWO SECONDS LEFT IN THE FIRST!#NYR pic.twitter.com/E88amFCgs0

— Hockey Daily (@HockeyDaily365) February 1, 2019
2-1, bad guys. These are the types of goals allowed that Lundqvist usually gives up. It's nice to see it go the other way for once. When it comes to Kinkaid, between this fluke goal allowed and the soft goal allowed to Kreider, he was the difference between a win and a loss tonight.
At the end of one, 2-1, Devils.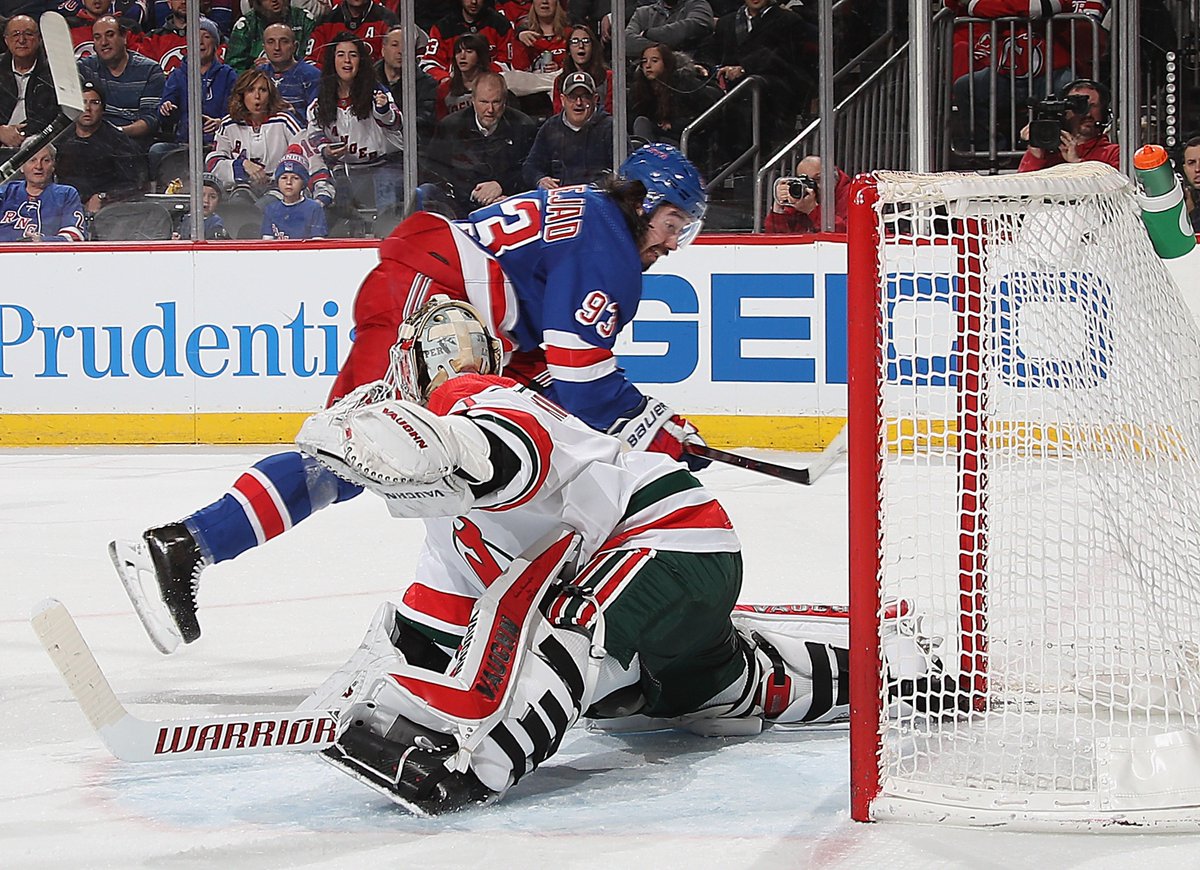 To continue a minor gripe that I've had all season, I get that in television, you need to space out segments and not cram up everything at the end. However, for Joe Micheletti to give his goal of the game in the first period and his save of the game with 25 minutes remaining in the game, well that's just dumb, irresponsible and complete FAKE NEWS. The game wasn't even half over and Micheletti was done giving out his blue ribbons. The best was still yet to come.
The first ten minutes of this second period, as Steve Valiquette would later say during the second intermission, were "something you would fast-forward if you were watching on your DVR." I completely agree with STRIPE VALLY here. (Check out my last blog if you don't get the Stripe reference.)
This is when I started thinking about the old Ranger/Devil brawls of old, because these first ten minutes were boring.  There was no juice. I understand this isn't the Hanson Brothers, but there was just no intensity. It was just lolly-gagging around. Put it this way, if you were trying to get a new fan into hockey, these ten minutes wouldn't of helped your case.
The Rangers would have two chances to tie this game. One saw Hayes do the old Rick Nash power moves to the net, but he waited too late to shoot and the puck went array. Then, on a 3 vs 2 rush, Chytil pulled a Scott Norwood. Two breaks for Kinkaid.
The officiating of this game was all over the place, with a call in favor of the Rangers and a no-call in favor of the Devils. While I understand "make-up" calls, I thought the no-call on the Devils was complete bullshit.
At 13:11, Miles Wood was driving to the net. Brendan Smith blatantly pushed him into Lundqvist. Miles would get called for goalie interference. In other words, if you used this logic, then Filip Chytil should've been booted out of the league and deported after the hit on Rask from two games ago. The same play happened here. While McAvoy's shove on Chytil was more vicious and the collision was more brutal, Chytil's goal stood against Rask. In this case, Smith pushed Wood into Lundqvist and boom, Woods got a two minute penalty. Bad call.
The Rangers wouldn't capitalize on the ensuing PP. Then at 16:22, Blake Coleman blatantly hooked Brendan Smith. Talk about a bad penalty to take. Once again, seconds into the Rangers PP, Mika Zibanejad delivered:
Tie game! @MikaZibanejad tallies for the second time on the power play! #NYR pic.twitter.com/CoZTTfk4gQ

— MSG Networks (@MSGNetworks) February 1, 2019
2-2. On this goal, Zuccarello made the most perfect pass possible, sending a hard and flat pass for the delayed one-timer. You couldn't do it any better than this. Oh and for some reason, Sam Rosen was sympathetic that the Devils were a bad team this year. Why?
At 19:23, the Rangers pulled out their normal trick out of their bag of tricks, and took their 9th too many men on the ice penalty of the season. I'll say this, if you're going to take this undisciplined penalty, take it at a time like this, where you're giving the team a wraparound penalty rather than giving your opponents a full two minutes to fuck ya. Very rarely, do teams score on these types power-play chances. The Devils in this game wouldn't either.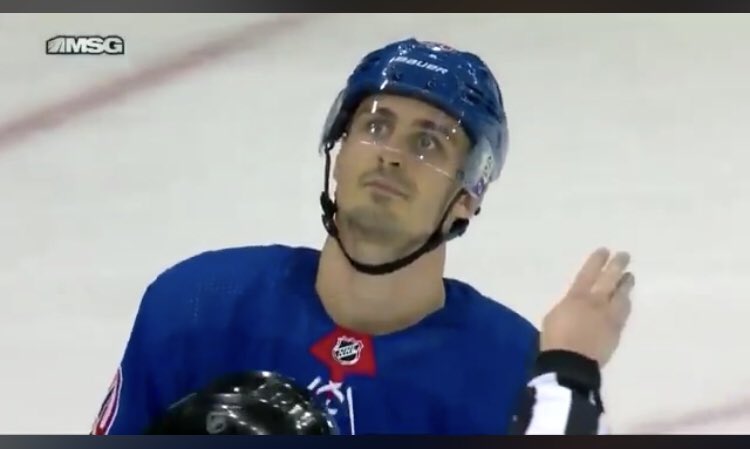 With the game 2-2 and after killing the back half of the Devils PP, at the 4:43 mark of the third period, Chris Kreider fluked one by:
CHRIS KREIDER BREAKS THE TIE FOR THE RANGERS! #NYR pic.twitter.com/m6DrutskhO

— Hockey Daily (@HockeyDaily365) February 1, 2019
3-2, good guys! However, less than a minute later, Lundqvist pulled a Lundqvist, and gave the lead right back:
EGOR YAKOVLEV WALKS INTO THE SLOT AND TIES IT UP FOR NEW JERSEY!#NJDevils pic.twitter.com/zBsXKo3oaa

— Hockey Daily (@HockeyDaily365) February 1, 2019
3-3, just like that.
On the goal, Vesey made a turnover and Hank couldn't make that extra save. From this point in the game, the 5:36 mark of the third period, I didn't see Vesey for the rest of the game. Quinn benched him for the turnover. This made the Buchnevich crowd happy.
It's funny, and I've talked about this already in-depth on this blog, but it amuses me that there is a Buchenvich vs Vesey debate, which really stems from both of them debuting in the same season. To me, there is more upside in Vesey's game, just because he's more physical and not prone to cry like a little bitch when things don't go his way.
Furthermore, two head coaches have now soured on Buchnevich. Plus, Dave Maloney, who probably knows this team better than anyone, has also buried Buchnevich. Needless to say, I think I'm going to side with two coaches and Maloney over a few jerkoffs that bukkake each other with pie graphs and venn diagrams.
Come the summer, if not the deadline, the Rangers will have to make choices on Vesey & Buchnevich. I understand why they are lumped in together by fans, but I never understood the one vs the other debate. It's not like you can't have both and it's not like you can't move on from both either. That said, if you're going to keep one, I can see the Rangers keeping Vesey. After all, he has that Boston connect with Quinn and probably can take the "tough love" better than the Eyeore commie.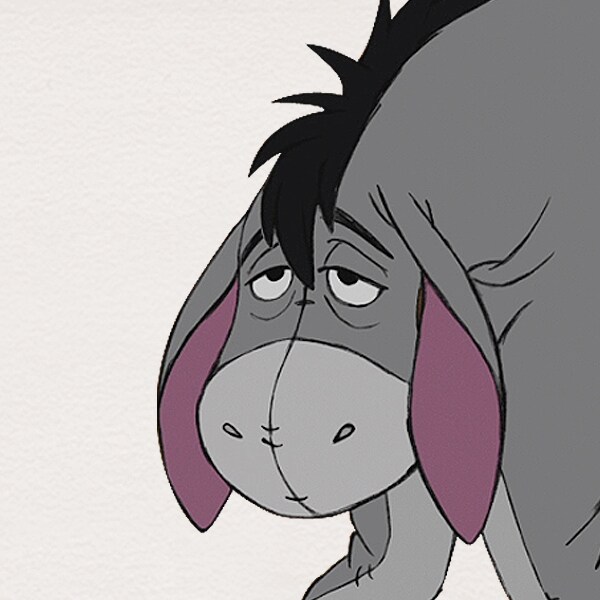 Oh, and at 3-3 and an eventual 7th overall goal coming, my OVER prediction was a lock. You're welcome!
As the game got under ten minutes, Namestnikov took a great shot and Kinkaid made a tremendous save, a save that should've been save of the game.
Then, right after, Pavel Zacha CROSS-CHECKED and BOARDED Namestnikov. NO CALL! This was egregious. This was pathetic. This was like the Saints/Rams no-call. This was absolute BULLSHIT and I can't stress that enough here. I wish I could find the video of the hit, but trust me, Zacha committed two infractions on Namestnikov. Making matters worse, THE REFEREE WAS THREE FEET AWAY AND LOOKING RIGHT AT THE HIT!
As I said up top, I understand "make good" calls or "make good" no-calls. This was not the time for that. These millennials and player safety pussy hat people want fighting out of the game. However, this is ok? You're more prone to get a concussion, or take serious damage by getting blind-sided like this, than having a one-on-one fight.
No joke, the referee who was looking at this double infraction should be fined and suspended. You simply can't stand there, watch this hit and then do nothing. What would've made this ref make the call, if Namestnikov was comatose on the ice? HORRENDOUS!
Oh and also worth mentioning, after watching Namestnikov get crushed, David Quinn didn't open his mouth once. What? This guy has been vocal all season and has gone nuts over smaller things than this. Is he checked out? I know Quinn has gotten no calls because of his rookie status in the league, but how do you watch your guy get crushed head first into the boards and not go nuts? Furthermore, where is McLeod or McQuaid to fuck someone up? I'm telling you, this brand of hockey is all sorts of messed up.
Between Quinn lying to Lindgren, not calling up a forward from Hartford for the game against Philly and Quinn not speaking up for Namestnikov, I gotta say, I'm disappointed in the Almighty Quinn here.
At 15:23, and with the goal of the game officially already given out in the first period, Zibanejad not only scored the best goal of the game, but put the cherry on top here. Not only did he score the game winning goal, he scored his third goal of the game, giving him his first ever hat trick as a New York Ranger:
Zibanejad scores a hat-trick beautiful goal, his first hat-trick as a Ranger pic.twitter.com/Y3trwd92YD

— Heart of NHL (@HeartofNHL) February 1, 2019
4-3, good guys.
With the clock dwindling to triple zeroes, the Devils pulled Kinkaid. The Devils had a good chance to tie it up, but a loose puck that Lundqvist lost track of, couldn't be tapped by the King of the All-Star Weekend. The Rangers would get possession back and would hold on to beat the worst team in the division, defeating the last place Devils 4-3.
As far as this game goes, you want to see the Rangers not only beat their rivals, but take care of bad teams. Trust me, as someone who traveled across the country to see this team get spanked 5-0 by Arizona, you want to see this team win these types of games, no matter what your feelings are on the "tank". And really, the Rangers just seem like a middle-to-lower of the pack team, where they aren't good enough for the playoffs but aren't bad enough for a top 3 pick either.
Before wrapping up, I wanted to share this press release that I received:
Mustang Harry's New York Rangers Events Calendar:

 

– Friday, Feb, 1 (7PM-9PM):  NYRFans.com Meet & Greet with Tony DeAngelo (tickets: $39.99 – $79.99)

 

– Meet & Greet / Personal Photo Opportunity with Tony DeAngelo

– Signed 8×10 Photo or Puck / $39.99

– VIP Seating Reservation, 16×20 Personalized Autographed Photo of Tony DeAngelo, Priority Access for Meet & Greet / $79.99

– Tickets:$39.99 – $79.99 at NYRFans.com

– Friday, Feb,22 (7PM-9PM):  NYRFans.com Meet & Greet with Neal Pionk (tickets: $39.99 – $79.99)

 

– Meet & Greet / Personal Photo Opportunity with Neal Pionk 

– Signed 8×10 Photo or Puck / $39.99

– VIP Seating Reservation, 16×20 Personalized Autographed Photo of Neal Pionk, Priority Access for Meet & Greet / $79.99

– Tickets:$39.99 – $79.99 at NYRFans.com

 

HIGH-RES IMAGES

– Restaurant Interior / Exterior  (photo credit: Mustang Harry's)

– NY Rangers Pre Game  / F & B photos (photo credit: Mustang Harry's)

 

 

About Mustang Harry's: 

Located just steps from NYC's Madison Square Garden, Mustang Harry's has been a legendary Midtown-Manhattan fixture for more than two decades, having cemented its reputation in the Big Apple as a tried and true Irish gastropub and sports bar.  This go-to spot for locals, concert-goers, and sports fans alike boasts a sweeping 99-foot bar—the longest of any sports bar in NYC—decked with 16 HDTVs and an elevated menu of classic handcrafted cuisine, cocktails and spirits. Run by brothers Ian and Niall Conroy of County Tipperary, Ireland, Mustang Harry's recently unveiled a $1.5M renovation that expanded and transformed the entire two-floor venue with tufted leather banquets, reclaimed wood walls, cozy nooks, and antique fixtures and skylights that capture the rustic charisma of post-industrial NYC with a twist of Irish charm.  Mustang Harry's is located at 352 7th Avenue in close proximity to Penn Station and local attractions such as the Empire State Building and Herald Square.  It is open seven days a week for lunch and dinner, as well as Saturday and Sunday brunch.  For more information or to make a reservation, please call (212) 268-8930 or visit www.mustangharrys.com.  Follow Mustang Harry's on Facebook and Instagram at @mustangharrysnyc, and on Twitter at @mustangharrysny.

 

 

About NYRFans.com: Since 2001, NYRFans.com has been connecting Rangers fans with their favorite players through ultimate experiences, including intimate player signings and meet and greet events, exclusive custom Ranger road trips, and fun-packed pre-game parties and road-game viewing parties. Founded by Ted Kalamaras, a dedicated fan himself, NYRFans.com is committed to offering clients personalized services for ticket purchases for at-home and away games, as well as access to a large inventory of official signed Rangers merchandise. For more information, please visit NYRFans.com 
---
I'm telling you, if I was able to make the Tony DeAngelo event, I would've loved to get a picture with him in my MAGA hat!
Moving ahead, the Rangers go from worst to first, as they host the Tampa Bay Lightning on Saturday night, with a late start time of 8PM. Obviously, there is a lot of history between the two teams and this is a game where you can really find out what the Rangers are made of.
As far as who's in net, with crappy LA on the schedule on Monday, I would go Lundqvist on Saturday vs Tampa and let Georgiev have LA. We'll see if that happens. If the goalie starts are reversed, you can bet your bottom dollar (which you should have plenty of if you're listening to my over-under predictions) that I will be bitching about that in Saturday's blog!
Until Saturday, thanks for reading, and as always…
"LET'S GO RANGERS!"
Sean McCaffrey
BULLSMC@aol.com
@NYCTHEMIC on tweeter