Greetings and salutations everyone and welcome to the third blog on this site within a 24 hour time period! As I start this blog an hour after the Rangers 6-5 loss to the Washington Capitals, there will be another blog tomorrow, as I opine on whatever moves the Rangers make from now until the deadline.
In case you missed my Rangers/Devils review or my blog on the Zuccarello trade, you can find those two blogs, as well as my most recent stuff, below:
---
---
---
---
---
---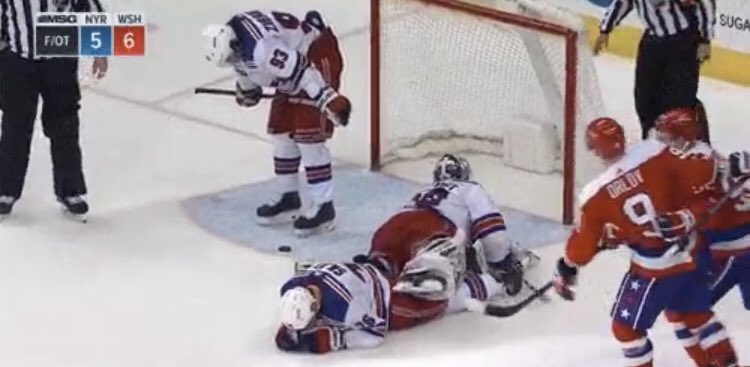 Today's 6-5 overtime loss to the Washington Capitals was one of the most exciting games of the season. Obviously, because the Rangers lost, this wasn't the best game of the season, but as a hockey fan, this was one hell of a game to watch.
Quite frankly after writing two long manifestos yesterday, I was hoping for a snoozer like the game with the Wild. A 2-1 game would've been beneficial for me! Instead, we saw a game where one back-up goalie looked terrible and another goalie who should be a back-up look even worse. With these two messes in net, we saw a total of 11 goals scored.
However, the action in this game wasn't just limited to goal scoring. There were 17 penalties in this game, with two of those penalties being five minute majors for fighting. To make things even more exciting, while a fight was going on between Ryan Strome and Matt Niskanen, you had Tony DeMAGAngelo (Credit, as always, to @NYRKELSMADS) and Tom Wilson going at it too. The third period of this game felt like a late 1990's ECW show – "DEANGELO, GET THE TABLES!"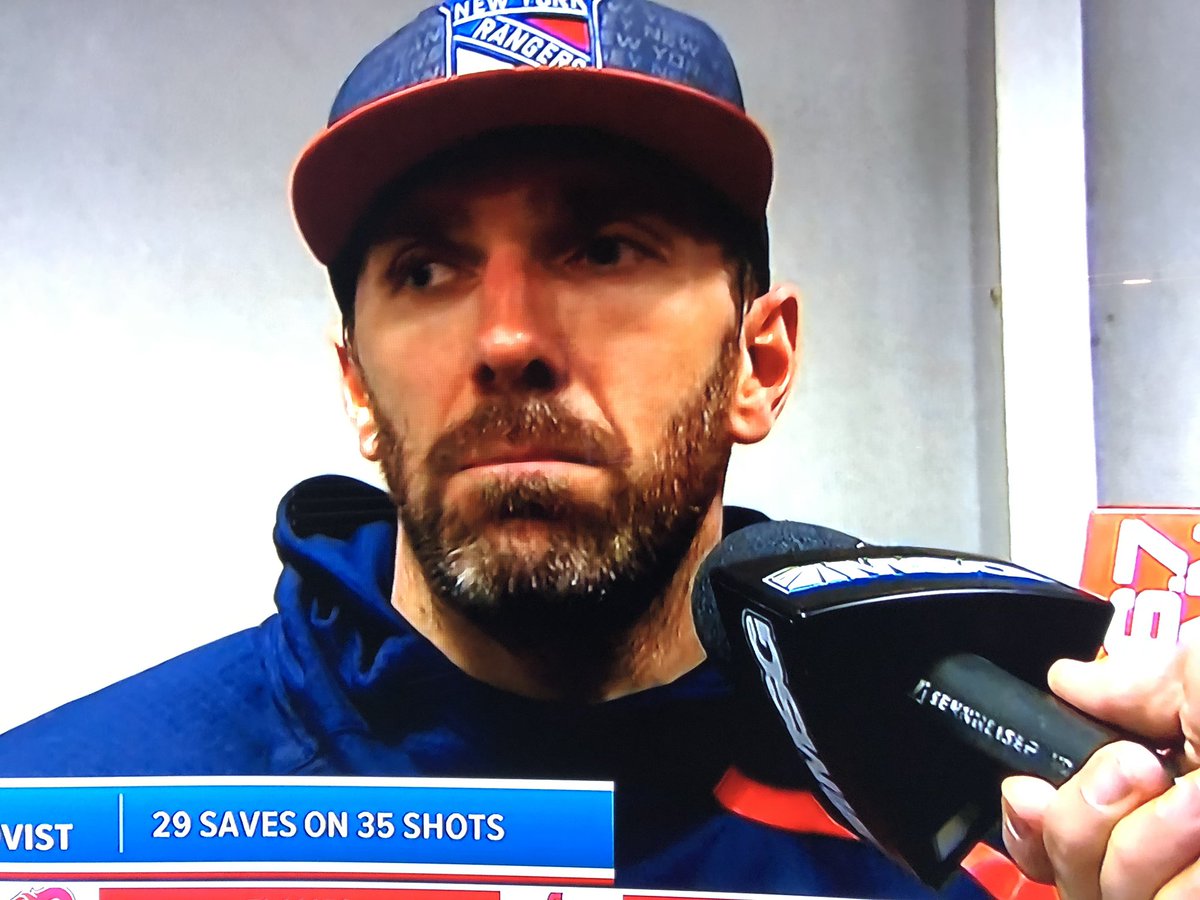 This game was a see-saw battle, with the two goalies looking like absolute dog shit all game. For the Capitals, they miss their former back-up in Philip Grubauer. For the Rangers, we all know that with Henrik Lundqvist here, the Rangers will never win a Stanley Cup like the Capitals. However, the Rangers rather continue their mission of losing with Lundqvist than trying to win without him. It's insanity, but it's also a move from a franchise that's only won 4 Stanley Cups in 93+ seasons.
While there were already 11 goals scored in this game, there could've been a lot more goals, as both posts took a beating in this game. After the terrible performance from both Capitals goalie Pheonix Copley and Henrik Lundqvist today, the Capitals are going to have repaint their goal posts and cross bars. The iron took such a beating in this game, especially behind Lundqvist, that I'm surprised the trainers didn't run out there to ice down the posts before they started swelling. I've seen UFC fighters lose, and walk out of the cage, while taking less damage than the iron took here today.
I did two blogs yesterday recapping all the news. I'll also have a Zuccarello update at the end of this blog.
As far as any other non-Zucc news between yesterday's win over the Devils to today's loss to the Capitals, there was nothing going on. Let's go right into the usual segments here, before getting into the game review itself.
LETTIERI WATCH time!
The Hartford Wolfpack played on Saturday night. What happened? This:


For Vinni Lettieri, that's now five straight games with a goal scored in each. However, as mentioned repeatedly, because the Rangers didn't overpay to get him or trade anyone of value to get him, the Rangers aren't as invested in him, as say they are with someone like a Lias Andersson.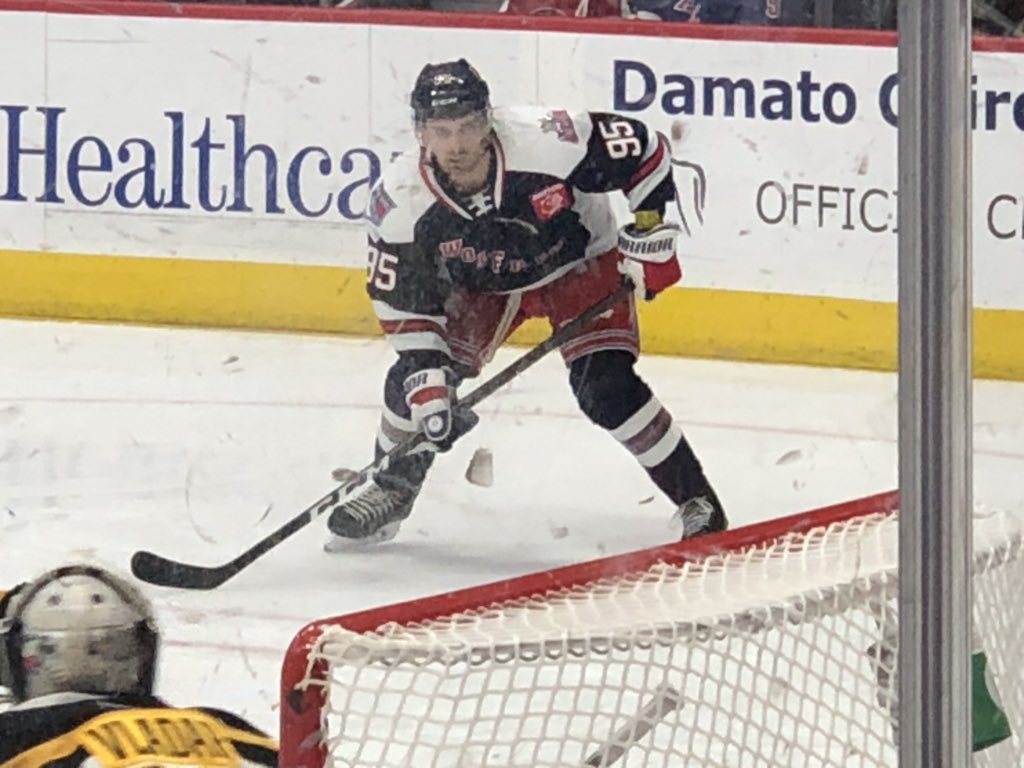 The Wolfpack will play later today, as they finish up their three games in a row stretch. Can Lettieri make it six straight games with a goal scored? For his sake, let's hope he plays against a goalie that was as bad as Lundqvist and Copley were today!
As far as the line-up Quinn used today, with Zuccarello now gone and with Hayes & McQuaid awaiting their new homes, Quinn rolled out the same line-up as he did yesterday, in the win over the Devils.
For the second straight game, this team played well. However, Washington isn't New Jersey and Lundqvist isn't Georgiev. I truly believe that if the KING OF KINGS, in Alexandar Georgiev, was in net today, the Rangers would've won. Lundqvist didn't have it at all today. Neither did his counter-part, in Pheonix Copley. Both goalies were embarrassingly bad today.
It's funny, when you watch all these games, while Georgiev has a few high scores against him too, outside of Game 3 against Carolina, it's hard to say he's truly had a bad game. Sure, he may give up a bad goal here and there, as he did when he gave up 6 total goals to Pittsburgh, but there are never a string of bad goals in a row, sans the game with Carolina from earlier in the season.
When you see Lundqvist have these 5GA or 6GA games, usually it's a string of bad goals allowed and they all happen in a bang-bang way. Even today, Lundqvist would give up two goals within 35 seconds on two separate occasions. This only happens to him. He's too busy being mad and blaming everyone else to focus, and by the time play resumes, it comes back to bite him in his over paid ass.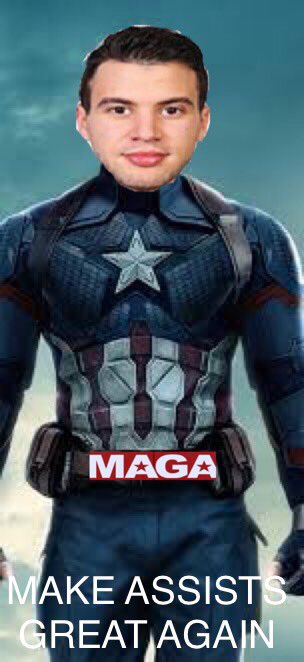 With the lines and defensive pairings the same as Saturday, here's a reminder, in case you forgot:
FIRST LINE: Kreider/Zibanejad/Vesey (Once again, Vesey was asked to step up and replace Zuccarello. Once again, Jimmy Vesey had a good game in this role. He's 2-2 in good games, since replacing Zucc.)
SECOND LINE: Namestnikov/Strome/Fast (The more I see of Strome, the more I like him. He went from an afterthought to me, to someone I hope is back next season.)
THIRD LINE: Andersson/Chytil/Buchnevich (No matter how many times the Rangers try to force a square peg into a round hole, Andersson is not ready for the NHL yet.)
FOURTH LINE: Smith/Nieves/Brickley (This is the second time all year these three have played together, with the first time happening just 24 hours ago.)
Defensively, Quinn went with:
FIRST PAIR: Skjei/Pionk (After being scoreless for something like 27 games, not only did Skjei score yesterday, he doubled his goal output today, by scoring two goals. This season can't end soon enough for Pionk, who may have logged too many minutes this season and may be tiring out.)
SECOND PAIR: Staal/DeAngelo (The best duo of the game, just as they were yesterday.)
THIRD PAIR: Claesson/Shattenkirk (The worst duo of the game, just as they were yesterday.)
And now, time for the gambling segment of the blog. Here's what I said before the game:
Over under has jumped half a goal. No goalies announced yet, but looks like Hank v Copley. Both teams played yesterday. Washington is a desperate team. I'll take the over but not betting it heavy, I'm on a cold streak! #nyr pic.twitter.com/afq9tZAI2r

— BlueCollarBlueShirts (@NYCTheMiC) February 24, 2019
I'm off the schneid! The only thing I got wrong here was not betting the over heavy! With 11 goals scored, this game easily smashed the over of -6.5 goals. My record now improves to 26-14-1.
One trend to keep an eye on, despite losing Zuccarello from the top line, the Rangers are now averaging five goals a game. Unfortunately, since Zuccarello was traded, Lundqvist is averaging 6 goals allowed per game. Not going to win many games like that. GIVE US GEORGIEV OR GIVE US DEATH!
And finally, as usual, here's the official box score from ESPN.com:
SCORING SUMMARY:
1st Period
0:21

Chris Kreider

(26)

Assists: Jimmy Vesey, Mika Zibanejad

1
0
18:42

Nicklas Backstrom

(14)

Assists: John Carlson, T.J. Oshie

1
1
19:03

Michal Kempny

(6)

Assists: Brett Connolly, Andre Burakovsky

1
2
2nd Period
5:09

Tom Wilson

(17)

(Power Play)

Assists: Jakub Vrana, Lars Eller

1
3
18:18

Brady Skjei

(5)

Assists: Connor Brickley, Lias Andersson

2
3
3rd Period
0:21

Jimmy Vesey

(15)

Unassisted

3
3
2:25

Nic Dowd

(6)

Assists: Travis Boyd, Brooks Orpik

3
4
3:01

Nicklas Backstrom

(15)

Unassisted

3
5
6:01

Vladislav Namestnikov

(8)

(Power Play)

Assists: Neal Pionk, Tony DeAngelo

4
5
19:29

Brady Skjei

(6)

Assists: Kevin Shattenkirk, Mika Zibanejad

5
5
OT Summary
4:20

Evgeny Kuznetsov

(16)

Assists: Alex Ovechkin, Dmitry Orlov
PENALTY SUMMARY: (Take a deep breath)
1st Period
4:19

Brady Skjei:

2 minutes for Cross checking
2nd Period
1:24

Dmitry Orlov:

2 minutes for Hooking

3:39

Lias Andersson:

2 minutes for Holding

6:01

New York Rangers:

2 minutes for Too Many Men/Ice – Bench (served by Chris Kreider)

12:47

Michal Kempny:

2 minutes for Roughing

12:47

Lias Andersson:

2 minutes for Slashing

15:50

Lars Eller:

2 minutes for Slashing
3rd Period
4:54

Carl Hagelin:

2 minutes for Hooking

6:23

Matt Niskanen:

5 minutes for Fighting (Major)

6:23

Ryan Strome:

2 minutes for Roughing

6:23

Tom Wilson:

2 minutes for Roughing

6:23

Tom Wilson:

2 minutes for Unsportsmanlike conduct

6:23

Anthony DeAngelo:

2 minutes for Roughing

6:23

Ryan Strome:

5 minutes for Fighting (Major)

16:17

Brooks Orpik:

2 minutes for Roughing (served by Brett Connolly)

16:17

Brooks Orpik:

2 minutes for Cross checking

16:17

Connor Brickley:

2 minutes for Roughing
GOALIES:
| | | | | | | | | | | |
| --- | --- | --- | --- | --- | --- | --- | --- | --- | --- | --- |
| SA | GA | SV | SV% | ESSV | PPSV | SHSV | SOSA | SOS | TOI | PIM |
| 31 | 5 | 26 | .839 | 23 | 3 | 0 | 0 | 0 | 64:20 | 0 |
| | | | | | | | | | | |
| --- | --- | --- | --- | --- | --- | --- | --- | --- | --- | --- |
| SA | GA | SV | SV% | ESSV | PPSV | SHSV | SOSA | SOS | TOI | PIM |
| 35 | 6 | 29 | .829 | 22 | 2 | 5 | 0 | 0 | 63:36 | 0 |
Off of puck drop here, this was one hell of a hockey game. In fact, as the rebuilding Rangers took the ice in game one of the "POST ZUCC ERA", I wasn't expecting much. However, when Kuznetsov scored the game winning goal in overtime, I was floored by the game I saw. While of course, I'm not happy with the loss or with Henrik's performance today, I was extremely impressed by Quinn's bunch.
The Rangers would find themselves in two goal deficits during two different points in this game and each time, they came back. Then, when down by a goal, they got that elusive extra skater goal in the waning seconds of regulation to force the overtime. I don't know if you can refer to the most profitable franchise in the league as "the little engine that could", but the Rangers gave it their all today. If Lundqvist didn't have a bad game, the Rangers would've won this game with ease, because Copley was extremely bad today.
The Rangers wasted no time getting on the board in this game, as the new first liner, in Jimmy Vesey, made a beautiful cross ice pass to Chris Kreider. Kreider buried the puck past Copley at the 21 second mark:
Rise and shine @NYRangers fans ☀️
Chris Kreider wasted no time to put the Blueshirts up 1-0 #NYR pic.twitter.com/K5gunm8KFa

— MSG Networks (@MSGNetworks) February 24, 2019
1-0, good guys. I don't know if the Rangers are actively working on their backhand passes or what, but it seems during the last few games, the Rangers have picked up a bunch of assists because of the backhand.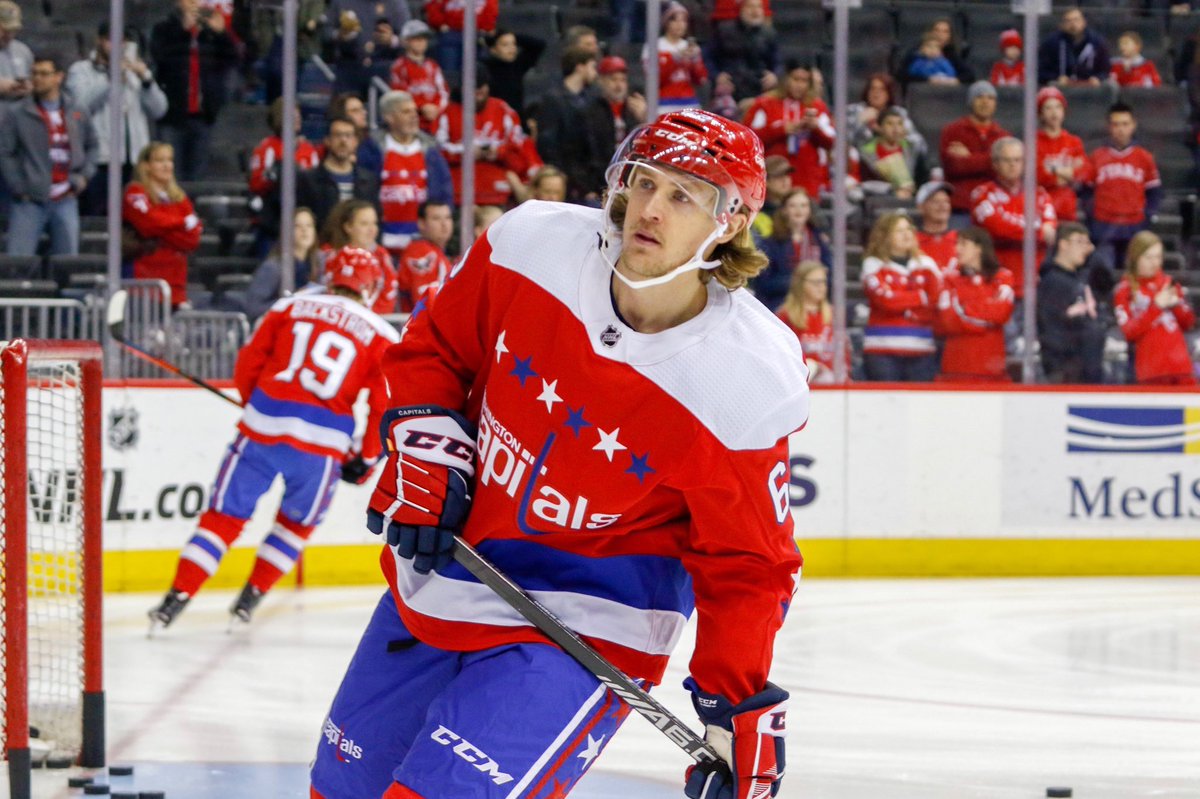 Real quick on Hagelin – how weird is it that Hagelin has less ex-teammates in New York than Kevin Shattenkirk has ex-teammates in Washington? When you think about it, 2014 now seems like ages ago.
It wasn't all bad for Copley early, as he would stop the Rangers newest forward, in Brendan Smith, on his doorstep. With the way this game ended, this was a big save in hindsight. Again, on Smith, if this is a rebuild, why is Smith playing forward instead of Vinni Lettieri or whoever else you may like in Hartford?
A trend throughout the entire game saw Tony DeAngelo somewhat fill that Zuccarello role. What I mean by that, besides TDA's superb passing and puck movement, is that TDA constantly found himself in these post-whistle scrums. And TDA didn't give a fuck who he was messing with, as he got into the faces of Ovechkin, Wilson, and anyone else in his way.
I'm telling you, I think by knowing that his job is guaranteed, TDA has more confidence. He can play his game if he's not worried about being scratched. He's coming into his own now and is one of the brightest stars of the Rangers youth movement. Like anyone else, he just has to sustain it.
Brady Skjei would get caught cross-checking at around the four minute mark of the first period. Dumb penalty to take, but the Rangers PK held their own, with Ryan Strome once again standing out. I'm telling you, in these last few games, both Ryan Strome and TDA have really been good in my eyes.
Despite having a 10 minute segment on the MSG pregame show dedicated to Henrik Lundqvist, it wasn't enough for Micheletti, who would just not stop fawning over Hank. John Giannone reported from rinkside that "Lundqvist is paying attention to Ovechkin today." What hard hitting reporting.
For the first 18 minutes of this period, it was all New York Rangers. Both teams played the day before, so the Capitals didn't have any excuses.
As Ranger fans were raving about the great period, Nicklas Backstrom put Washington on the board at the 18:42 mark:
Nicklas Backstrom scores after a great pass by John Carlson pic.twitter.com/VlUfIMrKhp

— Ian Oland (@ianoland) February 24, 2019

1-1.
Before Lundqvist could throw his hissy fit at his defense, Michal Kempny beat Lundqvist. This was two goals in 21 seconds allowed by Lundqvist:
MICHAL KEMPNY WALKS INTO THE SLOT AND BURIES A GREAT WRISTER!#ALLCAPS pic.twitter.com/x9UMRlY0FE

— Hockey Daily (@HockeyDaily365) February 24, 2019
Hank has to have that one. 2-1, bad guys. Just like that, a feeling of a great period was erased. Oh, and with this goal, this was the Caps second goal after their fourth shot in the game. In other words, the Rangers held the Capitals off from turning this game into a shooting gallery, but when you have a save percentage of .500 in the first period, you're not helping your team.
2-1 after twenty.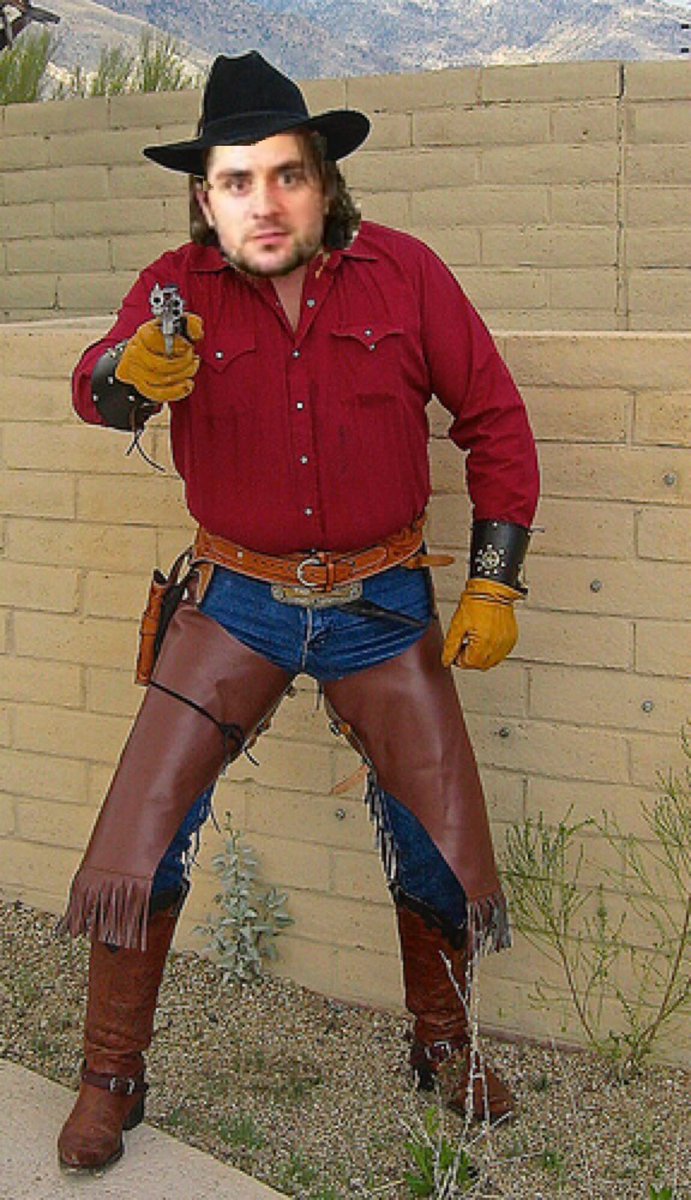 Now I don't know if the Rangers were experiencing rage, as they mourned the trade of Mats Zuccarello or what, but the game became very physical from the second period on. I loved it. I'm sure the millennials who sleep with night lights hated it, but I loved this brand of hockey. Again, the Rangers should've won this game, and would've won if they had a decent goaltender today, but if you're gonna lose, at least lose in an exciting fashion.
The Rangers would get an early PP into the second period, but couldn't do anything with it. Again, as I've been saying for a while now – PUT TONY DEANGELO ON THE FIRST POWERPLAY UNIT!
Later on in the period, Lias Andersson would take a brain-dead penalty, as he got caught holding in the Capitals defensive zone. He negated a strong Rangers forecheck and put the lethal Caps PP to work.
On the powerplay, Tom Wilson of all people, increased the Caps lead to two, at the 5:09 mark:
TOM WILSON HAMMERS HOME THE ONE-TIMER FROM THE SLOT!#ALLCAPS pic.twitter.com/QwEQnKj7b4

— Hockey Daily (@HockeyDaily365) February 24, 2019
3-1, bad guys. As was evident all game, Lundqvist would see the puck coming, but couldn't physically make a save. He couldn't get his arms up during some pucks. He couldn't keep his legs closed. He's just not the same guy and with every Lundqvist start, despite him compiling records, you're watching a legendary career erode.
There's a thing all entertainers say – leave them wanting more. Lundqvist isn't entertaining.
At 6:01, the Rangers took their 11th too many men on the ice penalty of the season. As I've mentioned before, I don't know if this penalty is happening because the Rangers keep mixing up all their lines to the extent that the guys don't know when to jump on the ice or what. Luckily, this penalty didn't burn the Rangers and the Rangers would kill the Caps PP.
At 12:47, Lias Andersson took another penalty, but it was a trade-off, as Kempny took the off-setting penalty. 4 vs 4 didn't favor the Rangers here, but they didn't give up a goal either.
Another game changing save from Copley occurred shortly thereafter, as he stopped Skjei point blank from his door-step. For Copley, this would be the last big save he would make, as he would then completely fall apart.
The Rangers would get another PP here, and once again, did nothing with it. Pionk and Shattenkirk are struggling here. Why not put TDA on the first PP unit?
Then, in a role-reversal from the first period, the Rangers would strike with the late goal, a goal of a fluke variety. Here's Skjei at the 18:18 mark:
Brady Skjei brings the Rangers to within 1 #NYR pic.twitter.com/IuZCWIIfYp

— Dom Renna (@drennaESNY) February 24, 2019
3-2, bad guys.
On the goal, Skjei tossed a meaningless and care-free shot from the blue line and somehow Copley let it go by him. This was the goal that kind of broke Copley, as from this point on in the game, Copley couldn't stop anything. You could see him shaking, as if he just finished a Polar Bear swim. He was frightened. He was timid. He was also overplaying everything, as he would leave his own net, leave a lot of the goal exposed and if this was video game, his confidence bar would be flashing bright red, just like the red lights behind Lundqvist.
At the end of two in Washington, 3-2, bad guys.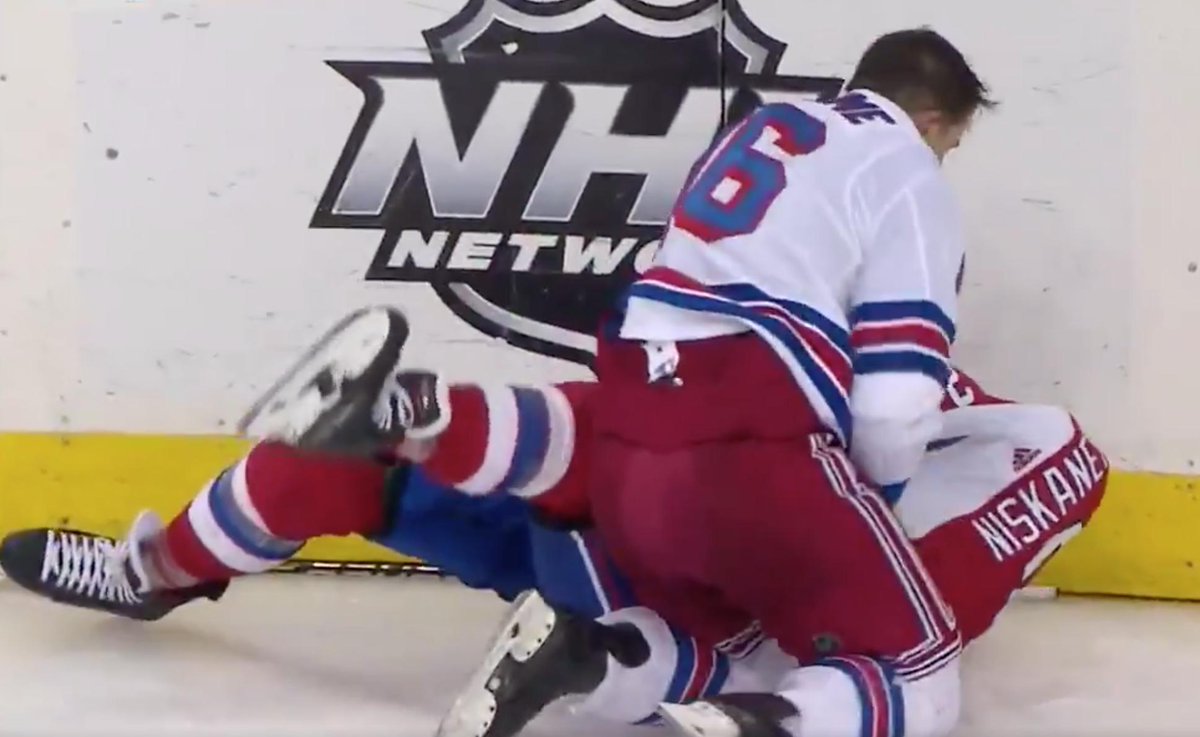 The gloves were off in this wild third period. However, before getting there, Jimmy Vesey tied the game off of a shot that looked like a mad golfer expressing anger at his tee:
Rangers tie this at three on a Jimmy Vesey goal #NYR pic.twitter.com/pnXhrgnzps

— Dom Renna (@drennaESNY) February 24, 2019
3-3, at the 21 second mark of the third period. Copley's knees were buckling like someone holding in a shit while sitting in traffic.
Then Lundqvist happened.
At 2:25, Nick Dowd beat Hank easily. 4-3 bad guys.
Less than 40 seconds later, Backstrom fooled Hank so bad, that Hank's jock was hanging off the Capitals Stanley Cup banner. 5-3 bad guys.
JUST LIKE THAT FOLKS, JUST LIKE THAT. That quick. $8.5M.
However, after the Backstrom goal, Hagelin took a hooking penalty. This would lead to a Vladislav Namestnikov PPG. Of course it was TDA assisting on yet another PPG here. 5-4 bad guys. NOT DEAD YET.
Right after this goal, we had a major brawl break out between TDA vs Wilson and Strome vs Niskanen. I can't lie, despite being a bit hungover, I got off my couch and stood up, and admittedly, was jumping up and down like a kid in a candy store. THIS WAS FUCKING GREAT:
As if this period wasn't crazy enough…Strome throws down the 🥊 #NYR pic.twitter.com/k08uc5Cg8j

— MSG Networks (@MSGNetworks) February 24, 2019
STROME 3:16 baby!
WOW! I love this stuff. Old time hockey. I'LL TAKE THIS EVERY GAME – IT SHOWS ME THAT THESE GUYS CARE AND WON'T GIVE UP. For anyone who hates fighting, go watch spring training baseball.
A slew of penalties ensued, but all the penalties were off-setting.
From this point on, both goalies got a bunch of help from their friends, you know the cross bar and the post.
Then, at the 16:17 mark, Brooks Orpik cross checked Connor Brickley, but the refs, as usual, missed it. However, Brickley felt it and he wasn't going to let Orpik get away with it. We then had another battle:
Good for Connor Brickley for defending himself against Orpik here. Who knows what the future is for Brickley, but I'll take a guy who won't stand for cheap shit any day of the week.
As the game wound down, and with a little bit over a minute to go, the Rangers finally pulled Lundqvist. The Rangers employed their 6 vs 5 attack and they would score! Here's Brady Skjei:
Brady Skjei ties it up with 30 seconds left!!! #NYR pic.twitter.com/OyScp4lyxK

— MSG Networks (@MSGNetworks) February 24, 2019
5-5, with 31 seconds remaining in regulation. On the goal, you could see the Rangers buzzing. The Caps were tired. You could smell the aroma of a fresh wet shit from the pants of Pheonix Copley, as he could no longer hold it in. The Rangers were in his head. Seriously, if there were was another five minutes left of regulation, I think the Rangers would've won this game. Then again, if Lundqvist could outperform a terrible goalie, the Rangers would've won this game too.
5-5 after 60. Overtime was next.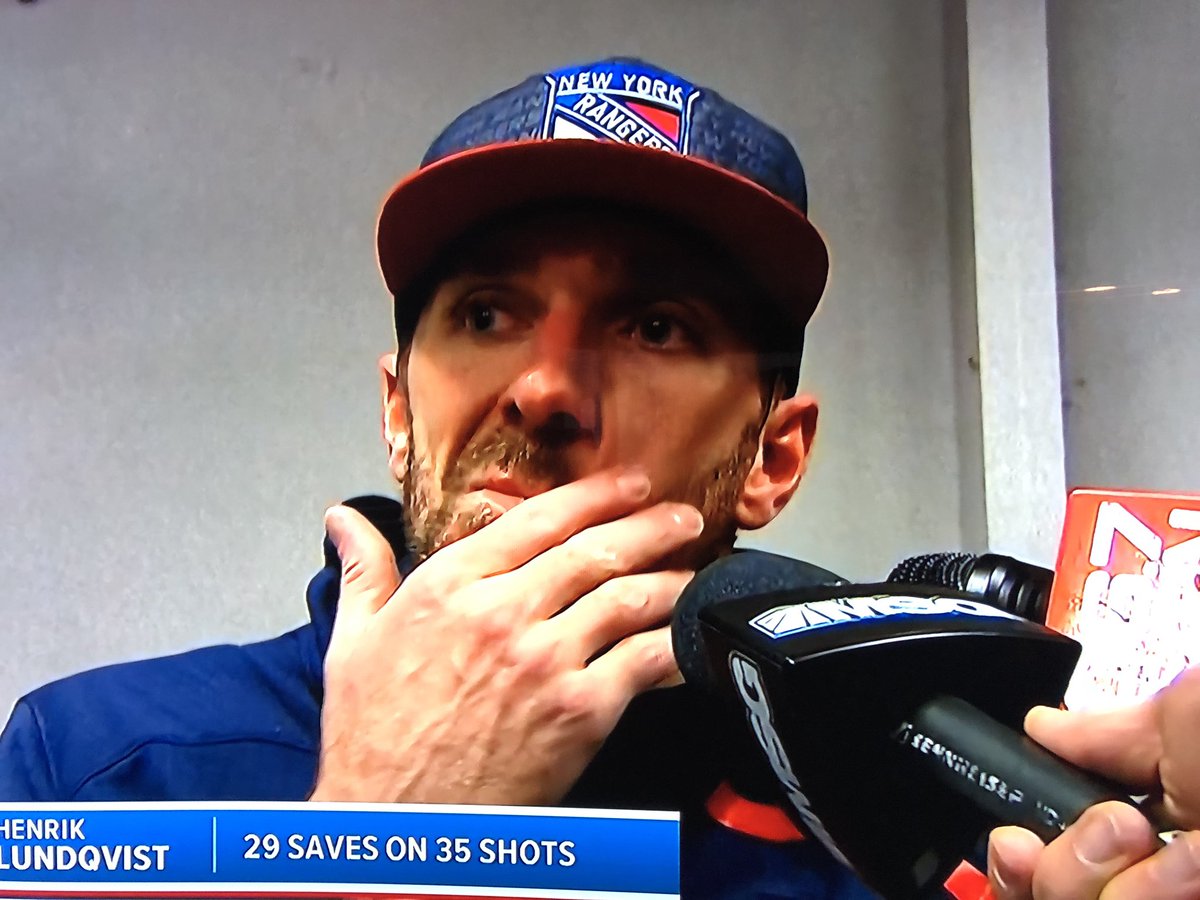 In the three vs three overtime, the Rangers had about a billion chances to win this game. Copley looked like he was playing without blades on his skates, as he was all over the place. Every time, the Rangers took an extra two seconds to challenge him, rather than blasting a puck into a net that looked as high and wide as a soccer net. There was even a 3 vs 0 opportunity, where the Rangers didn't even get a shot off.
Yes, yes and yes – Lundqvist cost the Rangers this game. That said, the Rangers could've won it in this overtime. You may read this blog and say "ALL HE DOZ IS SAY BAD THINGS ABOUT HANK", but I'm telling you right here – the Rangers could've won this game in OT, and it was their failure to put the puck on net, against a struggling goalie, that cost them the two points at this stage of the game.
With 40 seconds remaining in OT, Ovechkin somehow put a puck through the body of Lundqvist and Kuznetsov finished the job:
EVGENY KUZNETSOV JAMS HOME THE LOOSE PUCK TO WIN IT IN OVERTIME!#ALLCAPS pic.twitter.com/DpbyAyN5Dp

— Hockey Daily (@HockeyDaily365) February 24, 2019
6-5, your final. This was a game the Rangers could've won.
Just when I thought I could do a quick blog, there's a bunch of things that happened after this game.  Let's roll.
As I was putting the finishing touches on this blog, Hartford finished their third game in as many nights. Lettieri, who had five goals in as many games (as reported in the first LETTIERI WATCH of this blog) had his goal streak snapped. However, his points streak remains in-tact, as he logged two assists in the Wolfpack's 4-1 victory over the Providence Bruins! Oh, and once again, he was one of the three stars.
WHAT DO I HAVE TO DO TO SEE LETTIERI GET SOME TOP 6 MINUTES WITH THE RANGERS?
The last two big stories have to do with Mats Zuccarello. Let's go to Lundqvist first.
In Lundqvist's post game interview, after he was done blaming the team in front of him for giving up a touchdown, Lundqvist started crying like a bitch. This wasn't like Mark Messier crying after winning, this is Lundqvist looking to make the Zuccarello story about himself:
Henrik Lundqvist gets choked up talking about the Mats Zuccarello trade.

We're with ya Hank. #NYR pic.twitter.com/HyyfIS1NWS

— MSG Networks (@MSGNetworks) February 24, 2019
I know the Oscars are tonight, but is Lundqvist trying to get one with this dramatic performance of pathetic and phony blubbery? WAAAAAA WAAAA WAAAAAA. Maybe Hank should've told his little pal to hold the team up, force the team to give him a NMC and ask for 7 years during Zucc's last contract negotiations.
I'm sick of this false martyr act from Lundqvist. I see fans every day saying dumb shit like, "LUNDQUISS DOESN'T DESERVE THIS!" "LUNDQUIST NEEDZ A CUP" and  "THE RANGERZ FALED HENDRICK." Enough already!
The man has a no-move clause, WHICH HE REFUSES TO WAIVE. The door is open for Lundqvist to leave. He doesn't want to leave for a myriad of reasons – he doesn't want to uproot his family, he doesn't want to be away from his hair dresser, he doesn't want to leave his manicurist, he won't get stroked anywhere else, he won't be coddled anywhere else, etc. Lundqvist has one of the sweetest deals in the league, and perhaps the sweetest job in NY sports. NOTHING IS EVER HIS FAULT.
Why would he want to leave anyway? He's already shown that money is more important to him than winning. He has only a jerkoff like me hammering him everyday, not someone with power and influence, like a Mike Francesa or a Mike Lupica. If Lundqvist was in a market that cared about hockey, the pressure on him to waive would be intense. (Some of the media in Montreal are already questioning Carey Price in year one of his huge deal.) In a market that doesn't care about hockey, such as the one here in NY, he has a Cult that will blame the ghost of Ching Johnson for every goal allowed.
Zucc is gone. It sucks. But for Hank to make himself the victim here, it's just more shit for the Cult to eat up.
Speaking of Zucc…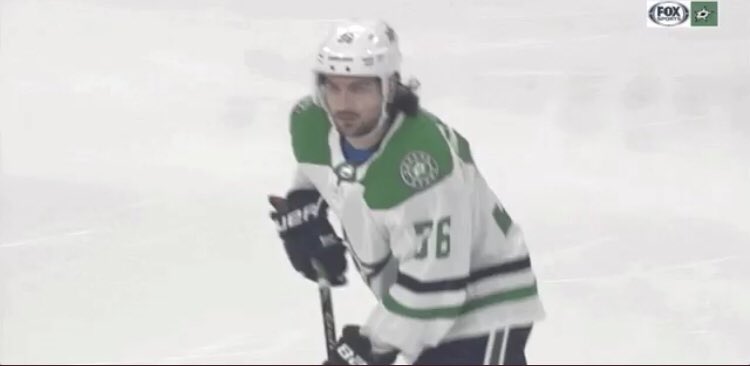 After the Rangers win over the Devils yesterday, and as the Rangers were traveling to Washington, Zuccarello was on a flight to Chicago, where he joined his new teammates in the Dallas Stars.
In his first game as a Dallas Star, Zuccarello logged an assist and a goal. Here's the goal:
Two points in two periods. @zuccarello36 is making quite the statement in his first game with the Stars. #GoStars pic.twitter.com/7PK9mUuQx2

— Dallas Stars (@DallasStars) February 24, 2019
Prior to making his Dallas debut, the Stars did a tremendous job of hyping Zuccarello up on Twitter. There was a nice press conference, a video of Zucc meeting the team for the first time and the Stars rolled out the red carpet for the guy. As far as a team embracing a new player goes, the Stars knocked it out of the ball park. Unfortunately for both Zucc and Dallas, Zucc was also knocked out of the remainder of the regular season.
Here's what happened at the end of the second period of the Hawks/Stars game:
Mats Zuccarello blocks shot in last minute of 2nd Period. Out for game pic.twitter.com/3JUZNn2R6Z

— John Shannon (@JSportsnet) February 24, 2019
After the game, Zuccarello told the media that he thought he broke his arm. He is going to have to go to the doctors for testing. The word "surgery" has already been brought up.
Officially, the Stars said this after the game:
Mats Zuccarello is heading back to Dallas for evaluation, but the early assessment is that he is expected to miss at least 4 weeks.

— Dallas Stars (@DallasStars) February 24, 2019
From a broken heart to a broken arm for our beloved little Norwegian hobbit. With the time-table of his injury being four weeks, that essentially means that Zuccarello has played his first and last regular season game for the Dallas Stars, at least here, in the 2018-2019 season. For crocodile tears Lundqvist, this opens up plenty of free time for the two to hang out and even Face-Time, if they so choose.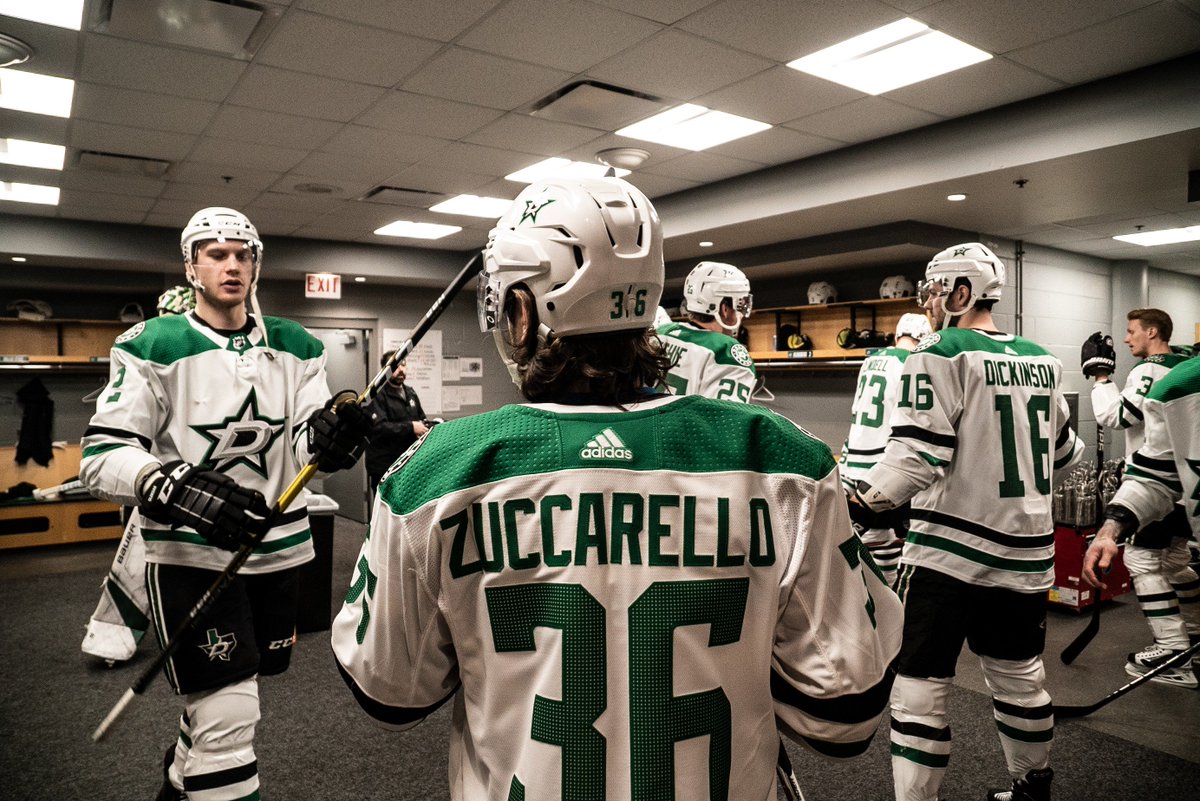 Talk about a weird situation. Zuccarello is traded and less than 24 hours later, he's done for the season. Four weeks is the minimum on his injury. Who knows if he will be out for the playoffs?
Can you imagine, the Stars made this trade and Zucc is shut down for the year? Theoretically, this could've been the last game that he ever wears the green for Dallas! What a bag of mixed emotions and just a tough time for Mats Zuccarello right now.
I was just saying last night, when compared to Rick Nash, Zuccarello has been pretty durable his whole career, and then this happens.
From a Rangers fan perspective, Dallas loses Zucc and it's not like their playoff spot is guaranteed right now either. After two periods, Zucc's Stars career could be over, thus meaning the Rangers won't get a first round pick. This deal could've blew up just like that!
For fuck's sake, that's hockey Suzyn!
Get well Zucc.
As I proof-read through the end of this blog, I just checked twitter – Hayes is still a Ranger. That's probably not the case at this time tomorrow.
I'll do a Rangers trade deadline blog tomorrow. After that, we will know who this team is for the final 20 games. The Rangers then return on Wednesday night, as they host the Tampa Bay Lightning. I'm interested if Lundqvist passes on that start.
I've talked a lot about the starts between the two goalies and how Georgiev plays more playoff teams than Lundqvist, and at this point in the season – just ride Georgiev. Let's see how he does against the best team in the league. We already know Lundqvist can't handle that pressure or beat the Bolts. Give the start to the kid. Maybe he will give the Rangers their second shutout of the season!
As always, thanks for reading and see you tomorrow. Until then…
"LET'S GO RANGERS!"
Sean McCaffrey
BULLSMC@aol.com
@NYCTHEMIC on twitter