Greetings and salutations everyone and welcome to another blog here on BlueCollarBlueShirts.com. As I start this blog, it's 12:30am on a Tuesday. Not the ideal time to start one of these blogs, but I'll see how much I can cram in here tonight!
On Monday night, the Rangers started their first of four road games, with all four games being played within a span of six nights. Historically, the western Canada trip is a laboring trip for the Rangers. Unlike the California loop, the Rangers will be subjected to freezing temperatures and it's not like the night life in western Canada is the same as the night life in Los Angeles.
For the first time in history, the Rangers will play three games in western Canada, followed immediately by a game in Minnesota. In the past, the Rangers usually play all three games in Canada, then either play a game close to home or at home. The Rangers have never played three games in Canada, only for the third game on the loop to be followed up by a back-to-back game.
On Monday, the Rangers started their trip in Edmonton. This game will then be followed with a flight to Vancouver for a game on Wednesday. Then, the Rangers will then go back to Alberta, where the Flames will host them on Friday night. Immediately after that, the Rangers jump back on the plane and will play less than 24 hours after the Flames game, as the Rangers will do battle with the Minnesota Wild on Saturday night. For the Rangers, this is the toughest stretch, travel-wise, of the season.
What also is weird, and while it's happened before, usually the Rangers play the Alberta teams first, then go to Vancouver. Or, the Rangers play the Canucks first, then play the Oilers and the Flames. Just seems weird for a league that wants to save money, that they have the Rangers starting in Edmonton, then going further west to Vancouver, only to return to Alberta. Furthermore, when the Rangers play the Wild, as they do on Saturday, that trip is usually paired with the Winnipeg game. Just some odd scheduling this year.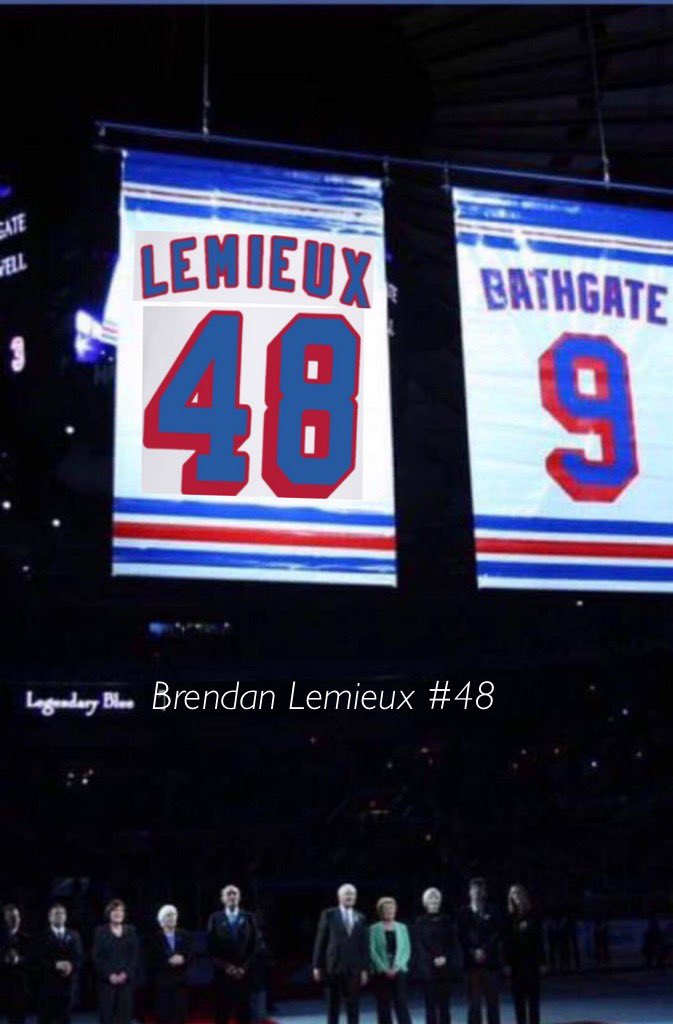 In tonight's game with the Oilers, the Rangers lost 3-2, with the game winning goal coming in overtime. For the Rangers, this was their 38th one goal game of the season, out of 69 games played. That stat doesn't include the games where an empty net goal was scored either.  This was also the Rangers 20th overtime/shootout game of the season as well.
What that tells you, is that a few pucks here and a few saves there, the Rangers really could've been a playoff team this season. Of course, what won't be mentioned by anyone besides me, is that Henrik Lundqvist leads the league in overtime and in shoot-out losses. Eh, as said before, $8.5M doesn't get you what it used to.
My hatred about Lundqvist's contract aside, it just goes to show you, that the Rangers really aren't THAT bad. A few tweaks to the roster next season, and we should see this team playing in the playoffs next season. However, that's a blog for the end of the season.
This game, which was just dreadful after one period, picked up in the Rangers favor during the second period. There were three major things that came out of this game. Obviously, the big news was Brendan Lemieux getting the Gordie Howe hat trick. The league news was that Alexandar Georgiev found a loop-hole in the NHL rule books and may eventually have a rule named after him. The worst news is that referee Justin St. Pierre is still employed.
In case the name Justin St. Pierre doesn't ring a bell, check out my blog from 3/5. In fact, you can check out that blog, and my most recent blogs, by using the links below:
---
---
---
---
---
---
I don't want to go on another referee rant, because the fact is, the referees didn't cost the Rangers this game. The Rangers had every chance in the world to win this game. The Rangers came out flat in the first period, couldn't finish on multiple chances, Jesper Fast couldn't score in a whorehouse even if he was holding a fistful of $50 bills and once again, the Rangers PP couldn't score a goal. So no – this game isn't all on Justin St. Pierre.
That said, Pierre once again blew a call in this game which cost the Rangers a PP. He would later call a tacky penalty on Skjei, with just three minutes to go in regulation. After the league had to apologize for St. Pierre for blowing the call against the Rangers last Tuesday, I can't believe the league assigned this buffoon to do another Rangers game in such a short amount of turnaround time.
In the UFC/MMA, fighters can turn down referees. It's getting to the point where David Quinn should be asking the league to keep Justin St. Pierre away from Ranger games. After all, the league keeps Justin St. Pierre away from playoff games, so it's not like the league doesn't know that JSP isn't good at his job. It's time for JSP to take a bus to Hartford. Let him do AHL games for a while!
The Rangers, who only have one win in their last seven games, and that one win was against the AHL Binghamton Devils, they continue to be a mess on their power-play. While the Rangers only had one chance tonight, Edmonton is ranked in the back half of the league, when it comes to the penalty kill. However, the Rangers remain snake-bitten on the power-play. In this one goal game, a third period PPG would've given the Rangers a win and would've put the Oil on their heels. Instead, the Rangers once again found themselves on the wrong end of an overtime game.
Before jumping into this game and the game review itself, I have a lot to share with you tonight. Yes, I know I can break up my updates into 93646783847963789368479638489 separate updates for clicks, but my motto has always been, "10,000 words, no ads, one click."
My biggest thing to share tonight is an email I received from a 92 year old Sam Gaw, who actually played for the NY Rovers back in the 1940's. Let's dive in.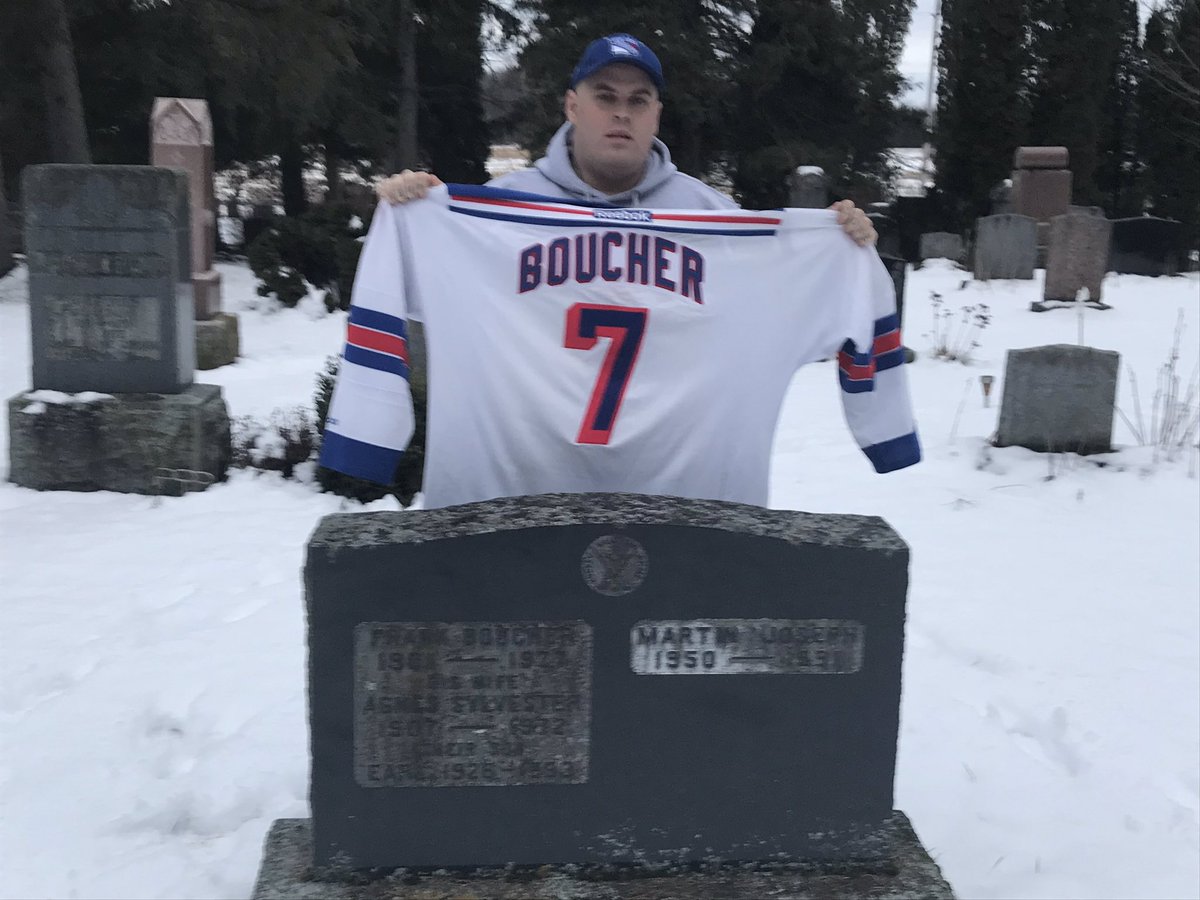 If you're a regular reader of these blogs, you know about my goal of wanting to see Frank Boucher get his just due by the New York Rangers. If you're new here, you can find all my Frank Boucher related articles by visiting: http://doinow.com/retire-frank-bouchers-7/
I have done countless things to raise awareness about Frank Boucher, but every time, the New York Rangers just give me the middle finger on this topic. They've ignored Stan Fischler and other hockey men about this. The feeling that I get, that because the Rangers can't monetize a Frank Boucher night, they are just happy to keep their heads in the sand.
When you think about it, especially in light of the Ted Lindsay passing, when you look at the Original 6 teams in the NHL, only the Rangers ignore their history pre-1950. If it weren't for Harry Howell and Andy Bathgate, the Rangers would've ignored that decade of time too.
I've been to every Original 6 arena and out of all them, only the Rangers ignore their past. Every other franchise has statues of players, monuments of players or even a wall to honor past stars. What do the Rangers have? They have Pepsi ads of Henrik Lundqvist. Disgusting.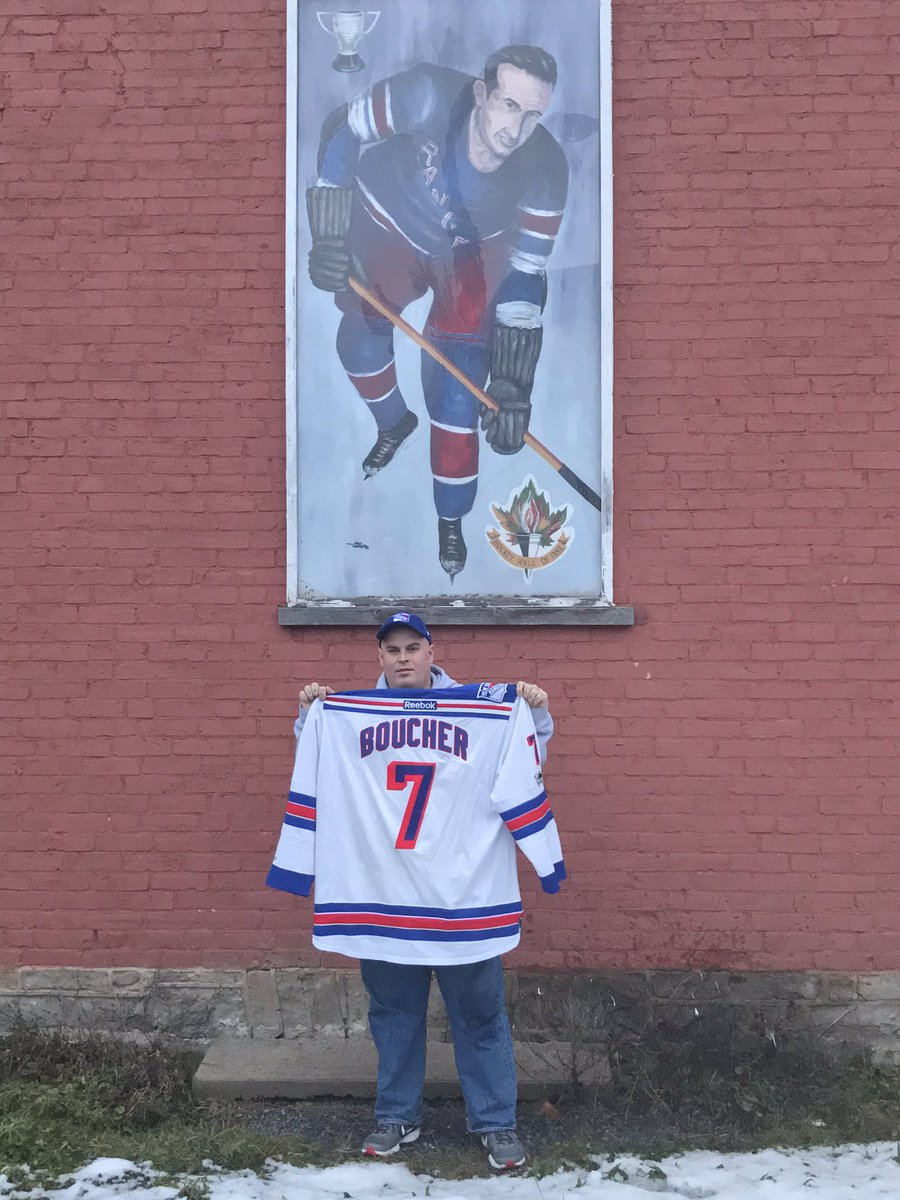 Again, if you've been following these blogs, you know that I'm in contact with the family of Frank Boucher, namely in Frank Boucher's grand-daughter, in Frankie Baird. In fact, in December of 2018, Frankie wrote a letter about her grandfather, which you can read by clicking here.
In today's latest Frank Boucher update, Sam Gaw, who is a friend of the Boucher family and who is currently 92 years old (think about it, he was born during the first ever NYR season) wanted to share his memories of Frank Boucher.
For those who don't know, and I didn't know this until I was told and did some research, because of Frank Boucher, Sam Gaw had a Rangers try-out during World War II. Gaw eventually went on to play with the New York Rovers during the 1943-1944 season. I'm telling you right now – stuff like this is why I do this blog. It's important to keep these stories alive and I love reading them.
Without further ado, I present to you Sam Gaw's memories of Frank Boucher:
Memories of Frank Boucher
By Sam Gaw,
Kemptville, Ontario, Canada

I am going to share with you some memories about Frank Boucher and inductee of the North Grenville Sports Hall of Fame, his accomplishments and my experiences with him.

The Boucher's; Frank, Ag and son, Earl, moved from Ottawa to Kemptville area in 1938 and bought a farm a few miles East of Kemptville. Frank had just finished a ten year career with the New York Rangers on the famous Cook-Boucher-Cook Line. Shortly after that he was appointed Coach of the Rangers.
Foster Hewitt, the famous broadcaster in Toronto for many years said the Boucher line was the best he ever saw. He said they seemed to have the puck on a string.

Frank won the Lady Byng trophy seven times in eight years, in the late 1920's, early 1930's and he was finally given the trophy. Lady Byng was the wife of the Governor General of Canada at the time. She then presented a new trophy to the National Hockey League that is for excellent play coupled with sportsmanship.

On February 15, 1940 my dad took me to Toronto to see the Rangers play the Toronto Maple Leafs. My boyhood hero was Syl Apps, a Toronto player. We listened to the games on the radio in those years, so I had mixed feelings about the game and the outcome. Between the second and third periods , I went down and waited outside the Rangers dressing room door. The Rangers came out in front of me, a thirteen year old kid from Kemptville standing waiting to talk to the coach. Frank saw me and asked me how I got there and said he hoped I was enjoying the game.

By the way, Toronto won the game 4-3 and Apps scored three goals and assisted on the fourth. Two months later, the Rangers won the Stanley Cup beating the Leafs in Toronto. And NOW, we had the coach of the Stanley Cup Champions in our midst in Kemptville, Hallville, Mountain, and Winchester. What a thrill that was!

Later on, when I was in the Army, I had a chance to go against Apps once in Kingston. The game finished tied 6-6 and Apps scored all six goals for the opposition. I later had a chance to play with Syl Apps in a game in Perth and had a good talk with him. He was a gentleman.

In the summer of 1943 Frank called me to his home outside of Kemptville. We sat in the living room and talked for a while and finally he said he was inviting me to the Rangers training camp in Winnipeg that Fall. He told me I would have to go to a Government office in Ottawa and get the necessary documents for entry to the US in the event you make the cut, as we would be leaving for New York by train, right after training camp.

I took the train to Winnipeg and checked into the Marlboro Hotel where the players stayed. We trained at the Winnipeg Amphitheatre Arena.

Each morning a list would be on the bulletin board in the dining room, stating who each player would be playing with that morning. You may remember some of the following names- Al Rollins, who played goal for Chicago and Toronto, Fernie Flaman played defence for Boston, Don Raleigh played center for the Rangers, Fred Shero played defence for the Rangers and Coached the Broad Street Bullies in Philadelphia in the mid '70's, and Gordon Howe, later known as Gordie.

Al Ritchie, the Rangers chief scout in Western Canada, at the time, brought Howe in from the Saskatoon area but he didn't stay very long. He may have been homesick , as he was only 15…but it wasn't long before Detroit picked him up, and the rest is history.
By the way, I made the cut.

Frank was Chairman of the NHL rules committee and he was an innovator. Early in training camp, he called us together at center ice and told us about the red line that was painted on the ice from side to side and why it was coming into effect that Fall. The center line was Frank Boucher's invention to speed up play.

Other innovations – two goal tenders. Back in those days a team only carried one goalie and if they got hurt, they would try to get somebody from the crowd that had enough nerve to put on the pads and go in to the net. Frank had two goalies playing for the Rangers, Chuck Rayner and "Sugar" Jim Henry. He frequently would change goalies, almost as often as he changed lines.

Another invention-When a penalty was called on the Rangers, Frank would put four forwards on the ice and go on the attack, rather than play defensive hockey.

During the 1943-44 season, the Rangers had many of their players in the military. They didn't have a very good team and Frank played fifteen games as player-coach to help out. He averaged a point a game, but after fifteen games, Lester Patrick, the Rangers boss said that is enough, as he was afraid of injury. Frank was 42 years old at the time. I played for the New York Rovers that year and was glad to be able to see him play.

During the winter of 1952-53, I was playing for the Brockville Magedomas and we had a good senior team. One evening I was talking to Frank's son, Earl, and in jest, I said I wonder if your Dad would bring the Rangers to Brockville to play us. Earl said, let's call him now. So we called New York, Earl talked to his Dad for a few minutes and Frank said, "Leave it with me."

A few weeks later the Rangers played the Canadians in Montreal and their next game was against the Leafs in Toronto. So Frank brought the Rangers to Brockville to play us before a full house. That's the kind of man Frank Boucher was.
---
I would like to thank Sammy Gaw for his contributions to this blog and for sharing his story. In fact, I hope Mr. Gaw sends in more stuff, as I'm really interested about hearing stories from his playing days and what it was like back then.
Unfortunately, while on Harry Howell, as you are probably are aware of already, #3 passed away on Sunday. When you look at the history of the Rangers, or the history they tell you through their rafters, Howell was the oldest-best Ranger in franchise history. (Of course, what I'm saying here, is that the Rangers ignore Frank Boucher, Bill Cook, Bun Cook, Bryan Hextall, Davey Kerr, Chuck Rayner, Edgar Laprade, Ching Johnson, etc.)
However, Howell has no control of the ignorance that seeps through the Rangers organization, so let me keep my thoughts to Howell here.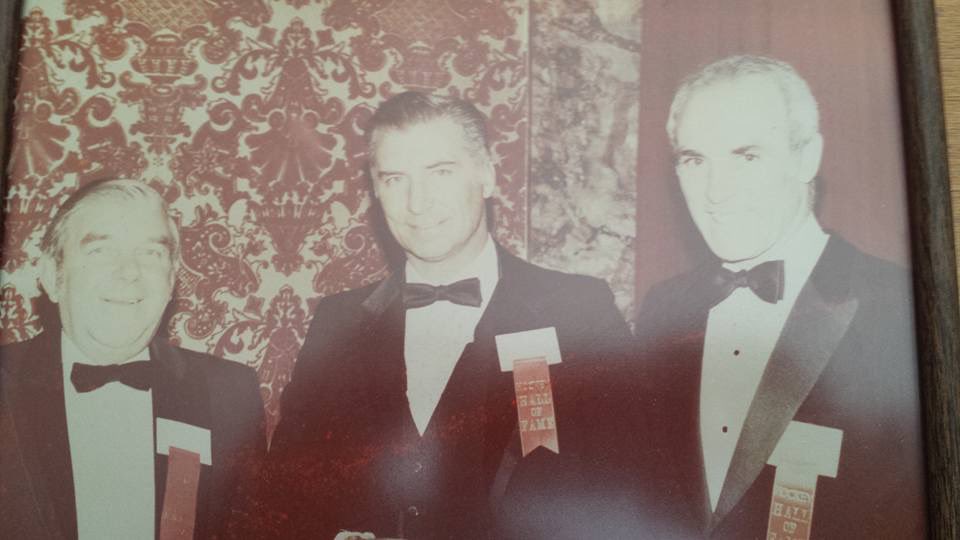 There are plenty of obituaries on Howell from the people who knew him and from the NHL. I would check out the NHL.com one, as that is the best one that I saw.
From all accounts, Howell was a fan-friendly player. To be fair, I think that's a generation thing, as you really didn't hear about too many "asshole" types from Howell's time. Many of those players loved playing hockey and realized they were being paid money to play a kid's game.
Howell, to this day, leads all Rangers in games played for the Rangers, with 1160 games. Of note, Brian Leetch would've snapped this record, but Senile Sather traded Leetch. (Leetch finished with 1129 games played.)
While Howell had a full life, passing away at 86 years old, I have to wonder if he died of a broken heart? While he did suffer from Alzheimer's, his wife of 64 years, in Marilyn Howell, just passed away three weeks ago. Very often, we hear stories about these long-time couples and how once when spouse passes, the other spouse quickly passes thereafter.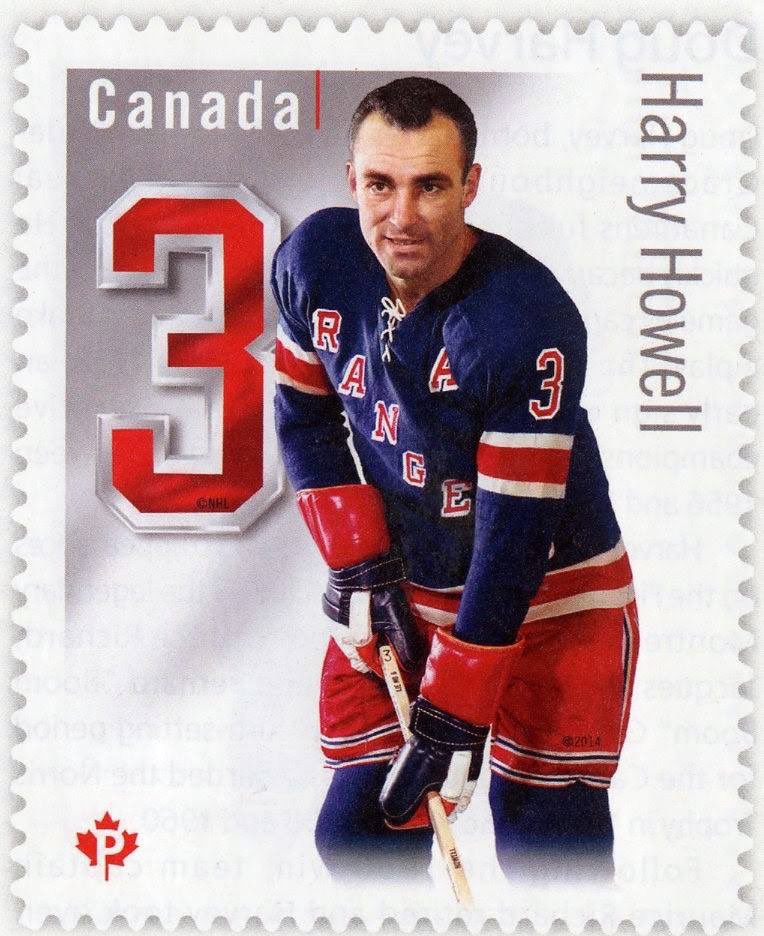 Howell was a quotable player, and one quote was featured in several of his death notices. Here's the LA Times version of the story:
He won the Norris trophy as the league's best defenseman in 1966 and then jokingly predicted that no one would win it for a while afterward except Bobby Orr. Howell was correct: Orr won the Norris the next eight seasons in a row and redefined the defenseman's role in the game.
Like many great Rangers, Howell would not win the Stanley Cup with the Blueshirts. Despite his 20+ year career ending in the WHA after the 1975-1976 season, Howell would have to wait until 1990 to get a Stanley Cup ring, and he would get that ring as a scout for the Edmonton Oilers. The Rangers/Oilers connection folks!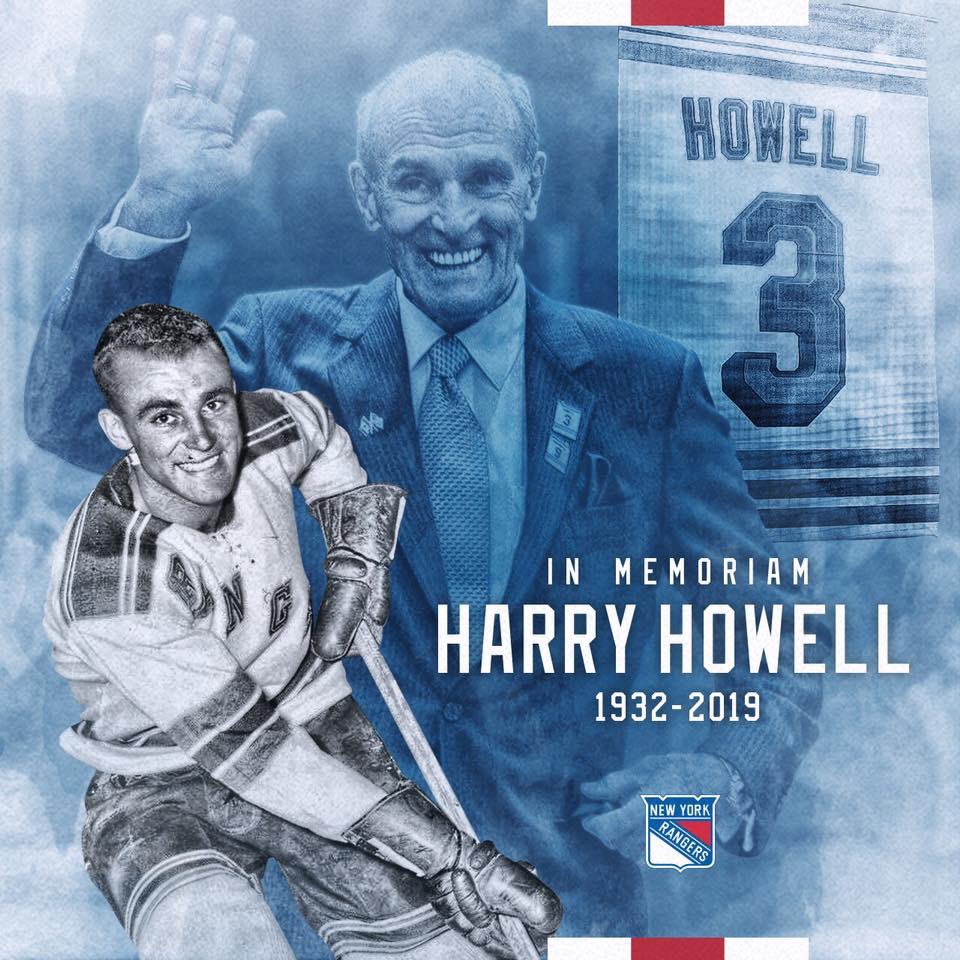 I would assume that due to health issues, the Rangers didn't bring Howell around a lot in Howell's final years. Despite Howell being alive, it seems that Rod Gilbert and Eddie Giacomin (and to an extent, Pete Stemkowski) were the Rangers go-to "alumni emeritus".
One thing that has irked me, and has been talked about on this site before, is that the MSG Networks do a horrible job with all the footage they have. Instead of airing  another "Lundqvist: MANI-PEDI" documentary for the 7462764726352th time, how about an hour documentary on Howell? How about showing some classic Howell games from the MSG vault? How about doing SOMETHING?
I also want to make mention, that the Oilers did a fabulous job of honoring Howell tonight. The Oilers, despite their recent issues, have always been a classy organization with great fans. The Oilers fan base is a great one. How can anyone forget how those fans sang the American national anthem when their house mic went out? As someone who has seen it first-hand, Edmonton is a great city full of great people.
In closing on this, RIP Harry Howell.
Moving on to the NOW, it's now time for the LETTIERI WATCH SEGMENT!
On Sunday night, the Wolfpack had their third game in as many nights. What did Lettieri do? Why, he only scored three goals in the Wolfpack's 5-3 loss to the Hershey Bears: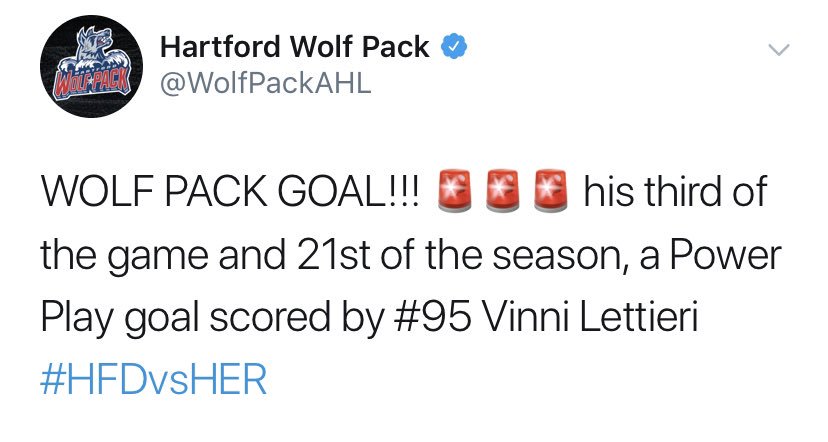 I just don't get it. With only 13 games remaining, why not recall Lettieri? WHAT DO YOU HAVE TO LOSE? Is Brendan Smith on the fourth line that important? Lias Andersson, who still remains on the team, is constantly scratched. Give Lettieri a chance. If it doesn't work out, it doesn't work out. At least you tried. It's not like Chytil is lighting the lamp with all this Top 6 time anyway.
The Wolfpack return on Wednesday night. If I can pump out a blog after the Rangers/Canucks game on Wednesday night, I'll have an update on how Lettieri did in that game. That is, if he isn't called up for the Rangers/Canucks game! (Due to the travel, I highly doubt that will happen.)
Moving along!
The never-ending saga that is the "Quinn Bin" (Credit: BSU Radio) took another turn on Monday, as Tony DeMAGAngelo was scratched. (As always, credit to @NYRKELSMADS for the DeMAGAngelo nickname.)
Before getting to TDA and Lias Andersson, who was the other healthy scratch tonight, let me quickly talk about the goalies.
After playing two last place teams, two teams that were basically AHL rosters, Henrik Lundqvist took a pass against playing one of the elite players in the world, in Connor McDavid. In fact, here's what I said in my last blog: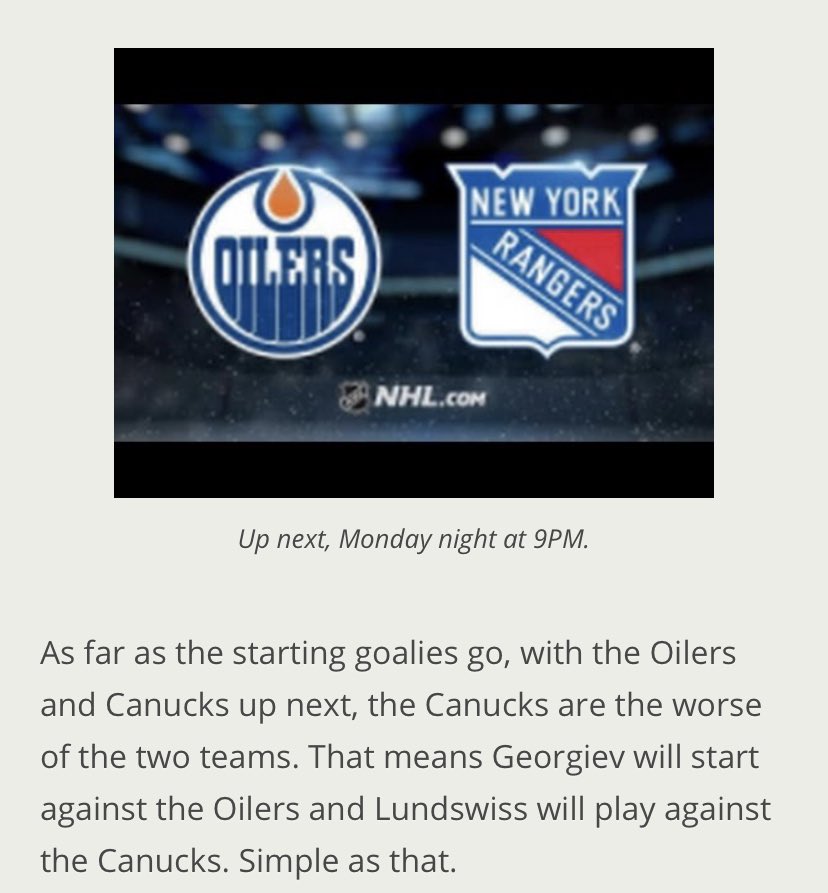 Hours before game time, Newsday reporter Colin Stephenson tweeted this out: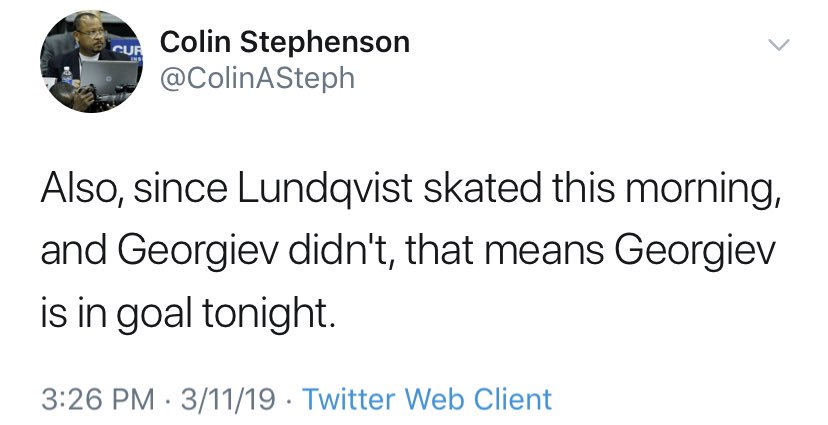 I wish I could bet on who will be starting in net for the Rangers. It would be free money.
I'll say it now – Lundqvist will play Wednesday against the crappy Canucks. Georgiev will then get the red-hot Calgary Flames who could be in first place when that game is played. Then, I would expect Lundqvist to get Minnesota the night after the Flames game, because Minnesota is worse than Calgary. Take this to the bank! I've been right on the money about this stuff all season. It's truly sad and pathetic how Lundqvist cherry picks his starts.
Let's get the easy thing out of the way first here. Lias Andersson was scratched tonight. I still don't get why he's on the roster right now, as he is struggling and isn't NHL ready. However, since the Rangers traded a lot to get him and because they have a lot invested in him, Andersson will get chance after chance, rather than being sent back to Hartford where he belongs.
Oh and for all you TANK/"I WANT THE RANGERZ TO LOOSE EVERY GAME SZN people, Jeff Gorton, during the 2017 draft, said, "Lias Andersson is the most NHL ready player out of everyone in the 2017 draft." How has that worked out? And again, I'll save you my points about how players don't tank and how Carolina got the #2 pick during the 2018 draft, despite the team finishing in 13th place overall.
The TDA scratch was a puzzling one to me.
For those who didn't hear about this scratch, once again, I'll refer to Colin Stephenson:
Tony D on being scratched: "We got seven good defensemen, like we been saying all year. So, the guys gotta play. Freddie hasn't played in a bit, so, Freddie will play. That's it. No explanation needed. He's the coach; we're the players."

— Colin Stephenson (@ColinASteph) March 11, 2019
DQ on Tony D: "There are certain things that are non-negotiable, and… Freddie's been out for a while, so, as I've told all of them, I'm looking for reasons to take people out, because I think all these guys deserve to play. And (Tony) gave me a small reason to take him out."

— Colin Stephenson (@ColinASteph) March 11, 2019
DQ would not reveal the reason he scratched Tony D. "I'll keep that between Tony and I," he said. But, he added, "Listen, he's made a lot of progress; he's had a really good year and he'll be back soon."

— Colin Stephenson (@ColinASteph) March 11, 2019
---
When it comes to this scratching, I heard one rumor that TDA was late to practice. However, this rumor comes from an unverified source. That said, Quinn should tell us why TDA is scratched. After all, Quinn tells us why he scratches other players. By not elaborating on this scratch, Quinn allows fans, but more importantly, the media, to speculate on why.
In the grand scheme of things, and with the way this season is going, scratching TDA isn't the end of the world. That said, if Quinn wants wins like he says he does, then scratching TDA, who has arguably been your best defenseman all season, isn't the right move. (And yes, I would argue Staal has been better overall, but TDA is easily HANDS DOWN, the best offensive-defenseman of the season, despite playing in a limited amount of games.)
I'm just sick of this "TONY DEANGELO IS IMMATURE" crap. Quinn should have the balls to say why he's scratching TDA. Quinn, who has done as much apologizing as the referees have done to him this season, should apologize for this move too. You could argue, that by scratching the offensively oriented TDA, that it helped cost the Rangers a point tonight.
And seriously, if Quinn is going to criticize TDA's play, what the hell has Neal Pionk shown during this last month? He's plateauted, hit a wall, is exhausted and just looks spent. TDA is a little firecracker and a ball of energy out there. In no world, does Neal Pionk belong to be playing instead of a healthy TDA.
That all said, here's what Quinn went with tonight:
FIRST LINE: Chytil/Zibanejad/Namestnikov (Namestnikov remains on the first line. He's playing well but has ran into a stretch of hot goalies.)
SECOND LINE: Kreider/Strome/Fast (Kreider got off the fourth line, but once again, remains ice cold.)
THIRD LINE: Lemieux/Howden/Buchnevich (The best line of the game. In fact, they produced every Ranger goal in this game.)
FOURTH LINE: Vesey/Nieves/Brickley (Nice to see Brickley and Nieves back together. I think both have been playing well, as the Rangers finish out the stretch.)
Defensively, we had this:
FIRST D-PAIR: Skjei/Smith (Smith plays hard, but can't find the back of the net.)
SECOND D-PAIR: Staal/Pionk (Staal was back in the line-up, after missing the game against the Devils. I talked about that in-depth during my last blog.)
THIRD D-PAIR: Claesson/Shattenkirk (Did anyone else hear Claesson's pregame interview? His voice doesn't fit his look, to say the least. And after my rant during my last blog, I can't believe some fans in this fan base want to buy out Kevin Shattenkirk.)
As mentioned, THE KING OF KINGS, in Alexandar Georgiev, was in goal.
And finally, before getting into the game review, let's go to the GAMBLING segment of the blog. Here's what I said before the game:
The o/u is 6 today. Go with what's been working – Georgiev and the under. That said, I could see a push here. I'm surprised the Oilers are -160. This should be a -110 game. #nyr pic.twitter.com/m1Bq8754JG

— BlueCollarBlueShirts (@NYCTheMiC) March 11, 2019
With 5 total goals scored, my over-under bet was right on the money again. My record now improves to 30-16-2 ever since I started this segment.
Not for nothing, my mini pre-game analysis was right too. The Oilers were too heavy of a favorite. In the effort of full disclosure, I also bet on the Rangers tonight to win. However, I've only been tracking my over-under predictions this season!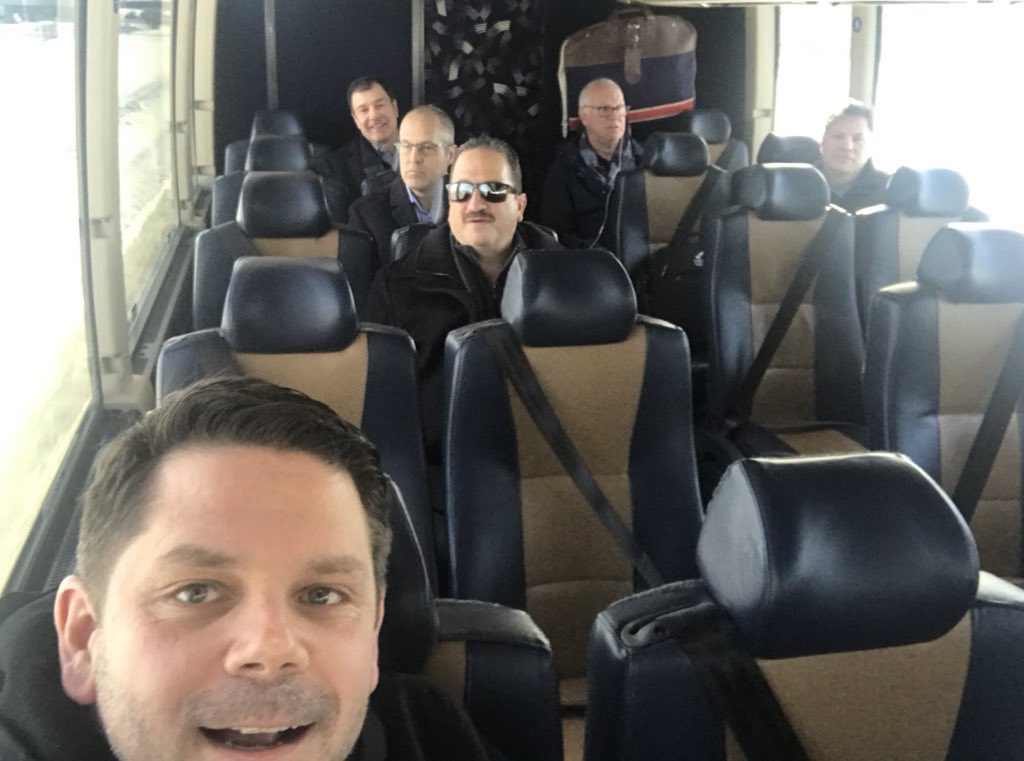 Without further ado, as always, the box score from ESPN.com:
SCORING SUMMARY:
1st Period
6:08

Connor McDavid

(34)

(Power Play)

Assists: Alex Chiasson, Leon Draisaitl

0
1
8:02

Matthew Benning

(3)

Assists: Leon Draisaitl, Zack Kassian

0
2
2nd Period
11:29

Brendan Lemieux

(11)

Assists: Kevin Shattenkirk

1
2
3rd Period
1:33

Brett Howden

(5)

Assists: Brendan Lemieux

2
2
OT Summary
0:35

Leon Draisaitl

(42)

Assists: Connor McDavid, Darnell Nurse

2
3
PENALTIES:
1st Period
6:01

Brendan Smith:

2 minutes for Cross checking
2nd Period
4:31

Jujhar Khaira:

5 minutes for Fighting (Major)

4:31

Brendan Lemieux:

5 minutes for Fighting (Major)
3rd Period
1:41

Connor Brickley:

2 minutes for Illegal check to head

1:41

Connor Brickley:

5 minutes for Fighting (Major)

1:41

Kyle Brodziak:

2 minutes for Instigator

1:41

Kyle Brodziak:

10 minutes for Misconduct (10 min)

1:41

Kyle Brodziak:

5 minutes for Fighting (Major)

5:20

Kevin Shattenkirk:

2 minutes for Slashing

8:14

Sam Gagner:

2 minutes for Slashing

17:03

Brady Skjei:

2 minutes for Tripping
OT Summary

No Penalties This Period
GOALIES:
| | | | | | | | | | | |
| --- | --- | --- | --- | --- | --- | --- | --- | --- | --- | --- |
| SA | GA | SV | SV% | ESSV | PPSV | SHSV | SOSA | SOS | TOI | PIM |
| 30 | 2 | 28 | .933 | 24 | 2 | 2 | 0 | 0 | 60:35 | 0 |
| | | | | | | | | | | |
| --- | --- | --- | --- | --- | --- | --- | --- | --- | --- | --- |
| SA | GA | SV | SV% | ESSV | PPSV | SHSV | SOSA | SOS | TOI | PIM |
| 33 | 3 | 30 | .909 | 28 | 0 | 2 | 0 | 0 | 60:25 | 0 |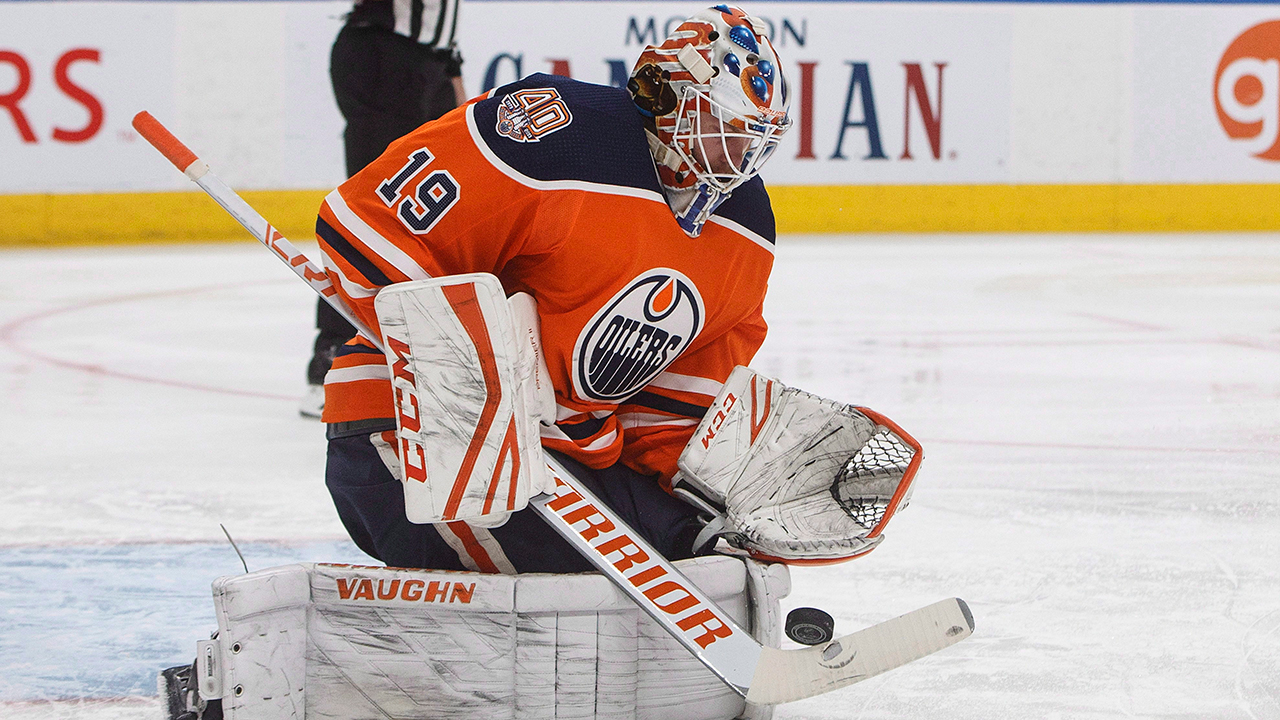 Let me get this out of the way first – obviously, when it comes to non-Ranger teams, I'm very up-to-date on the Oilers. This was also the first game between the Rangers and Oilers, since the 2015-2016 season, that didn't feature Cam Talbot on the Oiler roster.
When it comes to Koskinen, I still don't understand why Chiarelli was allowed to give Koskinen the contract he gave him, especially with Chiarelli being fired the next day. Even if you like Koskinen, it's not like he was going to be in high demand. The Oilers could've waited until the off-season, and test the market with someone like a Sergei Bobrovsky.
Going into this game, there was one thing that I think most of all knew – the Rangers wouldn't be able to stop McDavid and Draisaitl. The best the Rangers could do would be to contain them. What happened? McDavid and Draisaitl were involved with all three Edmonton goals scored.
Even later in this game, with the game late into regulation and overtime looming, I said on social media at the time that the Rangers had to win in regulation or they would have no chance. On the Oilers first entry into the Rangers zone in OT, the Oilers scored. The 3 vs 3 favors the elite players and the Rangers don't have anyone that's on the level of McDavid or Draisaitl. Furthermore, despite having nearly the same amount of points, the Oilers can still theoretically make a run at the second wild card, so they had a little more invested in this game.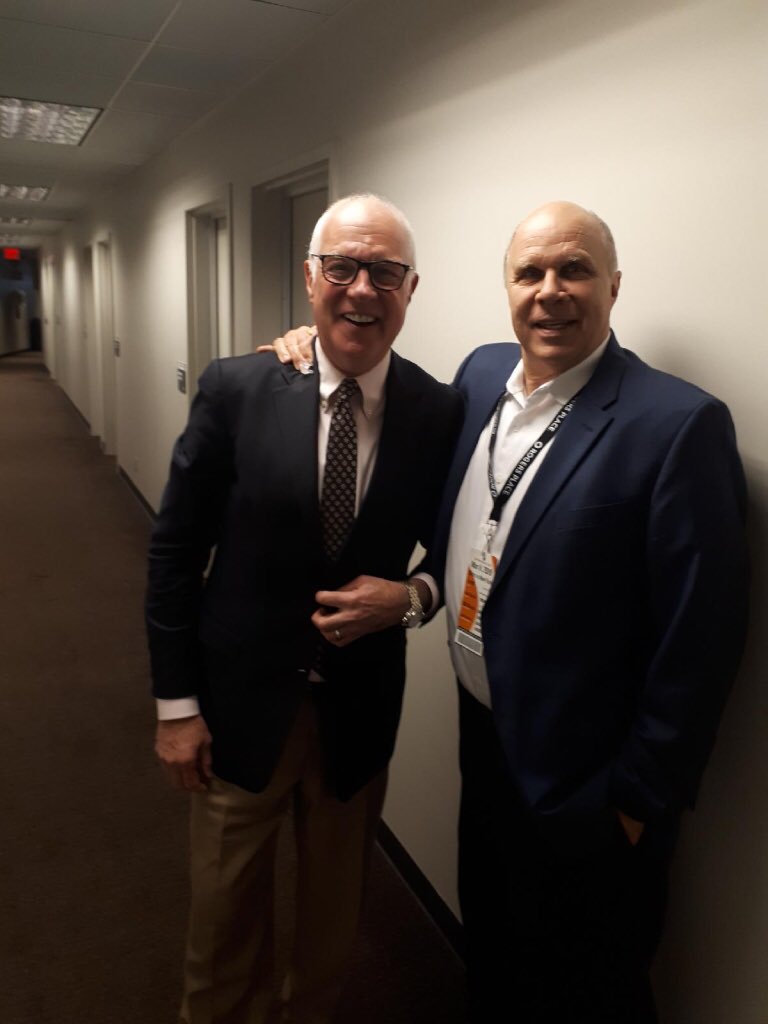 Real quick, while on Cam Connor, make sure to check out his podcast. I know I've plugged his podcast before, but really, it's one of the best ones out there. While it's not updated as frequently as other podcasts, it's all about quality and Connor is a great story-teller. For his latest episode, check out:
Episode 30 of View From the Penalty Box is up. Topics include:

-The recent university bench brawl & bench brawls I've been in
-Respond to Palmateer's quote about my playoff goal
-Steve 'Mental Case' Durbano
-Muhammad Ali's boxer shorts

Find us on Ituneshttps://t.co/4mpVEHKHpN pic.twitter.com/zU6rXqW97T

— Cam Connor (@CamConnorNHL) February 11, 2019
Oh, and for those wondering, during the MSG Networks pregame, we had another interview with Henrik Lundqvist. You know, we don't get enough about him with every broadcast! In this latest propaganda piece, Lundqvist and the MSG Networks wanted you to feel bad for him about having Zuccarello traded. There was also the laughable notion that Henrik Lundqvist works too hard and how that hurts him. Can you imagine saying that about Mark Messier? Lundqvist, and the MSG Networks for that matter too, are so out of touch with reality.
The first half of this game, which includes this entire first period, was all Oilers. It was like a role-reversal from the Rangers last game with the Devils. However, like the Devils game, the Rangers would erase a 2-0 deficit. That said, the Oilers are much better than the Devils and would be able to showcase their talent in the 3 vs 3 portion of the game.
Chris Kreider tried to get some offense going early in the game, but Koskinen stopped him all night. Georgiev would also stone McDavid right from Georgiev's door step. In fact, with 5 goals allowed in this game, both goalies played really well.
It's funny, at the start of the season, no one in Edmonton knew who Koskinen was and Georgiev wasn't always the hands-down back-up for the Rangers. Tonight, both goalies looked great tonight. Again, more proof to my point that you don't pay a 37 year old goalie $8.5M.
In what was a fast moving game, Sam Rosen jinxed the Rangers, by pointing out that this was fast moving game with no whistles. Right after Sam Rosen spit those words out of his mouth, Brendan Smith cross checked McDavid in the face at the 6:01 mark. Seven seconds into the Oilers PP, McDavid got the first goal of the game:
CONNOR MCDAVID SNIPES ONE HOME TO OPEN THE SCORING!#LetsGoOilers pic.twitter.com/oJVz9bukAO

— Hockey Daily (@HockeyDaily365) March 12, 2019
1-0, bad guys.
On the goal, the greatest player in the world beat Georgiev for a PPG. That's going to happen. This goal isn't on Georgiev. McDavid is the best and the Rangers suck on special teams.
In what would be common occurrence all game, the Rangers just had no answer for the Oilers top line.  You watch these Oilers play like this, and you wonder how they aren't a playoff team for the second season in a row with McDavid. I mean, I get the Oilers had major injuries on their defense, but McDavid/Draisaitl are one of the best 1-2 punches in the league, a league where offense is winning games.
Two minutes later after the McDavid goal, Matt Benning made it 2-0:
MATT BENNING HAMMERS HOME THE SLAP SHOT!#LetsGoOilers pic.twitter.com/UDbKz1Wu0N

— Hockey Daily (@HockeyDaily365) March 12, 2019
2-0, bad guys.
On the goal, it looked like Kassian interfered with Georgiev. The refs originally waved off the goal for goalie interference. If Georgiev was interfered with, why not call a penalty then?
Oilers coach Ken Hitchcock would challenge the goal. After a 30 minute challenge, or so it seemed, Toronto ruled this as a good goal. The reasoning was that it was Freddy Claesson, and not Kassian, that slashed Georgiev on the shoulder. I don't know what replay Toronto saw, but from the MSG replays, it looked like Kassian was just as guilty as Claesson for this interference. However, with Justin St. Pierre and Toronto calling goals in these games, you just never know anymore. Unfortunately, if this goal was called off, as it originally was, the Rangers could've won this game.
Seriously, when I saw Justin St. Pierre out there and with this goal being allowed, I debated turning off my tv for the first time this season. However, knowing that Georgiev doesn't let the bullshit bother him, I stay tuned in. For the rest of the regulation, Georgiev would deny the Oilers on every shot, enroute to making 30 saves overall.
After this bullshit goal, Zibanejad led the Rangers on 3 vs 1 rush. No shot on goal of course, as Klefbom would break up a Rangers attempt. While on Klefbom, he would later block a shot in this period and wouldn't return to the game.
The rest of the period was all Oilers and Georgiev did his best in keeping this a two goal deficit. After one period of uninspired Ranger hockey, the score remained 2-0.
The Rangers turned it around in the second period and it all started with Brendan Lemieux.
At the 4:31 mark, Brendan Lemieux made short work out of Jujhar Khaira:
On our scorecards, we're giving this one to @blemieux22! #NYR 🥊 pic.twitter.com/lqf1LNkF4S

— MSG Networks (@MSGNetworks) March 12, 2019
Even if Lemieux didn't go on to have a goal and an assist, we'd all be happy with this. I'm telling you, if Lemieux keeps this up and if the Rangers keep him here next season, you will see a ton of Lemieux jerseys worn by fans next season. I guarantee it. Lemieux has the potential to be the next Sean Avery, Ryan Callahan or Mats Zuccarello, when it comes to being one of those beloved player types.
Georgiev continued to be a rock in net, stopping everything. I can't stress how important Georgiev was here, as he allowed the Rangers to mount their comeback.
About 90 seconds after coming out of the box, Lemieux brought the Rangers within one:
.@blemieux22 is just an assist away from a Gordie Howe Hat Trick.#NYR are right back in it! Watch the 3rd period on MSG & https://t.co/9032j80fse! pic.twitter.com/FeFVReRyVq

— MSG Networks (@MSGNetworks) March 12, 2019
2-1, bad guys, at the 11:29 mark of the second.
On the goal, it's funny, I thought Koskinen was great tonight. That said, with all the saves he made tonight, I'm surprised this went in. I thought this was a shot Koskinen should've had. However, screw Koskinen! Lemieux was now one assist shy of the Gordie Howe hat trick!
And I know I'm being "gully" by saying this – but hell, with Chytil and Kreider being cold, let's put Lemieux with Zibanejad!
In the waning minutes of the period, Neal Pionk had all the time in the world to tie this game. However, Koskinen denied him.
With two minutes left, the Oilers revved up the pressure, but Georgiev remained a wall in net. Ryan Nugent Hopkins made me trickle a little poo though, as with one second left, it looked like he had Georgiev beat, only to air mail the puck over the net.
2-1 after forty. Not dead yet.
The Rangers quickly tied the game in the third period. Even better, we didn't have to wait long for the Lemieux Gordie Howe hat trick, as he led the Rangers up the ice and Howden finished the deal at the 1:33 mark:
Brett Howden breaks his scoreless drought! #NYR

And Brendan Lemieux completes the Gordie Howe Hat Trick! 😎 pic.twitter.com/3E3ZKNF5Tr

— MSG Networks (@MSGNetworks) March 12, 2019
2-2.
On the goal, while the talk should be about Howden snapping his cold streak, the talk is rightfully about Lemieux. It's a shame the Rangers lost this game, because Lemieux had a monster of a game and Georgiev was a beast. However, without bias, the talk about this game will be about McDavid and Draisaitl. As a Rangers fan, you tip your cap to them, especially McDavid, who is just an awe to watch. (I've talked about this before, I got to sit on the glass to see McDavid play against the Isles and that's when you can really appreciate his speed and skill.)
And real quick, while on Lemieux, imagine being this chart-humping momo:

Both teams would bring the offense in this third period, but both Koskinen and Georgiev were fantastic in denying all comers. As a Rangers fan, you're happy about Georgiev, but you got to be concerned about Kreider and Zibanejad, who have really done dick diddly since the trade deadline. A 5'7″ Norwegian can't change your game that drastically.
Right after this play, there were shenanigans with Connor Brickley and Kyle Brodziak. I felt the Rangers should've got a PP out of the ordeal. So did Joe Micheletti, who did his best work of the season, as he tore apart Justin St. Pierre for a good five minutes. Instead, all the penalties were off-setting and it cost the Rangers a potential PP. To be fair, the Rangers suck on the PP, so I'm not sure if it would've mattered anyway.
At the 5:20 mark, Shattenkirk was boxed for slashing. The Rangers PK did the job this time, and kept Edmonton off the board. Immediately after, at 8:14, Sam Gagner was called for slashing. The Rangers got their first PP of the game here.
In a 2-2 game, and with this game approaching "next goal wins" territory, the Rangers did nothing with their PP. They remain without a PPG since the trade deadline and are now 0 for their last 20 in this department.
However, before this failed oPPortunity, Alexandar Georgiev found a loophole in the NHL rule book.
The net would come off its moorings, which automatically means a whistle. However, the refs didn't see the net off the moorings, so there was no whistle. With the net off the moorings, Georgiev charged to the bench, which set off everyone. I mean, just look at Quinn:
LMAO david quinn's face about Georgiev leaving the net when it was dislodged 🤣🤣 pic.twitter.com/vfpLcimiRT

— kayla 🙂 (@skjeiitloud) March 12, 2019
Here's the eye in the sky view, courtesy of @HockeyRodent: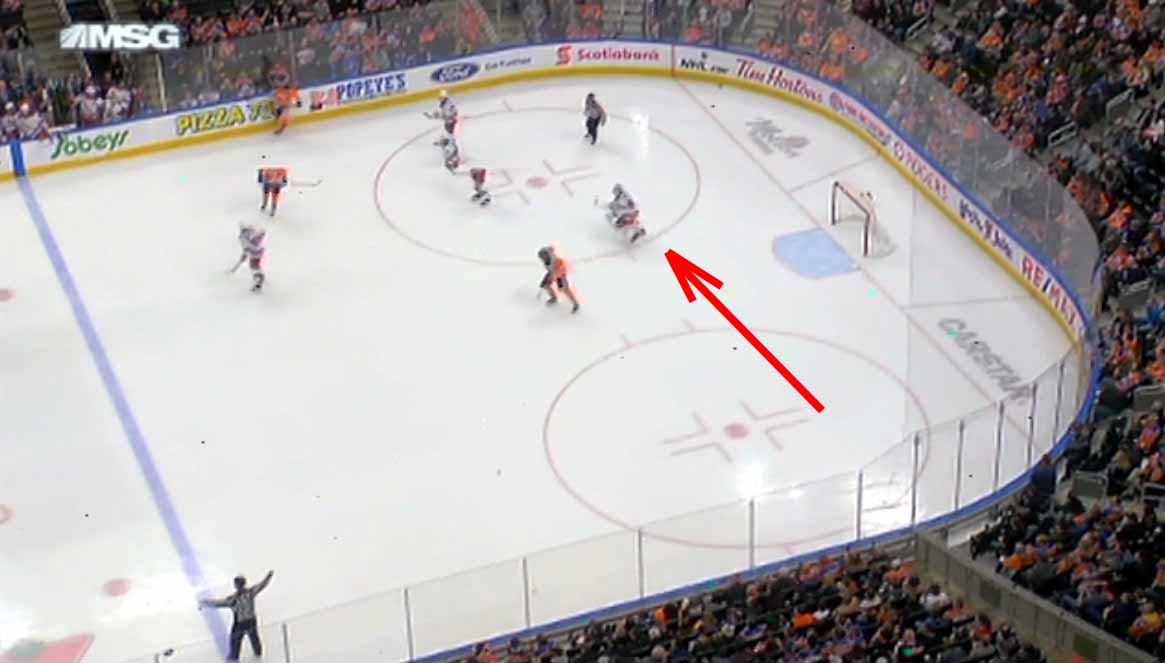 With Micheletti, Rosen, Valiquette and every fan in the world going nuts about Georgiev vacating his net, no less during an Edmonton PP, in fact, it was Georgiev who was smarter than everyone.
By rule, when the net is off the moorings, a whistle must be blown. The game must be stopped. With the refs not realizing the net was off the moorings, hence no whistle, Georgiev went to the bench for an extra skater. GENIUS!!!!
If the Oilers scored an empty netter here, by RULE (that's no easy feat for these officials, especially with JSP out there) the goal would be disallowed. In essence, Georgiev, knowing that a whistle would be blown, tried to help the Rangers by giving them an extra skater.
I swear, as a fan of Frank Boucher, what Georgiev did here was Boucheresque. We just witnessed NHL history here. If you don't get the reference, as coach of the Rangers, Frank Boucher was the first person to pull the goalie during a delayed penalty.
Georgiev, and again, give credit to his high hockey IQ, was smarter than everyone on the ice and everyone that was calling this game. He was smarter than the fans too. Myself included. Everyone was up in arms about Georgiev leaving the net, but it wasn't until later on, that everyone realized what Georgiev truly did.
One of two things will happen here. Either the NHL will amend this rule, stating that goalies can't leave the net empty during these situations. The other thing that could happen is that you will see more goalies doing what Georgiev did. I think the former will happen than the latter, because if you're in a tight game, you could see goalies trying to "accidentally" knock the net off the pegs, to help give their team an extra skater, without the fear of giving the other team a crack at an empty net goal.
What Georgiev did here was a stroke of pure genius. We've never seen this before. He single-handledly created a moment in NHL history here. The NHL will be forced to react to Georgiev's play here. Either they amend the rule or we will see goalies do this when this happens.
Oh, and of note, when Boucher pulled his goalie during a delayed penalty, the refs called the Rangers for a "too many men on the ice" penalty, with the Rangers charging to net of their opponent. The refs then realized what happened and how they erred. However, after this, every coach started to do this and this became the league norm.
I wonder what would've happened if Edmonton scored here? Would the refs realize what happened?
All in all, while it's not an earth-shaking thing here, Georgiev did alter the game and the league with this play. They don't call him the KING OF KINGS for nothing!
Back to this game. Um, where was I again?
Oh yeah, after both penalty kills were successful, the Rangers would have another chance to win this game. This time, it was Jesper Fast, who had two looks at an empty net but couldn't score. Yes, Fast does all the little things, but so does Lemieux. Plus, Lemieux can score goals. How Fast blew these chances is beyond me. Swedes.
Both goalies would continue to play well, with Georgiev being tested during another Ranger PK late in the game, after a Skjei penalty.
At the end of regulation, we remained tied a 2-2.
At 2-2, and going into OT, I thought it was only a matter of not IF, but WHEN, McDavid would end this thing. After Koskinen stopped Namestnikov, the Oilers rushed up the ice and McDavid had two cracks to win this game for this team. After Nurse failed, Draisaitl didn't, and this game was over just 35 seconds into OT:
McDavid sets up Draisaitl with a perfect pass and he unloads a 🚀 for the @SUBWAYCanada overtime winner. pic.twitter.com/YlLpVsqU1c

— Sportsnet (@Sportsnet) March 12, 2019
3-2, bad guys, your final in overtime.
For the Rangers, they played well, but didn't play a full 60 minute game. In the OT, the Rangers simply don't have that talent that Edmonton does in these situations.
The Rangers go to Vancouver on Wednesday night, for a game that starts at 10PM EST. Again, depending on my fluctuating work schedule, I might have to skip that game. We'll see.
The last time the Rangers played Vancouver, the Canucks were in first place. That isn't the case now, as the Canucks suck. That's why I think you'll his royal highness in net for that game.
The Rangers will continue to play out the stretch here and we're now less than three weeks away from band-wagoning for Tampa to win the Cup. Then again, there may be some of you that will be band-wagoning for Dallas or Winnipeg.
As always, thanks for reading this manifesto and…
"LET'S GO RANGERS!"
Sean McCaffrey
BULLSMC@aol.com
@NYCTHEMIC on twitter