Greetings and salutations everyone and welcome to another blog here on BlueCollarBlueShirts.com. On Saturday night, at the World's Most Expensive Arena, the Rangers handled business against the last place NJ Devils, winning the game by a final score of 4-2. For the Rangers, the win was nice, but at the same time, this game showed you how bad the Rangers can be. This was another game where the Rangers stooped down to their competition. However, unlike the game with the Red Wings, the Rangers got lucky this time and found themselves with the victory.
I talked about the Rangers playing up or down to the level of their competition in my last blog. To read that, you can check out that blog, and my most recent blogs, by clicking the links below:
---
---
---
---
---
---
There are a bunch of different topics to jump into tonight, so before going straight to the game, I wanted to share with you an article about the dumbass douchebag owner of the Rangers, in a one James Dolan. Here's TMZ's version of the events: https://www.tmz.com/2019/03/09/ny-knicks-owner-james-dolan-bans-fan-msg-rude-sell-the-team/
For those too lazy to click on the link, here's the story:
New York Knicks owner James Dolan got pissed when a fan urged him to sell the team to someone who can help them win … so he flexed his owner muscles and 86'd the guy.

The abysmal Knicks were in the final minutes of another home loss Saturday against the Sacramento Kings when Dolan headed for the exits early. In the vid — obtained by TMZ Sports — a fan is heard giving James a parting shot … and it really gets under his skin.

Check it out … the fan yells, "Sell the team!" and instead of ignoring it, Dolan calls the man rude for sharing his opinion and tells him his days of taking in Knicks games at Madison Square Garden are over.

Then James sics security on him!

Witnesses tell us the fan was held while 2 cops and security came over to ID and question him before asking him to leave. It's unclear if he's been permanently banned from Knicks games … we're working on it.

We're told there were other fans heckling Dolan, but he singled out the guy who doesn't want him to be the owner anymore.

The Knicks are 13-53 on the season … currently dead last in the NBA.
Aside from TMZ, the latest James Dolan fiasco story was also picked up by the local tabloids. I've done my rants on Dolan before, so I'm not going to get into that all again. Just check the archives of this site for more or just google "Dolan + DOINOW.com".
The reason I bring up this story, is because it doesn't matter who you are to James Dolan. You can be a great Knick, in Charles Oakley. You can be one of the greatest announcers of all time, in Marv Albert. Then again, you can just be an ordinary Joe Blow, like yours truly. It doesn't matter. The bottom line is this – if you are critical of Dolan's teams, you will be shown the door.
I want to be clear about the missives sent to Dolan employees, which come from James Dolan himself. YOU CAN NOT CRITICIZE OR TALK REAL about his teams. Dolan would rather pay over $10M in a settlement during a sexual harassment lawsuit and keep you employed, rather than you saying "Henrik Lundqvist is overpaid."
I'm aware of what a loser James Dolan is. I'm aware of how insecure he is. I'm aware that he hasn't won a championship with either of his teams, despite those two teams playing over 50+ seasons combined. I'm aware that his employees must push out propaganda. What dillhole Dolan doesn't realize is this – his teams play in NY and NY has the most intelligent sport fans around. He can't fool Knick fans. He can't fool Ranger fans. All he can do is his Kim Jong-Un act and have his employees work under his facist regime.
Again, I'm not going to go deep on Dol-Un tonight. If you want one of my latest and fiery rants on Dol-Un, check out this blog that I did last year: http://doinow.com/42118/
I bring up this Dol-Un story from today for one reason. I just want to make sure that you're aware that when I bury the MSG Clown Crew, you should be aware that some of these guys are handcuffed. When it comes to Micheletti, I think his handcuffs are the tightest. While I still think it would be his dream for his daughter to leave Mike Modano and try to become the next Mrs. Henrik Lundqvist (a title that I'm sure Joe would want for himself too!) you can hear the difference when Micheletti does Ranger games for the M$G Networks and when Joe does non-Ranger games for NBC.
When it comes to Steve Valiquette, while he's no dummy and knows where his check is coming from, I think he's truly head-over-heels and in love with Lundqvist. Time and time again, Vally will be critical of other goalies, bring up bad contracts, talk about stats, etc; but of course, one name is always left out of his criticism, and that's Henrik Lundqvist.
Even when you listen to Vally's spots on Canadian sports shows, he brings up contracts and numbers. The one goalie that can't be named, despite being the biggest offender in both categories, is the Swedish Cupless wonder.
And as I've been saying all season – in what world does it make sense to rebuild around a 37 year old goalie?
Away from Vally & Micheletti, another Dolan stooge is Larry Brooks, of the NY Post. Both Dolan and Dolan's number 1 lackey, in Glen Sather, feed stories to Brooks. Stuff they can't say publicly, they say to Brooks, knowing that Brooks will put their spin on his stories. I've recapped Brooks and his flip-flop takes all season. However, instead of a flip-flop story today, Brooks put out the latest mission statement from Dolan and Sather.
Real quick, before getting to the latest propaganda from Brooks, let's see what Dan Boyle has to say about Larry Brooks:
Thank you Mr. Boyle.
Before tonight's game, Brooks wrote an article suggesting that the Rangers buy-out Kevin Shattenkirk. In case you missed it, you can find it here: https://nypost.com/2019/03/09/kevin-shattenkirk-is-fighting-for-his-rangers-life/
In the article, Brooks says:
If you're wondering whether these final 15 games have meaning for the Rangers, check on Kevin Shattenkirk, the defenseman who is essentially fighting to save his career in New York.

Too dramatic a scenario? Not really, for if the 30-year-old defenseman does not markedly improve his play this final month, management will have no other choice than to seriously consider a buyout of No. 22's contract halfway through its four-year term.

Still, Shattenkirk will not only have to earn his time the remainder of the season, but convince the front office that he will add value moving forward to a rebuild operation. A buyout following this year would not be ideal, but neither is the prospect of Shattenkirk becoming a perpetual candidate to be scratched. Little is tougher on a coach than having to sit a veteran with No. 22's résumé. And you can quadruple the degree of difficulty when the coach and player have a longstanding, pre-existing friendship.

The defenseman carries a cap hit of $6.65 million for each of the next two seasons. A Shattenkirk buyout that would have to come between June 1 and 15 (a shorter, summer post-arbitration period exists, but waiting would provide no advantage to either party) would carry a cap hit of $1,483,333 for next season, $6,083,333 for 2020-21 and $1,433,333 for each of the two seasons following that.
In what world does it make sense to buy out Kevin Shattenkirk, you know, A PLAYER THAT DOESN'T HAVE A FULL NO MOVE/NO TRADE CLAUSE? YOU CAN FUCKING TRADE HIM IF YOU WANT! Sure, you might not get back the best return, BUT YOU CAN TRADE KEVIN SHATTENKIRK! You can't trade the overrated and overpaid goalie, unless his royal highness gives you permission. And from what we can assume, Lundqvist doesn't want to leave the coddling he has in New York. Being worshiped is more important than winning a Cup to Lundqvist.
If you're going to buy out anyone, wouldn't it make more sense to buy out Henrik Lundqvist than Kevin Shattenkirk? Granted, the Rangers are happy to suck on Hank's cupless prick and spit when Hank tells them to, but a GM that wanted to win a Cup would've told Hank it's time to waive the NMC or sit in the press box a long time ago.
Seriously speaking here, in what world does it make sense to buy out a player THAT YOU CAN TRADE, rather than the player that you can not trade? Furthermore, from all accounts, Kevin Shattenkirk, who 100% is struggling and has had a Murphy's Law career with the Rangers, is one of those great locker room guys. He's a positive influence. Has he not been living up to his contract? Of course. But neither is Lundqvist.
I would love to see Larry Brooks, who was 100% fed this propaganda from Sather, to explain why it makes sense to buy out a player that you can trade, rather than buying out a player that has a NMC that he won't waive, is 7 years older than the player Brooks wants bought out, bottom in the league in all major stat categories and who doesn't belong on a rebuilding team.
Again, I go to Dan Boyle for his thoughts on Larry Brooks:
I don't know what Boyle's problems with Brett Howden are, but I agree with his thoughts on Brooks! After all, Brooks has enough clout here, that he doesn't need to suck on the Rangers tit like all these other minimum wage/no healthcare reporters.
MOVING ALONG!
Let's go to something a little bit more light-hearted. That's right, it's time for the LETTIERI WATCH segment!
The Hartford Wolfpack, who won their last game on March 2nd, returned on Friday March 8th. They also played again tonight. I'm happy to report that the Wolfpack are 2-0 this weekend and are currently on a three game winning streak.
In Friday's 3-2 shoot-out win over the Wilkes-Barre Penguins, Vinni Lettieri played on the first line and recorded four shots on goal. No points though. However, in tonight's 3-2 overtime win over the Springfield Thunderbirds, Vinni Lettieri scored a goal and logged an assist! For Lettieri, he now has 18 goals with the Wolfpack, despite playing only half the season there.
With all these call-ups and talk of rebuilding, I don't get why Lettieri hasn't been recalled yet. Again, give him time as a Top 6 forward for just one game, and see what happens.
If you read my last blog, which is linked at the top of this blog, I questioned David Quinn for playing Marc Staal in the game with the Red Wings. If you recall, Staal had the flu and massive diarrhea. He was even throwing up between periods. In a meaningless season, especially for someone like Marc Staal who has nothing to prove, it made no sense to play Staal in that game with Detroit.
In tonight's game, Staal was scratched. Here's what Quinn said before the game:
For the umpteenth time this season, Quinn did something questionable, only to apologize and admit that he was wrong a day or two later. However, when it comes to hockey decisions, I can understand that. When it comes to this Staal situation, I thought Quinn was 100% wrong from the get go and there was no way to justify his decision. Furthermore, Connor Brickley now has the flu, so Staal's virus has spread in the locker room.
While I commend Quinn for admitting when he is wrong, and I know Staal wants to play, this handling of Staal was a terrible mistake. Let's hope Quinn learns from this bone-headed decision.
Also of note, while putting a bow on this Staal scratch, his first scratch of the season, Micheletti and Rosen reported that Staal is feeling better, but was physically drained from playing while sick. Quinn just can't let this happen again, especially during such a meaningless time in the season. I could at least understand if the Rangers were in the thick of the playoff hunt, playing against a good team or if this was during the playoffs. None of that was going on here. This was Quinn being dumb.
Away from Staal, the biggest news of the night was that Quinn was punishing Kreider by demoting him to the fourth line. I don't blame Quinn for this decision. In fact, I thought Quinn should've scratched Kreider, as I thought that would've sent a bigger message. I know Quinn wants to win games, but when you think about it, with the timing of everything, benching Kreider against the last place Devils wouldn't have been the end of the world.
That said, here's what Quinn went with tonight:
FIRST LINE: Chytil/Zibanejad/Namestnikov (This was the first time these three were all on the same line together this season. Chytil seemed to have a mental block tonight, as he refused to put any puck on net. Namestnikov benefited from the extra time, and after being robbed time and time again during this losing streak, Namestnikov scored the GWG tonight.)
SECOND LINE: Vesey/Strome/Fast (I had no problem with Namestnikov getting a crack at the first line, but I wondered if it would throw off the second line tonight, as 90/17/16 have been playing well together. Just like his regular linemate in Namestnikov, Strome once again had a great game. In fact, Strome was the number 1 star of the game, which admittedly, is stat-oriented.)
THIRD LINE: Lemieux/Howden/Buchnevich (After the two goal performance on Thursday, I was expecting the commie to replace Kreider. We've seen it before. The latest MSG Networks mission statement is to tell us how great Brett Howden is, even if that isn't true.)
FOURTH LINE: Kreider/Andersson/Nieves (I thought Nieves was the best of the three. Kreider would eventually log more ice time in this game and did sub in on the first line from time-to-time, but Kreider couldn't hit water from a boat tonight. He had three really good looks on the PP tonight, but couldn't bury the puck during these chances.)
Defensively, Quinn went with:
FIRST PAIR: Skjei/Shattenkirk (Minga)
SECOND PAIR: Smith/DeAngelo (DeAngelo was once again an offensive machine. I get that Smith is doing all the right things, being a "Blue Collar" player for the team and all, but I don't see how he fits with this team long-term.)
THIRD PAIR: Hajek/Pionk (Hajek was injured in this game. More on that at the end of this blog.)
In goal was King Mani-Pedi. And yes, I got something to say about that!
As predicted in my last blog and on social media, with a last place team in the Garden, Henrik Lundqvist was chomping at the bit tonight. Do you know what I found funny? During the last few games, Steve Valiquette was talking about Lundqvist and Georgiev and how they should alternate starts. Not one word about that tonight. Gee, I wonder why?
It's pathetic. It's laughable. It's a shame. However, I keep saying this stuff so you guys all see it too. ONCE AGAIN, WITH A LAST PLACE TEAM ON THE SCHEDULE, IT WAS HENRIK LUNDQVIST, THE $8.5M MAN GETTING THE START.
Furthermore, the Devils are basically an AHL team right now, with a few exceptions. In fact, look at all the injuries the Devils had going into this game:
Making matters harder on the Devils, they were debuting two new players tonight:
#NJDevils announce some call-ups for tonight's game vs. NYR.

Forwards Brandon Gignac and Eric Tangradi have been recalled from AHL Binghamton.

— Erika Wachter (@ErikaWachter) March 9, 2019
So, with the Devils in last place, having a roster that was full of AHLers, having played the night before (3-0 loss to the Caps), this game should've been a cake-walk for the Rangers.
Do you know what we heard instead on the MSG broadcast? We had Steve Valiquette saying how "HANK HAS TO WIN THIS GAME." Not the Rangers. HANK. Vally said this game would help Hank's confidence and how he needed this win to feel good.
ARE YOU FUCKING KIDDING ME? Hank is the highest paid goalie in America. He needs to beat a team like the beat-up Devils to feel good about himself? In what fucking world is Vally living in? Get your head out of that Swedish ass! (That could explain the tint of brown in Vally's highlights though.)
All we hear about is rebuild, rebuild and sometimes the word development. Instead, Vally is talking about the Rangers propping up Lundqvist for a win tonight. Get out of here.
Georgiev should've started this game HANDS DOWN. He's been the better goalie. If Vally is going to do a monologue on how a goalie needs a win for confidence, that rant should be in support of the up-and-comer Alexandar Georgiev, and not the goalie who should be brought to the back of the shed and be put out of his misery.
Even after the game, and I don't know how Vally got his words out in between all the verbal fellatio, but Vally was going on and on about how Hank won this game for the Rangers. Again, are you fucking kidding me?
Here is the real story: The Devils had 12 shots on goal in the first period. Hank gave up two goals. In the second period, the Devils only got off two shitty shots. The Devils would then get 10 shots off in the third period. Essentially, Lundqvist faced as many shots in the first period, as he did  in the second and third periods, COMBINED.
The only reason why the Rangers won this game tonight is because the DEVILS SUCK. The Rangers went 0-5 on their PP, left rubbermarks all over the boards from their wayward shooting and somehow, scored three goals. An empty netter cinched the deal, so against a team that was bereft of talent, the Rangers eked by. But yea, Vally, tell me more about Lundqvist. Vally's credibility goes down with every game Lundqvist starts.
/END RANT!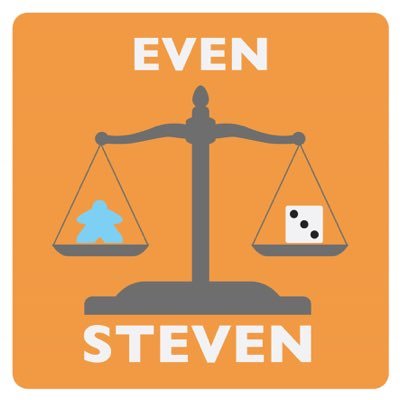 Before the game, here's what I said on Twitter:
Goalies haven't been announced yet. Stay with what's working all season – bet the over if Lundswiss starts and bet the under if Georgiev starts. Devils looked horrendous last night but Lundswiss can't beat bad teams either. Bet on #NYR if Georgiev somehow starts. pic.twitter.com/k4cMWnV0sb

— BlueCollarBlueShirts (@NYCTheMiC) March 9, 2019
Well the over-under was 6 tonight and with 6 goals scored, I push my bet tonight. Therefore, I add a one to the tie column. I'm now 29-16-2 since starting this segment. I will tell you, if you follow me on twitter, I'm batting near .800 with my NHL picks and that includes parlays. Who wants to bankroll me?
ESPN.com box score time.
As always, the following comes from ESPN.com:
SCORING SUMMARY:
1st Period
16:26

Damon Severson

(10)

Assists: Kenny Agostino, Michael McLeod

1
0
19:49

Blake Coleman

(19)

(Power Play)

Assists: Will Butcher, Travis Zajac

2
0
2nd Period
18:22

Ryan Strome

(12)

Assists: Kevin Shattenkirk, Vladislav Namestnikov

2
1
3rd Period
1:29

Libor Hajek

(1)

Assists: Ryan Strome, Chris Kreider

2
2
13:25

Vladislav Namestnikov

(10)

Assists: Mika Zibanejad, Brady Skjei

2
3
19:50

Ryan Strome

(13)

Assists: Mika Zibanejad, Vladislav Namestnikov
PENALTIES:
1st Period
16:26

Damon Severson

(10)

Assists: Kenny Agostino, Michael McLeod

1
0
19:49

Blake Coleman

(19)

(Power Play)

Assists: Will Butcher, Travis Zajac

2
0
2nd Period
18:22

Ryan Strome

(12)

Assists: Kevin Shattenkirk, Vladislav Namestnikov

2
1
3rd Period
1:29

Libor Hajek

(1)

Assists: Ryan Strome, Chris Kreider

2
2
13:25

Vladislav Namestnikov

(10)

Assists: Mika Zibanejad, Brady Skjei

2
3
19:50

Ryan Strome

(13)

Assists: Mika Zibanejad, Vladislav Namestnikov
GOALIES:
| | | | | | | | | | | |
| --- | --- | --- | --- | --- | --- | --- | --- | --- | --- | --- |
| SA | GA | SV | SV% | ESSV | PPSV | SHSV | SOSA | SOS | TOI | PIM |
| 40 | 3 | 37 | .925 | 30 | 0 | 7 | 0 | 0 | 58:55 | 0 |
| | | | | | | | | | | |
| --- | --- | --- | --- | --- | --- | --- | --- | --- | --- | --- |
| SA | GA | SV | SV% | ESSV | PPSV | SHSV | SOSA | SOS | TOI | PIM |
| 24 | 2 | 22 | .917 | 14 | 4 | 4 | 0 | 0 | 60:00 | 0 |
This game truly feels like a bore to recap to me. It just wasn't any good. For some reason, Rick Nash was honored tonight. It felt a bit impromptu. I have nothing against Rick Nash, but when I see him getting a night and getting honored, I take it as a slap in the face to the family of Frank Boucher. I know, I know, I know – I'm the only one who thinks that way. I don't know why, but ignoring Frank Boucher really fucking irks me.
The Rangers, despite their lack of Cups, have had so many Hall of Fame talents and game-changing players wear the blue, but for whatever reason, the Rangers are happy to give the middle finger to most of them. It bothers me. I guess I'm TRIGGERED when it comes to this kind of stuff!
Of course, with Nash being honored before this game, we had a few funny jokes as this game went along, none better than:
OK they are honoring Rick Nash tonight by not burying chances. #NYR

— The Franchise Boz (@Bozfirstsince81) March 10, 2019
Also worth mentioning- we had a Mike Richter segment during the MSG pregame show. He's the last NY Rangers goalie to beat the Devils in a meaningful game and the only Rangers goalie to beat the Devils in a ECF series.
As mentioned, the Rangers could've scored a touchdown in this game, but were denied. Sure Schneider was good, but when you go 0-5 on the power-play, hellbent on peppering the boards with shots and rely on that extra pass to nowhere, you're not going to score many goals.
The Rangers would dominate the early stages of this game. In fact, except for maybe five minutes out of 60, the Rangers pretty much dominated the entire game. The only time the Devils had any sort of attack going is when the Rangers made an error. This was all Rangers, all game, even if the scoreboard didn't reflect that.
With the Rangers dominating in the Devils defensive zone, Ryan Strome was called for hooking. Dumb penalty. The Devils PP, 0-24 in their last 9 games, wouldn't do anything on their PP here.
The Rangers would then get two power-plays in this period. They did dick with it. While the Devils PK is ranked up there, because of all the time on the PK this season, the Rangers look like a joke on the power-play. They can't finish.
In fact, on the first Rangers PP, it was Drew Stafford getting the best shot, hitting a post. I'm surprised the mentally challenged fans at the Garden didn't do a "HENRIK" chant after that. Thankfully though, the mentally challenged fans let us know they were there tonight, by doing the Potvin whistle no less than five times.
In what was largely a period of Schneider making saves and you just waiting for the Rangers to finally get through, it was King Nothing who would give up two quick goals. Typical.
At 16:26, Damon Severson scored:
DAMON SEVERSON TALLIES OFF A DEFENDER!#NJDevils pic.twitter.com/JCSBUS7gi1

— Hockey Daily (@HockeyDaily365) March 10, 2019
1-0, bad guys.
On the goal, Micheletti said something akin to "this puck magically went in."  Yeah, all the pucks past Hank this season are magical.
Once again, the Rangers PP fails and the Devils ran up the ice to score a goal. Like clockwork. I can't stress enough how bad the Rangers are on the PP as of late.
Of note, before this goal, Micheletti was shrieking about Henrik Lundqvist having a shutout in a game from 10 years ago. JINX!
After this goal, Buchnevich tripped Yakovlev. For the third time this season during a Rangers game, at least from my memory, an embellishment call was called, this time going against Yakovlev. The Rangers got a break here, because Yakovlev was tripped. Of course he's going to fall down. We then had Micheletti's favorite, a four on four FOREPLAY.
During the foreplay, Hajek was called for high-sticking at 19:08. That meant the Devils would have a 4 vs 3 PP for a few seconds, followed up by the traditional 5 vs 4 PP.
With Micheletti and Rosen going on and on about the Devils futile PP, the Devils scored on the PP. You knew it was coming:
BLAKE COLEMAN TIPS ONE HOME, WIDE OPEN IN THE SLOT!#NJDevils pic.twitter.com/D9HaHO5ftj

— Hockey Daily (@HockeyDaily365) March 10, 2019
2-0, bad guys, with 11 seconds remaining in the first period. Fortunately for our regal Cupless loser, this was the last goal allowed by him all game. In fact, he would only face two more shots in the next 25+ minutes of the game.
2-0 after one period.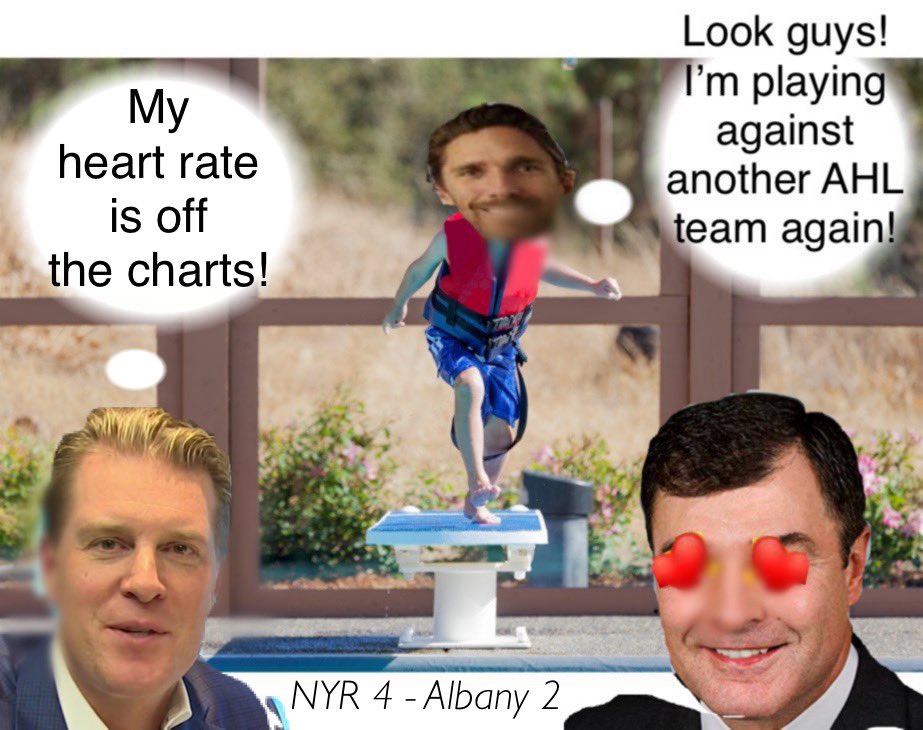 In the second period, the Rangers out-shot the Devils by a margin of 14-2. In fact, the Devils were being out-shot 12-1 with only five minutes remaining in the period. But yea, Lundqvist led the Rangers to the win tonight.
The second period was the Cory Schneider show, as he stopped everything in sight. He was stopping cross ice one timers, shots from his door-step, wide open blasts – everything.
The Rangers would get two PP's in this period. At 7:33, Buchnevich was tripped by Stafford. No embellisment call on Buchenvich for falling down. Of course, the Rangers PP was garbage and they were now 0-3 in the game.
Then at 14:40, Blake Pietila collided with Lundqvist and got a goalie interference penalty. I thought Lundqvist should've been called for embellishment here. After all, if he was really hit hard, money and hair products would've flown out. Once again, the Rangers PP failed and were now 0-4 in the game. The Rangers let an anemic Devils squad go 4-4 on their kill here.
With the period winding down, Ryan Strome got the Rangers on the board:
RYAN STROME TIPS HOME SHATTENKIRK'S SHOT!#NYR pic.twitter.com/wslVHHKM1T

— Hockey Daily (@HockeyDaily365) March 10, 2019
2-1, bad guys.
On the goal, it looked like it was Shattenkirk's goal, but it was ruled that Strome deflected it in. I'll take it.
The Rangers basically owned this period but Schneider was on his game. The Rangers were lucky to get the one goal against him but probably could've had 6. The Rangers just failed on many high scoring oPPortunities. (See what I did there?)
2-1 after two periods.
The third period is where the tide turned. The Rangers, who were dominating this game, finally were able to crack Schneider for good. Seriously, this game was all Rangers, but the scoreboard said 2-1, in favor of NJD. That would quickly change.
At 1:29, Hajek got the first goal of his NHL career:
First NHL goal for Libor Hajek. Didn't get many opportunities like this in Saskatoon or Hartford. pic.twitter.com/q0otdZArBm

— Steve Kournianos (@TheDraftAnalyst) March 10, 2019
2-2, tied game. Great pass from CK20 and a great finish from Hajek.
Speaking of Hajek, as the game progressed, he would take a big hit behind Lundqvist and would go to the locker room. After the game, it was reported that he separated his shoulder. There is no timetable on his return. However, according to a quick Google search, these injuries can take anywhere from 6-12 weeks to recover from. Again, I don't know the severity of his injury, but the Rangers did say it was a separated shoulder. With this season going the way it's going, this may have been Hajek's last Rangers game for the 2018-2019 season.
As the period progressed, Lundqvist made his first save in what felt like forever. That's how much the Rangers dominated the puck tonight. For this save against this AHL team, the Gard-Tards chanted "HEN-RY!" Get lost.
With under 7 minutes to go, and in a tied game, you had that feeling that this game was going to be lost in another shoot-out. After all, that's the Rangers way, right? However, the Devils were just so fucking bad, that the Rangers finally got a game winning goal in regulation. Here's Vladislav Namestnikov at 13:25:
VLAD NAMESTNIKOV BLISTERS ONE HOME TO GIVE THE RANGERS THE LEAD!#NYR pic.twitter.com/thshOvYSoV

— Hockey Daily (@HockeyDaily365) March 10, 2019
3-2, good guys and this would be the GWG.
The Rangers would quickly get another PP after this goal, but once again, looked lethargic and like a pile of shit. 0-5 on the PP tonight and no PPG's since the trade deadline. SAD!
Schneider would be pulled with 75 seconds remaining. The Devils would get some good tries, but the Rangers swarmed every shot. Strome would ice the game for good with ten seconds remaining. 4-2, good guys. This goal gave Strome two goals and one assist on the night, good for first star in the game.
And if you want to know how bad the Devils are, the Rangers are now 3-0 against them this season.
4-2, your final in what was pretty much a terrible game of hockey. Two bad teams entered, one bad team won. This stuff drives me nuts a bit, because as mentioned on past blogs, the Rangers held their own with the Tampa's and Washington's of the world, but play these one goal shit-fests with the Detroit's and Devils of the world too. I don't get it.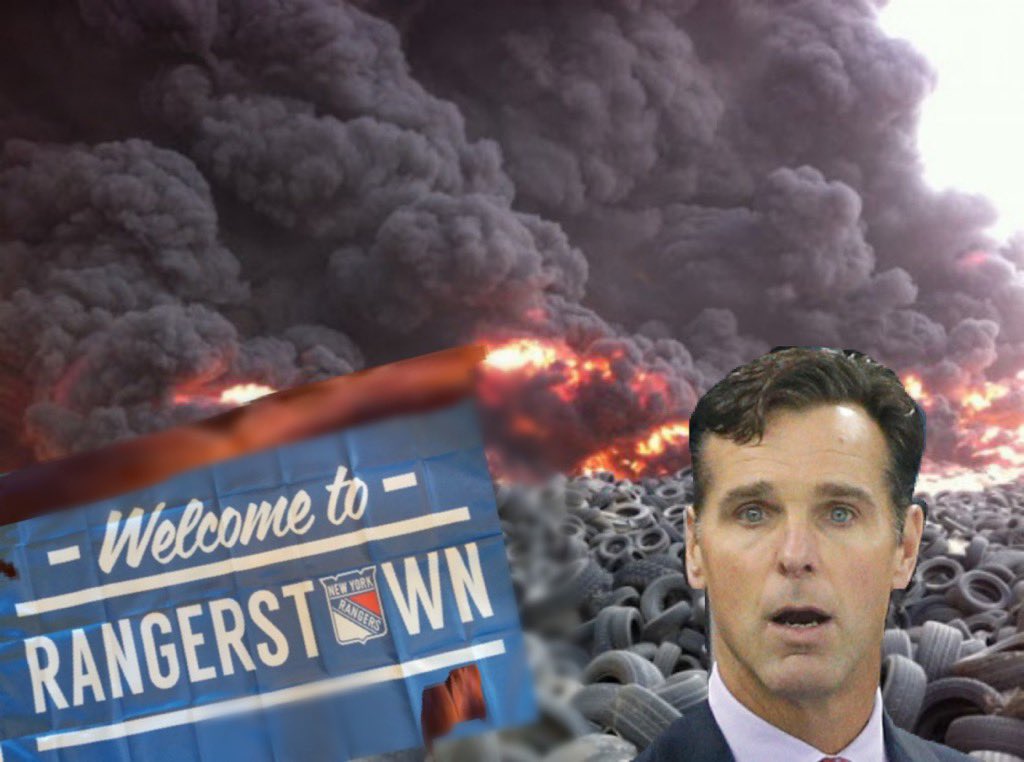 A win is a win I suppose, but as we wind down this season, I've seen the Rangers, post the trade-deadline, play much better than they did tonight. They should've blown the Devils out of the water, but once again, sans the ENG, this was another one goal game.
When it comes to other Ranger blogs out there, I try to give you stuff away from the charts and garbage. I mean, who watches hockey and then immediately makes a chart like this: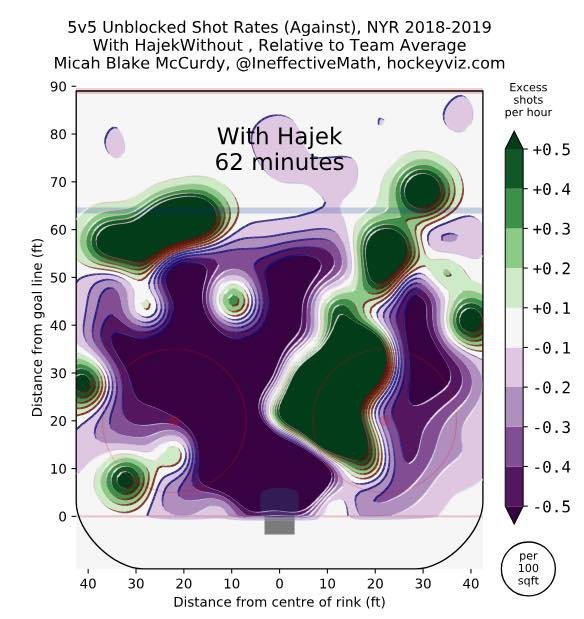 I look at a chart like that and I wonder – "Did the Joker melt like the Wicked Witch of the West?"
Rather than being frustrated at pie charts, prospects, draft picks and heat maps, what bothers me the most is the Rangers refusal to honor their history and this never-ending losing exercise with Lundqvist.
Even tonight, I saw Larry Brooks run a column on how the Conn Smythe award should be renamed the Ted Lindsay award. Why? Just because Lindsay died? We should now forget about Conn Smythe, a man who did more for hockey than Lindsay? After all, Smythe developed the Cup winning Rangers and then founded one of the most successful franchises of the Original 6 era in the Toronto Maple Leafs. Lindsay was very important to hockey, but why should Smythe get the ax?
Keep in mind, this is the same Larry Brooks, who when contacted by Frank Boucher's daughter, blew it off. But yea, let's tell the Smythe family to fuck off too, and let's rename everything in honor of Ted Lindsay.
On Ted Lindsay, Detroit did a wonderful job in honoring him, as they did after Lindsay's playing days ended. I look at the first number 7 on the Rangers, and how the Rangers don't give a fuck about Frank Boucher, just like how they don't give a fuck about Bill Cook, Bun Cook, Emile Francis, Lester Patrick, Bryan Hextall, Edgar Laprade, Davey Kerr, Chuck Rayner and the list goes on and on. (And yes, this is part of a book I'm working on, that I hope to complete over the summer.)
I also look at a guy like Eddie Giacomin, who was on the broadcast on Thursday. If you do a Mount Rushmore of the most beloved Rangers in Rangers history, Giacomin is on that mountain. What did the Rangers do to him? In a no-cap era, the Rangers WAIVED him. That wasn't an easy decision. However, what happened three years later? The Rangers made the SCF.
Not only do the Rangers ignore their history, they don't learn from it either.
I get the feeling, that with the signing of goaltender Adam Huska today, that the Rangers will move on from Georgiev, just like they did with Talbot and Raanta. We will then be in this same cycle with Igor Shestyorkin next season, where Hank plays all the bad teams and Igor plays all the good teams. Igor will wind up outplaying Hank, and if by some chance, the Rangers make the playoffs, you know who will be parked at the end of the bench.
Seriously, it just feels like Hank will never leave. I don't think it's out of order to think that NYR will freeze Hank like Walt Disney and roll him out to net in the year 2345. I truly think my best bet in getting rid of Lundqvist is for ICE to deport his family. Even so, if Hank saw a last place team on the schedule, I think he would demand to play, while his kids sat in an ICE cage.
And real quickly, I was tagged in some things on twitter about fans worrying about who will be protected in the 2021 Seattle expansion draft. Get a life. I talked about this before. It's way too soon to worry about that crap. Anyone selling you "WHAT THE RANGERS WILL DO" or "WHAT THE RANGERS MUST DO" about this topic are full of bullshit. No one knows who will be running Seattle, what players will be available around the league, what backdoor deals will be made and how Seattle plans on building their team. Give it a rest on this topic already. I think you can start worrying about this nonsense during the 2021 trade deadline.
As far as the starting goalies go, with the Oilers and Canucks up next, the Canucks are the worse of the two teams. That means Georgiev will start against the Oilers and Lundswiss will play against the Canucks. Simple as that.
Monday night's game with the Oilers, and really, the rest of the week, are all late starts, as the Rangers do their western Canada loop. Odd that the schedule makers have these games occurring so late into the season.
Depending on my work schedule, which is fluctuating right now, I may miss a blog or two. It all depends if I'm working the early AM shift or the late night shift. I should be watching the games either way, but follow my twitter for more and for the status of the next blog.
If I have to miss a blog, maybe I'll do a quick recap blog the following day. We'll see.
Speaking of blogs, this was a super long one, so it's time to take it home. As always, thanks for reading and…
"LET'S GO RANGERS!"
Sean McCaffrey
BULLSMC@aol.com
@NYCTHEMIC on twitter