Greetings and salutations everyone and welcome to another blog here on BlueCollarBlueShirts.com. I am currently typing this blog on my phone, during my lunch-break at work, so this probably won't go as long as usual. I apologize for any typos or formatting errors in advance.
On Wednesday night, the Rangers traveled to Vancouver, where the Rangers dropped a 4-1 decision to the crappy Canucks. For the Rangers, while fans can blame the piss-poor officiating in this game, the Rangers continue to be their own worst enemy.
As I'll soon get into, the referees ruined this game, with two bogus game misconducts called against the Rangers in the second period. However, before those calls, the Rangers didn't do much of anything in the first period, only recording seven shots. After the penalties, Lundqvist did his usual self-imploding act, where he gave up two goals in a span of 11 seconds. Later on in the game, in the third period, the Rangers had 90+ seconds of a 5 on 3 power-play. On that two-man advantage PP, the Rangers didn't even shoot the puck.
While it's easy to blame the referees for marring this game, and they most certainly did, at the same time, the Rangers continue to trip over their own dick. Whether it's the anemic PP, (which did score later on in the game, but it felt more of a law of averages PPG than anything else) the usual Lundqvist shit-show or the Rangers having these stuck-in-quicksand first periods, the Rangers just don't do themselves any favors.
It's quite disappointing to watch the Rangers lose to another bad team. It just doesn't make sense how these guys can hold their own in these overtime losses to the upper-echelon teams in the league, such as the Bolts, the Caps, the Pens and whoever else, but when it comes to these bad teams, the Rangers just fall down to the bottom rung of their skill ladder.
Unfortunately, once again, the lead story of this game are the terrible officials. In a 0-0 game, at the 4:23 mark of the second period, Chris Kreider was kicked out of the game for this:
Chris Kreider gets ejected for elbowing Elias Pettersson pic.twitter.com/SGjyOdFj5F

— Brady Trettenero (@BradyTrett) March 14, 2019
Admittedly, this elbow was much worse than the incidental contact Mika Zibanejad made in the game with Dallas. However, just like the Zibanejad misconduct (which was rescinded less than 12 hours after it happened) the only reason the penalty was called was because Petterson stayed down. The referees didn't call this a penalty originally. However, with Petterson down, the officials stopped the game and decided to make up some bullshit. In the end, Kreider was booted from the game with a game misconduct and the Canucks had a 5 minute power-play.
This call definitely affected the game, as the Canucks, despite their 29th overall ranked PP, would score with this chance.
Later on in the period, after Lundqvist surrendered two quick five vs five goals, putting the Mother Canuckers up 3-0, Brendan Lemieux got a five minute major for this:
OK, #NYR fans, you make the call. Did Brendan Lemieux deserve a 5-minute major? pic.twitter.com/hyF5VaaXBO

— MSG Networks (@MSGNetworks) March 14, 2019
Most likely, by the time you read these words, this game misconduct will be rescinded too.
On the play, Antoine Roussel, who is no angel himself, fell into Lemieux. Lemieux braced for impact and Roussel went down. Somehow, the refs gave Lemieux a five minute major and a game misconduct for this. In fact, the official call was "intent to injure." Are you fucking kidding me? Roussel falls into Lemieux and Lemieux instinctively got ready for contact. WHAT IS GOING ON WITH THESE OFFICIALS?
Somehow, the Rangers PK, which was pretty good tonight, were able to kill off these five minutes of bullshit.
In essence, the Rangers lost their two best players when it comes to net presence and with these horrendous calls, the Rangers were without two forwards for half the game. With ten minutes of majors in the second period, the Rangers were also forced to be more conservative than Mike Pence and had to play defensively.
The referees just changed the entire game with their nonsense. Once again, the league is expected to apologize to the Rangers again. Just imagine if the Rangers were in the playoff hunt?
In all my life, I've never see a team get screwed by such bad officiating in such a short period of time. Whether it was the Kucherov interference no-call with Tampa, the bullshit with Pittsburgh, awarding Ovi a phantom goal, the fake news five minute major on Zibanejad in Dallas; it just never ends. And it's only the Rangers. You go around the league, and you won't see any team that has taken it up the butt from the refs as much as the Rangers have, during these last few weeks.
I'm all for PETA doing their thing, but it's time to put some of these zebras to sleep.
Making matters worse, if the refs can stop the game to huddle and make up a penalty, shouldn't they take a look at the replay? If Toronto can horn in to overrule or award goals, can't Toronto fix the mistakes of their referees?
I HATE HATE HATE, whining about the officials, but seriously, this is bullshit. All of these soft-as-marshmallow calls are ruining games.
It's funny, as the league honors Ted Lindsay by placing his number 7 around every NHL arena, can you imagine Lindsay playing in this league today? Shit, with these rules today, a synchronized number from the Ice Capades has a chance at the Cup.
And yes – I get the whole CTE thing. However, playing in the NHL will always be a risk. You can try to limit risks, but you can't 100% eliminate them. The referees are just being too liberal and have too much power right now. Something needs to be done.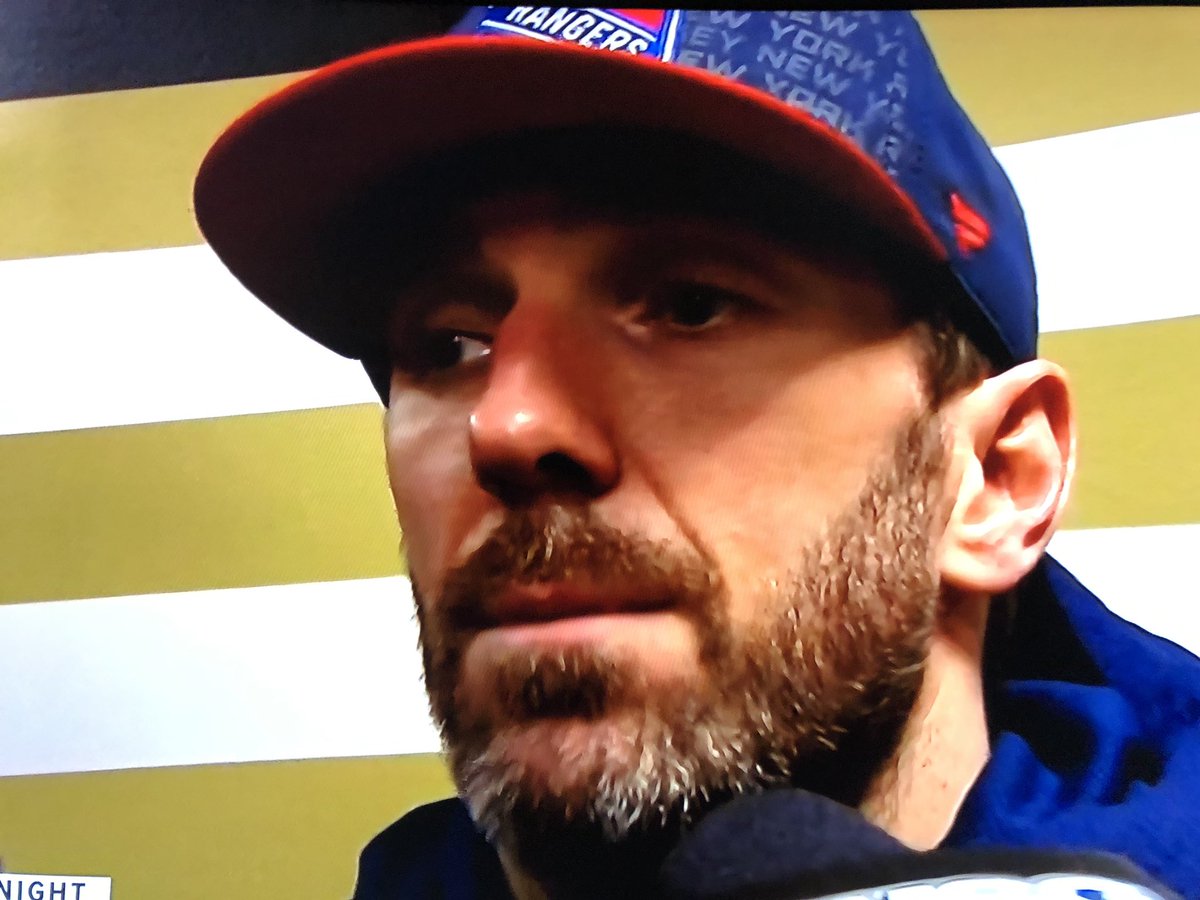 Before continuing along, here are my last few blogs in case you missed them:
---
---
---
---
---
---
After getting a hat trick on Sunday, Vinni Lettieri played tonight, scoring a goal in Hartford's 4-3 win over the real Binghamton Devils:


Of note, Lettieri was once again named a star of the game. What more do the Rangers need to see before giving him another chance? It's not like Lias Andersson is doing anything these days for the big club.
Furthermore, John Gilmour continues to light the lamp in Hartford. He is arguably the team's best player. While he looks like he isn't old enough to buy beer, he will be 26 in May. I don't understand why Gilmour hasn't got a shot with the Rangers during this season, especially after he got one last year.
If it was up to me, I would bring up Gilmour and Lettieri and give Pionk & Andersson a rest. WHAT DO YOU HAVE TO LOSE?
And for people who are all about LETTIERIMANIA right now, here's some video of him, courtesy of @Whalepack:
@NYCTheMiC Lettieri Watch! pic.twitter.com/U0HZZU09jJ

— WhalePack™ (@WhalePack) March 13, 2019
When it comes to the SCRATCH LIST OF QUINN, both Claesson and Brickley returned to the press box. Quinn also shuffled up the lines once again. Here's what Quinn went with:
FIRST LINE: Kreider/Zibanejad/Fast (Kreider returns to the first line. Fast got promoted to the first line. Kreider would be out the majority of the game after that elbow in the second period. Zibanejad and Kreider, you know, the two "aces" of this team, are still without a goal since the trade deadline. SAD!)
SECOND LINE: Chytil/Strome/Namestnikov (Chytil is snake-bit right now. Strome & Namestnikov continue to play well.)
THIRD LINE: Lemieux/Howden/Buchnevich (Lemieux was erroneously kicked out of this game. Buchnevich would score the lone Ranger goal in this game, a PPG, in a game that already seemed to be over.)
FOURTH LINE: Vesey/Andersson/Nieves (Nieves was the best player of this line. That doesn't say much about Vesey and Andersson.)
Defensively, Quinn went with:
FIRST PAIR: Staal/Pionk (Pionk needs a timeout.)
SECOND PAIR: Skjei/DeAngelo (One of the few times I think these two have played together this season. TDA is back in the line-up after Quinn's latest bout of tough love. TDA seemed hyper tonight, which I think hurts him. By scratching him, I feel that TDA feels like he has to do more, in order to prevent himself from being scratched again. In other words, he tries to overcompensate out of fear of losing time.)
THIRD PAIR: Shattenkirk/Smith (Shatty was a complete mess tonight. Seriously, Shatty gave the "BUYOUT SHATTENKIRK" crowd tons of ammo after this game.)
In goal tonight, was King Coward, cherry picking another start against a horrible team.
You just knew Henrik Lundqvist was going to start tonight. After all, Vancouver sucks.
I'm telling you – I really wish I could bet on when Hank will start. It's too easy predicting when his cowardice will strike. Here's what I said in my last blog: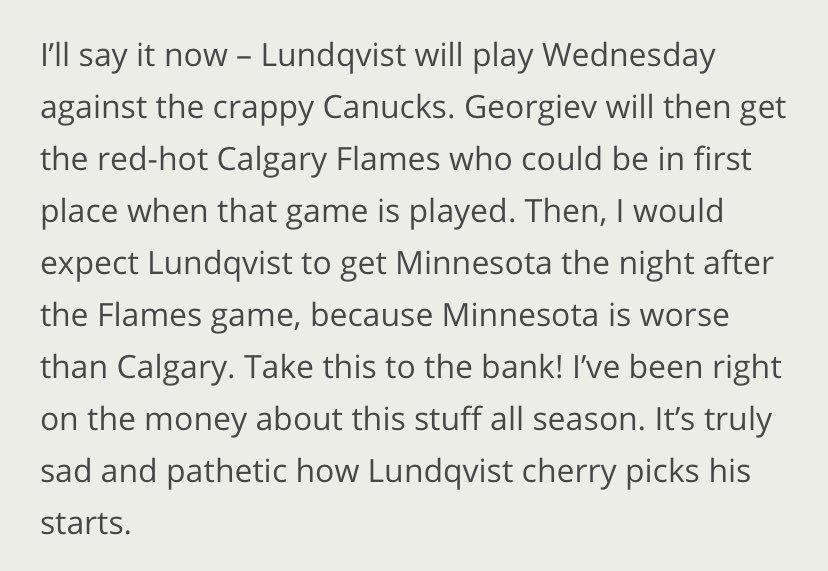 Oh, and here's something else I said before this game, when concerning Lundqvist cherry picking another start against a crapola team:
Vancouver sucks, can barely score two goals a game and I believe leads the league as the team shutout the most.

Guess who is ready to start tonight for the Rangers!

What a majestic king! #nyr pic.twitter.com/bMvcl5VWyR

— BlueCollarBlueShirts (@NYCTheMiC) March 13, 2019
$8.5M for a goalie who sprints like a Kenyan to start games against bad teams. I've been telling you this all season. It's laughable at this point.
And lastly, before getting into the game review, here was my over-under prediction:
Hank is probably starting today. Jump on the over at -5.5 when you can! #nyr pic.twitter.com/yFCa8aVwBr

— BlueCollarBlueShirts (@NYCTheMiC) March 13, 2019
The Canucks won, 4-1. Rangers couldn't even get me a second goal. The bastards. My win-loss record now drops to 30-17-2.
As always, here's the ESPN.com box score:
SCORING SUMMARY:
1st Period

No Goals Scored
2nd Period
6:07

Brock Boeser

(23)

(Power Play)

Assists: Josh Leivo, Bo Horvat

0
1
9:34

Tyler Motte

(8)

Assists: Alexander Edler, Jacob Markstrom

0
2
9:45

Tyler Motte

(9)

Assists: Antoine Roussel

0
3
3rd Period
10:28

Pavel Buchnevich

(16)

(Power Play)

Assists: Mika Zibanejad, Tony DeAngelo

1
3
19:35

Jake Virtanen

(13)

Assists: Tanner Pearson, Troy Stecher

1
4
PENALTIES:
1st Period
0:08

Anthony DeAngelo:

2 minutes for High-sticking
2nd Period
4:23

Chris Kreider:

5 minutes for Elbowing (Major) (served by Pavel Buchnevich)

4:23

Chris Kreider:

10 minutes for Misconduct (10 min)

9:45

Brendan Lemieux:

10 minutes for Attempt to/Deliberate injury (served by Pavel Buchnevich)

17:03

Tanner Pearson:

2 minutes for Hooking

17:56

Jay Beagle:

2 minutes for Slashing

17:56

Vladislav Namestnikov:

2 minutes for Slashing
3rd Period
2:20

Kevin Shattenkirk:

2 minutes for Hooking

3:54

Josh Leivo:

2 minutes for Interference

4:21

Troy Stecher:

2 minutes for Holding

9:35

Alexander Edler:

2 minutes for Interference
GOALIES:
| | | | | | | | | | | |
| --- | --- | --- | --- | --- | --- | --- | --- | --- | --- | --- |
| SA | GA | SV | SV% | ESSV | PPSV | SHSV | SOSA | SOS | TOI | PIM |
| 22 | 1 | 21 | .955 | 13 | 2 | 6 | 0 | 0 | 60:00 | 0 |
| | | | | | | | | | | |
| --- | --- | --- | --- | --- | --- | --- | --- | --- | --- | --- |
| SA | GA | SV | SV% | ESSV | PPSV | SHSV | SOSA | SOS | TOI | PIM |
| 27 | 3 | 24 | .889 | 17 | 0 | 7 | 0 | 0 | 57:32 | 0 |
Again, I'm typing this up on a phone, so I can't be as detailed as usual. If you haven't noticed, I usually tweet stuff during the game and then refer back to my twitter feed when doing this blog. It's just too time consuming to do that right now.
I do want to mention, as I'm working on this blog, I saw this tweet:
🚨Tonight John Gilmour surpassed the franchise record of goals scored by a defenseman in a single season (18) by tallying his 19th AND 20th goals!🚨 #gillygilly pic.twitter.com/AKXVdYpxUy

— Hartford Wolf Pack (@WolfPackAHL) March 14, 2019
Give Gilmour a shot.
8 seconds into this Rangers/Canucks game, TDA was called for high-sticking. That wasn't exactly the best start for TDA, who erred and was just coming out of "The Quinn Bin". (Credit: BSU Radio.) Fortunately for TDA and the Rangers, the Rangers killed off the Canucks PP. Little did we know, the Rangers PK would be showcased all game.
This was a fast-moving first period, which was kind of like the Rangers/Devils game, with the Canucks being a hair better than the Devils.
Micheletti was absolutely unbearable tonight, as he was chokeslamming his weiner every time Hank made a pedestrian save. For those counting, Micheletti rubbed himself red seven times in this period.
Kreider would have two chances in this period, none being better when he was left all alone in front of Markstrom after a Canucks turnover. Markstrom denied Kreider. Pretty big save when you think about it in hindsight.
And yes – how sad is it that neither Kreider or Zibanejad have a goal since the Zucc trade? SAD SAD SAD!
Even worse, after the Kreider denial, Zibanejad would go Scott Norwood when he had a good chance at Markstrom. Maybe Quinn should hire a midget and give him a #36 jersey. I heard Beetlejuice from "The Howard Stern Show" isn't doing anything these days.
This first period was so conservative that the Bible Belt would've voted this period into office. With under five minutes to go in the period, each team only had 6 shots a piece. If I didn't have to go to work, I could've done more shots in this period.
To be clear – I'm not bashing either team here. Both teams played hard and showed effort. However, both teams did make turnovers, it was a little sloppy and there wasn't much in the execution department.
When it comes to likely Calder winner Elias Petterson, I thought he put too much into flash and not enough into substance tonight. He had several chances tonight, but was trying to be too fancy, at least in my opinion.
Outside of the Rangers killing a Canucks PP, there wasn't much to this period. 0-0 after one period.
The second period was ruined because of the referees, as I talked about at the top of this blog. The Rangers lost Kreider for the game at the 4:23 mark of the period. Bullshit.
On the five minute PP, BRRRRRRRRROOOOOOOCCCKKKKKKKK BOOOOOOESSSSSER (Yes, that's a Brock Lesnar/Paul Heyman joke) scored at the 6:07 mark:
BROCK BOESER WITH THE RIP! CANUCKS LEAD!#Canucks pic.twitter.com/kljX9uiW0Q

— Hockey Daily (@HockeyDaily365) March 14, 2019
1-0, bad guys.
On the goal, despite the Canucks having what felt like 7263742789426789264789236 minutes of PP time in this contest, this was the lone Canucks PPG of the game. In fact, Lundqvist only saw 6 shots on all these Canuck PP's. For as bad as the NYR PP has been, the PK did a great job tonight.
With the Kreider penalty killed, Tyler Motte scored at 9:34:
TYLER MOTTE SLAMS HOME THE EDLER SPRING PASS!#Canucks pic.twitter.com/CTRh7Jjauq

— Hockey Daily (@HockeyDaily365) March 14, 2019
2-0, bad guys.
On the goal, Joe Micheletti quickly retrieved Lundqvist's jock strap from the rafters and inhaled.
What happened next is something YOU NEVER NEVER NEVER see with Georgiev. 11 seconds after Motte's undressing of Lundqvist, Motte scored again:
Tyler Motte beats Lundqvist again right away for his 2nd of the game to make it a 3-0 #Canucks lead.

On the play, Antoine Roussel takes a hit to the head from Brendan Lemieux. Roussel went to the Canucks room while Lemieux was given a 5 minute penalty and a game misconduct. pic.twitter.com/qfy9ggQWVU

— Sportsnet 650 (@Sportsnet650) March 14, 2019
3-0, bad guys.
On the goal, two things happened here. One, you had the bullshit penalty called against Lemieux. Secondly, Lundqvist was so upset about the first Motte goal, that he was still screaming and crying about it. Whenever you see Georgiev beat for a goal, whether it's a bad goal or good goal allowed, he does some zen-like shit, where he brings himself back to a place of coolness, calmness and collectiveness. Whenever Lundqvist is mad at his teammates, he allows that anger to eat him up and rattle him.
On this second Motte goal, it's a tough shot and you had the Lemieux bullshit going on. Still, I would bet you anything in the world, that Lundqvist wasn't in the right frame of mind here. He was still steaming about being owned by Motte and mad at his defense. Lundqvist doesn't forget as easy as other goalies and he's too busy finger-pointing. Again, why Lundqvist is on this team is beyond me.
The bigger story here is the nonsense call against Lemieux. Can't lie – this took me completely out of the game. The Rangers were forced to kill penalties all period and lost two good players. I just can't forgive the terrible officials. Yes, the Rangers hurt themselves, but the refs emptied a salt truck on the wound.
The Rangers would close off the period on a powerplay. They did nothing.
3-0 after forty minutes. Again, after these terrible calls, I felt checked out of this game. If Quinn just told the team "let's head to Calgary" and didn't return for the third period, I wouldn't have blamed him.
Again, I was checked out after this game and was seeing red. I don't know why I care so much, but this stuff bothers me. I know it's better off if the team loses, but I rather see them lose because they were outskilled, not because of some douchebag ref.
I was so riled up that I couldn't even laugh about this shit. Oh, and  look at what Joe Micheletti was drawing during the third period: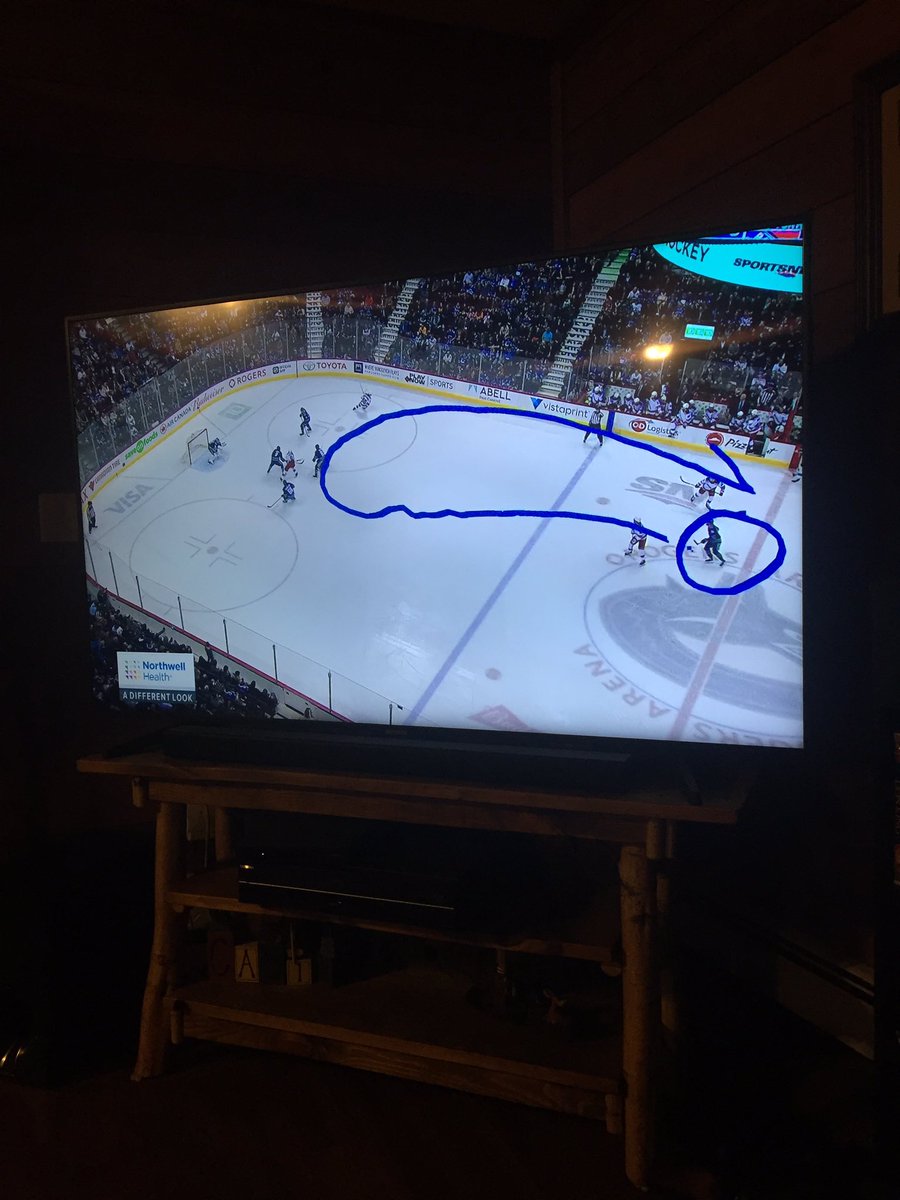 When Joe Micheletti is drawing his erection for Lundqvist on TV, and I can't even laugh at that, then you know how bad the referees pissed me off.
I gotta rush a bit here, my break is almost up!
Shattenkirk started the third with his usual penalty. The Rangers killed it.
The next "big" story of the game then happened at the 3:54 mark. Leivo was called for interfering with Namestnikov. 27 seconds later, Stecher held Skjei. In turn, the Rangers had 1:33 of a 5 vs 3 PP.
On the 5 vs 3 PP – THE RANGERS DDIN'T SHOOT THE PUCK! NOT ONE SHOT ON GOAL! They let the Canucks do nothing and the Canucks were awarded for it!
WHAT THE FUCK!
In a 3-0 game, and with a two-man advantage, the Rangers dicked around and were looking for the perfect shot. Granted, not having Kreider and Lemieux here hurt, because you were missing your crash-the-net guys. Still, you have to fucking shoot the puck. I'm getting angry typing this up now!
Seriously – you're down 3 goals. Shoot the fucking puck. Go for a deflection. Go for a rebound. Try to catch Markstrom off-guard. DO SOMETHING.
At the 9:35 mark, Elder was boxed for interference. At the 10:28 mark, Buchenvich scored a PPG. Whoop-de-doo. 3-1, bad guys. This felt like a mercy goal allowed by Markstrom. That said, the Rangers have their first PPG since the trade deadline and snapped an 0-25 schneid. Still, even with this goal, the game looked over.
Later on in the period, a Canuck (the name escapes me) kicked the puck over the glass. The refs decided to ignore giving the Canucks a delay of game penalty.
The Rangers would pull Lundqvist with three minutes to go. The Canucks dicked around and tried to set up Motte for a hat trick. Even with the other Canucks ignoring the empty net, the Rangers didn't do much on the 6 vs 5.
With 25 seconds left, Jake Virtanen scored the empty netter, putting this game to bed. 4-1, bad guys, your final from British Columbia.
I've had it with this game. The referees screwed the Rangers again, Lundqvist imploded, the PP failed and that's that. Oh, and Lemieux has more goals than Zibanejad does since the deadline.
Yes, all the penalties ruined this game, but one goal scored against the Canucks? SAD! You can't win if you can't score.
The Rangers, who are now 0-1-1 on this Western Canada loop, will finish the tour on Friday night, in Calgary.
Unless Alexandar Georgiev gets mono, cancer, AIDS, the bubonic plague, typhoid, the clap, or a limb removal, I would expect him to start this next game with the Flames. Even if Georgiev gets any of the aforementioned aliments, I can still see him playing, as there is no shot in hell that Lundqvist will want to play the red-hot, first-place battling Calgary Flames. I would expect Lundqvist to take the easier game with Minnesota on Saturday. I would also expect Lundqvist to take the start against Detroit on Tuesday, with Georgiev getting Toronto, in Toronto, on Saturday. King Cherry Picker!
Ugh, sorry if this blog was more profane than usual. Even hours after this game, I'm still a ball of rage about these referees. Yes, I know some of you guys want to lose every game, but not like this. No team wants to lead the league in apologies.
See ya Friday.
As always, thanks for reading and…
"LET'S GO RANGERS!"
Sean McCaffrey
BULLSMC@aol.com
@NYCTHEMIC on twitter