Greetings and salutations everyone and welcome to another blog here on BlueCollarBlueShirts.com.
Off of puck drop here, I don't see myself going too long tonight. This game was that bad and with a game in less than 24 hours, the best thing for not just the Rangers, but for me, is to forget about this game!
On Friday night, the Rangers concluded their Western Canada road-trip, losing to the Calgary Flames by a score of 5-1. For the Rangers, they finish this Western Canada loop of games at 0-1-2. Of the three games played in Alberta & in the Pacific Northwest, when it comes to the Rangers, this was the worst game of the three.
While most 5-1 scores would indicate that one team was far superior than the other, sometimes, you get those fluky goals in games. Sometimes, you get a few empty netters. This game was not that. The majority of this game showed the difference between one of the best teams in the league (in fact, with the win, Calgary is now the top team in the Western Conference) and with one of the worst teams in the league, in the New York Rangers.
The Rangers were just a mess all night. Some of it is self-inflicted. Some of it is the difference in skill level between the two teams. The stuff that has been plaguing the Rangers since the deadline shone very bright in this game. The Rangers defense was bad, with Neal Pionk and Kevin Shattenkirk wearing the biggest of dunce caps. The Rangers PP remains dreadful and woeful. The Rangers remain snake-bitten and can't score goals. While I won't get on Filip Chytil, because of his age and because this is a development season for him, the guy must've had about a dozen chances in this game, but couldn't bury the puck once.
If you're looking for a bright side to this game, all I can say is this – at least the referees didn't play a role tonight!
When you're a team rebuilding, you have to look for some bright spots. I think guys like Ryan Strome, Vladislav Namestnikov, Connor Brickley, Alexandar Georgiev, Boo Nieves, Brendan Lemieux and Tony DeAngelo have done a good job of making their cases for next season. While some of these players have done more than others, I think the above names have been playing well, despite the current circumstances of the team.
In fact, if it were up to me, I would give RYAN STROME the Steve McDonald Extra Effort Award this season. Knowing the Rangers, they will probably give it to Henrik Lundqvist or Mika Zibanejad. However, when you look at his role on the team, has anyone been better at their role than Ryan Strome? Not only do I think Strome deserves this prestigious award, I think the Rangers should go into 2019-2020 with the thought of Strome being the team's number 2 center.
I know I've said it before and I'll say it again here. When it comes to VALUE, the Ryan Strome for Ryan Spooner deal may have been the best trade that Jeff Gorton has ever pulled off as GM of the Rangers. Granted, Gorton was the idiot who gave Ryan Spooner a two year/$8M deal, but at the same time, Gorton got out of that deal in a hurry. In return, Gorton got a player who has gone above and beyond when it comes to expectations.
For as good as Strome has been, since the trade deadline, Chris Kreider & Mika Zibanejad have been the complete opposite. While I don't think you can lump Kreider & Zibanejad together, the fact is, neither of them have a goal since the deadline.
The easier player to look at first here is Zibanejad. It's not that he's playing bad or anything, but it's not like he's an elite center as some fans make him out to be. When you look at BAD teams, their top players are scoring. Zibanejad isn't.
When it comes to these two players, you have to throw out Zuccarello. He's gone. It's over. Move on. Yes, losing Zucc hurt both of these guys, but he's gone. That's that.
With Kreider and Zibanejad playing on the same line, I think Kreider's dip in play has hurt Zibanejad more than anything. I think Kreider's failure to appear is the catalyst in all of the Rangers offensive struggles, whether it's first line scoring or the power-play. When you watch these games, Zibanejad is playing well, but he also doesn't have a "2" for a Rangers 1-2 punch. While obviously Connor McDavid, who plays on a bad team too, is light-years better than Zibanejad, McDavid does have Draisaitl. With Kreider missing, Zibanejad doesn't have much to work with.
If you've been watching all these games, Zibanejad is playing hard, but he doesn't have much help. It's very easy for teams to shut Zibanejad down, because Kreider is already in shut-down mode already.
To be fair here, Zibanejad has rung a few pucks off the post too, but iron doesn't equate to points. That said, I'm more willing to give Zibanejad a pass here, because he's playing hard. While he's not producing points, he's not playing bad either. You notice him in these games, even with as bad as the Rangers are.
When it comes to Kreider, I don't have an answer for his struggles. Then again, who does? If Quinn, Gorton or anyone involved with this team had the answers, Kreider would've been corrected by now. Whether it's mental, something going on in his real life or what, Kreider has disappeared again.
And yes, I use the word "again", because this isn't the first time in Kreider's career where you have to check the box score to see if he even played. He goes through these bouts where he just ghosts the Rangers. For someone who should be a leader on this team, no one goes through these stretches of fog like Kreider.
At this stage of his career, Kreider should be a leader on this team. He needs to be that veteran presence. However, when you go into 2019-2020, is Kreider worth keeping?
Put it this way – would it make more sense to trade Kreider in the summer, where you will have more teams vying for his services, rather than dealing him at the 2020 trade deadline, where you won't have as many suitors? (For those who don't know, Kreider will be a UFA after the 2019-2020 season.)
Kreider has shown us he can play well when surrounded by talent, but at the same time, Kreider should be the talent that helps with getting others going. He's not that. Rangers fans have seen this magic act of Kreider disappearing before and I think it is an act that Ranger management should be sick of seeing.
And let me be clear here too – yes, I'm aware the Flames are good. However, this isn't a single-game issue or an issue about playing against a good team. Kreider has disappeared in games against crappy teams too and has done OO-GATZ on the power-play since the deadline.
While I think it's a lock that Zibanejad will be here next season, concussion issues and all, I don't think Kreider has that same lock status. In fact, if Kreider was traded, I don't think you'd hear much blow-back from Ranger fans. Kreider will be 28 next season. Do you really see him getting any better than this?
Moving along here, in case you traded hockey for sleep this past week, I stayed up and wrote about all these late games this week. Here are my last few blogs, in case you missed them:
---
---
---
---
---
---
On Friday night, the Hartford Wolfpack found themselves down 3-0 to the Syracuse Crunch. The Wolfpack would mount a comeback in the third period, but it wasn't enough, as the Crunch beat the Wolfpack by a score of 3-2. Of course, scoring in the game was once again my hero and yours, in a one Vinni Lettieri:
🚨Wolf Pack Goal🚨
Vinni Lettieri (23) ASST: John Gilmour (33), Ryan Gropp (11) 3-2

— Hartford Wolf Pack (@WolfPackAHL) March 16, 2019
I don't know how many times I have to say it. GIVE LETTIERI A SHOT PLAYING TOP 6 MINUTES WITH THE RANGERS. WHAT DO YOU HAVE TO LOSE?
Let's get the easy thing out of the way first. When it comes to the Rangers goaltender in this game, as predicted a week ago, Alexandar Georgiev took on a team that was playing for first place in the Western Conference. In case you missed my blog from Wednesday, here's what I predicted: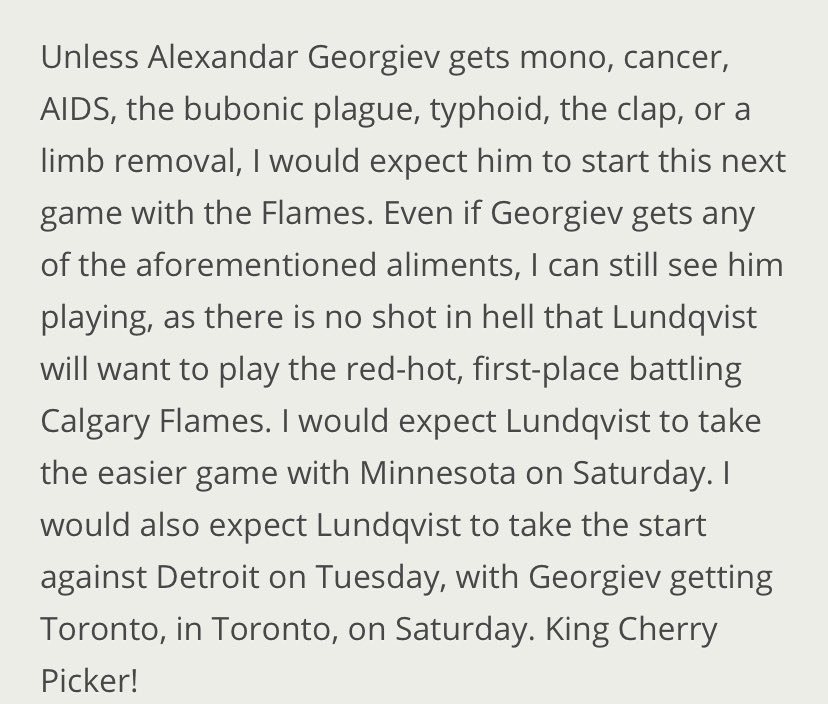 Hours before game time, Newsday reporter Colin Stephenson tweeted this out:

I'm telling you, I wish I could bet on what goalie will be starting when. It's too easy. King Cherry Picker wants no part of any good team. As I've been saying all week, expect Lundqvist to start against the non-playoff team, in the Minnesota Wild. After that game, I expect King Coward will take the start against Detroit on Tuesday. From there, Alexandar Georgiev will play against Toronto, in Toronto, next Saturday.
$8.5M folks! Imagine Lundswiss working a real job? He would call in sick whenever a tough day was on the docket! And while I'm all for Georgiev taking these tests, it just makes no sense to keep Hank here. But you already know this. It will only get worse next season, when Igor Shestyorkin gets here. SAD!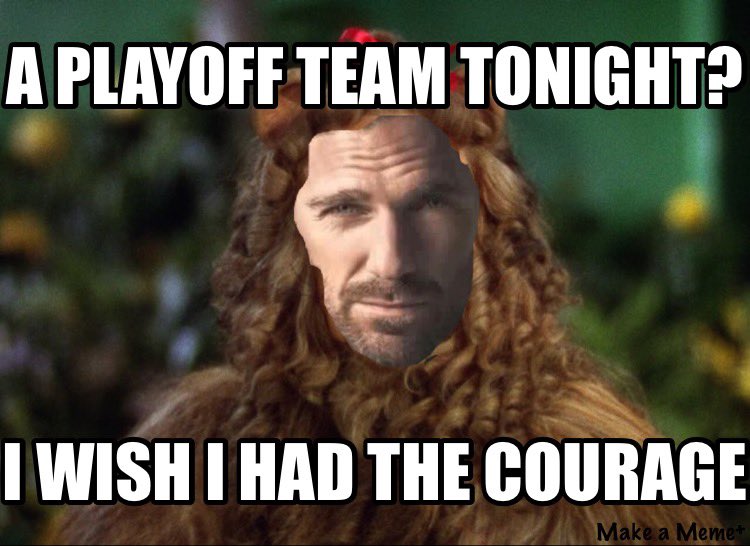 When it comes to the healthy scratches tonight, both Boo Nieves and Freddy Claesson were scratched. I still don't understand why Pionk is playing every game, as he gets worse and worse with each game played. The schedule is wearing him thin.
This all said, here's what Quinn went with tonight:
FIRST LINE: Kreider/Zibanejad/Vesey (Vesey was returned to the first line. By the third period, Buchnevich replaced him. It didn't matter. The first line remained pointless once again.)
SECOND LINE: Chytil/Strome/Namestnikov (The best line of the night for the Rangers. Strome was solid. Chytil had a billion chances but couldn't finish.)
THIRD LINE: Lemieux/Howden/Buchnevich (The new MSG edict seems to be to exaggerate how great Howden is.)
FOURTH LINE: Brickley/Andersson/Fast (Fast goes to the fourth line. Andersson had one of his best shifts of his career in this game, as he single-handedly killed off about 25 seconds of a Flames PP by himself.)
Defensively, Quinn went with:
FIRST PAIR: Skjei/Shattenkirk (A mess of epic proportions.)
SECOND PAIR: Staal/Pionk (Pionk scored a goal, but I put the goal more on Flames goalie David Rittich than Pionk making a hell of a play or anything of that nature.)
THIRD PAIR: Smith/DeAngelo (Best pair of the game, but that isn't saying much either.)
Gambling wise, here's what I said before the game:
You know the deal – if Hank starts, take the over, if Georgiev starts, take the under #NYR pic.twitter.com/S0os6Yx0a2

— BlueCollarBlueShirts (@NYCTheMiC) March 15, 2019

I also said this:
Rangers and the under pays out nice…. #nyr

3:1 on King Georgiev! pic.twitter.com/3hh3GahR52

— BlueCollarBlueShirts (@NYCTheMiC) March 15, 2019
With six total goals in this game, my bet was a push. My record is now 30-17-3. Still not shabby!
As always, here's the ESPN.com box score of the game:
SCORING SUMMARY:
1st Period
10:00

Johnny Gaudreau

(34)

Assists: Matthew Tkachuk

0
1
11:10

Neal Pionk

(6)

Assists: Ryan Strome

1
1
2nd Period
2:56

Matthew Tkachuk

(31)

Assists: Mark Giordano, Michael Frolik

1
2
4:06

Garnet Hathaway

(8)

Assists: Derek Ryan, Matthew Tkachuk

1
3
3rd Period
5:12

Michael Frolik

(14)

Assists: Matthew Tkachuk, Noah Hanifin

1
4
9:49

Matthew Tkachuk

(32)

Assists: Mikael Backlund

1
5
PENALTIES:
1st Period
7:31

Sam Bennett:

2 minutes for Hooking Brendan Smith

10:49

Brendan Smith:

2 minutes for Slashing Johnny Gaudreau

10:49

Johnny Gaudreau:

2 minutes for Slashing Brendan Smith

12:50

Vladislav Namestnikov:

2 minutes for Tripping Matthew Tkachuk

15:31

Vladislav Namestnikov:

2 minutes for High-sticking Travis Hamonic

18:47

Brendan Lemieux:

2 minutes for Roughing Garnet Hathaway

18:47

Garnet Hathaway:

2 minutes for Roughing Brendan Lemieux
2nd Period
14:38

Brett Howden:

2 minutes for Slashing Rasmus Andersson

16:16

Mikael Backlund:

2 minutes for Tripping Brendan Smith
3rd Period
6:42

Mark Jankowski:

2 minutes for Roughing Brendan Smith
GOALIES:
| | | | | | | | | | | |
| --- | --- | --- | --- | --- | --- | --- | --- | --- | --- | --- |
| SA | GA | SV | SV% | ESSV | PPSV | SHSV | SOSA | SOS | TOI | PIM |
| 25 | 1 | 24 | .960 | 20 | 0 | 4 | 0 | 0 | 60:00 | 0 |
| 0 | 0 | 0 | .000 | 0 | 0 | 0 | 0 | 0 | 0:00 | 0 |
| | | | | | | | | | | |
| --- | --- | --- | --- | --- | --- | --- | --- | --- | --- | --- |
| SA | GA | SV | SV% | ESSV | PPSV | SHSV | SOSA | SOS | TOI | PIM |
| 32 | 5 | 27 | .844 | 23 | 0 | 4 | 0 | 0 | 60:00 | 0 |
| 0 | 0 | 0 | .000 | 0 | 0 | 0 | 0 | 0 | 0:00 | 0 |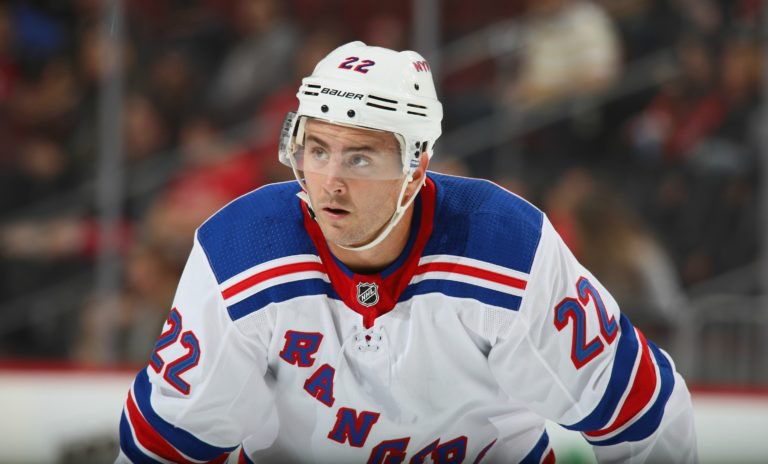 I rarely check out the post-game stuff when doing these blogs, as I don't want my opinions being skewed by anything else. However, after this game, I wanted to see what Quinn said. Quinn pretty much summed up my thoughts, when he said this:
"We just weren't real dialed in, defensively, tonight, obviously… How many times did you look up and there's a 1-on-3 in front of our net? We cheated the game too often tonight; very loose defensively. Didn't want to hit anyone, didn't want to get hit."
While the hitting stuff doesn't apply to everyone, as Lemieux was still hitting guys with 9 seconds left in a 5-1 game, the Rangers did pussyfoot around a lot tonight.
To me, Quinn hit the nail on the head when he brought up all the 1-on-3's tonight. It felt like after the first period, all you saw were three red jerseys in front of Georgiev for the rest of the game.
When you give up 5 goals, it's tough to really praise the goaltender, but for what it's worth, unlike say the game against Carolina from the beginning of the season, I don't think you can pin this loss on Georgiev. All of the goals came from up close and with the Rangers defensemen just watching. Plus, when you score only one goal, you're not going to win games in this league.
I thought the Rangers did great in the first period, despite being out-shot 13-6 and not scoring on their PP, just because of who the competition were. In fact, it looked like another game where the Rangers were playing up to the level of their competition. Unfortunately, the competition realized who they were too and just embarrassed the Rangers for the rest of the game. For some reason, Sam & Joe were praising the Rangers, despite the Flames having about 30 shots taken within two feet of Georgiev.
I have to mention this. The broadcast opened up with the Flames public address announcer saying the Flames would like to have a moment of silence for the victims of the New Zealand shooting. Immediately after saying that, the MSG Networks cut to a commercial of some woman shrieking during a car commercial. Classy.
The start of this game saw Chytil get a chance at net, but as would be the theme of the night, he couldn't get one puck past Rittich. I don't think Rittich was that great tonight either. While Rittich made about 2-3 good saves in this game, much of the Rangers offense was lazy and pedestrian.
The Rangers would get their first PP of the game at the 7:31 mark of the first period, when Smith drew Bennett for a hooking call. The Rangers PP did jack shit. In fact, the Flames PK logged more shots than the Rangers PP. All in all, the anemic Rangers PP went 0-3 on the night. Yes, this final was 5-1, in favor of the Flames, but once again, early PP situations were wasted and it changed the course of the game.
Calgary would get the first goal of the game at the 10 minute mark. Here's Johnny Hockey:
Johnny Gaudreau is unstoppable right now 🔥. pic.twitter.com/1B8P2dNgUa

— Sportsnet (@Sportsnet) March 16, 2019
1-0, bad guys.
On the goal, this would be Matthew Tkachuk's first of five points in this game. I can't recall any other player torching the Rangers like this during this season.
Micheletti, and later Valiquette during intermission, were burying Neal Pionk for getting caught here. I can see their criticism, but at the same time, Tkachuk made an elite pass and Georgiev got beat by one of the best players in the NHL. It was just one of those great plays. While Pionk did get beat, at the same time, I think many defensemen would've been beat on this play.
A minute later, Johnny Hockey and Smith took off-setting penalties. That's a good trade-off for the Rangers.
During the four-on-four foreplay, aka the Micheletti special, Neal Pionk would score the lone Rangers goal of the game, somewhat redeeming himself from the wrath of Micheletti's criticism for the Gaudreau goal:
NEAL PIONK HAMMERS ONE HOME FROM THE TOP OF THE CIRCLE!#NYR pic.twitter.com/CKw0RibvYz

— Hockey Daily (@HockeyDaily365) March 16, 2019
1-1.
On the goal, give credit to Strome for making a great pass. Pionk finished. That said, this is probably one Rittich should've had.
What was funny, was Micheletti then explaining how forwards are expected to score more than defensemen. Thanks Joe!
After this goal, Namestnikov would take two back-to-back penalties. The Rangers killed both of them, with Andersson, as mentioned earlier in this blog, playing some of his best hockey of the season. That said, I still think Anderrson belongs in Hartford.
Georgiev would be tested all period, but would make save after save. He made this period look better than it actually was.
With a little over a minute remaining in the period, Lemieux got into it with Hathaway. For some reason, the referees intervened, rather than letting these two fight. Pussification bullshit here.
At the end of one period, 1-1. It was all downhill from here.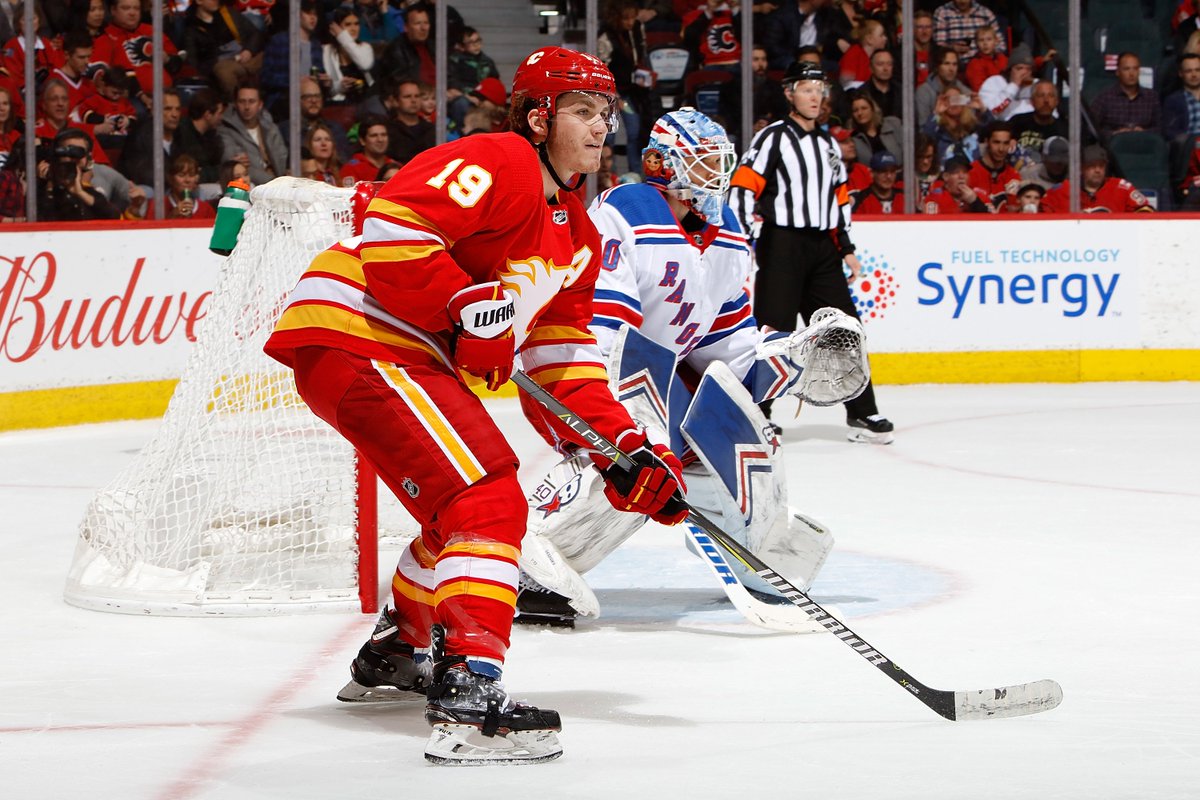 Three minutes into the second period, Giordano took a rising shot, but Tkachuk was all alone in front of Georgiev. Tkachuk tipped the puck in. 2-1, bad guys.
On the goal, Georgiev thought the puck was high-sticked. Sam & Joe ignored Georgiev's reaction. So did Quinn, as there was no challenge. Shit, there wasn't even a replay on the MSG Networks of the goal.
Over a minute later, Hathaway was all alone in front of Georgiev. 3-1, bad guys. Quinn was fuming here.
As the game progressed, the Rangers couldn't do anything. They couldn't move the puck. They couldn't sustain an attack. They couldn't forecheck. This was all Flames. Georgiev would make a bunch of saves in the period, but I know, when you give up 5 goals, it's tough to go rah-rah about Georgiev. That said, in periods 2 and 3, it just felt that the Flames could do anything and had about 36473648936 three on one chances.
And oh yea, while speaking of chances, Chytil couldn't score if he was in a Thailand whorehouse with a fistful of $100 bills.
Both teams would exchange power-plays in this period, with neither team scoring. This didn't matter much to the Flames, but it certainly hurt the Rangers. They just can't do shit on the PP. The worst part about the PP, and this has been going on for a while now, is that the Rangers don't even look at the goalie. All they do is pass around. Even worse, they make hard passes, which are tough to handle, which means the Rangers juggle the puck and immediately, a defender is right there.
The end of the second period basically tells you all you need to know. With a two goal deficit, Shattenkirk had the puck all alone, near the point. With 7 seconds remaining, instead of just shooting it, Shattenkirk dicked around, looked to make a pass, waited for the Flames to clog the shooting lane and then shot the puck. Ridiculous.
3-1, bad guys, after two periods.
The third period was the worst period for the Rangers, as half the team looked uninterested. That sucked for Georgiev. I do also want to make mention of Lemieux again, who continued to agitate and was getting physical with just seconds remaining in blowout game. That effort should be noticed.
Once again, Chytil would have a chance, as early into the period, he muffed a two on one opportunity. Again, I won't kill Chytil, because he's a key to this rebuild/development, but god damn pal, this was just not his night. Growing pains. I can't wait until he puts it all together, as he can create situations for himself all the time.
After Chytil's chance, the Flames spent about four minutes in the Rangers zone, with Georgiev doing his best to keep the Flames from extending the lead. At the 5:12 mark, Pionk said fuck it, and Frolik made the score 4-1, bad guys.
The Flames would continue their assault in this period. At 9:49, Tkachuk made it 5-1, bad guys, after another one of these Rangers don't give a fuck about defense situations.
I'm telling you, and I know I've said it a few times here, it just felt that the Flames could go 3 on 1 at any given moment in this game. And many times, they did.
Not much else to write home about here. 5-1 Flames, your final.
I think I've said everything I've needed to say here. Let me go through my list one more time:
— Lundqvist ducks competition again? Check.
— Strome for McDonald. Check.
— Kreider and Zibby have been Thanos'd. Check.
— The Flames are much more skilled than the Rangers. Check.
— This game sucked for Georgiev. Check.
— The defense was horrendous. Check.
— Tkachuck had the best game out of any NYR opponent this season? Check.
Alright, that does it. See you tomorrow night when the Rangers finish up their road-trip in Minnesota. Again, as mentioned in prior blogs, having a back-to-back game after this Western Canada road-trip makes no sense. Poor scheduling.
Win or lose, as always, thanks for reading and…
"LET'S GO RANGERS"
Sean McCaffrey
BULLSMC@aol.com
@NYCTHEMIC on the twitter machine