Greetings and salutations everyone and welcome to another blog here on BlueCollarBlueShirts.com.
On Tuesday night, fresh off their 0-3-1 road-trip, the New York Rangers returned to Madison $quare Garden, where the Rangers hosted an Original 6 rival in the Detroit Red Wings. For the third time this season, the Rangers lost to the bottom-of-the-barrel Red Wings. Even sadder, all three games were one goal games, with the Red Wings prevailing over the Rangers each time, winning all three games by a final score of 3-2.
In fact, if you include the games from last season, the Red Wings now have a five game winning streak over the Rangers, with each game ending 3-2, in favor of the Red Wings. What an odd stat. Isn't that amazing Suzyn?
Going into this game, I was on a roller-coaster of emotion. Okay – maybe I'm exaggerating here, but I was excited about some news, and disappointed as expected with some other news.
For those of you who have been following this site all season, or at least have been following it during these past few weeks, there were two things I talked about in my last blog. Let's get the easy one out of the way first!
Better late than never lol #nyr pic.twitter.com/7hxCkumhcD

— BlueCollarBlueShirts (@NYCTheMiC) March 19, 2019
Not that it mattered, but it was nice to see the Rangers do the St. Patrick's Day thing tonight, even if it was belated.
Even better, this guy was wearing a St. Patty's Day jersey: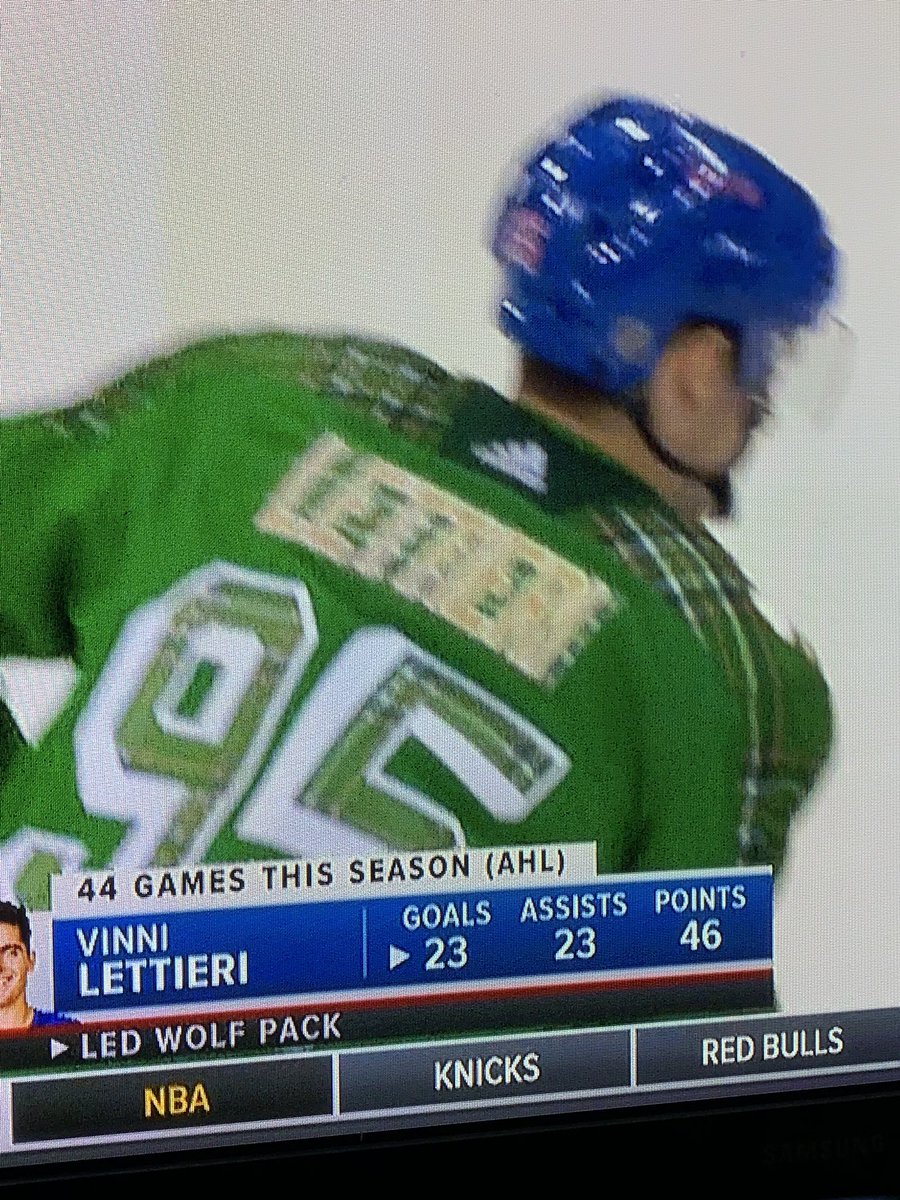 As you can tell from the picture above, my incessant whining about Vinni Lettieri finally paid off in this game! If you're not familiar with "THE LETTIERI WATCH" segments on this site, you can find them in my most recent blogs, which are conveniently linked below:
---
---
---
---
---
---
If you read my last blog, I was campaigning for the Rangers to do what's right by bringing back Vinni Lettieri and calling up John Gilmour. Shit, I've been begging the Rangers to bring up Lettieri for a while now, which is how these LETTIERI WATCH segments got started on this blog in the first place!
On Monday afternoon, the hockey gods granted my wishes, as the Rangers tweeted out the following: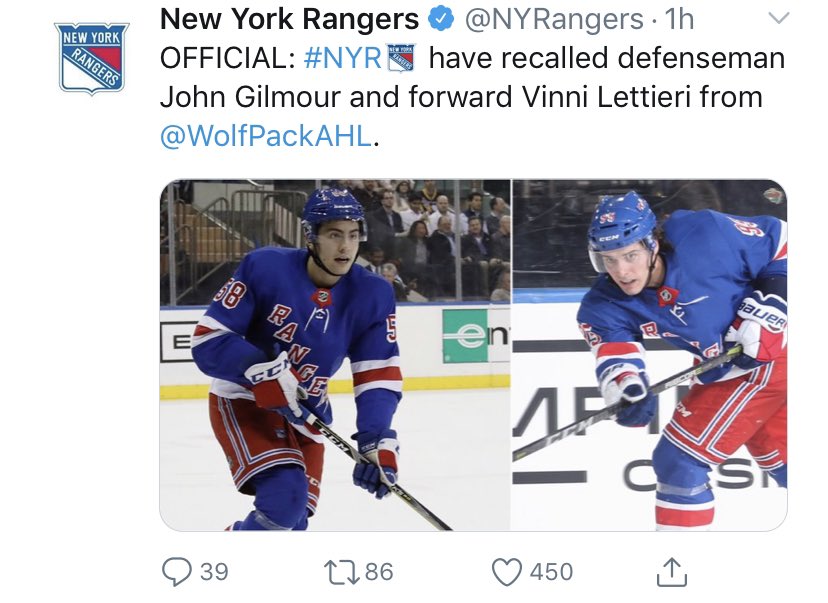 Even better, before these call-ups were announced, I was predicting that both of these players would be called up on Monday morning! God damn I'm good:
Ahem pic.twitter.com/1BPNaGPKmB

— BlueCollarBlueShirts (@NYCTheMiC) March 18, 2019
The self-pat on the back aside, I was happy to see Lettieri and Gilmour get a crack at it. However, as usual and as predicted on this blog weeks ago (and reiterated in every blog thereafter) I told you that Lundswiss would cherry-pick this easy start against the Red Wings. After watching Lundswiss scream at Chytil and blame all his teammates in his post-game interview after the loss to the Wild on Saturday, I just have no interest in seeing King Inferiority Complex anymore. (More on this at the end of this blog.) Shit, I haven't had any interest in seeing King Coward in a long time anyway!
While I was happy to see Gilmour and Lettieri get a shot, the only way this game could've been better is if Georgiev finally got a start against a non-playoff team. You just knew that wasn't going to happen. In fact, when I saw Lettieri & Gilmour were being called up, I was planning on going to the game. When I saw Lundswiss was starting, I said forget that. I just won't give up my money to see this franchise keep their head in the sand.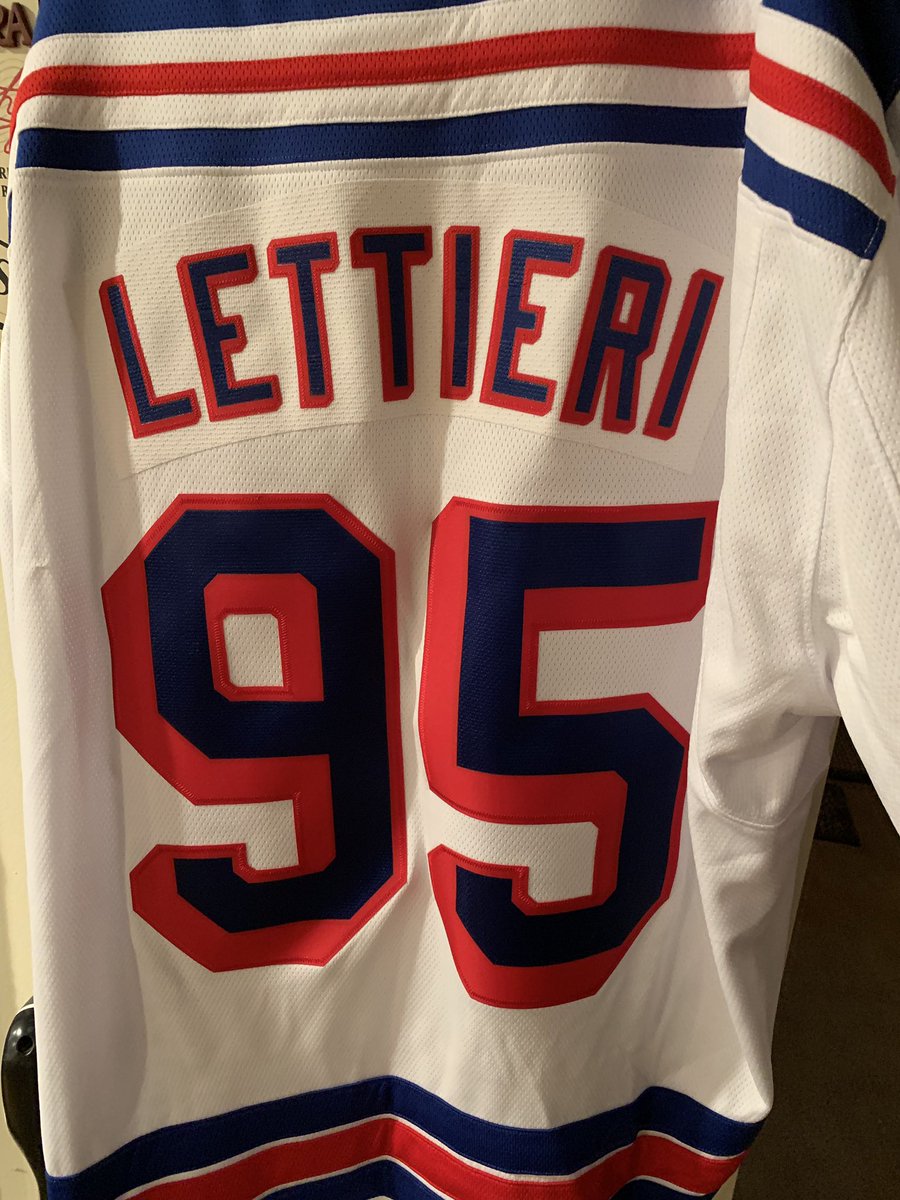 When it comes to Lettieri and Gilmour, the high and wide echo chamber on social media went right to work. You see, because one self-appointed expert deemed Lettieri and Gilmour as "4A" players, fans who have never watched one single minute of the Wolfpack this season all hopped on board with that opinion.
(For those who don't know what a "4A" player means, as I'm 100% sure some fans just say this without even realizing what that even means, it means that a player is too good for Triple A, or in this case, the AHL, but not good enough for the pros.)
As I've been saying all season, I think in the case of Lettieri, he did not receive a fair and true test when it came to assessing him. It's hard to shine on a mish-mash fourth line, especially on a fourth line that plays about 5-6 minutes a game. It is in my opinion, that to get a true read on Lettieri, he needs a few games playing as a member of the Top 6.
In tonight's game, Lettieri did get that opportunity. He also got some PP time as well. While I didn't think Lettieri was bad tonight or anything of that sort, the bottom line is that he needs to rack up points. You can score all the goals in the world in Hartford, but if you can't score in the pros, then maybe that 4A label starts to ring true.
In the case of Lettieri, I hope he gets a few more games playing with the Top 6 and getting some time on the PP. This is make or break time for him. If he can put a few points together, he makes an argument for the Rangers to keep him. If this pointless streak continues, the Rangers may tell him "Ciao".
When it comes to the future of the Rangers, aside from Lettieri, John Gilmour's role in this organization may be the most threatened. The Rangers already have what seems to be 7867895679576565 defensemen under contract. Gilmour, who is not an asset that was acquired through a big trade, free agency or through the draft, is definitely the most expendable out of all the Ranger defensemen.
In Gilmour's first game as a Ranger during the 2018-2019 season, he gave plenty of ammunition for his detractors. In fact, after the first goal allowed in this game, Lundqvist gave Gilmour the evil eye. I'm surprised that evil eye didn't come with a one-way Greyhound bus ticket to Hartford.
For Gilmour and Lettieri, this was one of the easier games on the schedule. The schedule toughens up now and it's going to be sink or swim time for them. Fortunately, they will be playing in front of the calmer Alexandar Georgiev, as Lundqvist does not start when good teams are on the docket.
With the call-ups of Lettieri and Gilmour, David Quinn had to tinker with his line-up. After missing about two months worth of practices, the injured Jesper Fast finally got a break tonight. In the "Quinn Bin" tonight (Credit: @BSUradio) were Connor Brickley, Boo Nieves and Freddy Claesson.
Very quickly, I wanted to touch on the Chris Kreider story, which was first brushed about on the "Bleeding Blueshirts" podcast with Dave Maloney & John Giannone and then later confirmed & reported by Larry Brooks of the NY Post.
Kreider, who confirmed the story himself, blamed his recent lack of production on an injured hamstring. Fine. However, if you're hurt and can't positively contribute, what's the point in playing, especially for a team going nowhere? Why risk making the injury serious? Why jeopardize anything for next season? Why take playing time away from someone who needs it to prove themselves?
Listen, if the Rangers were in the playoff hunt, I would have no issue with "manning up" and playing. We would all applaud it. However, with the circumstances being what they are, it is just senseless to play Kreider while he's hurt. Kreider, in his comments to Brooks, even sounded like he had some regrets.
Once again, just like playing Staal while Staal had the flu, I look at David Quinn. What are you doing? Quinn is playing lame players, sick players and for whatever reason, keeps Neal Pionk in the line-up. Yes, I know Quinn is a rookie coach, but this is common sense stuff.
The Rangers are a team in a rebuild. They are a team that has no shot at the playoffs. Why risk the health of Kreider if you don't have to? What if Kreider, while playing injured and trying to compensate, wound up tearing an ACL, which could be a year-long injury? What is the sense in that? This is just another bone-headed decision by David Quinn.
That all said, here's what Quinn went with tonight:
FIRST LINE: Kreider/Zibanejad/Buchnevich (Once again, the top line was held off the board. Did Kreider even play in the third period?)
SECOND LINE: Namestnikov/Howden/Lettieri (I was happy to see #95 back in the line-up, but I would've preferred to see him play with another center. Howden is barely a fourth line center in this league.)
THIRD LINE: Vesey/Chytil/Strome (I don't get bumping Strome to the third line, when he's been one of the better Rangers this season. I would rather see Strome on the second line and Howden back on the third or fourth line.)
FOURTH LINE: Lemieux/Andersson/Smith (The Brendan Smith is a forward experiment continues. As a result, Brickley & Nieves sit. I don't get it.)
Defensively, Quinn went with:
FIRST PAIR: Skjei/Shattenkirk (This was another game where you question if Shattenkirk will be here next season.)
SECOND PAIR: Staal/DeAngelo (Once again, the top pair of the game.)
THIRD PAIR: Gilmour/Pionk (The weakest pair of the three. I don't get why the Rangers bring up guys, only to play next to Pionk. I hate to sound like I'm always trashing Pionk, but Pionk needs a break in the Quinn Bin as much as anyone.)
Gambling wise, here's what I said before the game:
So the Vegas Odds site is fucked up because the over-under to this game is -5.5, not 9, despite how bad Hank sucks. Bet the over as usual! #nyr pic.twitter.com/ceMpalM6Ee

— BlueCollarBlueShirts (@NYCTheMiC) March 19, 2019
I came so close to hitting my bet in this game. More on that in the game review. However, I take the "L" here, as my record weakens to 30-18-3.
What was funny, is for whatever reason, the VegasOdds.com site never fixed the Ranger/Wing over/under line. I wish I could've got it at -9!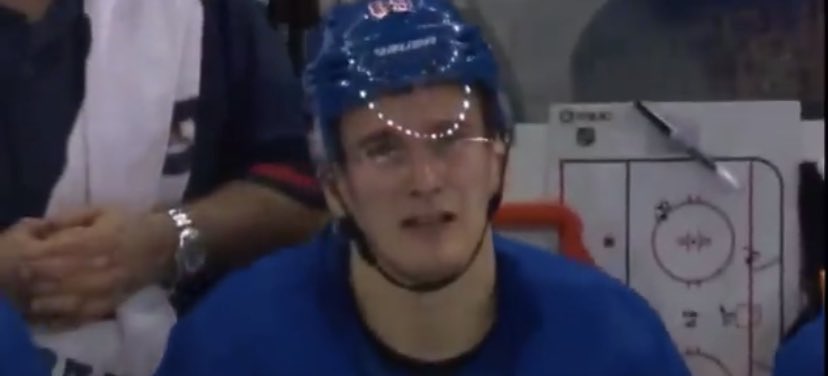 ESPN.com box score time.
SCORING SUMMARY:
1st Period
17:16

Frans Nielsen

(10)

Assists: Taro Hirose, Brian Lashoff

1
0
2nd Period
4:30

Andreas Athanasiou

(27)

Assists: Jacob De La Rose, Michael Rasmussen

2
0
3rd Period
14:46

Ryan Strome

(14)

(Power Play)

Assists: Kevin Shattenkirk, Pavel Buchnevich

2
1
19:06

Andreas Athanasiou

(28)

Unassisted

3
1
19:50

Brendan Smith

(3)

Assists: Brett Howden, Neal Pionk

3
2
PENALTIES:
1st Period
7:13

Vinni Lettieri:

2 minutes for Interference

10:28

Luke Witkowski:

2 minutes for Tripping
2nd Period
0:57

Detroit Red Wings:

2 minutes for Too Many Men/Ice – Bench (served by Anthony Mantha)
3rd Period
14:01

Tyler Bertuzzi:

2 minutes for Slashing
GOALIES:
| | | | | | | | | | | |
| --- | --- | --- | --- | --- | --- | --- | --- | --- | --- | --- |
| SA | GA | SV | SV% | ESSV | PPSV | SHSV | SOSA | SOS | TOI | PIM |
| 29 | 2 | 27 | .931 | 21 | 2 | 4 | 0 | 0 | 58:47 | 0 |
| | | | | | | | | | | |
| --- | --- | --- | --- | --- | --- | --- | --- | --- | --- | --- |
| SA | GA | SV | SV% | ESSV | PPSV | SHSV | SOSA | SOS | TOI | PIM |
| 43 | 2 | 41 | .953 | 38 | 0 | 3 | 0 | 0 | 60:00 | 0 |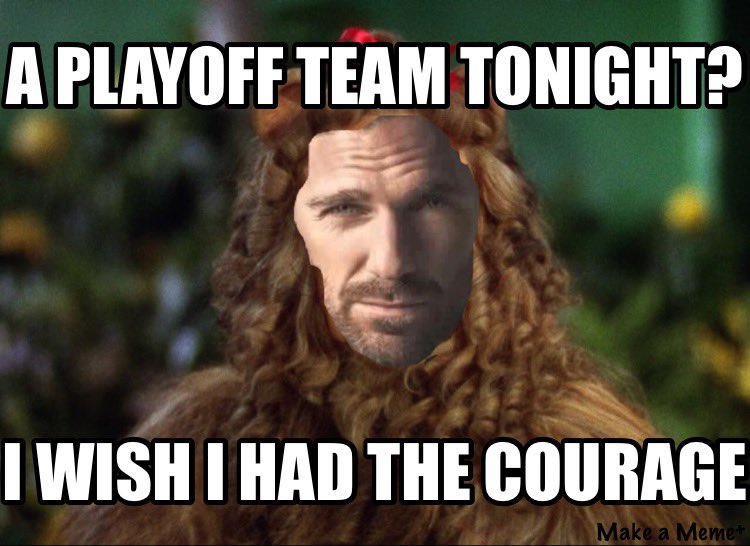 This game felt like many other Ranger games this season, except that the Rangers lost in regulation, rather than in overtime.
The Rangers once again played down to the level of a bad team. The Rangers would control most of the game, but it was the other team with the lead all game. As usual, the goalie on the other end of the ice, a goalie who is a much cheaper cap hit than Henrik Lundqvist, was the best player on the ice.
While you can make your "Straight from the Excuse Rolodex of Joe Micheletti" excuses for the two goals allowed by Lundqvist tonight, the bottom line is Lundqvist is paid the most amount of money in America to make a save. Far too often, he can't. Simply put, once again, the opposing goalie was better and that was the biggest difference between a win and a loss tonight. Jimmy Howard was phenomenal, taking his third straight win of the season against the $8.5M cupless loser.
The majority of the game saw the Rangers in a 2-0 deficit. The Rangers, as usual, would choke on two straight power-plays. The Rangers, who were 1 for 32 in their last 32 PP attempts, would finally score a PPG with a shade over five minutes remaining in the third period. Just like their other PPG during this stretch of time, a stretch that includes every game since the trade-deadline, it was a "little-too-late" PPG. Instead of scoring on their first PP, which would've given the Rangers a lead, the Rangers once again scored on their last PP of the game. The Wings were good enough to hold on to their lead and that was that.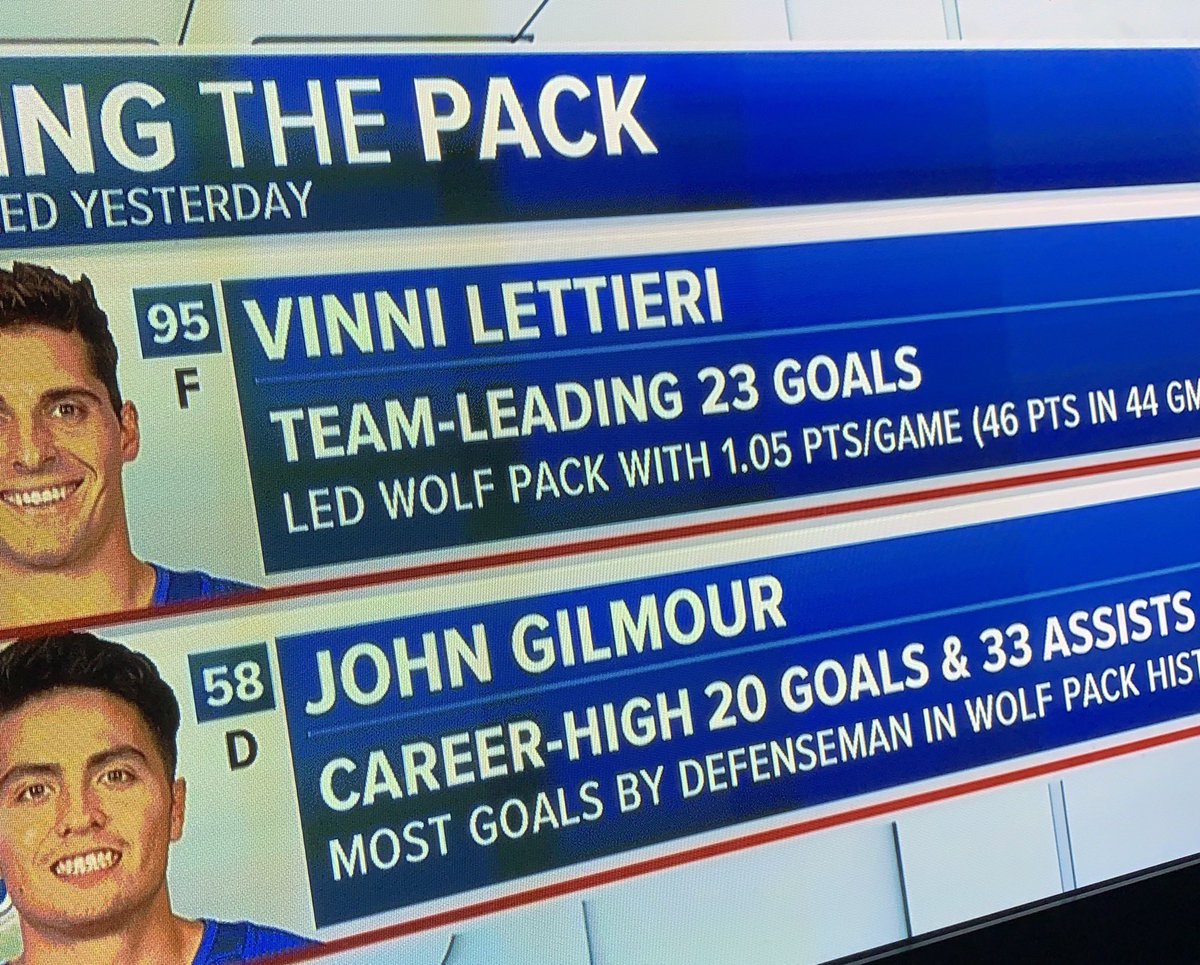 For what it's worth, for some reason, this week is "SNEAKERS" week on the MSG network. Luckily for us, there are only two games this week. I will say, it would've been funny if Al Trautwig showed off his flip-flops. I heard the color of his toenails matches the color of his teeth.
Lettieri and Gilmour had an ample amount of time to make a difference tonight. Neither did. One thing that Giannone brought up in-between periods was that Lettieri had two shots on goal, shots that Lettieri thought would've went in if he was playing in Hartford. Lettieri has to figure this out between now and the end of the season. If he doesn't, the Rangers will say "BUONA NOTTE STUNAD" to him during the off-season.
Keeping his consistency, Joe Micheletti was making up saves for Henrik Lundqvist all game. It's getting to the point where shots off the board, saves the other goalie makes, saves goalies make in other games, or saves from years ago are being counted as saves for Lundqvist by Micheletti.
In the first period, one shot went wide of Lundqvist. Another shot went over Lundqvist's leg. During both shots, Micheletti shrieked about a save. The best part was the MSG Networks then flashing a graphic of SOG, of NYR 8 – DET 0. Micheletti then whined to Rosen about Lundqvist not getting credit for saves. I'll tell you what, I'll give Joe credit for this – he's a consistent shrill and a good company man.
The Rangers dominated the onset of this game, as noted above, out-shooting the Wings 8-0 with six minutes down in the period. At 7:13, Lettieri made it to the box score, but for the wrong reason, as he took an interference penalty. The Rangers would kill the penalty.
At 10:28, Luke Witkowski would get boxed. On the first PP of the game, the Rangers got four shots, but as the story of the game would be, Howard denied everything. Once again, Howard was a Ranger killer. Some of this was self-inflicted, as during one part of the PP, Zibanejad didn't see Buchnevich, who was all alone on Howard's weak side.
In what was pretty much an uneventful first period, Frans Nielsen broke up the 0-0 tie at the 17:16 mark:
FRANS NIELSEN WALKS IN AND JAMS ONE HOME IN TIGHT! #LGRW pic.twitter.com/9PkJAN95jU

— Hockey Daily (@HockeyDaily365) March 20, 2019
1-0, bad guys.
It was funny, when the goal was scored, Micheletti was speechless. It wasn't until the second period, where Micheletti was able to finally blame Gilmour for the goal.
Here's the deal – is Gilmour at fault? Sure. At the same time, Howard was making all the saves on the other end of the ice. Howard would make 16 saves in the first period, as opposed to Lundqvist's 11. Howard had to make some tough saves in there too. When you pay $8.5M for a goalie, you expect that goalie to make the tough saves once in a while. That's just not the case anymore.
At the end of one period, 1-0, bad guys.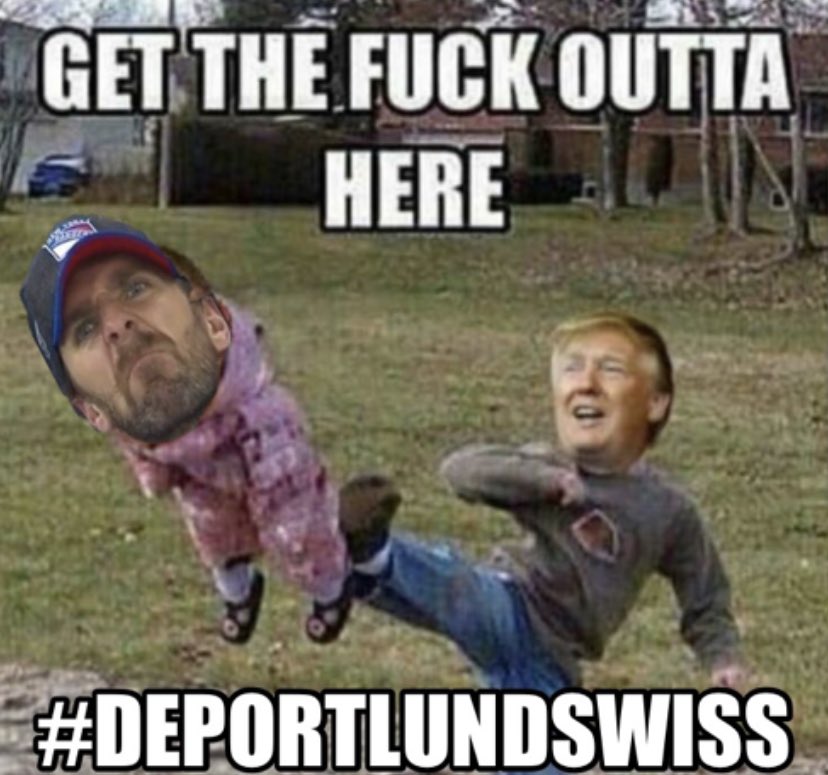 From a Rangers perspective, the second period was more dreadful than the first. They just couldn't get much going offensively. Again, I don't know how this team plays these close games with Tampa and Washington, but when it comes to the lowly teams, the Rangers are stuck in the mud.
The Rangers would get a PP 57 seconds into the second period, as Detroit had too many men on the ice. As usual, instead of looking at net, looking for rebounds, looking for deflections or looking to do anything offensive, the Rangers PP continued to do their extra pass to nowhere game. Another PP wasted.
At the 4:30 mark of the second period, new Ranger killer, in a one Andreas Athanasiou, made the score 2-0:
Andreas Athanasiou just tied Dylan Larkin for the team lead in goals. They both have 27. The #RedWings haven't had a 30-goal scorer since 2009. #LGRW pic.twitter.com/lg5LTQDsoD

— e-Nick (@nickseguin19) March 20, 2019
A two on one opportunity, and boom, just like that, 2-0, in favor of the bad guys.
Lundqvist was crying at Chytil again after this goal allowed. Enough already of the crying. (More on this at the end of this blog.)
From here, the MSG Networks ran a worthless milestone about Lundqvist. He's now played 50,000+ cupless minutes for the Rangers. Sam boasted how Hank was in a category with Marty Brodeur and Tony Esposito as goalies who have played 50,000+ minutes with one team. What was omitted, was that Broduer and Esposito won Cups during that time. Funny how that wasn't mentioned.
Gilmour continued to be a mess in this period, as he bobbled the puck on the blue line and turned over the puck. Just not a good game for him. To be fair, it's his first game in the league this season, but he is playing for his career and for his next contract. He needs to shape up quick.
Filip Chytil had another great offensive game here tonight, but as usual, couldn't find the back of the net. As mentioned in past blogs, "HE'S ONLY 19 SAM", so I'm hoping the best is yet to come. He can get to the net though, I give him that. He just needs to start lighting those lamps. Let's hope it happens next season.
At the end of two periods, Howard had a 31 save shutout going, while Lundqvist gave up 2 goals on 22 shots. The Rangers tried and tried but Howard denied and denied.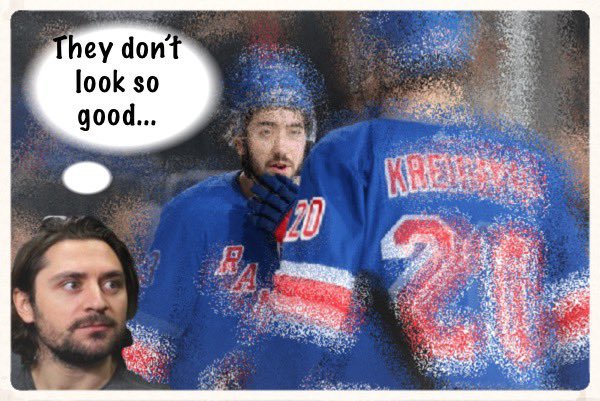 The third period was more or less the same as the second, although the Rangers showed some glimmer of hope. However, it was much too late as usual.
The entire third period was uninspired hockey. Sure, the Rangers got some shots of and would eventually score, but the bulk of the period saw Detroit get more conservative than Mike Pence.
Oh, how about this fun fact? 56 NHL goalies have recorded a shut-out in the NHL this season. Henrik Lundqvist is not one of them. You know who has one? Alexandar Georgiev, who did it against the first place Islanders. Again, for all you Cult of Lundqvist nimrods out there, can you please explain to me how it makes sense to keep a 37 year old $8.5M cap hit on the payroll?
The Rangers came at Howard in this period, but Howard kept making the saves. The clock quickly bled down to 7 minutes remaining and the score remained at 2-0, Wings.
At 14:01, Tyler Bertuzzi was caught slashing. 45 seconds later, Ryan Strome finally put the Rangers on the board, with a late PPG. 2-1, bad guys.
On Strome, I mentioned a few blogs ago that he's my Steve McDonald Award candidate. I also reiterated this on twitter:
It's another popularity contest this year. @strome18 deserves it, but the cult will flood the voting for the guy who screams at his teammates. #nyr pic.twitter.com/dL1u0qbb4n

— BlueCollarBlueShirts (@NYCTheMiC) March 18, 2019
Listen, I know I don't have the most popular opinions out of everyone in the NYR fan base. However, I am happy to report that when I started making a case for Strome, I got a bunch of emails, DM's and messages with people agreeing with me on this. Sure, this one PPG doesn't mean anything in the grand scheme of things, but can you name any other Ranger that has outplayed his role than Ryan Strome this season? The only other people I can think of is Georgiev, who won't get it because the Lundswiss bots will flood the ballot box in favor of their Swedish demi-god. Lemieux would be another candidate, but he doesn't have the tenure.
For the money, for the work put in, I would say Strome has done better, for his role, than guys like Zibanejad and Kreider. You know, the two guys who have one combined goal since the deadline. I hope more Ranger fans see this, as while the Steve McDonald award doesn't make or break a player, it is a nice token of appreciation.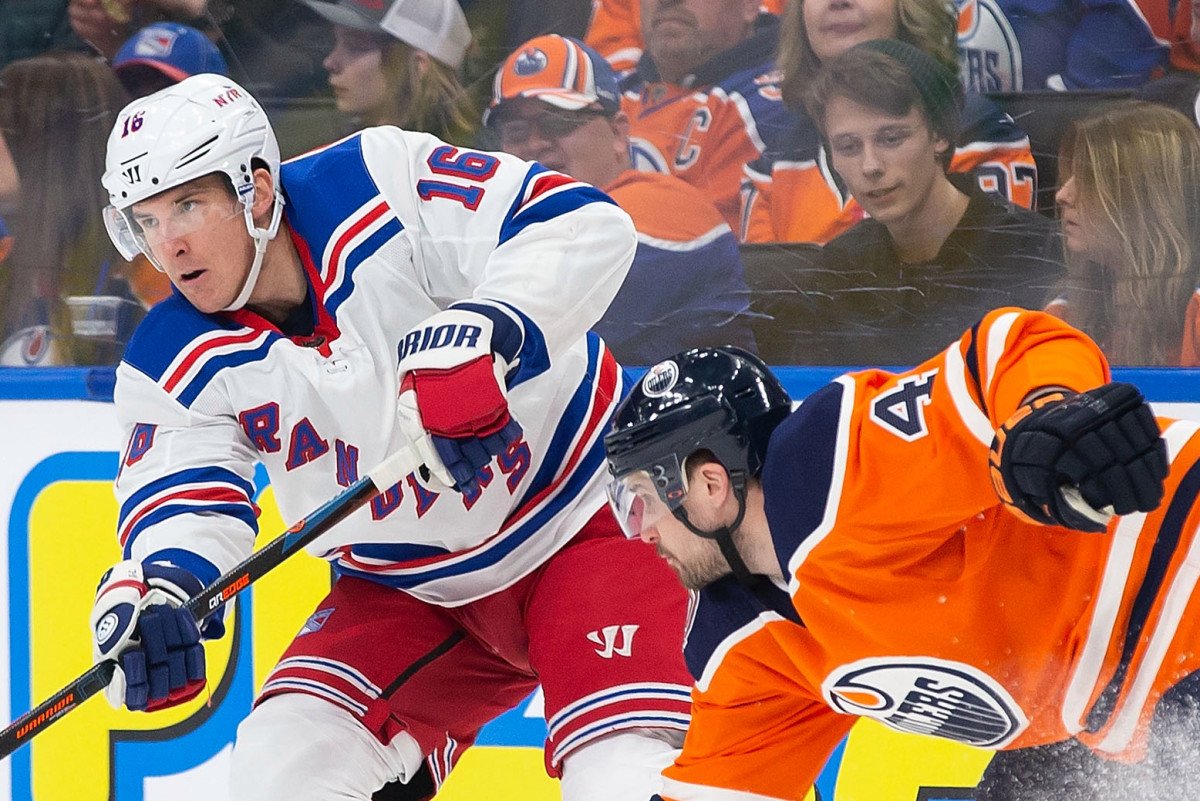 After the PPG, the Rangers would pull Lundqvist with two minutes left in regulation. The Rangers would use Ryan Strome as their extra attacker and had one really good chance to tie the game up. However, at 19:06, Athanasiou scored the empty netter. 3-1, bad guys.
With ten seconds remaining in the game, Brendan Smith scooped up a rebound to make the score 3-2. With Lundqvist pulled again and with ten seconds remaining, the Rangers won the faceoff, but couldn't push the puck up the ice. 3-2, bad guys, your final from MSG.
This was a terrible loss for the Rangers, as they waited for the last five minutes of the game to wake up.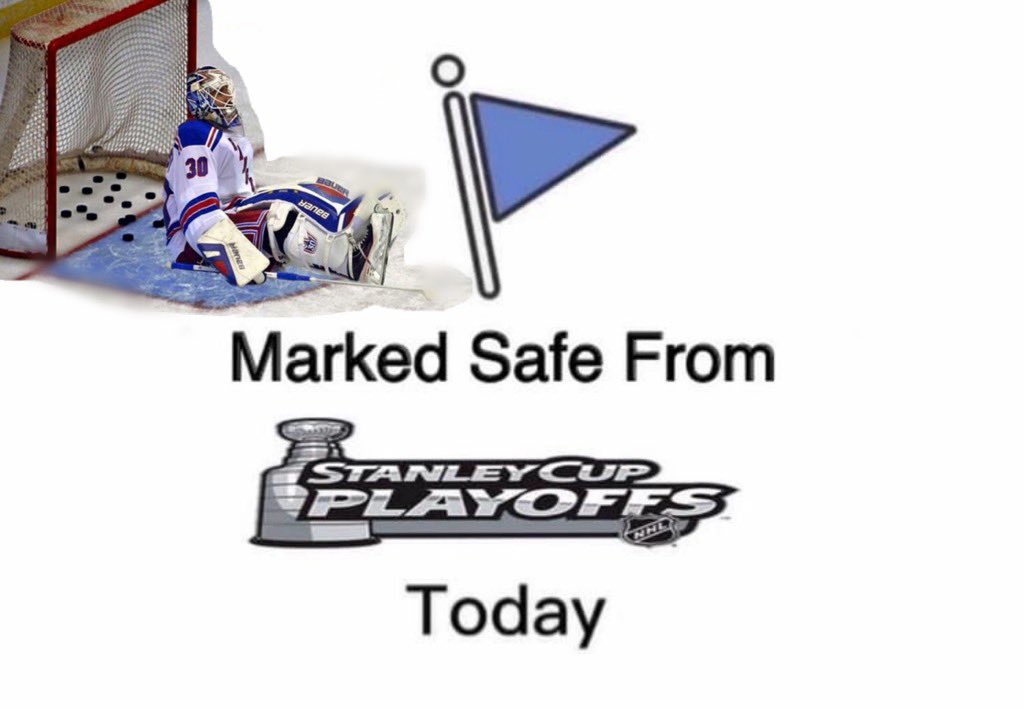 One thing before going home here.
It seems like I'm not the only one who is sick of Lundqvist crying at his teammates. In fact, former Rangers reporter, Matt Calamia noticed the same thing and called Lundqvist out on it. Keep in mind, this is the same Matt Calamia that blocked me on twitter for saying the same thing as he did.
What happened next, is that after Matt called out Lundqvist, he got buried with tweets from the Cult of Lundqvist. The pressure got to be too much for Matt, as he would then delete his tweet about this. However, I saved it for ya:
Funny what happens when you get fired by the @nyrangers

Just look at this crybaby hypocrite @mattcalamia

He blocked me for pointing out the same thing to him years ago! Funny how they all come around after arguing the other side for years! Matt is another soyboy! #nyr pic.twitter.com/4BXAjWei3y

— BlueCollarBlueShirts (@NYCTheMiC) March 17, 2019
Is there any other player in Rangers history that has sparked so much debate than Lundqvist?
9 games remain.
The Rangers are now off until Saturday night, where you hope they will practice their power-play non-stop until their flight to Toronto. Of course, I would expect Alexandar Georgiev to take this start, since Lundqvist does not play against great teams.
If anything breaks, I'll dip in between games. If not, see ya Saturday.
As always, thanks for reading and win or lose…
"Let's Go Rangers!"
Sean McCaffrey
BULLSMC@aol.com
@NYCTHEMIC on twitter