Greetings and salutations everyone and welcome to another blog here on BlueCollarBlueShirts.com. This will be a different format than the norm, as I will be talking about a few things tonight. In this blog, I will be discussing the latest Rangers news, the Igor Shestyorkin story, political correctness, Al Bundy fans and all the latest on-goings around the league.
However, like most of the blogs on this site, I will start tonight's manifesto off with the PLUGS section! In case you missed my most recent blogs, you can check them out below:
---
---
---
---
---
---
For two plus years, I've been telling you about Igor Shestyorkin and how he potentially could be the next Rangers net-minder of the future. Despite the Rangers poor history, with only four cups in 92+ seasons, for the most part, the Rangers have had a franchise goaltender for most of those 92+ years. Whether it was John Ross Roach, Davey Kerr, Chuck Rayner, Gump Worsley, Eddie Giacomin, John Vanbiesbrouck, Mike Richter or <gulp> Henrik Lundqvist, the Rangers have had their bedrock goalie.
In fact, when you really look at it, the Rangers have had a slew of Hall of Famers tend net for the club too. Guys like Johnny Bower, Jacques Plante and Terry Sawchuk all wore the Rangers blue. You also had your fan favorites, which include guys like John Davidson, Emile Francis and Gilles Villemure. (GET WELL SOON GILLES!)
In recent times, you are most likely aware of my opinions concerning Henrik Lundqvist. If you're not, check the archives of this blog. In short, I thought it was time for the Rangers to move on from Lundqvist four seasons ago. I think Lundqvist is overpaid, overrated and too much of a crybaby diva. Furthermore, I don't see where a 37 year old goalie fits in with a team rebuilding.
As we've seen during these last five seasons in the NHL, and really, ever since the latest lockout, the goaltender and their power to affect games has changed. When it comes to all the changing in the league, I don't think that recent Hall of Famers, like Hasek, Roy or Brodeur, would have as big as an impact as they did during their era. Times just change.
I've talked about this topic in-depth and during numerous occasions on this site – it's so hard to compare players from different generations because the league is constantly changing. When you look at the four major sports, no sport changes their game like the way hockey does.
Sure, all four sports have their changes, but when it comes to hockey, the rule-makers are always trying to do something to increase scoring. I think the only advantage goalies of today, have over their peers of yesteryear, is that the goalies of today can win more games. Of course, that is directly due to ties being eliminated from the sport.
I mean look at it this way. In sports, the two hardest positions to play, at least in my opinion, are the goaltender in hockey and the quarterback in football. In the NFL, the rule-makers and officials have gone so over-the-top in protecting the QB, that if you fart in the wrong direction, it's a 15 yard personal foul. In hockey, the league wants more scoring and are trying to strip some of the protection worn by their goaltenders. In no way, shape or form are NHL goaltenders as protected as an NFL quarterback.
While the rules have changed, what also is changing is the development of goalies. Just like anything else, goalies are evolving. They are starting younger. They are playing more competitive games. There is more training. There are more camps. There are more travel leagues. The world is smaller and all these up and coming goalies have more advantages than their predecessors of even 20 years ago.
In turn, when you look around the league, more back-ups are becoming starters. Just look at last year's Vezina voting. Two of the three final candidates were former back-up goalies. The disparity among goaltenders has never been tighter.
Obviously, like a General, goaltenders can be propped up or brought down by the team in front of them. It is why when teams overpay at the position, like the Canadiens or the Rangers, they expect their "elite" goalies to make the big-time saves when the troops poo-poo them. As any Ranger fan can see, Lundqvist is only as good as the team in front of him these days, with that 2011-2012 Vezina season feeling like it was ages ago.
To this day, since the 2012 lockout, not one Stanley Cup winning team has had a Top 5 paid goalie on their roster.
In fact, look at the Top 5 paid goalies of the 2018-2019 season:
| | | | |
| --- | --- | --- | --- |
| 1 | | Goaltender | $10,500,000 |
| 2 | | Goaltender | $8,500,000 |
| 3 | | Goaltender | $7,425,000 |
| 4 | | Goaltender | $7,000,000 |
| 5 | | Goaltender | $7,000,000 |
The above info came from Spotrac.com
Look at the goaltenders and their respective teams. Montreal is barely a playoff team and may miss out on the tournament. The Rangers are one of the worst teams in the league. Columbus is in the same boat as Montreal. Boston will play Toronto in the first round, but it seems those two teams are playing for the right to see who gets to lose to Tampa Bay. Of the five, Rinne probably has the best chance at making the Stanley Cup, but in the past, Rinne and the playoffs have gotten along like the KKK and the BET awards.
Fun facts about all this:
— Andrei Vasilevksiy is the 27th highest paid goaltender in the league, making $3.5M. Not shabby for guy playing on a team that has already clinched the Presidents' Trophy.
— Braden Holtby, last year's Cup Champion and currently in first place of the Metro with the Capitals, is the 7th highest paid goalie in the league, making $6.1M.
— Connor Hellebuyck, of the first place in the Central Division Winnipeg Jets, is the sixth overall highest paid goalie in the league, making $6.16M
—Mike Smith, of the first place in the Pacific Division Calgary Flames, is the 14th overall highest paid goalie in the league, earning $5.6M.
— Marc Andre Fleury, the face of the Vegas franchise, is the 13th highest paid goalie in the league, making $5.75M a year.
Once again, I'm taking the scenic route to get to my point, so let me pull over and do my rant here.
There is no evidence that you can win a Cup with a Top 5 paid goalie. The Rangers have the best goalie coach in the NHL. Under Allaire, at the start of this season, you had three starting goalies in this league that spent time with Allaire. Things didn't work out in Edmonton for Talbot, who was on a bad team. Raanta hasn't been able to stay healthy. That said, along with Lundqvist, who is also declining, all three of these goalies are earning big money and outside of Talbot, both Raanta & Lundqvist had their best individual season under Allaire.
I won't bore you with another Georgiev rant. I've done that all season long on this site. What I will say here, is that in my opinion, Georgiev should be in competition for the starting goalie position next season. Yes, I want Lundqvist out of here, but that probably won't happen as we all know. That said, Georgiev should get the OPPORTUNITY to earn the starting job. Based on what we've seen this season, why would you go with Lundqvist in a big game over Georgiev right now?
Again, this is a blog of opinions, so I'll restate once again, the following is my opinion too: Georgiev and Shestyorkin should be battling for the starting goalie job next season. Both goalies would be cheap cap hits, which means, providing the Rangers could find someone to take Hank off their hands, the Rangers could spend for the next 2-3 years, without worrying about a $8.5M cap hit goalie.
On Wednesday afternoon, a story about Igor Shestyorkin broke on https://m.sport.business-gazeta.ru/news/236469/
I'm assuming that most of you don't speak Russian, so here is the Google.com translation of the story: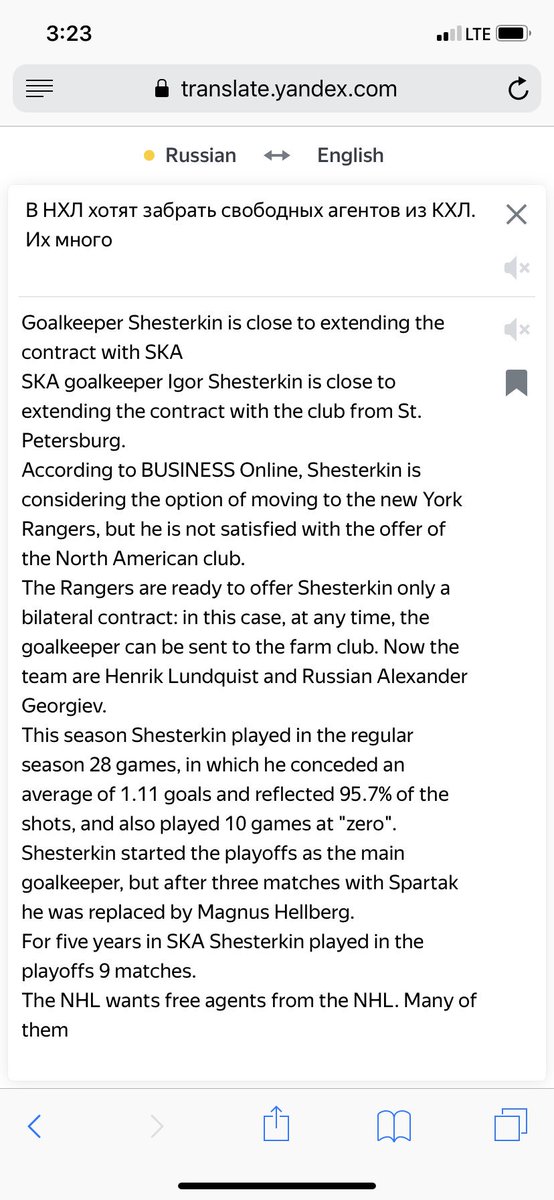 Let me say this off the bat – I am not aware of this website or how accurate they are. From what I've read, they are pretty much legit, but Russian news and the reporting is as solid as Larry Brooks. What I mean by that, some of the news is fed to these reporters and sometimes, the media is used by teams and players to get their agenda out there.
When it comes to Russian reporters, the one reporter that has always been on the money is Slava Malamud. He's the one that exposed all the corruptness in the KHL last year, during an epic tweet storm during March of 2018. Here's one of those tweets:
1/ So, here is what's happening in the KHL, for those who still can't quite grasp the banality of evil, Russian style… The entire league has been set up this year to allow SKA to win. It's Putin's team, this is Putin's election year, it's chock full of OAR Olympians…

— Slava Malamud (@SlavaMalamud) March 8, 2018
If you want more on the KHL and corruptness, check out the rest of Slava's thread. As of this writing, Slava hasn't commented on Shestyorkin yet.
However, one Russian reporter did speak out on the story above, and that person was Igor Eronko. He tweeted out:
Igor Shestyorkin doesn't have any talks with SKA at the moment. And the report that comes out of Russia is not correct. The goal is still the same https://t.co/70ZeMqhi6h

— Igor Eronko (@IgorEronko) March 20, 2019
What makes this Shestyorkin story so tough to opine on is that none of these reporters talked to Shestyorkin himself!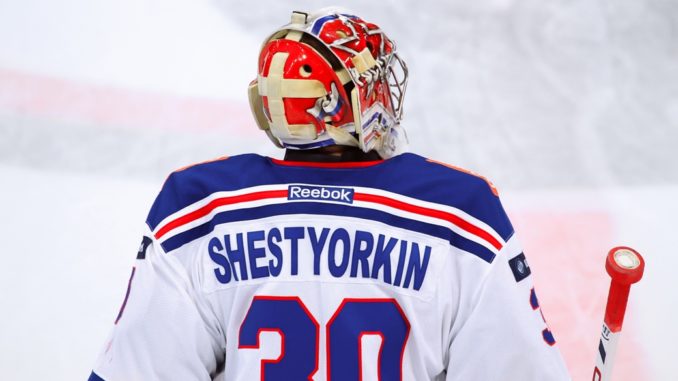 I often laugh at the people who go all up-in-arms about stories and ideas that are just too soon to talk about. A recent example of this is when I was laughing at the idiots arguing about who the Rangers should protect in the Seattle 2021 expansion draft. You don't know what the league will be like then, if there will be a lock-out, who's on the team, what Seattle will be looking for and of course, what under-the-table deals Seattle will make.
When it comes to this Shestyorkin story, we truly won't know more about this story until the KHL playoffs are over and when Shestyorkin's KHL contract ends.
That said, if Shestyorkin isn't a Ranger next year, I can tell you that it won't be because of Alexandar Georgiev.
If you're unaware, it was reported last year that Shestyorkin has no interest in uprooting his life, learning a new language, adopting a new culture and giving up boatloads of money to play hockey in front of 1000 people in Hartford. The goal for Shestyorkin has always been New York. Do you blame him?
As talked about all season on this blog, with Lundqvist having a NMC and with Shestyorkin making it known that Hartford isn't his destination, this will leave Georgiev as the odd-man out. That is, if the Rangers do bring over Shestyorkin, like many think they should.
At the end of the day, we don't know what's going on yet with Shestyorkin. To be fair, he's going to be at a major disadvantage when he gets here, as many people think he has the potential to be the next franchise goaltender of the Rangers. Those are some lofty expectations for a kid that's never even seen the United States, much less played on U.S. ice.
To me, I've watched a bunch of Shestyorkin games. I think he's good. I know the KHL game isn't as good as the NHL game, but when it comes to making adjustments, it's easier for a goalie to make adjustments than a skater. Plus, with Benoit Allaire there, I just think Allaire can mold this guy into something special. I mean, look at Georgiev. Going into this season, he had the least amount of NHL experience than any other NHL goalie. Now he has similar stats to Lundqvist and for $8M less. And let's not forget that Georgiev plays all the tough teams, while Lundqvist leads the league among all starting goalies with starts against non-playoff teams.
I think it's fair to be excited about Shestyorkin. I can see the naysayers point of view when they say, "he's never played the US game before." However, we've seen countless Russians make the transition smoother than a Bruce Jenner transition.
I will say this – if Igor Shestyorkin is not a Ranger next season, you can blame Lundqvist's selfishness and non-desire to win a Stanley Cup as part of it. The Rangers can't promise Shestyorkin a full-time spot in NY and if they do, Georgiev will become the victim. That is why I laugh when people say the Rangers are dedicated to a rebuild. They are building around a goalie who will be 38 years old, come the 2020 playoffs. Yuck.
I know, I know, I know – talking politics always alienates 50% of your readership. Luckily for me, I don't sell ads or care if someone is upset about my opinion!
Did you see the story about the 14 year old kid getting buried by adults for wearing a mask that adults didn't like? Here's a story about grown adults crying about a child: https://nypost.com/2019/03/21/teen-hockey-player-gets-ripped-over-trump-goalie-mask/?utm_source=NYPFacebook&utm_campaign=SocialFlow&sr_share=facebook&utm_medium=SocialFlow&fbclid=IwAR2Bk_oH3Q0s1Fjf4JCPApPwnc96H5WT_YFplHNGuu2SeWA85COydCu5PhM
It's so ridiculous. People will cry about anything these days.
A buddy of mine, Joe Feeney, on the "Keepin' it 100 Podcast", recently brought up a great point about the world in general. To paraphrase him, "20 years ago, super right-wing bible belt groups, like the Parents Teachers Council, were trying to shut down companies and freedom of speech. Today, it's the left doing the same thing. What was once conservative thinking is now liberal thinking."
(Funny enough, Joe said something I've been saying on these blogs forever. I used to vote Democrat all the time, but what's right isn't right and what's left isn't left anymore. The whole culture changed. Today, you're the intolerant bad guy if you don't want your kids exposed to a tranny taking a meaty dump into a urinal.)
What's next? Should we ban the word Washington from anything in America? After all, Washington had slaves. Shit, Thomas Jefferson raped his slaves. Should we level any statue or monument dedicated to the author of the Declaration of Independence?
I don't care how you feel about Donald Trump. The stuff out there about him is mostly bullshit, because all the negativity sells ads, gets clicks and boosts ratings. Before he was president, you never heard anyone call him the stuff people call him today. All of a sudden, because he squashed Hillary Clinton like a bug, he's now this orange boogeyman that people cry themselves to sleep at night over. Get over it. This country is turning into a bunch of pussies.
I mean seriously, can you imagine being an adult and being so bent out of shape about the hockey mask of some kid? Get a life.
This political correctness crap has ruined sports. Listen, I'm not advocating for people to throw the word "faggot" around left and right, but recently, we've seen players get ostracized for using this word. I've done blogs on this word already, so check the archives for more on that. Bottom line is this, when a player uses that word, they are using that word in the same vein as calling someone "an asshole", "a douchebag" or a "Henrik Lundswiss!"
Just because some of these players used a word that pollutes most junior high school hallways, it doesn't mean these players are homophobic gay-bashers. What it means, is that these players have to realize they are on camera, and instead of using that word, they should use the word asshole. Then again, how long will it be before the PC police consider the word "asshole" to be an offensive slur? I guarantee with the rise of millennials, we're not too far off from that day.
I told you this would be a different blog than usual!
As I continue my oration from my electronic soap box here, I must talk about these crybaby millennials and all these arguments I see on social media these days.
While it's not that new, more and more, I've seen people do the "I played (Insert sport here) during (Insert high school or college here) so that means I know more than you!" This argument of strengthening the validity of ones opinion is pure hogwash and poppycock to me.
Think about it. I don't brew beer, but I know a good beer from a bad one. I don't own my own hockey team, but I know an expensive ticket when I see one. I don't know how to build a car, but I know a good car from a shit-box.
Unless you played sports at a professional level, your opinion is like anyone else's out there, mine included – it's just an opinion from a viewer! There's a reason why TV networks hire ex-players to analyze and commentate games and not some jerkoff from Twitter who picked up a hockey stick in elementary school.
(And I know what some of my detractors will say. "YOU ALWAYS BURY MICHELETTI." If you haven't figured out that 99% of my Micheletti stuff is for comic relief, then this blog isn't for you.)
What got me started on this topic, was a thread I saw on Twitter today. I started following that Statboy Steven guy, after his appearances on Blue Shirt Underground Radio. While Steven is obviously a huge fan, perhaps a little bit fanboyish, he does know his stuff from the European/Russian end of things too. (And to be clear, there is nothing wrong with being a fanboy or fangirl. Most of us, myself included are. That said, I don't know if I would put on a jersey backwards and make posters when I go to games, but to each their own. When you fly and spend all the money Steven does, he's entitled to do whatever the fuck he wants. More power to him and I enjoy his BSU appearances.)
Steven was recently involved in a Twitter beef, which popped up on my timeline. Here are some of the quotes between Steven and the people he was arguing with:
"I've also seen people on twitter make comments without ever playing a professional sport."

"I've played hockey my guy. Don has never in his life outside street."

"I played hockey until I was in high school when I was in California. Good effort though."

"I played rugby at the highest level in my country and it didn't affect emotion so it must be a physical hockey thing. Unless people think rugby isn't physical enough haha."
The thread then goes on and on, with everyone talking about their non-professional sporting accolades.
When I saw these tweets, I had a few one-liners of my own.
Here is why my opinion means more than yours:
I PLAYED TEE BALL IN 1978, THAT MEANS IM MORE QUALIFIED TO TALK ABOUT THE YANKEES THAN YOU!!!!

I PLAYED JUNIOR HIGH HOCKEY FOR CHRIST THE KING AND AFTER I GOT FONDLED BY FATHER O'MALLEY, I PLAYED NHL 95 FOR SEGA GENESIS. THAT MEANS I KNOW MORE ABOUT THE RANGERS THAN YOU!

I HAD A NERF FOOTBALL CATCH WITH MY BUDDY IN THE SUMMER OF 2002! THAT MEANS I KNOW MORE ABOUT SPORTZ THAN YOO!

I PLAY AIR GUITAR, THAT MEANS I KNOW MORE ABOUT MUSIC THAN YOO!!!!! JIMI HENDRICKS WISHES HE WUZ AS GOOD AS IMAGINE DRAGONS!
Seriously, whenever I see these "my-dick-is-bigger-than-yours" type of arguments, where people bring up the time they shot a basketball during recess, it just makes me laugh. Same with the beer league guys. "I SCORED A GOAL AGAINST A 55 YEAR OLD DRUNK GOALIE AT 2AM IN MY LEAGUE. THAT MEANS MY OPINION IS WORTH MORE THAN YOURS!"
Can we all just agree that none of us are pros and we're just a bunch of jerkoffs that have different opinions? Unless you're an ex-pro or a current pro athlete, your opinion is worth the same as anyone else's. Oh, and making foo-foo charts is over-compensating too!
And do you know what's the worst about all these chart boys and high school heroes? All of them discredit the opinions of older fans, because you know, older fans aren't "WOKE" and "DON'T KNOW TODAY'S GAME." To quote the great Donald Trump – "SAD!"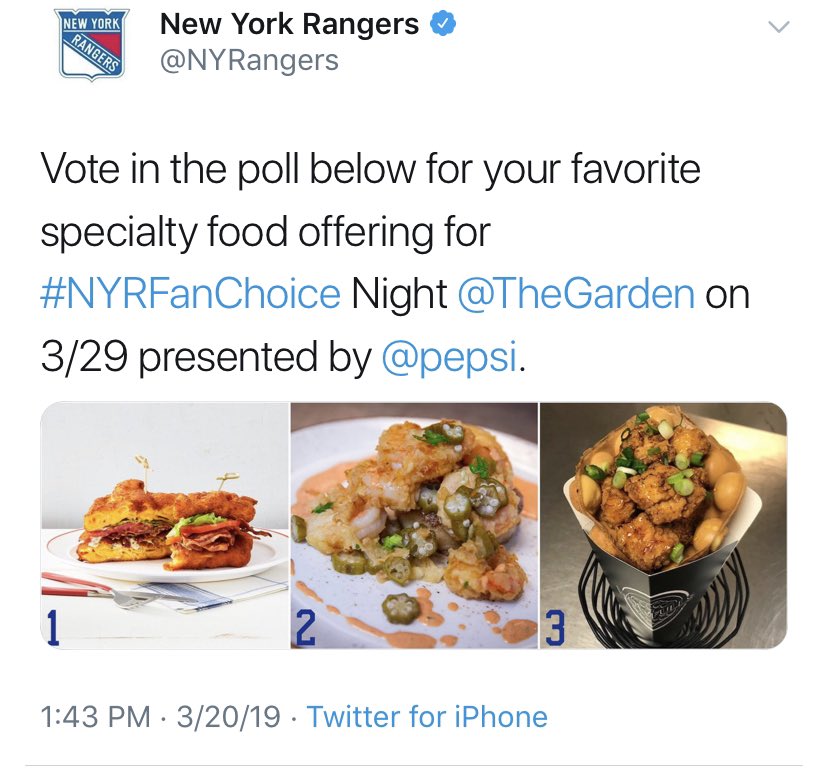 Real quick, before getting into my around the league thoughts, thoughts that are worth just as much as yours, how about this above tweet from the Rangers?
Is there anyone out there that attends Ranger games, just to check out the concession stand? Furthermore, is there anyone who can afford 2+ items from the concession stand? I mean, shit, I pregame at the bar before the game and I still wind up blowing $100 on the near $20 tall-boy cans of beer at M$G.
Here's an idea for NYR and MSG. Win a fucking Stanley Cup and sell a Stanley Cup beer mug. No one gives a fuck about your gluten-free kale and caviar smoothies. Shove it up your ass.
Ahem, moving along here.
As Ranger fans, it is in our best interest to see the Jets or the Stars take on the Tampa Bay Lightning in the Stanley Cup Final this year. If either of these three teams win the Stanley Cup this season, the Rangers will get a first round pick.
Just like last year, and as mentioned before on this blog, the second the Rangers regular season ends, I will be band-wagoning for the Bolts. And to answer some emails I got, no, I won't be doing Bolt game reviews. It would come off phony. Visit RawCharge.com or BoltsByTheBay.com for a good Bolt fan site. I will just be sitting back and enjoying everything. And of course, three players that I really like, in Dan Girardi, Ryan Callahan and Ryan McDonagh are all with Tampa. Rooting for Tampa once again will be easy for me. In fact, I'm ready to put this on: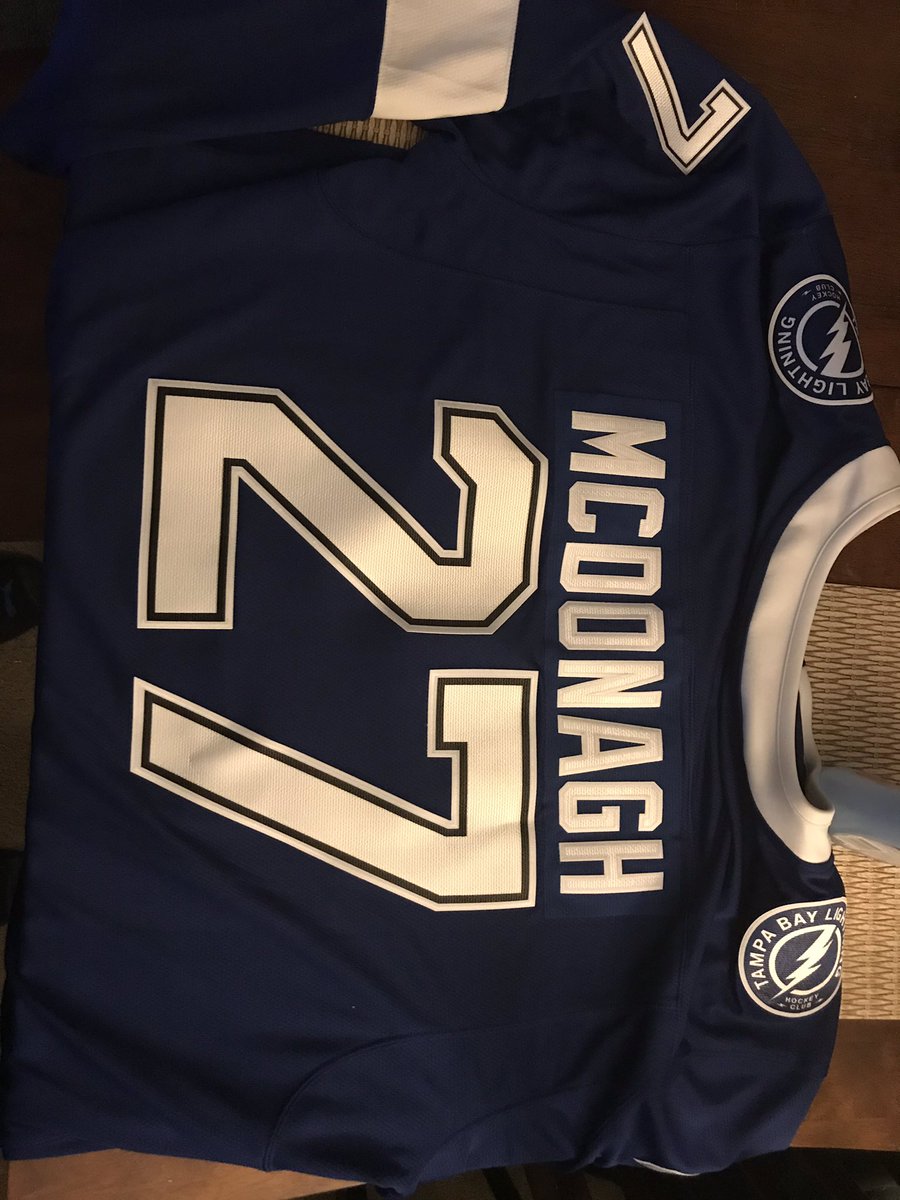 When it comes to the Bolts, if they can win the Cup this season, I think you would have to put their 2018-2019 campaign as one of the best season's in the history of the NHL. What makes their season so impressive to me, is the fact that the Bolts are this dominant in a salary cap league. This isn't like the Montreal teams of old, where Montreal had the draft rights of nearly everyone and built superteams in a six or twelve or fourteen team league. Tampa is kicking ass in a 31 team league of parity.
That said, Tampa must win the Cup. It is in my opinion, that if Tampa doesn't win the Cup this year, then they never will with this core. I mean, look at their team. This team will never be better than it is right now because of the salary cap and aging.
And to be fair to the Bolts here, while I'm aware that the Caps team that won the Cup wasn't their strongest team of recent years, I think everything went right for the Caps last season, with Pittsburgh hurting and tired helping the Caps the most.
When it comes to the playoffs, while the match-ups aren't set yet, what does look set is a first round series between these two teams:
In what will perhaps be the most intriguing first round series of the playoffs, we will see two Original 6 teams go at it. Whoever loses this series is fucked and will be second guessed.
Obviously, because of the Tavares deal and the elite talent in Toronto, there is more pressure on the Leafs to win. That said, if Boston loses, it's really the end of an era, an era that produced one Stanley Cup. While many players are gone from that 2011 Cup victory, the heart and soul of that team, in captain Zdeno Chara, remains. A Bruins first round ouster could lead to the retirement of Chara and with the Bruins retooling their roster.
In the case of Toronto, they are a mess right now. They lose to bad teams quite often. You have head coach Mike Babcock burying his GM in the media, for not getting him help during the trade deadline. I don't know if Babcock thinks he will get sympathy for his comments, because he won't. After all, he has two amazing centers and a potent offense there. If he can't get past the first round, Babcock might get the pink slip.
What I love about Toronto, is that the Leafs are the end-all, be-all in Toronto. Sure, while Canadians have adopted the Raptors and the Blue Jays as "Canada's Team", Leaf talk dominates the Toronto media. I'm telling you, a Leaf first round loss will make some for excellent radio.
Furthermore, consider this – the Patriots and Red Sox just won World Championships. A Bruins first round ouster won't have Boston fans going insane. A Leafs first round ouster? It will be hell on earth in Toronto.
And really, if I had to make a prediction on this series right now, I think Boston has enough firepower to beat the Leafs. However, I just don't see either of these Atlantic teams standing much of a chance in a seven game series with the Bolts.
Unlike the Atlantic division, the Metro division might not be settled until the final day of the season. In what brings a smile to my face, the Islanders are playing their worst hockey of the season. After having first place in the Metro for a period of time, the Isles are slipping in the standings. With the way things stand, they could slip to third in the division. Even worse for them, they could become a wild card team. In a dream world, Isle fans are likely rooting for an Isles/Canes first round match-up, but very likely, the Isles will be seeing the Caps or the Pens in the first round. That's no easy feat for the Isles.
Going into this season, I predicted the Penguins to win the Cup, even though I want Tampa to win the Cup. I still think my prediction is looking pretty good, as I think that after the Caps win last year, the Penguins will go into FU mode in the playoffs. I think the Caps have a good of a shot as any to repeat and win the Cup, but Pittsburgh won't be as beat up as they were last year. Furthermore, I don't see these Bolts choking a 3-2 series lead again either.
The Hurricanes, the Blue Jackets and the Canadiens are fighting for the two wild card spots, with the Flyers right on the heels of these three teams. Let me do my tangent on the Flyers right now:
For the love of all that's holy, can someone explain to me why the Flyers traded for Cam Talbot? Did they owe Edmonton a favor? Then again, Edmonton traded off Talbot, but didn't add anyone at the deadline to help their chances either. So what gives?
If you're a regular of these blogs or know me, you know I'm one of the biggest Cam Talbot fans in the world. My fandom aside, why in the hell did the Flyers trade for Talbot? Since acquiring Talbot over a month ago, Talbot has made one start and played 30 minutes in relief of a shellacked Brian Elliot.
The Flyers are in a mini-rebuild mode right now. The thought was when they acquired Talbot, the Flyers were gaining Carter Hart's mentor. Unless Talbot is leading Hart in some Phil Jackson Zen-like teachings before games, I don't see why the Flyers got Talbot. They aren't playing Talbot at all, which means they aren't seeing what Talbot can do.
Obviously, the biggest loser in this is Cam Talbot himself. He had some horrible teams in Edmonton. After setting some Oiler season records during the 2016-2017 season, Talbot had a terrible 2017-2018. In this season, Talbot played behind one of the worst teams in the NHL and with a shot to shit defense. In a contract year, Talbot hasn't had much of a chance to showcase his work.
While Talbot may be good enough to earn a starting job elsewhere in the league, but for much less money than he's getting now, the Flyers have done nothing to showcase Talbot. It will hurt Talbot this summer and if the Flyers really wanted Hart's mentor, they may have turned Talbot off too.
Going back to the Eastern Conference wild card here, with the Habs, Canes and BJ's jousting for the two final spots, there will be some backlash on the team that doesn't make it.
For the Habs, they weren't expected to make the playoffs this season. That said, fans and the media have already questioned Carey Price's contract in the same way I have been questioning the contract of Lundqvist all these years. Another playoff-less season will keep that chatter going. It will also keep the "WHY IN THE WORLD DID WE TRADE SUBBAN FOR WEBER" talk going too!
The Hurricanes have a rough hand, as they have played in the most dominant division in hockey since the lockout. I wouldn't expect much backlash if they miss out on the playoffs, but if they do, it won't help their attendance issues, going into next season.
For the Blue Jackets, they are a team that's set to explode. It's already rumored that Panarin and Bobrovsky are out of there once the season ends. The biggest question mark will be John Tortorella. If the Blue Jackets miss the playoffs, will CBJ move on from the taskmaster and embrace a new face? The Blue Jackets don't have a playoff series win under Torts. Even if they sneak in as the second wild card, do you see the Blue Jackets knocking off the Bolts? I expect a lot of changes in Columbus during this off-season.
In the West, the biggest battle is in the Pacific division, as the Flames and Sharks battle for first place. Whoever finishes second will have to host the Vegas Golden Knights in the first round. NOBODY wants to play Vegas right now. While the playoff format has been panned a lot, what I like about this race, is that first place truly matters.
Whoever wins the Pacific will most likely be the top seed in the West. In the West, you have four teams trying to get the two wild card spots, in the Wild, the Coyotes, the Avalanche and the Stars. When you look at the Flames or Sharks, either of these four teams should be appealing.
The Wild are just one of those teams that will never get out of the first round. The Coyotes will be happy just to make it there. The Stars have the most invested out of the four teams jockeying for position and a first round loss will be another hit to that franchise. For the Avalanche, they expect to make a run, but they know better things lie ahead. After all, if the Avalanche fall out of the race, they have a small shot at landing both the number 1 and number 2 picks in the 2019 NHL draft. Imagine that?
To me, the team to beat is Vegas. They have the best home ice advantage and now have the experience of being there before. The VGK has a much better offense than last year and now have more playoff veterans. To me, the key to the VGK is Marc Andre-Fleury, the goalie who many can't forget, carried the Knights into the Stanley Cup last year. That series he had with the Kings last season was just a pure work of art. MAF will need to be that good again, unless VGK plans on scoring 4-5 goals a game, which obviously, is extremely tough to do in the playoffs.
In the Central division, it's really a toss-up. The Blues are the most interesting team to me, because they could finish in first place. Then again, they could even miss the playoffs too!
The Blues started this season off with high expectations, only to fall apart. They would fire head coach Mike Yeo and bring in Craig Berube. However, what really changed the season for the Blues was Jordan Binnington, who has been a monster in net.
The Blues haven't had much playoff success over the years. In fact, their only 3 Stanley Cup appearances occurred during the days of expansion, when an expansion team had to make the SCF. The Blues would be swept in all three of those series.
While I think the Winnipeg Jets have the firepower to hold on to the division, as they try to get back to the WCF and win it, the Nashville Predators have stumbled a bit. A Predators/Blues series wouldn't be considered an automatic victory for the Predators. However, if Nashville could take the division, I could see the Jets whiting the Blues right out of the playoffs in four games.
Whoever wins the Central division will most likely play the first wild card, which today, would be the Dallas Stars. Of the Blues and the Stars, I think the Blues would be easier team to beat. Both Bishop and Bennington have had good seasons, but Bishop is more battle tested and I think Dallas has more firepower.
Come game 82, and if the Predators and Jets are tied for first place, while you would be giving up home ice in later rounds, I think the easier path to the second round would be by hosting St. Louis, and not Dallas. It will be an interesting finish in the Central and with the Wild Card to boot.
As I close up this blog, I wanted to share the biggest NYR tweet of the day, which came from Newsday reporter Colin A. Stephenson:
DQ said Kreider and Staal missed practice with new, lower body injuries. Fast is still bothered by the same injury he's been dealing with, and it is possible, given where the Rangers are and what is (or isn't) at stake, he could be shut down the rest of the way.

— Colin Stephenson (@ColinASteph) March 21, 2019

Listen, I have been anti-tank all season, but sometimes you have to accept your fate. While I still want the Rangers to win every game, is there any point in playing Kreider, Fast or Staal anymore? Why take a chance of turning a nagging injury into a serious injury? To quote Jon Taffer here, all I have to say is:
And while on Taffer, the dude is a diehard VGK fan and is at every home game. He's a season ticket holder too. I got a chance to talk puck with him last season:
Very quick, it just makes no sense to keep Fast, Staal and Kreider going if they are banged up. Save it for next season, see what you got with the kids and cross your fingers the Rangers get a good draft pick and don't louse it up.
I'll be back Saturday after the Rangers/Leafs game. I would expect Georgiev to start that game because Lundqvist doesn't play playoff teams anymore. I would also give the Rangers a good chance of winning this game, as the Leafs have been horrendous against bad teams recently. We'll see.
As always, thanks for reading and win or lose…
"LET'S GO RANGERS!"
Sean McCaffrey
BULLSMC@aol.com
@NYCTHEMIC on twitter