Greetings and salutations everyone and welcome to another blog here on BlueCollarBlueShirts.com. Alexandar "Father Finkin'" Georgiev.
As I start tonight's manifesto, I have about 78678678968967896 thoughts rattling around my dome, where that number of 78678678968967896 feels like the amount of saves that Alexandar Georgiev made during the Rangers 2-0 win over the Carolina Hurricanes from Sunday evening.
Since I'm not a beat reporter who only writes three paragraphs, and then bombards you with ads, spyware, paid content and then asks you to pay for such savagery – I can share all of my thoughts with you tonight! And I got plenty!
That said, I don't even know where to start – but I do know that I have to start with #40 himself, Alexandar Georgiev.
---
I don't think I have to give you the whole "This Is Your Life: Alexandar Georgiev" spiel and recap here. If you do need that – just check the archives of this site, where this blog from not even two weeks ago, should catch you up:
---
Following the Rangers 3/8 loss in Minnesota, not only did I write the blog linked above; but I also had my buddy, the legendary Stan Fischler, ask me for my thoughts on Georgiev. After going back-and-forth on email, we both came to the same conclusion – that was it for Georgiev.
Oops.
At this time, let me apologize to my nearly ninety year old new-found friend for my erroneous opinions!
(The 2021 U.S. Hockey Hall of Famer turns 90 years old in just ten days time, on March 31st. We should all be as lucky as "The Maven," the greatest historian I've ever known, and who is still as sharp as the most sharpest of tacks; as I write these words to you today.)
I tell you all of this, because if I'm going to take joyous victory laps whenever my predictions are proven correct (and as they often are!); I then must also tell you when I was wrong too. It's only fair!
Again, I'm not going to reiterate what I've already written in long-form already, nor play my "Greatest Hits" here neither; but in case you're new to this site, here are two key things that you should know before continuing on:
1) Nobody has been a bigger fan of Alexandar Georgiev than me. From all of my silly nicknames for him, including the "KING OF KINGS" and to the "BULGARIAN BEAST" too – I've been a day one supporter of him.
2) That said, I also realize the current situation that he's in. It's Igor's net. Georgiev has become the "black sheep" of Igor's success and I 100% understand why he's struggled this season. I also understand why he wants to chase a starter's gig elsewhere (and as he should at his age).
In other words, when I wrote what felt like an "epitaph" of Georgiev's time with the Rangers not even two weeks ago – I didn't expect him to post a shutout against the first place Carolina Hurricanes on Sunday, March 20th.
In fact, just last night, I was championing for head coach Gerard Gallant to give CZAR IGOR his first back-to-back start of the season.
And if you haven't figured this out already Part I – that's why I'm a beer-bellied blogger, while "The Turk" is a former Jack Adams winner, and currently, a candidate for the award this season too!
And if you haven't figured this out already Part II – that's why I'm a HOCKEY FAN, and not a HOCKEY MAN, like Gallant. But hey, I do try to make these recaps unique and entertaining for you, so I do have that going for me!
---
Going into this game, and for as valid as this talk may be (I'm not arguing against it), many thought this was Georgiev's last chance to be "showcased," prior to Monday's 3PM trade deadline. If that was the case, Georgiev most certainly bolstered his chances of competing for a starter's job elsewhere.
When you look at the rest of the league, and specifically, the teams that are currently jockeying for playoff position; as of this writing, Georgiev would be a good option for the Edmonton Oilers, the Toronto Maple Leafs and the Vegas Golden Knights.
We all know the book on Georgiev already. He's at his best when he's playing regularly. It's just not going to happen in New York.
However, ever since the loss to the Wild, Gallant has stayed true to his BULGARIAN BEAST, and in turn, Georgiev has come up with two consecutive wins, including this 2-0 shutout of the Canes, his best victory of the season – if not his career.
---
Whether you feel if this was Georgiev's best win of his career or not isn't relevant. It's all a matter of preference and opinion.
If you want to argue that his past victories over the Leafs and Islanders were his best – be my guest. I won't stop ya!
It's just my opinion that tonight's 44 save shutout over the Canes was his best win, and for several reasons at that:
— This could've been Georgiev's last game as a Ranger. If it was, he went out on the highest of high notes.
— Georgiev's previous history with Tony DeAngelo, and his last game against these same Canes, where Georgiev was blown out in.
— During Georgiev's previous big wins, the Rangers in front of him were never as bad/tired as they were tonight. Sure, there was a reason why the Rangers came out flat tonight (we'll get more into this soon enough); but when the Rangers needed Georgiev at his best, he more than delivered.
— Throughout this 2021-22 season, several different Rangers have carried the team to victory, with Georgiev's peer, Igor Shestyorkin, usually that guy. For the first time during this campaign, it was Georgiev's time in the spotlight. No win was bigger than this one for AG40 this season.
— All of the circumstances going into this game pointed towards an easy win for the Canes.
Between the Rangers playing less than 24 hours prior, Carolina having a day of rest/preparation, and the emotional & hard-hitting game with Tampa from Saturday night – no one would've been shocked had the Rangers lost on Sunday. In fact, the element of shock is now present, BECAUSE of the Rangers win.
I also want to present the following to you, for your consideration:
Of note: I only share this gambling information with you on this site, because as the expression goes – "the house never loses."
The house was stripped to the studs tonight.
Going into this game, Carolina opened up as a -200 favorite, which for you novices, means that you had to bet $200 on them in order to win $100.
By noon, the line rose to -222.
At 4PM, following Gallant's press conference where he confirmed Georgiev as the starter; the line swelled up to -255.
Forget analytics – these are the real numbers!
Once Georgiev was announced as tonight's starter, you saw a major line-swing of 55 points – which is unprecedented for this season. The only time we have seen a line swing so drastically for an NHL game is whenever COVID and/or injuries were involved.
In other words, once news got out that Georgiev was starting; the public (and the odds-makers), ran away from the Rangers, and threw all of their support towards the Canes. That tells you the perception and faith that bettors and fans have in Georgiev.
In turn, #40 shut out the Canes and shut up his doubters – at least for one night.
(I can't wait to hear what Ron Duguay has to say on this week's "Up in the Blue Seats," as he's been very critical of Georgiev all season! Of course, Georgiev's skeptics may use this expression – "a broken clock is right twice a day.")
---
There's a lot to get into tonight, where if the two words of "Alexandar Georgiev" aren't buzzing and rattling around your brain already – they ought to!
This was Georgiev's night and win.
If you were going to make a one-minute highlight video of this win, 58 seconds would be spent on Georgiev's saves, one second would be spent on Kreider's goal, and the other second would feature the latest display of these stumbling buffoons posing around as NHL officials. (And I have a lot to say about that during the GAME REVIEW.)
However, for now, let's get into the NEWS segment, where there isn't that much, due to the Rangers playing less than 24 hours before this contest with Carolina.
---
On Sunday morning, the Rangers announced the signing of Brandon Scanlin, a collegiate player from the University of Nebraska-Omaha.
Here's the Rangers press release on the signing, courtesy of https://www.nhl.com/rangers/news/rangers-agree-to-terms-with-brandon-scanlin/c-332048646?icmp=int_web_nyr_news_rightrail  :
New York Rangers President and General Manager Chris Drury announced today that the team has agreed to terms with college free agent defenseman Brandon Scanlin.

Scanlin, 22, registered six goals and 25 assists for 31 points in 38 games in his junior season with the University of Nebraska-Omaha Mavericks (NCHC). Scanlin ranked tied for second among NCAA defensemen in assists and tied for sixth in points. Among all Mavericks skaters, he ranked tied for first in assists and fourth in points. He was named to the Honorable Mention All-NCHC Team after setting his career-high in goals, assists and points. In addition, Scanlin was tabbed as an Academic Distinguished Scholar for having a GPA of 3.5 or better.
The 6-4, 213-pound defenseman accumulated 11 goals and 51 assists for 62 points in 98 games stretched over three seasons at Nebraska-Omaha. In 2020-21, he was named to the Honorable Mention All-NCHC Team and in 2019-20, he was named to the NCHC All-Rookie Team.

Prior to playing at the college level, the Hamilton, Ontario native played two seasons for the Brooks Bandits of the Alberta Junior Hockey League (AJHL), where he registered 84 points (24G-60A) in 98 games. In 2018-19, he helped guide the Bandits to a AJHL championship and later, a victory in the Canadian Junior A National Championship game.
---
I can't profess to know anything about Scanlin, as today was the first day that I've ever heard of him. (I told you I'm honest with you here, while others pretend like they've been watching the University of Nebraska-Omaha Mavericks all season!)
However, and maybe this is yours truly playing the role of a "conspiracy theorist" here; but I thought it was somewhat telling that Drury signed another young defenseman, considering that the club has cupboard full of them.
We'll see what happens between now, the NHL Trade Deadline and the summer too; but perhaps this signing makes it easier for the Rangers to trade away one of their defensemen prospects, such as Nils Lundkvist, Zac Jones and/or Matthew Robertson.
Just an idea – not a fact!
Speaking of defenseman (and the Rangers too), Mark Giordano, perhaps the last major defenseman left on the NHL trading block, along with former Ranger Colin Blackwell, were traded by the Seattle Kraken late Sunday afternoon. The pair of original "Krakenites" will now swap their teal blue jerseys for the more traditional dark blue of the Toronto Maple Leafs.
And while this is a Rangers' fan blog, I do wonder why the Kraken were so quick to name Giordano as their first captain in franchise history.
I said this at the time, and I'll say it again – I would've waited for someone to earn/grab that role, rather than giving it to a player that was at the end of the line to begin with.
---
At 4PM, two hours before puck drop, head coach Gerard Gallant met with the media, where he hit all of his usual talking points:
— "Work hard."
— "Compete hard."
— "One game at a time."
He then closed his eighty second interview by confirming that Alexandar Georgiev was getting the nod in net.
To watch Gallant's interview, click the play button below:
---
While Gallant said no line-up changes tonight (sans the goaltender); very early into this game, Hunt was put on the fourth line, while Brodzinksi was bumped up to the third line. I reflected these changes in the line-up segment below.
I don't know what Gallant's logic was for tinkering around with his bottom six, but it did work out in the end – admittedly only because of the final score, and not for what either line did offensively.
In addition – I never doubt Gallant to begin with anyway, as I'm a true believer! TRUST IN TURK!
Here's what "The Turk" went with for this "Eric Staal Tribute Cup" game:
FIRST LINE: Kreider/Mika/Lafreniere
SECOND LINE: Panarin/Strome/Vatrano
THIRD LINE: Goodrow/Chytil/Brodzinski
FOURTH LINE: Reaves/McKegg/Hunt
Defensively, we had this:
FIRST D-PAIR: Lindgren/Fox
SECOND D-PAIR: Miller/Trouba
THIRD D-PAIR: Nemeth/Schneider
And in net, Alexandar Georgiev
---
BOX SCORE time.
The following information and graphics come from the new world-wide leader in NHL coverage, ESPN.com:
SCORING:
PENALTIES:
TEAM STATS:
GOALIES:
| | | | | | | | | | | |
| --- | --- | --- | --- | --- | --- | --- | --- | --- | --- | --- |
| SA | GA | SV | SV% | ESSV | PPSV | SHSV | SOSA | SOS | TOI | PIM |
| 17 | 1 | 16 | .941 | 14 | 0 | 2 | 0 | 0 | 58:57 | 0 |
| | | | | | | | | | | |
| --- | --- | --- | --- | --- | --- | --- | --- | --- | --- | --- |
| SA | GA | SV | SV% | ESSV | PPSV | SHSV | SOSA | SOS | TOI | PIM |
| 44 | 0 | 44 | 1.000 | 34 | 3 | 7 | 0 | 0 | 60:00 | 0 |
THREE STARS: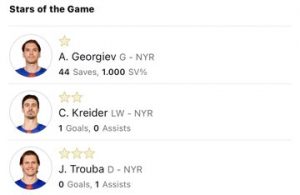 ---
This game was featured on M$G2 tonight, and with John Giannone opening up the broadcast by saying, "last night's win was as legible of a signature win if there ever was one."
He was correct.
Vally and Giannone (no Lundqvist tonight, but he's back on Tuesday), both broke down Saturday's high-level win over the Bolts, and pretty much echoed what I thought and what you probably thought too – this was going to be a tough game for the Rangers.
In fact, and in the effort of always being honest with you – while of course I was rooting for the Rangers to win; had they lost, I wouldn't have been upset at all. Had the Rangers dropped this game, I would've said "move on, on to the next one."
In my eyes, all the Rangers had to do was grab two points during this weekend's set of games. The win over Tampa was good enough for me.
Gallant went with his best line-up against Tampa and secured that win on Saturday night. Anything else would've been gravy, where now after the fact – I'm pumped up and supremely elated! "WE WANT THE CUP!"
In other words, again, IN MY OPINION (I don't like to sound like others and try to sell my opinions as facts), I thought this was a "house money" game for the Rangers, where by the end of it, the house fell!
I have to get this in too – I also predicted a Georgiev shutout tonight, but again, to be fair and honest – I always predict a Rangers shutout victory! Just ask my friend Linda H., who is sick of me already!
(And of course, this was the one night where I didn't bet this way, where going into this game, a Georgiev shutout would've paid you $2500 off of a $100 bet! That was too risky for me!)
---
In more silliness and "dumbassery" out of Sieve Vagistat, who for whatever reason, remains as the lone analyst on these broadcasts; the seven-footer with the bad hair-dye job said that this game will determine what Drury does at the deadline. My response was this – "Huh?"
Are you telling me had the Rangers lost this game, and even if they were blown out – it would've any impact on what Drury does? Again, look at the circumstances, the schedule and the factors going into this game!
Giannone then brought up how the Rangers lead the league in team save percentage. That number sure got a boost tonight!
After being reminded that Carolina has six ex-Rangers on their roster; Vally, after saying how this game would determine what Drury does at the deadline, then said that he thought that the general manager would make three trades between the time you read these words and 3PM Monday.
Funny enough, I also predicted four trades out of the Team President/General Manager, where the Vatrano trade was the first of what I think is to come. And if you're new here, yours truly, the biggest eye-test fan in the world, rarely sees "eye-to-eye" with the the clear-sighted analytical goalie of 46 NHL games.
For what it's worth, Vally pretty much said what we all thought – Drury will be looking for a top six winger, a third line center and a depth left defenseman.
While I still remain firm in my opinion on this, where I don't see this happening at all – JT Miller would kill two of these birds with one stone. (Who kills birds with stones anyway?)
And while I usually have 1,001 jokes about Vally during every blog; I must admit, he sounded very "ALL IN" too – despite he and his merry band of "Vally's Virgins" doing all of their "BUT, BUT, BUT, THEY DON'T BEAT ANYONE GOOD" and "THE RANGERS HAVE TO WAIT UNTIL 2097 TO GO ALL-IN" talk throughout this whole season.
(Pat on the back time! Who told you from day one, when Drury first took over the team, that the Rangers wouldn't just be good this season – but would make noise in the playoffs too? I think you can figure that one out!)
Eye Test > Analytics, always!
Vally then talked about the trade deadline more, mentioning that he never looked at hockey as a business until he was traded. That was comical. I thought Vally started looking at hockey as a business once he started his fake news numbers company!
Following Giannone and Vally, we then went to Sam and Joe, where the bushy-tailed Rosen shrieked, "OH JOE, TONY DEANGELO JOE, HE'S RETURNING TONIGHT JOE, HIS FIRST GAME BACK AFTER MISSING THE LAST ELEVEN JOE!"
That was pretty funny, but Sam would outdo himself later on.
Let's now get into the GAME REVIEW, where the long story short version can be summed up by saying, "Georgiev stole the game and the Rangers were worn out after last night." Of course, I'll now give you the long story version at this time!
---
One more time – this was the Georgiev show, as the fresh goaltender carried eighteen soldiers who had successfully battled, and who had been bruised, the night before.
I only say this, because throughout the game, I saw the "what have you done for me lately" sect of the fan base (and even one of those idiotic beat reporters who Gallant has shut down about 4-5 times this season too), moan and groan all game.
The Rangers have been great all season. They had a tough game the night before. What was so hard to comprehend? This "instant gratification era," I'll tell ya!
And while the Rangers offense tonight wasn't much to speak of; for the most part, they did their best on their tired legs to stifle Carolina, and when they couldn't – Georgiev did his job.
I guess what I'm getting at, is that I'll never understand crying all game long, especially following a big win and during a successful season. Shit happens. Nobody is perfect. These guys are human beings, stuff that these chart bozos will never understand.
(And yep – I'm still waiting for a head coach, a general manager and/or a player, to thank their analytical department after a win!)
---
Twenty seconds into the game, Trouba put a shot on goal, a save for Frederik Andersen.
At the time, I thought this was a good start, but by the end of the game, this wound up being the first shot of only eighteen; where of those eighteen, Vatrano's empty netter at the end of the contest counts as a SOG.
36 seconds after Trouba's shot, Adam Fox was boxed for high-sticking Teuvo Teravainen, while in Carolina's zone.
This penalty kill was where Georgiev first displayed his brilliance, where right away, he stopped an Andrei Svechnikov blast from a mere few feet away.
Tony DeAngelo, who we all know has the history with Georgiev; went for two long-range shots on #40, but the Rangers blocked both of them.
As the Canes power-play dominated possession of the vulcanized rubber (hi Tom B.); with just twelve seconds remaining on the man-advantage, Schneider finally cleared a puck, which then returned the Rangers to full-strength.
With loud "LET'S GO RANGERS" chants echoing throughout the building (the Canes may be in first-place, but I've seen more people pet a cat in a local bodega than I've ever seen people support the hockey club from Raleigh); with 13:25 to go, Andersen stopped Nemeth.
Funny enough, following this save, I said this on Twitter:
Doesn't mean anything, but #NYR are being out-shot 6-2, both Ranger SOG come from the d-men (Trouba & Nemeth)

— BlueCollarBlueShirts (@NYCTheMiC) March 20, 2022
---
I didn't know how prophetic I'd be.
By the end of the period, Panarin would finally register a SOG for the forward group. In turn, the Canes would go on to out-shoot the Rangers 15-3 in the period. That's not a typo.
As Georgiev made save-after-save; Micheletti remarked that Tony DeAngelo still watches Ranger games, with the purpose of not only scouting the opposition, but to study Adam Fox too.
Ironically, when Fox first signed with the Rangers, it was DeAngelo who first welcomed Fox into the fold, despite #23 playing the same position as #77. Fox confirmed this himself, during DeAngelo's old pandemic-era podcast entitled "Watch Your Tone." (And it feels so great to be out of this pandemic, and to refer to it in the past tense!)
(Of note Part I: I won't rehash everything here, as you can check the archives of this site for all of that; but Fox would soon learn from DeAngelo – as the 2021 Norris Winner quickly scrubbed his social media accounts after seeing what the jackals did to DeAngelo, over political themed tweets, where these "party of tolerance" cretins were so bad, that then Team President John Davidson had to refute the multiple lies that were made up by the bloggers full of ambition, who had false narratives and stories to tell.)
(Of Note Part II: No word if DeAngelo stole Georgiev's shutout puck tonight either.)
---
As the clock moseyed on by, Georgiev continued to make stop-after-stop, while the Rangers barely had any zone time. The whole period, and really the whole game, felt like Georgiev would make 2-3 saves; then the Rangers would get thwarted at the blue line, and then rinse-wash-repeat.
The biggest highlight of the period, away from Georgiev? The following:
Sam Rosen: "Joe, are you telling me that Alexandar Georgiev scored his 40th goal?"
Micheletti: "No Sam, I told you Alexander Ovechkin did."
Bless Sam's heart! (Hi Brenda!)
Maybe Sam was trying to sell Georgiev to prospective buyers!
---
With eight minutes remaining, the Rangers were still hung up on only two shots on goal. We also saw Reaves make his first of two hits on Brendan Smith too.
In more excellent work out of the goaltender; with 6:30 to go, Georgiev stopped Jarvis on a mini-breakaway and then made another save while screened.
With 4:40 to go, Panarin put a shot on goal, which turned out to be a pretty good save for Andersen – who prior to this point, could've wolfed down a few hotdogs and then swash-buckled down a few beers after ripping a page out of the book of Joey Chestnut.
As we hit 3:38 remaining, and more saves out of AG40 too; Braden Schneider hooked Jordan Staal. This was a good penalty to take, as the long-time Cane had a GOOD LOOK at Georgiev, following Schneider's mishandle of the puck. (And I don't care if Schneider had a miscue here – he's a rookie, a rookie that has been playing tremendous thus far this season since being called up.)
The Rangers penalty kill was perfect here, as Lindgren, looking like an NFL spousal abuse victim these days, made two clears. Goodrow and Kreider also had a clear each, which then returned us to full-strength with 1:38 to go.
I should also mention, as we got to the nineteen minute mark of the period, there were three separate times at this point of the game, where Georgiev left his net to play a puck.
I don't know if he was trying to emulate CZAR IGOR, or trying to show up Tony DeAngelo; but in any event, during these three instances, he either turned over the puck or misplayed it, and in turn, had to quickly skate back to his net to make the save.
But hey, when you make these saves and bail yourself out, who can complain?
As the final horn went off, it finally occurred to Sam and Joe that Carolina had dressed eleven forwards and seven defenseman tonight. Of course, the M$GN couldn't be bothered to show us the line-up tonight, not only of the Rangers, but of Carolina too.
No score after twenty minutes, in a road period that you were just happy to get out of, and where you thought that the Rangers would find their legs following the intermission.
---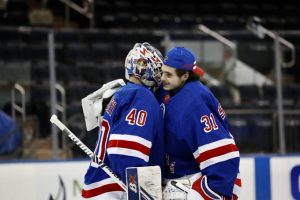 The second period was another mess, where at one point, the Canes were out-shooting the Rangers 26-4. That's not a typo. I repeat – that's not a typo.
Again, Georgiev would make 2-3 saves, the Rangers would struggle to get the puck into the zone, and rinse-wash-repeat.
After stopping Trocheck, the Rangers got the puck near the three minute mark, where Strome hit the iron. (The net wasn't empty, in case you were wondering! And for those who may not know – ringing a puck off of the iron doesn't count as a SOG.)
At the 4:45 mark of the frame, Sebastion Aho had himself tangled up with Patrik Nemeth, where he knocked #12's glove off. Nemeth went after Aho in retaliation, and he, and not Sebastion Asshole (shout out to Roc of "Two Guys, One Cup"), was then boxed.
This was a bad call.
During this penalty kill, Zibanejad received a breakaway, but he went high on a backhanded shot. Georgiev, after making a quick snap of the pads to prevent a Carolina power-play goal, then made three more saves in rapid-succession, including stopping Canes blue-liner Ethan Bear on two separate occasions.
With 13:22 to go, and with just eight seconds remaining on the Canes power-play; Jesperi Kotkaniemi hooked Barclay Goodrow. After the eight seconds of foreplay, the Rangers had 1:52 worth of a power-play.
Trocheck would have the best scoring chance of this Rangers' man-advantage, as he went on a breakaway, only to find iron. This made up for Strome's iron and Mika's miss.
Once failing on the power-play, Georgiev then stopped Stepan and Staal, in a pair of BULGARIAN BIG BALLS saves.
With 10:40 to go, and with the Canes out-shooting the Rangers something like 10-1 in the period; the Rangers received another power-play, their first full two-minute power-play, following DeAngelo being caught on the ice as a sixth skater.
During this too-many-men-on-the-ice Rangers' power-play, Trocheck and Staal had a two vs one odd-man rush – another save for Georgiev. This is the save that made the SOG statistic read as 26-4, in favor of the home team.
Following the Canes kill, somehow, and someway, Derek Stepan beat Braden Schneider to a puck, thus negating an icing call. That tells you how tired the Rangers were tonight.
As the game continued, and as Georgiev made two more saves, the SOG stat was now 28-6, and with 5:54 to go.
In what could've been a turning point of the game; with just a little over five minutes remaining, Andersen stopped a Miller deflection, but the puck was still alive and behind the Canes' net. The Rangers continued to play, and as Filip Chytil was about to score the first goal of the game – the refs blew the play dead – DESPITE THE PUCK NOT BEING FROZEN AND WITH ANDERSEN CLUELESS AND PRONE ON THE ICE.
For the third straight game in a row, the referees had now swung a scoring play against the Rangers.
And as I said during my last two blogs – I rarely ride the officials. I understand that they have a tough job. However, I have to call these plays out for what they are.
After allowing Lindgren to eat an elbow from Wahlstrom on Thursday night, where #55's face now looks a bag of skittles, due to all of the colors on his face as it heals, which then also led to an Islander game winning goal; on Saturday night, we had a puck stay alive despite Igor sitting on it. (Check out last night's blog, and Thursday's blog too, for more on these plays.)
This play was 786786789678969786868967896 times worse than the goal Point scored against Igor on Saturday.
The puck was CLEAR AS DAY alive, and Andersen never had control of it. Hell, he didn't even see it.
Despite an official being ten feet away, he blew the puck dead, just as Chytil was about to score.
As you can imagine, I was irate, the fan base was irate, Gallant was irate and Micheletti was a tad pissed off himself too.
And while I don't think these officials are really betting on these games – what else are you supposed to think, especially when you're plastered with 896786789678967896789686 gambling ads per broadcast?
THIS WAS BULLSHIT.
I also have to add this – as I was proof-reading this blog, Gallant, after the game, said that the officials apologized to him and admitted that they blew the call.
That's easier to accept in light of the Rangers winning this game; but had they lost? Forget about it, I would've been redder than a pimple on Bettman's ass.
That said, if you're going to hold everyone else in the league accountable for anything and everything – why are these officials immune to punishment? This should've been a fine. This should've been a suspension. This should've been a "re-training course."
And of course, making matters 67867896867869 worse, was seeing what happened to Igor last night, and then seeing the complete opposite happen here, under conditions that were pretty much night-and-day in comparison. (You can make the case that the puck was alive for Igor, but this puck was vibrant and healthy as Richard Simmons all hopped up on smack.)
If there's any point I'm trying to hammer home here, it's this – there's no consistency in these calls. What's a call one night, isn't a call the next.
However, we then saw one of the oldest cliches in sports rear in its beautiful head – "ball/puck don't lie."
With 4:21 remaining, this happened:
41 for Kreids from his office! pic.twitter.com/QxnctZhJ63

— Rangers on MSG (@RangersMSGN) March 20, 2022
---
Chris Kreider, GOAL NUMBER 41 on the season, after a double-deflection goal.
And hey, there was Alexis Lafreniere registering another assist, his third in as many games. Also assisting on the goal was Jacob Trouba, who without a shadow of a doubt, is enjoying his best season in New York.
(Like my friend Jen I., who was wrong about Georgiev tonight – I'm so happy to be incorrect about my previous thoughts on Trouba. While we both had merit during our past opinions – we are both happy to be wrong, rather than being proven correct in regards to  a negative opinion.)
1-0 GOOD GUYS. (And the game winning goal too!)
I said the bullshit whistle was a turning point in the game, because while the Rangers really didn't muster up much else offensively – they did have more pep in their step. Not only did Kreider get this goal, but the Rangers looked ticked off, as the officials woke them up.
As we got to the end of the period, Georgiev continued his best game of the season.
Come the final horn of the period, GOOD GUYS 1 – Officials/Canes 0.
Worth mentioning, what I said a few paragraphs above, when I said, "SOG were 28-6, and with 5:54 to go."
After forty minutes, the SOG statistic read as 29-10, as the Rangers gave up only one SOG following the referees doing their WWE act, a Canes SOG that came with only ten seconds remaining.
This tells you how pissed off the Rangers really were and how hard they were working – even if the scoreboard didn't truly reflect it.
---
For the first five minutes of the period, it was all Carolina, as Georgiev quickly made ten saves in the period. The Rangers, during this same time, had zero shots on goal.
All Georgiev did was stop every single one of the Canes' name-brand players, where none of these saves were easy.
I hate the analytical junk, but if you use the term/phrase of "HIGH DANGER;" then Georgiev was pretty much facing flashing lights and blaring sirens throughout this crunch time period.
After Brodzinski received credit for an innocent SOG; with 10:54 to go, the Canes were out-shooting the Rangers 37-11.
The refs, completely inept on this night, and following another save for Georgiev, his 38th; didn't blow a whistle when Georgiev froze a puck. Ridiculous.
In a crazy sequence with just under ten minutes remaining; the Canes hit a post, Georgiev batted the rebound away, and then stopped another SOG for save number 40. The "hometown" crowd, in a response, belted out "GEOR-GEE! GEOR-GEE! GEOR-GEE!" That had to feel good for the BULGARIAN BEAST.
As Georgiev made save #41 with under nine minutes remaining, I knew I was going to need a shower and a fresh pair of underwear, as this game was shart-inducing. (And it's much better if you watch this game back, rather than watching it in real-time!)
With 6:48 to go, Andersen made his best save of the game, where he denied Goodrow of picking up the insurance tally.
As we hit the FOXWOODS mark, the fourth line pinned Carolina into the boards for a good thirty seconds, which allowed the clock to go tick-tick-tick.
With 3:20 remaining, Georgiev stopped Aho on his fourth and final shot of the game.
As we got to the two-minute warning, with 1:43 to go, Andersen took a hike.
Following a Goodrow icing with 1:17 left, Carolina took a time-out. The Rangers would survive.
Mika won a draw in the Rangers d-zone, and then backhanded the puck up ice to an awaiting Frank Vatrano, a Vatrano who then scored his first goal as a Ranger.
Hey, it was an empty net goal for Vatrano, but they all count the same.
And if you were watching this game, you know how big this "sigh of relief" empty netter goal truly was!
2-0 GOOD GUYS!
2-0 FINAL, a 44 save masterpiece for THE KING OF KINGS!
So much for the "BUT, BUT, BUT THEY CAN'T BEAT ANYONE GOOD" bullshit.
They Rangers have only swept Tampa (3-0) and also went 2-1 vs Florida.
The Rangers are also 1-1 with the Canes, with both of these games being played in Raleigh, NC. The Rangers will host the final two games remaining between these clubs.
Hats off to Georgiev – he deserves it. I'm happy for him.
---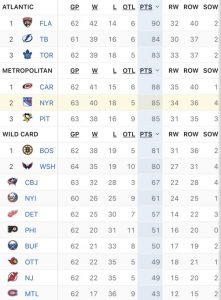 Considering the competition, the referees betting on the Islanders on Thursday, and everything else – this was one hell of a weekend for the Rangers – if not the best weekend of the season.
With the win, the Rangers not only regained control of second-place in the standings – they are now three points out of first place too. What a difference that 48 hours can make.
The Rangers also distanced themselves from the fourth-place Capitals too; as following the Caps loss to the Stars on Sunday – Ovechkin's squad are now five points back of the Blueshirts, and with an extra game played too.
As far as anything else regarding this win over Carolina, I don't need to tell you that this wasn't a great game. Gallant and company know they can't play like this regularly. We all know the conditions.
I will say this though – on a Rangers off-night, and with their back-up goalie in-between the pipes, they shut out one of the best teams in hockey. Suck on that chart boys!
Up next? Chris Drury.
PLUGS time!
---
The hardcover version of my book, available now at Amazon.com
The first plug of tonight's blog – the mandatory plug for my new book, "The New York Rangers Rink of Honor and the Rafters of Madison Square Garden".
As mentioned previously, the book is now available in hardcover, in paperback and in Kindle formats. To purchase a copy of the book, visit this link:
https://www.amazon.com/Rangers-Rafters-Madison-Square-Garden-ebook/dp/B09CM5N2WD
For those still looking for signed paperback versions of the book, I have re-ordered more copies. I now have 2 signed copies for sale at $25 a pop (includes shipping price) through me directly. Here is all the information on that:
---
Here are my last few blogs, in case you missed them:
---
---
---
If you haven't already, subscribe to this blog for the next update:
---
Up next: the 3PM NHL Trade deadline on Monday, March 21st.
As I've been saying all along – I expect Chris Drury to be busy.
Unless the Rangers sit on their hands and do nothing; I'll be back Monday night to recap all of the general manager's moves.
As always here, thanks for reading and…
LET'S GO RANGERS!
Sean McCaffrey
BULLSMC@aol.com