Greetings and salutations everyone and welcome to another blog here on BlueCollarBlueShirts.com. I for one, am so glad that Alexandar Georgiev is NOT the lede story tonight!
On Tuesday night, at the "World's Most Expensive Arena," the Rangers returned for the first of two home games this week. At around 9:45PM on "The Ides of March," the Rangers handled business like they were supposed to do, and knocked off the Anaheim Ducks 4-3, following an Adam Fox overtime walk-off game winning goal.
While we will get into Alexandar Georgiev soon enough, an Alexandar Georgiev that improved his career record against the Ducks to 4-0; the story of this game begins with just 9:25 remaining in the third period, following a Derek Grant breakaway goal – a goal that at the time, gave the Ducks a 3-2 edge over the home team.
As they've done so many countless times before, and despite the M$GN analysts and commentators questioning the Rangers will to win (more on that during the GAME REVIEW segment); once again, the Rangers, like a modern-day John Cena – "NEVER GAVE UP" and rallied back to win.
It was a script and a television show that we've seen so many times this season already, but I can tell you this much – I can watch these repeats on any night of this 2021-22 campaign. These wins hold up just like a classic episode of "The Honeymooners" on New Year's Eve.
Down 3-2, the Rangers, somewhat sluggish a bit during the first fifty minutes of play, finally had enough.
With just 8:07 remaining, Adam "Cale Makar who?" Fox, drew Max Comtois for a hooking call. Now on the power-play, the Rangers had one of their biggest offensive onslaughts of the season, where it felt like they must've fired at least a dozen pucks towards the direction of Ducks' goaltender John Gibson.
As the Rangers did everything but score during the first seventy seconds of the power-play; once again, the genius known as head coach Gerard Gallant, called for a timeout, in order to keep his first power-play unit on the ice. And as we've seen several times before this season – this strategy paid dividends for the Blueshirts.
With just fourteen seconds remaining, Chris Kreider backhanded a rebound off of the backboards for the equalizer. For the unofficial captain of the team, it was his 39th goal of the season. In a personal milestone, this goal was also his 400th career point.
Once the scoreboard read 3-3, you knew the Rangers had this game in the bag.
In total, the Rangers would out-shoot the Ducks 19-7 during this final frame.
If it wasn't for a harmless Anaheim shot at the end of the period, it would've been 19-6, which would've meant that the Rangers had out-shot the Ducks to a tune of 3:1.
As we moved on from regulation time to overtime; just fifty seconds into the bonus frame, Fox, with all of the expertise precision of a pure marksman, took a perfect pass from Artemi Panarin, and then sniped the rubber through the wickets of Gibson. Game Over!
For Fox, it was his third point of the game, as previously, he had recorded two assists during the contest.
For #10, "The Breadman" – it was his third point too, which was pretty remarkable, considering that he had picked up five points during the Rangers victory over the Dallas Stars from this past Saturday night.
In other words, if you look at Panarin's last two games, he's averaging four points per game. Not too shabby!
---
I'll never have a negative mind-set after a win, but I will admit, had the Rangers lost this game – it would've been extremely disappointing.
After all, the Ducks, who are having roster issues right now (covered during the NEWS segment tonight), also entered tonight's affair like this:
The Ducks were creamed against a non-playoff team, the Chicago Blackhawks on March 8th. They then lost to a good Nashville team on March 10th. Then, in consecutive nights, the Ducks dropped a pair of games to the inferior and bottom-of-the-barrel teams known as the Devils and Islanders.
For the Rangers to even be down by one goal in this game, I will say, you had to be nervous a bit. Had the Rangers lost, the top stories around Rangerstown, USA right now would've been the following:
— ALEXANDAR GEORGIEV SUCKS!
— THIS WAS A TRAP GAME
— THEY DON'T SCORE FIVE VS FIVE!
Instead, and as is often the case, the Rangers handled their own end and came out victorious.
In what was mostly a slow game; by the end of it, this tilt became a thrilling roller-coaster of emotion.
Following Fox's goal, every fan of the most superior team of the New York metropolitan area were fist-pumping powerfully – force akin to a right hand from an in-his-prime Mike Tyson.
There's a lot to get into tonight, both on-and-off of the ice. Let's start off with the NEWS, followed by everything else, including the main event – the GAME REVIEW.
---
Following the Rangers four-games/eight-day road-trip throughout middle America (and a stop in Winnipeg too), the team took off on Sunday. While the team was idle, Alexandar Georgiev was not.
As first reported by Emily Kaplan of ESPN, the goaltender, perhaps anticipating the trade deadline, has switched agents. The Bulgarian will now be represented by Gerry Johannson of TSC Hockey.
Whether this means a trade is about to take place or not is presently unknown; but more times than not, during situations like these, changing an agent usually means changing a team too.
(Heck, just ask Jack Eichel about this, the newest Golden Knight, who this season, and like Georgiev himself – has been on the wrong side of games more times than not.)
And wouldn't you know it, Alexandar Georgiev, just two hours prior to puck drop against Anaheim, was announced as the starting goalie for this game – while everyone and their mother had expected CZAR IGOR to get the nod. At the very least, I can tell you that I thought that Igor would be starting!
Gerry Johannson ? I feel like Georgiev's agent must be Jerry Maguire!
(Lots more on Georgiev to come tonight.)
---
Also on Sunday, there was a small piece of roster-related news, as the club announced that Timothy Gettinger was sent back to Hartford.
At the time, some people believed that Gettinger's return to the Wolfpack meant that Kaapo Kakko and/or Kevin Rooney would be returning. Of course, that line of thinking was foolish – because after all, the team always carries spare players during road-trips.
I don't think I have to give you a geography lesson here, but yeah – Hartford is much closer to New York than it is to Winnipeg, Minnesota, St. Louis and Dallas.
While of course, every fan would like to see both Kakko and Rooney return to the line-up as soon as possible; it's now looking like neither man will be able to return until after the NHL Trade Deadline, as per the head coach himself.
On Monday, following practice, Gerard Gallant met with the media. Here's his chat:
---
The head coach, without 100% certainty, pretty much confirmed that neither Kakko, nor Rooney, would be available until after the trade deadline. In addition, based on what Gallant said – it doesn't sound like either player is currently skating right now.
What I did enjoy from this press conference (and as he often does), is how the head coach went out of his way to praise two of his role players. Gallant did just that again, as he spoke highly of both Greg McKegg and Johnny Brodzinski. Positive reinforcement is a good thing, and I always appreciate when "The Turk" does this.
Something I didn't appreciate from Monday? This:
On Monday, the Rangers sent out an email to their season ticket holders, where they stated that should the team qualify for the playoffs – then they will be jacking up ticket prices for the 2022-23 season.
If somehow (and perish the thought), the Rangers have some sort of catastrophic slide from now until the end of April, and then miss the postseason as a result of such a said hypothetical fall from grace – then, and only then, will ticket prices remain unchanged.
In other words, this is James Dolan and management admitting that they are currently profitable now, but after sitting through a rebuild – you'll have to pay more for it.
And should the Rangers go all the way this year, the next year and/or the year after that – you better be prepared to start harvesting your organs in order to afford season tickets.
I understand the economic principle of supply and demand. I just question if the demand is even there for high-priced ducats.
After all, if the demand was there – the team wouldn't have been running 7896786786868696 Henrik Lundqvist bobble-head ads per broadcast, as they have been doing for the last month or so, including several times tonight.
In fact, if the demand was there, the Rangers wouldn't even have to offer any incentive at all. (If you sign up for season tickets, you get those Made in China Lundqvist bobble-heads that they're always promoting.)
---
On Tuesday, at 5PM, Gallant met with the media for his pregame chat. Here it is:
---
The biggest news to come out of this wasn't the fact that Gallant said he'd be going back to a traditional line-up of twelve forwards and six defensemen. Far from it. The big news was that Alexandar Georgiev, and NOT CZAR IGOR, would be getting the start.
Here were my thoughts about this news, thoughts that I had prior to this game being played:
— Last week, I wrote that I thought we had seen Georgiev's last start as a New York Ranger. Maury Povich has determined "THAT WAS A LIE." In other words, I was wrong – a rarity! (I kid, I kid!)
— The Ducks, entering this game, were on a four-game losing streak. They also had roster issues, between injuries and a recent trade that they just made (Josh Manson). If there was ever a "get right" game for Georgiev, it was this one – although I feel like we've talked about Georgiev "get right" games many times before.
— I also thought that maybe this was a "showcase" game for Georgiev, a goaltender that just changed agents. Whether that's the case or not – well that will be determined come Monday afternoon.
— In case you've been living under a rock, obviously, I wanted CZAR IGOR to get the start.
As stated, the Ducks are in a rough patch right now.
After two consecutive games of four goals allowed (even if they weren't his fault), I wanted Igor to get this "get right" game instead. As you know, I'm a fan of the Rangers, Igor and history. Not only do I want to see the Rangers win the Stanley Cup this year, I'd also like to see Igor win the Hart Trophy, and also make history by surpassing Jacques Plante's save percentage.
— If there was ever a "defining" and "career-altering" game for Georgiev, and for however as dramatic as that may sound – it was this one.
— And lastly, and perhaps in a case of yours truly being too loyal – yep, I predicted a 4-0 shutout for #40 in blue. Delusional, maybe. Willing to ride the Bulgarian Titanic into the final hours? Definitely!
---
Here's what "The Turk" went with for this "Vinni Lettieri Cup" game:
FIRST LINE: Kreider/Mika/Lafreniere
SECOND LINE: Panarin/Strome/Hunt
THIRD LINE: Goodrow/Chytil/Brodzinski
FOURTH LINE: Gauthier/McKegg/Reaves
Defensively, we had this:
FIRST D-PAIR: Lindgren/Fox
SECOND D-PAIR: Miller/Trouba
THIRD D-PAIR: Nemeth/Schneider
And in net, Alexandar Georgiev
---
BOX SCORE time.
The following information and graphics come from the new world-wide leader in NHL coverage, ESPN.com:
SCORING:
PENALTIES: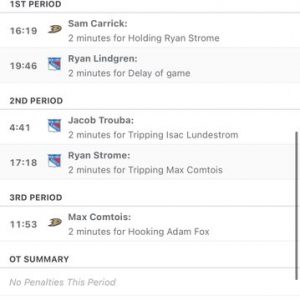 TEAM STATS: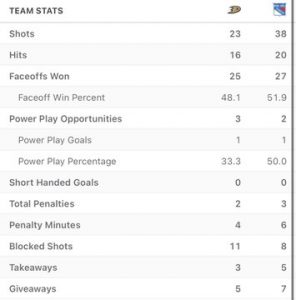 GOALIES:
| | | | | | | | | | | |
| --- | --- | --- | --- | --- | --- | --- | --- | --- | --- | --- |
| SA | GA | SV | SV% | ESSV | PPSV | SHSV | SOSA | SOS | TOI | PIM |
| 38 | 4 | 34 | .895 | 31 | 0 | 3 | 0 | 0 | 60:55 | 0 |
| | | | | | | | | | | |
| --- | --- | --- | --- | --- | --- | --- | --- | --- | --- | --- |
| SA | GA | SV | SV% | ESSV | PPSV | SHSV | SOSA | SOS | TOI | PIM |
| 23 | 3 | 20 | .870 | 16 | 0 | 4 | 0 | 0 | 60:24 | 0 |
---
If you're a regular reader here, I can't believe I'm saying this again – for the third consecutive broadcast, Steve Valiquette, aka Sieve Vagistat, was actually bearable tonight.
In fact, I have to give him credit too. It's always my mission on this site to be fair and honest, yet firm!
While I was doing my usual tomfoolery, and predicting a 4-0 Rangers victory; it was the worst back-up goaltender of the Henrik Lundqvist era who actually predicted a 4-3 final tonight. While Vally didn't mention the word "overtime" – a win is a win! Kudos to the Clairol Chart King.
During "Women's Empowerment Night," which I'll get into soon enough; Vally said that he has a female psychologist. I just hope that one of these days, a female proctologist can remove his charts and heat maps from his rectum!
"Oh Joe, chart polyps Joe!"
---
I'll also say here, the M$GN and the Rangers themselves, promoted women's hockey throughout the entire broadcast. I'm good with that. I support it.
However, not mentioned at all? The fact that you have two competing women's leagues out there. Basically, you have two head honchos with the same vision, but there is no market to support two women hockey leagues, just like how there isn't a market for two men's leagues, two football leagues (NFL vs XFL), etc.
With Henrik Lundqvist around, Vally wasn't able to plug his own company and make up numbers tonight. Instead, Vally gave us a useful stat – Gibson had given up 20 goals during his last 36 one-timer shots faced. I rather hear "real" stats come out of Vally's charthole, rather than all of his expected foo-foo nonsense.
As the panel raved about K'Andre Miller's recent stretch of games (just as I have been doing), Lundqvist said that Miller had a "great toolbox." While that may be true, does #79 have a custom made Louis Vuitton steamer trunk?
In a segment that made me feel old, John Giannone mentioned that Trevor Zegras was only fourteen years old when he attended a Rangers playoff game in 2015.
And spoiler alert, because I'll bring it up throughout the GAME REVIEW: Sam and Joe would not stop talking about the Ducks tonight. At one point, I thought Sam and Micheletti-head were going to start cackling, as they read off the social security numbers and blood-types of every member of the Ducks.
Dave Maloney, always great, did a segment talking about the hard work that the Rangers put in during their win over the Stars.
The former captain then raved about Patrik Nemeth, where as I've been saying recently – a Nemeth who has been playing the best hockey of the season ever since the birth of his son Vincent, and without having to babysit Nils Lundkvist anymore too.
---
In what should really be a weekly thirty-sixty minute show on the M$G Networks; we then had the "Ask Lundqvist" segment. To me, these come off like the equivalent of a pro wrestling shoot interview – or a weekly podcast for you non-wrestling fans.
During this edition of "Ask Lundqvist," #30 said that one player that he always hoped that would sign with the Rangers was Mats Sundin. Lundqvist told a story about how he tried to recruit Sundin to New York, but as you know, Sundin decided not to sign with Glen Sather.
Lundqvist then said that the hardest trade he ever experienced was when the Rangers traded Mats Zuccarello. While we all knew that #36 would be Lundqvist's answer, Lundqvist also explained that losing Zuc brought him to the realization that a new era was here, and the old era was out, where Lundqvist also mentioned names such as Dan Girardi and Ryan Callahan. (And wouldn't Captain Cally be a perfect replacement for Stat Boy Vally?)
Lundqvist, a guitar player, then said that the song "Welcome to the Jungle," by Guns N' Roses, featured the hardest guitar solo that he's ever attempted. This stuff is a useless factiod, but still riveting at the same time. (I'm not joking when I say this, I got a kick out of this.)
To close out, Lundqvist said that when he knew he was going be on the bench/backing up, his pregame approach was most certainly different than his pregame approach when starting games. Lundqvist explained that he enjoyed these rare and unexpected off-nights, where during that time, he used it to improve his personal life and to accomplish daily tasks.
The only thing negative about this "Ask Hank" segment? The way Sieve Vagistat constantly horns in and tells his own war stories from his most legendary and epic career of 46 games. Nobody cares Vally, nobody cares.
After Lundqvist finished up, this is when Vally made his accurate pregame prediction.
Up next, Sam and Joe, the two biggest Duck fans inside of M$G on this night.
No joke – I learned more about the personal lives of the Ducks tonight, than I've ever learned anything about the Rangers from this lovable duo.
---
Sam and Joe went on-and-on in their worship of all things pertaining to Anaheim hockey tonight. They'd repeat the same thing over-and-over again, including stuff from "women's empowerment night."
There was only one thing that made these two go into "radio-silence" mode. The crowd reaction to Governor Kathy Hochul:
On behalf of the millions of kids she fought in court to keep masked, the 34,000 health care workers she fired, all the victims of her bail reform… Rangers fans let @GovKathyHochul have it tonight. pic.twitter.com/jrP6rKzCeh

— Rob Astorino (@RobAstorino) March 16, 2022
---
As you can tell from the clip above, the governor of New York received a negative crowd reaction during this special night, a reaction that couldn't be ignored – despite Sam and Joe successfully doing their best in doing so.
I just wish that the Garden Faithful also booed the Ducks with the same level of derision – maybe that would've shut up Sam and Joe in their hero-worship of the team that's no longer mighty!
If I've said it once, I've said it a million times – I don't like talking about politics on this site. Everyone is entitled to their own opinions on this subject, and like a Vally war story – I'm sure you don't care about mine.
That said, this jeering of Hochul became a mainstream news story (I've seen the New York Times and other outlets pick it up), as a packed M$G booed the governor out of the building.
I do want to say this, because there were a lot of people talking about this story, and admittedly, it's a Rangers-related story too:
Outside of Rudy Giuliani, especially during Yankee games – what New York politician ever gets cheered at NYC sporting events?
You can go down a short list of recent names. Whether it was Bill Deblasio, Mike Bloomberg, David Dinkins, Andrew Cuomo, George Pataki, or whoever else you want to name – they have all been booed.
And not for nothing, for as big as a story this turned out to be – Hochul wasn't booed as loudly as Deblasio once was. Heck, NHL commissioner Gary Bettman receives louder jeers. Ditto Rangers' owner James Dolan. (Don't believe me on Dolan? Talk to a die-hard fan of the Knicks.)
So on women's empowerment night, congratulations Kathy Hochul – you were booed just like your male predecessors and counterparts! Equality! Susan B. Anthony would be so proud!
---
Again, I don't want to talk politics here, but I can't resist making one last comment. (I also don't want to open up reader Zap, in his efforts to bombard me with his 8678678786969786 political conspiracy theories, either!)
I saw Hochul supporters on Twitter, female ones at that, call Leggio a "pig" tonight. Classless.
I wonder if these same deranged Ranger fans would boo this guy:
These cretins, and you know the type, the people of tolerance/hypocritical ones, were outraged that M$G had the audacity to boo another politician, only to then cheer a NYPD officer singing the National Anthem. These louses are psychopaths.
I also must wonder – do these people, all fake outraged in their studio apartments/mother's basements, boo their television screens whenever the Rangers present the Steven McDonald Extra Effort Award too?
---
While on the topic of "women's empowerment night," I was fine with it. I don't mind when sport teams try to promote causes of a non-political and/or a non-sexual nature. That said, when are women not empowered? And it's not like M$G is preventing any female from attending these games either.
Just like "Pride Night," there are only two colors and issues of the rainbow that truly matter at M$G – the color blue, for the sweater that the Rangers wear, and the color green, as in the color of the ton of money that you'll need to attend these games!
Again, I'm fine with this night and I hope that the Rangers raised enough money to support local female hockey programs in the area. Who knows, maybe my nieces will be part of them one day?
If I'm getting at anything here, it's that I didn't see why some people made a big deal of this night, and whether they were for or against it. (I saw both sides of the coin on social media.)
After all, I think 30% of this blog's readership are females, and I have had many great conversations with these readers. I've just never seen hockey as a gender thing. Heck, it are the analytical males that I can't stand! Give me the female fans over them any day of the week, and twice on Sundays at that!
I also enjoyed the Amanda Kessel segments on the show, but during her interview with Dave Maloney (first intermission), I was really hoping that he'd ask her about her brother Phil joining New York!
---
One last thing, and after this, I promise to get into the game review itself. I swear!
The Rangers and M$GN had to know that Hochul would get booed, as again, most politicians are booed at these games – male or female and Republican or Democrat.
Instead of celebrating Hochul, and having her drop the ceremonial first puck – why didn't they have the junior female Rangers (who were there, as they received some ice time both prior to puck drop and during the intermission), drop the puck instead?
I can tell you this with 100% certainty – had the Rangers had some young girl, a young girl with aspirations of playing professional and Olympic hockey one day, drop the ceremonial puck – the crowd at M$G would've given this girl (or girls) a huge standing ovation.
Finally, GAME REVIEW time.
---
After failing to mention that both Kevin Shattenkirk and Rangers' legend Vinni Lettieri were playing tonight during the pregame show (we didn't get a Rangers line-up either); Micheletti mentioned them as the game began, with the duo taking the ice to start the game.
Following a Zegras faceoff win to start the game, 29 seconds later, Zibanejad recorded the first shot on goal. In other words, the Rangers didn't have to wait 8-10 minutes for their first SOG tonight.
(And come the third period, the Rangers nearly averaged a shot on goal per minute.)
Gibson would then have to stop Panarin too. It was very nice to see Panarin in shoot-first mode all game. Funny enough, he didn't score a goal – but he did record three assists. Good things happen when you shoot the puck!
Within the first three minutes, the Rangers already had five shots on goal. At the (Austin) 3:16 mark, Georgiev finally denied his first Anaheim shooter. A minute and thirteen seconds later, this happened:
A goal scorers goal from Jonny Brodzinski!!! pic.twitter.com/TEGZJwfWoV

— Rangers on MSG (@RangersMSGN) March 15, 2022
---
1-0, GOOD GUYS, JOHNNY HOCKEY'S FIRST GOAL OF THE SEASON!
Man (and Woman too), I was happy for Johnny Hockey here.
As mentioned ever since his recent call-up, he's busted his hole game-in and game-out. It was nice to see him get rewarded in the box score tonight.
And yep, while this was a bad goal for Gibson to allow – that's not my problem!
On the goal, Schneider got the puck to Chytil and #72 in Ranger blue found Brodziniski. Mr. Hockey then buried the puck on a laser of a shot.
I must admit – up 1-0 early, I thought this game would turn into a rout.
On a day where I was wrong about a lot of things, in regards to my pregame predictions (however, I did get the most important thing right – a Rangers win) – I was wrong about this game turning into a blowout. It was anything but.
With 13:34 remaining, Vinni Lettieri, now a regular in the Anaheim line-up (15:57 TOI tonight), backhanded a shot that went wide.
The Rangers were looking crisp as a fresh-pressed shirt at this point, but by the nine minute mark, things unraveled a bit and they looked as sluggish as a frat boy's (wait, it was women's empowerment night, so let's go with sorority girl's) hangover.
After Georgiev made a trio of saves, Trouba bailed out Miller and made a fantastic play, where #8 broke up a chance for Terry.
Right after that, with 10:50 remaining, Georgiev made the best save of the game, when he denied a Terry-to-Zegras redirection attempt. Not only was this the best save of the game at the time, I thought it held up as the best save of the game too.
As Sam and Joe would not stop "mouth-hugging" Zegras, "OH JOE, HE ONCE FARTED IN NEW YORK JOE," Panarin set-up Hunt for a GOOD LOOK, but the Hunter was denied.
After hearing about how FABULOUS Sonny Milano was, Miller laid a big hit on Terry.
---
Let me get this out of the way.
Once again, and as I've been saying a lot of during these last few games – Miller has embraced a more physical style. He's hitting more. He's learning from the Troo-Troo train.
Throughout the game, I noticed #79's hitting, where right after the victory, I had to check the box score – yep, for the first time this season, K'Andre Miller led the team in hits, with four in total. (Of note: Ryan Reaves had four hits too.)
I know that being physical is something that you're born with, but it's nice to see Miller make an attempt. It's been noticeable.
Unfortunately, following this hit, Max Comtois scored with 5:55 remaining.
This play was a total fluke, where the Ducks received a ton of puck luck here.
After Miller's hit on Terry, Terry got back up, somehow got to the puck, fired it at Georgiev, and whether the puck hit Miller or not (tough to tell), Comtois was credited with the tying goal. This was just a wacky play, and a goal allowed that I wouldn't pin on Georgiev or Miller. It's just hockey Suzyn!
With 3:41 to go, Sam Carrick blatantly headlocked Ryan Strome. This earned the Duck two minutes in the penalty pond. However, as he was going to the box, Carrick went into Stan Hansen mode, and delivered a lariat/clothesline to Strome. For whatever reason, this wasn't called – despite an official one foot away and watching this all take place.
In other words, I guess if you receive a penalty, you might as well kick a player in the balls on your way to the box. You won't be called for doing so.
Mika Zibanejad went wide and often during these two minutes, and by the end of it, the Ducks got their kill. While some were lamenting about Mika's inaccuracy issues – I predicted that he'd score tonight. At least that prediction would soon pan out for me!
With 47 seconds remaining, Reaves and Comtois had an accidental collision. This sent Comtois to the locker room, but he'd return and was perfectly fine once the second period began.
As the clock wound down to 13.9 seconds to go, Lindgren airmailed a puck that must've landed into the Henrik Lundqvist banner that hangs from the ceiling of M$G. This gave the Ducks a power-play, for #55's delay of game.
After killing off the 13.9 seconds remaining in the period, we finished the first frame at 1-1.
As stated, the Rangers came out firing, but got gassy as the period progressed.
---
Speaking of my gambling, I told you a few weeks back, when sports gambling first became legal in New York, that I was crushing all of these apps, because they were offering insane money to sign-up. (Caesers gave away $3,000, money that I put right back into my bank account.)
A new gambling app that's coming to New York (it's live in New Jersey, for you NJ readers) is Betway. You've probably seen their ads on the boards of NHL games.
Tonight, prior to the game, reader J.G. informed me that Betway is offering up to $5,000 in "free play bets," for you, my fellow degenerates, and should you feel so inclined. I'm sure once they come to New York, there will be free money to be had too.
They also offer prop bets (I already have money on CZAR IGOR winning the Vezina and Hart Trophies), and like all of these books, take regular action too.
I bring this up, just as research, and because I want as much information as possible – that the Rangers were -220 favorites tonight. I believe that's the third-highest they've been this season. It tells me that people are starting to believe in the Rangers.
According to Betway, come St. Patrick's Day, at M$G, the Rangers are currently -180 odds-on favorites against the anemic Islanders. (That's the lowest number I've seen so far, as other books currently have the Rangers at -190.)
For more info, check out: https://us.betway.com/sports/hockey/nhl/
---
After Giannone joked (and maybe he was being serious, because I think the same thing) that Vally is in love with himself (and I'm sure he has the callouses on his hands to prove it), the Ducks opened up the second period on the power-play.
Goodrow, who won the faceoff to open the period, then cleared a puck after Nemeth blocked a Shattenkirk try.
Once Hunt forced a turnover, the Rangers penalty kill then thwarted the Ducks' power-play. Hunt then drew a penalty, but the Rangers wouldn't need the two minutes:
Mika March is in full effect!

24th of the season gives us the lead 2-1 #NYR pic.twitter.com/n8dzVmf5G5

— Rangers on MSG (@RangersMSGN) March 16, 2022
---
2-1, GOOD GUYS, after Mika's angled laser. Both Fox and Panarin got assists here too, as the top guns were motoring.
(And if the NHL, who is always trying to find new ways to increase scoring, really wanted to do so – shouldn't you get a power-play anyway – even if you score on a 6 x 5 delayed penalty attack?)
However, and just like the first period – once the Rangers took the lead, they once again went into hangover mode.
At the 4:41 mark, Trouba was boxed for tripping Isaac Lundestrom. Twelve seconds later, following an Adam Henrique (ugh) faceoff win, Cam Fowler fired a seeing-eye wrister at Georgiev. 2-2.
I don't know if Georgiev was screened here or what, but it's hard to blame a goalie for giving up a PPG.
The Rangers second line, the best line of this game, was firing away at this point, and as they'd continue to do.
However, they'd never get a 5 vs 5 goal, despite what felt like 66767896789678669 shots on goal. Gibson was just able to stop Strome and Panarin time-and-time again.
As Sam and Joe were petitioning for cameos in "Mighty Ducks IV: Goldberg's FABULOUS Meth Revenge," with 8:45 remaining, Kreider just missed on a backhanded try. He'd soon connect on one later on.
Around this time, Micheletti started talking about Amanda Kessel and her brother Phil. Sam Rosen excitedly shrieked, "OH JOE, YOU'RE STARTING RUMORS AGAIN JOE, HAHAHAHA JOE!"
(I admit – I laughed at this too.)
After Gibson continued to make stops, Sam and Joe felt like they were twenty seconds away from saying, "OH JOE, TREVOR ZEGRAS BOUGHT A FRESCA TODAY JOE. HE LOOKS AS FRESH AS A FRESCA TOO JOE!"
No joke, Sam and Joe then started reciting the birthdays of the Ducks during a 2-2 tied game. I'm not making this up.
As mentioned, Nemeth, who has been turning it on ever since returning to the line-up; then made a FABULOUS play, where he broke up a Zegras Harlem Globetrotter move. Sam and Joe were disappointed. "OH JOE, ZEGRAS USED TO ATTEND HARLEM GLOBETROTTER GAMES AS A KID WITH HIS UNCLE MILTON JOE!"
Again, I'm not making this up – for some reason, right after a whistle, Sam and Joe then presented Zegras highlights from the '22 All Star weekend. Not mentioned – Chris Kreider was there, and you know, scored an impressive goal himself.
With 2:42 remaining, following a long attack from the second line and the Fox/Lindgren pairing; Strome tripped Comtois at the Ducks' blue line. Comtois' dive was ignored, as the days of calling embellishment penalties, where you saw them called during every game from about 8-9 seasons ago, are long gone.
Georgiev and the Rangers survived these two minutes, where at the end of it, Strome had a jack-in-the-box try, but couldn't connect. He'd then try a give-and-go with Goodrow, but no good. (Pun somewhat intended.)
After two periods, we remained two-all in a pretty even game. After all, the SOG at this point were 18-16 (Rangers), faceoffs were 19-18 (Rangers) and each team had eleven hits.
Up next, that crazy third period that I talked about at the top of this blog.
---
For whatever reason, Vagistat, Rosen and Micheletti-head debated if the Rangers desired to win this game. I don't know why they said that.
Never once in this game, or at any point of this season for that matter either, have I ever questioned the Rangers desire to win. Sure, the Rangers lose games, but no team goes 82-0, and yeah – the other team is paid to play hockey too.
In a period that opened up with defense as a priority; 3:30 in, Lafreniere, as he's been doing a lot of lately, won a puck battle and got a puck out of the zone. The points haven't been coming lately, but you can see his all-around game coming along nicely.
After Nemeth broke up another Zegras try; Georgiev would later deny Sam and Joe's favorite player, following Zegras' circus act, where he put a puck through his legs and then shot it – only for THE BULGARIAN BEAST to make the tough stop.
Now five minutes into the final frame of regulation, both goalies exchanged two saves a piece.
With 12:07 to go, Miller laid another big hit, which I must admit, from my couch, I clapped and cheered for it!
After Gibson stopped Miller, and then fought, and I mean did he ever fight, a shot from Lafreniere; the Rangers offense continued to buzz.
Unfortunately, the aggressiveness soon backfired, as after Nemeth had a shot blocked, Danny O'Regan found Derek Grant sprung, and in turn, then connected on a long distance pass. Grant, who had Schneider chasing him, was then able to beat Georgiev on the breakaway.
And before you moan and groan – Georgiev isn't Shestyorkin.
3-2, bad guys, with 9:25 to go.
This is when the game changed.
Now down by a goal, the Rangers weren't having it.
After Fox drew a penalty, and following Gallant's successful and strategic timeout; Chris Kreider bagged his twentieth power-play goal of the season:
39th on the season, 20th on the Power Play for Kreider! pic.twitter.com/JevYbaiPIG

— Rangers on MSG (@RangersMSGN) March 16, 2022
---
3-3, and with 6:20 remaining.
The final 6:20 was pretty much the Wild West, where the gunslingers shot every puck imaginable. To his credit, Gibson survived all of this fire.
With 63 seconds on the clock, the Ducks, after a whistle, took their timeout, in an effort to stop the madness.
As we got to the end of regulation, we remained at three goals a piece, and where I thought if anyone deserved the game winning goal on this night, it was Artemi Panarin. The man was shooting everything. However, I'm sure he's fine with settling for the game winning assist! (I know I am!)
---
After Mika took the opening draw of the overtime, Kreider lost the puck. Terry then had a chance at Georgiev, but thankfully, hit the side of the net.
Following Terry's miss, Mika got the puck to Panarin, and at just the 50 second mark of the overtime, it was lights out for the quackers:
Replay of the game-winning goal by Adam Fox#AnaheimDucks 3 #NYR 4 F/OT pic.twitter.com/1Ru6lgCDb2

— Sᴘᴏʀᴛs 24/7 (@Sports_24x7_) March 16, 2022
---
4-3, GOOD GUYS! 4-3, YOUR FINAL, after Fox's overtime game winner!
I know I went way long tonight, so in the effort of trying to go home here; this was a huge two points in the standings, and a game that the Rangers should've won anyway.
Even better, with Pittsburgh losing to Nashville on Tuesday night, the Rangers have reclaimed second-place in the division, in their see-saw battle for the spot with the Penguins.
Both teams now have 81 points, but the Penguins (61) have played one extra game than the Rangers (60).
And if you got your eyes on the prize like I do – the Rangers are only six points away from first place, as Carolina currently has 87 points in 59 games played.
For the Rangers, no one needed this win more than Georgiev tonight. I don't know what his future holds, but I'm glad we're talking about positive things, rather than burying the guy for losing again.
That said, and despite Georgiev's previous winning ways with the Islanders – CZAR IGOR must start on Thursday night. Maybe we'll get CZAR IGOR vs his BFF, Isles goalie Ilya Sorokin.
PLUGS time!
---
The hardcover version of my book, available now at Amazon.com
The first plug of tonight's blog – the mandatory plug for my new book, "The New York Rangers Rink of Honor and the Rafters of Madison Square Garden".
As mentioned previously, the book is now available in hardcover, in paperback and in Kindle formats. To purchase a copy of the book, visit this link:
https://www.amazon.com/Rangers-Rafters-Madison-Square-Garden-ebook/dp/B09CM5N2WD
For those still looking for signed paperback versions of the book, I have re-ordered more copies. I now have 2 signed copies for sale at $25 a pop (includes shipping price) through me directly. Here is all the information on that:
---
Here are my last few blogs, in case you missed them:
---
---
---
If you haven't already, subscribe to this blog for the next update:
---
Up next: Rangers vs Islanders at M$G. Expect a lot of drunken brawls with this game taking place on St. Patrick's Day.
In fact, I think I'm going to attend this game myself! (I won't be throwing hands though – I'm almost forty years old and punching things hurt the hands!)
As always here, thanks for reading and…
LET'S GO RANGERS!
Sean McCaffrey
BULLSMC@aol.com