Greetings and salutations and welcome to another blog here on BlueCollarBlueShirts.com!
On Saturday night, an Original 6 battle between the New York Rangers and the Toronto Maple Leafs was the featured game of "Hockey Night in Canada." In front of a Canadian national audience and with Ranger fans watching back home in the States, the Rangers bested the Leafs, 2-1, after a Ryan Strome goal in overtime. For the Rangers, while their season is over, this was a huge feel-good win. For the Leafs, they slip in the standings and most likely will open the playoffs on the road, against another Original 6 team, in the Boston Bruins.
A theme, one that I've made you aware of all season long, is that Alexandar Georgiev plays all the tough teams, while Henrik Lundqvist cherry picks all his starts against all the bottom-of-the-barrel teams. Tonight was no different. In another tough game, Alexandar Georgiev was not only the best Ranger on the ice, he was the best player during the entire game.
When I look at the three best goaltending performances by the Rangers this season, Alexandar Georgiev notched wins in all of those games. In the lone Rangers shutout of the season, Georgiev bested the Islanders, winning a 5-0 game. Just six weeks ago, on Madison $quare Garden ice, Georgiev recorded 55 saves in a win over the Leafs. While those two games were great and featured the best goaltending the Rangers have seen all season, I would make an argument that tonight's win was the best goaltender performance of the lot.
When it comes to goaltending performances from the Rangers this season, I thought tonight was the best performance we saw, just because of all the circumstances going into this contest. As you all know, Zuccarello, Hayes and to a lesser extent, Adam McQuaid, are all gone. In tonight's game, Kreider & Fast were scratched due to injuries. The Rangers put out their youngest line-up of the season, with many of these players coming straight out of the AHL. Shit, even Georgiev spent some time in the AHL during this season too!
On the opposing end, the Leafs are a monster of a team, and a team with Cup aspirations. During a 0-0 second period, Leafs HC Mike Babcock started getting desperate and wanted to overpower the young Rangers with his top weapons. Fearing a loss, Babcock paired his two best players together, in Matthews and Tavares. However, Georgiev would then sustain the Toronto onslaught.
The Leafs, with all their talent, are a team that is trying to earn home ice in the first round. They needed this win. Furthermore, Georgiev was playing in another huge nationally televised game and was also playing in front of one of the loudest anti-Ranger crowds of the season. While Lundqvist loses in front of snoring crowds, such as the crowds in the games with the Red Wings, the Devils, the Senators or any other crappy team you can think of, Georgiev had to be a rock in front of a boisterous and very vocal Toronto crowd.
Most of this game was a 0-0 affair. The final 11+ minutes of regulation was a 1-1 game. In overtime, the Rangers were outmatched talent-wise, during the 3 vs 3 session. However, despite all this pressure and insurmountable odds (The Leafs were a +330 favorite tonight) Alexandar Georgiev boned down and helped carry the Rangers to victory.
With all of this going on, that is why I think tonight's game was the best performance of Georgiev's career. Not bad for a guy who entered the 2018-2019 season with the least amount of NHL goaltending experience. Not bad for a guy who's paid $8M less than his counterpart. Not bad for a guy who only plays against top competition.
I must say, and I know you hate hearing it – can someone please explain to me why Henrik Lundqvist remains on this roster? Can someone explain to me why the Rangers aren't forcing Hank out of here?
As we creep to the end of the season, I'm starting to hear a lot of the MSG Network guys do an about face on Georgiev and on Lundqvist. You can hear Maloney and Gianonne doing it on their "Bleeding Blueshirt" podcast. For the first time all season, you had Joe Micheletti splooging man-juice in support of Georgiev. And in the topper, Steve Valiquette, who I've criticized many times this season for being so-over-the-top in support of his Swedish buddy, well he finally said what I've been saying all season – Georgiev is playing all the tough teams and looking great in all of these tests.
Speaking about goaltending, I did a blog on Friday, recapping the latest on Igor Shestyorkin. You can find that blog and all my most recent blogs below:
---
---
---
---
---
---
As I finish my victory lap on Alexandar Georgiev here, because as you know, I was one of the few who told you from the beginning of the season that he had the goods, the truth of the matter is this – Georgiev was phenomenal once again tonight. However, when you win a game 2-1, and yeah, Georgiev's 44 saves was a big part in that, but the Rangers, as a whole, were up for the challenge tonight.
I'll get more into the line-up during the "SCRATCH LIST OF QUINN" segment of the blog, but you couldn't knock the effort or hustle of any of these skaters tonight. Sure, there were turnovers. Sure, the PP sucked. Sure, the team blew odd-man rushes. However, look at the competition. Look at the Rangers line-up. I don't expect the Rangers to have a masterful performance against the Leafs. All I want is hard work and these players showing they give a damn. The Rangers went above and beyond tonight, and in turn, were rewarded with a win.
I saw a lot of great work and hustle from the Rangers tonight. Zibanejad made plays. Buchnevich made plays. Lemieux made plays. Tonight was also probably the best games that Andersson and Lettieri have ever played. Smith continued to draw penalties. Staal continued to break his hole. John Gilmour blocked 7 shots. TDA was in FTW mode. Nieves continues to create offense for himself. Vesey battled. Skjei broke up Toronto rushes. Ryan Strome was a hero again. So yea, to rip off Jan Brady here, "GEORGIEV, GEORGIEV, GEORGIEV!" That said, the team in front of Georgiev gave him their best.
If there was anyone you wanted to get salty with, it's Kevin Shattenkirk, but even he, for all his gaffes, couldn't ruin tonight.
So yes, while Georgiev was out of his mind again tonight, give the Rangers some credit too. I know I'm one of the biggest Georgiev fans out there and I'm spending a lot of time on him tonight, but really, what can't be lost is how much this team worked tonight. This was a TEAM win to be proud of.
Let's roll to our normal segments now.
While I know Lettieri had a few good games last season, even scoring a goal here and there, when it comes to a full 60 minute performance, IN MY OPINION, Lettieri just had his best game of this season. (And yes, this whole blog are full of my opinions, but sometimes I feel I have to restate this because people think that I think my words are 100% facts. There are facts on this blog, but this blog is mostly opinion-oriented.)
It was funny, during the second intermission, Valiquette and Carter said, and I'm paraphrasing them here, "Vinni Lettieri is pretty good when playing on the second line as opposed to playing on the fourth line." You don't say? I've only been saying this all season.
Lettieri had three quality shots on goal in this game and would come close to the net on two more. Again, I'm aware that Lettieri needs some points here. However, look at the two games since he's been back – the Rangers don't fucking score. So to me, Lettieri's scoring, or lack thereof, for at least right now, isn't as much as individual thing to me, as I believe it's a team-wide thing. The horrendous PP numbers speaks volumes to this.
I thought Lettieri made the most of his minutes tonight. However, this is a results based league, although Lettieri may look at someone like Jesper Fast and try to make a case for himself. That said, Lettieri is more of an offensive player than Fast and he needs the points to come.
When I first started the "LETTIERI WATCH" segments, I said just give me one game of Lettieri on the second line. Lettieri now has two of these games under his belt. I think he's doing well, but he needs some points to strengthen his case for next season. Let's hope he remains on the second line for a few more games.
On Friday, the Rangers tweeted out the following:
Of course, I told you over a week ago that there was no shot in hell that Lundqvist would play in this game against Toronto. Here's a snippet of my blog from a week ago:
Seriously, when it comes to King Nothing, he truly is a coward. Here's something I put up on social media before the game:
Imagine you're a fire fighter & you have the most expensive and most talked about fire truck in the world, but you can only use it to put out an ash tray. That's how Lundswiss decides his starts. He blows a lot of smoke, but when shit picks up steam, he won't face the fire. #nyr pic.twitter.com/aV0hsx4CDa

— BlueCollarBlueShirts (@NYCTheMiC) March 23, 2019
$8.5M folks!
Granted, while I'm glad Georgiev is playing, as he's only strengthening his cause and making people take notice, again, I gotta ask you – "Why is Henrik Lundqvist on this team?'
Away from the goaltenders, the big news was that Kreider and Fast were scratches tonight, both scratches being due to lingering injuries. In fact, it is rumored that the Rangers may shut down both of these guys for the remainder of the season. I talked about this a few blogs ago – with where this team is at, there's no point turning a lingering injury into a serious injury, an injury that could carry over into the 2019-2020 season. At this rate, it's in the best interest of Fast, Kreider, the Rangers and the young talent, for both Kreider and Fast to sit out the rest of the season. There's just nothing to gain by playing them.
Aside from Kreider and Fast, both Connor Brickley and Freddy Claesson were your healthy scratches tonight. With the injuries and scratches, Quinn went with this tonight:
FIRST LINE: Lemieux/Zibanejad/Buchnevich (I thought the top line played a hard fought game tonight. I was happy to see Lemieux get rewarded with a spot on the first line. He deserves it. He played as well as anyone else tonight. I would go back with this line on Monday.)
SECOND LINE: Namestnikov/Chytil/Lettieri (These three also played well and created offense. I thought Lettieri played the best defensive game of his life in this game.)
THIRD LINE: Vesey/Andersson/Strome (Vesey was your grinder here. Andersson played the best game of his NHL career tonight, in my opinion. Strome had the game winner, albeit in OT.)
FOURTH LINE: Smith/Howden/Nieves (Smith has made the most of his time as a fourth line forward, but long-term, this can't be the future of the Rangers.)
Defensively, Quinn went with:
FIRST PAIR: Staal/DeAngelo (Another solid performance from the top duo.)
SECOND PAIR: Shattenkirk/Skjei (Shattenkirk remains the Achilles heel of the D.)
THIRD PAIR: Pionk/Gilmour (Scary and hairy at times. Georgiev bailed these two out a lot tonight.)
I'll talk more about Quinn when we get to the game review part of the blog.
Gambling wise, here's what I said before the game:
Georgiev is starting. Bet the under! Rangers are such dogs that it might be worth throwing $100 for the value. #nyr pic.twitter.com/ItvGODi2y9

— BlueCollarBlueShirts (@NYCTheMiC) March 23, 2019
My record improves to 31-18-3. Personally, tonight I went 2-2, as I thought the Rangers could beat a Leafs team that just recently lost to the Senators.
ESPN.com box score time!
SCORING SUMMARY:
1st Period

No Goals Scored
2nd Period

No Goals Scored
3rd Period
0:19

Pavel Buchnevich

(18)

Assists: Brady Skjei, Kevin Shattenkirk

1
0
8:33

Zach Hyman

(19)

Assists: John Tavares, Mitch Marner

1
1
OT Summary
1:48

Ryan Strome

(15)

Assists: Boo Nieves
PENALTIES:
1st Period
1:49

Kasperi Kapanen:

2 minutes for Tripping

3:09

New York Rangers:

2 minutes for Too Many Men/Ice – Bench (served by Filip Chytil)

18:42

Brett Howden:

2 minutes for Cross checking
2nd Period
7:28

Igor Ozhiganov:

2 minutes for Tripping

13:11

Connor Brown:

2 minutes for Hooking
3rd Period
11:15

Marc Staal:

2 minutes for Cross checking
OT Summary

No Penalties This Period
GOALIES:
| | | | | | | | | | | |
| --- | --- | --- | --- | --- | --- | --- | --- | --- | --- | --- |
| SA | GA | SV | SV% | ESSV | PPSV | SHSV | SOSA | SOS | TOI | PIM |
| 45 | 1 | 44 | .978 | 35 | 1 | 8 | 0 | 0 | 61:38 | 0 |
| | | | | | | | | | | |
| --- | --- | --- | --- | --- | --- | --- | --- | --- | --- | --- |
| SA | GA | SV | SV% | ESSV | PPSV | SHSV | SOSA | SOS | TOI | PIM |
| 28 | 2 | 26 | .929 | 21 | 0 | 5 | 0 | 0 | 61:41 | 0 |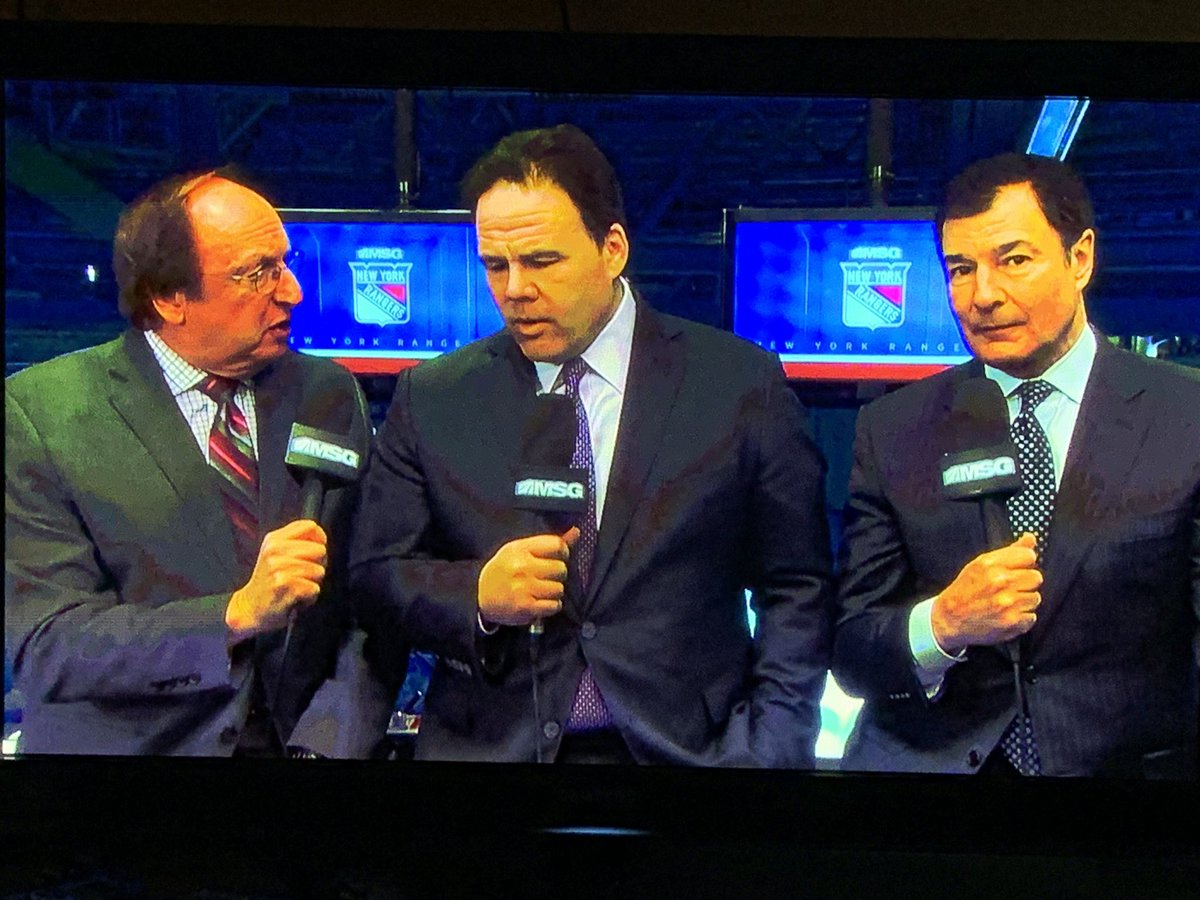 The MSG pregame show tonight was kind of wacky. First things first. Did anyone else notice the abundance of gambling commercials tonight? Seriously, all these ads, and even the MSG pregame show itself, makes it feel like if you're not gambling, then you're not watching the game right. A whole generation of kids are growing up on all of these gambling ads.
Listen, I'm not against gambling or anything, but you don't see cigarette commercials on TV for health reasons. Gambling can kill you just as quick. In fact, you might need cigarettes to deal with the stress of gambling!
Funny thing about tonight – after 7678967896786786 commercials in a row for gambling outfits, a commercial then aired for the Addiction Network. You can't make this up.
During the pregame show, we were given segments on two players not involved in tonight's game, in Morgan Barron and K'Andre Miller. No offense, but the Rangers were playing the Leafs tonight. Save this shit for social media or for the Rangers website. Better yet, don't go dark during the off-season, and air these segments when the season is over.
If you were looking to find out anything about the opposition tonight, tonight's MSG pregame show wasn't for you.
After the pregame show, we went to the arena for the Jeff Gorton interview. It was like listening to a politician, as Gorton talked for a while, but didn't say anything of substance. He wants the Rangers to be better. You don't say. He wants a good draft. HOLY SHIT, I DIDN'T EXPECT THAT EITHER. He hopes to talk to Kravtsov. REALLY? OMG!
The saddest thing about this fluff interview was that after all the Igor Shestyorkin rumors this week, Beavis and JoeHead didn't ask about Igor once. SAD!
This game started off promising, as at the 1:49 mark, Lias Andersson drew Kasperi Kapanen for tripping. However, the Rangers PP, which has been absolutely dreadful, continued their black streak of incompetence.
While on the PP, Shattenkirk made a brutal turnover. Zibanejad would break up the ensuing Toronto 2 vs 1 PK rush. On the other end, Lettieri would get off a good shot, but Andersen made a good save. Speaking of Andersen, his performance won't get much talk tonight because of Georgiev, but he was just as good. This game wound up being a goaltender's duel.
After Andersen's save, the Rangers got called for their 13th too-many-men-on-the-ice penalty of the season. How this happens on a PP is beyond me. I get that the Rangers have all these new faces and all these new lines, so there will be some confusion, but to commit this penalty, while on a PP, is 100% unacceptable.
When the Rangers committed this penalty, Quinn was smiling in disgust, if that makes sense. He also looked like he was making snide remarks. Instead of making faces, how about screaming at the refs or getting on his team?
After a small four on four foreplay segment (Micheletti's favorite) Toronto would then have 80 seconds of PP time. For the next several minutes of the game, Toronto bombarded the Rangers. Georgiev would make 7 saves, as opposed to Andersen's 1 save during this stretch of time. On the 7 shots, three of them were really of high quality. In other words, Georgiev kept this game tied.
Due to Georgiev being cool, calm and collected, the Rangers would eventually find their way, and would tie up the SOG department, with both teams having 7 shots a piece.
While the Rangers weren't scoring goals here, they were playing strong defensively as the period went along.
At the 18:42 mark, Brett Howden was called for a questionable cross checking penalty on Trevor Moore. It looked like Moore was embellishing a bit. Once again, Quinn was smiling at the bad call. MAN UP. GO TORTS ON THESE REFS. How many times will the refs pull some bullshit against the Rangers, only for Quinn to sit there and take it. Fire up man!
And listen, I don't want to sound like a Quinn hater, because I'm not. I'm just being fair in my criticism. I think the best is yet to come with Quinn, especially once he gets the tools and weapons. I know he's a rookie head coach, but I don't want to see him as a pushover either.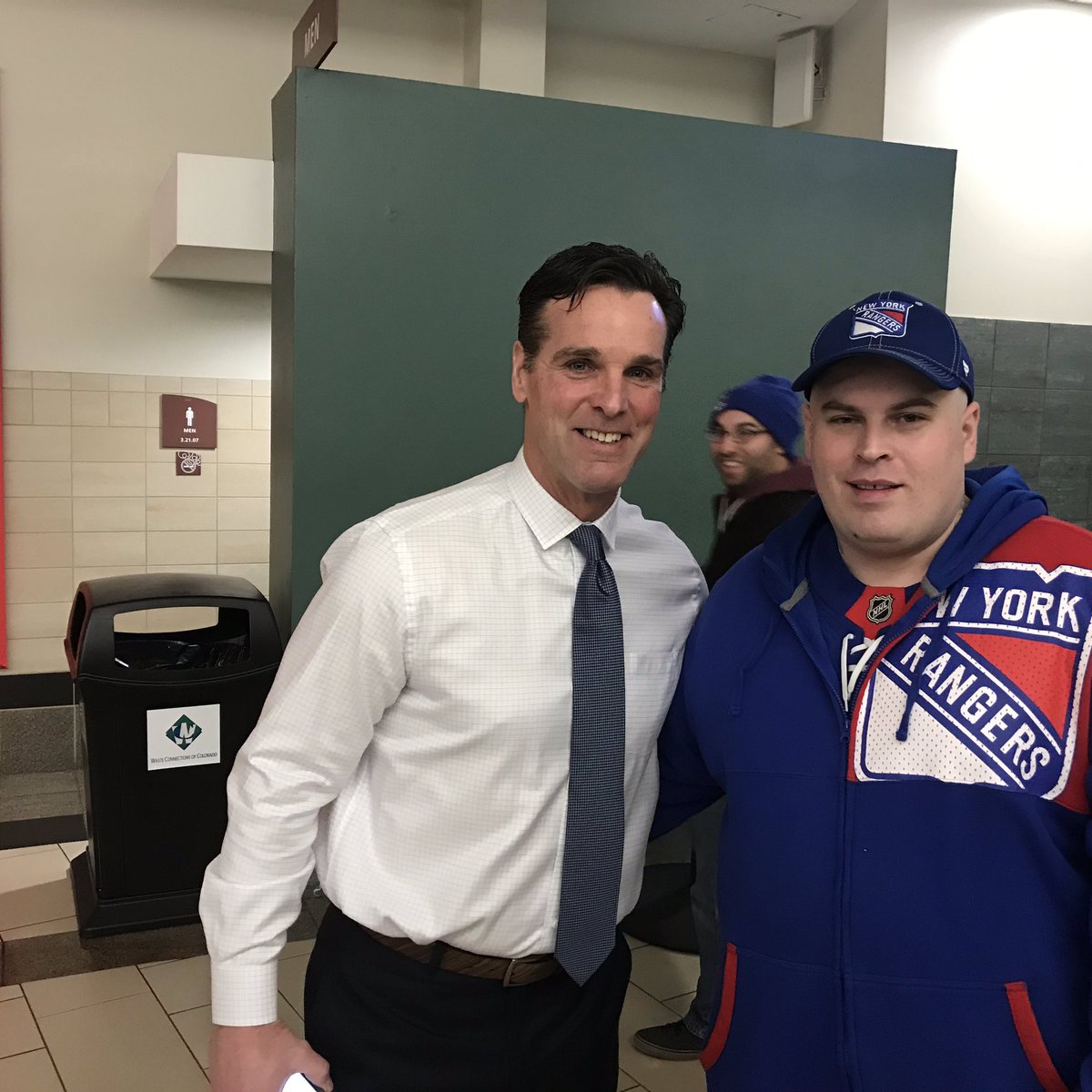 The end of this period was insane. With Toronto on the PP, Toronto stayed in the Rangers zone. Georgiev would lose a stick, but would grab a stick from Pionk. As Toronto kept peppering the Rangers with shots, Marc Staal kicked Goergiev's stick back to him. Georgiev then passed off Pionk's twig back to him and picked up his own stick. During all of this frantic action, Georgiev kept Toronto off the board. This was just fucking amazing. For some reason the MSGN doesn't have a gif of this, but they should. This final minute of play was huge, considering the final score.
Think about this – with Toronto on the PP, Georgiev remained stoic and was cool as cucumber, while trading sticks – TWICE!
When it comes to hockey IQ, Georgiev is up there with anyone. I think his play from a few games ago, where he skated to the bench for an extra skater while his net was off the moorings, was a clear cut example of that.
The Rangers would hold the Leafs off the board as the first period expired, but the Leafs would open up the second period on a 38 second power-play.
0-0 after twenty.
The second period remained a goaltender's duel.
The second period would open with the Leafs finishing their PP. Right out of the gate, Georgiev had to make 4 big saves.
Just like the 55 save game, the Leafs PP was impressive and they absolutely dominated the Rangers PK. However, Georgiev is kryptonite for the Leafs, with the kryptonite glowing its brightest during Leaf PP's.
Another thing that bothered me about the broadcast tonight, was that this was a 0-0 game for about 41 minutes. In a tight and fierce game, Sam and Joe would talk about anything else besides the game in front of them. Joe had to mention for the 7678967896789696th time this season how old Filip Chytil was. The two jerkoffs then started talking about the Penguins, as if anyone gave a fuck. They then started talking about Ranger prospects. All this talk is talk you would hear during the 6th inning of a 12-3 baseball game, not during a 0-0 hockey game.
Georgiev would continue to be a man-beast in net for the Rangers during this period, as he stopped everything that came his way. Seriously, if Hank was in net, this is a 5-0 game, in favor of the Leafs. It's really getting to the point that we're forgetting that Georgiev is a rookie goalie, making $792K. Ranger fans are taking him for granted. I love when the Cult of Lundqvist compares Georgiev's stats to Hank. Based on the quality of competition, Georgiev blows Hank away. Furthermore, GEORGIEV IS A ROOKIE WHO MAKES NEARLY $8M LESS. The fact that there is even a comparison shows you how great Georgiev has been and how much Lundswiss has sucked.
The Rangers would get two more power-plays in this period, but did jack shit with them. Sure, they had a chance or two mixed in there, but once again, the PP was held off the board tonight. The NYR PP was 0-3 tonight.
Speaking of the Rangers PP, when was the last time the PP scored a goal, a goal which gave the Rangers a lead in the game? 2017?
As the second period wound down, I had another thought in my mind. Did anyone miss Chris Kreider tonight? The Rangers were actually better without him. This is a game that Gorton must remember when he deals with Kreider in the off-season. Many games, it looks like Kreider isn't even there. Tonight, in a game that Kreider didn't play, the Rangers didn't miss a beat.
Towards the end of the period, this is when Babcock started rotating Matthews and Tavares together. Babcock is feeling the pressure.
When the period ended, we were tied at 0-0. This was a fun and exciting game. Oh, and do you think any of these players care about what the pimply faced "RANGERZ MUST LOOSE AND TANK EVERY GAYME!" fans think? The Rangers wanted this one.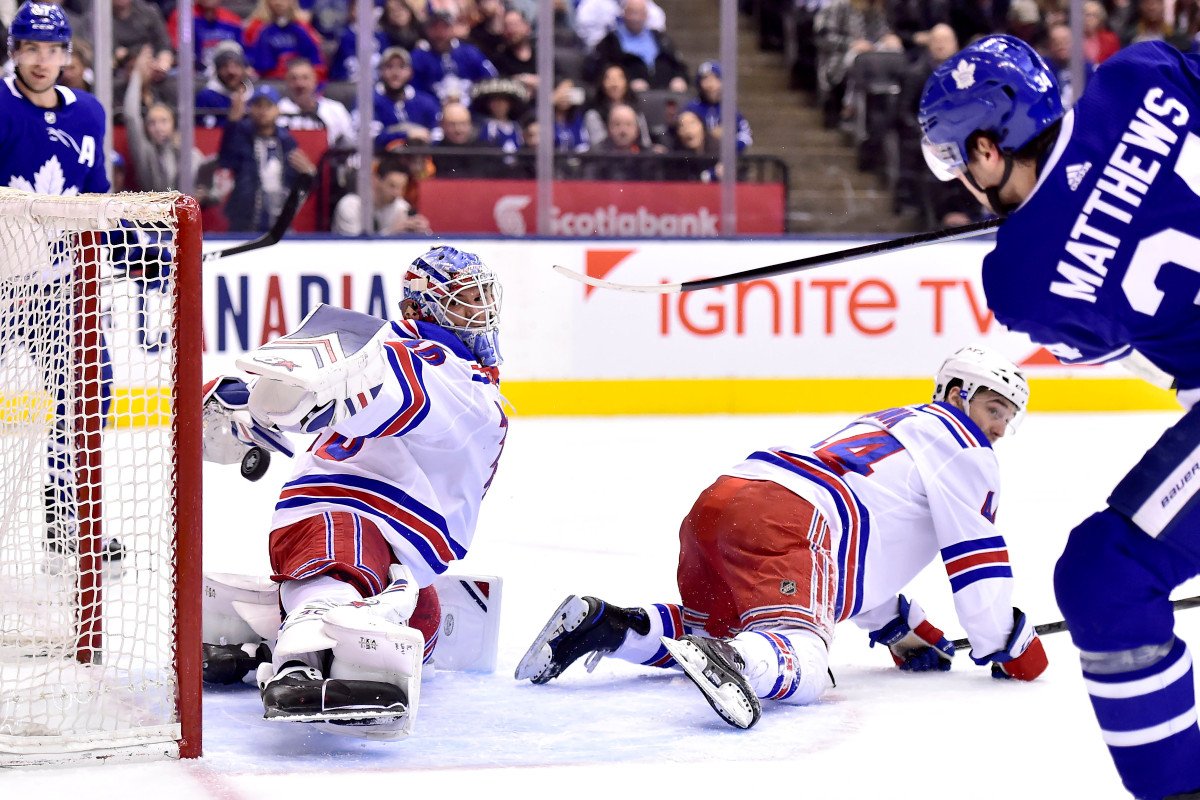 19 seconds into the third period, the intoxicating commie put the Rangers on the board:
Pavel Buchenevich continues to have the hot stick! #NYR lead! 🔥🔥🔥 pic.twitter.com/LLaPGyyS2z

— MSG Networks (@MSGNetworks) March 24, 2019
1-0, good guys.
On the goal, how about a round of applause for Buchnevich? At times, he seems like a "one step forward, two steps back" type of player, but lately, he's got it going on. Good for him. Outside of Lundqvist, has there been any other Ranger as criticized as Buchnevich this year by the Rangers fanbase and media? Just a month ago, Dave Maloney was questioning Buchnevich's heart and the stuff between his ears.
I'm not going to say the Rangers will ride or die with Buchnevich, but if he can be consistent and confident, the Rangers are better off with him than without him.
Immediately after the goal, because Lundqvist wasn't in net, Joe Micheletti went straight into jinx mode, by mentioning that Georgiev had a shutout going, how Georgiev was owning the Leafs and just went so over-the-top with fawning praise on Georgiev, you just knew a Toronto goal was coming.
Georgiev would make some Harlem Globetrotter saves in the early stages of this third stanza, as the Rangers did get a little loose with the lead. Toronto was also playing like a wounded animal and were ferocious with their attack.
Mr. Rodent recapped one hairy play in the third period:
DeAngelo and Pionk get tangled… end up covering the same Maple Leaf. Tavares gets free point blank. Fails to pot the puck. Phew! pic.twitter.com/ymVpmfQFPf

— The Hockey Rodent (@HockeyRodent) March 24, 2019
At the 8:33 mark of the third period, Rangers killer Zach Hyman tied the game:
Finally, the Leafs have solved Georgiev. Nice rush from Rielly, great pass from Tavares to Hyman. 1-1. #LeafsForever pic.twitter.com/4qFGltsM3K

— Maple Leafs Hotstove (@LeafsNews) March 24, 2019
Tough goal here for the Rangers. On the play, Georgiev made a great save, but Zibanejad and Lemieux wiffed at the rebound. Just one of those things, where you can't fault anyone. Tavares then finds Hyman wide open, on a shot that Georgiev had no chance on. Just a shame that Georgiev didn't get his shut-out and while Toronto executed, this was kind of flukish. You had two Rangers wiffing at the puck like Frasier Crane in a batting cage. If either made contact, the score remains 1-0, good guys.
At the 11:15 mark, the pajama boy John Tavares was checked by Marc Staal. John Tavares laid on the ice as if he was stabbed then gang raped by MS13. On the ensuing PP, Tavares was right back out there. What a fucking cunt. Seriously, if Tavares can lay down on the ice for 30 seconds and play dead like he's Eddie the Dog from "Frasier" (Yes, I've been watching "Frasier" reruns lately) then he should be called for an embellishment.
At this point in the game, I thought the Leafs PP was destined to score here. Somehow, they did not. ALL HAIL KING GEORGIEV!
The last ten minutes of this game was mostly Toronto, with the Rangers just trying to survive.
With under five minutes remaining, Georgiev once again did big dick things:
Georgiev is playing out of his mind right now pic.twitter.com/cVbwJYJUoJ

— Flintor (@TheFlintor) March 24, 2019
As the clock hit triple 0 after sixty minutes, we were tied at 1-1. Off to OT.
Going into the OT, I thought the Rangers were doomed. The 3 vs 3 favors teams with elite talent, talent that the Rangers do not have. We've seen the top teams eat up the Rangers before in these situations.
To start the period, the Rangers won the faceoff, but couldn't do much with it. Toronto marched down the ice, and I can feel the sweat running to my butt crack. However, Georgiev made a Donald Trump YUUUUUUUUGE save. The Rangers then got the puck and Boo Nieves helped set up Ryan Strome at 1:48 for the OT GWG:
"@strome18 SCORES! AND THE #NYR WIN!!!"

Another great Sam Rosen call. pic.twitter.com/yFTwzmMH4J

— MSG Networks (@MSGNetworks) March 24, 2019
Two things on this Strome goal. One, the Rangers almost blew it. Two, look who's on the ice. Boo fucking Nieves! Talk about a clutch play. This has to help the confidence of Nieves. And I've been saying it for a while now, while I am a huge fan of Georgiev, I would give the Steve McDonald Award to Ryan Strome this season. What a fucking goal.
2-1, good guys, your final.
TEAM WIN!
As I close up here, I should mention, that despite the Rangers victory tonight, due to other results in the league, the Rangers have now been officially eliminated from the playoffs. That means I will be rooting for the Bolts in less than three weeks.
For the last two months on this blog, I have accurately predicted which goalie would start the next game. Going into Monday's game with the Penguins, I face my toughest prediction.
The Rangers have tried to alternate Georgiev and Lundqvist a bit, with Lundqvist always taking the easier starts. However, next week, the Rangers play the Penguins, the Bruins and the Blues. That means Lundqvist has to play a playoff team during this stretch. To me, the Blues are the weakest of the three, so I see Lundqvist getting that game.
Does Quinn alternate his goalies with the Rangers officially out of the mix or will Quinn ride Georgiev, to see if he can play at a high level during a string of consecutive starts? If I was running the Rangers, that's what I would do.
The Penguins have owned the Rangers in recent times, but when it comes to goaltenders, the Penguins have absolutely owned Henrik Lundqvist during the last three seasons, including the 2016 playoffs. In fact, Lundqvist should wear a "Property of The Penguins" t-shirt.
With the way Georgiev is playing and with Lundqvist's horrific history with the Penguins, I say Georgiev gets a chance to redeem himself from his last start with the Pens. My prediction: Georgiev goes and WINS on Monday!
As always, thanks for reading and win or lose…
"LET'S GO RANGERS!"
Sean McCaffrey
BULLSMC@aol.com
@NYCTHEMIC on twitter