Greetings and salutations everyone and welcome to another blog here on BlueCollarBlueShirts.com.
To answer the emails and messages I got, yes I had to skip doing a blog after Wednesday night's game with the Bruins, a game where the Rangers got pummeled, losing the game 6-3. Real life beckoned for yours truly, as I had to do a double-shift at work. It's a shame too, because that game was a pure illustration about everything I've been saying about Lundqvist all season. It would've been fun to write about it. However, don't fret, I'll get into a bunch of stuff tonight, so strap on in here and enjoy the ride.
In that game with Boston, which was Lundqvist's first start against a playoff team in what felt like forever, he was on the hook for six goals allowed. While I wouldn't blame all six of those goals on Lundqvist, as the Rangers just were kicking themselves in the dick all game, even taking two different too many men on the ice penalties, once Lundqvist is rattled, he's rattled. There's just no coming back.
Skipping ahead a bit here, that's why I thought it was funny, that after tonight's 4-2 victory over the St. Louis Blues, that Steve Valiquette was shocked that Georgiev didn't fold after giving up a crappy goal to Tarasenko. Vally, whose banter with Al Teethwig can be funny at times, forced a "fold like a cheap suit" joke, while talking about his expectations for Georgiev after the Tarasenko goal.
While I think that deep down, Vally knows that Georgiev is better than Lundqvist in the present day, Vally is also an employee of the MSG Networks. You're not allowed to criticize a home player on the network. However, Vally should know by now, that despite his expensive suits, only Lundqvist folds these days. When it comes to Georgiev, time and time again we've seen it – he will give up a bad goal here and there, and then quickly forget about it. Outside of Game 3 with Carolina this season, I can't recall seeing Georgiev getting upset or losing his focus in a game.
When it comes to Lundqvist vs Georgiev, in regards to the department of mental focus, Georgiev remains cool, calm and collected after a goal allowed. On the other end of things, Georgiev's overrated & overpaid $8.5M counterpart is flipping nets, smashing sticks, blaming his teammates, crying to referees and acting like a spoiled brat after every goal allowed. This is not news anymore.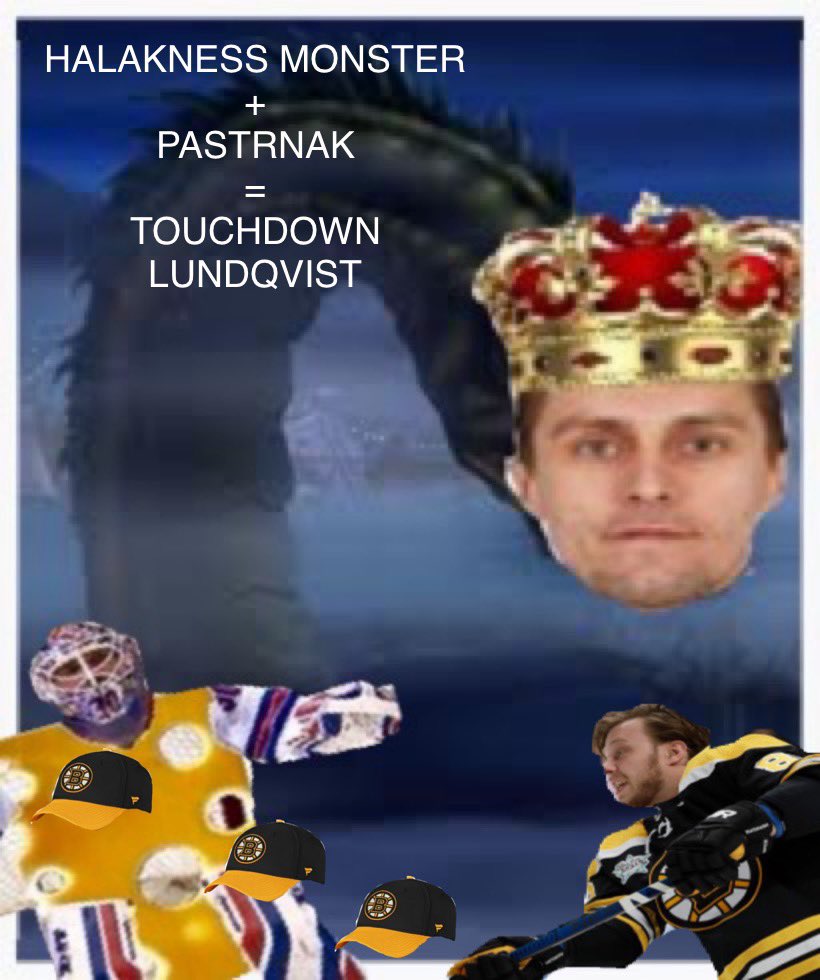 I'm not going to get too much into the loss against Boston, because after all, that game is now dated, forgotten about and in the grand scheme of things, pretty much meaningless. The Bruins victory hurt the Toronto Maple Leafs more than it hurt the Rangers.
However, for the sake of prosperity, and for my own archive, let it be known that Jaroslav Halak is now 16-5 lifetime against Lundqvist. (14-5 in the NHL, 2-0 internationally.)
Also of note, according to my notes here, Lundqvist hasn't beaten a playoff team since January, where ironically, he beat these Bruins, right before the All-Star break. $8.5M folks!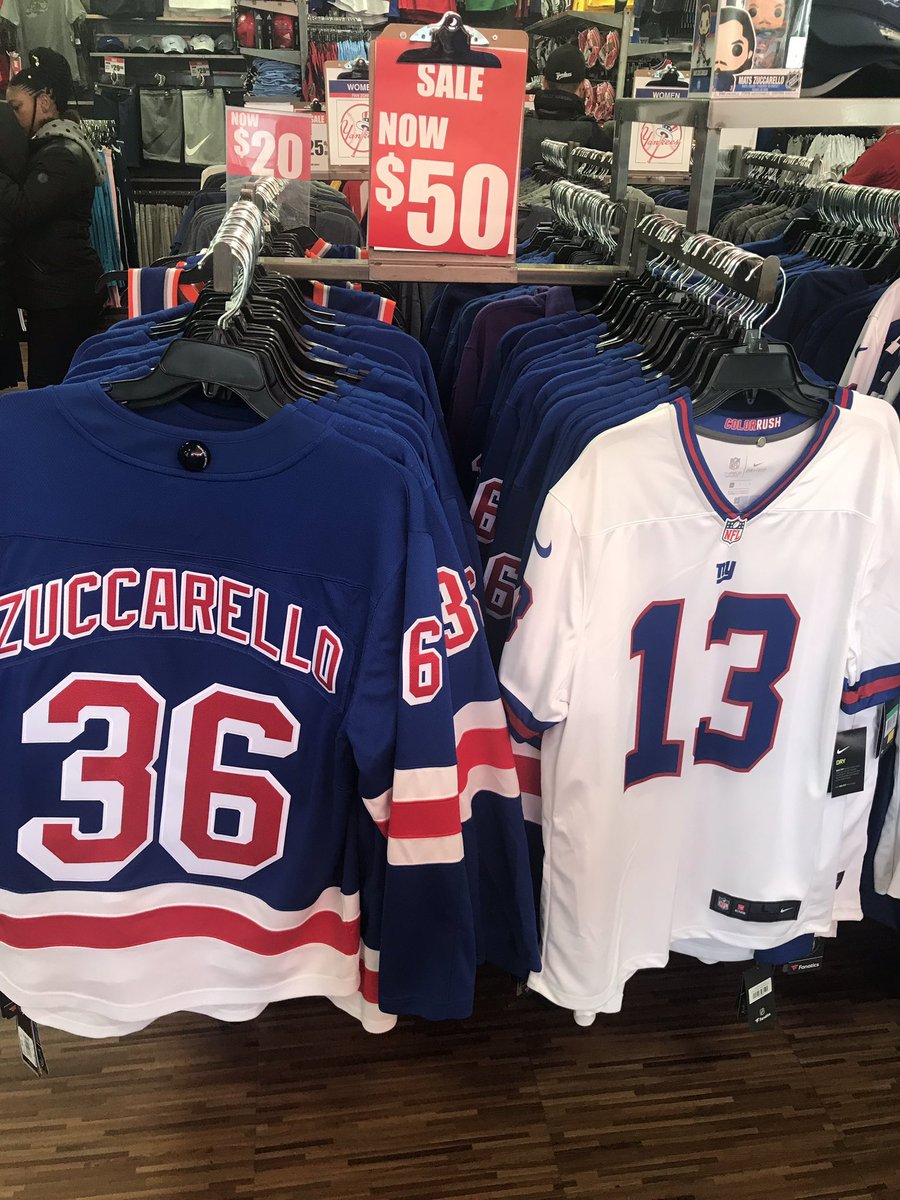 As a refresher, here are my last few blogs, in case you missed them:
---
---
---
---
---
---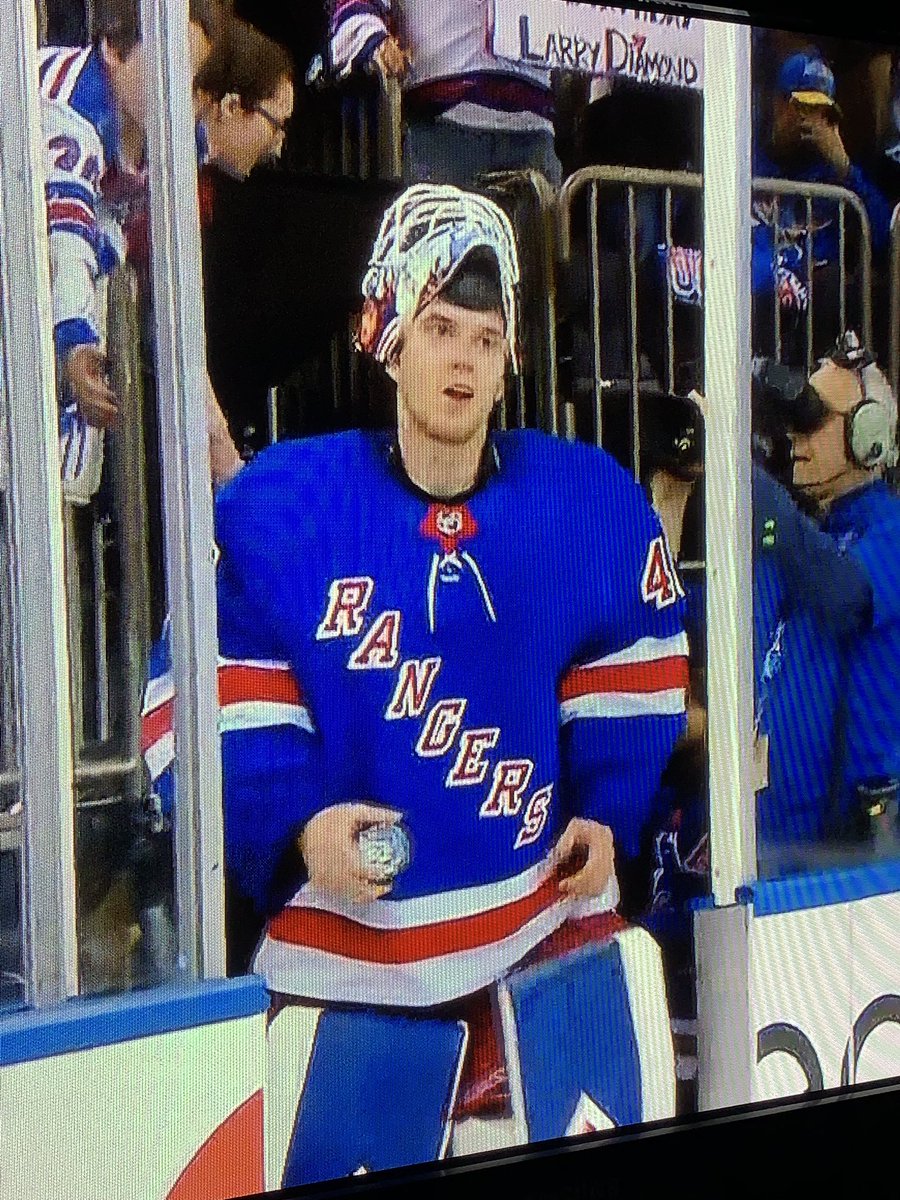 Moving past the Boston Massacre, in tonight's game with the Blues, the Rangers had a dreadful first period. Georgiev would give up a terrible goal to Tarasenko. Soon thereafter, the Blues would score again, after major defensive lapses from Chris Kreider and Brendan Smith. In the second period, the Rangers would score two quick goals of their own. Georgiev stood on his head for the entire period, keeping the score tied. In the final stanza, Vesey would get a hard-work goal, Georgiev remained unbeatable and Kreider would score an empty-netter, giving the Rangers a 4-2 lead and the win.
What I always find hilarious about these victories, are these Ranger fans who go nuts about the team winning. Even with 5 games left on the season, there are Ranger fans who can't grasp the fact that players and coaches do not tank. What makes things even more hilarious, is that most of these tank fans (not all of them) are part of the Cult of Lundqvist. In other words, they have a billion excuses when Lundqvist loses a game, but when Georgiev wins a game, they get mad. Who said Ranger fans were rational?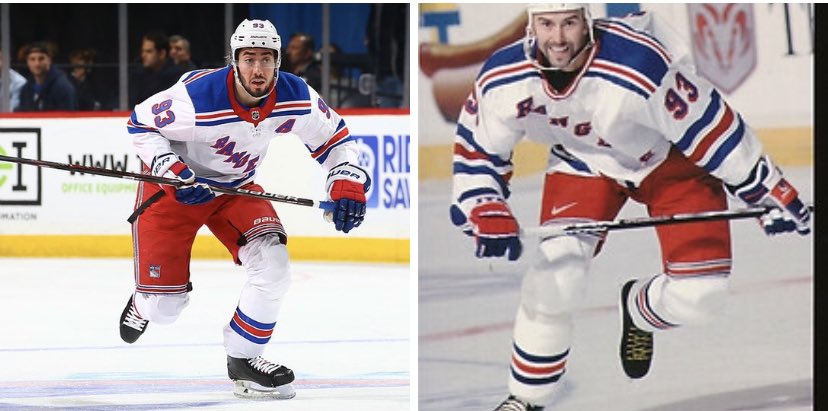 I've touched upon this topic on past blogs, but I wanted to dig into the surface a bit more here.
This is no secret – Ranger fans overrate their own players. I'm guilty of it too. Whether it's Lundswiss, Zuccarello or in this case, Mika Zibanejad, when it comes to talking about their own team rationally, most Ranger fans don't have the ability to do so. I'm not saying those fans are wrong or dumb, they just let their heart and rose-colored glasses dictate their thinking.
Maybe some Ranger fans are looking for some light at the end of the tunnel. Maybe some Ranger fans want to find a silver lining in this season. Then again, maybe these fans just wear their hearts on their sleeve. That said, when I see this "MIKA ZIBANEJAD IS ELITE" stuff, I can't stop laughing. You know what's the funniest part about this? When these people have classification terms and a phyla that a biologist would be envious of.
One of the common things that these Zibanebots (I can't think of anything else that works here) say when you bring up that Connor McDavid is elite and Mika Zibanejad is not, is that "MCDAVID IS A FRANCHISE PLAYER. ZIBANEJAD IS ELITE." So in other words, what these Zibanebots are saying is that the word ELITE means less than the word FRANCHISE. You know where that crap comes from? The EA Sports NHL video game series, which uses these terms. You know who argues about FRANCHISE vs ELITE on social media? These kids who can't tell the difference between a video game and reality.
I don't want this to come off like I'm burying Zibanejad, because I'm not. Arguably, the Zibanejad/Brassard deal was the best trade Jeff Gorton has made during his tenure as Glen Sather's puppet. (I think for pure value and where their careers are, you can argue the Strome/Spooner deal was just as good of a trade. Again, I'm using VALUE as my parameter here.)
I think Zibanejad is a great player for the Rangers. My only worry about him is that he's concussion prone. That is all. I can see his career ending like the way Rick Nash's career ended. I also think that some of his numbers this season, WHICH ARE THE BEST NUMBERS OF HIS CAREER, are also somewhat artificially boosted. After all, someone has to shine on a bad team. Just look at the numbers of someone who is truly elite, in Connor McDavid. The Oilers are just as bad as the Rangers, but McDavid has much better numbers than Zibanejad.
When it comes to this Zibanejad/elite nonsense, I think many of the Zibanebots don't know what the word elite truly means. According to Webster's dictionary, the word elite is defined as "the choice or best of anything considered collectively, as of a group or class of persons." Based on that definition alone, Zibanejad is not elite. After all, shouldn't an elite player make an All-Star Game? Then again, as noted previously on this site, the All-Star voting is a popularity contest. (This isn't even a shot at Lundqvist. If you recall, at the time Zuccarello was struggling big-time, yet was a candidate for the game.)

To me, for a center, an elite center specifically, is someone who is giving you 40 goals, 100 points, year in, and year out. While you won't score 40+ goals and 100 points every season, over the duration of the prime of a career, you should have numbers close to those bench marks. 38 goals and 97 points is elite to me, as long as you're posting those numbers on the regular.
When it comes to judging "elite" centers, I think you can use fantasy sports as a barometer here. After all, fantasy sports are stat heavy and reward scorers. In a league of 31 starting centermen, Mika Zibanejad, who hasn't missed a game this season, is ranked #20th overall on many fantasy sports websites.
Just look at the names ranked above Zibanejad below. For the sake of this argument, I'm using the data collected from the trusted FantasyPros.com website:
| Rank | Player | Best | Worst | Avg | Std Dev |
| --- | --- | --- | --- | --- | --- |
| 1 | Connor McDavid (EDM – C,F) | 1 | 4 | 2.0 | 1.4 |
| 2 | Sidney Crosby (PIT – C,F) | 2 | 3 | 2.7 | 0.5 |
| 3 | Nathan MacKinnon (COL – C,RW,F) | 1 | 7 | 4.0 | 2.4 |
| 4 | Leon Draisaitl (EDM – C,RW,F) | 2 | 7 | 4.0 | 2.2 |
| 5 | John Tavares (TOR – C,F) | 5 | 8 | 6.0 | 1.4 |
| 6 | Brayden Point (TB – C,F) | 6 | 9 | 7.7 | 1.2 |
| 7 | Steven Stamkos (TB – C,F) | 2 | 11 | 8.0 | 4.2 |
| 8 | Patrice Bergeron (BOS – C,F) | 5 | 13 | 9.3 | 3.3 |
| 9 | Mark Scheifele (WPG – C,F) | 7 | 15 | 10.0 | 3.6 |
| 10 | Sebastian Aho (CAR – C) | 10 | 16 | 12.0 | 2.8 |
| 11 | Tyler Seguin (DAL – C,F) | 9 | 23 | 15.0 | 5.9 |
| 12 | Auston Matthews (TOR – C,F) | 6 | 28 | 15.3 | 9.3 |
| 13 | Aleksander Barkov (FLA – C,F) | 13 | 17 | 15.3 | 1.7 |
| 14 | Sean Monahan (CGY – C,F) | 15 | 19 | 16.3 | 1.9 |
| 15 | Evgeny Kuznetsov (WSH – C,F) | 12 | 21 | 16.7 | 3.7 |
| 16 | Jack Eichel (BUF – C,F) | 14 | 24 | 18.3 | 4.2 |
| 17 | Sean Couturier (PHI – C,F) | 14 | 23 | 19.3 | 3.9 |
| 18 | Nicklas Backstrom (WSH – C,F) | 19 | 24 | 21.0 | 2.2 |
| 19 | Ryan O'Reilly (STL – C) | 18 | 30 | 22.0 | 5.7 |
| 20 | Mika Zibanejad (NYR – C,RW,F) | 20 | 33 | 25.0 | 5.7 |
As you can see here, out of all 31 centers, Zibanejad is ranked in the back half of the league. That's not elite. The only thing that makes Zibanejad elite is his production when compared to his teammates. That's it.
After the 1994 Cup run and as the team changed, for whatever reason, Petr Nedved became one of my favorite Rangers. I've talked about this in prior blogs. His defection story hit me at a human level. As a fan who collected autographs, Petr Nedved would stop and sign everything for me and my friends. I liked his play on the ice. I was able to get his Liberty Head jersey for cheap at a local sporting goods store in my town. Nedved was my guy, for better or for worse.
In fact – I held Nedved on such a pedestal, a pedestal that he would be knocked off of, once I started reading Messier's thoughts on Nedved. That said, no matter what, Nedved was great to me and my friends and stuff like that you don't forget. We all have guys we like and Nedved was one of mine.
That said – at no point in my Nedved fandom did I ever think Petr Nedved as an elite player in the NHL. In fact, I think you could argue that Nedved's potential was much higher than Zibanejad's ever was, but Nedved just never got there, at least not consistently. Like Zibanejad, who also wears the same #93 as Nedved (which is where some of this comparison comes from) Nedved was a great player for a period of time.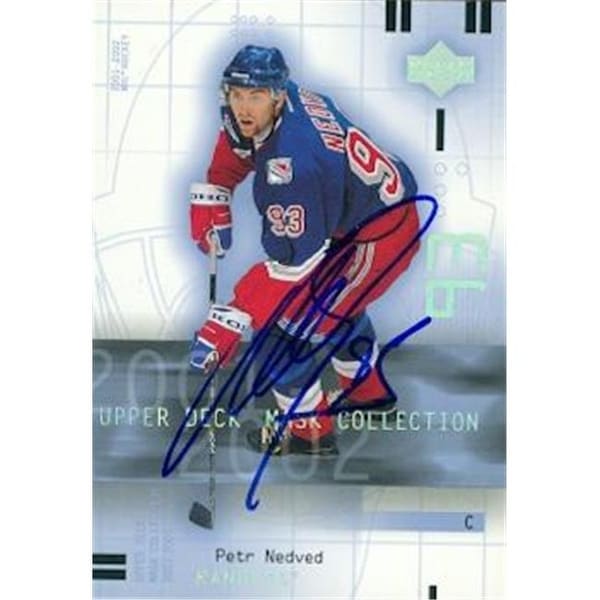 When it comes to Mika Zibanejad, prior to this season, his career high for goals and points were 30 and 51, respectively, which were both recorded during the 2015-2016 season, as a member of the Ottawa Senators. Today, with five games remaining in this 2018-2019 season, Zibanejad has 30 goals and 71 points.
To compare, in his best season, as a member of the Pittsburgh Penguins, during the 1995-1996 season, Petr Nedved scored 45 goals and finished with 99 points. In Nedved's best season as a Ranger, the 2000-2001 season, Nedved logged 32 goals and 78 assists, numbers that Zibanejad can match in these remaining five games left.
I ask you this – WAS PETR NEDVED ELITE? If your answer is no, then how in the hell is Zibanejad elite? If your answer is yes, I suggest that you visit a proctologist and have your head removed from your ass.
In closing on this, here's the true bottom line. If you have to debate or viciously argue that a player is elite, then he is not. An elite player is a no-brainer. McDavid, Crosby, Ovechkin, Kane, Stamkos, Tavares, Kucherov, etc; those guys are elite players that you don't think twice about. To die on the "Zibanejad is elite" hill, you're better off playing NHL '19, where you can have fun with such terminology.
Bill Masterton, who died in 1968 after receiving a fluke injury in a game, saw his legacy live on, as the NHL created the Bill Masterton award at the end of the 1967-1968 season.
The NHL defines the Masterton Memorial Trophy winner as "the National Hockey League player who best exemplifies the qualities of perseverance, sportsmanship and dedication to hockey." Each team submits their candidate for the award.
In the past, five Rangers have won this award. Those Rangers are Jean Ratelle, Rod Gilbert, Anders Hedberg, Adam Graves and Dominic Moore. In recent years, the winners of this trophy are usually players who overcame some sort of adversity.
For example, last year's winner, Brian Boyle, beat cancer. The year before that, Craig Anderson's wife beat cancer and because of the mental and emotional strain, Craig Anderson won the award. In regards to the Rangers, the Rangers most recent winner, in Dominic Moore, was awarded the trophy after dealing with the tragic passing of his wife, who passed away due to cancer.
In other words, in recent years, the players who have won this award have overcome some serious real-life shit.
When I saw that Brendan Smith was nominated for this award by the Rangers, I couldn't believe it. What the hell did Brendan Smith overcome? Pigging out? Getting his ass kicked by Vinni Lettieri in a fight that Smith started?
While Smith is getting praise from David Quinn for being willing to move from defense to a fourth line forward, let's not forget what happened to Smith last season. After signing a huge contract, Smith came into camp overweight and out-of-shape. Then, after struggling all season, he was sent to Hartford, where his attitude was detrimental. His season ended after breaking his hand in the fight with Lettieri.
Now, look at this season. Smith has been a mess more times than not defensively, which is why the Rangers, who are trying to salvage his bad contract, have been using him as a forward. That's what gets you a Masterton nomination these days? Talk about trying to make that award a participation trophy!
Listen, I'm not trying to bury Brendan Smith here, but he has no shot in hell in winning this award. When it comes to the Rangers, I don't think there is a true candidate for this award. That said, there has to be a better candidate than Brendan Smith.
I don't think any Ranger deserves the award this season, but if you had to nominate someone, I would nominate Ryan Strome or Marc Staal. Again, both players are a stretch for the award, but both are more deserving than Brendan Smith.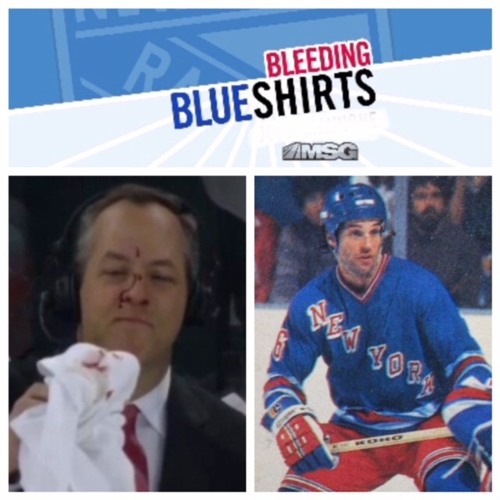 And lastly, in my last topic before getting into tonight's game, did you see the recent nonsense that Larry Brooks of the NY Post put out? I guess I should be more specific, as Brooks has thrown a lot of crap against the wall recently.
In his latest click-bait article, Larry Brooks said that Lias Andersson, Filip Chytil and Brett Howden are all regressing and suggested that the Rangers give Kevin Hayes a call in the off-season. WHAT? Keep in mind, Brooks was flip-flopping on the Rangers trading Hayes in the first place.
My personal opinion on this, despite all my Lias Jessiman jokes, is that the Rangers should NOT cut bait on either of these three. While I think Andersson belongs in Hartford, I don't think the Rangers should move on from him either.
In today's "Bleeding Blue Shirts" podcast, Maloney had the same opinion as me and accused Larry Brooks of sensationalizing and trying to create a story that isn't there. When it comes to Brooks, perhaps his paycheck from MSG hasn't cleared this month, as before this article, he wrote an article that pretty much buried the buffoonery of Glen Sather during the NHL draft.
The reason I bring this story up – like anything you read, this blog included, always consider the source and don't take every word as fact. At least on this blog, you know and I remind you that this blog are my opinions based off of facts and what I see. You don't have to agree with me. Many don't. That said, for someone like Larry Brooks to bury three young kids, I just didn't think it was warranted. If Brooks wanted to bury someone's stock that's plummeting, there is an overpaid goalie on this roster that never has felt the wrath of the pen of Brooks.
And now, let's get into tonight's game.
Vinni Lettieri, who had a bunch of PP shots in the loss to Boston but did not log a point, made the box score tonight. In tonight's 4-2 win over the Blues, Lettieri recorded an assist on the game winning goal. However, what also must be noted is that with Kreider returning, Lettieri was demoted back to the fourth line. I thought it was big that Lettieri got a point tonight, as it showed he could produce despite the limited ice-time. As I've been saying all along, he just has to keep it going. He needs the stats.
Going into tonight's game, here's what the Rangers announced hours before puck drop: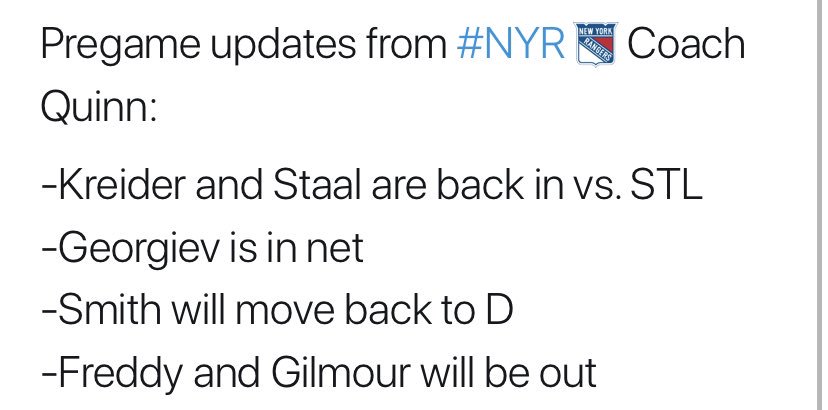 Obviously, because of the way the schedule was set-up this week, Lundqvist had to play a playoff team this week. He chose to play against Boston, a city which has been his anti-Montreal over the years. In fact, out of every current starting goalie in the NHL, Lundqvist has the best numbers against Boston, in Boston, than anyone else. However, those numbers took a beating on Wednesday night in prime-time, as Boston beat him for 6 goals. Again, as mentioned above, Boston had plenty of PPG's in there and I think you could only pin two of the six goals on Hank himself.
After the shellacking and getting his first taste of a playoff team in sometime, Lundqvist retreated to his throne on the bench tonight, here on fan appreciation night. This worked out for non-tank fans, as Georgiev put on another show, a show that was almost as worthy as the ridiculous prices that the Rangers charge for these games.
And let me get this out of my system now. As a result of tonight's victory, Georgiev has a better winning percentage than Lundqvist. Georgiev has a better save percentage than Lundqvist. Georgiev has a better goals allowed average than Lundqvist. Georgiev also gets paid $8M less than Lundqvist. Also keep in mind that Lundqvist leads all starting goalies in starts against non-playoff teams, while Georgiev leads all back-up goalies in starts against playoff teams. Furthermore, the bulk of Lundqvist starts this season came when the Rangers were at full-strength and before the trade deadline. Since the deadline, Georgiev has logged the bulk of his starts with the Baby Blueshirts in front of him.
In other words, for all you Cult of Lundqvist people on twitter who block me but talk about my opinions non-stop, I'm still waiting – PLEASE EXPLAIN TO ME HOW LUNDQVIST IS WORTH THE MONEY? If anything, the money should go to Benoit Allaire!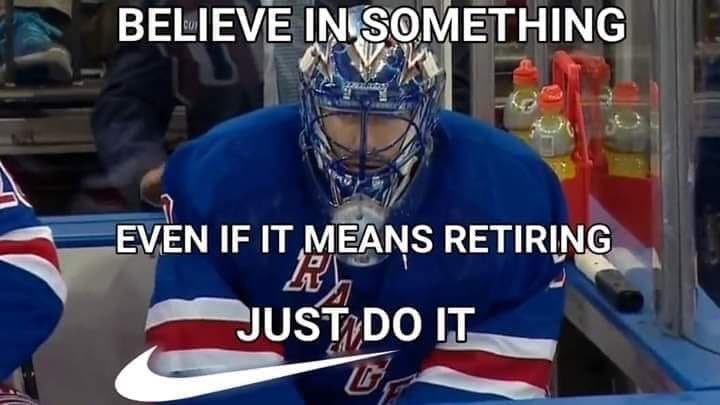 As far as your scratches tonight, Brickley, Claesson and Gilmour sat out. Of the scratches, this is not good news for Gilmour. Listen, I championed for Gilmour and Lettieri to get a shot here. Lettieri, while not great (and not ELITE either, har-har-har) has been solid. Gilmour has been bad. To my buddy Michael Broderick, you were right on Gilmour. I think his time is up here.
Here were your lines for tonight:
FIRST LINE: Kreider/Zibanejad/Buchnevich (Their best showing since the trade deadline.)
SECOND LINE: Lemieux/Chytil/Vesey (I know CK20 is supposed to be the guy, but I would've left Lemieux on the first line. He's earned it.)
THIRD LINE: Namestnikov/Andersson/Strome (I can't say enough good things about Strome. What a steal. Perhaps the biggest fleece of the season.)
FOURTH LINE: Nieves/Howden/Lettieri (Nieves is growing on me with his hard work. Howden is so-so. You know how I feel on Lettieri!)
Defensively, Quinn went with:
FIRST PAIR: Skjei/Shattenkirk (Shatty seemed to have some fire playing against his old team, but he's still a nightmare.)
SECOND PAIR: Staal/DeAngelo (The best duo of the game. I don't get these Ranger fans who bury Marc Staal. Is it just the Twitter/social media echo chamber, where one opinion gets popular so everyone believes it? Staal has been solid this season and DeAngelo has improved tremendously.)
THIRD PAIR: Smith/Pionk (These two should go to Hartford after tonight's game.)
Worth mentioning here, David Quinn was furious after the two too-many-men-on-the-ice penalties from the game with the Bruins. As a result, he made every line sit together and hold hands, as if they were school kids going on a field trip. (Okay, they didn't really hold hands, but Quinn went remedial medieval on these guys.)
As mentioned, in net was the KING OF KINGS, in Alexandar Georgiev.
Real quick, did you see the interview Lemieux did with the NY Post earlier this week? If you missed it, you can find this non Larry Brooks interview here: https://nypost.com/2019/03/26/rangers-brendan-lemieux-talks-msg-thrills-villain-role-his-dad/
My favorite quote of the interview? This:

Any time a Ranger mentions their admiration for Donald Trump, the liberal sleep-with-a-nighlight section of this fan base goes nuts. That cracks me up.
Gambling segment time!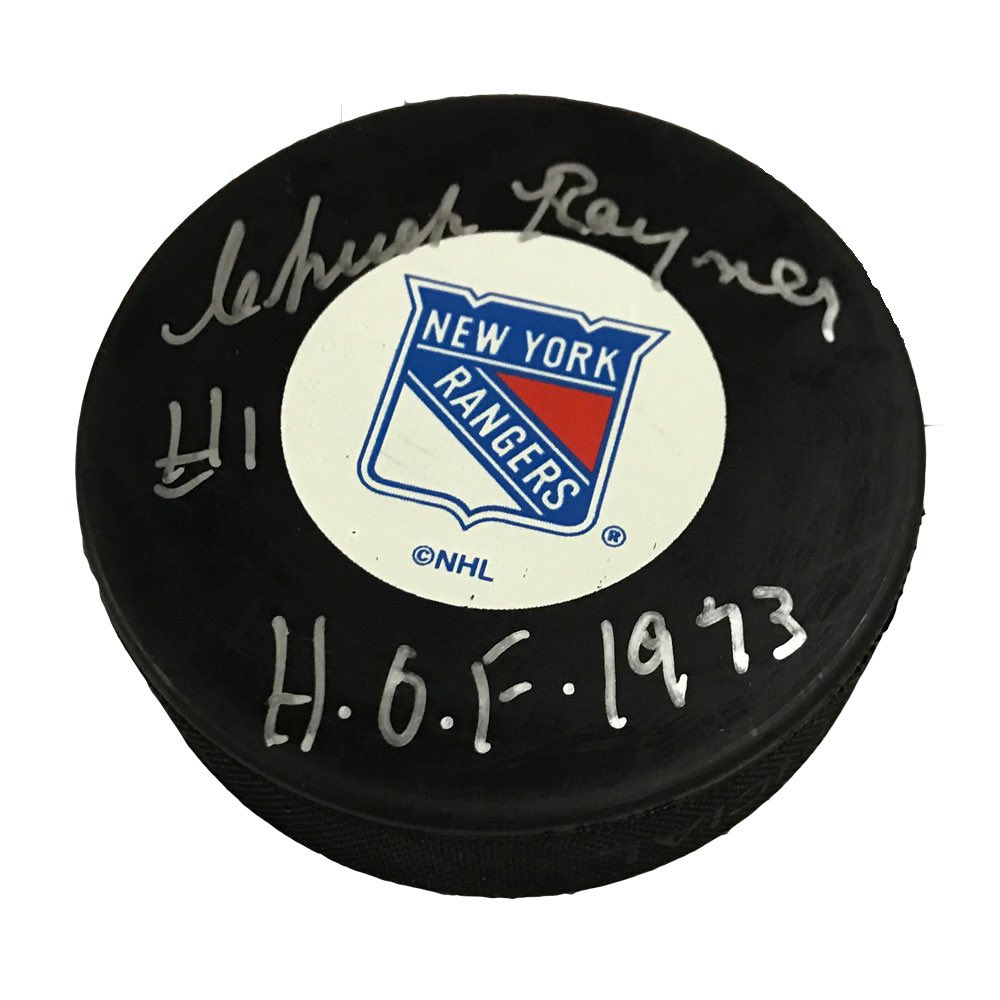 Here's what I said before tonight's game:
Very low line tonight. That means Lundswiss isn't starting. Most likely Georgiev v Binnington. This could be a goaltenders duel tonight, maybe a rare 1-0 game, most likely a 3-2 game. Take the under! #nyr pic.twitter.com/5zcpxyTgAm

— BlueCollarBlueShirts (@NYCTheMiC) March 29, 2019
Oh, and since I didn't do a blog on Wednesday night, here's what I said before that game:
Wow Boston is a -350 favorite, #NYR is almost a 3:1 dog. If georgiev starts, gotta go with rangers and the under for the value… pic.twitter.com/dFwywPOT8I

— BlueCollarBlueShirts (@NYCTheMiC) March 27, 2019
Bet the over and Boston -1.5 #nyr pic.twitter.com/wDiWL9Dg31

— BlueCollarBlueShirts (@NYCTheMiC) March 27, 2019
I nailed my bet on Wednesday. I would've won tonight's bet too, but fucking Kreider scored a meaningless empty net goal with 7 seconds remaining. Motherfucker. My updated over-under record moves to 32-20-3. Not too shabby!
4500 words later and finally, it's ESPN.com box score time!
SCORING SUMMARY:
1st Period
14:35

Vladimir Tarasenko

(30)

Assists: Brayden Schenn, Ryan O'Reilly

1
0
15:02

David Perron

(21)

Assists: Jaden Schwartz

2
0
2nd Period
2:22

Ryan Strome

(17)

Unassisted

2
1
3:42

Pavel Buchnevich

(19)

Assists: Mika Zibanejad

2
2
3rd Period
5:47

Jimmy Vesey

(17)

Assists: Brett Howden, Vinni Lettieri

2
3
19:52

Chris Kreider

(27)

Assists: Pavel Buchnevich, Neal Pionk

2
4
PENALTIES:
1st Period

No Penalties This Period
2nd Period
13:16

Robert Bortuzzo:

2 minutes for High-sticking

18:28

Neal Pionk:

2 minutes for Slashing
3rd Period
1:51

David Perron:

2 minutes for Hooking
GOALIES:
| | | | | | | | | | | |
| --- | --- | --- | --- | --- | --- | --- | --- | --- | --- | --- |
| SA | GA | SV | SV% | ESSV | PPSV | SHSV | SOSA | SOS | TOI | PIM |
| 46 | 2 | 44 | .957 | 41 | 0 | 3 | 0 | 0 | 60:00 | 0 |
| | | | | | | | | | | |
| --- | --- | --- | --- | --- | --- | --- | --- | --- | --- | --- |
| SA | GA | SV | SV% | ESSV | PPSV | SHSV | SOSA | SOS | TOI | PIM |
| 24 | 3 | 21 | .875 | 20 | 1 | 0 | 0 | 0 | 57:58 | 0 |
Early into this game, I was wondering if the ISO camera would return. It did not. It would've been interesting to see Kreider on an ISO cam, because he was barely noticeable, outside of a huge defensive gaffe in the first period. And when I say a huge defensive gaffe, I'm not talking about his perfect pass to Tarasenko.
The first half of this period was evenly contested for the most part, with both teams going back and forth. Going into this game, I thought we would see a 3-2 type of game, and that's what we got. Outside of the first goal allowed, there were really no bad goals allowed by either goaltender.
At the 14:35 mark of the first period, Tarasenko broke up the scoreless game with this goal of skill:
Tarasenko scores from a bad angle for his 30th goal of the year … No. 91's FIFTH consecutive season with at least 30 goals.

1-0 STL pic.twitter.com/jOYpPC2WX8

— Cristiano Simonetta (@CMS_74_) March 29, 2019
1-0, bad guys.
On the goal, I've watched this replay about 100 times. I still don't know how this puck went in. Tarasenko found the sunlight that Georgiev offered.
27 seconds later, David Perron made the score 2-0, bad guys:
hey rangers defense, where you @

two goals in 27 seconds for the blues, perron taps home his 21st goal of the year pic.twitter.com/qQpRgI6aXI

— Cristiano Simonetta (@CMS_74_) March 29, 2019
On this goal, Smith made a brutal turnover. Kreider said fuck it and skated away. Perron beat Georgiev. However, this would be the last Blues goal of the game, as Georgiev would then go 38 for 38 on shots faced.
Also of note, around this time, for the live fans in attendance, Sean Avery was shown. From what I heard, he got a golf clap, as many fans didn't recognize him. To be fair, this is what Avery looks like these days:
Later on in the period, Zibanejad had a sure-fire goal. However, after review, it was shown that Smith interfered with Binnington, not just once, but twice. This goal was called back.
For those keeping track, the high paid defenseman, you know, the Masterton candidate, led the Blues to a goal and cost the Rangers a goal. That's a two goal swing, in favor of the wrong team.
After twenty minutes, the Blues took a 2-0 lead to the locker room.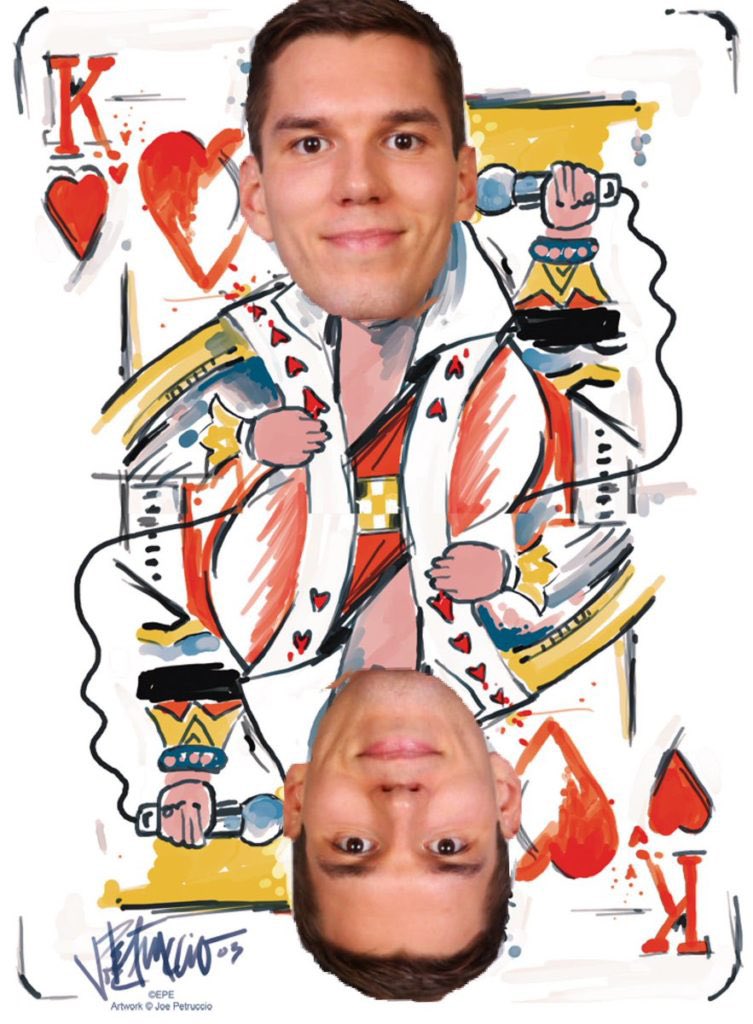 After the first period, this game looked like another ho-hum loss. However, the tides turned in the second period.
At 2:22, my Steve McDonald Award candidate, in Ryan Strome, kept with the play and made it 2-1, bad guys. A minute later, the great Mika Zibanejad found Pavel Buchnevich wide open, which led to the Rangers tying the game. Take a look at both of these goals below:
And just like that … we have a tie game!#NYR strike quickly in the 2nd period! pic.twitter.com/baHvUsZHDz

— MSG Networks (@MSGNetworks) March 30, 2019
2-2.
You know what's funny? Georgiev and Binnington have been great this season. In this game, both pulled a Lundswiss and gave up two goals in a short span. You rarely see that happen with these two goalies. Say it with me folks, "THAT'S HOCKEY SUZYN!"
Both teams would get PP's in this period. The Rangers first PP unit looked dreadful.
After the two Ranger goals, the story of the second period, and really the game, was Georgiev. He was amazing and stopped everything. It's amazing how many shots the Blues had from Georgiev's door step. Then, the Blues would try to tip in goals and go for deflections. It didn't matter. The stoic Bulgarussian had an answer for everything. Maybe Georgiev hates seeing the color blue on the jersey of his opponents. I don't know. Whatever it is, Georgiev turned in a Torontoesque peformance here.
When the second period was over, we were tied 2-2. Georgiev had 28 saves and it looked like he would need 40+ to win this. He would do that and the Rangers would go on to find the GWG.
In the third period, Georgiev continued to shine and the Rangers busted their holes. That really says something to me. If you're a regular here, you know my opinions on this tank shit. I root for the team to win and let the cards fall where they may.
Going into this game, the Blues needed a win to clinch a playoff spot. While it will eventually happen, the Rangers didn't let it happen on their watch. The Blues had everything to play for. The Rangers did not. That said, the Rangers not only battled back from a two goal deficit, they added two more goals enroute to victory.
The Blues would start the third period with 30 seconds of PP time. The Rangers killed it. Then, Perron would jump on Georgiev and Georgiev would lose his stick. You never saw panic in Georgiev's face. Perron would get a penalty and the Rangers would employ their lackluster PP. No goals from the PP tonight, something we're used to as of late.
At the 5:47 mark of the third period, Jimmy Vesey, who perhaps is on the bubble for next season, scored the GWG. To me, this was a "right place, right time" type of goal, that was started with the hard work from Vinni Lettieri. Check it out:
Jimmy Vesey puts the #NYR in the lead! pic.twitter.com/gWFYRd39GC

— MSG Networks (@MSGNetworks) March 30, 2019
3-2, good guys.
As the game continued to wind down, Georgiev kept on making the big saves. The Rangers tweeted out the following:
"Alexandar Georgiev has made at least 40 saves in a game for the sixth time in his NHL career. Georgiev's six 40-save games are the second-most by a Rangers rookie goaltender in franchise history (Mike Richter – seven). "
Lundswiss who?
With 2:10 remaining, and after a questionable icing call on the Rangers, the Blues pulled Binnington in favor of the extra skater. Keep in mind, we had 5 total goals and the over-under was -5.5.
After Buchnevich missed a wide open shot, Kreider took all the time in the world in front of an empty net. With 7 ticks remaining, Kreider scored, which gave the Rangers a 4-2 lead and the win. He also fucked my over-under prediction! It's going to sound like sour grapes here, but despite this ENG, this wasn't a good game for Chris Kreider, especially because of the way Perron scored in this game.
End of the day, the Rangers win and Georgiev passed another test. What more do the Rangers need to see from this kid?
Up next for the Rangers, a back-to-back with the Flyers on Sunday afternoon, in Philly, then one last trip to the Rock on Monday night, in a game against the Devils. If you're tank fan, you must be sweating, as these are two winnable games for the Rangers. In fact, after those two games, the Rangers then return home to host Ottawa on Wednesday, which means the Rangers have three winnable games in a row. That said (my go to phrase) the Rangers are very prone to playing up to the level of competition, as much as they are prone to playing down to the level of competition.
Of the three teams, the Flyers are the toughest. I would expect Georgiev to start that game and then Lundqvist to salivate at the chance to play two last place teams in the Devils and the Senators. Honestly, after all the great work Georgiev has put into this season, I hope he gets one of these easier starts, just to help boost his confidence. After all, he's the only Rangers goalie with a shutout this season. Why not let him get a chance to get two shutouts?
As far as this game on Sunday, I'm waiting to hear back from a friend, as I may attend this game. Truthfully, we're also waiting to hear if Talbot is starting, as that's the only way I'll go. If that's not the case, I may attend a Rangers watch party in NYC, depending on how crazy my Saturday night goes.
For those interested in getting together with Ranger fans for what looks to be the last watch party of the season, here are the complete details, as BlueShirt Underground Radio, a great group of rascals, will be hosting a party at Slattery's Midtown Pub in NYC:
In some fashion, I'll be back Sunday night. As you read these words, the season will over in a week's time. Can you believe it?
As always, thanks for reading and…
"LET'S GO RANGERS!"
Sean McCaffrey
BULLSMC@aol.com
@NYCTHEMIC on twitter