Greetings and salutations everyone and welcome to another blog here on BlueCollarBlueShirts.com. Don't look now, but the Rangers are now on a two-game win streak, a streak that has the Cult of Lundqvist and the "RANGERZ MUST LOOSE FOUR HUZE" fans up-in-arms! Just imagine if Quinn had the balls to play Georgiev tomorrow and against Ottawa on Wednesday? The Rangers could potentially have a four game win-streak on their hands here!
I'm not going to rehash all my Georgiev vs Lundqvist stuff in this blog today, because if you're a regular here, you know it by now. If you're finding this blog late into the season, check out the archives or just check out my most recent blogs below:
---
---
---
---
---
---
As far as today's 3-0 win over the Flyers goes, this wasn't a game to sell hockey to a non-hockey fan. Despite the rivalry between these two teams, there just wasn't any juice in today's game.
The Flyers, who were eliminated from the playoffs yesterday, came into this game with as much life as one of Joe Micheletti's Swedish sex dolls. This lack of energy spread throughout the building.
Worth mentioning, since the Flyers inception into the league, which occurred in 1967, this was the first Rangers vs Flyers game in history, where both teams were already eliminated from the playoffs. Isn't that amazing Suzyn?
Seriously, I can't recall a Rangers vs Flyers game that was devoid of energy, noise and passion as much as this one. As sports fans, we all know about the crazy Philly fans and how every road team in sports hates playing in Philly. Today's game wasn't that. In fact, there were a lot people in Ranger jerseys occupying seats in the Wells Fargo Center. While Ranger fans travel well, Philly is one of those towns where you don't want to get too gully when wearing the jersey of the opposing team.
What also hurt the Flyers going into this game was the fact that they played less than 24 hours ago, as the team got thumped by the potentially playoff bound Carolina Hurricanes on Saturday. That said, when you look at the Flyers and the Rangers, both teams are rebuilding, although I would give the Flyers the edge, talent-wise.
In the past, I've talked about the Ranger goaltending performances we've seen this season. When it comes to the top 5 goaltending performances from the Ranger goalies this season, Alexandar Georgiev owns all five spots, at least in my opinion.
When it comes to the best Rangers goaltending performance of the season, some fans may say it was the 5-0 win over the Islanders. However, to me, it was the 55 save game against Toronto, as that was more of a pressure cooker type of game. Either way, those two games are your best and second best of the season.
Moving down the list, I would put Georgiev's 40+ save games against the Leafs and Blues as the third and fourth best goaltending performances of the season. When it comes to the fifth best goaltending performance of the season, I would put this game as number 5, just because of the shut-out.
In today's NHL, a league that promotes scoring and where a bad defensive play is routinely punished, it's tough to get a shut-out. While 50+ NHL goalies have at least one shutout this season (Henrik Lundqvist, the highest paid goalie in America is not one of them) it's hard to post multiple shutouts. It's even harder to do so when you play for a bad team.
In fact, you can argue that the goalies on weaker teams had to "earn" their shutouts much more than the goalies on stronger teams. I don't think I'm uncovering any new ground with that statement.
When you look at the shut-out leaders this season, all of these goalies play for strong teams, teams that will be in the playoffs. Marc-Andre Fleury and Sergei Bobrovsky have 8 shut-outs each. That's very impressive. That stat does speak to their talent, with perhaps Bobrovsky getting the slight edge, just because Columbus isn't as strong as Vegas.
After Fleury and Bobrovsky, both Ben Bishop of Dallas and Andrei Vasilevskiy of Tampa, have 6 shut-outs each. Both of those teams are playoff bound. I think Vasilevskiy's work gets lost in the shuffle a bit, just because he plays behind the best team in hockey.
Robin Lehner and Thomas Greiss, both of the Islanders, have 5 shut-outs each. That's something else right here. In fact, just think – if Alexandar Georgiev played all season and if he played against all the crappy teams instead of Henrik Lundqvist, perhaps the Rangers are a playoff team like the Islanders are this season. You look at all these Lundqvist losses, and the bulk of them come to all these non-playoff teams. In a rare start against a non-playoff team today, Georgiev shut out the Flyers. Who knows what would've happened if Georgiev played more?
The only other goalie with 5 or more shutouts this season is St. Louis rookie Jordan Binnington. His five shutouts are really impressive, as he's done it in only 29 games played. He has been the biggest reason for the recent success of the Blues. That said, Georgiev beat and outplayed Binnington on Friday.
In fact, with back-to-back wins against Binnington and Carter Hart of Philadelphia, Georgiev has now beat the two top rookie goaltenders in the NHL. Again, if Georgiev played all-season long, perhaps he would get some praise as the best rookie goaltender in the NHL!
While it is tough to say that Georgiev was the lone reason for today's win over the Flyers, as the Flyers didn't test Georgiev as much as the Leafs, Blues or Islanders did during other Georgiev performances, the fact of the matter is that he shut down the Flyers whenever the Flyers mounted any sort of attack in this game.
The biggest save of the game saw Georgiev rob JVR on a breakaway. Georgiev also made a ton of saves during four different Brendan Smith penalties in the game. While all of these saves were nice, for most of the 60 minute duration of the game, the Rangers had a firm control of the Flyers.
When the Rangers decided to finally test Georgiev this season, I think they thought that Georgiev would be a 50-50 type of goalie, meaning he would have some good games and some bad games. Instead, even with a Pittsburgh shellacking against him, Georgiev has been great.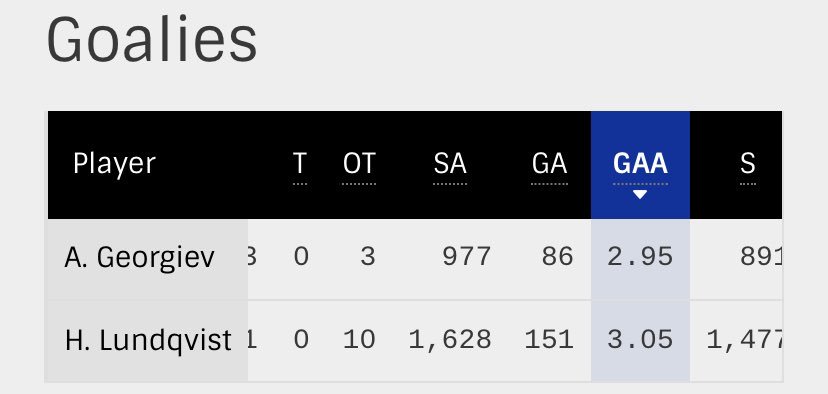 I talked about this during my last blog, and it bears repeating. Georgiev has a better winning percentage, save percentage and goals allowed average than his $8.5M counterpart. It's also worth mentioning that Georgiev plays against tougher competition, which really makes his stats pop to me.
While I think Georgiev is making the Rangers reconsider their position on Lundqvist, I'm also starting to wonder if Georgiev is making the Rangers reconsider their position on Igor Shestyorkin?
As time goes on, I'm seeing more and more people come to my "dark side", as more people are accepting that the Rangers should move on from Lundqvist. Of course, I said this four years ago, where Lundqvist's stock was high and the Rangers could've got something decent back. While it would be dream of mine to see Lundqvist traded during the off-season, what would the Rangers realistically get back?
Let's face it – no team is trading for Lundqvist's contract straight up. In any trade, the Rangers would have to assume some of Lundqvist's salary, something they wouldn't have had to do four years ago, when I talked about a potential Lundqvist to Dallas trade. (At the time, Dallas was paying something like $12M in goaltending salaries and this was long before Dallas made the trade for Bishop.)
I've seen some people talk about a potential Lundqvist retirement, but it is of my opinion that Lundqvist values money more than anything else. I don't see him walking away from $17M. For the Rangers to move on from Lundqvist, I think they would have to buy him out, which to me, would make much more sense than buying out Kevin Shattenkirk, as some people have suggested.
The Lundqvist stuff aside, with Georgiev shining and proving his mettle, I wonder if the Rangers are reconsidering their take on Igor Shestyorkin? I've covered this story in past blogs, so check out the archives for the latest on Shestyorkin.
Would the Rangers prefer Shestyorkin to remain in the KHL? Would the Rangers dare make Georgiev the starter and pay $8.5M for a back-up goalie?
Going into the season, I think many thought this season would end and then going into 2019-2020, you would have a Lundqvist/Shestyorkin tandem. With the way Georgiev has played in 2019, how can the Rangers even think of trading this guy, much less send him to Hartford next season?
While the Rangers have a lot of question marks coming up this off-season, such as the draft, Shattenkirk, Smith, Buchnevich, Vesey, free agency, etc, Georgiev has thrown a huge monkey wrench into the mix.
In today's game with the Flyers, the Rangers got a two goal lead in the first period and never let go. Georgiev would make a few big saves, but for the most part, the Rangers dictated the pace of the game. Skjei would get a fluke goal to ice the game in the third period and the Rangers would win 3-0.
If there was anything negative about this game, you would have to look at Brendan Smith, who committed all four of the Ranger penalties today. I don't care what you want to say about the refs, but when you commit four penalties, you're doing something wrong. You can't defend that. As someone who was rooting for Georgiev to get the shut-out, I'm just glad that Smith's detrimental play didn't cost Georgiev a goal allowed.
As mentioned in my last blog, Lettieri has been more noticeable in this latest stint than he was earlier this season. In today's game, while Lettieri generated some offense, he didn't get on the box score. That said, he was fine defensively. Obviously, he stands out more when he's on the second line, but I think that pretty much would go for everyone.
What is more telling to me, when it comes to the players from Hartford, is that John Gilmour was scratched once again. I think the Rangers will move on from him during the off-season, especially considering the fact that they have a plethora of defensemen on their payroll. We'll see.
As mentioned above, John Gilmour was scratched today. Connor Brickley also remained scratch. In perhaps the biggest news, in regards to the "Quinn Bin" (Credit: BSU Radio) was that Brendan Lemieux was scratched.
Because of who Lemieux is, fans automatically thought the worst on social media. To me, I was wondering if he got hurt during warm-ups. After all, ever since the deadline, the Rangers have been tweeting out the scratches and Lemieux wasn't listed as one.
While I rarely watch the post-game stuff when doing these blogs, as I don't want my opinion altered by anything or anyone else, I did watch Quinn's post-game interview today, just to see what was up with Lemieux. According to Quinn, with the Rangers having a back-to-back, Quinn wanted to rest Lemieux today. Simple as that.
When it comes to Lemieux, he's been asked to do a lot. Coming from Winnipeg, he was playing on the fourth line, if he played at all. Recently, he's been on the first line with the Rangers for several games and has played top 6 minutes. No one is calling Lemieux out for his conditioning here. However, the feeling is that Lemieux was used to limited minutes because of his time in Winnipeg. Because of his limited playing time in Winnipeg, the Rangers don't want to burn him out with all the extra work and responsibility here. Makes sense.
With the scratches, here's what Quinn went with today:
FIRST LINE: Kreider/Zibanejad/Buchnevich (Another goal from the top line today. Kreider remains without a 5 vs 5 goal since the trade deadline. Buchnevich hit a milestone today.)
SECOND LINE: Namestnikov/Chytil/Vesey (The second and third line seemed to change throughout the game.)
THIRD LINE: Strome/Howden/Lettieri (Again, it seemed that Lettieri and Vesey were juggled at times. Tough to tell on television.)
FOURTH LINE: Nieves/Andersson/Smith (Smith was awful.)
Defensively, Quinn went with:
FIRST PAIR: Skjei/Shattenkirk (It felt like every Shattenkirk shot hit a Flyer.)
SECOND PAIR: Staal/DeAngelo (Best duo, as usual.)
THIRD PAIR: Claesson/Pionk (One of Pionk's better games for sure, but that could also be because of who the opponent was.)
Oh, and on Friday, the Rangers tweeted this out: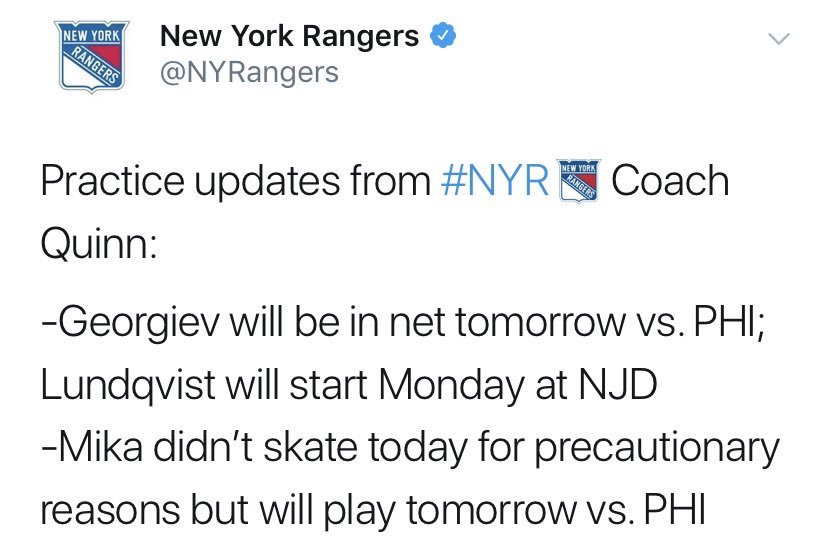 I'm telling you, after these last two performances from Georgiev, Quinn should call an audible and give Georgiev the start tomorrow.
It's funny, after Georgiev's 44 save win against Toronto a week ago, Lundqvist said to the media that, "Georgiev should be rewarded with the next start." Of course, the next start was against the Pittsburgh Penguins, a team that has absolutely owned Lundqvist over the years.
After tonight's shut-out, there wasn't a peep out of Lundqvist. I guess Georgiev doesn't deserve a start against one of the worst teams in the NHL. Those are starts exclusively for the $8.5M overrated and overpaid goaltender. The more and more you examine this stuff, the more and more you can see that Lundqvist is a self-serving egomaniac who is full of shit.
Gambling wise, here's what I said before the game:
Rangers and the under. Don't even have to think twice. #nyr pic.twitter.com/1lkSf3FJs2

— BlueCollarBlueShirts (@NYCTheMiC) March 31, 2019
I'm now 33-20-3 with my Ranger over-unders this season. I also nailed my side bet today too. WINNING!
And really, I don't know what the bookmakers were thinking with these lines. This should've been a -5.5 over/under and both teams should've been -110. Their mistake is my gain!
Enough jibber-jabber. ESPN.com box score time:
SCORING SUMMARY:
1st Period
16:25

Pavel Buchnevich

(20)

Assists: Mika Zibanejad, Chris Kreider

1
0
19:57

Ryan Strome

(18)

Assists: Brett Howden, Brendan Smith

2
0
2nd Period

No Goals Scored
3rd Period
7:39

Brady Skjei

(7)

Assists: Ryan Strome, Brett Howden

3
0
PENALTIES:
1st Period

No Penalties This Period
2nd Period
2:25

Brendan Smith:

2 minutes for Tripping

4:27

Brendan Smith:

2 minutes for Interference

8:17

Michael Raffl:

2 minutes for Cross checking
3rd Period
4:57

Brendan Smith:

2 minutes for Tripping

16:01

Brendan Smith:

2 minutes for Cross checking

18:29

Travis Sanheim:

2 minutes for Hooking
GOALIES:
| | | | | | | | | | | |
| --- | --- | --- | --- | --- | --- | --- | --- | --- | --- | --- |
| SA | GA | SV | SV% | ESSV | PPSV | SHSV | SOSA | SOS | TOI | PIM |
| 29 | 0 | 29 | 1.000 | 22 | 0 | 7 | 0 | 0 | 59:43 | 0 |
| | | | | | | | | | | |
| --- | --- | --- | --- | --- | --- | --- | --- | --- | --- | --- |
| SA | GA | SV | SV% | ESSV | PPSV | SHSV | SOSA | SOS | TOI | PIM |
| 25 | 3 | 22 | .880 | 18 | 2 | 2 | 0 | 0 | 60:00 | 0 |
This was an NBC game today, so we were spared Beavis and Joehead. Instead, we had Kenny Albert and Eddie O., two men who I would take over Sam & Joe any day of the week. Even with Albert on the MSG/NYR payroll, his comments are always fair and on the money.
I think what also makes Eddie and Kenny work better than Sam & Joe, is that Kenny & Eddie don't have to shill a million freaking things like Sam and Joe have to do on the MSG Networks. Just food for thought.
The opening of this game didn't seem pretty, as the Rangers missed two chances. Hart stoned Staal on a shot and Buchnevich couldn't put the rebound in despite Hart leaving the net empty. Of note, someone commented on Twitter about how Chytil falls down 8-10 times a game. When that person said that, I started following Chytil a bit and it does seem like Chytil falls down 8-10 times a game!
As this game went along, the Rangers were the aggressor and the Philly fans were quieter than the "crowds" at the BB&T arena in Sunrise, Florida.
As the clock started making its way past the ten minute mark and then the fifteen minute mark, the shots were even at 6 each. Both teams were playing conservative and there wasn't much to write home about here.
At the 16:25, the intoxicating commie got the first goal of the game, and it was a pretty one:
Buchnevich scores his 20th of the year and 💯th career point. pic.twitter.com/diu1qNMIdw

— NHL GIFs (@NHLGIFs) March 31, 2019
1-0, good guys.
This was a pure first line skill goal here. Kreider set up Zibanejad. Zibanejad, instead of making the extra pass to nowhere, shot the puck. Buchnevich then grabbed the rebound and beat one of the better goalies in the league. Boom. Just like that. That's 20 goals on the season for #89 and 100 career points. After the goal, Buchnevich went to the bench and "broke character", as he smiled, laughed and perhaps passed gas for the first time this season. Good for him.
With this game looking like it was going to be 1-0 after twenty, "The Indomitable StromeMan" scored with just 3 seconds remaining in the period:
Ryan Strome makes it 2-0 @NYRangers on #StarSunday with just seconds remaining in the first. pic.twitter.com/AfKeGPyWAZ

— NHL on NBC (@NHLonNBCSports) March 31, 2019
2-0, good guys!
On the goal, this was a nice feed from Howden and Strome buried it. Of note, of every player traded this season, Strome has scored more goals than anyone else in the league. It's also worth mentioning that Strome was traded very early into this season, but nevertheless, he's making the most of it.
I'm telling you, as the two teams went to the locker room after this first period, I've never seen a Philly crowd look so dejected and dead before. 2-0 NYR!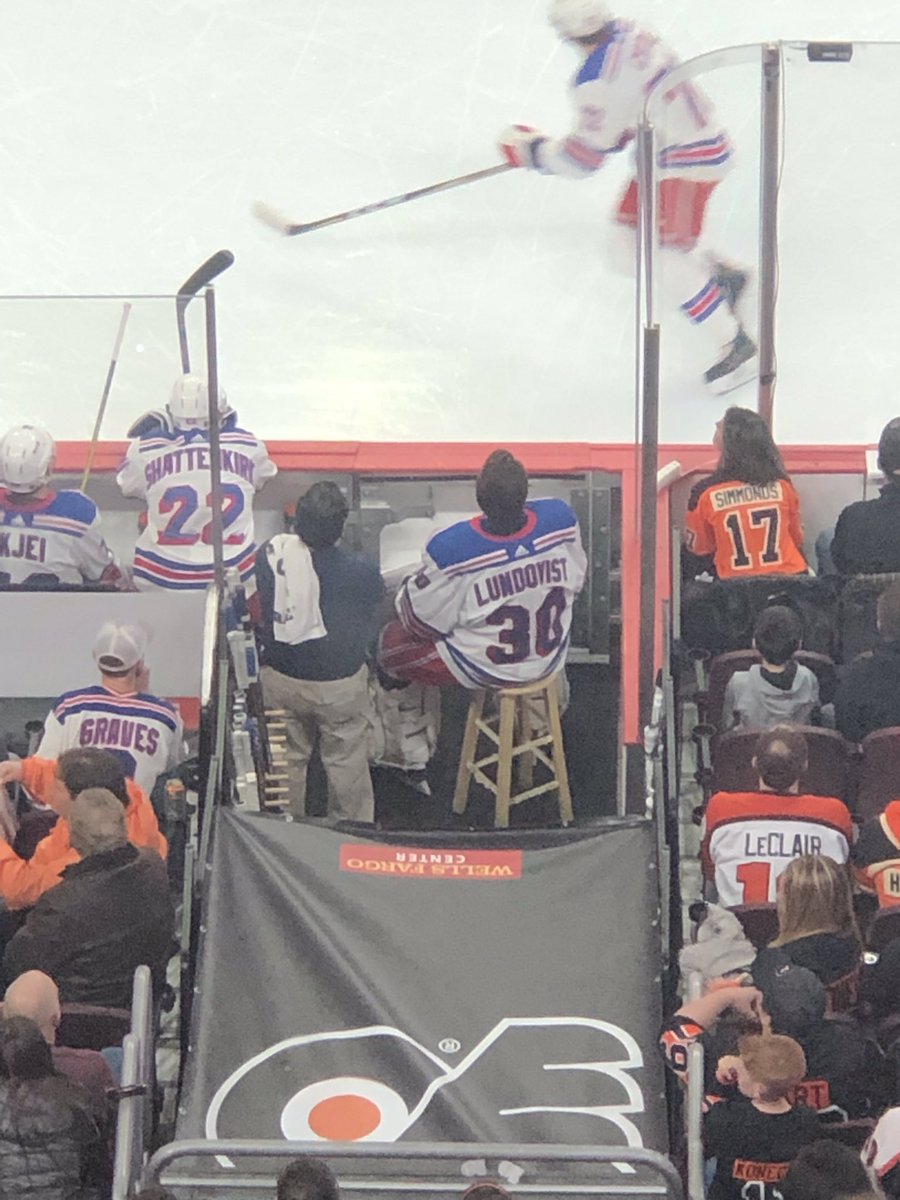 The second period was a scoreless affair. Georgiev faced more shots in this period than the first, but that was because of Brendan Smith. This was a good test for Georgiev, as his worst periods of games are usually the second period.
At the 2:25 mark of the period, Brendan Smith got boxed for tripping. The Rangers killed the penalty. Then, when coming out of the box, Smith's skates didn't touch the ice, and he touched the puck. He got a fluke interference penalty for this. Seriously, when was the last time you saw this type of penalty occur? Fortunately, the Rangers would kill this penalty too. Immediately after coming out of the box for the second time in the game, Smith lost his stick and was flustered. Not a good game for him today.
At the 8:17 mark, Raffl blatantly cross checked Skjei. The Rangers PP went to work and as usual, did nothing with the oPPortunity.
As we hit the half-way mark of the game, I thought Albert jinxed Georgiev, as he mentioned the shut-out and how Georgiev was successful on his last 65+ shots faced.
With about 2:30 remaining in the period, Georgiev made the save of the game on JVR:
Georgiev comes up with the stop on the breakaway.

At the end of two, it's still 2-0 Rangers over the Flyers on #StarSunday on NBC. pic.twitter.com/CwDlhCfBK3

— NHL on NBC (@NHLonNBCSports) March 31, 2019
If JVR buried this puck, I would've blamed Albert for the jinx!
The Rangers would hold on to their two goal lead and the score remained 2-0 after two periods.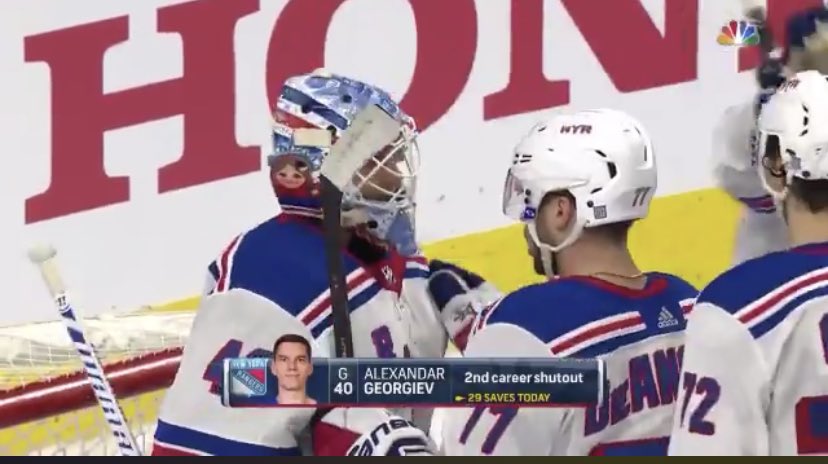 The second period was much like the third – Brendan Smith took two penalties. Before the penalties, the Flyers mounted their third elongated attack of the game, and in what's becoming a regular occurrence, the Rangers had these stretches of time where they couldn't clear.
Eventually, the Rangers would clear the puck. However, at center ice, Buchnevich and Nolan Patrick had a nasty accidental collision. Buchnevich would go to the locker room and would not return. After the game, Quinn said the commie was fine and should be good for tomorrow.
At the 4:57 mark, Smith took a tripping penalty while the Rangers were on the attack in the Flyers zone. The Rangers would then kill their third penalty of the game here.
JVR, who logged a game high 5 shots on goal, was denied all game by Georgiev. However, JVR would finally score… on his own goalie. Here's Brady Skjei finding a double deflection goal at the 7:39 mark:
Brady Skjei with the rocket from the point! 🚀🚀 pic.twitter.com/VDsimju7On

— Sportsnet (@Sportsnet) March 31, 2019
3-0, good guys. This pretty much sealed the victory for the Rangers, as the Flyers looked like they wanted to get the hell off the ice.
Personally, as someone who bet the Rangers and the under & was also invested in Georgiev getting a shutout, this Skjei goal was huge. At 3-0, that meant the Flyers wouldn't pull Hart if the score remained this way. This made the under and Georgiev's shutout more likely!
As the game continued, Brendan Smith continued his attempt to ruin Georgiev's shutout. He would take his fourth penalty of the game at 16:01. On this Flyers PP, the Flyers had their best PP attempt of the game, but Georgiev denied all comers, including JVR once again.
With 90 seconds left in the game, Travis Sanheim hooked Kevin Shattenkirk. With the extra man, it looked like Georgiev's shut-out would be a done deal. It was and the Rangers went on to win this game 3-0.
I don't care about tanks, I don't root for losses and I'm happy to see a winning environment. Good win for the Rangers today. Great day for Georgiev. I thought Strome had another solid showing as well, as he picked up a goal and an assist. The first line produced a goal. Fuck your tank!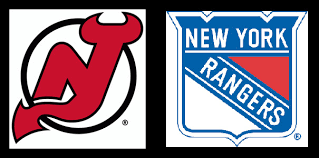 In wrapping up today's game, while I thought the effort from Philly wasn't 100% there, you're only responsible for what you do. The Rangers took care of business.
The Rangers will now play the Devils for the last time this season on Monday night. Of course, because the Devils are in last place, King Coward will start: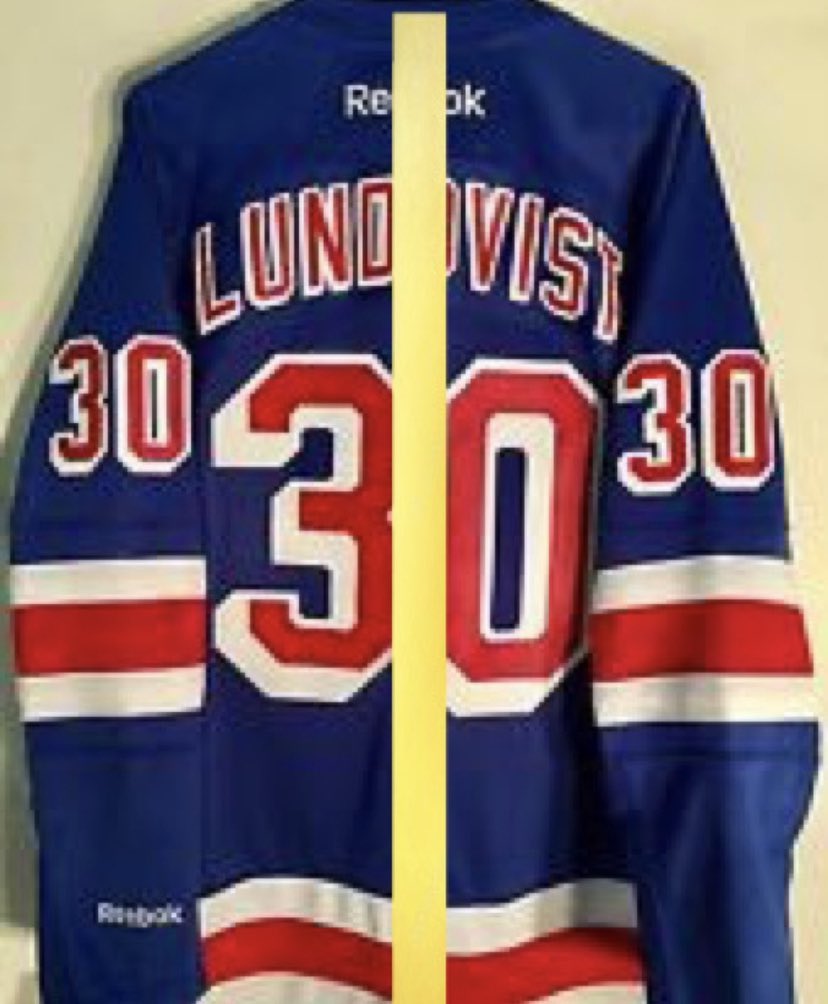 It's too bad Quinn announced Lundqvist as his starter for this game on Friday. I would've kept Georgiev going here.
After this game, there are three more opponents left, in the Senators, Blue Jackets and Penguins. I would be shocked if Hank played the Penguins. I would bet that he takes the Senators game though!
I will say, while the Senators suck, which means that's a Lundqvist start, the way Quinn was talking about the final three games, I don't think it's a lock Lundqvist starts that game. In fact, if Lundqvist loses tomorrow, I could see Quinn saying he's shutting Lundqvist down for the season and will let Georgiev finish the season. Time will tell.
All in all, good win for the Rangers today. I'll be back tomorrow night.
As always, thanks for reading and…
"LET'S GO RANGERS!"
Sean McCaffrey
BULLSMC@aol.com
@NYCTHEMIC on tweeter