Greetings and salutations everyone and welcome to another blog here on BlueCollarBlueShirts.com. On Sunday, during the much appropriately named "Kids Day at Madison Square Garden", the reigning & defending Stanley Cup Champions, in the Washington Capitals, defeated the New York Rangers, 3-2. For the first place Washington Capitals, the Capitals needed a shoot-out to squeak by the baby-faced Rangers.
As much as I truly do hate talking about Henrik Lundqvist, he's just an unavoidable subject when you discuss the New York Rangers. In today's loss to the Capitals, Alexandar Georgiev, once again, stood on his head and shouldered the load for the Rangers against a top opponent. Georgiev would make 37 saves in this game, with over 50% of them being of the "high quality" variety.
In this game with the Capitals, I 100% believe, with every fiber of my being, that if Lundqvist started in this game, the Rangers are dead in the water after the second period. We've just seen these types of games before and we know the drill. If by some grace of the hockey gods, that Lundqvist did survive the second and third periods of this game, there's no way he stops Ovechkin during Ovi's breakaway in overtime. We know the deal. We've seen it. We've lived it.
Now, I know what you may be saying – "why are you talking about Henrik Lundqvist if he didn't even play today?" Simple. It's games like this, another game where Georgiev is starting against a top team in this league, where Georgiev had a monster of a game. Without Georgiev's performance today, the Caps trounce the Rangers in this game.
In a season where the team is rebuilding and developing, my eyes are focused on what's next. I've wrote manifestos about this before, but when you see Georgiev have another game like this, it just makes no sense that he will most likely be the odd-man out, come the 2019-2020 season. Instead of having two young and promising Russian goaltenders next season, (I know Georgiev is Bulgarian, but he grew up in Russia) the Rangers will keep their overrated and overpaid Swede on the roster. There's just no way Igor Shestyorkin is leaving his comfortable job in Russia to play in Shartford. That makes Georgiev the lone man out.
The Rangers are hellbent on losing with Hank, as they prefer losing with Lundqvist rather than trying to win without him. It just seems that Georgiev will be the next Cam Talbot or Antti Raanta, in a league where the disparity among goalies is as slim as ever. It doesn't make sense for any team in the league, whether they are rebuilding or not, to make a 37 year old goalie (Lundqvist will be 38 come the 2020 playoffs) the main focus and highest paid player on your club.
I know these are all arguments I've made before, so rather than going too deep on this again, check out my past blogs for more:
---
---
---
---
---
---
It truly is a shame, that the Rangers will continue their same mistake of keeping Lundqvist on the roster. Again, I've talked about this in-depth already, but all you have to do, is tell Lundqvist that if he doesn't want to waive his NMC, then he can spend the next two years in the press box. It won't happen, and unfortunately, because the Rangers don't believe in evolution, another young and promising goalie will be cast away. And in the event that Georgiev does remain with the franchise, his development will be stunted. After all, how many successful teams rotate three starting goalies?
I'll get into this more when it's more timely, but if you want what's best for the Rangers, you should want a competition between Georgiev and Shestyorkin. Let them battle it out for the starter job and let the other goalie have the back-up job. Shit, you could even do split starts, just like the Rangers did during the 1972-1973 season, when Eddie Giacomin and Gilles Villemure won the Vezina together.
One last thing on Lundqvist, and then I'll put that topic to bed for the remainder of the blog, but if you recall what I said in my last blog, in the game against Montreal, I accurately predicted what goalie would start this game for the Rangers.
In case you need a refresher, here's what I said: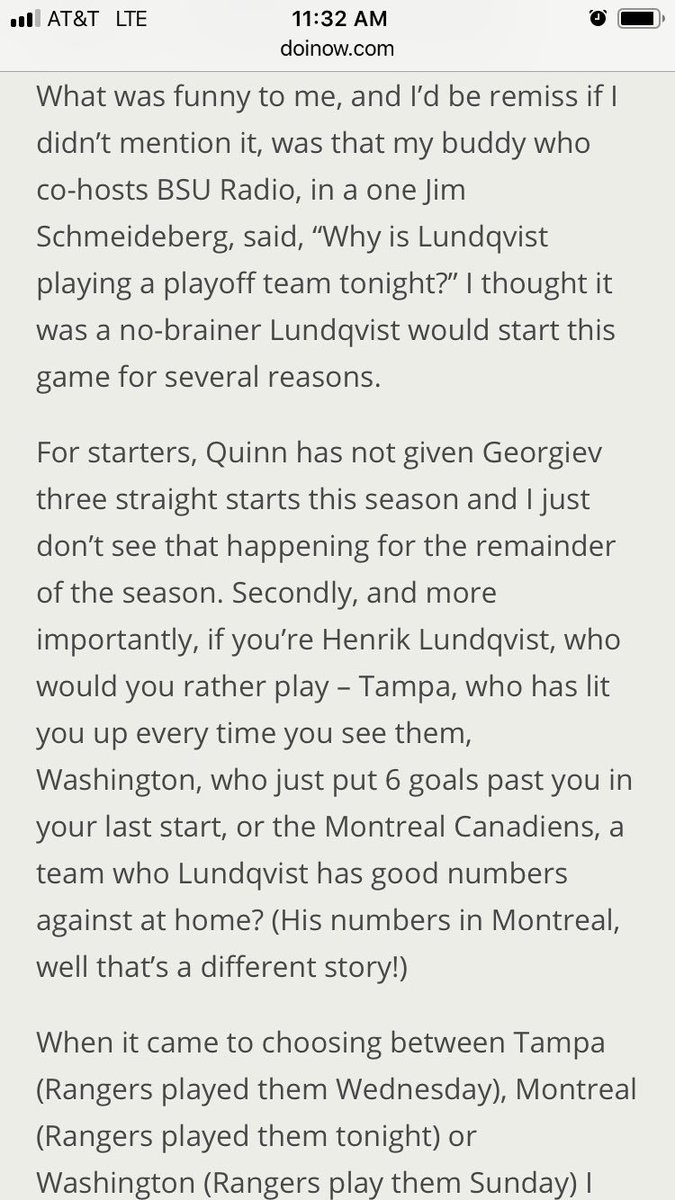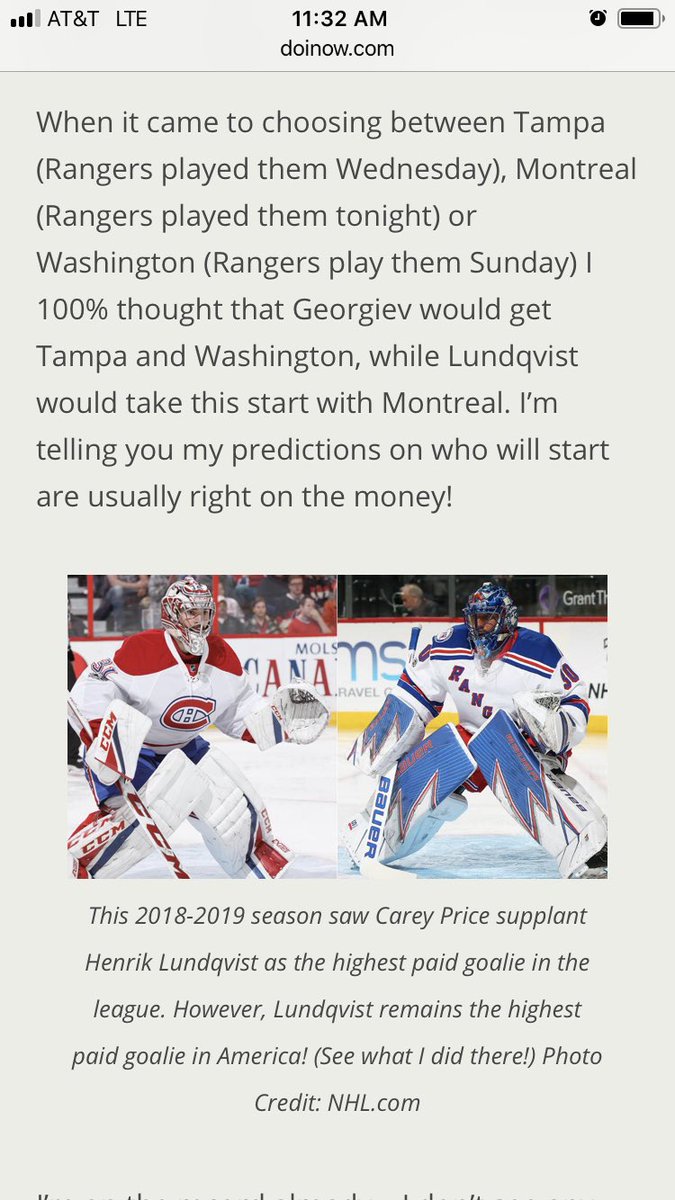 As I've been saying all season, Henrik Lundqvist continues to cherry pick his starts against the league's worst teams and rarely plays against the top teams in the league. However, this is back-firing on him, as Georgiev has been phenomenal against these great teams. While Lundqvist loses to bad teams like the Kings and everyone else, Georgiev is having strong games against the best teams in the league. This also should help in the development of Georgiev, as he's gaining valuable experience against the best in the world.
When it comes to this game today, the Rangers and Caps traded quick goals early. From there, it was mostly ALL CAPS. The second period would be the Alexandar Georgiev show, as he would make twenty saves on twenty shots. The second period was mostly a mess for the Rangers, as with ten minutes remaining in the period, the Caps were out-shooting the Rangers 13-1. If it wasn't for Georgiev being lights out, the game would've been decided in this period.
The third period saw the Rangers tie the game, but once again, their anemic power-play failed them. The PP has been a major issue as of late and the PP has cost the Rangers a few wins during these last few weeks. The third period was the best period for the Rangers as a whole, as it was a hard-working and conservative third period. The two teams would then go into overtime, as Georgiev would add another highlight reel save to his resume, as he stopped Ovechkin on a breakaway. The Rangers, in particular, Pavel Buchnevich, would get a chance to send the crowd home happy, but Holtby was there to keep the game tied at 2 goals a piece.
In the shootout, both teams were able to score twice in their first three attempts. In the bonus frame, Chytil was stopped by Holtby. Then, in what would be the game winning goal, despite no puck ever entering the net, Alex Ovechkin would be awarded a goal when Georgiev lost his stick. It was ruled that Georgiev threw his stick, thus Ovechkin being awarded a fugazi goal. What a way to a end game. You invest three hours of your life watching this, and that's how it ends? However, I'm getting ahead of myself here. I'll talk more about this play once I get to the game review portion of this blog. That said, let's roll through the normal segments of this blog and then get to the review!
On Saturday, the Hartford Wolf Pack defeated the Wilkes-Barre Scranton Penguins, 4-3, in overtime. Lettieri, who started the game, didn't log a point. The Wolfpack now have off for five days. The Wolfpack will return for three games in a row, starting Friday, March 8th. This concludes the LETTIERI WATCH!
An hour before game-time, the Rangers tweeted this out: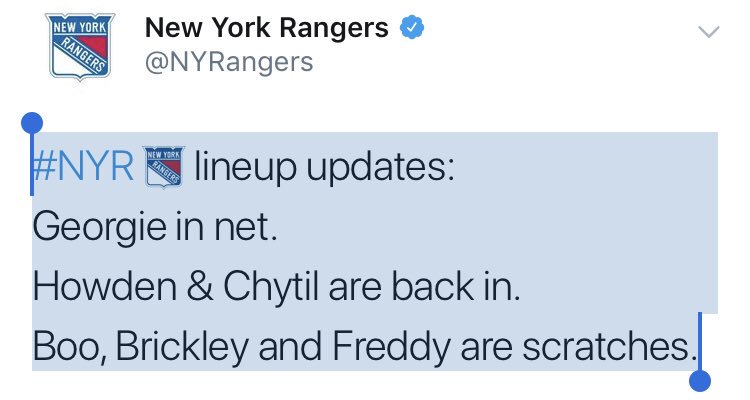 I already covered the Georgiev stuff.
After Fake News Larry Brooks reported that Chytil would be a healthy scratch for a significant amount of time, Chytil was back in the line-up today, after only being scratched for two games. Brett Howden, who has missed weeks of time with an injury, finally returned to the line-up today as well.
Let me talk about the easy thing first – Scratching Freddy Claesson is no hair off of anyone's ass. I would argue that you could scratch Pionk, but scratching Claesson isn't the end of the world.
When it comes to the forwards, this is another example of David Quinn somewhat talking out of both sides of his mouth. Keep in mind, this is the same David Quinn, who all season, has repeatedly said that he will reward players based on hard work and results. Both Boo Nieves and Connor Brickley have been working hard and have been producing results.
The scratches of Nieves & Brickley reminds me of the Ryan Lindgren call-up. Quinn said Lindgren was called-up based on merit. Lindgren had a good showing here, then the All-Star Game happened. After the ASG, the Rangers defense was 100% healthy (McQuaid returned) and we never heard of Ryan Lindgren again. So sometimes Quinn isn't 100% truthful.
Even if you're a fan of Chytil, I don't see how one could argue that Brickley and Nieves deserved this time-out. Arguably, the Rangers fourth line has been the best line of this past week.
With the line-up being shuffled again, here's what Quinn went with today:
FIRST LINE: Kreider/Zibanejad/Vesey (Once again, against a top team, these three were held off the score sheet.
SECOND LINE: Namestnikov/Strome/Fast (Strome continues to play well for the Rangers.)
THIRD LINE: Lemieux/Andersson/Buchnevich (This was another game where Andersson showcased to the world why he isn't ready for the NHL yet. Andersson was the drizzling shits today.)
FOURTH LINE: Smith/Howden/Chytil (This line was a mess, with Smith being the best of the three. That says a lot. To be fair, this is the first time this line has played together ever, so Quinn is sacrificing line chemistry here.)
Defensively, Quinn rolled out the same D as the game with Montreal. Here's your reminder:
FIRST PAIR: Staal/DeAngelo (DeMAGAngelo, credit as always to @NYRKELSMADS, started a new point streak today.)
SECOND PAIR: Skjei/Shattenkirk (I've seen enough of this pairing.)
THIRD PAIR: Hajek/Pionk (Hajek, after having a solid debut on Friday, did not look so hot here.)
And lastly, as usual before the box score segment of the blog, here is what I predicted before the game:
Play the trends – if Lundswiss starts, bet over. If Georgiev starts, bet the under. #nyr pic.twitter.com/bcqIaCcFeX

— BlueCollarBlueShirts (@NYCTheMiC) March 3, 2019

The Rangers waited an hour before game time to announce that Georgiev was starting. Right then and there, I bet the under. It's as easy as that. My record improves to 28-15-1.
And now, as usual, let's go to the ESPN.com box score.
SCORING SUMMARY:
1st Period
0:45

Ryan Strome

(11)

Assists: Chris Kreider

0
1
2:03

Carl Hagelin

(3)

Assists: Brooks Orpik, Lars Eller

1
1
10:02

Andre Burakovsky

(9)

Assists: Travis Boyd, Nic Dowd

2
1
2nd Period
14:20

Pavel Buchnevich

(13)

Assists: Tony DeAngelo, Filip Chytil

2
2
3rd Period

No Goals Scored
OT Summary

No Goals Scored
Shootout Summary

Shootout GOAL scored by Kevin Shattenkirk on Braden Holtby
0
1

Shootout GOAL scored by T.J. Oshie on Alexandar Georgiev
1
1

Shootout attempt by Mika Zibanejad saved by Braden Holtby
1
1

Shootout attempt by Evgeny Kuznetsov saved by Alexandar Georgiev
1
1

Shootout GOAL scored by Anthony DeAngelo on Braden Holtby
1
2

Shootout GOAL scored by Nicklas Backstrom on Alexandar Georgiev
2
2

Shootout attempt by Filip Chytil saved by Braden Holtby
2
2

Shootout GOAL scored by Alex Ovechkin on Alexandar Georgiev
3
2
PENALTIES:
1st Period
14:48

Nick Jensen:

2 minutes for Hooking Brendan Lemieux

15:58

Anthony DeAngelo:

2 minutes for Hooking Carl Hagelin

18:29

Filip Chytil:

2 minutes for High-sticking Brett Connolly
2nd Period
18:54

Anthony DeAngelo:

2 minutes for Hooking Brett Connolly
3rd Period
7:02

Tom Wilson:

2 minutes for Kneeing Jimmy Vesey

15:46

Brendan Smith:

2 minutes for Hooking Brooks Orpik
GOALIES:
| | | | | | | | | | | |
| --- | --- | --- | --- | --- | --- | --- | --- | --- | --- | --- |
| SA | GA | SV | SV% | ESSV | PPSV | SHSV | SOSA | SOS | TOI | PIM |
| 39 | 2 | 37 | .949 | 31 | 1 | 5 | 0 | 0 | 65:00 | 0 |
| 0 | 0 | 0 | .000 | 0 | 0 | 0 | 0 | 0 | 0:00 | 0 |
| | | | | | | | | | | |
| --- | --- | --- | --- | --- | --- | --- | --- | --- | --- | --- |
| SA | GA | SV | SV% | ESSV | PPSV | SHSV | SOSA | SOS | TOI | PIM |
| 0 | 0 | 0 | .000 | 0 | 0 | 0 | 0 | 0 | 0:00 | 0 |
| 24 | 2 | 22 | .917 | 20 | 1 | 1 | 0 | 0 | 65:00 | 0 |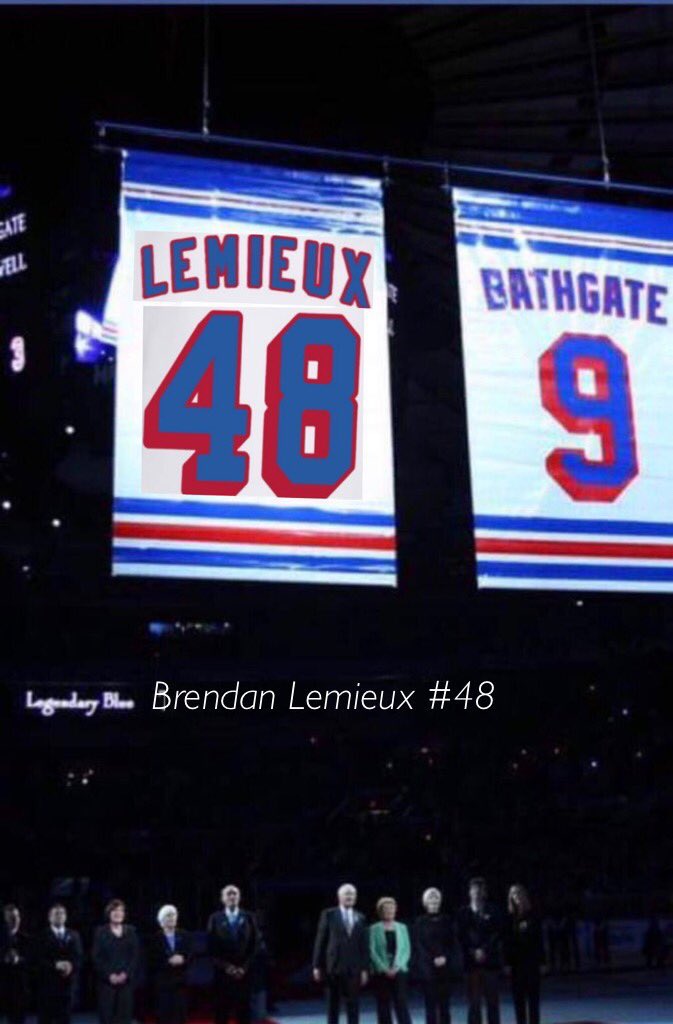 While the NBC broadcasts are always better than the MSG broadcasts, whenever you have Doc Emrick and Pierre McGuire doing the same game, it can get tedious. This statement is especially true when you feel a little groggy from the night before. With a 12:30PM start, the last thing I needed were zoomed in shots of Pierre's nostrils and Doc Emrick yammering on and on, as Doc tries to get himself over like a pro wrestler. However, NBC made sure to give us both of these things today. It's too bad the low life Knicks were playing today, as we, as Ranger and hockey fans, were denied Kenny Albert for this game.
The other silly thing about these NBC broadcasts are these "shift" clocks. I've talked about this before. It's just unnecessary shit. I don't care if Mika Zibanejad was on the ice for 45 seconds or not. This is just a graphic that gobbles up screen time. It's not needed. Get rid of it.
By the time the girl who did the National Anthem could be told "good job", Ryan Strome kicked off this game with a goal, just 45 seconds into the contest:
RYAN STROME OPENS THE SCORING UP FOR THE RANGERS! GREAT PASS BY KREIDER!#NYR pic.twitter.com/cOEjPFQugV

— Hockey Daily (@HockeyDaily365) March 3, 2019
1-0, good guys, just like that.
On the goal, Strome made the most of a turnover. Holtby has been very up and down this season, so I thought this would be a sign of things to come. Unfortunately, it wasn't and it wasn't because Holtby was that great, it was more because the Rangers didn't challenge him enough. After all, Holtby only saw 24 shots today and the Rangers kept tripping on their own dicks any time they got a power-play in this contest.
As fans sat down after doing the Rangers goal song, 75 seconds after Strome scored, Carl Hagelin scored:
CARL HAGELIN TAPS HOME THE PUCK AFTER HIS PASS IS DEFLECTED!#ALLCAPS pic.twitter.com/tEFbTuireY

— Hockey Daily (@HockeyDaily365) March 3, 2019
1-1 and we were just barely two minutes in. Obviously, you thought of that 6-5 game from last week. This is also when the Cult of Lundqvist started tagging me in tweets. However, as usual, I would have the last laugh at those chronic masturbators.
I must mention that I found it humorous that the Cult of Lundqvist ignored that Lundqvist gave up six goals in that game with the Caps last week, which was also the same game where the Rangers scored five goals against the terrible Pheonix Copley. In this game, Georgiev had two goals in support of him and would only give up two goals to one of the most prolific offenses in the league.
Speaking of Carl Hagelin, what is with this fucking guy? I'll save you my Emerson FUCKING Etem rant, as I've done that rant to death.
When it comes to Hagelin, ever since leaving the Rangers, you hear about how bad he's doing on the left coast. Whether it was with Anaheim or LA, you just hear about how Hagelin is struggling. Then, when he joins a Metro team, first Pittsburgh and now the Caps, he becomes a Rangers killer.
As far as regulation play goes, Hagelin was just as good as anyone on the ice today. On this goal, he made his countryman Lias Andersson look utterly foolish, picked up a deflection off Hajek, and boom. As the game continued, Hagelin destroyed the Rangers on the PK. On two different Ranger PP's, Hagelin would get a breakaway opportunity on both of them.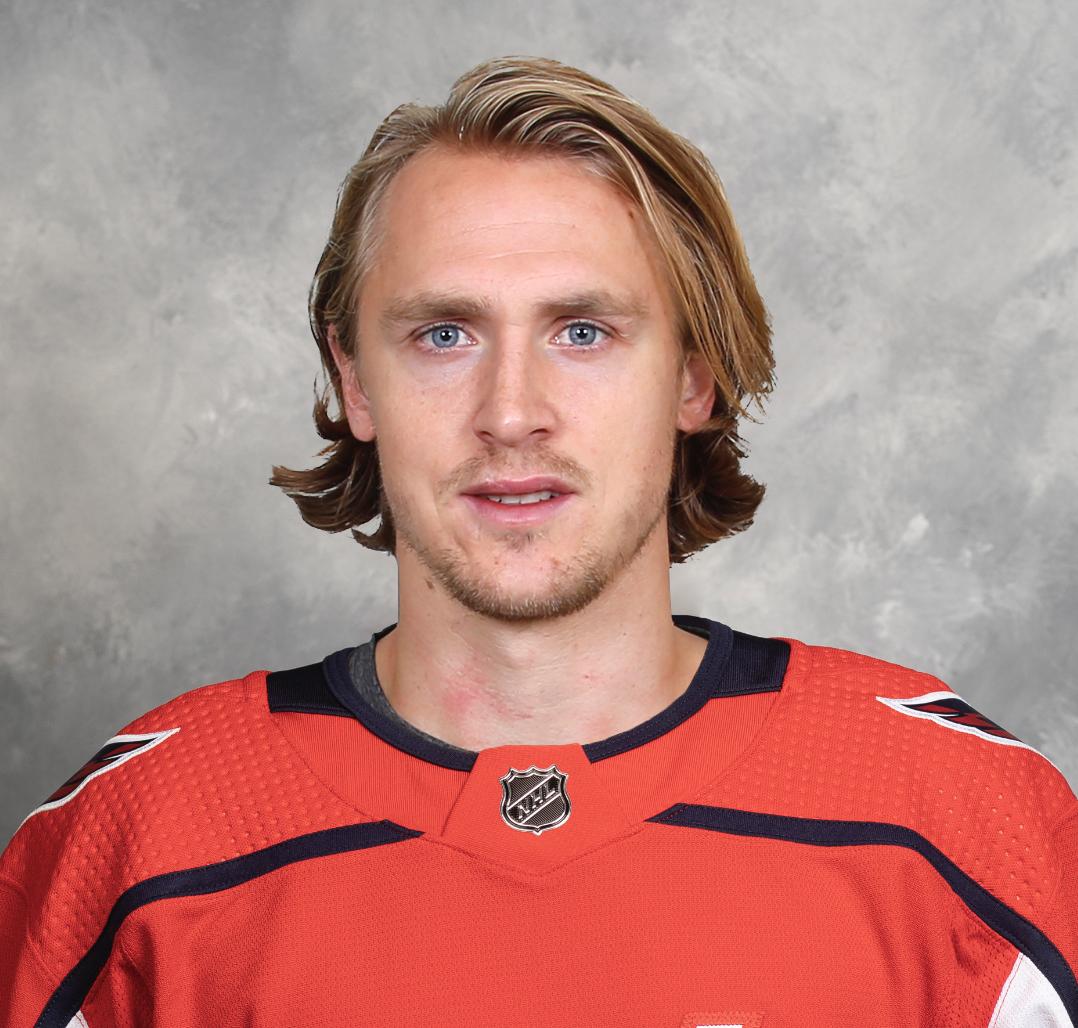 After these two goals, the two teams went back and forth, with Georgiev making his first of many highlight reel saves. While not as impressive as the saves he would later make in the game, Georgiev made a save on a puck, as if he was Derek Jeter scooping up a routine ground ball.
At 10:02, Andre The Burakovsky broke up the tie:
ANDRE BURAKOVSKY SNAPS ONE HOME FROM THE CIRCLE!#ALLCAPS pic.twitter.com/WMasrCVmQc

— Hockey Daily (@HockeyDaily365) March 3, 2019
2-1, bad guys. On the goal, Staal was beat a bit, but what the hell is Lias Andersson doing? He fell on his ass. I'm telling you, the Rangers need to keep him in Hartford. He's not ready. While I like to make jokes and call him Lias Jessimen, how long before my jokes become reality? I know this kid has moxie, spunk or whatever you want to call it, but he's just not ready. However, as talked about in-depth on prior blogs, Andersson is the chosen one, so he will get chance after chance to fail, while guys like Lettieri, Nieves, Brickley and others will get the thumb to the nose.
Later on in the period, superstar forward Brendan Smith, playing this game instead of guys like Lettieri, Nieves, Brickley and others (because after all, the Rangers are blowing nearly $5M on him per season, so he must play) had a good chance at the net. Instead, he lazily passed the puck to a Capital. Oops.
At 14:48, Nick Jensen, who has really helped the Caps PK since coming over from Detroit, fanned on a puck. Brendan Lemieux charged the puck. Jensen was forced to hook Lemieux. This put the Rangers on their terrible PP.
On the PP, the Rangers just kept passing the puck in a triangle and didn't do shit. Then the puck hopped over the blue line and TDA was forced to hook Hagelin to prevent a breakaway.
Do you know how you can tell if your PP sucks? It's when you're committing penalties while on your own PP.
Both PK's would take care of killing the penalities. Then, at 18:29, Chytil was caught for high sticking. The Rangers would kill the first half of this Caps PP, thus putting the Caps on the PP to start the second period.
While all these ticky-tack penalties were being called, towards the end of the period, this was ignored:
Niskanen hit on DeAngelo #ALLCAPS #NYR pic.twitter.com/lrZILdYFum

— Rob Taub (@RTaub_) March 3, 2019
Here's Niskanen blatantly boarding TDA. No call. If TDA stayed down, he probably gets the call. What a fucked up league. These referees during these Ranger games have been absolutely dreadful during 2019. It's one fucked up call or one fucked up no call after another. I mean, when you have referees apologizing after games, as they did a few games ago, you know it's problem.
This hit was pure pussy shit from Niskanen, as TDA wanted to fight the guy, but Niskanen backed off after his dirty hit. It's amazing how the refs let this go, but when Lemieux would later show some fire against Wilson, the refs were right there to break it up.
As usual, the referees will cost a team a series in the upcoming playoffs. It's disgusting and frightening how one bad call or no call can swing a franchise. Just ask the Edmonton Oilers. People in Edmonton will never forget how Getzlaf blatantly pulled Talbot's pad on a game tying third period goal in Game 7 during the 2017 playoffs.
2-1, bad guys (I'm referring to the Capitals here, not the referees) after one period.
The second period belonged to Alexandar Georgiev. That's all you need to know. Check out this highlight reel:
The second period was the Alexandar Georgiev highlight reel, he made 20 saves allowing the Rangers to tie this one up. #NYR pic.twitter.com/TPgy8V0mJ4

— Dom Renna (@drennaESNY) March 3, 2019
20 saves all in for Georgiev in this second period and none of them were easy. It's funny, I saw a Capitals reporter after the game say, "Is Georgiev always this good?" Again, ALLAIRE + WHOEVER = SUCCESS. You don't need that $8.5M piece of shit!
Take a look at how Georgiev started the period, as he absolutely robbed Carlson:
GEORGIEV! 👀 pic.twitter.com/d3270QrL4e

— NHL on NBC (@NHLonNBCSports) March 3, 2019
I know, I know, I know, you hate hearing it from me, but I'll say it again anyway – this game is OVER in this second period if Lundqvist is in net. NO IFS ANDS OR BUTS.
What I love about Georgiev's game, is that when he gives up a goal, he quickly forgets about it. You don't see 2, 3, 4 bad goals allowed in a clip like you do with the overpaid goalie. Georgiev buckles down and keeps his coolness. For a kid, he handles the pressure extremely well.
Georgiev stopped all the name brand Caps all period long. Refer to the highlight reel video above.
Lemieux would get the lone Ranger shot of the first ten minutes of this period, a shot that Holtby made a good save on. Still, the shots were 13-1, in favor of the Caps, with ten minutes to go in the period.
At one point in the game, despite it being a one goal game, which of course, was because of Georgiev, the Rangers really did look like kids, here on Kids Day, especially when compared to the grizzled and seasoned veteran Washington Capital squad. Hajek was a mess. Andersson continues to be a bust. Chytil was in a daze.
However, before you could count the Rangers out, at the 14:20 mark, Pavel Buchnevich, the intoxicating commie himself, finished off a hard-work pass from Filip Chytil:
Pavel Buchnevich gets his 13th from Chytil and DeAngelo. #NYR pic.twitter.com/pK6ttMPgOD

— Dom Renna (@drennaESNY) March 3, 2019
2-2!
Worth mentioning, on the goal, TDA picked up the assist. The Rangers noted afterwards, that Tony DeAngelo has registered 12 assists since Feb. 4, which is tied for the most among NHL defensemen over the span. Not shabby! MAKE AMERICA GREAT AGAIN!
However, towards the end of the period, once again, the Rangers took another penalty, which would put the Caps on a wraparound power-play. This time, it was TDA committing the offense, after a crazy sequence.
Before the TDA penalty, the Caps spent nearly two minutes in the Rangers zone. Then the Rangers would clear, with Buchnevich puck hogging and not passing to a wide open Kevin Shattenkirk. The Caps then got the puck and spent another eternity in the Rangers zone, which led to the TDA foul. During all of this, Georgiev was holding down the fort.
On the Caps PP, Georgiev stoned Alexandar Ovechkin. I bet Ovi missed Lundswiss today! In fact, Georgiev would stop Ovi on all 6 of his shots. Shit, Ovi couldn't even get the puck into the net during the shoot-out either.
When the second period concluded, and with the score 2-2, I said the following on social media:
I don't know what happens in the third period, but I know this – Rangers are down by five if Hank was in net and Georgiev is the biggest reason why this game is tied. That second period was his best work since the Toronto game. #nyr

— BlueCollarBlueShirts (@NYCTheMiC) March 3, 2019

Simply put, what a showing for Georgiev on national TV again. I really hope he forces the Rangers hand to reconsider their plans with their goaltending.
While the action wasn't as fast as the second period, Georgiev continued to have a great game and would shut out the Caps again during this third period. The Rangers would kill off the back end of the Caps PP to start this period as well.
Kreider would get a breakaway in this period, but just like in the game with Montreal, he couldn't finish. The top line for the Rangers were once again scoreless today.
Wilson and Lemieux would go at it in this period, but the refs broke it up. Then, at 7:02, Wilson kneed Vesey, thus earning Wilson two minutes in the box. The Rangers one again failed to cash in on this opportunity. All these failed PP's are costing the Rangers points. While I know that winning isn't the number 1 priority for some fans this season, the fact remains that the PP has cost the Rangers a few games here.
With Georgiev remaining lights out, Brendan Smith was called for a bullshit hooking penalty. Absolute bullshit. Are the refs trying to swing this game? This call happened at 15:46 and with the game in "next goal wins" territory. HORRENDOUS.
The Rangers would kill the Caps PP and the two teams would remain tied 2-2, after regulation. We were off to overtime.
The overtime was a back and forth affair, with once again, Georgiev shining the brightest. Here's Georgiev stopping Ovi in OT:
Ovechkin is denied on the breakaway!

3 on 3 is fun. pic.twitter.com/7xgX6J02jU

— NHL on NBC (@NHLonNBCSports) March 3, 2019
King's gonna King!
With no goals in the overtime, we went to the shootout. Each team would score twice and each goalie would make a stop.
This was the end of the game:
Alex Ovechkin awarded the shootout winner after Alexandar Georgiev throws his stick to make the save pic.twitter.com/N6pbTEXBrS

— Brady Trettenero (@BradyTrett) March 3, 2019
For those unaware with Rule 25.4, here it is: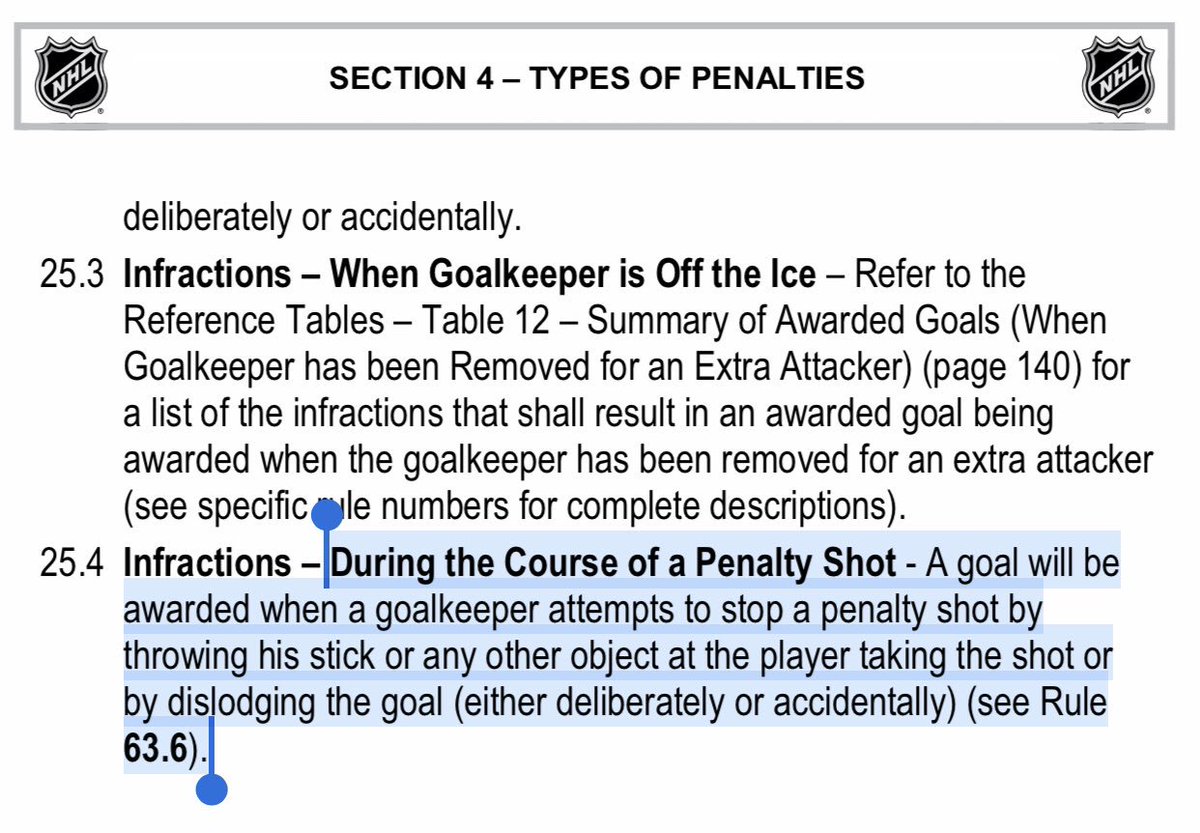 Obviously, this is a terrible way for a hockey game to end. You spend all this time, or for fans there, spend all this money, and this is the final result? For a league that is terrible at marketing themselves and for a league desperate to draw casual fans, an ending like this doesn't help either case.
On the play, did Georgiev throw his stick? That's only something he 100% knows. After the game, he said it just happened, as if it was instinct. I truly don't think Georgiev did this on purpose.
When this play happened, the refs ruled the play as a "no goal". However, Toronto buzzed in and they overturned the refs. What's the point of having refs out there then?
I think what should've been taken into consideration is that Georgiev didn't lose his stick once in this game. It's not like he's Lundqvist, who is constantly losing his stick. It is my argument that the stick slipped during a desperation save and it wasn't intentional.
Furthermore, for the refs who called this entire game, they are aware of the game Georgiev was having. It's not like he was struggling or a mess out there.
As a stand alone play, I can see why this was awarded a goal. However, if you watched the whole game, rather than this one play, this play isn't indicative of how Georgiev was all game. I think he deserved the benefit of the doubt.
Like City Hall, Toronto always wins. So do the Caps here. 3-2, your final.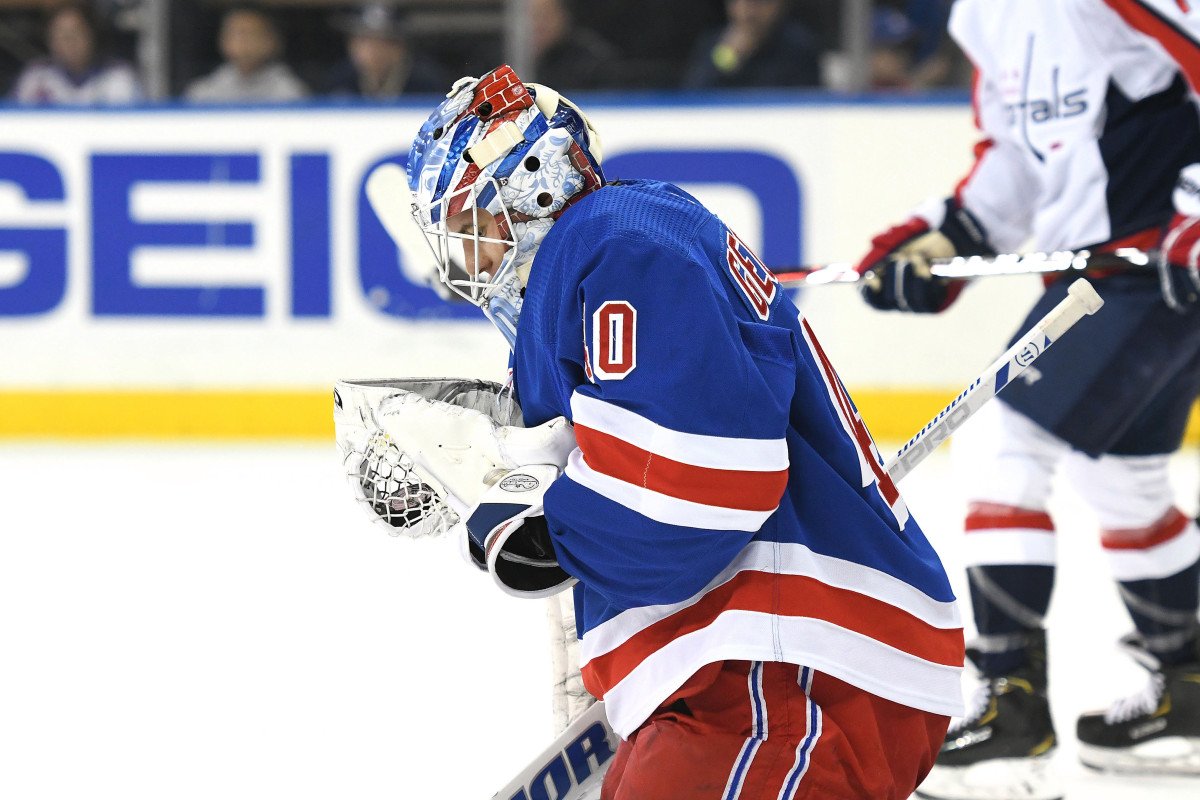 All in all, I thought the Rangers woke up at the half-way mark of this game. That said, once again, David Quinn's bunch hung in there with a top team. It really gives you hope for next season, especially with a ton of money available to spend in free agency. Of course the Lundqvist situation is bothersome, but there are positive things to take out of these games.
I would like to see Georgiev get 5 straight starts as we wind down the season. Let's see what he can do when he's treated like a starter.
The Rangers now go on a mini-road trip, as they will play the Zuccless Stars on Tuesday night, followed by a game in Detroit on Thursday. After that, the Rangers come home to play the Devils, then go to Western Canada, where they will play the Oilers and Canucks. They will then close their Western Canada trip with a game in Calgary.
When you look at it, minus the Stars game, that's four winnable games in a row right there. I'm sure Lundqvist will be primed and ready to go for those.
See ya Tuesday night.
As always, thanks for reading and…
"LET'S GO RANGERS!"
Sean McCaffrey
BULLSMC@aol.com
@NYCTHEMIC on twitter