Greetings and salutations everyone and welcome to another blog here on BlueCollarBlueShirts.com. This will be a short one today, as I'm starting this blog at 10:30am, after working 12 hours of overtime. In other words, welcome to the bare-bones edition here. No 10,000 words today!
Let's get right into it. As usual, here are my most recent blogs in case you missed them:
---
---
---
---
---
---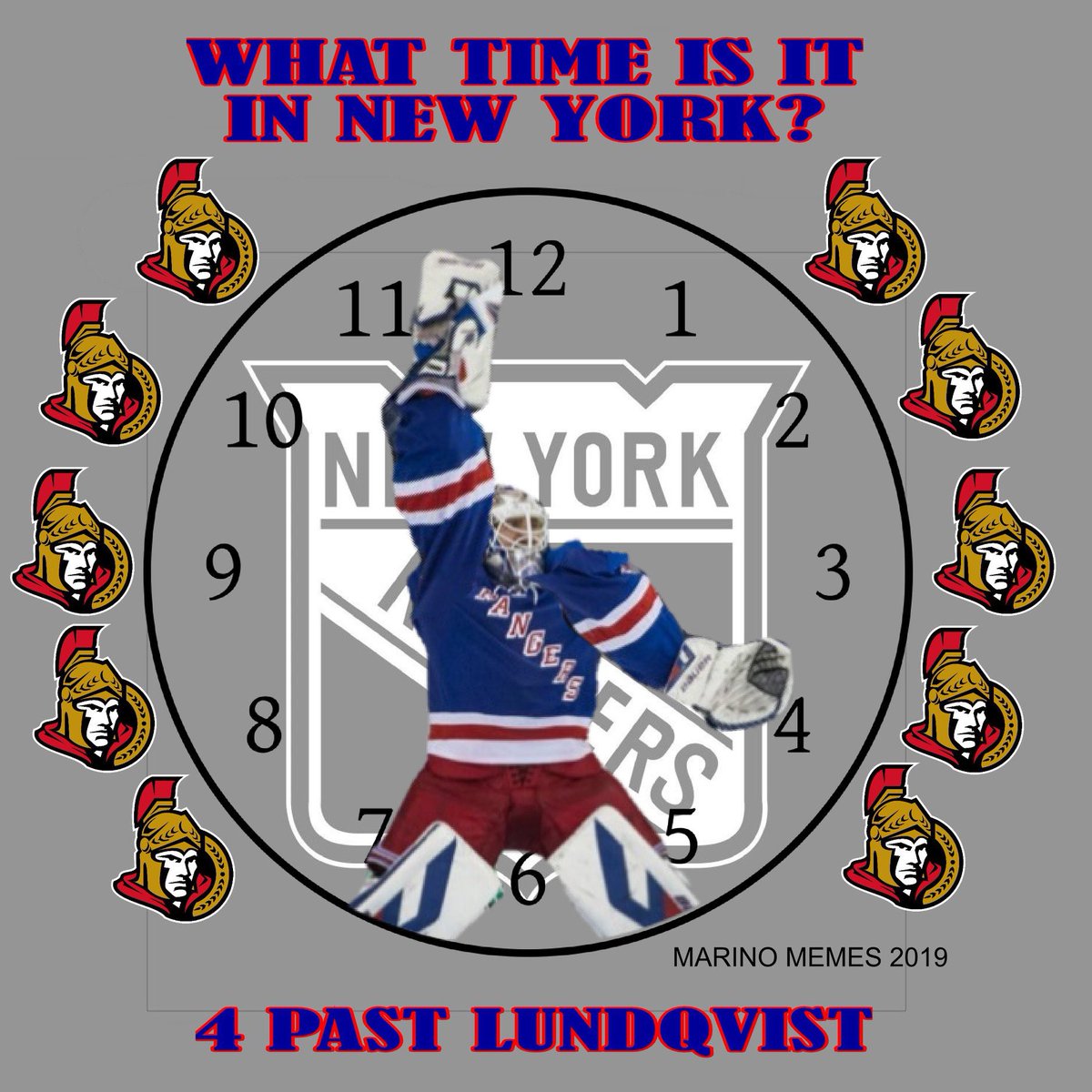 On Wednesday night, at the morgue known as Madison $quare Garden, the Rangers disgraced the memory of Steven McDonald, and were beat by the worst team in the NHL. The Ottawa Senators, who clinched last place in the league just a week ago, soundly defeated the New York Rangers by a final score of 4-1. For the Rangers, there are no excuses.  I will say this, and I don't care if you don't agree with me here – if Alexandar Georgiev started this game, the Rangers would've won it.
As has been the case all season, once Lundqvist gives up that first goal, whether it's his fault or not, he automatically goes to a dark place mentally. For the highest paid player on the team, the highest paid goalie in America, the man rattles like a liberal when they see a red baseball cap. Once that first goal is allowed by Lundqvist, he wets himself like a puppy that can't hold it in.
I talked about this in my last blog, so I won't rehash this all again, but seriously, the team just doesn't have a bond with Lundqvist. Lundqvist is at a different stage in his life than his teammates. Furthermore, Lundqvist doesn't make himself appealing to his teammates, because after all, who wants to be yelled out and chastised by their co-worker every day?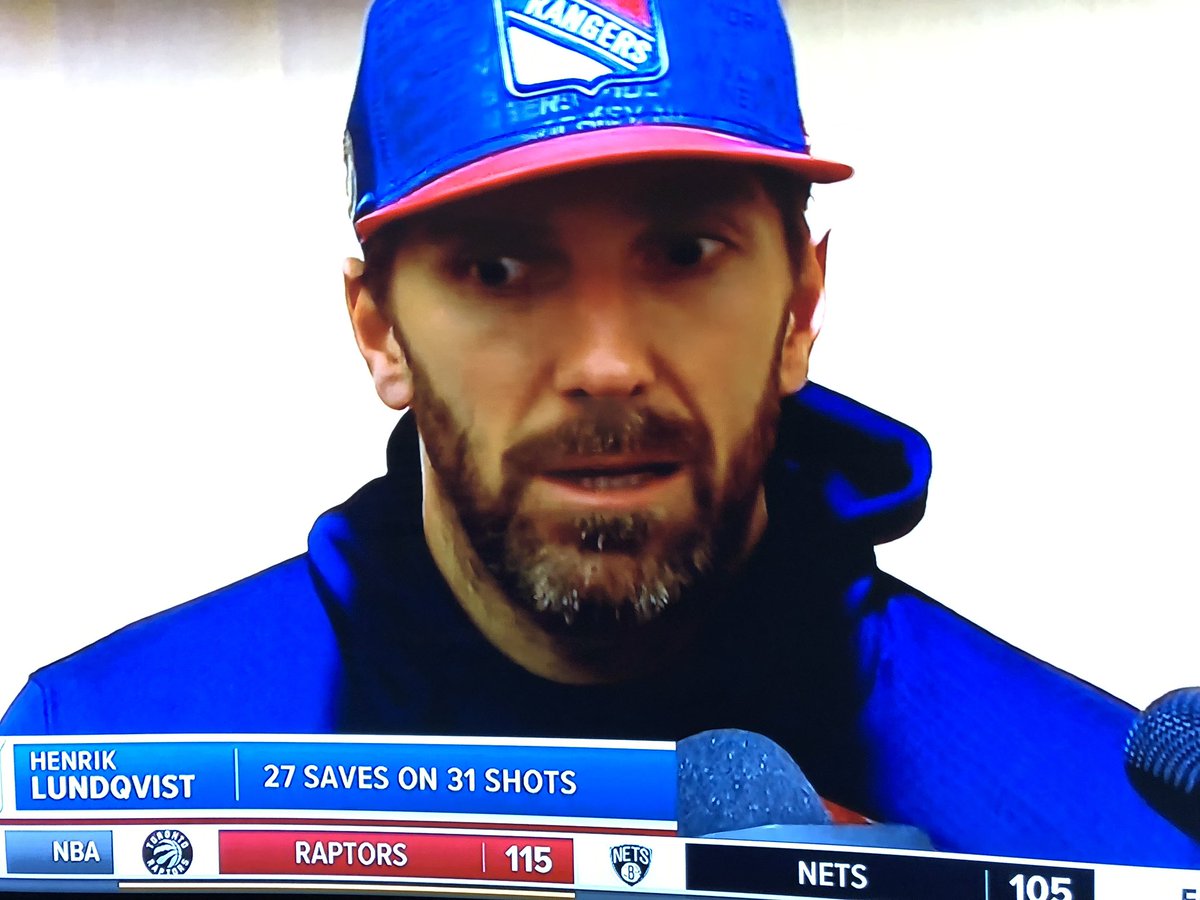 What the Rangers did on Wednesday night may have been the most embarrassing thing they've done all season. I'll get into it later, but I don't give two craps about Hank's meaningless milestones. What really was disgusting was the Rangers allowing themselves to get dominated and raped by the worst team in the NHL. To make matters worse, the Rangers put forth one of their worst efforts of the season on Steven McDonald night.
Again, this is a bare bones blog today, but I'm assuming you know the history of the Steven McDonald Extra Effort Award. If you don't, reference my blogs from past seasons or just do a Google search.
Simply put, during the Rangers regular season, the two biggest games of the Rangers regular season are the home opener and the Steven McDonald Extra Award night. Yea, there are rivalry games with the Isles, the Flyers, the Devils and the ilk, but as far as big and important nights, nothing beats the home opener and the Steven McDonald Award ceremony.
If you're a regular reader here, leading up to this award, I was hoping Ryan Strome would win the Steven McDonald Extra Effort Award. Check my past blogs for my arguments on why I thought Strome should win.
However, with the passing of Steven McDonald, the award has now turned into a fan voting thing, which in turn, means the award has now become a popularity contest. I'm not bitching and moaning about that, but that's what it is now. Simple as that.
I thought Zibanejad was a deserving winner. I really have no qualms about that. That said, where was he tonight against the worst team in the league? Outside of a few meaningless goals, where has he been since the trade deadline?
It's hard to bury Zibanejad for winning this award, because he is the best player on the team. However, when you compare him to past winners, it seems like he only won because of popularity. Zibanejad plays hard, but there were so many games in the second half of this season where he didn't produce points. Even worse, he didn't put up any points against bad teams. If he's giving the most amount of effort, that doesn't say much about everyone else.
I don't want to come off like I'm raining on Zibanejad's parade. He was great, but not elite this season. He's the best guy on the club. However, I liked when the unsung heroes won this award and not the name brand players. I know many name brand players have won this award in the past, but those guys really did earn this award. How can you argue against Leetch, Messier, Graves, Gretzky or Talbot? (You knew I would throw that last name in there!)
At the end of the day, Zibanejad winning the Steven McDonald Extra Effort Award doesn't change anything. He definitely earned it. Perhaps I'm a bit salty, because on the day that Zibanejad wins this award, on a day where he's playing his former team nonetheless, Zibanejad was a non-factor in this game, just like everyone else. Where was the effort tonight?
If there was ever a game for me to not go long on, this was the game. The Rangers did nothing. They allowed Ottawa to dictate the pace, set the tone and absolutely eat the Rangers alive on the special teams.
If David Quinn is so anal about results and production, then there is no way that David Oliver or Lindy Ruff should be brought back as assistant coaches next season. The defense is horrible and the PK has been porous. The power-play makes you long for the days of Scott Arniel. That's how bad it's been.
You can break down this loss with three easy bullet points:
— Ottawa's special teams were special, while the Rangers special teams belong on the special short bus.
— Lundqvist was outplayed by the back-up goalie on the worst team in the NHL.
— The Rangers didn't seem to give two fucks about winning this game.
Let me get into this and get out of here quick. I am cranky and need a nap!
Back on the fourth line and playing under 9 minutes, Lettieri recorded two shots on goal and had two hits. I don't know how you can truly assess him from this game alone, because after all, the whole team did a whole lot of nothing tonight.
Of note, Lettieri's Wolfpack teammate, in John Gilmour, after three days in the Quinn Bin (Credit: BSU Radio) returned.
I don't get it. Quinn wants to get a good look at Lettieri and Gilmour. During these final games, Lettieri was sent back to the mish-mosh fourth line, while Gilmour was benched for three straight games. That's some way to assess talent.
Before the game, the Rangers tweeted out the following: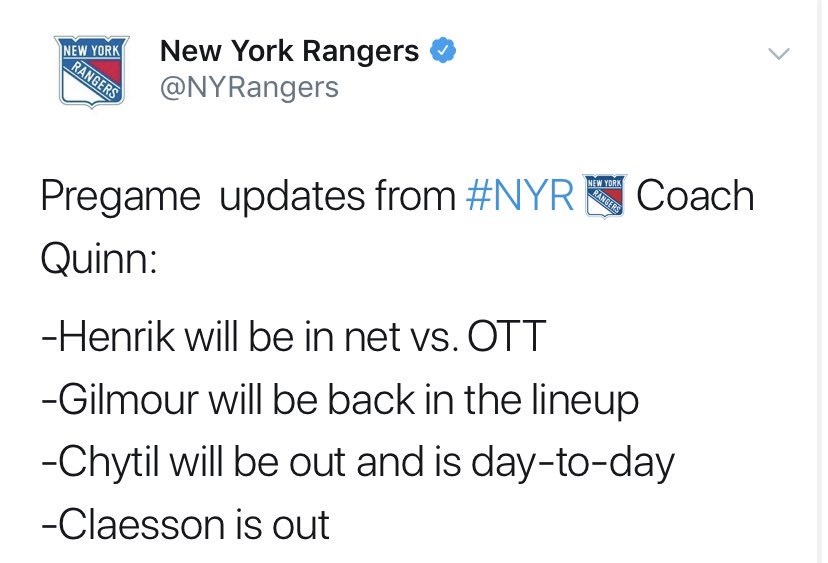 With the WORST team in the league in M$G tonight, all Quinn could talk about was trying to get Lundqvist a win. That's some way to build up the team. Does anyone else realize that the Rangers are the only team in the league to cater to & that builds around a broken down egomaniac?
Oh, and how about Quinn once again showing us why he's a hypocrite:
Latest Post article has Quinn talking out of both sides of his mouth. Quinn wants to evaluate talent & hold people accountable, but wants to focus on getting one player a milestone. Team game! #nyr pic.twitter.com/XkrC95odjj

— BlueCollarBlueShirts (@NYCTheMiC) April 3, 2019
For Quinn, trying to get Lundqvist 20 wins was important. Why? How does that benefit the team? How does that help the goalie you should be trying to build confidence in, you know, your rookie goaltender who blows away Lundqvist in every major statistic, in Alexandar Georgiev?
Here are the lines Quinn used for this game:
FIRST LINE: Kreider/Zibanejad/Buchnevich (They got shots off tonight, especially one really good chance from Mika Zibanejad when all alone and in front of Nilsson, but alas, they couldn't score. Not very elite. Oh, and Buchnevich was back in the line-up after being held out on Monday, due to precautionary reasons. Again, if Buchnevich is hurt, why risk him in these final three games?)
SECOND LINE: Namestnikov/Howden/Strome (This line wasn't bad persay, but this line should also be able to score against Ottawa.)
THIRD LINE: Lemieux/Andersson/Vesey (Andersson scored a shorthanded goal. To Steve Valiquette, that makes Andersson the next Ryan Callahan. I'm not joking. Take a look at what Vally said:
Andersson (20 yrs old) has bite to his game. Tonight he had a forehand deke that was very similar to Cally's, but to the opposite side. Cally's first breakthrough was a 2 goal game vs Boston on St Patty's day a few days before his 22nd birthday. https://t.co/yVw4nROvoU

— Stephen Valiquette (@VallysView) April 4, 2019
Really? One goal makes Lias Jessiman the next Ryan Callahan? I guess in "Vally's World" that makes sense. After all, to Vally, Henrik Lundqvist is still a premiere goaltender in this league.
Lias Andersson is the next Ryan Callahan. Holy shit. Vally should issue a retraction for that one.)
FOURTH LINE: Smith/Nieves/Lettieri (Maybe I'm looking to make this comment, but based on how they can't connect on their passes, I wonder if there is still an issue between Smith and Lettieri? Smith needs to be dealt in the off-season.)
Defensively, here's what we had:
FIRST PAIR: Skjei/Shattenkirk (It seems Lundqvist is scared to yell at Shattenkirk, because Shatty was terrible tonight and we didn't see Lundqvist give it to him on TV like how Lundqvist gives it to other teammates.)
SECOND PAIR: Staal/DeAngelo (Best pair, as usual.)
THIRD PAIR: Gilmour/Pionk (Woof.)
Of note, Filip Chytil is most likely done for the season, after suffering an injury at the end of the Devils game. There's no point in bringing him back, but then again, you have to wonder why the injured Kreider & Buchnevich are still playing. I guess all hands on deck is important during another failed Lundswiss attempt at winning game number 450. (Lundqvist has lost his last 6 games, with 5 of those games taking place against crappy teams.)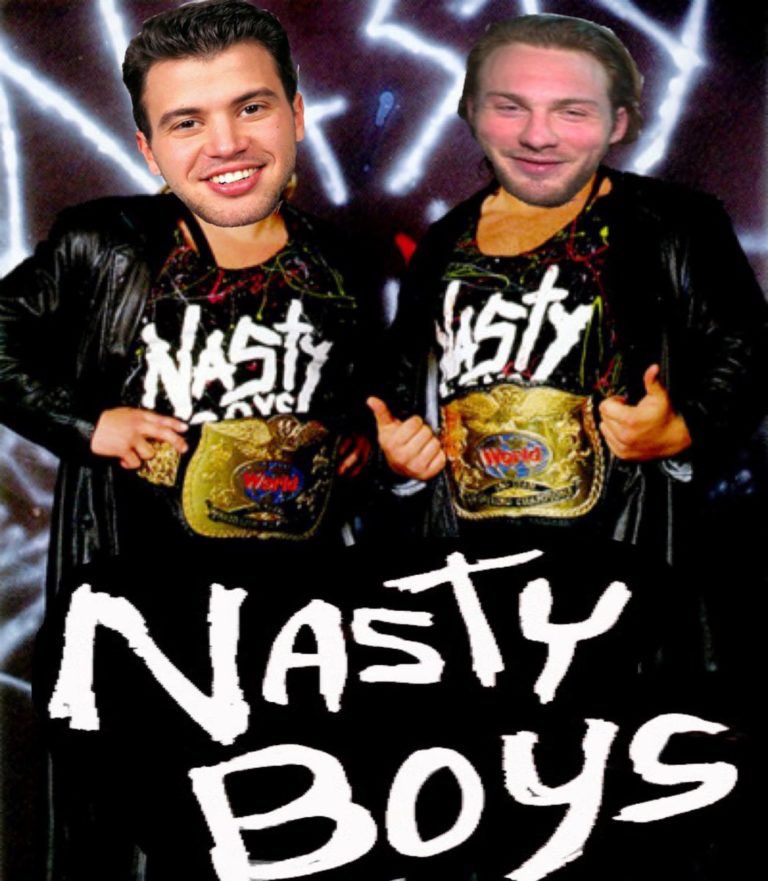 Gambling time!
Here's what I said before the game:
Bet the over. Don't even think twice. #nyr pic.twitter.com/rE4K6SYeaa

— BlueCollarBlueShirts (@NYCTheMiC) April 3, 2019
Ugh. I had the right idea. I knew Lundswiss would give up four. I also expected the Rangers to at least get 2-3 goals, if not four of their own. Then Lundswiss could've lost in OT. However, the Rangers offense, AGAINST THE WORST FUCKING TEAM IN THE NHL, only got one goal, and it was a short-handed fluke goal at that. PATHETIC.
With this loss, my record drops to 34-21-3.
ESPN.com box score time. Here it is, in all its glory:
SCORING SUMMARY:
1st Period
12:14

Bobby Ryan

(15)

(Power Play)

Assists: Chris Tierney, Brady Tkachuk

1
0
13:29

Zack Smith

(9)

(Shorthanded)

Assists: Magnus Paajarvi

2
0
2nd Period
3:51

Brady Tkachuk

(22)

(Power Play)

Assists: Colin White, Thomas Chabot

3
0
4:52

Lias Andersson

(2)

(Shorthanded)

Assists: Vladislav Namestnikov, Brendan Smith

3
1
3rd Period
14:58

Brian Gibbons

(8)

Assists: Colin White

4
1
PENALTY SUMMARY:
1st Period
1:13

Vladislav Namestnikov:

2 minutes for Interference

10:55

Chris Kreider:

2 minutes for Tripping

12:47

Cody Ceci:

2 minutes for Tripping
2nd Period
2:55

Brendan Lemieux:

2 minutes for Hooking

2:55

John Gilmour:

2 minutes for Hooking

16:52

Christian Wolanin:

2 minutes for Delaying Game-Smothering puck
3rd Period
6:03

Brady Skjei:

2 minutes for Roughing

9:31

John Gilmour:

2 minutes for High-sticking

19:19

Andreas Englund:

10 minutes for Misconduct (10 min)

19:19

Vladislav Namestnikov:

10 minutes for Misconduct (10 min)

19:19

Anthony DeAngelo:

10 minutes for Misconduct (10 min)
GOALIES:
| | | | | | | | | | | |
| --- | --- | --- | --- | --- | --- | --- | --- | --- | --- | --- |
| SA | GA | SV | SV% | ESSV | PPSV | SHSV | SOSA | SOS | TOI | PIM |
| 28 | 1 | 27 | .964 | 20 | 3 | 4 | 0 | 0 | 59:55 | 0 |
| | | | | | | | | | | |
| --- | --- | --- | --- | --- | --- | --- | --- | --- | --- | --- |
| SA | GA | SV | SV% | ESSV | PPSV | SHSV | SOSA | SOS | TOI | PIM |
| 31 | 4 | 27 | .871 | 20 | 0 | 7 | 0 | 0 | 59:55 | 0 |
I'm going to keep this review part of the blog short here, because of my time issues and really, because of the disgust that's running through my veins.
The Rangers were once again sloppy and put the other team on the PP immediately. The Rangers would kill the first Ottawa PP. On the second Ottawa PP, Bobby Ryan, all alone, roofed one past Lundqvist. Could Lundqvist make this save? Maybe. Is this goal all on him? No. That said, we would then later see Nilsson make similar saves on Zibanejad and others.
Right after 1-0 bad guys, Ottawa would then score a short-handed goal. Inexcusable on the Rangers PP and Lundqvist himself. 2-0 bad guys at the 13:29 mark of the first period. To go down 2-0 to this terrible Ottawa team and on this night, again, fucking pathetic.
Before three minutes elapsed in the second period, Lundqvist was flopping like a fish out of water as he always does. Lemieux would have to make a save here as he stopped a puck from crossing the goal line. However, before this play, Lemieux and Gilmour both were called for hooking. On the ensuing 5 vs 3 Ottawa PP, Tkachuk, who by the way, Joe Micheletti has an undying raging hard-on for, scored. 3-0, bad guys.
For those keeping track, that's three special team goals for the Senators.
A minute after the Tkachuk goal, while still on the PP, Andersson scored a shorty on his own. Nice looking goal, but this is one goal in how many games? 3-1, bad guys, but at least the Rangers cut the deficit.
Towards the end of the second period, the Rangers would get another oPPortunity. Once again, they squandered it. 3-1 after two periods.
The third period was like watching a slow drip from a faucet. The Rangers tried to patch their mistakes and while the game didn't get too out of hand, the leak wouldn't stop.
The Rangers would kill two penalties in the period, but couldn't do anything offensively. Brian Gibbons put the Rangers down for good at 14:58. 4-1, bad guys and that would be your final.
For as much as I criticize Lundswiss on these blogs, and really, a lot of it has to with his blame game post games, I'm not pinning this loss on him. Sure, he was out-played, but every Senator out-played the Rangers tonight. This is a team wide loss. This is on Quinn. This is on the first line. This is on the defense. This is on Lundqvist.
As I've said since day one on these blogs – the Lundqvist contract was never going to work.
This game sucked and these Rangers should be all embarrassed. If Quinn wanted to send a message, he would press box everyone on Friday.
After this debacle, as usual, major Ranger news was not broken by the Ranger beat writers. No, the major news, as usual, was broken out of Canada. For guys like Brooks, Carpiniello and whoever else, they get the scraps after Bob McKenzie breaks a story.
Here's McKenzie after the Rangers loss tonight:
Is Glen Sather stepping down as president of NYR? Multiple sources suggest it's likely to happen in the near future, that this is Sather's call and that he would still be an advisor to James Dolan, executive chairman and CEO of MSG, but NYR would be looking for a new president.

— Bob McKenzie (@TSNBobMcKenzie) April 4, 2019
After McKenzie broke this story, Larry Brooks would confirm it a few hours later.
Again, I'm pressed for time here, but of course Sather wants off this sinking ship. Even worse, somehow, he dictates his terms once again, as he will remain an advisor. ADVISOR TO WHAT? For 19 years, this man has won jack shit here.
In the interest of time, I suggest you check out this blog I did on Senile Sather last season: Examining The Era of Senile Sather
In short, I'm happy Sather is gone, but how he remains with this team is insane.
As far as replacements, I would love to see Tortorella here, just because it would shake shit up and it would put the Rangers on the back pages again.
When it comes to other candidates, I know fans want JD or Mark Messier, but why would they leave their roles with the teams they are with already?
I'll get more into this topic once this season mercifully ends.
Two more games are left, as the Rangers will host Columbus on Friday and then travel to Pittsburgh on Saturday. For the Rangers metro rivals, both teams need to win, which means Alexandar Georgiev will start both games, as the fragile mental headcase goalie making $8.5M can't handle the pressure.  In fact, in his post game interview, Lundqvist told John Giannone that he wants no part of Pittsburgh. WHAT A WARRIOR! WHAT A LEADER! Remember, this is the same coward that ducked Tampa in the home finale last season too. This isn't a first time thing for King Loser.
My work schedule has picked up, and really, with the season over, this is when I like working crazy hours, working seven days a week and working a ton of overtime. If you know me and you know about my road-trips, from April-October, this is when I like to be working like a mad-man, so I can save up a ton of money to go on these trips.
As far as this blog, depending on my work schedule, Friday's game blog will be delayed. If I can't get something started by 8AM, I may skip doing one.
However, it looks like I'll have off Saturday, so I'll do a review on the final game of the season then. After that blog, I'll do the report card, the looking ahead stuff and all that good shit. Once the playoffs start, I plan on doing a weekly blog, book reviews, Delorean reviews and player profiles on Rangers that the franchise has forgotten from their history.
Either way, two games left and if you're reading these words, thanks for sticking around all season.
See ya Friday, hopefully.
As always, thanks for reading and…
"LET'S GO RANGERS!"
Sean McCaffrey
BULLSMC@aol.com
@NYCTHEMIC on twitter