Greetings and salutations everyone and welcome to another blog here on BlueCollarBlueShirts.com. Premature? Probably. In the moment? Definitely. But hell, here you go – "WE WANT THE CUP!"
The Rangers held up their end of the bargain on Tuesday night at the "World's Most Expensive Arena." As a result of their 4-1 Game Four defeat of the Hurricanes – the Blueshirts have now evened up the series at two games a piece.
There's a lot to unpack here – and as you'd imagine.
For starters, the Carolina Hurricanes have yet to win a road game during their 2022 Stanley Cup playoff campaign. After their loss on Tuesday night – they are now 0-5 on the road.
However, and more important than that, especially with the pivotal "swing" Game Five ahead – they're also 6-0 at home.
The Rangers, who forced a Game Six of this series as a result of their back-to-back wins at M$G; the Blueshirts have now turned this series into a "Best of Three" affair.
Should our beloved Blueshirts continue to protect home ice, while the Canes continue to struggle away from Raleigh – one Rangers' road win will seal the deal.
And if you're a fan of the Rangers – you have every reason in the world to believe that the Rangers can win a game in North Carolina.
After all, the Rangers should have won Game One. They were right there the whole way during Game Two. That stated – "coulda, woulda, shoulda," and you can't live in the past. What's done is done.
At the present time, all you can do is hope that they have now learned the errors of their ways, where in addition – the Rangers will enter Game Five, the most important game yet of this series, with all of the momentum.
Sorry Cane fans – unless you're delusional and can't admit the obvious, this much is clear – the Rangers have been the better team of this series.
All of the pressure is now on the Carolina Hurricanes to win this series, a team that entered this series with the pressure on them to begin with. That pressure has now been intensified.
And if you watched the two games at M$G, this much is evident – the Canes are RATTLED and have NO ANSWERS.
---
I'm not going to play my "Greatest Hits" here, and tell you once again how I've been right on most things this season – but yeah, I have to get this out of my system too – this Rangers' win (the most important thing of all), was another victory for the EYE TEST fans. It was also another major loss for these pissant analytical fans!
As we'll get into during the NEWS segment; for whatever reason, there are still assholes, smelly pieces of trash, that still doubt Gallant at his every turn and move. Tonight, and prior to puck drop – these losers cried about Gallant's lines – AGAIN!
When will they ever learn?
What happened next? The Rangers provided their biggest goal out-burst of this series.
Why some people doubt the likely 2022 Jack Adams Award winner is beyond me.
Whether people are crying about "The Turk's" decision to bag skate the team, shake-up stagnant lines, playing time, or what – once again, Gallant proved all of his haters wrong – aka "the usual."
Furthermore, and as noted about 7896786789678967896789678967867896 times before on this site – there is not one chart, graph, moon map, hieroglyphic, or whatever else Sieve Vagistat is pulling out of his ass these days, that can capture what happened on Tuesday night.
Instead, the old reliable, your pair of eyes, was of most service tonight.
Without a shadow of a doubt – Jacob Trouba's MONSTER TRUCK hit on Max Domi during the first period inspired the Rangers and soon led them to victory.
While you can't blame Canes' center Steve Lorentz for defending his fallen teammate after another brutal, yet clean, hit out of the TROUBA TRAIN; his instigator penalty, as a result of defending whatever honor Max Domi still has left, kicked off the Rangers' scoring.
Even better for Trouba, at least personally for him? The following:
It were his two best friends on the team, Frank Vatrano and Andrew Copp (where both of these men temporarily lived at Trouba's pad during the regular season once first arriving to New York), who connected for the first goal of the game.
And while on the topic of friendships, and in another event that took place during this same first period – a BFF Lindgren to Fox deflection goal would eventually hold up as the game winner, following the 2021 Norris winner putting the Rangers ahead 2-0.
Lindgren and Vatrano weren't done yet, as each player would later record a multi-point game tonight.
Up by two, and in a second period that was the complete opposite of the first twenty minutes of action; the two would then assist on Mika Zibanejad's loose change goal, as MONEY MIKA put the Rangers up by three.
Carolina, who just had no answers for Gallant's new lines ("BUT, BUT, BUT – GALLANT DOESN'T KNOW WHAT HE'S DOING AND ISN'T A GAME MANAGER" – aka real remarks stated by the analytical losers of this fan base), would soon capitalize on a Rangers' turnover during the third period, when Teuvo Teravainen, after an assist from Ranger killer Sebastion Asshole (nickname credit: Roc from "2 Guys, 1 Cup"), beat Igor top shelf.
The Rangers, now protecting a 3-1 lead and with 13:27 remaining in regulation – would do just that.
Once again, a "TROUBA'Z TREEHOUSE" member would come up big, as Andrew Copp allowed Ranger fans to breathe with 8:50 remaining, following his perfect one-timer blast – and as set up by Ryan Strome – two players, that for some reason, Ranger fans (and the media) are talking about for next season.
(As previously mentioned during these playoffs – I'll worry about the 2022-23 season once the 2021-22 season is complete. I want to live in the moment!)
---
It wasn't just all about "TROUBA'Z TREEHOUSE," the BFF's of Fox & Lindgren, and Mika Zibanejad either.
Once again, CZAR IGOR, who finished this match with a clean and round number of thirty saves, was brilliant.
A lone Rangers' turnover prevented him from finishing this game with a shutout tonight – and as is often the case.
And yep, as stated during the regular season, at the start of this postseason, during my Carolina/New York series preview blog, and one more time tonight – I just don't see CZAR IGOR losing four out of seven games.
Again, and at the risk of playing my "Greatest Hits" here – I've been waiting for these days for a LONG time, and as both a fan and a DAY ONE believer – I feel vindicated right now.
No joke – CZAR IGOR has been even better than I ever pumped him up to be!
Outside of Andrei Vasilevskiy of the Tampa Bay Lightning, who the Rangers could WILL see when they knock off Carolina; there's no other goalie in the league, much less of these playoffs, that can compare to #31.
However, I'm getting ahead of myself right now. We can talk about Tampa, and their neutering of the Panthers, at a later time.
---
As CZAR IGOR continued his dominance over Carolina; there was his buddy, who always belts out "SHESTY, RELEASE US!" prior to every game, who wasn't taking one ounce of fecal matter from the timid Candy Canes.
Of course, I'm talking about #75, Ryan Reaves.
Between scaring the bejesus out of Game Three zero Tony DeAngelo, taking care of the trash in Max Domi, and leading the team (along with Alexis Lafreneire) in hits (five each, where again – we're seeing the 2020 first overall pick excel and progress with each game played) – the fourth liner, often an irrational target among the analytical assholes – "THE GRIM REAVER" once again proved his purpose.
Reaves was not only a detriment for Carolina – he was in their heads too.
But it wasn't all about scoring, shots on goal, saves and the box score either.
Chris Kreider, Tyler Motte, Kevin Rooney, K'Andre Miller, Justin Braun, Braden Schneider, and really, everyone besides Artemi Panarin, all came up big – especially defensively.
While we can get into what didn't work during the GAME REVIEW; as a teaser for now – yep, the Rangers once again sucked on faceoffs. It dooms them every game – where if it weren't for CZAR IGOR in net – then who knows?
If it weren't for the end of the third period, the Rangers' would've been doubled-up at the dot tonight.
In total, Carolina won 33 faceoffs and the Rangers only won 18 – which comes out to a "winning" percentage of 35.3%.
It got so bad, that during the first period, Filip Chytil (0-2) was yanked from the dot, as if he were a bad comedian getting the literal hook. In his steed, Tyler Motte took faceoffs for his line, but he didn't fare much better (2-6).
Zibanejad, who had more success than usual (9-9); only had that success, because Gallant, at home, had the last change, where he tried to avoid #93 matching up with Jordan Staal – a Staal who has completely owned Zibanejad at the circle throughout this series.
Rooney and Strome, while still pivotal tonight, only finished with one faceoff win each, in the twelve faceoffs they took – combined.
While I don't have a status update on Barclay Goodrow for you, this much is clear – the Rangers Achilles' heel is at the dot, and the faster that Goodrow, a strong faceoff man, especially during zone faceoffs, can return – the better.
---
While faceoffs remain an issue, at the same time – when you have CZAR IGOR in net, he's able to clean up these mistakes.
That said, all of these never-ending faceoff losses is a big part of why he doesn't have a playoff shutout to his name – yet.
What better time than a Game Five to record one – a game we'll get into at the end of this blog.
At this time, let's get into all of the pregame news and interviews, and then into the main event – the GAME REVIEW.
---
Following the Rangers' Game Three victory, the team held an optional practice on Monday. Once the practice concluded, the media spoke to both "THE TURK" and "THE GRIM REAVER."
Here are the interviews:
---
---
As you'd expect, both Tony DeAngelo and Max Domi were brought up to Gallant and Reaves, where both men were careful in what they said. In fact, at one point, Reaves stated, "I don't want to say anything stupid here."
Similar to what I said during my Game Three review, both men also said that they couldn't get away from the Rangers' gameplan, but at the same time – if any shenanigans should arise during Game Four – they'd be ready.
Spoiler, not a spoiler, alert: they were.
As far as anything else; there wasn't much of note, where yep, you guessed it, the team's mantra of "one game at a time" was repeated – a mantra that has paid dividends for Gallant's Gang all season.
A day later, Tuesday, Game Day; Gallant spoke to the media one last time prior to Game Four:
---
I couldn't make out the reporter's voice (it didn't sound like one of the regulars, but maybe it was Colin Stephenson), but I got a chuckle out of the first question – "who will be your goalie tonight?" Gallant, with a smile, eagerly responded with "SHESKY!"
After laughing about the tongue-in-cheek question regarding his goalie, the head coach said that his line-up would largely be the same, but there could be some slight tweaks.
Gallant, who previously said that he would like more faceoff success from his team; also said that he was aware of the low numbers – but that his team had to keep playing their game despite their woes at the dots.
"The Turk" also praised his defensemen, where he brought up how young his players were and how well they have played.
In more follow-up comments concerning DeAngelo and Domi, Gallant said that he was an emotional guy, something he displayed during his playing days and now as a coach.
Gallant then said that if anything happened during Game Four, it wouldn't be because of any sort of retaliation from Game Three, as his focus, and the mission of his team, is to win the game – and as it should be.
Gallant also showered praise upon CZAR IGOR, and brought up how excellent he has been for him and the team all season. "The Turk" also brought up that Raanta has been pretty good for Carolina too.
---
Here's what "The Turk" ultimately went with for this "Paul Cyr" tribute game:
FIRST LINE: Kreider/Zibanejad/Vatrano
SECOND LINE: Panarin/Strome/Copp
THIRD LINE: Lafreniere/Chytil/Motte
FOURTH LINE: Kakko/Rooney/Reaves
Defensively, we had this:
FIRST D-PAIR: Miller/Trouba
SECOND D-PAIR: Lindgren/Fox
THIRD D-PAIR: Braun/Schneider
And in net, CZAR IGOR.
---
BOX SCORE time.
The following information and graphics come from the new world-wide leader in NHL coverage, ESPN.com:
SCORING:
PENALTIES:
GOALIES:
| | | | | | | | | | | |
| --- | --- | --- | --- | --- | --- | --- | --- | --- | --- | --- |
| SA | GA | SV | SV% | ESSV | PPSV | SHSV | SOSA | SOS | TOI | PIM |
| 28 | 4 | 24 | .857 | 16 | 1 | 7 | 0 | 0 | 59:41 | 0 |
| | | | | | | | | | | |
| --- | --- | --- | --- | --- | --- | --- | --- | --- | --- | --- |
| SA | GA | SV | SV% | ESSV | PPSV | SHSV | SOSA | SOS | TOI | PIM |
| 31 | 1 | 30 | .968 | 24 | 3 | 3 | 0 | 0 | 60:00 | 0 |
---
At 6:25PM, I tuned into the M$GN, where that annoying gambling guy, and if you should believe in such stuff – pretty much said everything that could have jinxed the Rangers – such as how Carolina's power-play hadn't scored, the Rangers' top guys were due, CZAR IGOR owning the Canes, Raleigh's team not being able to win on the road and so forth.
Five minutes later, the M$GN pregame show began, where Henrik Lundqvist was dressed in an all-black suit, where because I know the history of this franchise – I was hoping that these threads weren't the indication of a funeral. However, and as my buddy @FeelTheMess would later say – this was a POWER suit, a suit that implied dominance.
Thankfully, Mr. Mess was right with his hunch!
Lundqvist, with the worst back-up goalie of his era beside him, Sieve Vagistat; opened up the broadcast by saying that he was a fan of the nasty stuff that took place during the end of Game Three. He felt that it would carry over into Game Four – despite both Reaves and Gallant saying (at least publicly, as I'm sure they felt different privately) otherwise.
As far as who was right? It's a mixed bag.
This game didn't get nasty until Trouba's CLEAN hit – but obviously, Domi was a target for THE GREAT EIGHT. We also had some fireworks at the end of this game, where this time, Reaves was ready and able.
Lundqvist, who usually echos what I say on this site (I'm not saying that he reads me and recites my opinions – this is only to say that he's an EYE TEST guy – unlike his useless broadcast partner to his left), said that he was a fan of Gallant's line changes.
As mentioned about 278967824678267825 times before on this site – you can always change lines in-game.
That said, Gallant wouldn't need to tonight, as once again – he pushed every right button – something Lundqvist would reiterate during the post-game show.
(And after this game, I would expect Gallant to go right back to these lines during Game Five. And if he doesn't? I won't care!)
Following a segment with Dave Maloney, where the former captain absolutely raved about the top four of the Rangers' blue line; Vagistat tried to break down plays and then bombarded us with his foo-foo stats, only for Lundqvist to bring the seven-foot jackass back to reality.
Come 7PM, I tuned into ESPN, where both the great Ryan Callahan and Kevin Weekes said what I felt – the Rangers WOULD win Game Four! All of us, come 9:45PM, would be proven correct!
As far as anything else from the pregame shows, some quick observations:
— Have you guys and gals seen these PETER BONGIORNO law firm commercials, ads that appear on both M$GN and ESPN, as if they were JB SMOOVE Caeser ads? These pay-to-play spots are straight out of 3AM late 1990's cable access television show. You got this lawyer pretending to be Tom Hagen, while possessing a mouth akin to Sonny Corleone. And at the same time – Mr. BONGIORNO is also boxing derelicts in some ring. I'd never use this guy to represent me, but I do laugh whenever I see his spots.
— Opera singer John Brancy, who seems like he could be the successor to John Amirante; the baritone was back to singing the national anthem. I think he does a good job.
— As expected, M$G was much louder tonight than they were on Sunday, and for the reasons that I predicted during my last blog – more time to booze, a work night where the suits were in the city, no longer an 0-2 hole, and the shenanigans from Game Three juicing up the crowd.
GAME REVIEW time!
---
Two more quick things before going to puck drop.
One – M$G is now pumping "SHESTY, RELEASE US" over their PA system. Wise move.
Two – and perhaps more important – both goalies played great.
Don't let Raanta's numbers from this game, the worst of this series, fool you.
Carolina didn't play their best tonight. However, like Lorentz and Domi – it were Raanta's stats taking the beating because of that.
And yep, give credit to the Rangers too!
---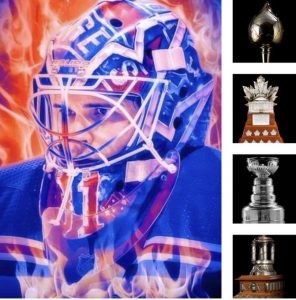 FIRST PERIOD:
The first period of this game was a complete Rangers' domination. It was also another period, where following it, you have to wonder about the Rangers' gas tank level.
More times than not, whenever they have one of these kick-ass first periods, they then come down to earth for the next thirty or so minutes. That's what happened tonight too.
At least they were rewarded on the scoreboard following it!
After Chytil lost the first faceoff of the game (no shock), he'd soon retrieve the puck, where he tried to set-up Lafreniere. No goal, but a strong play.
As Tony DeAngelo started hearing the boos (he was never jeered harder than he was tonight); just eighty seconds into the first frame, CZAR IGOR arguably recorded his best save of the contest, where #31 ABSOLUTELY ROBBED "OH JOE, IT'S JOE PESCI JOE!"
In a response to this superhero save, the "IGOR, IGOR, IGOR" chants then echoed all over M$G.
2:28 into the period, Trouba fanned on a "TROUBA BOMB" attempt. Thirty seconds later, Ryan Reaves, most noticeable tonight, poke-checked a puck off of the blade of the Bobby Orr of his generation, Brendan Smith. This clearing of the zone was appreciated.
3:45 into the period, Raanta matched Igor's big balls save, as he denied Lafreniere on a breakaway. In other words – both goalies now had one game-changing save a piece.
At the 4:25 mark, the Rangers' received a power-play, following a Seth Jarvis infraction committed on Frank Vatrano.
The Rangers pretty much did everything but score during this power-play, including controlling the puck for the final 1:45 of this man-advantage (they got the puck into the zone after another o-zone faceoff loss – of course); but couldn't get Raanta to break. In all, #32 in Carolina white recorded four saves during these two minutes.
(Also of note, with the Cane penalty killers on the ice, and with the Rangers' power-play now expired – the Canes iced the puck. No call. Keep this in mind, as I'll bring this up again shortly.)
As you were just thinking, "Father Fink – the Rangers should be up 2-0 right now;" CZAR IGOR stopped DeAngelo. With Carolina still attacking and at full-strength, Lindgren then nailed Svechnikov with two nice hits.
With 10:28 left on the clock, Panarin tried some razzle-dazzle, but couldn't shake Jordan Staal, much less get a SOG either.
Nine seconds following Panarin going offside; the Canes iced the puck. Just as M$G did during the Pittsburgh series – they gave the officials a "BRONX CHEER" for the correct call.
Now under ten minutes to go, Kreider tried to go for the same goal scoring play that he connected on during Game Three, but despite his great display of hands – was denied.
After Chytil lost another faceoff (no more faceoffs from him after this failure); Igor was forced to stop Svechnikov just two seconds following this battle at the dot loss.
With 8:22 remaining, and in a period where the Rangers were the better team, but weren't rewarded on the scoreboard just yet; we had the turning point/play of the game:
Watch out Domi, here comes the Trou Trou Train 🚂pic.twitter.com/0Kzx3jBfpf

— Rangers Videos (@SNYRangers) May 24, 2022
---
After Trouba absolutely knocked Domi into next week; this is when Lorentz tried to defend his teammate. In turn, he had his lights punched out. A valiant, yet failing, effort for Mr. Lorentz. He looked like Peter McNeely going up against Mike Tyson.
Even better, and in a rare occurrence – the officials actually got this right.
Trouba's hit, while vicious, was clean. There was nothing to box him for here, outside of his fight.
However, since Lorentz dropped the gloves and instigated the fight – he was boxed for an additional two minutes.
Lorentz also received a ten-minute misconduct, which then meant that the Canes would be without a forward for the remainder of this period.
So often this season, we've seen Trouba lay out suckers with clean hits (keep your head up champ – as was the case with Domi here), where the opposing team immediately takes a run at him. More times than not, all we get are off-setting penalties. It was nice to see the officials actually get this right and finally enforce the instigator penalty.
Nicer than that? Frank Vatrano and Andrew Copp:
FRANK VATRANO GETS THINGS GOING IN GAME 4!pic.twitter.com/EI5Q6G142f

— Rangers Videos (@SNYRangers) May 24, 2022
---
1-0, GOOD GUYS, and with 6:29 to go!
With just seven seconds remaining on their power-play, and after seeing the PP1 unit do nothing (it's hard to set up the offense when you're spending your whole power-play chasing the puck after losing every faceoff imaginable known to man); the PP2 unit came on, and there was Andrew Copp setting up his buddy, Frank Vatrano, for the first goal of the game.
Obviously – this first goal of the game was much needed for the Rangers.
Not to be outdone, just 2:11 later, Fox scored, as he deflected a potential snipe from his chum, Ryan Lindgren:
ADAM FOX WITH THE TIP!

2-0!pic.twitter.com/4dippsNGvD

— Rangers Videos (@SNYRangers) May 24, 2022
---
2-0, GOOD GUYS!
Finally, the Rangers not only had the lead – but they had a two-goal lead too!
This goal had M$G rocking, where the fireworks weren't over yet.
Right after Fox's goal; Reaves leveled crybaby Svechnikov.
Then, with 2:33 to go, this happened:
I swear DeAngelo said he will murder Reaves. Dude is so unhinged.

Besides, Reaves could end Tony's hockey days if he wanted to. #NYR pic.twitter.com/GIAVeoLiwF

— Garrett (@SportyGman10) May 24, 2022
---
Here you have Ryan Reaves, who Gallant alluded to a lot during these past 48 hours, getting right up in DeAngelo's face.
Of course, DeAngelo waited for the zebras to break things up before running his mouth.
At one point, DeAngelo said, "I DON'T BACK DOWN, EVER!" Reaves laughed it off.
Of note: DeAngelo did nothing for the rest of the game and avoided #75 in blue whenever he could.
Also of note: DeAngelo, who came into this series with one goal and seven assists (his eight playoff points led all Canes when entering this series), the former Ranger in #77 has NO POINTS during this series.
Give M$G a ton of credit for that.
As predicted – all of the booing has rattled him.
He's not the same player that he was during the Boston series, where yep – I'm currently knocking on wood as I type this out – as I don't want to reverse-jinx/snap this point drought!
This much is clear – DeAngelo has been a NON-FACTOR in this series – and I say that as a fan of his, and not as one of his many haters that are out there. (I don't care who these players vote for, what religions they subscribe to, or anything else of a personal nature. All I care about is how they play.)
However, he is the enemy now – and I'm loving every second of both Reaves and M$G owning him!
And when DeAngelo sees Reaves? My advice – "WATCH YOUR TONE!"
After twenty minutes, 2-0, GOOD GUYS!
Here's what I said at the time on the TWEETER MACHINE:
2-0, GOOD GUYS after 20. 1P Thoughts:
— #NYR started off well, but Trouba hit changed the whole game.
— Everyone is motoring.
— SOG 11-8, Hits 10-7 R; FO's 11-6 Canes
— Let TDA & Reaves go
— Gallant is a genius
— Only advice – 40 minutes more of that!
LGFNR#NYR

— BlueCollarBlueShirts (@NYCTheMiC) May 24, 2022
---
SECOND PERIOD:
The second period was the complete opposite of the first, but by the end of it – the Rangers had extended their lead.
Let me also give a quick shout-out to ESPN's Emily Kaplan – the shining star of these ESPN broadcasts.
We all know why Ray Ferraro hates the Rangers – a big story which will be featured in my upcoming book.
Sean McDonough, who I can't stand, as he'll constantly hammer the word "SHUTOUT" like a Father Finkin' mush whenever he can; is alright otherwise. However, I get red-faced irate whenever he jinxes the CZAR!
Throughout this series (and really, during these entire playoffs – I just notice it more during Ranger games, as I'm obviously more invested during these contests featuring my favorite team) – Kaplan has been tremendous.
Usually, during any broadcast, no matter what the sport; the "sideline reporter" (male or female) will ask stupid and meaningless questions. "Do you want to win?" "Do you think you need to score more points than the other team?" "Would a victory tonight be good for you?" and stuff of that ilk is usually asked.
Not Emily Kaplan.
I've brought her up before – but god damn pal – does she ever understand the concept of "LIVE THEATRE" during professional sporting contests.
As she's routinely done throughout these ESPN presented playoff games; during tonight's broadcast, she avoided all "softball" questions, and instead – asked questions with all of the impact of a Jacob Trouba hit.
My favorite question featured during tonight's broadcast? This one, when speaking to Rod Brind'Amour:
"Rod, what's your frustration level with your power-play?"
This was her elegant way of saying, "Rod, your power-play Father Finkin' blows. What gives?"
She'd also interview Gallant during one of these breaks, where once again, she asked the right question – "Turk, what did you think of the Trouba hit?" Gallant was all smiles and praised it.
All of this was refreshing, and only added to the excitement level of the game – where yes, and also admittedly – the Rangers won, so of course I am riding a high!
---
After the Rangers lost the first faceoff of the middle stanza (of course), Motte would get the puck and then shoot wide at the 29 second mark.
Up next was a failed Strome-to-Copp connection; but they'd later connect. Following this particular play however, Lindgren then broke up a Svechnikov chance, and at the ninety second mark.
At the 2:10 mark, we had more magic out of CZAR IGOR; as #31 came up with another patented robbery – this time on a Teravainen two vs one odd-man rush chance. Unbelievable save.
As the Rangers had major issues with winning faceoffs and clearing pucks; CZAR IGOR stood on his head.
As we approached ten minutes remaining, both Trouba and Schneider came up with big-time shot blocks.
Now down to 10:31 remaining, the Rangers were trapped in their own zone for a long time, and for nearly two minutes at that.
As the Rangers were absolutely gassed and standing around like statues; Lindgren was boxed for interfering with Aho.
This was a soft call in my opinion. While contact was made, we've seen worse go uncalled.
The Canes wouldn't register a shot on goal during these two minutes.
Instead, it was Antti Raanta who came up with the biggest save during this time, where like CZAR IGOR, he recorded another (his second) game-changing save of the game, where he denied Zibanejad on a two vs one odd-man penalty kill attack. (Kreider was flanking Mika at the time.)
Can't blame Mika at all here. He did everything possible to score, including lifting the puck as opposed to just lazily shooting it at Raanta. Raanta just did his job. Tip your cap to him.
Now back to full-strength; with 7:42 to go, CZAR IGOR denied Staal.
Two minutes later, CZAR IGOR dialed up one of his patented home run passes, where he found Chytil in Carolina's zone. However, #72 couldn't take advantage here.
Now under five minutes remaining, the Rangers only had three shots on goal during this period. They'd score on their fourth:
Mika to make it 3-0!pic.twitter.com/vHB6lDgFTq

— Rangers Videos (@SNYRangers) May 25, 2022
---
3-0, GOOD GUYS, and with 3:12 to go.
On this goal, this was perhaps the first time that the Rangers had received "puck luck" during this series.
After a Lindgren rip from the slot; Raanta gave up a rare rebound (I think he's only given up three rebounds during these four games played thus far), and there was Zibanejad, in the right place and at the right time, to cash in the loose change.
Then, with 2:01 remaining, Smith interfered with Rooney, in a penalty call that felt like a make-up call for the earlier infraction assessed to Lindgren.
The Rangers' power-play couldn't find the fourth goal of the game here.
It was also another brutal outing for Panarin, a #10 who just refuses to shoot the puck, including when all alone and from two feet away. Ugh.
After forty minutes, this is what I said at the time:
3-0, GOOD GUYS after 40. 2P Thoughts:
— Wasn't a pretty second period, but who cares – all that matters is the score.
— #NYR could be up by 5 or 6 too.
— SOG 20 all, Hits 19 a piece, FO's 25-12, you know who
— Rangers PP 1-4, kill 1-1
— Play the third like the first!

— BlueCollarBlueShirts (@NYCTheMiC) May 25, 2022
---
THIRD PERIOD:
You know the cliche – "don't give up three goals, win the period!"
And that's what happened.
In another period full of sweat, sharts and scares; just twelve seconds in, and after another Rangers' faceoff loss – CZAR IGOR was forced to make a stop.
Seriously, and I know I sound like a broken record – but I don't think that a hockey team could be this bad on faceoffs even if they tried to throw the game. However, here are the Rangers!
With 16:36 to go, we had a questionable penalty, following Brendan Smith pushing Lafreniere into Raanta.
For whatever reason, the Carolina homers on ESPN thought this was a good call.
In my opinion, and despite my Ranger fandom – I don't know how a guy being pushed from behind, while trying to back-up, could be called for interference here.
However, and in another hockey adage – "puck don't lie."
Unlike the previous Canes' power-play, which didn't record a SOG; during this go-around, they'd log three – all saves for CZAR IGOR.
Now back to full-strength, Raanta stopped a good try out of Mika, and with 13:57 left on the clock.
As McDonough kept screaming the word "shut-out," and in the worst case of verbal diarrhea that I've ever heard too – Teravainen, after a Rangers' turnover, went top shelf on CZAR IGOR.
3-1, and with 13:27 to go.
With everyone fearing "the dreaded three-goal lead;" butt-holes were now sucked into throats among Rangerstown, USA.
After Miller blocked Necas from scoring on a vacated net, a play that if #79 wasn't there, would've meant 3-2; Panarin then had a breakaway.
I guess at this juncture, I have to give Panarin the "Julien Gauthier Treatment" and say – "and you know the rest."
Following Raanta's denial of the stale bread; #32 then stopped Kreider with 9:05 to go. The Finn wouldn't be so lucky nearly thirty seconds later, after Strome found Copp for a one-timer that allowed Rangerstown, USA to breathe:
Andrew Copp makes it a 4-1 game!pic.twitter.com/W3pYZzIhS0

— Rangers Videos (@SNYRangers) May 25, 2022
---
4-1, GOOD GUYS, and with 8:50 remaining!
With 7:25 to go, Svechnikov laid a massive, yet clean, hit on Chytil. Lafreniere wasn't having none of it and went right after Carolina's star. In a response, Svechnikov dragged #13 in blue down to the ice.
As noted, and as always on this site – I call it as I see it – even if it doesn't favor the Rangers.
Not only should Svechnikov not have been penalized here – but Lafreniere should've been boxed too.
The officials, on the Rangers' side today (a rare display), boxed Svechnikov and also allowed Lafreniere to get away with one.
During this gifted Rangers' power-play, they opted to play conservative (and as they should've done) and never tried to force the issue because of their three-goal lead.
Now down to the FOXWOODS FINAL FIVE, and also back to full-strength; we then had dueling chants of "TONY SUCKS" and "IGOR!"
The Rangers would then ice the puck with 1:50 to go.
In what I thought was mildly surprising, if not telling – Brind'Amour didn't use his timeout, nor pulled his goalie.
While the Rangers had this game in the bag – if I was Carolina – what's the difference in losing 4-1 or 5-1? And heck, why take yourself out of the running of maybe making it 4-2 too?
No matter.
The end of this game was a carbon copy of Game Three:
Because how else would Game 4 end?

(via @RTaub_)pic.twitter.com/UAd2nsD0wk

— Rangers Videos (@SNYRangers) May 25, 2022
---
As Domi, Cole, Reaves and Miller all went at it; the game concluded.
In what was funny, is that you had all of this physicality and penalties taking place with about fifteen seconds or so left on the clock.
The officials just wanted to get the hell out of there, let the clock run – and once the final buzzer went off – then assessed all of the penalties that were listed above.
4-1, GOOD GUYS.
2-2 SERIES.
GAME SIX, SATURDAY (time TBD – hopefully at night) at M$G!
And should the Rangers keep this momentum going – they could close out these Candy Ass Canes on Saturday – what a great way to celebrate Memorial Day Weekend!
---
Here's your favorite coach and mine, Gerard Gallant, after the win:
---
It's extremely late as I write these words and I have to be up early tomorrow.
Time permitting, I'll try to return on Wednesday, with more thoughts and a Game Five preview.
And that's how big this win is, as despite 10,000 words tonight – I still have more praise for this team and things to say!
PLUGS TIME.
---
On Monday morning, "2 Guys, 1 Cup" returned with an episode, where they looked at the first three games between the Rangers and Hurricanes.
To listen to the show, click the link below:
Episode 47 is up!! Game 3 postgame!#NYR https://t.co/CSF4LXzNO0

— 2 Guys 1 Cup Podcast (@2G1CRangers) May 23, 2022
---
Also on Monday, Ron Duguay and company returned with a new episode of "Up in the Blue Seats," where they took a deep look at Game Three.
To listen to the show, click the link below:
— Ron Duguay (@RonDuguay10) May 23, 2022
---
My first plug of tonight's blog – the mandatory plug for my book, "The New York Rangers Rink of Honor and the Rafters of Madison Square Garden".
As mentioned previously, the book is now available in hardcover, in paperback and in Kindle formats. To purchase a copy of the book, visit this link:
https://www.amazon.com/Rangers-Rafters-Madison-Square-Garden-ebook/dp/B09CM5N2WD
For those still looking for signed paperback versions of the book, I have re-ordered more copies. I now have a few signed copies for sale at $25 a pop (includes shipping price) through me directly. Here is all the information on that:
---
Here are my last few blogs, in case you missed them:
---
---
---
If you haven't already, subscribe to this blog for the next update:
---
Up next: Game Five in Raleigh, North Carolina. Not a MUST WIN game for the Rangers – but yeah – it would be excellent if they can make Game Six an elimination game for the Canes!
And should the Rangers win on Thursday night – it will be the first time they've taken a series lead during these 2022 Stanley Cup Playoffs.
As always here, thanks for reading and…
LET'S GO RANGERS!
Sean McCaffrey
BULLSMC@aol.com