Greetings and salutations everyone and welcome to another blog here on BlueCollarBlueShirts.com. As has been the case all season, the Rangers always keep it interesting. There's rarely ever a slow news day.
I originally was going to save all of the Tom Wilson aftermath for tomorrow's blog, which will be the Rangers vs Capitals 5/5 game review/recap. However, so much stuff occurred on Tuesday, that I wanted to do a separate posting, in order to "lighten the load" for tomorrow.
In case you've been living under a rock, which would mean you have more grit than the Rangers currently do, Tom Wilson's actions from Monday night at M$G is the top story in all of the NHL. This story has even received mainstream attention too. If you need a rundown of what happened, here's my last blog, which covered everything:
---
There's so much going on right now, in the wake of Wilson's take-down of the Rangers. Before getting into everything Wilson, I think you have to not only look at the last two weeks of Rangers hockey, but the entire season too.
No matter how many times, that Rangers head coach David Quinn has used terms such as "swagger", "snarl", "grit" and "edge" during his tenure; as we've known for a long time now, this team does not possess this type of player. David Quinn, who is soon to wrap up his third season with the Rangers, has really never had this player that he often yearns for, whether he realizes it or not.
If you go back to the previous era of Rangers hockey, which is the Alain Vigneault era of hockey, you had guys like Derek Dorsett and Daniel Carcillo during the Stanley Cup run of 2014. Starting with the 2014-2015 season, you also had guys like Tanner Glass and Dylan McIlrath. While we all know that McIlrath never panned out, just because he was born at the wrong time, Tanner Glass was indeed great in his role for the Rangers. However, push come to shove, both Glass and McIlrath were always stand-up teammates and were always willing to go.
In fact, look no further than the "St. Valentine's Massacre" game from the 2015-2016 season, where both Glass and McIlrath threw down with the Flyers in the first minute of the game, after captain Ryan McDonagh was injured by Wayne Simmonds, which took place in the game previous between the two rivals.
I should also mention, I attended that 2/14/2016 game at M$G. While there were goals scored in that game, off the top of my head, I can't tell you who scored them. I can tell you, off the top of my head, and over five years later, that I remember Dylan McIlrath (who was on the ice for this reason) picking a fight with Wayne Simmonds, just 40 seconds into the game. Less than 20 seconds later, Tanner Glass (who was also on the ice for this reason) went after Ryan White.
The players policed themselves in this game, as Officer Glass and Officer McIlrath reported to duty. Fast-forward to today, outside of fringe Rangers in Adam McQuaid (not one Ranger fan cried when he rag-dolled Nazim Kadri) and Cody McLeod, David Quinn has never found the "officer" that he needs. And of course, Jeff Gorton deserves some of the blame here too, because he's ultimately tasked with fleshing out the roster.
In addition, I'm using the word "officer" here instead of "enforcer", because like it or not, the role of the enforcer has been phased out of hockey. Similar to quarterbacks now needing to be able to run or how big men in basketball now need to be able to shoot three-pointers; in hockey, teams just can't dress one guy whose sole role is to fight. The enforcer, just like other positions in the wide-world of sports, has evolved. Tom Wilson is the poster-child of this hybrid enforcer/officer in today's NHL, because no matter how you feel about him, if Wilson was to take the rough stuff out of his game, he'd still be an NHLer.
I don't want to keep doing my "Greatest Hits" or go into re-runs during this blog, but I have to say this one more time – the Rangers have too many guys who all do the same thing and don't have a roster stew. As the old expression goes, it's great if you like chocolate and want to eat it all the time, but eventually, you'll want to shake it up and have vanilla, strawberry or another flavor.
What is baffling, is the two players that the Rangers had on their roster at the beginning of this season, and two players that have been willing to fight in the past, even if they aren't the best fighters, in Tony DeAngelo and Brendan Lemieux. Theoretically, these guys should've been valued members of the roster to DQ, as they possess the traits that DQ always lauds. However, these two were also very outspoken and had tempers, which to a college coach, was a big no-no.
While I'm not saying that DeAngelo and Lemieux would've solved the Rangers lack of toughness issue from this season, at the very least, you would've got a response out of them during critical moments. Trouba gets hit by Martin. That's a suspected concussion. Lindgren gets slammed into the glass by the Islanders. That's another suspected concussion. Mika takes an elbow to the face by Martin. The Rangers didn't retaliate. And last night, the Tom Wilson stuff happens, where Panarin's season is now over, and the Rangers, just like the Martin hit on Mika, didn't do anything. Gun to my head, I would place cold hard cash that either DeAngelo and/or Lemieux would've fought or at least went after someone on the opposing team, during any of these incidents. With these players now long gone, the only player that the Rangers really have that can throw down, is Brendan Smith, where admittedly, he's not the greatest fighter in the league either.
And if you look at the big picture here, the Rangers were able to win most of these games over the Sabres, Flyers and Devils, who are young like the Rangers. Against established veteran teams with real men on them, the Rangers turned these games into boys vs men, where they often found themselves on the wrong end of. Again, just look at these last two weeks alone, where the Rangers smacked up the Devils and Sabres, but once they were matched up with the Islanders and Capitals, the Isles and Caps not only ran the Rangers off of the ice, they ended the seasons of several Rangers as well.
I mean just look at that photo above and try to remember that game. Here's Brendan Lemieux fighting an Islander, during an exhibition in the first game of the "COVID-19" era. In the Rangers last three games against the Islanders, both Trouba and Lindgren received season-ending injuries, injuries which are rumored to be concussions. In addition, Mika ate that Martin elbow too. In turn, the Rangers lost all three of these games by a cumulative score of 13-1. While the Islanders do possess talent, they also have a team of many tough guys. With the word on the street being the Rangers are soft, and man oh man, did they sound even softer today, teams know that once you bruise up the Rangers a little, they will fold like a cheap suit.
However, that was then and this is now. Aside from the previously mentioned Brendan Smith, the Rangers just don't have anyone who can go, especially with Lindgren and Trouba done for the season, where really, neither of these two are fighters either. If the Rangers front office should take anything out of this season, it is that there need to be some changes. You just can't have 12 forwards who all would do better in figure skating than during a school yard scrap. While I'm not saying that you need your stereotypical goon here, you do need a Matt Martin type, a Ross Johnston type, a Wayne Simmonds type, etc. You need that player that DQ always alludes to, whenever he says "swagger, snarl and grit". Simply put, the Rangers have never had that player during these three DQ years, unless you're hard-pressed to make a case for Lemieux.
Let's get into the news, where I'll take a look at the Wilson stuff first and then the Rangers reaction to all of it.
---
The tweet shown above from the NHL Player Safety Twitter account was the way this news was broken. No statement, no explanation, no nothing. Just the facts – a $5000 slap on the wrist.
Later on in the day, the NHL covered the story on their website, which you can visit if you click here: https://www.nhl.com/news/tom-wilson-fine-for-roughing-pavel-buchnevich/c-324337768?tid=277549076
In short, the NHL said the following:
NEW YORK – Washington Capitals forward Tom Wilson has been fined $5,000, the maximum allowable under the Collective Bargaining Agreement, for roughing New York Rangers forward Pavel Buchnevich during NHL Game No. 814 in New York on Monday, May 3, the National Hockey League's Department of Player Safety announced today.
The incident occurred at 7:40 of the second period. Wilson was assessed two minor penalties for roughing and a 10-minute misconduct.

The money goes to the Players' Emergency Assistance Fund.
As you may know already and expect, none of this is going over well, unless you're part of the Washington Capitals or root for the Washington Capitals.
I don't want to do a big political rant here, but a lot of the cancel culture people came out today, where many, including Larry Brooks and Steve Valiquette, were championing for Wilson to be suspended for a year. Sadder, by the end of the day, the Rangers joined the cancel culture movement too, which I'll soon get into. I understand why these people feel this way, but I'm not a fan of "canceling" or trying to take the job of someone, unless they are a criminal. Then again, I guess some people do consider Wilson to be a criminal these days too.
In addition, to think that Wilson was going to be suspended for a year or more was moronic. That said, many fans and other writers, like Brooks and Valiquette, were also hoping for a massive suspension as well.
As far as what I think, knowing that $5000 is the maximum fine, which is the equivalent of an NFL player not wearing the right socks or one of us being too lazy to pick up a quarter that we just dropped on the floor; as stated last night, I thought Wilson should've been suspended. However, I didn't think Wilson deserved a crazy suspension either. In short, I felt a moderate suspension would suffice. Instead, outside of not fining him at all, the NHL gave Wilson the least amount of punishment possible, which is not going to sit well with the majority of the hockey world.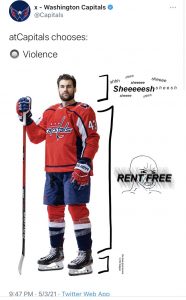 I know ESPN isn't the best source for hockey news, even despite them recently acquiring the television rights of NHL programming; but what they said today pretty much went hand-in-hand with what I said last night.
When determining Wilson's punishment, and as mentioned on NHL.com, the only thing that was looked at was Wilson's illegal rabbit punches to the back of Buchnevich's head. I agreed with that. While what Wilson did to Panarin may be considered cowardly and against the unwritten code among hockey players, when looking at this with an unbiased eye, Panarin jumped on Wilson's back and blindsided him. Again, as talked about last night, Panarin was in the right for defending his teammate, but at the same time, he opened himself up to whatever was coming. In short, whatever Wilson did with Panarin was considered fair game and was omitted from his punishment.
When it comes to the incident, which was solely what Wilson did to Buchnevich, at the very least, I thought he should've been suspended for four games. If the NHL wanted to send a message, they'd suspend him for at least the first round of the playoffs too. No matter what, to only fine Wilson $5000, a guy with a reputation and a guy who is a repeat offender, is just ludicrous. It's like giving a pedophile murderer a house arrest, rather than a life sentence. Without question, some sort of suspension should've been added to Wilson's fine.
And really, this is the issue. If a guy like Wilson and with that track record, only gets a $5000 fine here, what's to deter anyone from doing this? It's open season now. You want to swing your stick at someone's face? Search in your couch cushions and pay the fine. You want to beat someone up while they are horizontal on the ice? Sell some autographs and pay your fine. You want to cold-cock and blindside someone? $5000 please.
Making matters worse, is in the event that something similar like this happens, and the NHL then decides to give out a harsh punishment. The NHLPA can now use this Wilson/Buchnevich incident in a hearing when protesting that hypothetical punishment. The bar has been set.
Without question, the NHL Player Safety group and the NHL themselves, have now set a dangerous precedent. And really, with all the attention this play got, I still can't believe Wilson only has to pay some chump change.
In addition, if the NHL decides to reverse course and give Wilson a suspension, the NHLPA union will have every right to protest, as they can claim the NHL cowered to public pressure.
Let's now look at the Rangers, before wrapping up on Wilson.
---
I'm about to share with you the zoom call and comments from both Ryan Strome and DQ today, but before doing so, I just want to quickly touch on the Rangers walking wounded.
On Tuesday, DQ confirmed that Ryan Lindgren and Jacob Trouba were done for the season. As talked about last night, this was to be expected, as there is no point in rushing them back and creating a setback. It was also confirmed that Panarin is done for the season too, which we all knew already. For Panarin, between the "KGB" stuff from earlier in the season and now this, he finishes this season, probably leaving anywhere from 20-30 points on the table. As far as Kreider goes, he's still "day-to-day", where really, I don't expect him back either.
In other roster news, DQ announced that Alexandar Georgiev would get the start against Washington on Wednesday, which I pretty much thought, as I thought each goalie would get one more home game before the season's conclusion. Plus, with Wednesday being the start of a back-to-back set of games, I figured Georgiev would get this start and then Igor would get the start on Thursday in Boston. It should also be mentioned, with Georgiev starting Wednesday, DQ went back on something he previously said this season, when he said he planned on giving Igor back-to-back games. This never happened.
Here's DQ's complete interview:
When it comes to the key quotes of this interview, here they are, with my reaction in
BOLD PRINT:
In responding to the question of, "do you think Wilson's fine was fair?", DQ said: "Not at all, to me, anybody in hockey, certainly everybody in our organization is disappointed, we certainly thought it warranted a suspension, we are just really disappointed. A line was crossed, a guy didn't have his helmet on, vulnerable, he got hurt, to me there was an awful lot there to suspend him."
I agree with DQ here. As talked about earlier, although I believe Wilson should've been suspended for what he did to Buchnevich. I think what Wilson did to Buchnevich is somewhat being swept under the rug a bit, due to Panarin's season-ending injuries.

---
When responding on how to hold Wilson accountable, DQ said: "We've talked about it as a team this morning, it's something that we talked about. The fact is that we have to protect each other, we've gotta stick by each other, which I thought we did last night. There are different ways to do it, the way we are built, it's not going to be a brawling situation for sure, that being said, we can play hard and protect each other and that is what we have to to do."
I have no clue what DQ means here, because the Rangers didn't do one damn thing after the Wilson incident. In fact, the Rangers imploded and allowed the Caps to score four consecutive goals. If the "different way" is to hug each other in the locker room, as they often do on the ice, that's not going to help the team win games.
---
Concerning the team having no enforcer, DQ said: "I mean, we'd love to have one. It's just those guys are few and far between. The league is certainly going in a direction where there aren't a lot of those guys that are in the league and it's just part of the situation that we are in. I'm not frustrated by it, it's what we are, it's who we are, it's what we have and we are going to have to manage it."
I think DQ is right on this. There's no such thing as a true enforcer anymore, and it's tough finding these guys, but the teams who do find these guys, they usually go on to win the Stanley Cup. Just look at the recent career of Patrick Maroon.
---
On the possibility of calling up tough guy Mason Geersten from Hartford, DQ said: "I know how we are going to respond, I'm comfortable with how we're gonna respond. As far as a call up goes we've talked about a lot of different scenarios."
As of this writing, Geersten has not been called up. In fact, he played for the Wolfpack on Tuesday afternoon, where he even scored a goal.
I said this on social media and I'll say it again here – I totally get the reasoning for calling up Geersten and I'd love to see it. That said, calling up Geersten wouldn't say much about the Rangers. Rather than handling their own business, had the Rangers called up Geersten, not only are you putting a ton of pressure on Geersten to fight, where he'd have a ton of pressure on him already since it would be his first game; you're also asking an AHL kid to handle the business of NHL men. I get the appeal of calling up Geersten, but it's not like Geersten has a bond with these guys and I don't think it's fair to ask him to shoulder the load. The current Rangers need to man-up here, that's all.
---
Here's Strome, talking about the Wilson incident/Panarin injury:
Strome would also say this, regarding Wednesday night's rematch:
"Just go and play hard. They have a big, strong team. They're heavy. We know who we are, we know who they are. I don't think there's going to be anything crazy. It's not the type of team we have."
If anything, that quote doesn't instill much confidence. It's just another reminder that Jeff Gorton and JD will have to rectify the Rangers lack of roster depth/toughness this off-season.
But wait, there's more.
About seven hours after DQ and Strome met with the media, the Rangers issued this following statement:
As I write these words, there's been no league reaction to the Rangers calling for the dismissal of George Parros from his chair as the head of NHL Player Safety. It's being reported that the Washington Capitals will not be responding to this, and will let the league handle this.
To me, I get why the Rangers released this statement. They are supporting their Hart Trophy candidate, in Artemi Panarin. They are backing their players. At the same time, I wonder how other teams in the league and how Tom Wilson is reacting to this? It's my belief that others must be laughing at the Rangers and talking about how soft they are.
I mean, you got the Rangers not only calling for an indefinite suspension of Wilson, but they also want George Parros "canceled" too. Rather than handling this with actions, the Rangers are using their words. And let's face it, no matter how savage you thought this incident was, there have been hundreds of these incidents over the years, and very rarely, do you see a team make a statement like this. That said, this is a profound statement, especially when you consider the Rangers are the most profitable team in all of the NHL. Their words carry weight.
Optically, this doesn't seem very "manly", as it seems very "millennial". Maybe that's some antiquated speak out of me, but I know I'm not the only one thinks this way:
I should also state that former NHL enforcers, and former Rangers from previous generations, in John Scott and Cam Connor, both said that they found Wilson's actions to be cowardly. Connor even said that Wilson acted like a "chicken shit", during his new "View from the Penalty Box" podcast, which was released on Tuesday afternoon. Of course, Wilson would've never pulled this stunt had the Rangers had a player like Scott or Connor in their line-up either.
And as mentioned last night, the Rangers had no issue when Brendan Smith tried to goad Wilson into fighting a few months back, when Wilson returned from his suspension. The Rangers were just on the wrong end of this one, because let's face it, in 95+ years of hockey, it's not like the Rangers have always been saints either. Heck, they needed someone like Joey Kocur to help them win their last Stanley Cup in 1994 too. This all feels like the Rangers "crying to mommy", but at the same time, I understand why they released this statement. That said, I do think the Rangers come off a tad "wimpy" with this, where I feel it's the end result of them being soft all season, thus all of these recent rash of injuries, with this Wilson stuff now being the climax of the misery. I think this is the last straw on the camel's back type of situation.
At the end of the day, this all feels like a product of this generation, where teams do their talking online, rather than on their playing surface. I know what the Rangers are saying is right here, but it does make them look weak too. A real statement would've been anyone taking a run at Wilson last night, rather than looking for social media brownie points, which to be fair, is not what I think the Rangers intentions are.
What the league's reaction to all of this is unknown. Will Bettman overrule or replace Parros? Honestly, I don't think so. After all, the best way to get past by a controversy is to not talk about it, especially in this 24/7 news cycle, where a new story will soon replace this one.
As far as Wednesday's rematch goes, which will be the eighth and final meeting between these two teams, I'm sure Wilson is being advised to play as clean as possible. DQ and Strome pretty much said they aren't going to take a run at him, but conversely, if the plan is to take a run at Wilson, you wouldn't admit that beforehand either. Regardless, I don't see a fourth line brawl here, like that one with the Rangers and Devils from nine years ago. At best, maybe you'll see Smith drop the gloves with Wilson and that will be that.
In closing on all of this, while Wilson will get the brunt of the hate from Ranger fans, the real story here is that the Rangers need to improve their roster this off-season. They need to find their own guy that no one wants to deal with, and it has to be a veteran. I know people are high on Geersten, but I think the Rangers need to find an established veteran with a reputation, that will make teams second-guess running the Rangers. After all, and as mentioned, this Panarin/Buchnevich/Wilson thing isn't the first time the Rangers got physically outmatched this season and if they don't get any help this off-season, it won't be the last time either.
How about we close with something positive, as at this time, I'd like to present to you, the 2021 Frank Boucher Fan Trophy Winner!
---
During the pause of the 2019-2020 season, I resurrected the Frank Boucher Fan Trophy. You can read that blog here: https://bluecollarblueshirts.com/4220/
The Frank Boucher Fan Trophy was created in 1952 and ran to 2010, before being phased out.
For those not familiar with the award, here were your winners from 1952-2010:
---
During my blog from last year, I filled in the time gap between 2010-2020 and announced winners from those seasons. Here are these winners of the Frank Boucher Fan Trophy:
2011 – Henrik Lundqvist
2012 – Henrik Lundqvist
2013 – Henrik Lundqvist
2014 – Henrik Lundqvist
2015 – Mats Zuccarello
2016 – Mats Zuccarello
2017 – Mats Zuccarello
2018 – Mats Zuccarello and Henrik Lundqvist
2019 – Mika Zibanejad
2020 – Artemi Panarin
---
The Frank Boucher Fan Trophy has historically gone to the biggest fan favorite and the most popular player on the team. When trying to decide who is most popular and who is most beloved, I've used this criteria:
— Fan reaction
— Jersey sales
— Worth of a player's autograph
— Community service/charity work
— Bond with fans
— The featured face of Rangers marketing/advertising
—- Player ability/amount of times featured as "three stars of the game."
Obviously, this year is tougher than previous seasons, due to the pandemic. However, when you break it all down, there's nobody else that deserves the Frank Boucher Fan Trophy more than Adam Fox. In a down season for the Rangers, Fox has been the Rangers brightest star and has created the most positivity, due to his Norris Trophy candidate season.
With other Rangers having so-so seasons, other Rangers having drama and other Ranger distractions, of all the Rangers, Fox has been the most consistent and has played at a high level all season. He is one of the team's most dynamic defensemen in sometime, where right or wrong, Fox has drawn comparisons to Brian Leetch.
During the past decade, Henrik Lundqvist was a slam-dunk candidate and winner of this award. In 2021, Adam Fox is in the same boat. With the Steven McDonald Extra Effort Award recently honoring fan favorites, it's no shock to see Fox win both of these honors this season. It's also my opinion that Fox is the team's MVP.
Congratulations to Adam Fox, who has been, yes, FABULOUS, all season.
---
If you haven't already, subscribe to this blog for the next update:
---
Back at it tomorrow, with a recap of NYR/WSH Part VIII.
Stay FABULOUS my friends.
Until then, and as always here, thanks for reading and…
LET'S GO RANGERS!
Sean McCaffrey
BULLSMC@aol.com
@NYCTHEMIC on Tweeter