"We all understand the situation we are in. Every team goes through rough stretches with injuries during Covid. Ours happens to be at the end of the season when we are out of the playoff hunt and playing a team vying for the Stanley Cup and after an emotional 48 hours for everybody and for a variety of reasons. We played last night, they don't, and it was a challenging night to say the least. We didn't lay down. I know the shots were what they were and it looked ugly at times, but these guys competed their assess off. There is a lot of good here right now and it's just unfortunate that we are in this position right now. It just doesn't feel good, but it's the situation we are in and these guys didn't lay down tonight." – Rangers head coach David Quinn, on 5/6/21, moments after the Rangers 4-0 sleepwalk loss. For what it's worth, I understand what DQ is saying, as the Rangers didn't lay down tonight – they were just running on empty after the physical and emotionally draining game and events from 24 hours prior.
---
"K'Andre I thought had a good first period and then there were some struggles there, but this is a kid who hasn't been home since June. He's played a ton of hockey for us and had an outstanding season. Under difficult circumstances we've asked him to do an awful lot and I can't say enough good things about him. He's got a hell of a future in this league and like we just touched on, it's difficult circumstances. We've asked a 21-year old to play 20 minutes of night, against everybody's top players, and for a long period of time and in a division as physically hard as it gets and I couldn't be happier for him." – DQ, one more time on 5/6/21, when talking about the rookie wall that K'Andre Miller has smashed into with the force of a Mack Truck. This game was not a good game for Miller. And not to make excuses, I thought that DQ was fair in his assessment of Miller. Miller, like many, is just a product of this wacky season.
---
Greetings and salutations everyone and welcome to another blog here on BlueCollarBlueShirts.com. Well tonight's game was ambien on ice. In fact, if you were like me, and watched the entire M$GN broadcast, and that also includes the post-game show; then give yourself a pat on the back – you're a real fan. That said, if you checked out of this game during the first period, I don't blame you either, as this game was like watching paint dry.
And oh, with the loss tonight, the Rangers losing streak is now at five games, where this losing streak is most likely to continue on Saturday. If that happens, this potential six game losing streak would be a season low for the Rangers. So much for going out on a high note. Blah.
Similar to Wednesday night, tonight's blog is more about the off-the-ice news rather than what happened on the ice. After the big and unexpected news from Wednesday, we had a ton of fall-out on Thursday, including an interview with James Dolan, where to his credit, I thought he rationally and sanely explained his decision to shake-up the Rangers front office. With that being said, I still don't get Dolan's infatuation with Glen Sather.
As far as the other news covered in tonight's manifesto, I have the Chris Drury & Glen Sather press conference for you, the latest on the fines and suspensions that both Pavel Buchnevich and James Dolan incurred, stuff on the roster and a recap/review of the latest episode of the "Up in the Blue Seats" podcast. And oh yeah, I have a summary of tonight's 4-0 loss to the Bruins, where I will be using "The Good, The Bad, and The Boring" style of recap. There's just no reason to make anyone re-live tonight's borefest all over again.
However, before getting this magic carpet ride started, as usual, the PLUGS segment.
Here are my last few blogs in case you missed them:
---
---
---
As talked about above, there was plenty of news before the Rangers uninspiring 4-0 loss to the Bruins on Thursday night. Let's run it all down.
At 10:30am Thursday morning, Chris Drury and Glen Sather talked to the media for about 15 minutes or so. You can watch the complete press conference/zoom call here:
As far as what was said, both Drury and Sather were diplomatic, as Drury, and throughout the press conference, heavily praised both Jeff Gorton and John Davidson. I thought this was to be expected, as Gorton pretty much mentored Drury, during Drury's journey to become a front office executive. Of course, Gorton never thought Drury would replace him, and most certainly not during this season either.
There weren't any real bombshells coming out of this, as both Drury and Sather said all of their conversations with James Dolan will remain private – and really, who expected otherwise here? In other words, we don't know when Drury was first tipped off about taking over, nor do we know when Sather got into Dolan's ear about needing to make a change. For what it's worth, Sather did say that he agreed with Dolan and that the roster needed a shake-up. That being said, what else do you expect Sather to say? There's a reason why Sather has been collecting paychecks for over 21 years from "Mr. Dolan".
As far as the status of David Quinn goes, Drury said he wouldn't answer that question, nor would he talk about the job status of anyone. Of note, while speaking about job statuses, not one member of the media asked Drury about the future of Tony DeAngelo. I know some of my DeAngelo stuff may come off as "fan-boyish", but really, it's a valid question and it should've been brought up.
Drury also said that he plans on staying the course with the rebuild, but obviously, with the firings of JD and Gorton – the playoffs will be REQUIRED next season and just can't be the goal.
Later on in the day, Drury appeared on "The Michael Kay Show", where he remained a good solider and basically gave fluff answers and team-speak. If you want a full transcript of what was said during that interview, check out this link: https://nyrangersnews.com/2021/05/06/what-chris-drury-and-glen-sather-said-on-thursday/#more-184044
If there was any "big news" coming out of this, it's the fact that Glen Sather confirmed that the Tom Wilson incident and the statement stuff had nothing to do with these firings. More on this during the "Up in the Blue Seats" podcast recap.
In any event, good luck to Chris Drury, who said it was his goal to bring a Stanley Cup to M$G. I've heard that before.
Moving on.
---
Following the Drury interview, it was announced later in the day that Buchnevich was suspended for one game, due to his cross-check on Mantha. Here's how NHL.com covered it:
https://www.nhl.com/news/pavel-buchnevich-suspended-1-game-for-high-sticking-anthony-mantha/c-324416268
NEW YORK – New York Rangers forward Pavel Buchnevich has been suspended for one game, without pay, for high-sticking Washington Capitals forward Anthony Mantha during NHL Game No. 830 in New York on Wednesday, May 5, the National Hockey League's Department of Player Safety announced today.
The incident occurred at 4:39 of the second period. Buchnevich was assessed a major penalty and game misconduct for cross-checking.

Under the terms of the Collective Bargaining Agreement and, based on his average annual salary, Buchnevich will forfeit $28,017.24. The money goes to the Players' Emergency Assistance Fund.

For a full explanation of the decision, complete with video, please click on the following link: https://www.nhl.com/video/t-277440360/c-8275326.
In my opinion, and probably in your opinion too, this is bullshit. Buchnevich didn't appeal the suspension, a suspension which cost him over $28,000 in salary, but he had every right to do so. As talked about last night, the NHL has set a precedent here, and how Wilson only got a $5000 fine for what he did, where financially, Buchnevich is hit in his pocketbook six times worse – well that makes no Father Finking sense.
And to be clear, YES, what Buchnevich did definitely earned him a suspension. My only point here is that if Wilson only got a $5000 fine for what he did, than Buchnevich should've received a fine equal to or less than the one Wilson received.
As far as why Buchnevich didn't appeal, my speculation is that with the Rangers playing two meaningless games and with the Rangers most likely wanting to put all of this stuff to bed, that it just wasn't worth the time or energy to do so.
Speaking of fines, the NHL slapped James Dolan with a whopping $250,000 fine on Wednesday as well.
While I think most Ranger and hockey fans knew that James Dolan would be getting a fine for his statement from Tuesday; I don't think anyone realized how huge that fine would be. In previous incidents around the NHL, which were somewhat similar to this one, 99/100 times, owners usually are fined $100,000. Dolan's fine in this instance is 2.5 times the usual amount.
Here's how the NHL covered this story on their website:
https://www.nhl.com/news/nhl-fines-new-york-rangers-for-comments-on-player-safety-director-george-parros/c-324413156
The New York Rangers were fined $250,000 by the NHL on Thursday for comments the team made about George Parros, the director of the NHL Department of Player Safety. 

"Public comments of the nature issued by the Rangers that were personal in nature and demeaning of a League executive will not be tolerated," NHL Commissioner Gary Bettman said. "While we don't expect our Clubs to agree with every decision rendered by the Department of Player Safety, the extent to which the Rangers expressed their disagreement was unacceptable."

The Rangers' comments about Parros came after the Department of Player Safety fined Washington Capitals forward Tom Wilson the maximum of $5,000 for roughing New York forward Pavel Buchnevich in a 6-3 Capitals win Monday. Rangers forward Artemi Panarin sustained a season-ending lower-body injury in the altercation with Wilson. The Rangers called for Wilson to be suspended and questioned Parros' ability to do his job. 

"It is terribly unfair to question George Parros' professionalism and dedication to his role and the Department of Player Safety," Bettman said.
It should be reiterated here, that once again, Jeff Gorton and JD did not want to release this statement and this was all the doing of James Dolan. It should also be reiterated that this statement controversy had no bearing on the now unemployment status of Gorton and JD.
I've made my opinion known on this – I thought the statement made the Rangers look wimpy, but I also understand why Dolan did it. I'm sure his players are happy about it, but similar to the way JD and Gorton thought; optically, this made the Rangers look bad.
Since I'm trying to keep tonight's manifesto and all of this Rangers news in chronological order, I'll get into the James Dolan interview on the other side of this "Up in the Blue Seats" podcast recap, because the podcast, which features Larry Brooks, was released prior to the exclusive and telling interview that Brooks secured with Dolan later on in the day.
---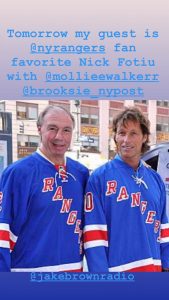 On Thursday morning, right after the Chris Drury and Glen Sather press conference, Ron Duguay and company released episode #55 of the "Up in the Blue Seats" podcast. As usual, this was another must-listen episode for any Rangers fan, just because of the Brooks news segment alone. An interview with Nick Fotiu was just the cherry on top.
To listen to the show, click the link below:
Up In The Blue Seats Podcast: @NYP_Brooksie & @NYRangers great Nick Fotiu joined @RonDuguay10 & @MollieeWalkerr.

Fotiu on Wilson/Rangers: "I would have jumped over the boards there & went right after Wilson."

Apple: https://t.co/qSJ6Py7mAw
Spotify: https://t.co/3faSkcG3hs pic.twitter.com/FAfsxStInM

— Jake Brown (@JakeBrownRadio) May 6, 2021
---
Let's get right into the recap. And one more time, this podcast was released prior to tonight's game and prior to the Dolan interview with Brooks.
---
Mollie Walker opens up the show by saying, "boy, that escalated quickly." My response to her, and in my best southern sassy female voice would be this, "girrrrrrrllllll, you ain't kiddin'!" Walker then talks about all the latest craziness in Rangerstown, USA and previews everything that's on today's episode.
After the podcast's intro music, producer Jake Brown also previews the show and asks us to rate and review the podcast. Done and done, five stars all around!
Duguay says there's a lot to talk about today. You don't say. Duguay says the Rangers went out with a bang in their final home game at M$G. Duguay mentions that Nick Fotiu will later join the show. Duguay then gets into the firings of Gorton and JD. Duguay says that "Mr. Dolan", (and that's funny to me, because all of these former and current players always call him "Mr. Dolan", rather than saying James Dolan) wasn't happy with things.
Walker says it's been a crazy 24 hours. Walker says all of this news is a shock. Walker says that Gorton spearheaded this rebuild and now his understudy, in Chris Drury, has the reins. Walker says the JD firing caught everyone off-guard. Walker says Dolan was mulling this decision for a while and how Dolan had a different philosophy than the JD/Gorton ticket. Walker says Dolan is done rebuilding and wants to win now, while JD and Gorton had a more patient approach.
Duguay mentions that he's friends with JD and how JD has been part of the Rangers family for some time. Duguay talks about all of JD's roles with the Rangers, such as a featured starting goaltender and in broadcasting. Duguay says Dolan must've really been pissed off with the team, in regards to Dolan's decision to fire JD, since JD is so beloved. Duguay says he won't argue with Dolan's decision and how he's liked the team's direction, but there were a lot of things off with the team. Duguay also thinks that the Rangers were too soft under JD.
Walker says what I said last night, and says these firings weren't just about Tom Wilson kicking everyone's ass – it was about the three Islander losses. Again, as said last night, I'm glad Dolan gives a shit about those losses and I can't knock him for being mad about those losses at all. Hell, I deemed each one of those losses as the "worst loss of the season!"
Walker says the three Islander losses were an eye-opener for Dolan and it just expedited his decision to fire JD and Gorton. Walker says DQ and the players were equally surprised as everyone else about this. Walker says Dolan "flexed his muscles" here. Walker says Drury is firmly in place as team president and GM and none of this stuff is interim.
Duguay questions George Parros and his decision not to suspend Tom Wilson. Duguay wonders if Parros made a mistake or if he wanted a game like the one that was played on Wednesday night? Walker mentions that JD and Gorton weren't on board with the statement that Dolan released on Tuesday. Walker says Gorton and JD tried to distance themselves from that statement, but their stance on this statement didn't impact their firings, as Walker reiterates that Dolan had been mulling this decision for some time.
As far as DQ's job status goes, Walker says she's not sure, mentioning the stuff I said last night. Walker says at the end of the day, Dolan could overrule Drury on who the coach will be next season. Walker says while making the playoffs were a goal this season, next season it will be a requirement.
Jake Brown says Dolan has a monster ego and how the fans don't like him. It should be mentioned, and by his own self-admission (in other words, I'm not knocking Brown here at all) Jake Brown isn't really much of a Rangers fan, as he's more of a Knicks, Jets and Mets fan more than anything else. All I'm saying is that Brown's opinions on Dolan are more Knicks rooted than Rangers rooted, as really, outside of keeping Sather employed for so long, most Ranger fans are indifferent on Dolan, where the same is not true when you're talking about the relationship that Dolan has with Knick fans.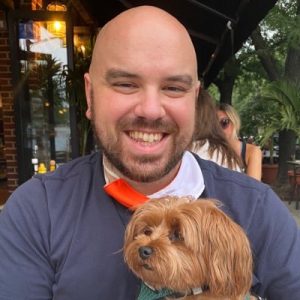 Jake Brown is surprised that the Rangers didn't fire DQ too. Walker brings up the Drury/DQ relationship. Walker, like I said last night, doesn't know what will happen with DQ. Walker does think that Drury is pushing for DQ, but says one more time, that DQ's fate will most likely be decided by Dolan.
Walker laughs at these firings and says the Rangers didn't even make the playoffs this year, so it's silly for Dolan to think that the Rangers will be a Cup contender next season. While she may be right, I can't knock Dolan for having a championship mentality either.
Duguay says he thinks DQ's hands were tied and wonders if DQ didn't get the players that he wanted. Duguay compares the Rangers to the Cup contenders of the league. Duguay says if DQ isn't on board with Dolan, then he will be out. Duguay brings up his past situation with Herb Brooks, and mentions that Brooks was a college coach too. Duguay says the games against Washington and the Isles were a wake-up call and how the roster definitely needs changes.
Brown brings up how Mark Messier didn't wait until the bodies were cold and was politicking for a job on Wednesday. Brown recaps the Messier stuff that I talked about last night. Brown and Walker talk about the "beat 'em in the streets and alley" quote, but neither realized this is an old quote, going back to the days of the first GM in Rangers history, in Conn Smythe. Walker says she was surprised how Messier didn't hold back at all. Walker says Messier threw both JD and Gorton under the bus.
Duguay mentions how Messier said he could 1000% coach the Rangers. Duguay says he'd love to see Messier behind the bench. Duguay feels Messier could run the team, but would need veteran assistants to help out. Walker mentions how different DQ and Messier sound. I don't think anyone should be surprised about that. Walker says Messier feels the Rangers are too soft and would shake up the roster. Brown does a comedy bit about the alleys and streets, where once again, neither Brown or Walker are aware of the quote's origin.
Brown feels that Messier wants the job and would be good for business. True and true.
Up next is Larry Brooks, who unlike the other beat reporters, had the JD and Gorton scoop first.
Walker talks about how the New York Post has four pages about the firings. (Even the back page too!) Walker asks Brooks how this all started. Brooks says what Walker previously said, and how Dolan wanted to speed up this rebuild and start winning. Brooks says it's a difference of opinion, regarding if the team is ahead or behind schedule, when it comes to the rebuild.
Brooks says he's surprised that Dolan didn't give JD and Gorton this summer to make some moves. Brooks says if Dolan and JD/Gorton disagreed on things, then that's why Dolan made his move. Brooks also brings up that Drury has been here for some time, so Drury knows everyone and all the players. Brooks doesn't think Drury is going to make some crazy move, like trading Kakko for a 32 year-old defenseman. Brooks thinks it's more fine strokes than broad strokes here.
Brooks says he knows that Dolan was mulling this decision for a while, but doesn't know what event was the last straw. Brooks talks about the Islander losses and how it alarmed Dolan. Brooks says he thinks the process may have began before the Islanders losses though. Brooks says it's crazy that just a week ago, the Rangers had a shot at the playoffs and now a week later we're talking about this.
Duguay talks about the character of the team and how weak they looked against the Isles. Duguay asks Brooks if DQ deserves some of the blame too. Brooks thinks the team was put together by management and with DQ having some input. Brooks says he'd like to see DQ coach a more established roster. Brooks says at the same time, every coach in the league would love to coach a team with Panarin on it. Brooks says it's been obvious for a long time and says the stuff we've all been saying for weeks – the team isn't diversified and have too many of the same guys.
Brooks says Gorton and JD did nothing to address the size and toughness issues last summer. Brooks also says, he understands that the salary cap restricted them in some areas too. (To counter here, the Rangers gave Jack Johnson over $1M, which could've been money to find some toughness.) Brooks says JD and Gorton did nothing in response after the loss to Carolina in the bubble. Brooks says the Rangers "achieved" this season, but they didn't "over-achieve." Brooks says the Rangers were just never able to take it to the next level and says the team "under-achieved."
Duguay agrees with Brooks. Duguay brings up how the Rangers weren't that far off this season. Duguay says the elephant in the room, regarding the team's toughness and make-up, was just never addressed.
Duguay brings up the line brawl from Wednesday. Brooks wonders if any of these line brawls ever make a statement or make sense, but says the Rangers did what they needed to do. Brooks said he chuckled while watching it. Brooks says while it was entertaining, those fights were nothing like the 1970's, despite some of the peers of Brooks saying that. Brooks said the Rangers were probably sick and tired of all of the criticism and just had enough. Brooks says what I said, and says while you can applaud the Rangers for their actions on Wednesday, where was this stuff in games previous?
Brooks thinks Strome's fight against Eller's was symbolic, bringing up the comments each player made on Tuesday. Brooks also praises Brendan Smith too.
Walker brings up how Parros planned on attending this game, but backed out. Brooks says he didn't understand why Parros even said he was going to attend the game in the first place. Brooks says while the decisions of Parros effected this game, Parros in the building wouldn't have changed anything. Brooks says outside of Buchnevich's cross check, no one got hurt last night and nothing was dirty. Brooks says anyone who was upset about this game was a hypocrite, because they watched it. This was great, as Brooks took shots on all these wimpy reporters that cried and belly-ached all game long. Brooks feels this is just part of hockey and this stuff happens. Brooks laughs at all these soft people who said last night was a disgrace.
This then wraps things up with Larry Brooks.
---
With only nine minutes remaining on this episode, Nick Fotiu returns to the show for the second time. Walker brings up her mother again and mentions how her mother once had a stack of pucks in her bedroom, pucks she caught from Fotiu inside of M$G. I'm assuming Walker's mother wasn't paying $418 to sit in the blue seats, which were the prices of those tickets last night. Walker thanks Fotiu for doing that. Duguay chimes in and says while Walker's mother liked Fotiu, Walker's mother loved Duguay. This is all a callback to previous episodes and was funny.
Walker asks Fotiu for his thoughts on the Wilson debacle. Fotiu said the Rangers responded last night and you have to be proud of them for fighting. Fotiu says when you develop a team, you need to have some tough guys to protect them. Fotiu says how Herb Brooks always said that "history repeats itself" and that he was right.
Fotiu brings up stories from his Rangers fandom, and how he once saw the Bruins and the Flyers push the Rangers around. Fotiu said this never happened in his era, because he would protect his star players. Fotiu says none of this crap happened when he was around and if he were playing on Monday, he would've jumped the boards after what Wilson did to Panarin. Fotiu says he's all worked up thinking about this!
Duguay asks Fotiu for his thoughts on JD and how JD didn't have balance on the team. Fotiu says he doesn't know what happened between JD and Dolan behind closed doors. Fotiu says you just need tough players and the Rangers don't have them. Fotiu says you need tough guys to give your top guys more room. Duguay agrees, as Duguay has been saying this all season long.
Duguay brings up Fotiu's coaching career and asks Fotiu for his thoughts on DQ. Fotiu thinks DQ has done a good job so far. Fotiu says everything takes time and players don't develop overnight. Fotiu thinks the systems could be better though.
Duguay asks Fotiu about K'Andre Miller and what Fotiu would do with him. Fotiu brings up how Miller usually keeps two hands on the stick, rather than one. Fotiu says Miller has to be more physical, which is something I've  said on this site. Fotiu thinks Miller needs to learn how to fight. Fotiu thinks if Miller learns to fight, it will have a positive snowball effect on the team. Fotiu says it just takes time and you have to put the time in.
Walker asks if beefing up the team is the last piece of the puzzle. Fotiu says yes, because the team has players who can score. Fotiu says he can tell when Mika Zibanejad looks nervous and scared, as Mika looked last night. Fotiu adds that this is normal too. Fotiu then talks about his career and how Mika reminds him of Joey Mullen.
Fotiu says this is a game of intimidation and once you intimidate the other team, you gain an edge. This then concludes this short Fotiu interview and the show.
---
Overall, this was another solid episode of "Up in the Blue Seats", where the Larry Brooks segment once again is "must-listen" to stuff. As you'll see in our next segment, he's the only Rangers reporter that has true inside access to the team. After all, it's not like James Dolan or any of these front office executives are talking to anyone else privately. Of course, this is just a product of Brooks being around so long, where he's made relationships with all of these guys.
If I have criticism, it's the same old stuff – I just wish the alumni interviews were longer. It's also starting to feel like Walker dominates the show a lot and I rather hear what Duguay has to say than a reporter who doesn't really know her Rangers history. Walker is great for the current news, but when it comes to trying to explain on-the-ice stuff, I rather hear from Duguay. And please, don't twist my words around, as I think Walker does a good job. In fact, during the zoom calls, I feel she usually asks the best questions.
And in what was big, after the podcast's release, Larry Brooks interviewed Rangers owner James Dolan.
---
In an article you should read, Brooks published his interview with Dolan on Thursday. You can read the article in full here: https://nypost.com/2021/05/06/james-dolan-chris-drury-the-right-guy-to-lead-the-rangers/
Here are the quotes from Dolan, with my reaction in BOLD PRINT. (Of note, full credit to https://nyrangersnews.com/2021/05/06/what-james-dolan-says-the-rangers-organization-is-missing/#more-184096  for pulling all the quotes out, thus saving me a copy and paste job myself! I have no shame, I'll tell you when I'm in copy and paste mode!)
---
The entire organization, from top to bottom, "has to be together as a team, because everyone makes a contribution" and "our organization doesn't have that."
I thought this very telling, as this is a direct shot at JD and Gorton, thus explaining Dolan's decision.
---
The Rangers have "enough talent" right now to compete for the Stanley Cup.
Whether this is true or not, and really it's not; I'm just happy to hear that Dolan is sick of the losing and wants a Cup run.
---
Other owners and managers have been telling him for the last year "how stocked" the Rangers are "with talent, but talent alone doesn't do it."
To me, this comes off like people are feeding Dolan bullshit, and like a gullible child, he's taking the bait. What does he expect his peers to say – "you suck"? This is competitive sports. No owner is rooting for another owner to win the Cup over his team.

---
"We're missing this piece and we need it" and "I felt we need to change the whole organization and change the culture."
Yet Glen Sather remains. Check last night's blog for my opinions on Senile Sather.
---
Making the change now had to do with making sure Drury was in place to conduct the exit meetings, which Dolan called "the cornerstone of the entire summer."
To me, I thought this was the best part of the interview because this made sense. No one knew why Dolan timed these firings this way and after reading this, I now 100% get it and agree.
---
Drury is a "consummate team player, a winner, a man of high character" and reminds him "somewhat of Brian Cashman".
I know Yankee fans will bring up how Cashman has only won one World Series in all of his time with the Yankees, but conversely, if Drury can deliver just one Cup, I'd be over the moon.
---
Glen Sather is "The Godfather of the Rangers" and that his "counsel" is "invaluable" to both him and Drury.
This made me throw up out of my asshole.
---
The decision on David Quinn is Drury's to make and "I think Chris has some pretty unique insight into it."
This was somewhat telling, as it was speculated that Dolan may interfere here. Of course, who knows what's said behind closed doors?
---
Making the change yesterday had to do with it being the last opportunity he'd have before the team went on the road and "I wasn't going to do it on the road."
I'm fine with this, as Dolan avoided a "Willie Randolph" moment I suppose.
---
He started thinking about making these changes "20 or 25 games ago" at a point where the Rangers had games where they had to "show heart, come out strong and even if we lost, it had to be our best effort" and then "and we clearly had nowhere close to our best effort."
I'm fully on board with this. I completely understand Dolan's decision and line of thinking here, outside of the Sather stuff.
---
He is turning the "reins" of the Rangers over to Drury, has "complete faith in him" and hopes he's in the role for "20-years."
Prediction: Drury gets fired and Sather takes over the team again at the age of 100.
---
All in all, I thought this was a great interview, where Dolan did answer most of the questions in sincerity. Dolan really didn't duck much.
I also want to bring up these following points too, as an addendum to last night's blog:
— Let's face it, if JD wasn't a fan favorite, people wouldn't care as much about this firing. Both of JD's previous teams did better once he left. Drury is no dummy and I don't blame Dolan for being mad.
— If you're Dolan, you can't be happy paying $18,883,333 a year to your second RD position. In this time, Shattenkirk, who is being paid until 2023 by the Rangers, has won a Cup. The DeAngelo situation was botched. Trouba's deal is an albatross, while Pionk outplays Trouba for 1/8th the cost. At the end of the day, you just can't fool around with other people's money, especially if you're losing.
— The Rangers had nearly $13M in dead cap space money this year. That's a league high. When you add in the DeAngelo exile, the Rangers basically paid nearly $18M for players not to play for them. With NHL owners losing money, it's easy to see why Dolan would be irate.
Let's now get into tonight's game.
---
As a result of Wednesday's game, where aside from the Buchnevich suspension, the Rangers also lost Julien Gauthier, due to injury and for the remainder of the season. In turn, the walking wounded Rangers turned to Hartford, calling up the talent above. Of the players called up, only Justin Richards didn't play tonight, thus denying him of his NHL debut.
Here was your line-up for this yawn-inducing game:
Of note, Bitetto was back in the line-up, as Tarmo Reunanen took a seat in the press box for the second game in a row. And as expected, CZAR IGOR was in net. In addition, I think we'll see Georgiev close out the season.
I'll say it here now, but with this line-up, which featured a bunch of rookies and not much of the name talent – the Rangers really never had a chance tonight. If there was anything that was concerning about a game the Rangers never had a chance in, it's that with all these young kids, you didn't see much energy out of them and none of them made a statement tonight. And of course, the "elite" Mika Zibanejad had another one of his ghost games against an upper-echelon team of the division. You can't play Philly, Buffalo or New Jersey every night. What a shame.
In fact, here's what I said before the game, while recapping the M$GN "Pick'Em" app segment:
Speaking of predictions, let's now go to the GAMBLING segment.
Here's what I said before tonight's game:
Season over-under record: 22-29-3

CZAR IGOR v Swayman. #nyr are going to get smoked tonight with all these new rookies and after a grueling game last night.

Boston and the over. pic.twitter.com/WWXBn1FOzT

— BlueCollarBlueShirts (@NYCTheMiC) May 6, 2021
With only four goals scored, the under hit tonight. In turn, I drop to 22-30-3 on the season. While this might sound evil, I was really expecting a 6-0 or 7-0 loss tonight. And really, that's what could've happened, had Boston not just sat on their lead once putting a three-spot on the Rangers.
BOX SCORE time.
The following information and graphics come from the new world-wide leader in NHL coverage, in ESPN.com.
SCORING:
PENALTIES: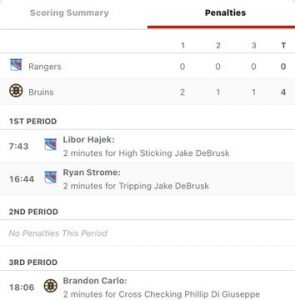 GOALIES:
| | | | | | | | | | | |
| --- | --- | --- | --- | --- | --- | --- | --- | --- | --- | --- |
| SA | GA | SV | SV% | ESSV | PPSV | SHSV | SOSA | SOS | TOI | PIM |
| 34 | 4 | 30 | .882 | 26 | 0 | 4 | 0 | 0 | 59:55 | 0 |
| | | | | | | | | | | |
| --- | --- | --- | --- | --- | --- | --- | --- | --- | --- | --- |
| SA | GA | SV | SV% | ESSV | PPSV | SHSV | SOSA | SOS | TOI | PIM |
| 15 | 0 | 15 | 1.000 | 14 | 1 | 0 | 0 | 0 | 60:00 | 0 |
TEAM STATS:
---
In another easy prediction which became true; I said prior to the game, that I expected Vally to mention his legendary 46 game NHL career again, where I also expected him to talk about what Chris Drury's underwear smelt like. While we didn't get the scent report from Vally, Vally mentioned his Hall of Fame career no less than ten times tonight, where he also "snuck in" that he talked to Drury no less than five times during tonight's broadcast. If Vally mentions his heralded career on Saturday's broadcast, that will mean that he's mentioned his career on every single Rangers M$GN broadcast this season. I guess you can at least say he's consistent.
If there was anything notable out of Vally tonight, it's that after bombarding us with useless and meaningless stats and charts all season long, Vally said that he saw the Rangers going after gritty and sandpaper types this off-season. How ironic.
The biggest thing to come out of the pregame show was Sam Rosen being forced to talk about the JD news, where it seemed like Rosen was on the verge of tears. I'm saying this as a fact, and not in a way to put Rosen down. I felt that had Sam Rosen spent some time at the "Bud Light Bar" prior to the game, then Rosen would've came out and said that James Dolan is a c-sucker. You can see this news really hit Rosen hard and understandably so. Even worse, Rosen had to sit next to Micheletti all game, where Rosen must've had some flashbacks, back to the good old days, when JD was along for the ride.
---
As talked about already, this game was booooooooooooorrrrrrrrring. It was easy to understand why, due to the game that was played 24 hours ago, the Rangers roster tonight and the fact that Boston should eat-up a team like the Rangers. That said, facts are facts and this was excruciating to watch.
If you want the skinny, here you go:
— Mika did nothing as usual, where I feel he's played himself off of this team come next season. As talked about on past blogs, if the Rangers do make a trade for a number 1 center, whether it be Eichel or Barkov, I think Mika will be included.
— K'Andre Miller had another miserable game. While I get the rookie wall stuff and have been saying it for a while, it seems like he's been on a "Spring Break" since the early weeks of March.
— The young kids, especially the call-ups, didn't really show much and didn't maximize their minutes. In a game that could've been a showcase for them, none of them impressed.
— The Rangers had no offense at all, as Bruins goaltender Jeremy Swayman, recorded a 15 save shut-out tonight, where he was hardly forced to do anything. I think this was one of the easiest shut-outs I've ever seen.
— After not being shut-out once last season, the Rangers have now been shut-out something like seven times this season.
— Kaapo Kakko caught the Mika-19 bug, and shot high and wide on two separate scoring chances.
— Igor gave up a fluke goal on the fourth Boston goal, where while it didn't swing the game, it's another game of 4 or more goals allowed for him.
— It was obvious from puck drop, that the Rangers were just running on empty and would never make things interesting at all.
— Boston, as they were supposed to do, dominated an inferior team. Of note, Boston wasn't celebrating and giving each other massive hugs, as the Rangers normally do, after dominating teams lesser than them. Just an observation – "act like you've been there before", where admittedly, most of these Rangers haven't been there before.
---
It would be tough to say that anything "ugly" happened tonight – this game just was what it was. And really, there's not much to talk about tonight with this game. You can't really break down anything that happened tonight. There's no analysis. There's no "hot take". This game had no impact on the Rangers future. If anything, this game felt like a preseason game being played on a Monday night, and in front of a crowd that was checking their phones for the Monday Night Football score.
In addition, after writing something like a million words on the Rangers this week, this game kind of "Ranger'd me out." In other words, I'm going "The Good, The Bad and The Boring" with this quick recap, rather than with my normal detailed play-by-play style.
FIRST PERIOD
The Good: The Rangers "only" allowed two goals, where Boston probably could've ran up the score if they wanted. In addition, the Rangers won the battle at the dot in this period, to a tune of 11-4, which seems like a season best.
---
The Bad: The Bruins got their first goal after some "El Matador" defense from Miller, where he basically does a variation of "The Flamingo". If some coach can teach Miller to use his size, Miller will have a long career in this league.
The Bruins got their second goal, a power-play goal, after Rooney ate a puck to the face and had to go to the locker room. While Rooney was down on the ice, the Bruins basically had a 5 x 3 power-play and did their job. Of note, Rooney would return to the game during the second period.
Mika Zibanejad was an absolute ghost, which as has been beaten to death already, is the norm against good teams.
---
The Boring: The Rangers only had three shots on goal in this period. There was no offensive highlight to speak of.
---
SECOND PERIOD
The Good: Sam Rosen worked in his "SECOND PERIOD, WHAT DO YOU LOOK FOR HERE JOE?" line.
Kravtsov almost scored on a net that Swayman vacated, but Charlie McAvoy broke up what would've been Kravtsov's second goal of the season. This was the Rangers best scoring chance in this game.
---
The Bad: Micheletti continued to use the word "FABULOUS", where unfortunately, with Micheletti saying the word "FABULOUS" 16 times tonight during the broadcast, he said FABULOUS more times than the Rangers had shots on goal.
While on the broadcast, and with this game being the equivalent to nails on a chalkboard, Rosen must've asked us to watch Saturday's game about 20 times.
K'Andre Miller was burnt during the Bruins third goal, a goal for DeBrusk.
The SOG stat after two periods? 27-7, Boston. Face-offs? 15-15, as the Bruins just dominated the Rangers in every facet.
---
The Boring: A minute into this second period, and if the first period didn't convince you already, you knew nothing positive was ever going to happen for the Rangers in this game. All you did was just watch the clock, as that was more entertaining than the Rangers offense.
This period, like this game as a whole, was basically one huge game of "keep-away".
---
THIRD PERIOD
The Good: This was the last period of the game. Kravtsov was also somewhat noticeable offensively, where I thought he was the best Rangers skater tonight.
---
The Bad: During a power-play which took place during the last two minutes of the game, Mika once again hit a post, thus keeping Swayman's shut-out alive. Swayman could've hit the concession stand in each period.
Adam Fox didn't pick up a point, which could hurt his Norris bid if the other d-men in the league catch up to him for total points.
If this game wasn't over already, 1:07 into the period, Brandon Carlo scored a "nok hockey" goal, where he tried to pass a puck, and like those old "nok hockey" tables, the puck bounced off Igor's pad, right through his five hole and into the net. 4-0 bad guys, which would be your final.
---
The Boring: Sam and Joe being forced to talk about anything but this game, as they spent time talking the current Oilers, college hockey and other topics not pertaining to this game. They also somewhat apologized for this poor Rangers effort, mentioning all the unforunate and tough circumstances going into this game. They may as well have cut to a shot in the studio, with the entire M$G crew waving a white flag.
---
Nothing was gained tonight, as this was truly a game that defined "playing out the string." And yes, this is my shortest game recap ever!
If you haven't already, subscribe to this blog for the next update:
---
Three more periods to go. I can't believe the season is already over. Expect a huge off-season this year.
And oh, about the ratings from Wednesday night? The Rangers and Capitals "Fight Club" drew 423,000 viewers – 11th best for NBC all season. In other words, this game didn't draw the ratings that everyone thought it would, myself included.
Stay FABULOUS my friends.
Until then, and as always here, thanks for reading and…
LET'S GO RANGERS!
Sean McCaffrey
BULLSMC@aol.com
@NYCTHEMIC on Tweeter