Greetings and salutations everyone and welcome to another blog here on BlueCollarBlueShirts.com.
I know in my last update, I promised to get something up within a week, but since my last blog, I haven't had a day off from the real job yet. As I write these words right now, I'm writing them after another ten-hour shift! However, with the news of Artemi Panarin coming to the Rangers; my sleep and my laundry can wait! Who's going to notice if I'm wearing different jeans tomorrow night anyway? That's what Febreze and duct tape for the fart hole is for!
And in the spirit of sharing personal news, let me share with you what just happened to me, as I was walking down the hallway of my building. Just like another great writer, in the late Hunter S. Thompson, I enjoy a few pops and belts when writing these blogs. (Sorry to the people who are not a fan of me – I do not plan on having the same fate as Mr. Thompson!)
At 6:30am, as I was making my way down the spacious corridor to my domicile, my neighbor gave me one of the biggest "what the fuck" looks, as I was carrying a case of beer in each hand. While I'm never one to shy away from enjoying a nice adult beverage, it must look strange to someone at 6:30am, as they see their neighbor with a smile on their face and a 24 pack of beer in each hand. To that nosy and concerned neighbor, I say this – "I work nights, ya malignant bitch!"
As I'm thinking about this story as I'm typing it to you, maybe the next time I see this neighbor in the hallway, I'll stumble around like Sharon Stone at the end of "Casino":
Moving along.
Since it's been a while since my last foray here on the site, here are my last few blogs in case you missed them or in the event that you need a refresher:
Where to start, where to start?!?
I pretty much recapped all the big Ranger news, pre-Panarin, on my last few blogs. If this "Summer of Gorton" wasn't enough for the franchise and us fans already, Gorton saved his biggest move for last. Then again, who knows if this is the last big splash Gorton will make? As I'll talk about later on in this blog, there is one more HUGE decision to make.
That said, when watching the Rangers just make positive move-after-positive move, I'm just flabbergasted with excitement. This has been a "Twilight Zone" off-season for the Rangers. With Senile Sather eating tapioca pudding and sucking down butterscotch candy in Banff, Jeff Gorton has put together one of the best off-season's in Rangers history. Without question, this has been the best Rangers off-season of this millennium.
To show you how scary and on-the-ball Gorton has been, in moments that feel ripped straight out of "The Twilight Zone", you have all factions, sects, groups or whatever adjective you want to use here to describe the NYR fan-base, you have everyone AGREEING ON EVERYTHING! Unheard of. Of course, the subject of Henrik Lundqvist will always bring up furious debates, but look at everything else:
John Davidson – The fan-base was pretty much united on this news. You did have a few fans point out that JD has never actually WON and they are right. You also have fans trying to give JD credit for St. Louis this year, but to me, that is going overboard and a reach. However, in the grand scheme of things, the JD news not only united the fan-base, but also united many different generations of Ranger fans.
Adam Fox – everyone in the fan-base loved this trade with Carolina.
Jacob Trouba – I would say 99% of the fan-base loved this trade with Winnipeg, but there was some mouse-fart level noise against this trade. The dissenters don't want the Rangers to dole out another long-term contract to a D-man.
The call-ups/roster invites/official signings of Igor Shestyorkin and Vitali Kravtsov. Everyone loves this.
The selection of Kaapo Kakko with the second overall pick. I have not heard one person that was upset about this move. How could you be?
And lastly, but not least, the signing of Artemi Panarin, which I was and still am FOR. I will say, there are some fans who think the Rangers overpaid. How ironic coming from me, right? After all, I'm the loudest and most known person for despising the contract of Henrik Lundqvist. However, as I'll get into below, I'm all for this Panarin move. Feel free to screen-shot these words now to use against me at a future time, but I'm 100% behind this Panarin signing.
As of right now, every time the Rangers tweet something or every time Jeff Gorton speaks, all I hear is Jefferson Starship's "Jane" in my head. I can't explain why, but part of it has to do with the song being the featured song in the "Wet Hot American Summer" movie:
For Jeff Gorton, he's also giving the Rangers a Wet (drafting Swedish players get the chart-boys wet) Hot
Russian
American Summer as well!
1000 words, and I haven't even got into the meat of this blog yet! And some bloggers who wear mom jeans and purchase mail-order brides brag on Twitter about doing their biggest blog yet – 3000 words. Some of my headlines are longer than that! (This paragraph has been dedicated to @HockeyPhone on the twitter machine!)
Okay, Panarin time!
First, let's get all the official stuff and formalities out of the way. The following press release and information comes from NYRangers.com and was originally published on July 1st:
New York Rangers President John Davidson announced today that the team has agreed to terms with free agent forward Artemi Panarin.

Panarin, 27, has skated in 322 career NHL games over four seasons (2015-16 – 2018-19) with Chicago and Columbus, registering 116 goals and 204 assists for 320 points, along with a plus-63 rating and 102 penalty minutes. He has recorded 74 or more points in every season of his NHL career. Panarin is one of three undrafted players in NHL history who have tallied at least 70 points in each of their first four seasons in the league (along with Wayne Gretzky and Peter Stastny). Since 1990-91, Panarin is one of only four NHL players who have tallied at least 74 points in each of their first four seasons in the league (along with Sergei Fedorov, Evgeni Malkin, and Alex Ovechkin). Since he entered the NHL in 2015-16, Panarin ranks eighth in the league in points, trailing only Patrick Kane, Nikita Kucherov, Connor McDavid, Sidney Crosby, Blake Wheeler, Brad Marchand, and Johnny Gaudreau. In addition, Panarin ranks fourth in even strength points over his four seasons in the league (240), trailing only McDavid (270), Kane (269), and Crosby (245) in those four seasons, and his 154 even strength assists are also the third-most in the NHL over the span (McDavid – 165; Kane – 156).

The 5-11, 168-pounder won the Calder Trophy as the NHL's Rookie of the Year and was selected to the NHL's All-Rookie Team in 2015-16, as he registered 77 points (30 goals, 47 assists) in 80 games with Chicago. In addition, Panarin was named to the NHL's Second All-Star Team at Left Wing in 2016-17, as he recorded a career-high 31 goals and tallied 74 points (31 goals, 43 assists) while playing in all 82 games with the Blackhawks. He was also named the winner of the Kharlamov Trophy as the Russian Player of the Year in 2015-16. Panarin has helped his team advance to the Stanley Cup Playoffs in each of his four seasons in the NHL; he has registered 26 points (nine goals, 17 assists) in 27 career Stanley Cup Playoff games, and he has either led his team or tied for the team lead in playoff points in three of his four years in the league.
Panarin skated in 79 games with Columbus this past season, registering 28 goals and 59 assists for 87 points, along with a plus-14 rating and 23 penalty minutes. He established career-highs in several categories in 2018-19, including assists, points, even strength assists (47), even strength points (69), game-winning goals (eight), and overtime goals (four). Panarin established Blue Jackets single-season records in assists and points in 2018-19, eclipsing the single-season franchise records he set in 2017-18 (55 assists and 82 points), and his four overtime goals were also a single-season franchise record. In addition, he posted 25 multi-point games during the past season, which were a career-high and the most any Blue Jacket registered in one season in franchise history (he broke Rick Nash's single-season franchise record of 24 multi-point games in 2008-09).

Panarin tied for the NHL lead in overtime goals, tied for fifth in game-winning goals, ranked 13th in assists, and tied for 17th in points during the 2018-19 season. In addition, he ranked fourth in the NHL in even strength assists (trailing only Nikita Kucherov, Connor McDavid, and Mitch Marner) and tied for seventh in the NHL in even strength points (tied with Sidney Crosby and John Tavares) during the past season. He led the Blue Jackets in several categories during the season, including assists and points, tied for the team lead in game-winning goals, ranked second in goals, and led team forwards in average ice time (19:51). Panarin registered 11 points (five goals, six assists) in 10 games during the 2019 Stanley Cup Playoffs, and he established playoff career-highs in games played, goals, assists, and points. He notched a point in eight of 10 playoff games in 2019, and he registered five points (two goals, three assists) in four games in the First Round against Tampa Bay while helping the Blue Jackets win their first playoff series in franchise history. Panarin's 11 points in the 2019 Stanley Cup Playoffs were the most any Columbus player has recorded in one playoff year in franchise history. Panarin also ranked second in the NHL (min. 10 playoff games played) in points per game during the 2019 Stanley Cup Playoffs (1.10).

Prior to beginning his NHL career, Panarin played parts of seven seasons (2008-09 – 2014-15) in the Kontinental Hockey League (KHL), registering 76 goals and 107 assists for 183 points, along with a plus-30 rating in 263 games. In his final season in the KHL in 2014-15, he was named to the KHL First All-Star Team and helped SKA St. Petersburg win the Gagarin Cup as KHL Champions. Panarin tallied 62 points (26 goals, 36 assists) in 54 regular season games and 20 points (five goals, 15 assists) in 20 playoff contests.

Internationally, the Korkino, Russia native has represented his country in several tournaments. Most recently, Panarin registered 17 points (four goals, 13 assists) in nine games while helping Russia earn a bronze medal at the 2017 IIHF World Championship. Panarin's 13 assists in the tournament were tied for the fifth-most in one World Championship in the tournament's history and the most since Sergei Makarov recorded 14 with the Soviet Union in 1986. Panarin was selected as the Best Forward of the Tournament and was named to the Tournament All-Star Team at the 2017 IIHF World Championship, as he led all skaters in assists and points. He helped Russia earn a gold medal at the 2011 IIHF World Junior Championship and recorded the game-winning goal in the Gold Medal Game against Canada. In addition, Panarin has represented Russia at the 2016 World Cup of Hockey, the 2016 IIHF World Championship, and the 2015 IIHF World Championship. Panarin helped Russia earn a silver medal at the 2015 IIHF World Championship and a bronze medal at the 2016 IIHF World Championship. He has tallied 42 points (15 goals, 27 assists) in 29 career games at the IIHF World Championship.

Panarin was originally signed by Chicago as an undrafted free agent on May 1, 2015. He was acquired by Columbus from Chicago on June 23, 2017.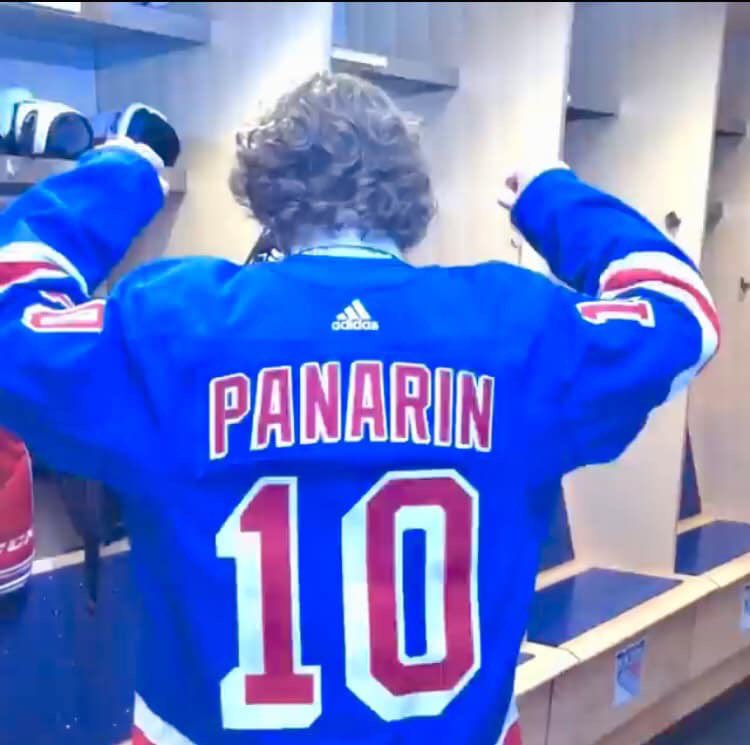 Here's Panarin on Tuesday, July 2nd, after signing with NYR:

https://www.nhl.com/rangers/video/panarin-on-signing-with-rangers/c-68615303
Here's Panarin being greeted by NYR/MSG employees:
https://www.nhl.com/rangers/video/panarin-welcomed-at-msg-office/c-68614203
Needless to say, there is a ton of stuff on the Rangers website right now about Artemi Panarin.
In this new era of hockey, and as mentioned a zillion times on this site, the salary cap hit of players is just as important as the plus/minus stat in hockey. In fact, the cap hit is probably more important than +/-.
Here's the details of Panarin's contract, courtesy of @CapFriendly:
Artemi Panarin #Rangers
Confirmed Breakdown:

$74.5M in signing bonuses
Full NMC

19-20: $13M SB -$1M base
20-21: $12M SB -$1M base
21-22: $12M SB -$1M base
22-23: $11.5M SB -$1M base
23-24: $10M SB -$1M base
24-25: $9M SB -$1M base
25-26: $7M SB-$1M basehttps://t.co/tQl2j81g8O pic.twitter.com/TNvPOAU4ov

— CapFriendly (@CapFriendly) July 3, 2019
For those keeping track at home, Panarin signed a seven-year deal with the Rangers for a total of $81.5M, which breaks down to $11,642,000 a season. Not shabby.
Let me get this out of the way first – I'm ALL FOR THIS! Let's break it down.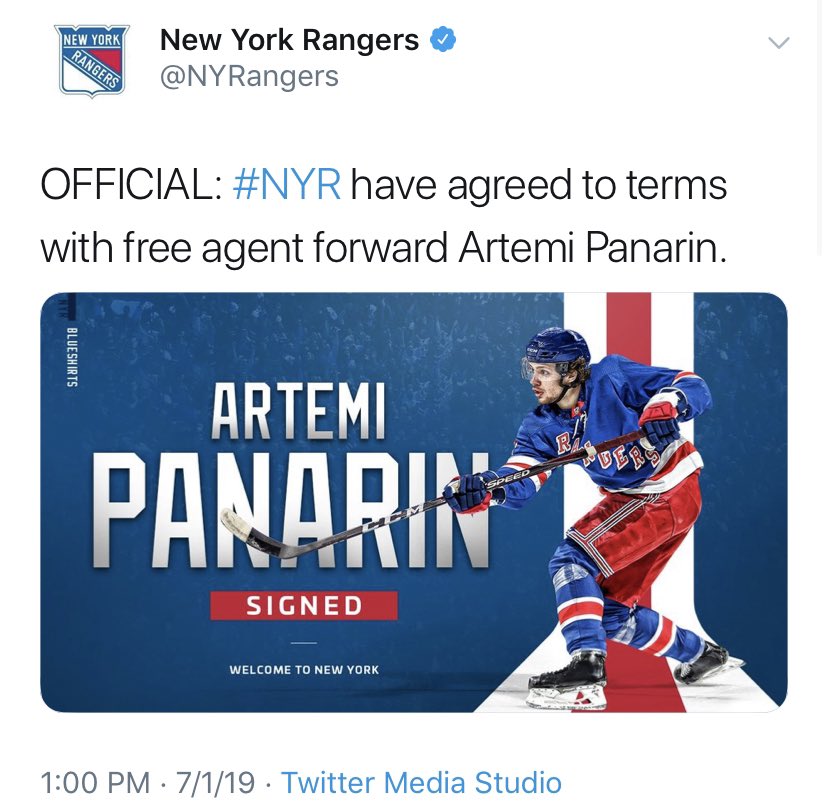 If there is one thing I've been consistent about ever since this blog's existence, besides my campaign for Frank Boucher's #7 to hang in the rafters of MSG – it is that to win a Cup, you need to pay an elite FORWARD and not a once-was elite GOALIE. Artemi Panarin is elite. Even better, he's only 27, has minimal years in the league and is entering his prime right now.
Unlike some of the other news made by the Rangers this summer, I saw more naysayers to this signing than anything else the Rangers have done during this off-season. To be fair, some of the naysayers piped-down once it was revealed that the Islanders were a major Panarin suitor. In fact, Panarin turned down the Islanders, even after being offered more money by the Islanders than the Rangers. Isn't that a sweet kick to those fishstick go'nads?
Oh, and as I've said a billion times on this site, NOT ONE FREE AGENT WILL CHOSE THE ISLANDERS OVER THE RANGERS. In fact, most players sign with the Islanders after their first option falls through. Let's face it – if you're a hockey player, where would you rather play? Here are your two options:
— Option 1- Play for a team with a 90+ year history, where if you win, you will be lionized and be considered legendary forever. It doesn't even matter your role on the team. Just look at Stephane Matteau. Shit, look at Glenn Anderson, who the Rangers proudly present at every car-wash opening and event. Furthermore, you will be offered first-class travel during the season, sleep in the best hotels, have access to the best trainers, doctors and nutritionists as well. Oh, and there's that whole playing at the "World's Most Famous Arena" thing too. (Note: the last sentence doesn't apply to NBA players!)
— Option 2- Play for a team that doesn't know if it's coming or going, doesn't have a home and plays on the worst ice in the NHL. During the season, instead of staying at 5 star hotels and flying in first class private jets, you will sleep at pump & dump hotel, which if you're lucky, may offer free HBO, a blue light and bug spray. Bonus, the bed may even vibrate for you, providing you spend 25 cents per 15 seconds for that luxury. If you're into that "homey" feel, you will also enjoy traveling to road games in broken down school buses.
So yea, you can see why free agents choose the Rangers over the Islanders.
For the fans who are against this Panarin acquisition, their biggest complaint is the Rangers history with previous big-name free agents. This is a long and mighty list, with Senile Sather signing most of those deals. That said, Jeff Gorton, for as much as I've been praising him all summer, isn't immune to this either. All you have to do is go back to two years ago and the deal that Gorton gave Shattenkirk. And to be fair, I was for that deal then, just like how I'm for it now. (I'm hoping Shattenkirk, with the best situation of his Rangers career coming up this season, rebounds and has a "Comeback Player of the Year" type of season. One can hope!)
However, unlike the Wade Redden's, the Bobby Holik's, the Scott Gomez's, the Chris Drury's and anyone else you want to name here of the world, Artemi Panarin is like none of the many Ranger big-name free agent misses.
For starters, Panarin is only 27 years old. He hasn't peaked yet. He's going to be earning his money from the Rangers during his prime. I know people will now say, "But look at the last big-name from Columbus, in Rick Nash!" However, Panarin isn't coming to the Rangers with a history of concussions. Panarin has only been in the NHL for four seasons, and has his best years ahead of him. (At least on paper.)
In Panarin's four seasons in the NHL, he's amassed point totals of 77, 74, 82 and 87, cumulatively.
In the 2018-2019 season, Mika Zibanejad led the Rangers with 74 points.
In the 2017-2018 season, Mats Zuccarello led the Rangers with 53 points.
In the 2016-2017 season, Mats Zuccarello led the Rangers with 59 points.
In the 2015-2016 season, Mats Zuccarello led the Rangers with 61 points.
Makes you miss Zucc a bit, huh? More on him later.
As shown above, during Panarin's tenure in the NHL, not one player on the Rangers has amassed Panarin's point totals. Even better, most of Panarin's assists are primary assists, which means he's a good set-up player and teammate. Translation? Mika Zibanejad should have the best season of his career during the 2019-2020 campaign.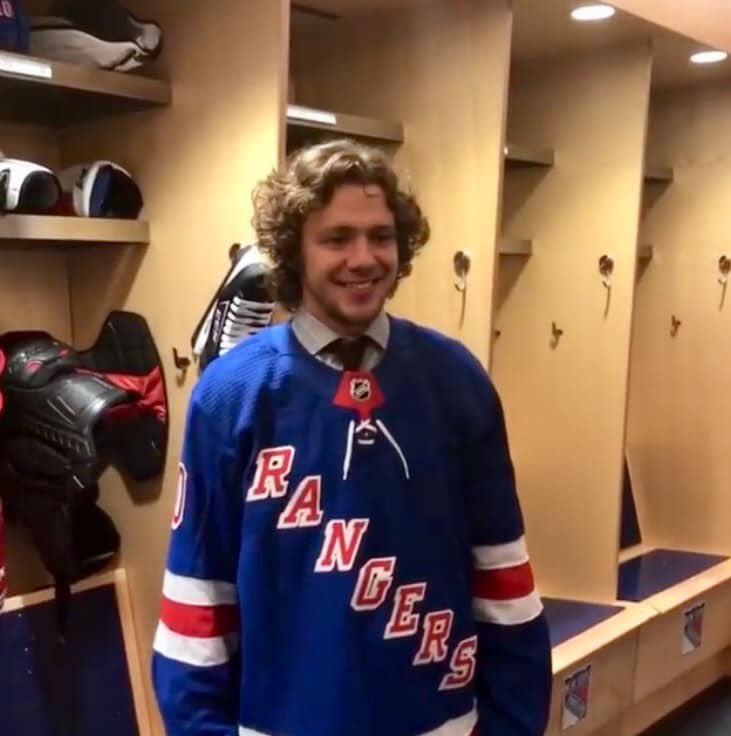 I know I'm late with this blog when it comes to this Panarin news. I know there are 6757567856785678567856785 takes out there already. There's really not much more I can add that you haven't already read elsewhere by now or know already. Panarin is for real. He can only make the Rangers better. With Panarin, the Rangers have a legit 1-2 punch, and you need that to win Stanley Cups in the NHL.
If you go back just a blog ago, where I was talking about Binnginton, it has been blatantly obvious for some time that you do not need a high priced goalie to win a Stanley Cup. Ever since the 2012 lockout, we've seen three teams win the Stanley Cup with a goalie making under a million bucks. We've also seen two rookie goalies win the Cup, in Matt Murray and Jordan Binnington.
In this league today, you need an elite forward to win the Stanley Cup. You need that Crosby. That Kane. That Ovechkin. That Tarasenko. While I'm not saying Panarin is exactly any of these guys, he's still an elite forward who can produce and even better, makes the guys around him better too.
While most fans wouldn't consider Columbus a rival, despite having an ex-NYR coach under their employ, the trading history among the two teams, being in the same division and the now defection of JD back home, Panarin also weakens a divisional rival, a rival that has made the playoffs during the last two seasons. Panarin is also a Lundswiss killer, which is why Hank is happy right now: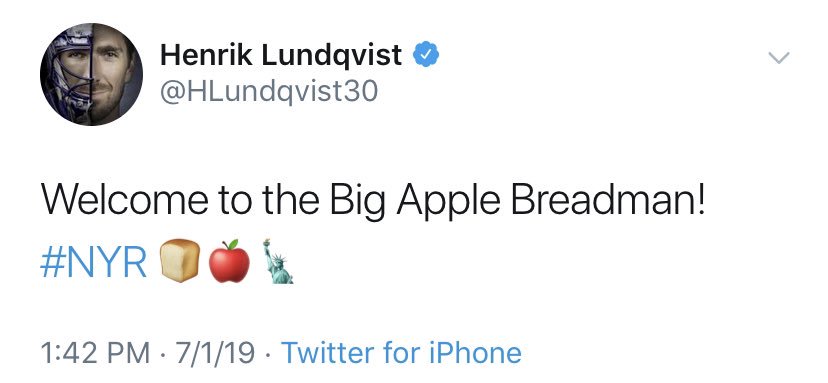 After all, take a look at this: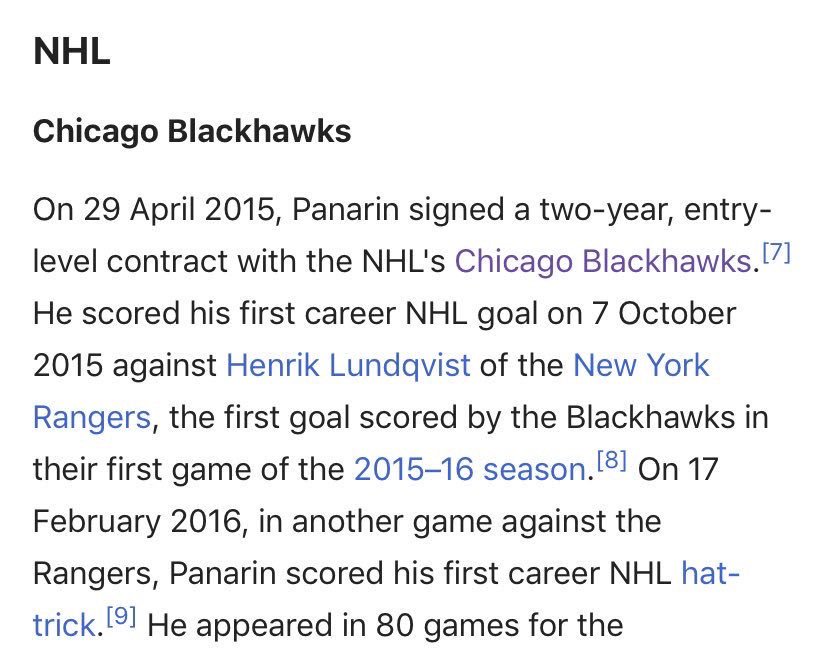 Of course, at least from my perspective, this also kind of sucks, because this means Henrik won't leave. The addition of Panarin, coupled in with everything else; makes the Rangers an instant playoff threat. Make no bones about it and JD even said this himself – the rebuild is over. JD even said, "this is now a build."
Let's face facts – with all the talent added, it's playoffs or bust for the Rangers. As is evident from this year's playoffs, once a team qualifies for the playoffs – ANYTHING CAN HAPPEN.
With the addition of Panarin, I really like the Rangers chances this year. Of course, Lundqvist is a major problem, as I'll get into again for the 76789678678634378946343th time on this site in a bit, but the team is obviously trending upwards and is sailing in the right direction. You have to love it, and every Ranger fan should be excited right now.
And before leaving this topic of Panarin, just look at the Rangers division right now. The Penguins are trending downwards. Columbus is a mess. Carolina is going to have a tough time replicating their success. Washington may have already peaked with their Cup win. The Islanders took a huge step backwards this off-season. Only the Devils and Flyers have seem to have improved. So I ask you this – WHY NOT THE RANGERS to win the division?
Speaking of the Devils…
In an update to my NYR vs NJD Arms Race bit from my last blog, the Devils signed another Ranger killer, when they signed Wayne Simmonds on the first day of Free Agency. This reunites Simmonds with his teammate of a few months, in PK Subban. This also gives the Devils the best two black players in hockey, should one keep track of such things.
I'm telling you, I can't wait for Ranger/Devil games this season. The rivalry has been reignited. I can't wait to see Brendan Lemieux punch out Wayne Simmonds, while Tony DeMAGAngelo chirps with PK Subban. You know me. I'm not a chart guy. I'm not a Corsi guy. I love story-lines. I love the fighting. I love the emotion, the heart, the soul, the will to win and the passion to leave it all out there on the ice. These four players should play a major role in the next chapter of the bad blood between the Rangers and the Devils. The Battle of the Hudson is BACK ON!
On Monday, the Rangers announced they traded Jimmy Vesey to Buffalo, for a 2021 third round draft pick. Essentially, this was a salary-dump trade by the Rangers, as they freed up some money for Artemi Panarin.
When it comes to Jimmy Vesey, I somewhat feel bad about how he was jettisoned out of New York. After all, don't you remember all the hype when he first got here? You had NYC bars offering him free drinks for life if he signed here. You had Susan "OH OH OH OH OH" Sarandon basically promising him a handjob. You had Margot Robbie offering him one night in an Islander hotel with herself dressed up in her Harley Quinn outfit. And that's some outfit:
I think Vesey came to NY, with expectations created by the media, that were impossible to meet. He also entered the league with Pavel Buchnevich, which meant that fans, myself included, would always make comparisons among the two. During Vesey's tenure in NY, he was always judged by however Buchnevich was doing. Because of the high stakes and bidding war to get him to the Rangers, I think Ranger fans expected a big-time scorer. However, scouts at that time had Vesey as a second-liner at best, and predicted him as a career third-liner. Of course, us being Ranger fans, and because of all the hype, we had Pavel Brendl & Jamie Lundmark-esque expectations for Vesey. Just like Brendl and Lundmark, Vesey didn't last long here, but he did have a better career than both Brendl & Lundmark.
I was always a Jimmy Vesey guy. I'm a Ranger fan. I want all the Rangers to do well. That said, losing Vesey won't hurt the Rangers one iota. It's sad to see him go and the Rangers to just give up on him, but the team is better off with the roster they have today. You can only dress so many wingers and Vesey was the odd-man out. You can't argue with Gorton's logic here.
Worth mentioning – Vesey/Hayes/Skjei were the new Hags/Brass/Zucc. As of today, only one of those players remain.
In hockey-starved Buffalo, Vesey will be re-united with another ex-Ranger, in the recently acquired John Gilmour. Gilmour was another guy that seemed to have a high ceiling, but once in the NHL, could never make a true go of it. While Vesey is a bonafide NHLer, Gilmour, like my man Vinni Lettieri (I hope he stays and as of this writing, Vinni Lettieri is still a Ranger) may be 4A player.
In Buffalo, Vesey and Gilmour should get more minutes and a true chance to shine. Vesey had his chance here, but the Rangers are going even younger and with more skill, rather than with the sandpaper types. Plus, if you want someone to throw down and kick some ass, who would you rather see take a fight – Vesey or Lemieux?
I don't think Gilmour or Vesey will come back to bite the Rangers in the ass, especially when the Rangers are skating Trouba and Panarin. I just wish them the best, like I do with other ex-Rangers that I rooted for.
I'm sorry folks, time is an issue here, so I'm going to hit the next topics with not as much detail as usual.
On Monday, Mats Zuccarello signed a 5 year deal with the Minnesota Wild, where he will make $6M a season and $30M overall. To me, that's a lot of money for Zucc. However, in what I didn't know until the deal was made official, is that Minnesota has a 18% Norwegian population. Now that deal makes sense.
To me, Zucc is a $4.5M-$5M player. In other words, in my eyes, Minnesota overpaid for Zucc. However, because of Minnesota's high percentage of Norwegian residents, the deal makes much more sense.
In my opinion (I feel I always have to say that, as some people accuse me of stating my opinions as facts) Zuccarello got $1M more per season than he's worth. However, with Minnesota's Norwegians, the deal makes sense. Zuccarello should easily sell $1M+ worth of jerseys, shirts, pucks and whatever other merchandise the Wild can offer. He should also increase ticket sales, season ticket subscribers and boost TV ratings too. So when it comes to the Wild "over-paying", I get it. It's a great business move. Maybe that explains why the Newark Devils added two African-Canadians to their roster. (I already see the tweets now, "CAN YOU BELIEVE WHAT THAT ASSHOLE NYCTHEMIC SAID ABOUT SUBBAN AND SIMMONDS?!")
I don't care what anyone says, DEMOGRAPHICS is a huge part of business, especially the television and live event business. That's why rodeo does big numbers in Texas and not in NY. That's why BET does better ratings in NYC and not in Iowa. And that's why Zuccarello's $30M deal makes sense in Minnesota.
Oh the old topic of Henrik Lundqvist again? It's coming. But first, let's talk about who the next captain of the Rangers should be.
The Rangers have now been without a captain ever since the trade of Ryan McDonagh from two seasons ago. It's time for the Rangers to find a jersey to sew that "C" to.
When it comes to candidates for Captain of the New York Rangers, it's like trying to weed through the Presidential candidates of the Democratic Party – there's a lot to comb through.
You can make the case for Marc Staal, as he has the tenure and has been the best defenseman since McDonagh was traded. However, he does have a terrible contract and despite his longevity here, he has never connected with the fan-base like others have. He's also not part of the future, he's part of the past, so to me, while worthy, he's not the guy for the job.
Chris Kreider, who I will get into at the end of this blog, has been groomed for the job. However, he has become such a ghost during the regular season, that it's hard to champion for him. Based on reports and hearsay, he's also not the locker-room leader that Marc Staal is. Of the two, Staal deserves it more. Kreider may be here for the future, but he's just not the man for the job.
The Oilers made history when they made Connor McDavid the youngest captain in NHL history. I only mention that, because the Rangers have a draft pick that could be the face of the franchise for the next decade, in Kaapo Kakko. However, obviously, Kakko is not McDavid and he should not be the next Captain of the Rangers either.
Shattenkirk would've been a perfect candidate as captain for the Rangers, but his play on the ice disqualifies him for the job.
To me, the Rangers could go in two directions. They can go full-boar on the Panarin band-wagon, and give him the C. After all, the Rangers have more Russians on their team than a bar in Brighton Beach promoting free vodka.
However, if it's up to me, the choice for the next captain of the Rangers is perhaps the most obvious. It's DJ Mika Zibanejad himself.
Like previous Rangers who wore the C, Zibanejad has experienced some dark times with the team. It's time for #93 to embrace his veteran status and lead the new Rangers core into the next chapter of Rangers history. From all accounts, Zibanejad has a great relationship with Rangers head coach David Quinn, so it makes all the sense in the world to give the "C" to the Rangers best player. Outside of Brady Skjei and now Panarin, Zibanejad has a contract with the Rangers that goes past 2022, so he will be here for a while.
Put it this way, when trying to come up with the next captain of the Rangers, what's the argument AGAINST Zibanejad? Simply put, there is none. Give Mika the "C".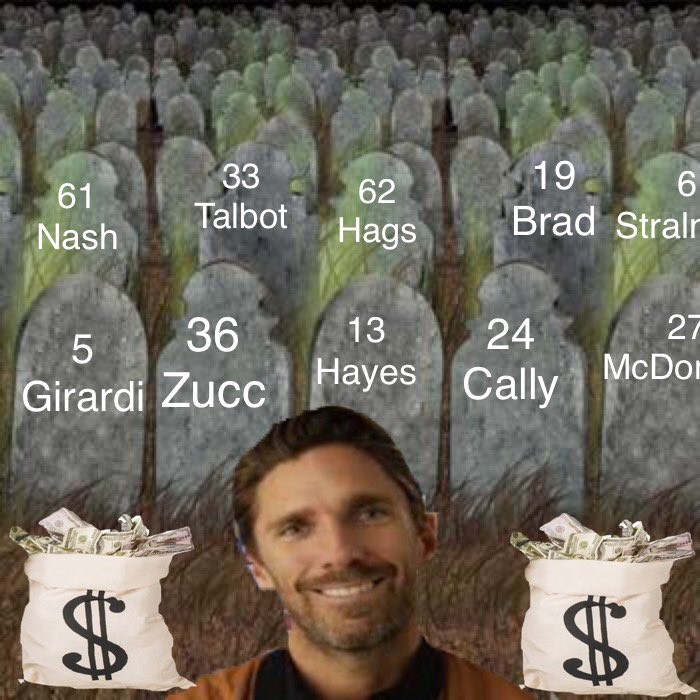 Last, but not least here for today, once the Rangers extend Jacob Trouba, which they will, because why else would they trade for him, the Rangers will have some cap issues to address, come the 2020-2021 season. Obviously, with an expiring contract, where he will become an unrestricted free agent if nothing happens from now until then, Chris Kreider is on the hot seat.
For those who don't know, the Rangers will have to make decisions on guys like Namestnikov, Lemieux, Buchnevich and others, come next off-season. Unfortunately for the Rangers, they will still have to pay Henrik Lundqvist his ridiculous salary.
When it comes to finagling the cap and maneuvering for room, of course, any GM with a brain would try to trade, waive or buy out Henrik Lundqvist. However, the Rangers don't operate like that and will allow Lundqvist to keep his jedi-mind hold over them, despite all evidence, facts and stats that prove that Lundqvist is the most overpaid player in the league. Shit, the only worse contract in the NHL is the contract that Rick Dipietro has!
In what's really disgusting, I saw Ranger reporters, like the MSG mule in Larry Brooks and Rick "I've had four jobs in three years" Carpiniello, write how the Rangers are giving Lundqvist a chance to win a Cup again. Right. That's what matters. I will never understand the fascination of trying to get one guy a Cup over the idea of the front of the jersey winning the Cup. Even Ray Bourque left the Bruins.
In no world does it make sense for the Rangers to continue to build around a broken down has-been goalie, in the soon-to-be 38 year old Henrik Lundqvist. If it was anyone else, the Rangers would've dumped that contract somehow. Even worse, during a rebuild, which is now deemed a "build", you will now take minutes, practice time and one-on-one Allaire time away from Shestyorkin and Georgiev. SAD!
With the addition of Panarin, the Rangers should see their offensive totals rise. Depending if Quinn juggles his lines and positions a bit, you could potentially see a line of Panarin/Zibanejad/Kreider, which has the potential to give the Rangers offensive totals that could rival or surpass the Jagr years.
However, because of the salary cap, Kreider may be the next domino to fall, as the Rangers continue their inane and insane idea of building around Lundqvist.
I will now pose a question that I asked on twitter:
"If you were rebuilding a house, would you get brand new strong pillars or would you keep the oldest & weakest pillar you had, "for nostalgia purposes?"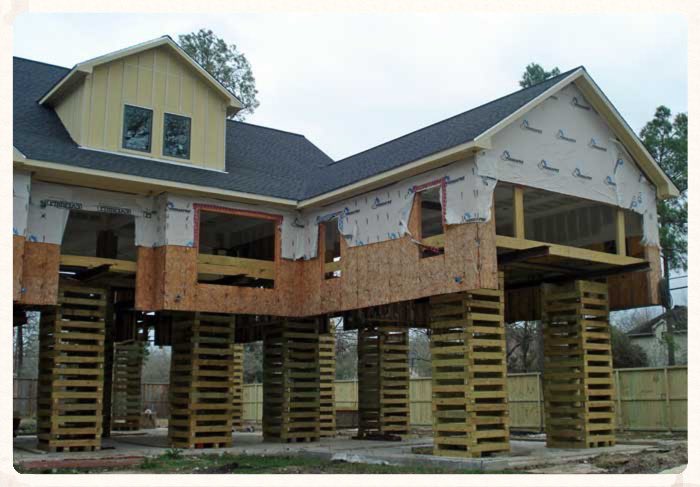 In what world would any hockey GM or anyone with a brain, support keeping Henrik Lundqvist and his ridiculous cap hit over Chris Kreider?
Please Jeff Gorton, I'm begging you – cut the cord, let's get into the next chapter of Rangers history and let's win that fucking cup!
I know about Kreider's history, his ability to blank a box score and everything else, but with Panarin, he can only get better. Even if Kreider is on a different line, such as the second line, he would face weaker opposition than usual, which in turn, theoretically, should boost his numbers.
In 2019, Kreider > Lundqvist. I don't even see how you can debate otherwise.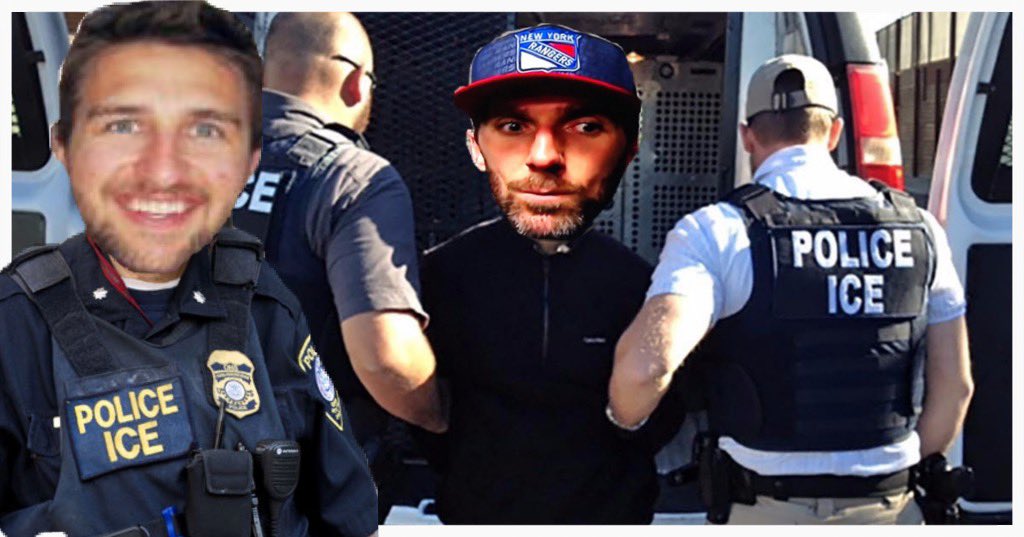 I have much more to say and plenty of book & movie reviews to jump into. However, real life is real life, so I have to cut it short here.
Fingers crossed, I should have some time off coming soon and will hopefully have a new blog every day next week. That's my plan, work schedule permitting. I want to do some book reviews, movie reviews, a Delorean blog, a FA blog and other things. However, I feel like Willy Wonka:
I know many of you find this blog via social media links, so I will tell you now, please subscribe by hitting the button on your top right. I don't want to blow up FB and Twitter pages with blog links every day.
Until then, I bid you a fond adieu, thank you for reading and oh yea…
"LET'S GO RANGERS!"
Sean McCaffrey
BULLSMC@aol.com
@NYCTHEMIC on the twitter
PS: 6000 words, and this was a short blog for me. That's double as many words as the longest blog Mr. Mom Pants has ever done!
PPS: For "the thread", enjoy this Blog Easter Egg:
Happy July Fourth and Happy Birthday America.
PPPS: Sorry for any typos and grammatical errors. I'm trying to get this up ASAP and didn't have enough time to ask my editor @WHALEPACK, to do his job!
PPPPS: Thank you to Michael Broderick and Al DeMauro, two people who I consider friends and challenge my opinions with the utmost intelligence.
PPPPPS:  Hi Eddie S. Bring your liver this weekend, bitch!
PPPPPPS: Travis rules:
PPPPPPPS: Racheal, you look great the way you are and I'll see you in LA! LGR! Fuck the Kings!