Greetings and salutations everyone and welcome to another blog here on BlueCollarBlueShirts.com.
This blog comes to you a little bit later than I hoped. As mentioned all summer on these blogs & on the tweeter, I've been working a lot of hours to rack up money for my NYR road-trips. Furthermore, after the acquisition of Panarin, the news out of Rangerstown has looked like this: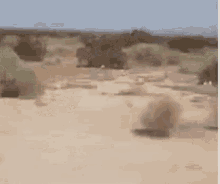 However, as mentioned in my last blog, the "Summer of Gorton" has been the equivalent of a summer blockbuster movie. Gorton pretty much had as much success this off-season as the new Avengers movie did. ON PAPER, and I know "on paper" can be a dirty term, you can debate that Gorton had the best off-season in team history.
Think about it. Not only did Gorton get lucky and get the highest draft pick in NYR history, he then went out and got the crown jewel of free agency. Oh, and then there were those deals with Trouba and Fox, the announcements of CZAR IGOR & Kravtsov coming to NY and everything else. There's never been another off-season like this in Rangers history.
When I try to think of the last two GREAT off-seasons in Rangers history, two memories come to mind. Keep in mind of the following – I am talking about the moves MADE and not what HAPPENED. I'm talking about that feeling that Ranger fans have right now and not how Ranger fans felt once the puck dropped to signal the start of the season.
Those two off-seasons that immediately came to mind were the 1999 off-season (conclusion of the 1998-1999 season) and the 2007 off season (conclusion of the 2006-2007 season).
If you lived through it, all I have to say to you right now are the names of Pavel Brendl and Jamie Lundmark. If you didn't live through it, allow me to give you a short recap. Just a few short years prior, the Rangers re-united two of the biggest names in NHL history, when they brought Wayne Gretzky to NY to join his former Oiler teammate, in Mark Messier.
By the time the 1998-1999 season was over, both Messier (who the Rangers moved on from over money, yet they have no problems overpaying Henrik Lundqvist today. Baffling!) and Gretzky would be gone. While Messier would eventually return to the Rangers, Wayne Gretzky would play his last NHL game on April 18th, 1999.
The Rangers still had 75% of their "Core Four of '94" in Richter, Leetch and Graves, but it just wasn't the same. After all, how do you replace the greatest captain in all of sports, in Mark Messier? There was a lot of roster turnover. After Gretzky played his last NHL game, the Rangers would pack their season in, as they missed the playoffs for the second season in a row. (Sound familiar?)
Oh and speaking of that game, I reviewed that game in one of my "Delorean" blogs. To get an in-depth look at Gretzky's last game check out:
Alas, I digress as usual!
Anyway, with two of the biggest names in NHL history now gone, the "Core Four of '94" getting older and with a bunch of new faces, the Rangers had to embrace getting young. Shit, I still can remember being the biggest Manny Maholtra fan alive during this time! To this day, I have an autographed Maholtra puck hanging in one of my display cases at home!
During the 1999 draft, the Rangers drafted two kids that everyone thought could be the next pillars of Ranger history. Those two guys were Pavel Brendl and Jamie Lundmark. We all thought NYR GM Neil Smith hit a homerun at the time.
Brendl, picked 4th overall in the draft, would never play one game for the Rangers. Lundmark, picked 9th overall in the same 1999 draft, would amass 30 points across parts of three seasons for the Rangers. Pillars of the future? This was like planting seeds in a coal mine.
However, upon the immediate conclusion of that 1999 NHL draft and going into that 1999-2000 season, Ranger fans had high hopes. Instead, Brendl & Lundmark had stints in the NHL that were equivalent of being the children of Casey Anthony.
Eight years after the 1999 draft that produced oo-gatz, the Rangers, now under Senile Sather, did what they did best – blow Dolan's money. At the conclusion of the 2005-2006 season, the first season after the lockout that canceled the 2005 Stanley Cup Final, the Rangers were trending upwards. Jaromir Jagr was setting records. Nylander & Straka both posted 70+ point seasons. The Rangers made the playoffs for the first time since the 1996-1997 season. And oh yeah, some rookie named Henrik Lundqvist "Wally Pipp'd" Kevin Weekes for the starting goaltender's job. Things were starting to change for the better in Rangerstown.
The season after, the 2006-2007 season, the Rangers added eventual Hall of Famer Brendan Shanahan to the line-up. The Rangers would get bounced out of those 2007 playoffs in the second round, but like the season prior, the team was moving in the right direction.
During the Summer of 2007, the Rangers added Scott Gomez and Chris Drury to the mix. Gomez got a whopping 7 year/$51.5M deal. Drury would get a 5 year/$35.25M deal. With these two free agents added to a roster that already had Jagr, Shanahan and Lundqvist, the feeling was that the sky was the limit. The fact that the Rangers "stole" Gomez from the Devils was even better. Ranger fans were pumped.
As you may have heard, Gomez flamed out and only lasted for two of the seven years that he signed up for. The only bright side about Gomez was that the Rangers traded him for Montreal's 2017 draft pick, in a one Ryan McDonagh.
Drury had more success than Gomez did in New York, but he was never the player that he was hyped up to be. Drury would be bought out in 2011 and would subsequently retire.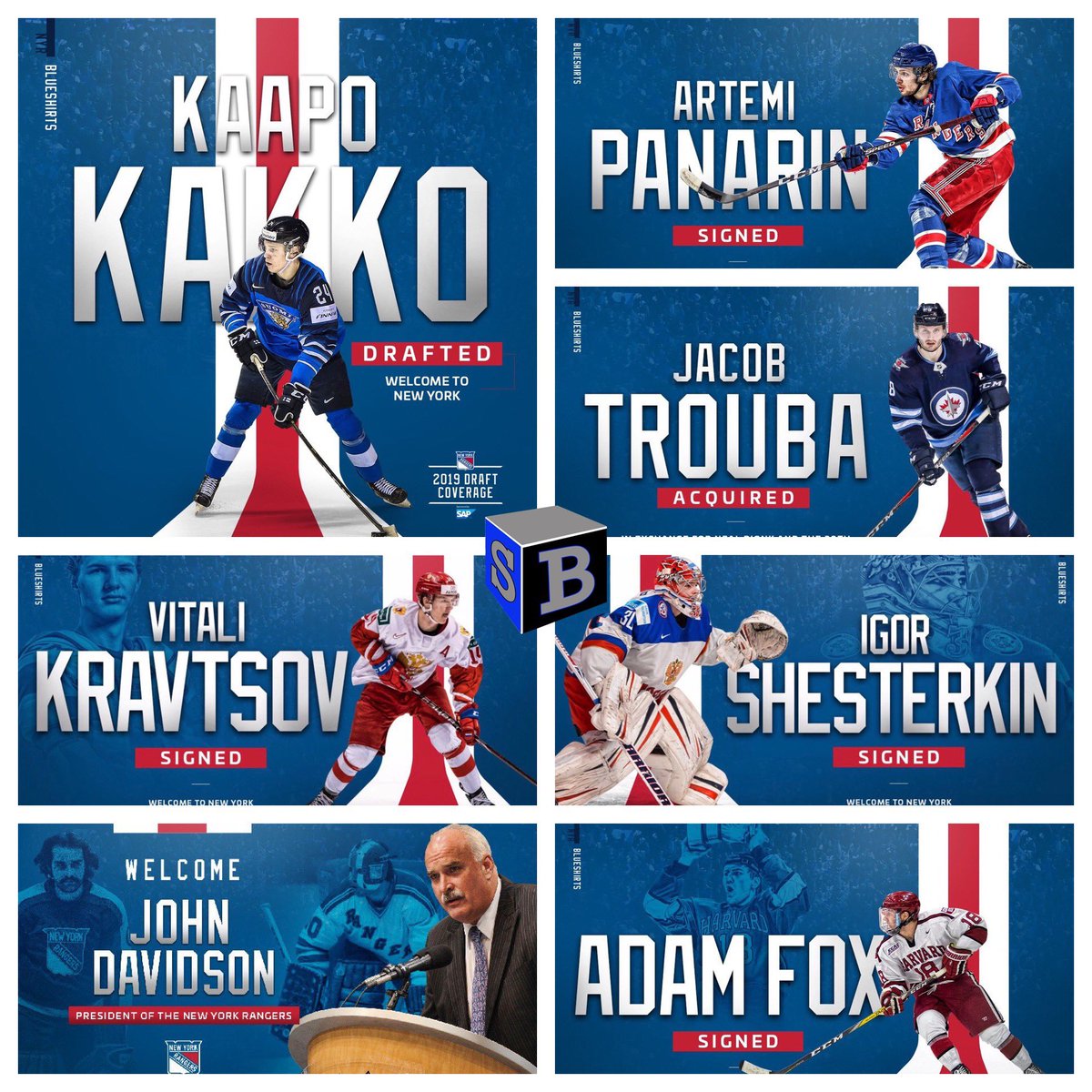 So where am I going with all of this? Oh yeah – this looks to be the best Rangers off-season, ON PAPER, in quite some time. That said, nothing is automatic, nor is anything guaranteed. What makes this off-season feel different than the others, is that the Rangers have improved in every area. They got the young draft pick. They got the best player of the free agent class of 2019. They improved their structure with JD. They improved on defense. They got better forwards. They even have better goalies now, should the Rangers ever cut the cord on the Swedish diva in net.
Whereas in 1999, the Rangers focused on their future and in 2007 they focused on the now, this 2019 off-season has been an off-season where the Rangers have both focused on the NOW and on the FUTURE. Outside of a deep playoff run or winning the Cup itself, this 2019 off-season has been one of the most exciting times in the Rangers 90+ year history. Get excited.
I'm a 1000 words in and haven't even done the plugs yet! For those who missed my last few blogs or need a refresher, here are my last few manifestos:
Since last leaving you, it's been slow. Once July 4th hits, the NHL has an unspoken shut-down, where everyone goes on vacation and takes it easy. Sure, arbitration will come up for a few players around the league and there will be minor moves made, but as far as big splashes, they've already been made.
The Rangers biggest news item, since my last blog, is that the Rangers signed Kaapo Kakko to an entry-level contract. Shocker! It's funny, I saw both Ranger and Devil fans going bat-shit about Kakko & Hughes officially signing their contracts with their respective teams. I mean, you couldn't figure out that this was going to happen? Whatever, I guess fans are excited. After all, Ranger and Devil fans have every right to be giddy right now.
Away from Kakko, both Buchnevich and Trouba are up for arbitration. Flip-Flop Larry Brooks is trying to sell Ranger fans and push newspaper sales by saying that Trouba and NYR may not get a long-term deal done. To me, this is Larry Brooks being bored and having nothing else to write about. Maybe "Lyin' Larry" can devote some time on Frank Boucher & the quest to get his number in the rafters of MSG. Oh wait, Larry Brooks blew that off too. I guess it was more important to write an article on how maybe Lundqvist can return to top form. Yeah, because every athlete at 38 years old returns to their prime from 8 years ago. SAD!
I think by the end of the month, the Rangers won't go to arbitration with either player and will make deals with both. Trying to sell the other side is just a way to drum up clicks and conversation.
Switching gears a bit, I wanted to talk about two emails I recently received from the Rangers. Both of these emails were sent to me within an hour's time of each other: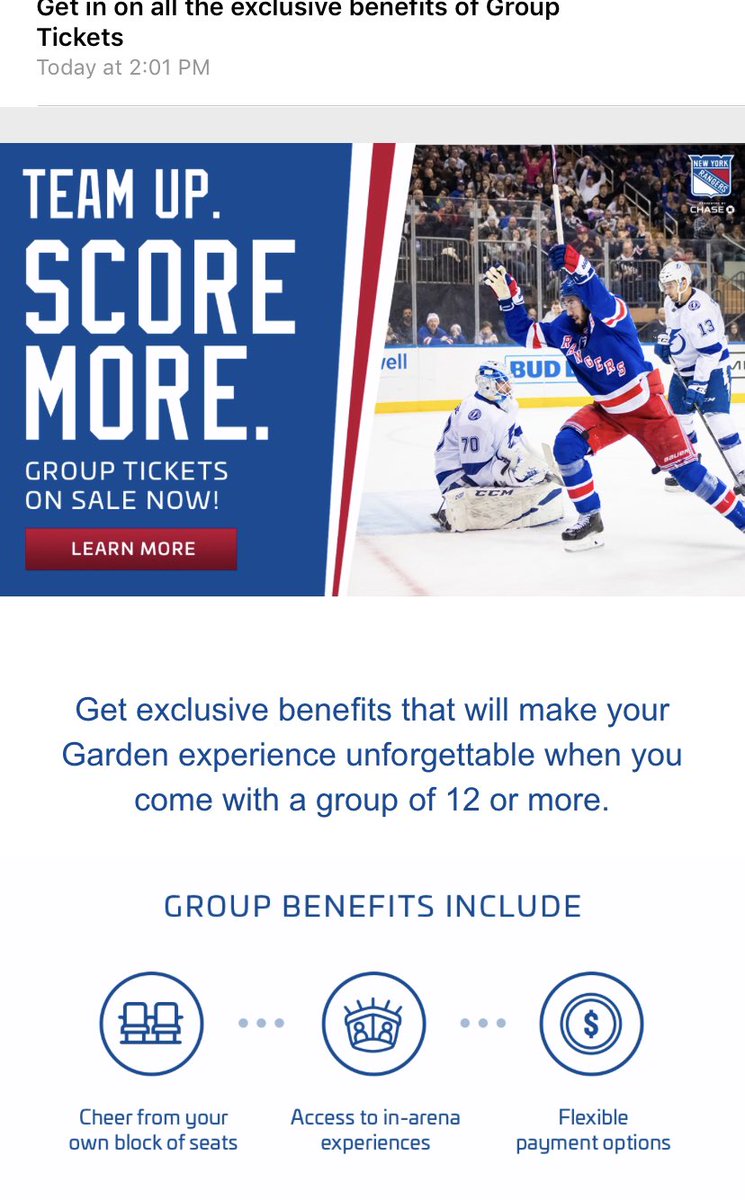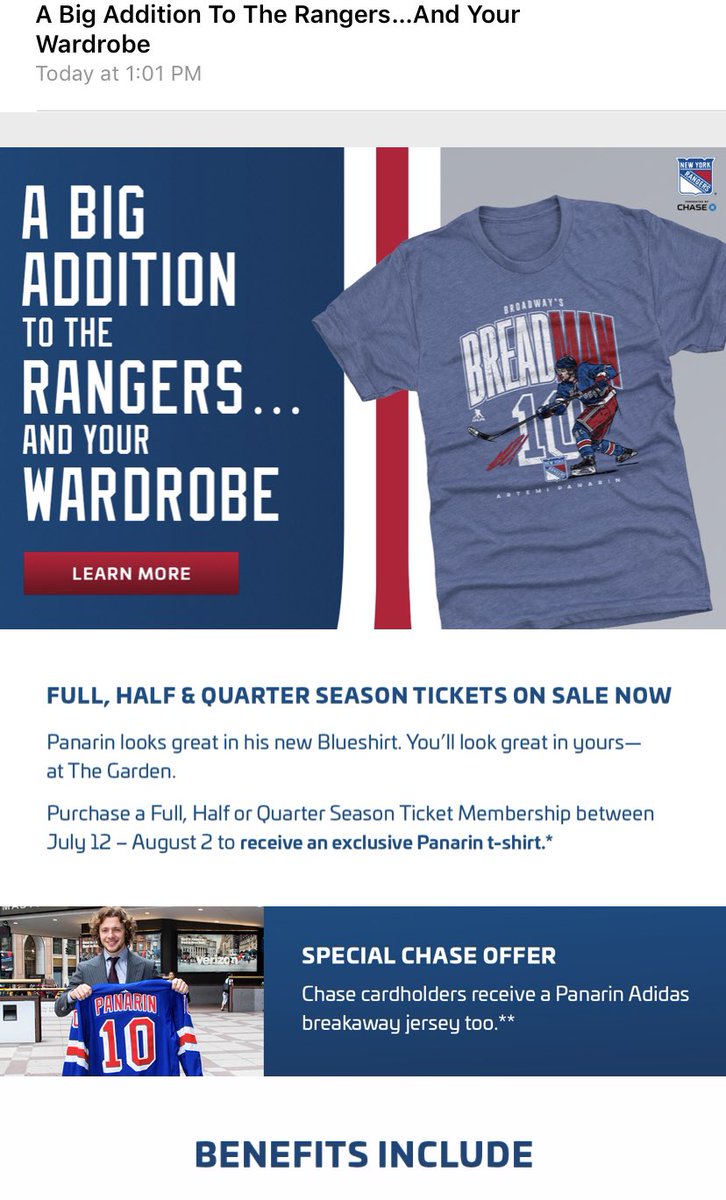 I've been talking about the topic of the Rangers pricing out their fans for some time now. I've written countless words on the subject and you can find them all by perusing around the archives of this blog. Long story short, and as you're probably aware of – going to a Rangers game ain't cheap. Even sadder, the prices of these games are only going to go up.
After this rebuilding 2018-2019 campaign, the Rangers announced to their season ticket subscribers that they would not raise season ticket prices for the 2019-2020 season. That doesn't mean that the Rangers won't raise the prices of individual game tickets, come the start of the season.
When the Rangers told their season ticket holders that the prices would not be going up for the 2019-2020 season, this was before all the bombs that Gorton dropped. This was before the Rangers got the number 2 pick in the draft lottery. This was way before JD and Panarin.
Call me a conspiracy theorist, but I 100% believe, that if the Rangers knew how this off-season was going to go, they would've jacked up season ticket prices for 2019-2020. I will bet any reader of this blog that the Rangers raise the season ticket prices for 2020-2021. Who wants to take that bet?
I've talked about this before – when it comes to going to Ranger games, if my job site is in Manhattan, I tend to attend more games. I use the Stubhub trick. I don't have a wife. I don't have kids. I'm 37 years old, so I have been able to save up a few bucks. However, for many other Ranger fans, you either have young teenagers to people in their mid-twenties, who really don't have disposable income to blow. People my age and older tend to have busy lives, with wives and children. Dropping over $1000 to take a family of four to a game is no easy task. And when I come up with the $1000 figure, I'm including the price of tickets, travel, food and a piece of merchandise.
As I've said millions of times on this blog – it's much cheaper to see the Rangers on the road. In my experience, it's actually a better time, especially if you enjoy travel, seeing new places and seeing how others live. Plus, 9/10 times, the FAN EXPERIENCE is 10000% times better. There is just more of a community feel when you travel outside of M$G. M$G has just become too rigid and stagnant, if you know what I mean.
In January of 2017, I wrote a detailed blog about this very topic. You can read that blog here:
Make the New York Rangers Great Again: What I Would Do In My First 100 Days as Owner of the New York Rangers, Ideas on How To Make the Franchise Better and Fan Friendlier, James Dolan & Much More
While the Rangers have done some things that I suggested in that blog (Ratelle & Hadfield are now in the rafters) I fear as time goes on, more and more fans will have to choose the couch over a seat in M$G.
With the Rangers unable to jack the ticket prices for season ticket holders, I am interested in what the concession stand will look like this year. Beers were $15 for a tall boy last season. I wouldn't be shocked to see a Miller Lite or Budweiser tall boy can go for $20 this season.
I am not a communist. I understand capitalism. I also understand supply & demand. However, in my opinion, the Rangers are over-reaching when it comes to the basic principle of supply & demand. After all, check out the attendance around the league last season: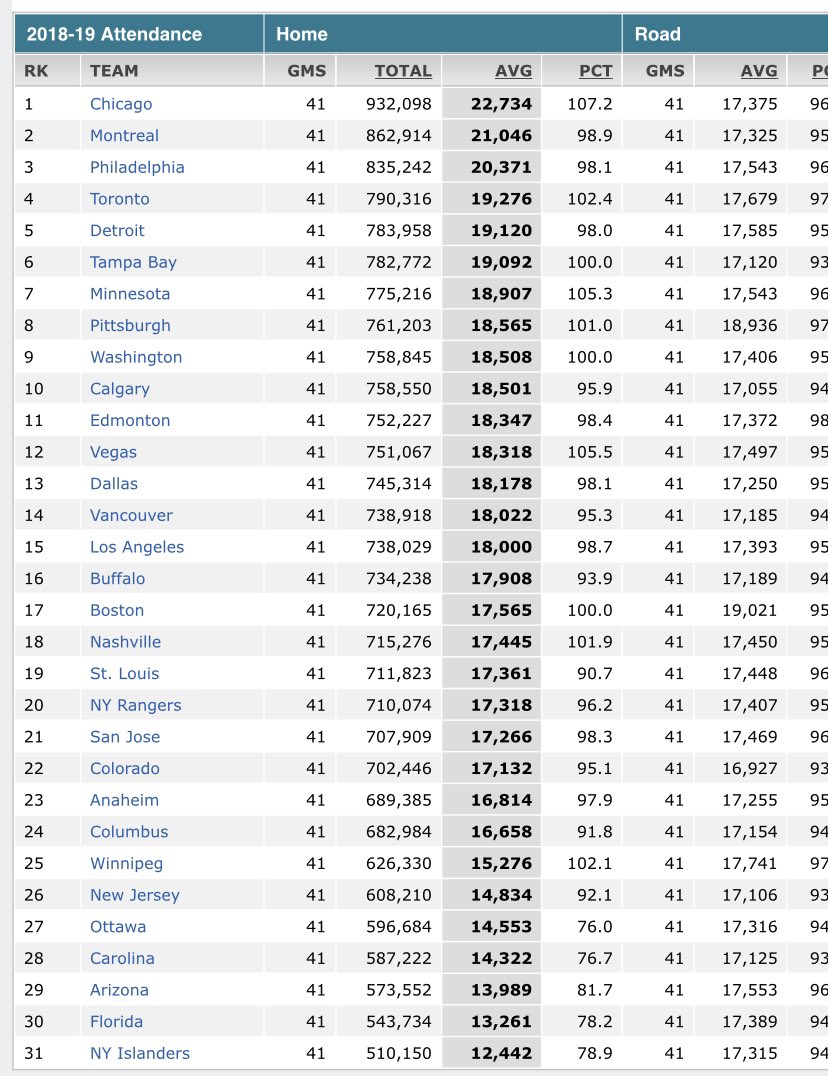 The Rangers, despite playing in the biggest city in the world, having all these corporate suites and having the advantage of being one of the oldest teams in the NHL, had the 20th best attendance in the league last year. Sure, you can say part of the declining attendance is because they told the fans that winning wasn't on their radar. However, look at the top 5 teams in attendance. Four of them are Original 6 teams. Of the four, only Toronto made the playoffs. Now look at the sixth and final Original 6 team, in the Boston Bruins. The Bruins, despite playing a Stanley Cup Final Game 7, had the 17th best attendance in the league!
So what does this data tell you? To me, I've been to Boston. Many of you probably have. Boston is another New York. It's a town rich with sports history, but it's also an expensive town to live in. While Boston isn't as pricey as New York, it's not that much of a distant second either. Despite a city that's experienced a ton of winning in recent years, Blue Collar Boston Bruin fans have been priced out as well.
If you know your history, promoting hockey was always geared to the families. Hockey owners/promoters wanted to put out a good product and at a good price. Those days are long gone and the teams have gotten greedy. If the Rangers were in the Top 5 in attendance, you can say – "well, the demand is there and people are paying." However, that's not the case. The Bruins, who play in a hockey city, were a great team this year and still couldn't outdraw more than half the league.
It is my belief that the Rangers will be a better team in 2019-2020. It's also my belief that the Rangers will win a Stanley Cup within two years of moving on from Lundqvist. Screen-shot this bitch!
As the Rangers get better, the salary cap will also increase over the years. While James Dolan has many faults, spending money on his teams isn't one of them. However, as the Rangers continue to spend money, the Rangers will continue to raise prices of everything, and not just on the cost of ducats. Beer, pretzels and even those famous kale vegan nutella smoothies in the suites, will go up in price.
With the Knicks sucking major pee-pee, the biggest of pee-pee's, and with the Rangers pricing out their diehards, we've already seen some effects. Three major Ranger/Knick themed bars have shut down in the area. People can't afford to go to these games and for the people who do, things have gotten so out of control, that they aren't spending the dollars they are used to. Parking garages are also charging more jack, just to make up the lost difference. And let's not forget the increasing prices of the LIRR/MTA.
At home, we are getting great and big screen TV's for an affordable price. When it comes to broadcasting sports, networks are spending more money on technology to give the viewer the best possible experience. With cable networks such as MSG having to compete with new streaming services for eyeballs, these television networks need to be broadcasting at the highest quality possible. For television viewers/consumers, watching live sports has never been better & easier. This won't change. As time moves on, the couch experience will only get better.
Let me also add here, that we live in an ADD society, where people must be on their phones during every game or during every television show that they watch. The networks and shows even cater to these people, by providing official hashtags for their viewers.
In other words, it's much easier to stay in. It's cheaper to stay in. The experience is better. While you can't capture the emotion of winning a Stanley Cup at home; when it comes to the regular season, you get a much more enriched experience on your couch. You get the replays.  You get the deep analysis. You get the close-ups. You have your own personal bathroom. You don't have to knock over a bank to afford a six-pack at beer.
I'm a different breed. I love going to games. I love the feel of the ice. I like hearing the hits. I love seeing that puck beat that opposing goaltender. For me personally, and I'm sure many people my age can relate, not many of my close friends live near me. I am fortunate to have one friend who lives in my building, but aside from him, most of my friends live far away. That's life.
Going to the games, especially when I do my road-trips, it is a way for my friends and I to all catch up and shoot the shit. We all work and have our lives. So by attending games, aside from rooting for the Rangers, in my personal life, I have these male-bonding experiences with my best friends through these games. (This is my shout-out to Eddie S., JEFFREY, Borgata Ray, Bison & Ten O'Clock Tommy)
On an aside, what should make these future experiences even better and a little bit easier financially, is that one of my oldest friends, in BORGATA RAY, recently broke up with his long-term girlfriend. Personally, I also split up with my girlfriend of the last seven years. In other words, BORGATA RAY & I have more money and more time to play with now! Plus, neither of us have kids, so we don't have to worry about those bills. Both of us are happy & content with the uncle and godfather role!
However, I'm talking about myself and my friend solely here. I know many others are in different situations. My married with kids friends don't have the time, nor the luxury to go to M$G whenever they want; much less watch the Rangers all over two countries.
It's been a long-time coming, but come the 2020-2021 season, the Rangers will make the blue collar fan a dodo bird. Extinct. To the Rangers, blue collar fans are as useful as a payphone and a VCR. The Rangers want that suite money. They want their season ticket holders to pay $250 a ticket per game and that includes pre-season games.
Ranger season ticket holders are abused and get less perks than any other season ticket subscriber in the NHL. If you don't believe me, talk to fans of other franchises like I do.
I don't know if there is a real "make-good", when the Rangers ask for limbs and new-borns for season tickets. However, there are little things the Rangers could do, such as:
— Open practices for season ticket holders, where fans can get autographs/pictures with current roster members.
— Bring in the heavy guns for meet & greets, like Mark Messier, Brian Leetch, Wayne Gretzky, etc. How many times can season ticket subscribers hang out with Glenn Andersson and Steve Valiquette?
— Allow non-planted fans to have an audience with James Dolan. No softball questions allowed!
— 50% off discount at concession stands. That would be a real fucking perk.
— Exclusive merchandise giveaways, giveaways that are better than a t-shirt that cost ten cents to make.
I hope this doesn't come off as me bitching here. After all, I do know that I attend more games than most. That said, when it comes to my hockey budget, I'm putting more of my money into road-trips and bypassing the M$G experience. I know I'm not the only one who feels this way, in regards to M$G no longer having an edge or providing a great fan experience. I wish I could always have those positive vibes and feelings of optimism that my buddy Dancin' Larry has.
Over the five year history of this site's existence (Can you believe I first said five years ago that the Rangers would never win a Cup with Henrik Lundqvist? Nailed that one!) I've interacted with thousands of readers. Some of these readers, I get to know at a more personal level. Some of these readers are even ex-NHLers or minor league players. I'm not saying this to boast or anything like that. I'm just saying, when you put yourself out there like I do, you create relationships with other fans. And let's face it, if you're a regular reader of this blog, you know you're getting something 100% different than anything else. You're getting a unique product here. Shit, I saw Joe Unfortunato whining that he hit his personal high of 3000 words the other day. That's just a headline for me!
While this email is a little bit dated, and that's my fault, as I've been so busy that I haven't had a chance to check my emails or approve comments, I wanted to share the following email I got from an ex-minor league player. This player, who asked for his name to be withheld (No one needs to be harassed on social media and not many know how to embrace the "heel" role like I can/do) was a professional hockey player during his twenties.
Here's what this player wrote about the recent Rangers scrimmage with their prospects:
Hey Sean

I went to the scrimmage on Wednesday. A few thoughts

– not one hit. How times have changed. I fought my best friend in a minor league camp one year
– no chip outs, dump ins or cycles. I guess that it easy when you know you aren't going to get hit
– about a million re-groups. Puck possession dominates

– Kakko sucked, just floated around. Had no interest in impressing his new team. At one point, he had a breakaway, but was being chased down. He looked behind him 3xs! Before getting off a weak shot. Embarrassing. Any decent player would widen their legs for a strong base, bend your knees, expecting contact, before you shoot or deke. He stayed upright the whole time

– Miller was even worse. Completely out of his league. He made a mistake every shift – just about. He has a long way to go.

– I think Fox was the best player overall. He consistently beat the first forechecker and identified the best outlet pass and hit it. Smooth, never rattled. He looks ready.

– The commie showed unbelievable skill at times. He was inconsistent, but his high end plays made you take notice. Kratsov, I think.

– I liked their last draft pick – the little Cecillini or whatever it is. Got better as it went along and was buzzing everywhere

– Everybody can fly, shoot and has skill. I just wish somebody laid out anybody (Miller is huge – hit somebody!!)

I only saw him take a few steps, but JD looked like he could barely move. Knee replacements coming up

Oh, Mike Pelino, old Ranger asst. coach and a man who I respect immensely said Igor is good, but is no Lundswiss. Pelino has been in the KHL for 6 years. I would get rid of Hank too, but don't expect Igor to come in and dominate.

My two cents. Have a great summer
Due to work, I couldn't attend any of these scrimmages. I watched the highlights and clips that were on social media. I'm not agreeing or disagreeing with anything this ex-player said, I'm just sharing his opinion. I will say, I've conversed with this reader/ex-player for a few years now, and I usually agree with his opinion. Just throwing this out there. And to stomp out any rumors – no, this ex-player wasn't Ron Duguay. Trust me, he would put his name on it!
And oh yeah, if JD could make it happen – BRING BACK RON DUGUAY TO THE MSG NETWORKS! No offense to the current MSG Network guys, but no one is willing to take an unpopular opinion or speak their mind like Doogie did/does/will.
I will say this though,in regards to this email that I received – none of these teams want hitting during these scrimmages. Every investment has to be protected.
Two more things here, and then I'll get into the meat & potatoes of this blog. Shit, I'm almost 5000 words in already. And some people cry about doing 3000 word blogs filled with charts that mean absolutely nothing!
Last week, the Islanders announced that they would be building a new arena in Belmont. To me, even though this job is only 10% tax-payer funded, this is just ridiculous.
Let me share with you the league attendance data again: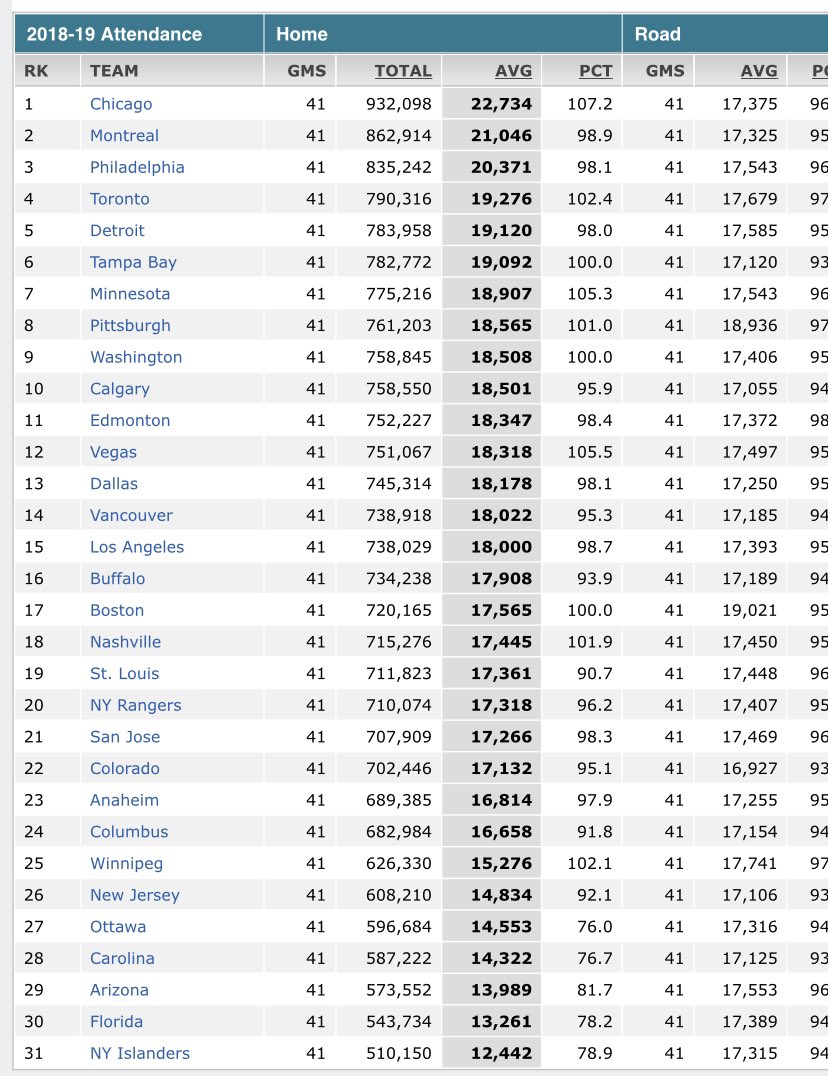 As they've been for years, the Islanders are the Henrik Lundqvist of teams when it comes to attendance – LAST PLACE! This isn't even a Barclays vs Coliseum debate either. Win/Lose/Draw – the Islanders are either in last place or second to last place, when it comes to attendance.
It's funny, when I look at that list above, I've been to the arenas of the teams that were ranked 26-31.
At 26, the Devils have a nice arena, but it's fucking Newark. Not a hockey town. They have a loyal diehard fan-base, like many other small-market teams, but there just isn't enough of them.
At 27, Ottawa sucked this year and the fans hate the owner. There are also issues with getting tickets there.
At 28, Carolina should see a boost after the run they had this season. That said, it's a football city and not a hockey town.
At 29, Arizona is a team that may be moved. They have a nice arena and location, but hockey hasn't caught on there after all these years.
At 30, Florida plays in the middle of nowhere. It's true bumblefuck in Sunrise. Nice arena, but like many of the sunbelt teams, football is king. During my visit there, they weren't even showing the game on the monitors around the arena. They were showing some college football game. (I want to say it was the Miami Hurricanes.)
In dead last are the Islanders, a franchise that would be more profitable if they moved to a town that wanted hockey, such as Quebec, Kansas City or even Houston. Seattle is no longer an option, with the city opting for an expansion team.
When it comes to the Islanders and the Nassau Coliseum, an arena that I liked despite its faults (I live 10 minutes away from it and it provided me many great times during my teenage years) the one thing that the Islanders had that many teams don't have, is the ability to tailgate.
However, the tailgate option is no more, as this was announced right after the Islanders deal to Belmont was publicized: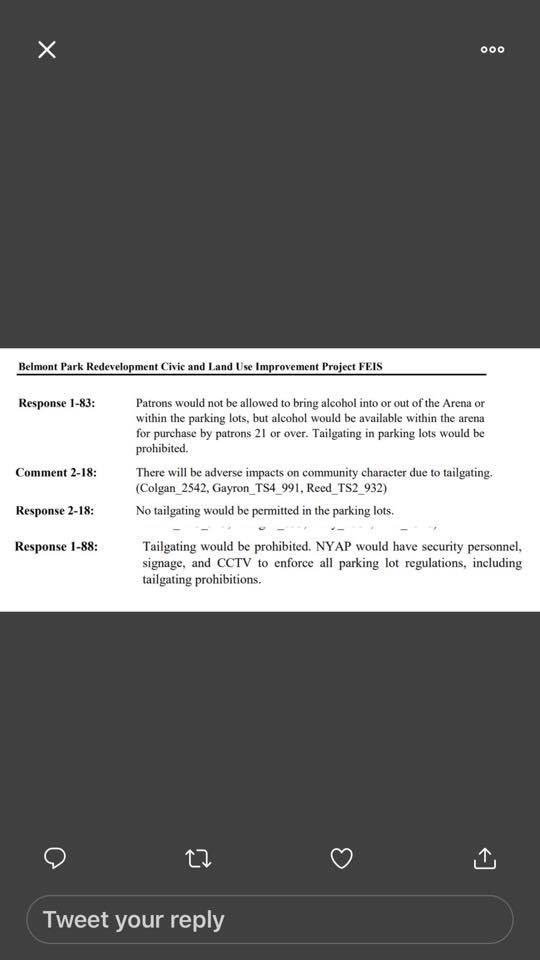 NO TAILGATING!
Listen, I understand DWI's, public safety and all that crap, but ask any NFL fan – part of the experience is the pre-game tailgate. I've tailgated hundreds of times at Nassau and during each time, I had a designated driver. We live in a world where we have Uber. There's no excuse any more to drink and drive. It's so easy to have a few pops and belts and have a clean ride home.
To me, this is insane on so many different levels. For starters, this area is already flooded with so many arenas, stadiums and amphitheaters for concerts, that we don't need another facility. Who gives a fuck if Billy Joel goes to Belmont? Let's not also forget that this arena will have the sweet scent of horse-shit in the air, and that's not because the hockey team sucks!
Liberal democrat politicians are pushing that this will create an Elmont LIRR stop. As a Long Islander myself, WGAF? I haven't heard anyone EVER, say the following, "I wish there was an LIRR stop at Elmont. It would enrichen my life." GTFO!
There is not one thing to do in Elmont besides trying to avoid being mugged. Furthermore, and I know this Belmont vs Elmont labels can be confusing for non-Long Islanders, if you want to go to this new arena, you still have to go to Jamaica first and then go backwards to Belmont/Elmont. With the prices LIRR charges these days, it's easier to drive and cheaper to Uber. In addition, you can tailgate on the LIRR; you just can't tailgate at this new arena!
In what world can this new arena get any support? Again, there is no supply and demand for a new arena. The dance recitals of my niece are better attended than Islander games. I've seen more people trying to buy Powerball tickets at a 7-11 than attend an Islander game that didn't feature the Rangers as the opponent.
Bottom line is this – the Islanders, if they must stay in New York, where no one gives a fuck about them, should've allowed Wang to do his thing. They didn't. However, the Coliseum is still there. The Islanders should've demo'd that dump and built the new arena there. IT'S THE ISLANDERS. The name is the ISLANDERS. Yea, Belmont/Elmont is Long Island, but you may as well stay at Barclays, as Elmont/Belmont is only three or so miles from Barclays. In other words – it's a turn-off for fans in Suffolk County.
Here's my no-brainer prediction – fans will come out to see the new arena in years one and two. When I say that, I'm including people who will go to concerts/wrestling/boxing/mma/etc. However, in year 3, the place will be as desolate as another Long Island franchise – Caldor's. The only time that Belmont building will have any life, is when the Rangers come to town. Since the Rangers will never cut the cord on Lundswiss, let's hope he has a better showing there than his 0-for 7896789689678967896767896 record at Barclays.
SAD!
One quick thing here before going to the Mount Rushmore segment.
If you're a regular reader of this blog, you know my passion for history and reading books. In a way, conversing with Stan Fischler is a pure delight, as the man has seen it all.
As a reader of all these books, when I read books from players of the 1960's and 1970's, Rod Gilbert's name usually comes up and not in a positive way. Check out my book reviews at http://doinow.com/book-reviews/ for more.
I would love to see Rod Gilbert write a book today, just to hear his side and see what he has to say about the criticism that's out there about him. When I asked Stan about this, not only did I find out that Gilbert and Fischler wrote a book in 1968, but Stan followed up with Gilbert about doing a book today. Here's my conversation with Stan on twitter:
Just bought the last copy off of Amazon! I see this book was published in 1968. I would like to see a @rodgilbert7 career restrospective book, like Brad Park did in 2012, long after your "Play The Man" collaboration. pic.twitter.com/Uw30heEiy0

— BlueCollarBlueShirts (@NYCTheMiC) July 12, 2019
Needless to say, a book review will be coming one of the days. Again, it's a matter of this:
When I work these crazy hours, run on no sleep and give my summer away to a job site, I just have to remind myself of this – ROAD TRIP MONEY! Plus, I don't have a beach body anyway!
Moving along.
I could wrap this blog up now and save the Mount Rushmore segment for its own separate blog. However, you know me – one click, 10,000 words and no ads!
I will say this, this blog is going very long. I want to tell you here, that you can subscribe to this blog by entering your email address and clicking the following button: