Greetings and salutations everyone and welcome to another blog here on BlueCollarBlueShirts.com. That "Calm Before The Storm" time period that I talked about last time on this site? Well that storm has now hit the beaches of Rangerstown, USA. In fact, that storm even has some "Thunder and Lightning" to it, as "Tropical Storm Goodrow" has now arrived at the shores of the Blueshirts.
On Saturday July 17th, and with all NHL teams awaiting the July 21st Seattle Kraken expansion draft; there was a 3:00PM deadline for all NHL teams to finalize their rosters prior to the NHL's "freeze". For those who don't know what this means, simply put, starting at 3:00PM July 17th and ending on July 23rd, (the day when the NHL will hold round one of their 2021 NHL Entry Draft) only the Seattle Kraken can do business.
From now until July 23rd, only Seattle can initiate trades with the 31 other teams in the league. The other 31 teams are not allowed to make deals with each other during this time.
As a result of this, NHL general managers went haywire on Saturday, making their final moves before submitting their protected lists to the league. Of note, while all protected lists have been sent to the league's office, these lists won't be publicized until Sunday. (For a full list of all the transactions made throughout the league on Saturday, and there were a bunch, visit either Sportsnet.ca or TSN.ca)
Last blog, I pretty much broke down what I thought the Rangers would do in regards to the Seattle expansion draft. Two days later, (which would be today) the Rangers traded Brett Howden! In other words, you can now throw the idea of Howden being exposed by the Rangers out the window! Isn't that amazing Suzyn?
Aside from the Rangers trading Brett Howden on Saturday before 3PM; the other big news of the day was the Rangers getting first dibs on negotiating with two-time Stanley Cup champion Barclay Goodrow. Obviously, these two stories are our main event for tonight's manifesto!
For those of you who may have missed my last blog or are not sure what the Rangers options were heading into the Seattle expansion draft; let me get the PLUGS section out of the way first. After that, I'll get into the 1-2 punch of news from Saturday.
Here are my last few blogs in case you missed them:
---
---
---
As the 3PM freeze deadline came and went, it looked like the Rangers were content to do nothing. Say what you want about former Rangers general manager Jeff Gorton, but Gorton did leave the Rangers in a good state – at least when it comes to the Seattle expansion draft.
Truth be told, the Rangers really won't be hurt by Seattle at all, which is something you can't say for the majority of the teams in the league. Sure, the Rangers may lose Colin Blackwell or Julien Gauthier, but at the end of the day, the Rangers aren't losing a make-or-break player here. Plus, with Barclay Goodrow possibly joining the club, the Rangers, as Larry David would say, are looking "pretty, pretty, pretty good!"
(And really, is anyone missing Oscar Lindberg right now? You know, the same Oscar Lindberg that the Vegas Golden Knights selected during their expansion draft.)
As it always goes during any sort of NHL deadline, whether it's a trade deadline, a holiday deadline or in this case an expansion draft deadline; news of trades and roster transactions poured in after the 3PM deadline as the league office processed everything. Two of these trades included the Rangers.
Prior to the Rangers two trade announcements, many Ranger fans were growing impatient. After all, Lou Lamoriello of the Islanders, a Lou Lamoriello that not only feels like he's a step ahead of everyone else, but sprinting and bypassing everyone else too like a Kenyan; made a flurry of moves. Not only did Lamoriello dump Nick Leddy's contract onto the Detroit Red Wings on Friday; but come Saturday, Lamoriello also baited the Arizona Coyotes into taking Andrew Ladd's contract off of his hands too.
What happens next for the Islanders is anyone's guess, but you'd have to imagine that not only will the Islanders look to retain Casey Cizikas, but the Islanders may also be in the running to land both Zach Parise and Ryan Suter too. Hell, for all we know, the Islanders may gamble a bit and try to make a run at Vladimir Tarasenko as well.
If that wasn't bad enough, across the Hudson, the Rangers other rival in the New Jersey Devils; the Devils landed former Rangers draft pick Ryan Graves, in a trade made by the Devils with the Colorado Avalanche.
As we all know by now, the Rangers play in the toughest division in hockey, which is the Metropolitan division. Watching other teams in the division improve (I didn't even mention yet how the Philadelphia Flyers landed Ryan Ellis on Saturday too) was tough to watch.
While I've adopted a "wait-and-see" approach and have been crossing my fingers & hoping that Chris Drury does something big; I totally understand why some Ranger fans were getting anxious. That said, what Drury did on Saturday wasn't big, but these trades were most certainly two huge steps in the right direction. Drury's big splash hasn't happened yet; but as a betting man, I bet that belly flop splash off of the highest diving board will come soon enough. (Kakko for Tkachuk! Yes, I'm trying to will this trade into existence!)
Before pressing on, let me show you how the Rangers covered the news today.
At a little after 4PM, and with the assumption that the Rangers were staying idle, this tweet was dropped by the Rangers:
At 4:05PM on Saturday July 17th, the Rangers released the following on their official website:
New York Rangers President and General Manager Chris Drury announced today that the team has made two trades. The Blueshirts acquired forward Barclay Goodrow from the Tampa Bay Lightning in exchange for a seventh-round pick in the 2022 NHL Entry Draft. In addition, the Rangers acquired a fourth-round pick in the 2022 NHL Entry Draft (originally belonging to Winnipeg) and defenseman Nick DeSimone from the Vegas Golden Knights in exchange for Brett Howden.

Goodrow, 28, skated in 55 games with Tampa Bay this past season, registering six goals and 14 assists for 20 points, along with a plus-16 rating and 52 penalty minutes. He also recorded six points (two goals, four assists) in 18 playoff games while helping the Lightning win the Stanley Cup.

The 6-2, 203-pounder has skated in 331 career NHL games over parts of seven seasons (2014-15 – 2020-21) with San Jose and Tampa Bay, registering 32 goals and 61 assists for 93 points, along with a plus-13 rating and 304 penalty minutes. The Toronto, Ontario native is a two-time Stanley Cup Champion, as he helped the Lightning win the Stanley Cup in back-to-back seasons (2019-20 and 2020-21).

DeSimone skated in 22 American Hockey League (AHL) games this past season with the San Jose Barracuda and Rochester Americans, registering 11 assists and four penalty minutes.

Howden skated in 178 games over three seasons with the Rangers, registering 16 goals and 33 assists for 49 points, along with 53 penalty minutes.
Let's do the departure first and then get into the hopeful arrival.
---
I talked a lot about Brett Howden last blog, so I really don't want to rehash everything about Howden again. If it wasn't apparent already, with Howden now out of New York, yes – the Tampa Bay Lightning won the Ryan McDonagh/JT Miller trade. I know I talked about that trade last blog but now it's official.
Coming to the Rangers in the Howden trade is AHL defenseman Nick DeSimone. DeSimone is a free agent and it's being reported that the Rangers have no interest in signing him. After all, the Rangers already have 7896786786896 defensemen in their system and there's no point in signing a soon-to-be 27 year old career AHLer.
With the Rangers taking a pass on DeSimone, the Rangers pretty much traded Howden for a fourth round pick of the 2022 NHL Entry Draft. No one would've ever thought this would've been Howden's fate over three years ago, when the Rangers first acquired Howden. However, as it goes in any team sport, some players just don't pan out or rise to expectations. At some point you have to cut bait and that's what the Rangers did here.
If there was anything surprising here, it was the fact that the Rangers traded Howden on Saturday, rather than waiting and exposing Howden to Seattle. Assuming that Seattle would pass on Howden, the Rangers then could've dealt Howden. Then again, perhaps the Rangers felt that no team would've been interested in Howden after the Seattle expansion draft. After all, it's most likely that Vegas will expose Howden to Seattle.
In any event, all the best to Brett Howden, a fourth liner who received more ink and unnecessary hate than any other recent Rangers fourth-liner in all of franchise history!
And oh, quick prediction here – I doubt Howden ever plays for Vegas. I wouldn't be surprised to see Vegas move on from Howden one way or the other.
Let's now get into the most encouraging news of the day – the Rangers desire of signing Barclay Goodrow.
---
As mentioned about 893748378347037847373094 times on this site during this year, the Rangers lack grit, toughness and a championship pedigree. On July 17th, Chris Drury tried to change that.
If you're a Rangers fan who tunes out of the season once the Rangers are done, here are some of Goodrow's highlights from the 2021 season and from the 2021 Stanley Cup Playoffs. The following video comes from NHL.com:
There's a lot to get into here and there are many different scenarios that can play out now.
Let's just say this off of puck drop – if the Rangers can get Goodrow on this roster, it will be a "hockey godsend." Goodrow checks all the boxes. He's a two-time Stanley Cup champion, he's a warrior, he's a gritty type, he can throw down, he can play any forward position, he can win face-offs and he doesn't take nights off. For fans of the Rangers who need a comparable here, just think of any of the players on the Islanders fourth line aka the Islanders "Identity Line". Goodrow is exactly like those guys and that's what this Rangers roster needs desperately.
If I haven't sold you enough, let me give you another example of why Goodrow is a great addition to any NHL roster. Tampa Bay Lightning fans, fans who have so many excellent players to root for, are genuinely upset about Goodrow being traded. In fact, after news of the trade was announced, Lightning fans made it publicly known how sad they were to see Goodrow go.
Of course, these fans and the Tampa Bay Lightning players knew this day was coming, as due to the horrible salary cap, the Lightning were forced to shed Goodrow from their ranks. Goodrow will be missed in Tampa and if you check any social media account of any Lightning fan, you will see this fully on display. (I regularly converse with Seth Kush from the Tampa Bay Lightning sponsored podcast, "The Block Party" and Kush was equally sad to see Goodrow go, even if Kush knew this was going to happen too.)
And oh, before continuing – if the Rangers can sign Goodrow, Goodrow can't be the only tough player that the Rangers land this summer. No joke, Goodrow can't be the only tough guy on the Rangers. The Rangers need one or two more of these types to succeed in the playoffs. (Again, I'm hoping for Matt Tkachuk here!)
During these 2021 Stanley Cup Playoffs, if I said it once, I said it a million times, especially with the run Montreal had – expect teams to load up on players with Stanley Cup winning experience. I mean, just look at the final four teams this year. The two teams that went on to the Stanley Cup Final had more Stanley Cup championship winning experience than the teams they defeated. Yes, Vegas had Marc-Andre Fleury, but Montreal had Corey Perry, Eric Staal, Joel Edmundson and others. In the other series, Tampa was Tampa and the Islanders had no one that could compare.
By trying to acquire Barclay Goodrow, the Rangers are looking to add a proven winner and a solid teammate. And what do I mean by "acquire" here? Let me explain.
As of this writing, Barclay Goodrow is not a New York Ranger, at least not yet. What Chris Drury did here, was dealing a seventh round pick, in order to have the first crack at signing Barclay Goodrow. (For a similar example of this practice, look no further to when the Rangers dealt Keith Yandle to the Florida Panthers.)
From a Tampa perspective, this is a good trade. After all, Goodrow, who made $925,000 last season, is now an unrestricted free agent. In addition, Goodrow is an unrestricted free agent due for a significant raise. Instead of losing Goodrow for nothing, (due to the salary cap, Tampa would be unable to retain Goodrow) Tampa just added a seventh round pick to their cabinet.
And not for nothing, after dealing Ranger after Ranger to the Lightning over the years, it was about time the Lightning reciprocated here!
Think about it. Tampa could've dealt the negotiation rights to Goodrow for a seventh round pick to most of the teams in the league. Heck, Tampa may have even been able to get better offers too. Perhaps this was Tampa's way of saying thank you to the Rangers for Ryan McDonagh!
However, and what is more likely here than thanking the Rangers for McDonagh; perhaps Drury had some talks with both Tampa management and Goodrow. Julien BriseBois, the general manager of the Lightning, probably wanted to put Goodrow in the best situation possible and this move was a token of appreciation for Goodrow's great run with the Lightning. This wouldn't be the first time something like this happened and it won't be the last.
Alas, I digressed!
As it stands right now, Drury has until noon of July 28th to sign Barclay Goodrow. If Drury can't get a deal done with Goodrow by then, Goodrow can then test the free agency waters.
Here's where it gets tricky a bit.
No one (outside of the parties involved) knows about the talks that Drury had with Goodrow prior to this trade, a trade where Drury is only guaranteed to get the first crack at signing Goodrow.
One would have to assume that Drury and Goodrow (or at least Goodrow's agent) have had some sort of dialogue. Then again, maybe this is Drury being a rookie general manager and trying to jump the gun here. We don't know what happened for sure right now, although I'm sure we'll find out soon enough.
To be up front with you, I hope the Rangers make this deal happen. Goodrow would be a welcome addition to this Rangers team and Goodrow would be a positive influence for that Rangers locker room. That said, if I was Barclay Goodrow, a Barclay Goodrow who OWES NOTHING to the Rangers, I may be hesitant to sign with the Rangers right now.
According to reports out of Canada, there are multiple teams interested in signing Goodrow. In addition, according to Chris Johnston of "Hockey Night in Canada", there are teams willing to offer Goodrow a six-year deal. Of note, Johnston is always on the up-and-up and there is no reason for Johnston to make anything up here. If Johnston is saying teams are willing to offer Goodrow money and term, then teams really are interested in offering Goodrow money and term.
For Goodrow, this most likely will be the best chance of his career to truly cash out and make life-changing money. For Goodrow and his family, and with Goodrow having no allegiance to the Rangers – it's in Goodrow's best interest to get paid. He may never have this chance again.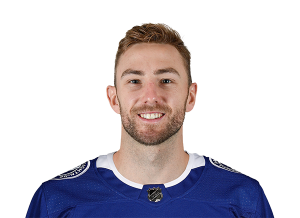 Of course, Drury wants to sign Goodrow. If Drury didn't, Drury wouldn't have paid a seventh round pick in order to do so. However, if the two parties can come to an agreement, it will be interesting to see WHEN that deal is announced.
Again, as of this writing, the protected lists haven't been publicized yet. If the Rangers had signed Goodrow, we would've heard about it by now. It's now likely that the Rangers will wait until after the Seattle expansion draft to announce that they've signed Goodrow, assuming that the Rangers do so.
In addition, the Rangers could expose Goodrow, with the thinking that Seattle wouldn't draft an unrestricted free agent.
It will be interesting to see who the Rangers protect tomorrow. With Howden gone and Goodrow unsigned, I'm to assume that either Julien Gauthier and Colin Blackwell will be exposed. Then again, perhaps the Rangers expose both Gauthier and Blackwell.
If that's the case, and as I said last blog, I'd expect Seattle's Ron Francis to be all over Gauthier. Yes, I'm spit-balling and speculating here, but if this happens, I would be a little surprised. I thought Gauthier showed some promise and it would be a shame if the Rangers lost him for nothing. Then again, to give you the other side here, you only have a finite number of spots on a team and minutes to dole out. Not everyone can play.
(And to give you the full story here, I doubt Seattle will go after Rooney, DeAngelo, Hajek, Bitetto or Kinkaid. My money is on Blackwell or Gauthier.)
Going back to Goodrow here, knowing that other teams are interested in signing him, Drury is going to have to overpay for the third liner. With it already out there that teams are interested in giving Goodrow a six-year deal; I'm to imagine that Drury will have to offer Goodrow at least six-years, unless Drury is really going to overpay Goodrow with a shorter-term contract.
As far as what's a fair number for Goodrow annually, I've seen reporters suggest as low as $3M and as high as $4M. The Rangers do have the cap space to give Goodrow a great offer, but how much are the Rangers willing to overpay; especially when you're eventually going to have to lock down a number one center (Mika, Eichel, Barkov or someone else), decide what to do with Buchnevich, and then re-sign the other impending free agents on the club, in guys like Adam Fox, Igor Shestyorkin, Alexis Lafreniere, Vitali Kravtsov, K'Andre Miller and others.
This is why Chris Drury gets the big bucks. That said, if Drury has any advantage here, it's the fact that he's the general manager of the New York Rangers, a Rangers team that plays inside of Madison Square Garden. As you may be aware of, players love playing in New York and no one provides better accommodations and amenities than the Rangers do.
Gun to my head, I think the Rangers get a deal done with Goodrow, even if it's probably in the best interest for Goodrow to shop himself around. While Drury is a rookie general manager, he isn't an idiot either. Drury's been around and has good relationships around the league. Of course, losing a seventh round pick in the event Goodrow doesn't sign with the Rangers isn't that much of a big deal; but I just don't see Drury giving up this pick if he didn't already have the ball in motion with Goodrow and his agent.
Long story short here – make it happen and I expect it to happen. Hopefully our only concern with Goodrow will be what number he wears, as his #19 with the Lightning is retired in New York for Jean Ratelle. In addition, Goodrow, who wore #23 with the San Jose Sharks, wouldn't be able to wear that number either. As you may have heard, the Rangers have a Norris Trophy winner wearing that number!
---
A few more thoughts before closing out on all of this.
As talked about last blog, when the Rangers re-signed Brett Howden; a large section of Ranger fans cried real tears about this news, where these people didn't realize that by re-signing Howden, the Rangers could expose Howden to Seattle. While that point is moot now; at the end of the day we arrived to the same final destination – Howden is no longer with the Rangers.
What really cracked me up, was that these same people who were crying about Howden last week, were now doing back-flips and cartwheels over the Howden trade of today. After finishing their gymnastic routine, these same people all became experts on Barclay Goodrow and the salary cap.
But wait, it gets better! These are also the same people who hump "EXPECTED STATS" and all of those other garbage charts that Steve Valiquette pumps out on a regular basis. Why do I mention this? Easy – Barclay Goodrow and what he brings isn't something that can be explained solely on a chart. When it comes to Barclay Goodrow, he's a true "EYE TEST" player.
In one swoop, this tear-soaked echo chamber went from whining about Howden and talking about charts, to celebrating Goodrow as if Goodrow was Wayne Gretzky. You really can't make this up. Only in Rangerstown, only in Rangerstown!
Prediction: if I get what I want, and the Rangers do go after Tkachuk, where the Rangers would most likely have to deal Kaapo Kakko or another young player the other way; these same people currently praising Goodrow over Goodrow's grit and intangibles, will also be the same people crying that the Rangers gave up a skill-set player for "just a grit guy" like Tkachuk. Take it to the bank!
---
I close this blog with more positive news. My "New York Rangers and the Rafters of Madison Square Garden" book is complete and off to the editor. Even better, the editor is a fan of the Rangers so she understands the material.
With a book that clocks in at 400 pages in its current form, my editor has said this book really came out well. Of course, I would tell you that this book is amazing, but to get some real feedback from another pair of eyes is encouraging.
Last I checked, my editor is about 100 pages in. I'm not sure when she will finish, but I can't imagine it will take an insane amount of time. After that, it's getting the cover art complete and applying the finishing touches.
While I have no firm release date yet, I think the earliest I can get this book into your hands will be by September 1st. My target date is October 1st. Since I have decided to go down the independent route, rather than going with a vanity press or a small publisher; I'm not tied down to any sort of deadline.
I've been promoting this book long enough on this site to you loyal readers, so once it's done and ready to go, I'm publishing it rather than teasing it for a while and doing a long promotion. After all, while it will be nice to make a few bucks off of the book, bucks that will go towards my Ranger road-trips and my nieces; this book is a bucket-list thing for me and not a "get rich quick" type of thing.
If anything has overwhelmed me so far, it is the fact that I have had about 50-75 emails, DM's and Facebook messages asking me for autographed copies of the book. I'm shocked about that, because just like you, I'm just a fan – nothing more, nothing less.
I'm going to release the book on Amazon first, and after that, I'll put it up for sale on Apple and Barnes & Noble. However, I'm going to receive 100 copies of the book, where if you're really interested in a signed copy, I'll sell it to you off of this site. (Through Paypal or Venmo.)
I bring this up, because as said, I have received something like 50-75 inquiries about signed copies. If you want a signed copy, feel free to say so in the COMMENTS section of this blog or feel free to email me as soon as possible. That way, if I need to order more copies, I can have signed copies ready to go. (And for what it's worth, I'll make a few extra bucks selling it off of this site than I will by selling it through a third party.)
If you're a regular reader of this site, you know that I have read hundreds of hockey books. I can 100% tell you that there is nothing like this book out there and I'm interested to see your feedback once it's complete. I really think you'll take a lot out of it, especially if you want to know about the great (and the bad) history of the New York Rangers.
Anyway, I'm almost at the finish line and I can't wait to have a few victory pops and belts once it's published!
---
If you haven't already, subscribe to this blog for the next update:
---
Tomorrow, or perhaps by the time you read these words, we'll know who the Rangers are protecting and who the Rangers are exposing. I don't expect any surprises here.
As a reminder, here are the upcoming key dates pertaining to all things NHL:
July 21: The 2021 Seattle Kraken Expansion Draft, which is scheduled to take place at 8PM. Of note, this will air on ESPN2, so already, the NHL is being kicked to another second channel of a major network. I don't care to look this up right now, as it's late – but really, what is ESPN airing at 8PM on 7/21? The Cornhole Championship?
July 23: The first round of the 2021 NHL Entry Draft.
July 24: The second through seventh rounds of the 2021 NHL Entry Draft.
July 28: NHL Free Agency period begins, starting at 12PM noon.
As far as the next blog on this site, I think I'll return after the Seattle expansion draft. After all, the Rangers really can't do anything else until after that draft, that is, unless the Rangers make some sort of trade with Seattle. (Of course, the Rangers could sign Barclay Goodrow during this time or perhaps make a decision on Pavel Buchnevich.)
Stay FABULOUS my friends.
As always here, thanks for reading and…
LET'S GO RANGERS!
Sean McCaffrey
BULLSMC@aol.com
@NYCTHEMIC on Tweeter