Greetings and salutations everyone and welcome to another blog here on BlueCollarBlueShirts.com. Welcome to Rangerstown, a Rangerstown that never sleeps!
After posting last night's blog, I thought I'd come back after the Seattle expansion draft. However, as they say – "plans change".
On Sunday, July 18th, Mark Rosenman of Sports Talk NY interviewed former Rangers head coach David Quinn. The interview ran about thirty minutes or so. More importantly, this is the first interview that David Quinn has done since his dismissal from the Rangers. This interview was the genesis for tonight's blog, as I thought this interview deserved attention, a plug and a recap; three things that you will soon find below.
To give you a quick tease here, (assuming that you just don't scroll all the way down and look for the recap at this very moment!) I thought that Rosenman asked every single question that needed to be asked. In fact, this conversation felt like two high school buddies catching up at a bar; even if at times Rosenman came off like the side-kick and as a promoter, rather than as an equal. Then again, that's the way this interview should've played out – because after all, this isn't DQ interviewing Rosenman!
Before getting into Rosenman's exclusive interview with DQ, I just wanted to follow up on last night's blog. On Sunday morning, we officially found out who the Rangers were protecting from Seattle and who the Rangers were exposing to Seattle. Let's quickly get into this and then I'll give you all the information about the DQ interview.
At around 10:00AM on Sunday July 18th, the NHL posted every franchise's protected list. To read the entire list, visit: https://www.nhl.com/news/nhl-expansion-draft-protected-list-for-seattle-released/c-325681800?tid=289242400
Here's the Rangers official protected (and exposed) list from NHL.com:
NEW YORK RANGERS
Available
Colin Blackwell (F)
Jonny Brodzinski (F)
Phillip Di Giuseppe (F)
Gabriel Fontaine (F)
Julien Gauthier (F)
Tim Gettinger (F)
Barclay Goodrow (F)
Anthony Greco (F)
Ty Ronning (F)
Anthony Bitetto (D)
Brandon Crawley (D)
Tony DeAngelo (D)
Nick DeSimone (D)
Mason Geertsen (D)
Jack Johnson (D)
Darren Raddysh (D)
Brendan Smith (D)
Keith Kinkaid (G)
Protected
Pavel Buchnevich (F)
Filip Chytil (F)
Chris Kreider (F)
Artemi Panarin (F)
Kevin Rooney (F)
Ryan Strome (F)
Mika Zibanejad (F)
Libor Hajek (D)
Ryan Lindgren (D)
Jacob Trouba (D)
Alexandar Georgiev (G)
---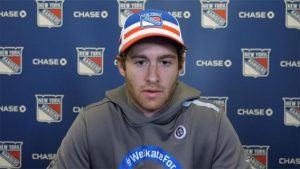 During the last two blogs on this site, I talked about what the Rangers options were in regards to the Seattle expansion draft. I also talked about what the Rangers could do after trading Brett Howden to Vegas and after trading for the right to get the first crack at negotiating with Barclay Goodrow. In fact, let me get the PLUGS segment out of the way here and then jump back into the Rangers news of today.
Here are my last few blogs in case you missed them:
---
---
---
I'm always honest to you guys on this site and if I'm right I'll tell ya, and if I'm wrong I'll tell ya too! I preface what I'm about to say next with that statement, because previously on this site, I said that I thought Kevin Rooney would be a LOCK to be exposed by the Rangers. Instead, I was dead-wrong! It happens!
I truly felt that the Rangers would've protected Julien Gauthier and/or Colin Blackwell. I also felt, and with a 100% certainty, that the Rangers would've exposed Kevin Rooney too. I guess that's why I'm typing on a keyboard right now and why Chris Drury is presently sitting inside of a bougias office!
While Chris Drury hasn't done any media interviews regarding this decision to protect Rooney; to take a stab at explaining Drury's decision, I'm to assume that Drury really valued Rooney's work on the fourth line and on the penalty kill. With the Rangers not really having an abundance of centermen and coupled in with the fact that Howden is now gone; I guess all of this gave Rooney's stock a bump, especially since Rooney can be a penalty killing center for the Rangers next season.
Of course, just because Rooney was protected here, that doesn't necessarily mean that Rooney will be a Ranger next season either. What this solely means is that Rooney's odds of returning to the Rangers have increased. Anything can happen from now until Opening Night.
I want to reiterate something I've been saying for a while on this site – former Rangers general manager Jeff Gorton left the Rangers in a good position here, at least in regards to the Seattle expansion draft.
Once again, the Rangers are only going to lose a 12th or 13th forward here. Yes, I know Blackwell was more than just that and did spend some time on the first line during the 2021 season; but as I've said previously, do you really think Blackwell is going to continue to produce like this moving forward, as Blackwell did in 2021? And really, even if Blackwell continues his career renaissance, are you really going to get that upset about losing him?
Again, I want to be clear here – I have nothing against Colin Blackwell. I hope he continues to play well. However, to throw a tizzy about Rooney being protected over Blackwell is a fool's mission in my eyes.
Put it this way, it's okay to get upset if something doesn't make sense. This isn't it. You can understand Drury's logic here in wanting to protect a fourth line checking center on a team that isn't nearly as strong up the middle as other teams in the league. If the Rangers traded Alexis Lafreniere to the Islanders tomorrow for Uncle Leo, then yeah – get pissed, make your death threats and do all of that other happy horseshit. However, to split hairs over Gauthier, Blackwell and Rooney is a waste of time to me.
If there's anything else to talk about here before moving on, and as mentioned & predicted last night (see some of my predictions pan out!) – the Rangers did indeed expose Barclay Goodrow to Seattle. It's a risk, but a low risk at that. I mean, put yourself in the shoes of Seattle. Are you going to draft an unrestricted free agent who can tell you to pecker off in a week's time, or go with someone who can suit up for you in either Colin Blackwell or Julien Gauthier?
Ron Francis, the general manager of the Kraken, is no dummy. Francis is going to get the most value as possible. While Goodrow isn't exactly Alex Ovechkin, (I know, shocking!) both Goodrow and Ovechkin are unrestricted free agents. Ovechkin isn't signing with Seattle and if Goodrow isn't going to sign with the Rangers, Goodrow is going to play the field. It would make no sense for Seattle to go after Goodrow in their draft.
To wrap up on all of this, as stated previously, I think Seattle, especially with the connection Francis and Gauthier have, will draft Gauthier. Gauthier is younger than Blackwell and has more upside. In addition, historically, general managers and front office people usually tend to go to bat for players they know and are comfortable with.
Let's get into the David Quinn interview.
---
At 6PM on July 18th, Mark Rosenman of Sports Talk NY interviewed David Quinn. While I will recap everything for you below, I think you should go out of your way to listen to the interview yourself. After all, while I can tell you what was said, it is more beneficial for you to hear the tone of DQ's voice. (Plus Rosenman did a good job with this and he deserves your time and click.)
You can watch the interview on YouTube or just listen to the audio version. I've included both links here:
---
Heres audio link : https://t.co/87ZCntIei6

— Mark Rosenman (SportsTalkNY) (@sportstalkny) July 19, 2021
---
A few things before getting into the recap.
As talked about in my past writings about David Quinn, I was always 50/50 on him. Where I thought that both John Tortorella and Alain Vigneault, (DQ's predecessors) were unjustly fired; I understood the firing of DQ. While I wouldn't have fired DQ, that's not up to me – and as you may have heard!
While I don't want to rehash my previous writings on DQ and go into my "Greatest Hits" here; simply stated, DQ was the coach of this team during two pandemic-plagued seasons. At the present time, and after Dolan's firings – it just feels like the right hand didn't know what the left hand was doing. At least that's my opinion as someone from the outside looking in.
In addition, I thought this 2021 season was just a mess for the Rangers, a mess that you can't solely plop at DQ's door. While DQ isn't 100% absolved for all of the Rangers misery; I don't think it's fair to make DQ the complete scapegoat here either. It's not like DQ gave Mika Zibanejad COVID-19 or asked his players to get injured. I also doubt that DQ made a call to Russia either, in an attempt to mess with Artemi Panarin.
If you want to blame DQ for the way the Tony DeAngelo and Brendan Lemieux situations went down, I'm fine with that. Even then, based on what we've publicly seen as fans – I think these situations were more on Jeff Gorton rather than on David Quinn.
In fact, just go back to Gorton's interview after the DeAngelo incident. As I said then, I felt that Gorton let his ego get in the way a bit. After all, no matter how you feel on DeAngelo, Gorton completely devalued that asset rather than staying tight-lipped in an attempt to get at least something back for DeAngelo. However, Gorton came from the "School of Sather" where the school's slogan is "Who cares about buy-out's? It's not our money! Write another check Jimmy D!"
During the interview, you could tell that Rosenman and DQ have a positive relationship. While I don't know if these two are splitting a Fribble at "Friendly's" these days or not; the two definitely get along and talk away from the ice.
As I heard the banter and respect among the two, it reminded me of this past season, where some of my detractors (and friends) called me a "FILTHY DQ APOLOGIST!" To this day, that line cracks me up. To some people, you had to be a torch-carrying member of the "FIRE DQ" crew. If you weren't, you were the enemy! These are also the same people who spent thousands of hours whining about the fourth liner known as Brett Howden – a Brett Howden who is discussed during this interview.
I bring this all of this up, because if you have red in your eyes for "FILTHY DQ APOLOGISTS" – you're not going to like Rosenman during this interview. During most questions, Rosenman would preface his question by defending DQ. I wasn't bothered by any of this since I agreed with what Rosenman was saying. Others may disagree.
It should also be stated that since his firing, DQ hasn't done one interview or released one statement yet. That includes Larry Brooks and the New York Post here – a Larry Brooks who has become the inside man again, starting with the day where Sather first returned to power.
As talked about on past blogs, Brooks has been absolutely killing it lately and is the only true reporter of the NYR beat scene. Brooks is the only full-time Rangers reporter that breaks real stories and gets real interviews. For Rosenman, he now becomes the second reporter to get a true exclusive story and a major scoop. Kudos to Rosenman, as Rosenman, as he admits himself during this interview; can also wear the hat of a fan unlike his peers. That said, it's Rosenman and not other outlets, who got this exclusive interview. Perhaps these other outlets should put the lazy mailbags and mock drafts to the side, and hit the phones instead!
Finally, as I finish off this long-winded intro, two quick things:
One – if you watch the YouTube version that's linked above, the interview starts at the ten minute mark.
Two – is it me, or does every Rangers podcast have to mention the New York Mets? I know nothing about the podcasting game outside of pressing the play button; but I feel like every Rangers podcaster, no matter what walk of life they are from or how they root for the Rangers, always bring up the Mets in some fashion! Is it in their "podcasting contract" that they must mention the Mets before talking Rangers hockey?
Let's get into the recap!
---
Rosenman started the interview by running down Quinn's resume, where Rosenman then brought up Quinn's playing career. After welcoming DQ to the program, Rosenman, who is friendly with DQ, (which is why DQ granted Rosenman this exclusive interview in the first place) said he wished that DQ was still the current head coach of the Rangers. Rosenman then said that he still can't believe that the Rangers fired DQ.
Rosenman brought up how DQ was a leader at all different levels in life, mentioning that DQ was the captain of his hockey, baseball and football teams. (I never knew that, good stuff!) Rosenman also mentioned how DQ also led campus tours at his high school and brings up how DQ was once a tour guide for Brian Leetch. (I knew Leetch and DQ went to school together and were friends, but I didn't know DQ was once Leetch's tour guide either!) Rosenman then asks DQ – "where did your leadership skills come from?"
In response, DQ said that his father was a cop and that his mother was a school bus driver, which in turn, meant that there was "no BS" around him growing up. DQ said nothing was ever handed to his parents and how he really appreciated his parents as he got older. DQ said he was very fortunate to have great parents. (And DQ was 100% on the money here – you most certainly appreciate your parents as you get older, providing you had two parents that were always around for you. I know that doesn't apply to everyone, which is why DQ mentioned that he was fortunate.)
Rosenman brought up how DQ, as a player, was once compared to Islanders legend and alleged woman beater Denis Potvin. (Rosenman didn't say the alleged woman beater line, that's me being an Islander hater here.) Rosenman then asked DQ about DQ's decision to enter college rather than turning pro after DQ was drafted. (13th overall, by the Minnesota North Stars during the 1984 NHL Entry Draft.)
DQ said that after being drafted, that he didn't think he was ready to play pro yet. DQ said he thought he would progress better by playing at the college level. DQ said he knew the college level would allow himself to grow both on and off the ice. DQ has no regrets about this decision and was happy to go down this career route. It's then brought up how DQ once coached the grandson of Lou Nanne, in the one and only Vinni Lettieri! As you know, I'm always about Vinni Lettieri name drops!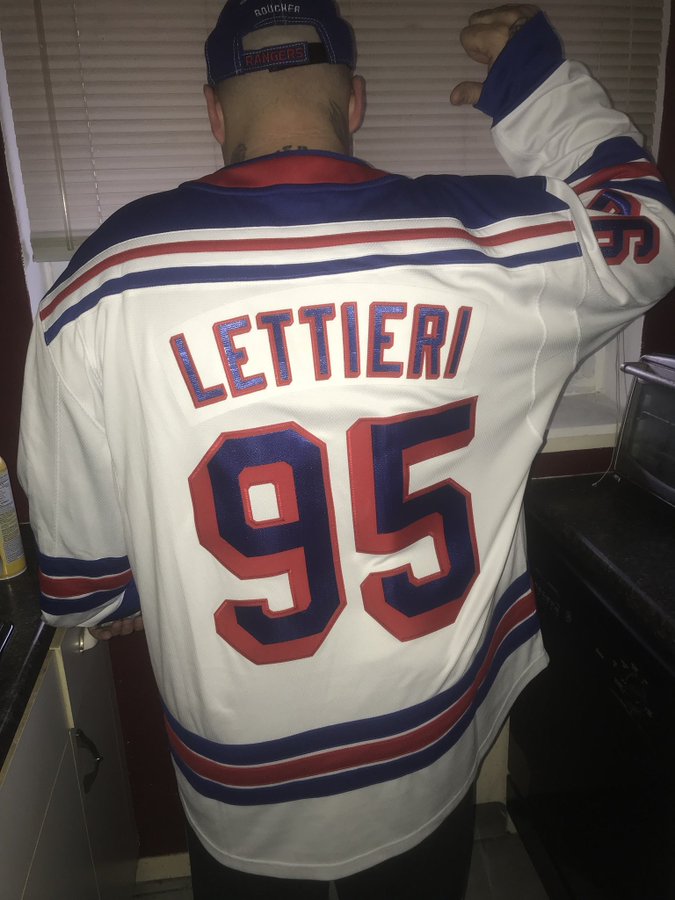 Rosenman and DQ then talked about DQ's days at Boston University and the lessons DQ learned there. After that, DQ's try-out for the 1988 U.S. Olympic Team is brought up, which is when DQ was first diagnosed with Christmas disease. (Christmas disease is also known as Hemophilia B. This disease is a rare blood disorder, where this disease prevents blood from clotting correctly. In addition, this disease is life-threatening, which is why DQ had to hang up his skates.)
DQ said he was shocked when he received his diagnosis and how he couldn't believe it, especially after he was told that he wouldn't be able to play hockey again. DQ said he was aware of his own bruising issues and injuries; but at the time, DQ thought it was just bad luck. As you'd imagine, DQ said this was a very bad time for him and how his future was robbed from him because of this disease. DQ then thanked his support system from that period of time in his life. Of course, this all ultimately led DQ into becoming a coach.
After talking about what led DQ into a coaching career; Rosenman then jumps right into it and talked about DQ becoming head coach of the New York Rangers. I was happy about this, because really, I don't care about Boston University hockey and just wanted to hear DQ talk about the Rangers.
Rosenman then brought up how DQ was hired to help facilitate the Rangers rebuild. DQ talked about the hiring process and the discussions he had with then Rangers general manager Jeff Gorton. DQ said that despite knowing about "The Letter"; (from February 2018) that for DQ, it was always about making the playoffs.
DQ said he knew what the challenges were when first accepting the job and how he was aware of what the Rangers were at the time. DQ brought up the past Rangers core and the runs they had here as well. DQ then adds, that despite the Rangers moving on into a new era, once the puck is dropped, all of that goes out the window and it's all about trying to win games. I found DQ to be very truthful here, as no matter what, I never questioned DQ's desire to win. You could always hear it in his voice during every post-game interview.
DQ said he was trying to build a foundation with the Rangers and that he had clarity about the Rangers mission from Gorton. DQ said he felt that had the pandemic not happened, that the Rangers would've made the 2020 Stanley Cup Playoffs – even with the injuries that the team had at the time.
Rosenman brings up the three-headed goalie situation from the 2019-2020 season. If you recall, at the time, I brought up how I thought DQ was put in a bad spot, because during this time, DQ was pretty much the face of all of this, as Gorton and JD were pretty much hush-hush. DQ was left to answer all of the media's questions by himself.
DQ said it wasn't easy in his decision to bench Henrik Lundqvist. DQ said he can't thank Lundqvist enough and said Lundqvist handled the situation as well as Lundqvist possibly could. DQ said he thanked Lundqvist at the end of that season and said he wished he could've coached Lundqvist during a different stage in Lundqvist's career. DQ said at the end of the day, he had to go with what was best, where DQ didn't say Shestyorkin or Georgiev by name here.
Rosenman then asked DQ about the effect that the pandemic had on the club. DQ says the pandemic definitely effected the Rangers, but also said that the pandemic effected everybody else too. DQ then brought up how hot the Rangers were from January through March 11th of 2020. (The Rangers were the hottest team in the league during this time, a fact which can't be denied. Unfortunately, this would be the best the Rangers would be during DQ's tenure.)
DQ brought up the 2021 season and talked about Mika Zibanejad's struggles after recovering from COVID-19. DQ said a lot was going on and so many things had changed. However, DQ also said that this is pro sports and you have to battle through it.
Rosenman then talked about the Rangers winning the 2020 NHL Draft Lottery. Rosenman said that DQ never placed high expectations on Alexis Lafreniere or on Kaapo Kakko. DQ said you never want to put young players in bad situations and that he always wanted to put Kakko and Lafreniere into successful situations. (This pretty much went in line with what John Davidson said in his previous interviews while with the Rangers.)
DQ then said that he thought the Rangers had some good players and felt that the Rangers were fortunate to land draft lottery picks. At the same time, DQ said you can only give opportunity to players who have earned it and you can't just throw kids on the ice at the sake of others who have earned playing time more than the kids.
DQ said he can understand the frustration of fans, especially when it comes to the topic of more minutes for younger players. DQ said we live in an "instant gratification society", but that people also have to be realistic too. DQ then added, that Kakko and Lafreniere will become successful players in the NHL one day. (Once again, I agree with DQ here. Rome wasn't built in a day and more times than not, developing players takes time. Not everybody is as special as Connor McDavid.)
Rosenman then brought up a previous discussion that the two had during a Rangers Zoom call. Rosenman said that DQ once remarked about how one day, maybe he'll coach a veteran team. Rosenman also mentioned how DQ complimented the Bruins and the Islanders and the successful cores that both Cassidy and Trotz get to coach.
DQ said his Rangers were different than veteran teams and how his approach had to be different than the luxurious approach that coaches like Cassidy and Trotz get to have. DQ said while his Rangers were in a rebuild, his Rangers teams never hit rock-bottom either. DQ then praised Jeff Gorton, Glen Sather and John Davidson for putting together a good roster during this time.
Rosenman said that DQ never made excuses throughout DQ's tenure in New York. Rosenman then ran down all of the crazy 2021 incidents, both on and off the ice and how DQ still wouldn't make any sort of excuse for any of them.
Rosenman pretty much says what I said about DQ during the entire 2021 season and up to his firing – DQ had to overcome a lot and he deserved another season. Like him or hate him, DQ coached through unprecedented times for a Rangers head coach and there were so many off-the-ice distractions and events that you can't blame DQ for.
Rosenman then told DQ that he thought DQ had to be blind-sided by the news of his firing.
DQ said when Gorton and JD were let go, he knew that anything was possible. DQ said when he first took the Rangers job it was a risk, because job-security wise, he knew he could've stayed at Boston University for a long time. DQ said that this is pro sports and this stuff happens. (Like the word "SWAGGER", a word that DQ surprisingly didn't use once in this interview; DQ always brings up how things are different in the "NATIONAL HOCKEY LEAGUE".)
DQ said a lot of good coaches have lost jobs, whether they agree with it or not, and it's just the nature of the business. DQ then adds that he hopes he gets another opportunity to coach again in the NHL. DQ said Year 3 of his career was the biggest learning experience of his career.
DQ is then asked about James Dolan and Dolan's new-found interest in the team. DQ said he didn't see anything different in James Dolan throughout DQ's entire tenure with the Rangers. DQ said Dolan was always supportive of him and how the two always had friendly conversations. DQ said that Ranger fans are lucky to have James Dolan as an owner. (That's a statement I wouldn't agree with! After all, Glen Sather has been collecting a check for over 21 years now!)
The topic of Tony DeAngelo is then brought up. DQ said things evolved with DeAngelo, where after the Georgiev incident, DQ didn't think that DeAngelo being a Ranger was going to work. DQ said he really likes Tony DeAngelo. DQ mentions that after he was fired, DeAngelo was the first person to reach out to him.
DQ reiterates that he didn't think DeAngelo on the Rangers was going to work, as DQ wanted to hammer that point home. DQ even goes as far as saying that he didn't think that DeAngelo himself thought it was going to work either. DQ said the whole situation was unfortunate. DQ thinks this was a learning experience for DeAngelo and how he thinks DeAngelo will be better for it. DQ, without saying it directly, thinks that DeAngelo will join an NHL team next season.
(Of note, and if I have any criticism of this interview, it's the following. I was hoping that Rosenman would press DQ a little bit here. It would've been nice to hear DQ's side of what actually happened in that tunnel that night. While DQ may have skirted away from the question or have said "no comment"; I think Rosenman should've followed up and asked DQ what really happened and why DQ thought this wasn't going to work. That's all.)
Rosenman brings up his own job, and mentions that he can still be a fan, unlike the other Rangers beat reporters. Rosenman said he respects the knowledge that NHL coaches have, but as a fan, sometimes he questions coaches. Rosenman then spins this into asking DQ about Julien Gauthier and his lack of ice time last season.
DQ said that Gauthier always looked great in warm-ups and showed flashes of that in games. DQ then said that sometimes it's tough to adjust at the NHL level, especially for guys who are used to scoring goals at inferior levels. DQ said sometimes some players benefit from playing in multiple organizations. DQ said he can see it finally clicking for Gauthier somewhere else. (Most likely Seattle, which is my opinion and not what DQ said.)
In my opinion, I understand what DQ meant here. At the same time, do you really want to be an Anthony Duclair, who had been with six organizations by the time he was 25 years old? I know Duclair just got paid now, but I think you get my point here.
Rosenman then brings up the topic of Brett Howden and all the nonsense some fans had to say about Howden during Howden's stint with the Rangers.
In response, DQ said what Howden's potential could be was always a topic between DQ and the Rangers front office. DQ said Howden was a good penalty killer and how he thought that Howden had a great upside. DQ said Howden didn't have the best stats, but at the same time, DQ thought Howden was smart and reliable. DQ then pulled a 180 and said with hindsight being 20/20, it might've been a good idea to give Howden a full season with the Hartford Wolfpack. (Of course, that wouldn't have really done much last season, when Hartford was only playing the same two teams all season long.)
At the end of the day, DQ thinks Howden may have had a confidence issue, a confidence issue that may have resolved itself had Howden played in the minors. Rosenman then brought up the McDonagh trade, as a reason why some Ranger fans were incensed with Howden.
Rosenman then brought up a report out of the New York Post, where it was reported that DQ had a disconnect with his star players, a report that Rosenman found hard to believe. Rosenman said based on that report, he has to believe that the New York Post (Larry Brooks specifically) is talking about DQ's relationship with Artemi Panarin, Mika Zibanejad and Chris Kreider. What shocks Rosenman (and me too) is that if this is true, then why did Panarin and Zibanejad have the best seasons of their careers under DQ?
DQ said he has no clue where this report came from, but did say that every relationship has their ups-and-downs and their peaks & valleys. DQ said that report from the New York Post was a head-scratcher for him. DQ then ran down all the players who had the best seasons of their careers under him, brought up how Ryan Lindgren grew into a star and how Adam Fox just won the Norris Trophy. Everything DQ is saying here is 100% on the money. DQ then says all the stats speak for themselves.
(Of note, this reminded me of Alain Vigneault's final press conference while as head coach of the Rangers, when AV was campaigning to retain his old job. In both cases, I thought both coaches were correct. I know others will disagree with me here.)
DQ said he thought the Rangers were going to make the playoffs in 2021 and thought 2022 would be even better, due to all the salary cap space opening up. DQ praised Chris Drury and said Drury will do a good job. DQ said for him personally, his focus right now is trying to get his next job. (From the sound of it, DQ wants to return to the NHL, rather than going back to the college ranks.)
DQ then jokes, saying he said he always wondered what it would like to be fired and now that he's here, it's not that fun. (DQ was laughing while saying this.)
The Tom Wilson incident and the team's lack of toughness is then brought up. Rosenman is sympathetic for DQ here, saying that's not on DQ, but that's on Jeff Gorton. Rosenman is still bewildered about Dolan blowing everything up.
DQ said losing Trouba hurt the Rangers at the end of the season, as DQ brought up the games against the Islanders. DQ said losing Kreider hurt too. DQ said the Rangers weren't built to win without their veterans in the line-up.
DQ can't answer what lies ahead for the Rangers in the future, but DQ said he knew that the Rangers were planning to make moves during the off-season.
As far as DQ's first foray as a head coach, DQ said it was a great learning experience and he will look to improve at his next stop. DQ said he will have to make tweaks and mentions all the different relationships that he had and created. DQ said this was his plan for his fourth year, prior to his firing.
Rosenman brings up how Lundqvist, Girardi and Staal all credit Tom Renney for developing them. Rosenman then alludes that today's Rangers may one day credit DQ in the same fashion, mentioning Fox by name.
DQ, in response, said that he has talked to Fox since winning the Norris and said that they have had good conversations.
Rosenman and DQ then have some friendly banter between each other before wrapping up this interview.
---
All in all, I thought this was a good interview. The chemistry between Rosenman and DQ was obviously apparent. While I wouldn't call this a "soft ball" interview, DQ definitely had a friend in Rosenman. And really, that's not a bad thing, because as noted earlier, I agree with Rosenman's opinions on DQ.
Moving forward here, and in a quick update on my "New York Rangers Rink of Honor and the Rafters of Madison Square Garden" book; my editor is about half-way through with the book and the cover art has been commissioned. I'm hoping by this time next week, I'll have the cover art up for you. Heck, maybe I'll put up a presale link too. (As mentioned last blog, I think the book will be complete by September 1st, with October 1st being my target date.)
If you haven't already, subscribe to this blog for the next update:
---
I thought I would be "off" until Wednesday; instead I gave you 7000 words tonight! Minga!
Barring anything else big going down from now until Wednesday, I'll be back Wednesday night, where I'll talk about what Seattle did and what latest Ranger became a member of the alumni. (Again, my money is on Gauthier.)
Stay FABULOUS my friends.
As always here, thanks for reading and…
LET'S GO RANGERS!
Sean McCaffrey
BULLSMC@aol.com
@NYCTHEMIC on Tweeter