Greetings and salutations everyone and welcome to another blog here on BlueCollarBlueShirts.com. I promise you that this blog won't be as long as the blog from two days ago!
And before moving on, I guess I should give you the next lyric of the "Lightning Crashes" song, a song originally recorded by the band "Live". "Lightning Crashes, a Montreal Riot Cries!"
It's now official – the Tampa Bay Lightning are your 2021 Stanley Cup champions. You can use that "D" word now, (not that one you sickos!) as in the word "dynasty". Sure, dynasties usually encompass a time period of three consecutive years, with all three of those years producing championship success. However, for all we know right now, Tampa could be hoisting the Stanley Cup in 2022 as well. Yes, Tampa will have some tough salary cap decisions to make moving ahead, but for the time being, Tampa has as good of a shot as anyone of winning the Stanley Cup next season.
Furthermore, while dropping the word "dynasty" here; I think you have to look at Tampa's 2018-2019 regular season too. In that season, Tampa finished up as one of the greatest regular season teams of the modern era and won the Presidents' Trophy. Between the Presidents' Trophy and these back-to-back Stanley Cups; I think it's justified to reference Tampa as a dynasty team. After all, the hard salary cap is public enemy number one, when it comes to teams trying to become a dynasty. Just winning a Stanley Cup in this era impressive. To win two Stanley Cups speaks volumes.
While the emotions are riding high right now, come next season, some of these players celebrating this Stanley Cup victory won't be returning to Tampa next season. The players not returning to Tampa will largely be role players. Fortunately for Tampa, Tampa's stacked core is returning next season, with guys like Steven Stamkos, Nikita Kucherov, Brayden Point, Anthony Cirelli, Victor Hedman, Ryan McDonagh, Yanni Gourde and others all signed for 2021-2022 and beyond.
Perhaps even more importantly, the 26 year old Tampa goaltender in Andrei Vasilevskiy, is signed not only for next season, but for many seasons thereafter. As it stands right now, Vasilevskiy is easily HANDS DOWN, the best goaltender in all of the league. Vasilevskiy is now entering his prime, and already, Vasilevskiy has two Stanley Cup wins, a Vezina Trophy and now a Conn Smythe under his belt. Needless to say, Vasilevskiy is already putting together a Hall of Fame bid. Ben Bishop who?
To take a timeout here from waxing on poetically about Tampa; credit must also be given to the Montreal Canadiens too. What Montreal did this season was impressive. I know hockey fans would've preferred Tampa taking on either Vegas or Colorado during this Stanley Cup Final, but that's on Vegas and Colorado. Montreal did their job. The Canadiens were a Cinderella team, and unfortunately for them, "lightning" (pun intended) struck their playoff clock. That said, for the Canadiens to pull off a comeback, down three games to one against Toronto, followed by the Habs sweep of the Jets and knocking off Vegas in six games during the semifinal round – well that's truly impressive.
As I've said a few times on this site already, I think Montreal GM Marc Bergevin and the Canadiens have now created a new blueprint for competing NHL teams. Come this off-season and come the 2022 NHL Trade Deadline, I think you'll see contenders loading up on former Stanley Cup champions. A winning pedigree is now needed for teams to get to the next level. Hell, just look at the Tampa Bay Lightning themselves, who changed their fate after signing Patrick Maroon two years ago.
Moving forward, veterans who have their name etched on the Stanley Cup should now be able to prolong their careers a bit and make a few extra bucks too – including the numerous unrestricted free agents from these 2021 Stanley Cup champions. Of course, with the newly minted three-time Cup champion Patrick Maroon remaining in Tampa, maybe none of this matters! The Cup goes with him!
If you're a Rangers fan like me, you know how what it's like for Montreal right now, although the LA Kings of 2014 weren't these 2021 Tampa Bay Lightning. The Rangers were in every game of the 2014 Stanley Cup Final, where the Rangers even had leads in most of those games. Then there were all the multiple overtimes that were played too. For Montreal, just like teams like the Hurricanes, the Panthers and the Islanders; the Canadiens just had the misfortune of playing one of the best franchises of the modern era.
As it stands, history doesn't favor Montreal returning to the Stanley Cup Final, as no Stanley Cup loser has returned to the Stanley Cup Final in the following year. In the modern era, Tampa is the last team to lose a Stanley Cup Final and then go on to win it; and even then there was a five year time gap between Tampa's 2015 Stanley Cup Final loss and Tampa's 2020 Stanley Cup victory.
Of course, all streaks, records and other stuff of this ilk are made to be broken. After all, as a result of Tampa's 2021 Stanley Cup win, Andrei Vasilevskiy becomes the first top five paid/salaried NHL goaltender of the salary cap era not only to win the Stanley Cup, but to win the Conn Smythe too! (And I'll save you my "Greatest Hits" on the salary cap here and why Tampa has an advantage, due to the fact that Tampa plays in a state with a no state income tax.)
If you've been following this site since the beginning of these playoffs, you know that I was pulling for three guys to win it all, in ex-Rangers Ryan McDonagh, Mats Zuccarello and Cam Talbot. Since McDonagh had previously won the Cup, I was hoping the Wild would go all the way, with McDonagh's Lightning as my "safety" team. (And as I've been saying the whole way, I thought the Lightning would repeat.)
Once the Minnesota Wild were eliminated, just as I did last year, I hopped on the Tampa Bay bandwagon. And yes, admittedly, this is easy for me to do, since I have friends in Tampa who root for the Lightning and because I've been to Tampa about a dozen times in my life. I love that city. Of course, the Rangers will always come first, but with the Rangers not involved again this year, I just want to see ex-Rangers that I like win. I know – this does sound as flaky as someone who roots for a team based on the colors of a team's jersey, but to each their own!
In addition, another reason to root for Tampa? They knocked off the Islanders in the semifinal and in back-to-back seasons to boot. I'm glad to see Tampa rewarded after crushing the dreams of the Islanders and their fans.
And oh – isn't it amazing Suzyn, that in Tampa's final home game of the 2021 season, that none of their fans threw beers and trash at their players after a win? I can't say the same about the Mickey Mouse Islanders fans!
When it comes to ex-Rangers presently floating throughout the league; as you may know already, Ryan McDonagh and Cam Talbot are my favorites. However, with the 2021 Stanley Cup Final now over, and after putting this McDonagh jersey pictured above through the laundry – I hope to never wear it again. Once laundered, this jersey will join my Minnesota Wild Talbot jersey in the closet, where I hope to never look at it again. Come the 2022 Stanley Cup Playoffs (and the Final), I hope to be wearing jerseys of another goalie and another defenseman, in both Igor Shestyorkin and Adam Fox.
That's right, I'm saying it – the 2021-2022 New York Rangers will be a playoff team! And as you know, and as Montreal just displayed, anything can happen once you get in. Of course qualifying for the playoffs is just half the battle, but I truly do believe that the Rangers will be one of the sixteen teams involved next year.
Previously on this site, I've talked to death about the Ryan McDonagh trade. While I understand why it was made, at the end of the day, the Rangers didn't get enough value back. Unless Nils Lundkvist goes on to win three Stanley Cups with the Rangers, Tampa has won this trade and convincingly so at that. And as I said last blog, I totally get it. McDonagh filled a need for Tampa and because of Tampa's roster, McDonagh has been able to change his style of game. In short, McDonagh doesn't have as big of a responsibility in Tampa as McDonagh once had in New York. However, you can't short-change McDonagh here either, because he's been a signature cog for that Tampa defense ever since his arrival.
Last blog, I covered the first four games of the 2021 Stanley Cup Final. In fact, lets get the PLUGS section out of the way now, as I don't want to get into re-runs here and repeat stuff I said last blog.
Anyway, here are my last few blogs in case you missed them:
---
---
---
Remember after the 2019 Stanley Cup Playoffs, how Lightning head coach Jon Cooper, the longest tenured head coach in all of the NHL, was on the hot seat? Instead, Tampa kept him on board and now two years later, Cooper has two Stanley Cups victories to his name. Not too shabby. Funny how time and decisions work!
When it comes to Tampa's Stanley Cup Final Game 5 clinching victory, the script felt very familiar, especially when you compare that game to Tampa's Game 7 semifinal win over the Islanders. Both games were decided by a 1-0 score, where goaltending and defense were key. Furthermore, the lone goal of each game was scored in an unorthodox fashion. In the Game 7 win over the Islanders, Yanni Gourde scored a short-handed goal for the win. In Game 5 of the Stanley Cup Final, rookie Ross Colton, playing on a team stacked with superstar veterans, scored the game winning goal.
In something that's truly impressive, Andrei Vasilevskiy has picked up a shut-out during the clinching game of Tampa's last five series wins. Starting with Tampa's 2020 Stanley Cup Final Game 6 2-0 win over the Dallas Stars; Vasilevskiy, in 2021, went on to shut out the Florida Panthers, the Carolina Hurricanes, the New York Islanders and now the Montreal Canadiens, in the last game of those respective series.
But wait K-Mart shoppers there's more! For the first time since the days of Ken Dryden, Andrei Vasilevskiy played every minute in net for a Stanley Cup champion during two consecutive playoff runs. I told you at the top of this blog that we witnessed history being made by the Lightning! While Vasilevskiy is a goalie, he's at the "center" of it all! What a terrible pun!
Going into the 2021 Stanley Cup Final, it felt like Brayden Point was the favorite to win the Conn Smythe. Another case could've been made for Nikita Kucherov. However, the only player on the Lightning to come up big in every game was Andrei Vasilevskiy. With the 2021 Stanley Cup Playoffs now complete, I think you'd have to be out of your mind to vote for anyone else than Vasilevskiy for the Conn Smythe. Vasilevskiy's win was well-deserved. For Tampa fans, they have to be ecstatic that Tampa has this goalie locked up for many years.
For Carey Price, thought to be one of the best goaltenders of his generation, (some will argue for Henrik Lundqvist here, but to me it's Marc-Andre Fleury, especially after MAF's run in Vegas) this is a tough time. While Tampa brought the offensive weaponry in some of the earlier games of this series; in Game 5, Price made 29 saves and only gave up one goal. The Colton goal, the one goal that beat Price, wasn't Price's fault either.
Despite some of the high scores of this series, (5-1 in Game 1 and 6-3 in Game 3) unlike years past, which were failure years for the Lightning, the Lightning are no longer a "run and gun" type of team. As talked about previously on this site, Tampa can beat you in every way possible, where during the last two years, defense, blocking shots, goaltending and physicality have taken precedence. Even Tampa's lethal power-play, which once carried the Lightning for many years, is no longer the top focus of the team. In turn, Tampa now has two straight Cup victories. It's something competing and contending teams should take notice of.
For Ranger fans, if there is something else to take out of Tampa's recent success it's this – practically every big name player on Tampa's roster is homegrown. Yes, you have guys like McDonagh and Maroon on the team, but just look at Tampa's roster – it's as homegrown as it gets. That said, it took a while for Tampa to get to this point. Can Lafreniere and Kakko one day turn into the Rangers version of Stamkos and Kucherov? Maybe that's a stretch, but we can say that Adam Fox gives the Rangers the same production, if not more, that Victor Hedman gives the Bolts.
I don't want to go into re-run mode here, since I've said this 785678565679 times recently; but eventually, whether it's this off-season or the next, the Rangers, like Tampa, like Montreal, like Vegas and like the Islanders, the four teams that made it to the semifinal this year; the Rangers will have to add some veterans to their line-up and veterans with a winning pedigree at that. In both semifinal series' of the 2021 Stanley Cup Playoffs, the team with the most amount of Stanley Cup championship veterans won. That carried over into the Final as well.
---
To wrap up on the final game of the 2021 season, I thought Montreal played respectably, but there was just no way Tampa was going to choke this series way. Montreal's biggest strengths of these playoffs was their goaltending and their veterans, where Tampa was just stronger in both departments.
With the season now over, just a few parting shots:
— To me, the top three series' of the 2021 Stanley Cup Playoffs were, and in order, the following: Tampa Bay Lightning vs New York Islanders, Minnesota Wild vs Vegas Golden Knights and despite it only being five games, Tampa Bay Lightning vs Florida Panthers. The other two series listed here went seven games each and featured amazing goaltending. While I'm not as down on the Stanley Cup Final series as many others are, needless to say, the 2021 Stanley Cup Final wasn't the most exciting series of these playoffs.
— Did anyone else laugh, that even with Gary Bettman unmasked on the ice, that the presenters of the Stanley Cup had their COVID-19 masks on? What happened next? Over thirty men held and kissed the Stanley Cup. What super-spreaders!
— The NHL's marriage with NBC Sports is now over. It was a rocky marriage at times, but NBC Sports and their various channels over the years, channels such as Versus, the Hunting Channel, the My Shiney Hiney QVC channel and NBC's other sister channels did air these games. At the end of the day, that's all I care about. Moving forward, for an older generation, it might not be that easy to access these games, with all of these streaming services you'll need to sign up for. Yes, it's great to appeal to new customers, customers who know how to work Fire Sticks and all that stuff – but for many hockey fans, they just want to turn on the TV and use their everyday clicker.
— Congrats to Kenny Albert on calling his first Stanley Cup Final on national television. When talking broadcasters here, Eddie O. was really broken up about this NBC chapter ending too. I'm not sure of this for a fact, but I think his days of appearing on NBC's Triple Crown horse racing coverage may have now come to an end too. Maybe that's why he was so emotional. (I kid, I kid.)
— Speaking of Eddie O. here, did anyone else raise their eyebrow when Eddie was talking about how "sexy" Patrick Sharp looked in his suit? Jeremy Roenick who?
— As of this writing, Pierre McGuire doesn't have a job with ESPN or TNT yet. I wonder what his future is. I know it's the cool thing to always knock McGuire, but really, I don't mind him – unless he's talking about the Pittsburgh Penguins. McGuire has forgotten more about hockey than most people will ever know in a lifetime. I don't mind hearing his takes, takes which are very often correct. Of course, I could also do without knowing what the sixth grade math teacher of Sidney Crosby is presently up to!
---
For NHL general managers and front offices that usually get a break after the Stanley Cup Final, well there is no rest for the wicked here. Here's a look at some of the upcoming key dates of this off-season, with the first major date taking place in nine days time:
July 17: Deadline for teams to submit their protected lists for the 2021 Seattle Kraken Expansion Draft.
July 21: The 2021 Seattle Kraken Expansion Draft, which is scheduled to take place at 8PM. Of note, this will air on ESPN2, so already, the NHL is being kicked to another second channel of a major network. I don't care to look this up right now, as it's late – but really, what is ESPN airing at 8PM on 7/21? The Cornhole Championship?
July 23: The first round of the 2021 NHL Entry Draft.
July 24: The second through seventh rounds of the 2021 NHL Entry Draft.
July 28: NHL Free Agency period begins, starting at 12PM noon.
As far as anything else, there have been no dates given regarding a 2021 Traverse City Tournament (Prospects), a preseason or even a 2021-2022 NHL season schedule. I'm sure all of that news will come soon enough.
For the Rangers, and as talked about previously, the first thing out of them will most likely be news about Tony DeAngelo's buy-out, which could happen this Friday. Of course, the Rangers could also wait a minute here and expose DeAngelo to Seattle. Even if Seattle won't take DeAngelo, (Seattle, or any other team in the league, will be able to sign DeAngelo for less money during the free agency period) by exposing DeAngelo, you can protect somebody else.
For fans looking for more Rangers news, check out the fifth and latest episode of the "Two Guys, One Cup" podcast, where hosts Shawn and Roc talked about a ton of different Ranger topics, including the future DeAngelo buy-out, Rangers history, free agency, drafts and more. You can listen to the podcast by clicking the link below:
Episode 5 is out now on iTunes or wherever you get your podcasts! Adam Fox still doesn't get national respect, good riddance Doc Emrick, replacing Joe Micheletti, Rick Nash, bad drafts and much more! #NYR #HockeyTwitter #podcasts #Adamfox https://t.co/d1wJWzfSHE

— 2 Guys 1 Cup (@2G1CRangers) July 7, 2021
---
If you haven't already, subscribe to this blog for the next update:
---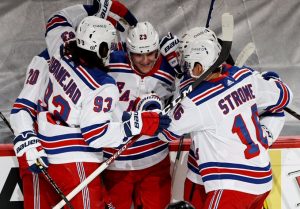 Up next: back to proof-reading this book! I'm going to Atlantic City this weekend for the McGregor/Poirier fight, so hopefully no major breaking news until I get back. That said, I am sick enough to work on a blog while at a poker table and after folding my 2-3 hand, where I'm sure I'll see a lot of those!
Stay FABULOUS my friends.
As always here, thanks for reading and…
LET'S GO RANGERS!
Sean McCaffrey
BULLSMC@aol.com
@NYCTHEMIC on Tweeter