Greetings and salutations everyone and welcome to another blog here on BlueCollarBlueShirts.com. How about those Tampa Bay Lightning?!?! Father Fink the Islanders!
The 2021 Stanley Cup Finalists are now official, as come Monday, the Tampa Bay Lightning and the Montreal Canadiens will start their best-of-seven game series, in order to decide this year's champions. For Tampa, they were expected to be back. For Montreal, no one, not even the most hardcore fan of the "bleu, blanc et rouge", had them playing at this point of the season.
While I will have my complete Stanley Cup Final preview at the end of tonight's blog; I do want to say off puck drop here, that I'm excited for this last series of this 2021 season. There are so many great and intriguing story-lines going into this Stanley Cup Final, with several talking points soaked in irony. I mean, go figure – the team from Florida, you know, your non-traditional "sunbelt" city, has been a heavy favorite to repeat all season long. The Montreal Canadiens, the oldest and most storied franchise in all of the league, are the Cinderella story of this Stanley Cup Final.
Want another story-line that you might not see elsewhere? Florida, especially Tampa, is full of Canadian transplants, old-timers who no longer want to go through the long and painful agony known as Canadian winters. As you may know by now, and as previously talked about on this site; the Amalie Arena, home of the Lightning, usually has issues with fans wearing jerseys of the opposing team. I'm interested in seeing how many Canadien jerseys we see during the first two games of this series, games which will be played in Tampa. Due to COVID-19 traveling restrictions with Canada right now, I don't think you'll see any Tampa jerseys in Montreal. And that's a shame for Tampa fans, as Montreal is a beautiful and great tourist city.
From a gambling perspective, here were how the odd-makers in Vegas, you know, the people who are always on the right end of the "the house never loses" phrase, saw these playoffs, before the first puck was ever dropped:
As you can see above, the defending champions, the Tampa Bay Lightning, were the team with the fourth best odds going into these playoffs. As I said at the time, I thought these numbers were off, since I had Tampa repeating and winning the Cup again, here in 2021. If you scan down to the bottom of the list, the Montreal Canadiens had the second worst odds to win the Cup. Prior to the start of these playoffs, and if you were brave enough to drop $100 on the Canadiens to win the Stanley Cup; right now you're feeling good, as you have a ticket that could cash in for $2500. That's a nice 25:1 investment!
Of course, the smart play here, (assuming you have a Canadiens ticket) would be to hedge that bet, and bet the Lightning, so that you're guaranteed to make over $1000 off of your initial bet. However, this is a hockey blog and not a gambling blog, so I won't bog you down with the details of the art of hedging a futures bet! That said, and just to finish up on the gambling talk, as I write these words, the Lightning are a -275 favorite to win the Stanley Cup, while the Canadiens are now a +225 underdog to win the Cup. Talk about line changes!
And oh, when it comes to analytics, "expected" numbers and foo-foo stats; these gambling numbers are what interest me the most! This might not apply for some of you guys! But yeah, Montreal went from +2500 to +225! What value! Isn't that amazing Suzyn?
Before getting into everything else tonight, including the in-depth Stanley Cup Final preview; I have to get this out of my system first – once this Stanley Cup Final is over, you'll never see me say "not one top five paid goaltender has ever won a Stanley Cup in the salary cap era" ever again! Not only does this Stanley Cup Final feature the best Russian goalie of today, (Andrei Vasilevskiy) against the best Canadian goalie of today; (some may argue for Hellebuyck or Fleury, but how can you deny Carey Price of this distinction at the present moment?) it also features the two highest salaried goaltenders of today.
For years, even to the point of wearing out the skin of my fingertips – I have repeatedly talked about how you can't win a Stanley Cup in the salary cap era with a top five paid goalie. Like any streak, stat or trend in sports, that now comes to an end, as not only are Vasilevskiy and Price top five paid goaltenders – they are the two highest paid goalies in all of the league.
While yes, the insanely overpaid Sergei Bobrovsky out of Florida makes $10M a season, when compared to Price ($10.5M AAV) and Vasilevskiy ($9.5M AAV), Price's overall deal is worth $84M, while Vasilevskiy's overall deal is worth $76M. Bobrovsky's overall deal is worth $70M. Either way, one of my old talking points is now up-in-smoke, just like anything else in sports. Time conquers all! We had a good run there!
Of note Part I: if I really wanted to be a stickler and be an asshole here, and the following only applies in the event that Tampa wins the Stanley Cup; I could give Tampa an asterisk here, due to the Kucherov salary cap circumnavigation stuff. However, that's not my plan or the route I will go down, because after all, many teams have previously done what Tampa did in 2021, with the Chicago Blackhawks first most famously doing so in 2015. And for the crying Islander fans right now – the Islanders also did the same thing in 2021 too once Anders Lee went down. (Zajac/Palmieri trade with the Devils.)
Of note Part II: reason #78678686878969634 why I hate the salary cap – teams who draft well are punished. Whether it was Chicago then, or Tampa now, these are homegrown teams. Having to trade away homegrown talent, due to cap reasons, is a disservice to fans and their loyalty to players. I absolutely hate it, which is why I've been advocating for a "Larry Bird" rule for many years on this site.
And as mentioned, many teams have done what Tampa did this season, including the Blackhawks and the Penguins during their runs. Since I included goaltenders from those periods in my talking points about goaltending salaries, it would be hypocritical to give Tampa an asterisk here.
So yeah, bottom line – either Tampa or Montreal will become the first team ever, of the salary cap era, to win the Stanley Cup with a top five salaried goaltender! The more you know!
Outside of the Stanley Cup Final preview and semifinal round recaps, we have some light, as in extremely light, news on the Rangers. I'll kick off with the Rangers stuff first, and then get into everything else, including the lovely demise of the New York Islanders – and boy, oh boy, do I have a lot of things to say about that!
However, up first and as usual, the PLUGS segment!
Here are my last few blogs in case you missed them:
---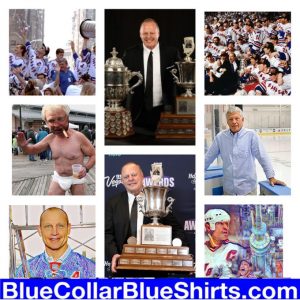 ---
---
On June 24th and following the Chris Drury and Gerard Gallant press conference, (recapped in-detail last blog) the Rangers made some organizational announcements.
The following comes from https://www.nhl.com/rangers/news/rangers-announce-changes-to-hockey-operations-department/c-325459332 :
New York Rangers President and General Manager Chris Drury announced today that the team has made several changes to its hockey operations department. Benoit Allaire has been promoted to Director of New York Rangers Goaltending, and Jeff Malcolm has been promoted to Hartford Wolf Pack Goaltending Coach. In addition, Jean-Ian Filiatrault joins the Rangers' player development department as Goaltending Consultant, and Matt Hunwick also joins the hockey operations' player development department.

As Director of New York Rangers Goaltending, Allaire will oversee the development of goaltenders at all levels throughout the organization, including at the American Hockey League (AHL) level and ECHL level. He will continue to be based in New York and will remain the head goaltending coach for the New York Rangers. The 2021-22 season will be Allaire's 18th season in the Rangers organization. He has spent the last 17 seasons with the Rangers coaching staff after he was named Assistant Coach and Goaltending Coach on July 15, 2004.

Malcolm joins the Wolf Pack coaching staff after serving as the Rangers Goaltending Consultant for the past three seasons. In his role as Goaltending Consultant, Malcolm assisted in the on-ice and off-ice development of goaltenders throughout the Rangers organization, and he also worked with the Rangers front office in evaluating goaltenders at both the amateur level and professional level.

Filiatrault will work with Allaire and assist in the development of Rangers goaltending prospects throughout the organization, including in Europe and at the junior level and collegiate level. Prior to joining the Rangers organization, he most recently worked in the Colorado Avalanche organization as Goaltending Development Coach. Filiatrault has also worked in the Anaheim Ducks organization and Toronto Maple Leafs organization during his coaching career.

Hunwick will work with Director of Player Development Jed Ortmeyer, as well as Assistant Directors of Player Development Tanner Glass and Tuomo Ruutu, in the development of Rangers prospects on and off the ice, and he will primarily focus on working with defensemen in the Rangers organization. He joins the Rangers organization after serving as a Volunteer Assistant Coach at his alma mater, the University of Michigan, for the past two seasons. As a player, Hunwick skated in 535 career NHL games over parts of 12 seasons. He played one season with the Rangers (2014-15) and helped the team win the Presidents' Trophy.
---
As far as this news goes, there's not much to add here. Benoit Allaire has been named as the "Director of New York Rangers Goaltending", where really, I thought that was his title already. To me, this just seems like a status thing and a pay raise, and not anything more than that. Igor Shestyorkin and the rest of the Ranger goaltenders are in good hands.
When it comes to random members of the alumni, no matter how short their stints were on Broadway before receiving these jobs, it is what it is. The NHL is an old boy's club and where "nepotism" and friendships are always rewarded. Right or wrong, that's how it works. Plus, if you were in a position of power, you'd hire your buddies too. Simply put – you want guys who you can trust around you.
I can't tell you what Matt Hunwick brings to the table in his new job, just like how I don't know what Leetch really did prior to his parting of the ways with the organization. If Chris Drury is happy with these moves, so be it and all the best of luck.
I will say, it does seem like there are a lot of positions just for the sake of positions. What's next – "Jarrett Stoll replaces Don Murdoch as Director of Cocaine Operations?" If there was any position I'd love to see created and/or filled, it would be a "Director of History" title. Of course, I'd love that job, but for real, it would be nice to see someone whose role is to push for stuff in the M$G rafters, tasked to curate a Rangers museum inside of M$G, promote alumni appearances and try to find one-of-a-kind artifacts to display to Ranger fans, like this one:
Quick story about this picture displayed above. According to the description attached to this eBay listing, Colonel James J. Kerby is selling this puck. Kerby, if you believe him, is the great grandson of Colonel John S. Hammond. For those who don't know, Hammond was a co-founder of M$G with Tex Rickard and served the Rangers as the first president in all of franchise history. In 1928, after the Stanley Cup Final, Hammond procured this puck and the puck turned into a family heirloom, where now, Kerby is looking to cash out.
When it comes to items like these, it's obviously a one-of-one type of a deal, where its worth can only be decided by whatever someone decides to pay. To me, and based on items of equivalent significance, this puck is probably worth $5000-$10,000. If the Rangers ever promoted their history like the Montreal Canadiens or Toronto Maple Leafs do; perhaps the perceived worth of this puck would be more. But yeah – half a million bucks is ridiculous.
You guys all know about my push to get Frank Boucher's #7 into the rafters of Madison $quare Garden and about my friendship with his living relatives. I showed Frankie Baird, the grand-daughter of Frank Boucher, this item, and she was just as flabbergasted as I was about this listing. We both questioned the veracity and authenticity of this puck, but we both also give Kerby the benefit of the doubt. That said, there's just no way in hell someone is paying a half a million dollars for this, and this feels like an attention grabbing move, where perhaps the end goal is to get noticed by a reputable auction house. I mean, who is going to pay half a million for anything, sight unseen and without 100% proof of authenticity?
When I first saw this listing, I thought it was a typo. Perhaps the seller meant to list the puck at $499.95 and not at $499,995. Then again, maybe that was my hope! I contacted the seller and he told me that he thought the puck was worth more than the half a million he was looking for! What a shame! (Frankie Baird was hoping it was a typo too, and if that was the case, I wouldn't have bid on the puck, as the puck belongs in her family and not on the mantle of a beer-soaked fingers blogger!)
To close up on this, I am to assume that Kerby needs the money, since he's selling a heirloom that's been in his family for nearly 100 years. If the Rangers had someone in charge of preserving their history, they could've made a play for this puck. And really, this puck belongs in the Hockey Hall of Fame in Toronto, but I am of the assumption that Kerby won't donate it to them for free.
From Matt Hunwick to a $500,000 puck! Yes, it's been slow after the Gallant/Drury press conference! Let's now get into the Stanley Cup Playoffs semifinal round recaps and Final preview.
---
MONTREAL CANADIENS VS VEGAS GOLDEN KNIGHTS
When I last talked to you guys about this series, the series was all tied up at two games a piece. After that, Montreal won the next two games of the series, eliminating one of the Stanley Cup favorites, in the Vegas Golden Knights and in six games.
I had VGK winning this series in six games. While I have been praising Montreal this whole way and have mentioned that I think Montreal GM Marc Bergevin has now created a new trend, where teams will now start to load up on Stanley Cup winning veterans (especially at the trade deadline); I just thought this would be the end of the line for the Cinderella Canadiens. Instead, Montreal did it again and they are now four games away from their first Stanley Cup victory since the Patrick Roy led 1993 team.
By now, you know all of the talking points, such as "the North was a weak division and would be exposed" and how "the winner of Vegas vs Colorado will win the Stanley Cup." Well you can scratch all of that now, as the best playoffs in all of sports proved true once again, showing us that games are won on the ice and not on a spreadsheet. And hell, with yours truly as a strong advocate of the "eye-test" – Montreal debunked a lot of things from that perspective too! Kudos to them.
Another talking point about this series, which I think comes from the people who don't watch these games, is the "Carey Price is carrying the Canadiens" stuff. While Price has played admirably, he's not the singular story to me. In my eyes, it are the veterans, especially the Cup winning veterans, like Joel Edmundson, Tyler Toffoli and Corey Perry, that gets the top billing and praise. And how about the top four of the Montreal defense, whom are averaging somewhere near 30 minutes plus a game?
Maybe it's because I live in America, but I have also seen the following apply from the Canadian scribes that I follow and read too – after Montreal won, the top angle was about Vegas losing and not about Montreal winning. Both events are equally as shocking to me. I do believe that Montreal's victory should be the "A" story here, but I understand why it's the "B" story to some people. After all, Vegas is built to win now and Montreal, from a regular season perspective, is one of the worst teams of modern Stanley Cup Playoff history.
Yes, Montreal detractors can use the Tavares injury as an "excuse", when trying to explain the Leafs loss in round one. That said, Montreal was down 3-1 in that series. The Leafs had to win just one more game, but instead, went on a three game losing streak. That's on them. One player, especially on that Leafs roster, shouldn't have swung a series win or loss. Again, kudos to Montreal, a Montreal team who should be the number one story of that series.
The Montreal detractors may even point out to the Scheifele suspension from round two, as an excuse to explain Montreal's victory over the Jets. However, the Jets were swept. Again, is one player the difference between a sweep and moving on to the next round? I don't think so. Montreal, and once again to their credit, were the better team.
In round three, the Montreal detractors have nothing to cling on to. Vegas had home ice advantage. Vegas had no injuries. Vegas was the heavy favorite. And heck, Vegas had a 1-0 series lead at one point. Montreal was the better team for the majority of the series. For Vegas, there will be a lot of regrets and "what if's?", especially with Peter DeBoer's decisions to tinker around with his goaltenders. That said, outside of the Marc-Andre Fleury gaffe, was goaltending the only reason why Vegas lost this series? I don't think so. After all, Vegas didn't score one power-play goal in the series, which means that Montreal's penalty kill was perfect. In addition, where was Captain Mark Stone, who was just shut down by Montreal's defense, especially by Joel Edmundson!
When it comes to the greatest goaltenders of a generation that's now winding down; due to his career, the hardware, the Cups and what he's done with an expansion team, I have Marc-Andre Fleury at the top of the list. He's my no-doubt about it, future Hall of Famer. After that, I have Henrik Lundqvist and Carey Price neck-and-neck and with a tip of the cap to Roberto Luongo. (For the record, I consider Andrei Vasilevskiy as part of a new generation of goaltenders, where's he at the top of that list.)
With this win, Carey Price has gotten as far as Henrik Lundqvist ever did, and has more individual hardware to boot. I don't want to go into my "Greatest Hits" about what it takes to make the Hall of Fame as a goaltender, but like Lundqvist, you could consider Price to be a border-line Hall of Famer. A Stanley Cup victory would ensure it. (And as I always say, whatever happens with Luongo will determine what happens to his fellow Cup-less peers, especially if Luongo gets in. If Luongo gets in, expect a flurry (and a Fleury) of goaltenders to get in.)
In Game 4 of this series, Montreal showed us a blue-print on how to beat Vegas, despite Montreal's overtime loss. I didn't expect Montreal to be able to execute their plans in the remaining games of the series as well as they did during Game 4. I would be proven wrong, as Montreal played their best game of the series during Game 5, a 4-1 win for the Habs.
In a Game 6, where Vegas really turned it on late and seemed to have all the momentum, including erasing two separate Montreal leads in the game; just 1:39 into the overtime, Arturri Lehkonen buried a puck past "back-up" goaltender Robin Lehner, ending Lehner and the Knights in the semifinal round, for the second consecutive season.
If there was anything that truly surprised me, it was that Montreal, even during the games they lost, played Vegas tighter than either Minnesota or Colorado did. Say what you want about Colorado's collapse, but Colorado losing to Vegas wasn't an upset – it was just the way the Avalanche lost. In this case, this Vegas collapse to Montreal was not only an upset, it was eye-opening. Vegas and their scoring woes, the same woes they had during the 2020 Western Conference Final, were glaringly apparent. It doomed them, but a tip of the "French Beret" must also be rewarded to the Habitants.
For Vegas and their fans, welcome to hockey heartbreak, even if it's only been four years. For the Montreal Canadiens, who possess one of the most loyal and extreme fan-bases in all of sports, even known for their riots (I don't approve) no matter if the team wins or loses; they will get a chance to thrive in the "David" role one more time in 2021, against the "Goliath" with the thunderbolt plastered on the center of their chest.
And I have to get this in here too – the Rangers currently have the greatest Vegas Golden Knights coach, in all of VGK history, under their employ!
At this time, let me pour myself a nice healthy helping of Proper 12 whisky and talk about the other semifinal!
---
TAMPA BAY LIGHTNING VS NEW YORK ISLANDERS
As I write these words, I don't know how to start. I'm as excited as someone winning a $50,000 scratch-off ticket. I'm not sure if I should just bombard you with every single anti-Islander meme that was sent to me over the last 24 hours or try to work them in sparingly!
If you're a regular reader here, you know this by now – my name is Sean McCaffrey and I hate the New York Islanders. (Hi Sean!) That said, I can talk about the Islanders intelligently, but I also know how to talk trash about them with the best of them. And really, shouldn't I take the latter approach, since these Islander fans are used to trash, especially when throwing garbage at their own players?
Again, I feel all over the place here, as I'm exploding with emotion, all with the fury of an over-flowing toilet that you unfortunately flushed at your boss's house. However, I don't have to worry about plungers and clean-up here – and neither do the Islanders, as they are leaving their toilet bowl in Uniondale, in exchange for an arena in Belmont, an IBS Arena (Irritable Bowel Syndrome Arena) that will have the lovely scent of horse manure permeating all over the place. It's like the Islanders have turned their fans into a bunch of Biff Tannen's from "Back to the Future", as anyone who has ever gone to Belmont can tell you – you get one bad wind and you'd think someone had "swirlied" your head in a porto-potty!
(I really do use a lot of toilet references on this site. Call it a trademark, call it crap, but who cares – the Islanders are out!)
When I last left you, I was doing cartwheels and back-flips (figuratively, and not literally, as you may imagine) about the Islanders 8-0 Game 5 loss to the Tampa Bay Lightning. 48 hours later, the Islanders came back from down 2-0, to win a 3-2 overtime game in Game 6. What happened next defines the Islanders, and their fan base as a whole.
After the Islanders stunning comeback victory, their fans pelted the Nassau Coliseum ice with trash, with beer cans being the preferred object of choice. Originally, I didn't know if the Nassau Coliseum asbestos-laden ceiling caved in or what, but it wasn't more water leaking down – it were Mayflower Beer Showers. Of note, if you can't finish your $20 beer by the time overtime starts, what kind of person are you? A weak one, I'll tell ya! And those cans were half-filled, because they wouldn't have been able to travel that far had they been empty.
On another note – you'll never see Ranger fans, especially from the lower section  of M$G, throwing beer cans. Maybe you'll see plastic wine glasses and sushi chopsticks one day from the bougias seats, but never a half-empty Budweiser tall boy!
And really, what is it with Islander fans and their fascination with trash? Whether they are throwing John Tavares jerseys in the dumpster, burning jerseys, demolishing the Coliseum or now in this most recent case of throwing beer cans – the Islanders are attracted to trash like a fly on shit. Fitting? Perhaps!
I'm not doing the Kucherov stuff all again, because I've previously said my piece on him and that situation. That said, I don't think the Islanders would've won Game 6, had Kucherov not gone down with his injury. With Kucherov down, the Tampa Bay Lightning power-play couldn't execute, and with the Isles fans not only raining down trash, but songs and numbers, as if they were at a Broadway show, down upon the Isles; the Isles used that fan fuel to come back and win.
And what's with all the singing at these Islander games? It's like Showtime at the Apollo. I know singing, dancing and giving your fellow fan a handjob is customary at European soccer games, but all of this stuff seems like something out of "Steve Vagistat: The Musical". For these Islander fan vocalists, they've now sang their last concert at the Coliseum.
Going into Game 7, the top story, outside of who would win, was the status of Nikita Kucherov. Kucherov came back for Game 7, but it wasn't the Tampa power-play that won the game – it was their penalty kill.
At the 1:49 mark of the second period of Game 7, Yanni Gourde burnt the Islanders and scored a short-handed goal. This was the first and last goal of the game, as this goal would turn out to be the game winning goal. A short-handed Game 7 GWG in a 1-0 game. Maybe this has happened before, but I can't think of a game where this has happened before off of the top of my head. And since I'm an admitted Islander hater, I don't have any interest in looking this up – I rather say this was the first time this has happened. Never let the truth get in the way of a good story!
Had the Islanders won this Game 7, not only would the tone of this blog be different, (and I'd be looking for rush-delivery on a Montreal Canadiens jersey, to troll my Islander fan friends with at the bar by me) but I'd be chain smoking like Rod Sterling during an episode of "The Twilight Zone".
If the Isles had won, I don't know if you'd call it a true upset, as the Montreal win over Vegas was. It would certainly be disappointing for Tampa, as they look to go back-to-back and may never have this chance again, or at least not in the immediate future, due to the salary cap. (And don't get me started on all things salary cap related either!)
Yes, I'm an Islander hater and freely admit to that; but in all seriousness, I think this loss absolutely KILLS the Islanders. In fact, I'll even go as far to say that I think this loss was the peak of this recent new-found success for the Islanders. It's all downhill from here for them.
Between the salary cap, other teams improving, the Islanders being forced to alter their roster, etc; it's tough to envision the Islanders returning to another semifinal next season. It's just so hard to win a Stanley Cup in this era and if recent NHL playoffs history is any indicator, teams that lose Conference and Stanley Cup Finals usually don't go that far again. And yes, this also applies to my New York Rangers, who haven't been the same since their 2015 Eastern Conference loss. This would also apply to teams like the Predators, the Sharks, the Golden Knights, the Senators, the Stars, the Hurricanes, etc.
Even worse for the Islanders, they play in the toughest division in hockey, which just makes things harder. Hell, just look at the Metro division (assuming we go back to a Metro division next season) – you got Hall of Fame coach after Hall of Fame coach all over the place, and yes, that also includes the Islanders own Barry Trotz.
If you watched the Islanders post-game interviews, there was more liquid coming out of their eyes than the liquid that their fans threw at them at the end of Game 6. They knew they blew this once-in-a-lifetime opportunity. It's just so hard to get back to this point and it's also mentally tough to restart and go through the daily slog of an NHL season, in order to get back too. Glen Sather knew this back in 2015, which is why he stepped down and let Jeff Gorton clean up his mess.
As it stands, the days of the Islanders playing at the Nassau Coliseum are over. Of course, we've heard this song and dance before (ironic, considering how Isle fans are always singing and dancing at games) but this time, it feels real, especially with the new eyesore being built in Belmont.
I've talked about the Nassau Coliseum a lot on these blogs, so check the archives for my full length personal stories about that arena. In short, as someone who has lived 15 minutes away from that dump my whole life, I do have good memories. Whether it was my friend stealing Patrick Roy's stick out of the locker room, getting autographs as a teenager, the old WWF shows, the boxing events, the concerts, tailgates before NYR/NYI games and the many Ranger road games I took in at the old barn – I do have positive recollections of the Nassau Coliseum. I'd be lying to you if I told you otherwise.
That said – all of this lovey-dovey stuff about the Islanders and the Nassau Coliseum coming out of the media; well it's all horseshit and garbage to me. (Talk about another ironic statement!) And when you read this crap, look who is writing it – non-fans and "reporters", reporters whose ink on their college degrees is still wet.
Let's face it – Islander fans came out in droves during this playoff run, where I'd peg 90% of these people as front-running fake fans, and that includes the jackass Jimmy Fallon and that fraud Stu Feiner. As I said at the beginning of this series, when ticket prices at the Coliseum started to sky-rocket – the real Islander fan, the guy who takes his kids to a game against the Arizona Coyotes on a Tuesday night, well they were all priced out. What a shame, but it's a shame us Ranger fans have been used to for some time now.
For the last ten years, not only did fans vote for the Islanders to move to Brooklyn, but the Islanders were routinely one of the worst drawing teams in all of the league. Heck, prior to the pandemic, we have these statistics, real stats at that:
When "hockey hot-beds" like Arizona and Sunrise are outdrawing you, there is a problem, especially when you play in New York. And if Senator fans didn't hate their owner and if the Senators didn't have these wacky ways of distributing their tickets – the Islanders would've finished dead last in attendance during the 2019-2020 season.
(As far as the Rangers falling in the middle of the pack here, you know, the most profitable team in all of the league, you can use the excuses of high ticket prices and a rebuilding team. Are those good excuses? Maybe not, but that explains the Rangers falling out of the top ten.)
As far as the stuff on ice goes, the Isles, to their credit, almost created a shart-inducing Stanley Cup Final for Ranger fans. And I want to say this too – I had some NYR fans tell me that I was over-the-top about my hatred about the Islanders on social media. I will admit, some of that was for effect, but at the same time, you pick your wins and take the joys when you can in life. With no skin in the game, due to the Rangers situation, I had a lot of fun "hate-watching" the Islanders. While I'm a hockey fan and can watch anything, I was extra amped up when rooting against the Islanders. Of course, I won't miss them now, but I'd be lying if I didn't admit that I anticipated these games. And with the bars fully and 100% open by me, it just provided a fun environment too.
The Islanders were right there. For a team that got fortunate bounces and puck luck throughout the playoffs, they couldn't get one more in Game 7. In fact, Tampa, who has shown us that they can win and in any type of way imaginable; won the final game of this series by playing the Islanders style of game, led by my favorite player on the Lightning today:
For the Islanders, they are going to be kicking themselves in the event that they watch the Stanley Cup Final. It could've been them. A better showing in Game 5, who knows?
And isn't it amazing Suzyn, that Tampa shut out both the Rangers (2015) and Islanders (2021) in a Stanley Cup semifinal, during both a Game 5 and Game 7? Perhaps that isn't that amazing after all! Less said about 2015 the better!
As far as my predictions have gone thus far, I went 4-4 in Round One, 4-0 in Round Two and 1-1 in Round Three, for a cumulative total of 9-5. When it comes to predicting hockey, especially playoff hockey, I'm happy being four series over .500!
With the semifinal round complete, we now go a Stanley Cup Final that busted up everyone's brackets – the Tampa Bay Lightning vs the Montreal Canadiens.
---
THE 2021 STANLEY CUP FINAL
MONTREAL CANADIENS VS TAMPA BAY LIGHTNING
As you may know, I have been predicting Tampa to repeat, ever since they won the Stanley Cup in 2020. I have stuck to my guns on this throughout, including prior to the season beginning, during the season, before the playoffs and one more time right now. Of course, I also predicted Vegas to be Tampa's opponent, but no one bats 1.000, am I right?
Rather than stall, I'll be up front with you here. Once again, I'm picking Tampa to win the Stanley Cup Final. However, I don't think it will be easy, as I'm taking the Tampa Bay Lightning in seven games. And if Montreal wins? That wouldn't shock me either. Some teams are just destined to win, and similar to the 2014 New York Rangers, Montreal feels like one of those teams, even if I think their season ends like that Rangers season ended – with a Stanley Cup loss to a recent champion.
This is going to be a fun series, and to tell you, with any sort of confidence that I know what will happen, would be yours truly selling bullshit to you. However, I'll share my thoughts with you on this SCF with you anyway!
There are so many story-lines and ways to look at this series. Obviously, the David vs Goliath stuff applies here. The irony, as talked about at the top of this blog, is also is a theme.
Something that may get minor play, are the home crowds. In Tampa, which really has been one of the more quieter cities of the playoff teams throughout the tournament, and in a response to the loud crowds at the Coliseum – the Lightning are now giving out noise-makers to their fans. Will that rattle Montreal? I don't think so, especially after Montreal's success in front of a boisterous Vegas crowd.
You know I don't like to talk politics or bog you down with COVID-19 speak on this site, but for the sake of Montreal and their fans, I really hope that Quebec allows a full house for these games. I'll say this once and won't harp on it afterwards – but I saw about 7867867867896796796 fans, shoulder-to-shoulder, outside of the Bell Centre during the semifinal round. What's the difference if these fans are inside or outside? If you're worried about lawsuits in the event of someone getting sick, let these Mother Canuckers and Father Finkers sign waivers, waiving the Canadiens of all responsibility.
And as a hockey fan, and as someone who has visited Montreal 8-9 times in my life, these fans deserve to be inside. To be robbed of this experience is a grave injustice to some of the greatest fans in all of sports. What's sick, is one of my buddies from my wrestling days, in current pro wrestling announcer Lenny Leonard, is a Tampa Bay Lightning fan and complaining about the high cost ($350) of Stanley Cup Final tickets in Tampa. Canadien fans would give up their house to attend one of these Stanley Cup Final games. To go with another wrestling reference here, as WWE's Bray Wyatt says – "Let Me In!"
While I've been to Montreal numerous times in my life, I've also been to Tampa many times too. Both fan bases are great, where obviously, the Montreal fan base is much stronger. That said, I just want to see equal footing here and with both teams playing in front of as many people as possible.
I think the secret is out now – Montreal is dangerously good. I saw some people, including ex-Ranger and Canadien John Scott, predict Vegas to sweep Montreal. For those people who thought Vegas would make short work of Montreal and/or just win that series – (myself included, as I had Vegas over Montreal in six games) you'd have to be idiotic to think Tampa is just going to steamroll Montreal.
There are many keys to this series, where really, we can say anything we want here, but it will be the games on the ice that truly tell us the story. As you know, both Price and Vasilevskiy can steal games. We should have a great goaltenders duel on our hands, and perhaps the best battle of goaltenders in recent years.
Of course, Tampa, as defending champions, have the experience. However, Montreal also has many experienced Stanley Cup champions on their roster too. I truly feel, that based on what we've seen all playoffs, that these teams are evenly matched, even if their regular season finishes wouldn't indicate that. Besides the goalies and veterans, both teams have bruising fourth lines. And for as explosive and breath-taking that Nikita Kucherov can be, how about that Cole Caufield?
If there's one true X-Factor to me, it's Tampa Bay's Brayden Point, who should be the favorite to win the Conn Smythe right now. However, one factor that could determine the fate of this series could be special teams, as Tampa's heralded power-play goes against a stiff Montreal penalty kill. Special teams win games, and these special teams will have to be extra special in this Final.
While this has nothing to do with anything, if there's one advantage Montreal has over Tampa, it's the fact that they have the best goal song in the history of the NHL:
Yes, I hated this song originally, because I've heard it about 30 times in-person and whenever watching Lundqvist play against the Canadiens in Montreal the years; but this song has definitely grown on me. However, with these two goaltenders, and during a Stanley Cup Final where defense is stressed, and where you don't see many breakaways or odd-man rushes – we probably won't hear it that much!
I have no hatred for Montreal. I have friends there. I love the city. I enjoy my trips there. However, and perhaps this is a good thing, as Montreal has excelled in their role as an underdog all playoffs – I just think the Lightning are too deep. Yes, Montreal knocked off Vegas, but outside of Mark Stone, who the Canadiens flat-out owned; who is a true offensive superstar on that team? Then again, Montreal did do a good job of shutting down the superstars of Toronto. I told you I was conflicted and don't know what to expect here!
Not only will Montreal have to try to down the two top Tampa beasts in Kucherov and Stamkos, they will also have to worry about Brayden Point. To a lesser extent, Montreal has to worry about the secondary scoring out of Tampa, in guys like Palat and Killorn. And if Victor Hedman can get going – it will be tough.
Like I said prior to the Vegas series, I don't think Montreal has that "we are just happy to be here" attitude. They expect to win, and win they may very well do. I just think Tampa can win in any way imaginable – whether it's with their goaltending, special teams, speed, defense or anything else you want to pick out here. For Montreal, they are a defense first team, and a team that does a great job when capitalizing on the mistakes of their opponents. Tampa is going to have help Montreal out here, in order for Montreal to win, in my opinion.
I know I sound redundant a bit, but yeah, Tampa is built to win now, knows how to win and have been down this road. Jon Cooper, the longest tenured coach in the league, will have an edge over Montreal too, as Montreal is now down to their "third string coach" or at least until Game 3. And lest not forget – great coaching wins playoff games too.
Unlike the Islander games, I have no skin in this series, outside of my fanboy fandom of Ryan McDonagh. I'm rooting for McDonagh (ironically drafted by the Canadiens, and there's that word "ironically" again) but if the Habs win, I'd be happy to see that too.
If there's one thing I'm rooting for, it's a long series. The more hockey the better, although a short series means I have more nights to finish up this book I'm working on!
As far as anything else that you won't find in other previews, I close with this – I don't see either team making the SCF next season. For Tampa, the salary cap will be knocking on their door, like the character of "Death" during some cartoon. For Montreal, this is their Cinderella year and where everything has fallen in favor of their way. Plus, since the invention of the hard salary cap, not one Stanley Cup Final loser has gone back to the SCF in the year following. In fact, since 2012, where we got the introduction of the salary cap at its strictest, the only Stanley Cup Final loser to return to the SCF were these Bolts of Tampa, where it took five years for them to do so. (TBL lost the 2015 SCF and won the 2020 SCF.)
The official prediction: Bolts in 7 and Brayden Point wins the Conn Smythe. For Carey Price and Shea Weber, this may be their last opportunity. Like strong teams in the Panthers, Hurricanes and Islanders, I think the Canadiens have drawn one of the best teams of this new era and at the wrong time. Yes, one more time, I'm an Islander hater – but I think the Habs would've matched up better with the Islanders than they do here with the Lightning.
Watch the Canadiens sweep this series now!
---
In our last bit of Rangers news before closing out here, next week, we will get the rest of the NHL Year-End Award winners, including the announcement of the 2021 Norris Trophy Winner. As talked about previously, while I'm obviously pulling for Adam Fox to win, I think Victor Hedman gets it. Let's hope I'm wrong!
And to follow up my previous blog, for those people looking for more reaction to the Gerard Gallant and Chris Drury press conference, "The Blueshirt Underground Show" returned on Thursday night with a new episode. To watch/listen to the episode, click the play button below:
If you haven't already, subscribe to this blog for the next update:
---
Enjoy the Stanley Cup Final! I should be back sometime next week. If not, I'll definitely be back after the Stanley Cup Final, where then, it really gets crazy, as we have two drafts and the free agency period.
Stay FABULOUS my friends.
As always here, thanks for reading and…
LET'S GO RANGERS!
Sean McCaffrey
BULLSMC@aol.com
@NYCTHEMIC on Tweeter