Greetings and salutations everyone and welcome to another blog here on BlueCollarBlueShirts.com. I am cliched out!
As I write these words late Friday night, the NHL has just completed their 2022 NHL Entry Draft. And as I've mentioned numerous times before on this site – evaluating teenagers isn't my game. I rarely watch the inferior/youth hockey leagues of the world.
Heck, due to my affinity for hockey history – I know more about the dead than the living!
Outside of occasionally watching KHL and AHL games, where I'm only following players that have already been drafted by the Rangers (most famously, CZAR IGOR) – I can't profess to say that I know anything about what goes on in Slovakia, where the top two picks of this year's draft call home. (Juraj Slafkovsky, MTL and Simon Nemec, NJD.)
While there are scout experts (including some people who are not currently employed by an NHL franchise) that are out there – for the most part, I feel like the majority of American hockey fans are like me – they aren't following the latest developments in the Czech Republic, Switzerland, China and/or Austria either.
Heck, and just like me again, I doubt most fans/people are dialed in on whatever the Moosejaw Warriors of the WHL are doing either – unless you're my buddy Mike "The Esquire!" (Personally, I side with the Flin Flon Bombers – I kid, I kid!)
However, and at the same time – despite a ton of people possessing no knowledge about these prospects – that won't stop these people who don't watch these kids/lesser leagues from pretending like they are experts!
This is most evident on social media – where everyone knows more than the people who are paid to scout, watch, and follow the teenagers that play all over the world.
To add on this here, friend of the site, Howie W., sent me this interesting observation, an accurate one at that:
It's really funny to me as well with these twitter GMs. Having sat at an NHL draft table. Of the 12 people at the table, most times 9 or 10 have never heard of player because that area is not their assignment but some fan who's never flown over Atlantic Ocean knows who they are!

— Howie Wirtheim (@HWirth) July 8, 2022
---
And these "know-it-all's" aren't  just Ranger fans. This goes on in all 32 NHL cities. No fan base is exempt!
No joke, just go on Twitter and/or Facebook, and you'll see fans of every franchise defiantly stating how their general manager screwed up, and how they should've taken the eighteen year old from Moscow that they've never seen play, instead of taking the eighteen year old from Prague that they've never seen play.
On this site, and for yours truly, rather than pretending like I have a clue about who any of these kids are, I'm telling you this – I haven't the foggiest idea of who these kids are and what they'll do in the future! But if you want to know all about the Rangers and hockey history – then I'm your guy!
---
You can go to SportsNet, TSN, ESPN and/or NHL.com for complete NHL Draft coverage/results.
After all, and as previously stated during my last blog – my interest level in this year's draft wasn't that high to begin with – especially when compared to the 2019 and 2020 NHL Entry Drafts. (Duh!)
While I'll get into what the Rangers did at the end of this manifesto; admittedly, I have no insight on any of these players. I'll just be running the Rangers' press release. They drafted these players and know them better than I do.
That stated, what entertained me the most about the draft (I watched both days of it – as I was 99% watching to see what trades would be made), and aside from the Bruce Boudreau/Kevin Owens interaction from the second day of the draft; what really got me cracking up was the never-ending cliches – both from the media and the social media "experts."
While the same-speak goes on during every NHL Entry Draft ever since the draft became a nationally televised event; I felt all of this was more overboard and in-your-face than ever before.
Half of the people on television could've been replaced by any schmuck off of the streets, and as long as they repeated cliches – then they would've had all of their bases covered.
Seriously, next year, I think I'll run a live drinking game on my social media accounts, should you be willing to participate, where at that time, we'll then take a shot anytime a cliche is used on these broadcasts and/or by a self-appointed "draft" expert – you know the same people who all had Shane Wright going number overall, only for Wright to fall to fourth overall (Seattle).
And if I do that, please drink responsibility, and if you have to – there's nothing wrong about throwing in the towel just ten minutes in – as these cliches come faster than diarrhea after eating White Castle at 3:00AM.
In addition, if I was one of these 678567567675558 sports books, sports books that have their ads relentlessly plastered all over these broadcasts, I'd accept over-under odds during the 2023 NHL Entry Draft, on these following phrases being said during the broadcast:
— "Good upside."
— "High motor."
— "Strong vision."
— "Project with potential."
— "Finds passing lanes."
— "Laces his skates."
— "Tapes his stick."
— "Tries not to fart in church."
— "Favorite Jersey Shore cast member is Angelina."
And let's not forget these never-ending cliches too:
— "He plays a 200 foot game."
— "Brings great intangibles."
— "Has a quick release."
— "High character player."
— "Shoots the rubber."
There's also the Sieve Vagistat cliche too:
"The type of guy you like in your room." (Make your own punchline!)
Lastly while on this (and I'm not making this up), I saw some "all-knowing" prospect expert on Twitter, a Ranger fan (I won't out this person, as I'm here for the comedy rather than to put anyone down), who basically said the equivalent of:
"Player X has a good wrist shot, nose for the net, high motor, strong strides and skates well."
Who was "Player X?" A goaltender!
Enough of the cliches, let's first talk about the Rangers' alumni – then talk about what Chris Drury and company did at the 2022 NHL Entry Draft.
---
On Thursday evening, following Drury's early afternoon trade of Alexandar Georgiev to Colorado (if you missed my coverage of this trade, scroll to the PLUGS segment); I was excited to tune into the 2022 NHL Entry Draft, where as noted earlier – I just wanted to see if there would be any more Ranger trades.
There weren't. And with no first-round pick, it were the other teams of the league that received more attention than the Rangers – and rightfully so.
Quick aside here, while talking trades – I thought that Gary Bettman (who was booed unmercifully, and where I think Vladimir Putin would've received a better crowd reaction than the NHL commissioner) came off looking like a freaking clown.
There were multiple trades made during the draft, where Bettman, when reading them out loud live, was confused.
Why was the shaky one so perplexed? Easy – none of these trades made sense – that is, unless you took the salary cap into account.
As Bettman read off ridiculous trade after ridiculous trade, the poutine crowd at the Bell Centre booed him each time.
Even the ESPN analysts admitted that these trades were bonkers – but trades solely made because of the salary cap.
While I don't want to bore you with another one of my patented 78956785567678578 word rants concerning the salary cap; but for the life of me, I still don't understand how this hard salary cap is good for the league.
(My quick fix, and as I always say – a "Larry Bird" rule, so teams can go over the cap and keep the players that they have drafted. You don't have to get rid of the cap – but it should be a soft cap, and not a hard cap. Or so I say!)
I mean, we all know that I'm one of the biggest offenders about what I'm about to say next. Just go back and look at what I said about the Henrik Lundqvist contract! That said, Bettman and company have created a league where salary cap hits are just as important as any other stat on the back of a trading card. It's all we talk about.
Rather than rooting for our favorite players, we're rooting for low salary cap hits. How is that good for hockey and their fans?
Need more? Just look at the Rangers of today.
While both Trouba and Panarin had amazing seasons – visit any corner of Rangerstown, USA, and there will be fans complaining about their contracts – rather than praising them for their play. These fans aren't wrong. This is what Bettman has designed – a disgraceful display of architecture at that!
Furthermore, this hard salary cap is even worse when trying to get casual and/or new fans invested.
Imagine a scenario where a new fan (and even a young fan, just finding the game and their favorite team for the first time in his/her life) is left to wonder why his/her team traded away their favorite player. More times than not, it's all over the salary cap.
There is too much time being wasted by thinking, writing and arguing about salary cap hits. Does anyone disagree?
That's not good for the game at all. In turn, it was nice to see Bettman being caught like a deer in headlights when reading off these stupid trades.
(And for all of my rants on the salary cap, just check the archives of this site, as I don't want to bust out all of my "Greatest Hits" here!)
---
Without any promotion at all, following the sixteenth pick of the draft (mid-way point), Bettman presented the last NHL Year-End award of the season, the Jim Gregory award.
Joe Sakic (Avalanche), Drury's pal and trading partner, won it. I thought that was ludicrous.
If you're just going to give it to the GM of that year's Stanley Cup winner, then just announce it once the Stanley Cup Final is complete – just like how several regular season awards are decided, like the Art Ross and Rocket Richard trophies.
Perhaps just as silly, Julien BriseBois (Tampa Bay) finished as first runner-up. Drury finished in third place.
I know I said this a while ago when Drury was first announced as one of the three nominees; but the second following Tampa's 2021 Stanley Cup Final victory over Montreal, the sports books opened up with the Avalanche as the odds-on favorite to win the 2022 Stanley Cup. Who had the second-best odds? The Lightning.
The Rangers opened up as a heavy underdog, at +2800, and where most books didn't even have Drury's team going to the playoffs – much less reaching the Eastern Conference Final.
Who knows how the voting is done for this. Are we just giving this award to the Cup winner or what?
Joe Sakic mind you, finally won a Stanley Cup as Colorado's GM, following four consecutive years of second-round choke jobs.
This year, his team went all the way, since they had their easiest path to a final yet – seeing a back-up goalie against struggling Nashville, seeing another back-up goalie against a beat-up St. Louis, and then they knocked off the worst starting goalie of the playoffs when they played Edmonton (Mike Smith).
(Of course, Colorado then performed big-time against Vasilevskiy during the Final. That said, the Rangers softened Tampa up – or so I say! Yes, I'm joking!)
Tampa and BriseBois, prior to 2022, had won the last two Stanley Cups and were expected to challenge for a third.
All Chris Drury did, was pull off the biggest 180 in all of franchise history, reversed the team's course after the most drama-filled season in all of club history, had the best trade deadline of any NHL GM, and then defied all of his critics – critics which have since been muted.
I know this is a lot of talk about an award that doesn't mean that much at the end of the day; but like Gallant and the Jack Adams Award – I thought Drury got screwed here too. (And yes – I am biased – I do admit that!)
---
All of the preceding words now weaves into our next topic; as following Sakic's win as GM of the year, he was then interviewed by ESPN's Emily Kaplan, where during the interview, he stated that Alexandar Georgiev will be his starting goaltender next season.
While Sakic also praised his current back-up goalie Pavel Francouz; he made it clear – Georgiev will have every shot in the world to be Colorado's starter.
Sakic made this clear too – the Avalanche are parting ways with Darcy Kuemper, and the goalie of the 2022 Stanley Cup champions will now look for a new team during free agency. (Gotta love that salary cap!)
For "THE BULGARIAN BEAST," it's now up to him. He'll get every opportunity to be the man in Denver.
Better than that, unlike previous Ranger back-ups who became starters elsewhere (Talbot in Edmonton, Raanta in Arizona) – Georgiev is now playing for the reigning-and-defending Stanley Cup champions.
And while yes, Colorado will be weakened a bit next season (say it with me in the "Marcia, Marcia, Marcia" voice: "Salary Cap, Salary Cap, Salary Cap") – there will be no excuses for Georgiev. It's now or never.
So that covers one former Rangers' goalie. How about we look at another one?
---
As you've probably heard by now, for whatever reason, Minnesota Wild G.M., Bill Guerin, gave Marc-Andre Fleury a two-year deal worth $7,000,000 overall on Thursday. While we haven't heard from Cam Talbot yet – we have heard from his agent – an agent that is making no friends with the Wild's head-honcho.
(And when it comes to MAF returning to Minny? I don't get it. Minnesota is crushed by dead SALARY CAP space. They already had to trade away Kevin Fiala because of Bettman's hard cap. For MAF, already a future Hall of Famer and a three-time Cup champion – if he's looking for a fourth ring – it's my opinion that there are better options out there than Minnesota.)
This story, which started with the Wild's re-signing of MAF, heated up on Friday.
Reporter Michael Russo (Minnesota's version of Larry Brooks, and one of the most dialed-in reporters out there) covered the entire story on Twitter:
Guerin: "I don't have shit to do. Cam Talbot's under contract. George can say whatever the hell he wants. My team's set right now, and that's the way it goes. We can have all the discussions we want. Cam's a member of our team. We really like Cam. All we're trying to do is win" https://t.co/F1CNuUH8je

— Michael Russo (@RussoHockey) July 8, 2022
---
A lot of people are interpreting Bazos' quote solely as Talbot wants to be traded (Talbot indicated otherwise after the season). I'm getting the impression from team sources that Talbot wants a raise by way of an extension. He makes $3 million this year vs. Fleury's $3.5 million https://t.co/zK6XdLyKZz

— Michael Russo (@RussoHockey) July 8, 2022
---
Let's get this out of the way first – Cam Talbot has not spoke about this at all. Who knows what he's thinking for sure? We can only speculate, based on what his agent is saying.
In addition, if you're Cam Talbot, now on the last year of a three-year contract that pays/paid him $3,666,667 annually – you want to be starting this season.
After all, "The Goalbuster," once a fresh-faced kid with the Rangers, is now an established NHL veteran at the age of 35 years old. He's also approaching the end of his career, as he's closer to the end than to the beginning.
While Talbot's peak money earning years are now behind him; following this season (and assuming he starts and plays well), he should be able to get at least one more significant NHL contract.
Playing second-fiddle to MAF will only hurt his potential earning power, come the Summer of 2023.
Who knows how this will all play out, but if I was a betting man (and I am), I think Talbot will be elsewhere next season – whether it's at the start of the season or by the 2023 NHL Trade Deadline.
While not exactly the same as "if you have two starting quarterbacks, you have none," you can't have two NHL starting goalies on your roster in today's league. (This was more commonplace following the NHL's Great Expansion of 1967, where you saw Plante/Hall in St. Louis and Sawchuk/Bower in Toronto.)
Due to those two fun words of the "salary cap," more times than not, you need a number one goaltender and a definitive back-up. The only way a "time-share" works, is if you have two goalies who are not making much money – which isn't the case in Minnesota, where again – a Wild team that's buried by dead cap space. (Parise/Suter buyouts.)
If Talbot's agent (and perhaps #33 himself) aren't happy with this situation, they could threaten to sit out and/or force a trade.
For what it's worth, Talbot has never done anything like this before and it would be out of character for him to do so. At the same time, he's never been in this position before. He's against the hour glass for the first time in his career.
There are plenty of teams looking for a starter right now. Talbot has a history with two of these teams.
Cam, a native of Caledonia, Ontario (an hour's drive from Toronto) grew up watching the Leafs. The Leafs don't have a goaltender under NHL contract right now. The Oilers don't have a goalie under contract either. Could a Talbot/Edmonton reunion be on the horizon?
Only time will tell.
Let's now get into the biggest trade from Friday – Tony DeAngelo, no longer a member of the Hurricanes, and who is now with his hometown Flyers.
---
In more news from both the land of Rangers' alumni and the Blueshirts' rivals of today – Tony DeAngelo is now a Philadelphia Flyer – a team that I thought he'd wind up with at this time last year.
DeAngelo, who grew up in southern New Jersey, spent his formative years living only twenty minutes away from Philadelphia, and in turn, was raised as a Flyers fan.
I liked this trade for several reasons, with my biggest reason being this – this trade weakens Carolina.
And while this transaction helps the Flyers, I don't see Philadelphia as a playoff team next season.
In other words – while the Rangers are losing some talent too – at least this evens out the field a bit.
For the Hurricanes, who received several draft picks in return for TDA – I don't get what they are doing here. Not one bit.
They lost Dougie Hamilton, formerly the quarterback of their power-play, to the Devils last year. After a year of DeAngelo on the cheap, where #77 became their single-season franchise leader in points scored by a defenseman – they traded him to a divisional rival.
Who is going to be Carolina's top scoring defenseman now? Brady Skjei? Ha!
While yes, this is another stupid salary cap-related trade; why did Carolina trade him to a fellow Metropolitan team?
Yes, I'm sure that DeAngelo wanted to be a Flyer – but if I were the Hurricanes, and I had to trade him – I'm looking for a trading partner on the western side of the Mississippi River – not one that's a short drive away.
What had everyone salivating about this trade was the obvious – Tony DeAngelo now playing under former Rangers' head coach, John Tortorella.
---
I know everyone expects Tortorella and DeAngelo to become Hiroshima vs Nagasaki here, as the two turn Philly into an atomic bomb – but I think the opposite will happen.
While Tortorella hasn't commented about the move yet, DeAngelo took to Instagram and made these comments:
Over the course of history, there have been many teams that put a perceived volatile player under a perceived hostile head coach. And if you know your history – more times than not – rather than imploding, these two men used these negative perceptions as both a bonding tool and as fuel for success.
That said, for every success story – there's always your Billy Martin vs Reggie Jackson story too!
In my eyes, I think Tortorella and DeAngelo are cut from the same cloth. Both are extremely driven and are not shy to express their willingness/desire to win.
Put it this way – had DeAngelo slammed a penalty box door with Torts behind the bench – I don't think Torts would have cared. He would've supported DeAngelo for getting mad/caring – or so I feel.
(And isn't it ironic, that the four principle players from that game/period of time, and a time that was just eighteen months ago, in DeAngelo, Georgiev, David Quinn and Jeff Gorton, are no longer in New York? Time flies.)
DeAngelo just came off a successful "prove it" season, where as a result, he's now making the most money of his career, following his signing of a two-year deal worth $10,000,000 overall. After that down time/low point of his career – he's now a $5,000,000 per-season player again.
John Tortorella is looking to resurrect his career. While he was great in Columbus, he was also coaching a franchise that free agents wanted no part of. That won't be the case in Philadelphia.
If you look at DeAngelo's career, his best years were in New York – a short drive from his home in south Jersey, and where his friends & family attended many of his games. He'll see these faces more in Philadelphia, faces that should help him.
While some players don't like to play close to home (too many distractions), for DeAngelo, it may be the best thing for him. He seems to thrive in that environment.
Tortorella, known as a strict taskmaster (the first thing he said once being hired by the Flyers? He said that training camp would be hell for his players), should find a willing student in DeAngelo.
Say what you want about TDA – but you'll never find anyone accusing him of being lazy and not putting the work in.
Of course, the most interesting thing to see develop will be how Torts coaches DeAngelo.
DeAngelo is a gifted offensive-defenseman. Torts loves his d-men to block shots and stay back.
Will there be a happy medium, or will Torts, who has both mellowed over the years and has adapted to the evolving NHL style, just allow DeAngelo to do his thing?
And should Torts ask TDA to become the second coming of Dan Girardi – with $10M guaranteed, TDA won't have to worry about his offensive numbers.
Lastly on this subject, while I'm a big fan of Tortorella and DeAngelo (I know, I know, I know – root for the front of the jersey, not the back of it, but as a Rangers' historian – more times than not, I root for the alumni to do well) – I hope they fail in Philadelphia.
Father Fink the Flyers!
Let's now talk about the Rangers of today.
---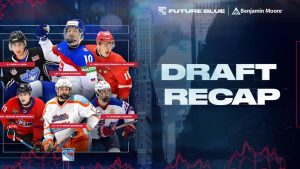 One last time, I'm not a prospects guy. What I'll do here is give you everything the Rangers have said about their draft, and then just a few general thoughts following all of it.
Here's what the Rangers are saying about their draft, courtesy of https://www.nhl.com/rangers/news/rangers-make-six-selections-in-2022-nhl-entry-draft/c-334890388?icmp=int_web_nyr_news_rightrail  :
The New York Rangers made six selections at the 2022 NHL Entry Draft, which was held on Thursday, July 7 and Friday, July 8 in Montreal, Quebec. The six picks were forward Adam Sykora (Second Round – 63rd overall), forward Bryce McConnell-Barker (Third Round – 97th overall), forward Noah Laba (Fourth Round – 111th overall), defenseman Vittorio Mancini (Fifth Round – 159th overall), forward Maxim Barbashev (Fifth Round – 161st overall), and forward Zakary Karpa (Sixth Round – 191st overall).

2nd Round, 63rd Overall

With the 63rd overall pick in the 2022 NHL Entry Draft, the Rangers selected forward Adam Sykora.

Sykora, 17, played the majority of his 2021-22 season with HK Nitra in the Slovakia league, recording 10 goals and seven assists for 17 points in 46 games. In 19 playoff games, the Piestany, Slovakia notched two goals and three assists for five points.

The 5-10, 172 pound forward has played in 61 games with Nitra over two seasons, registering 10 goals and nine assists for 19 points and a plus-3 rating.

Internationally, Sykora has skated for Slovakia in several tournaments, including the 2021-22 World Championships. In addition, he earned a silver medal in the Hlinka Gretzky Cup in 2021-22.

3rd Round, 97th Overall

With the 97th overall pick in the 2022 NHL Entry Draft, the Rangers selected forward Bryce McConnell-Barker.

McConnell-Barker, 18, skated 23 goals and 26 assists for 49 points in 68 games with the Soo Greyhounds of the Ontario Hockey League (OHL) in 2021-22. Among Greyhounds last season, the London, Ontario native finished third in goals and fifth in points.

Prior to playing in the OHL, the 6-1, 193 pound forward played for the Komoka Kings of the Greater Ontario Junior League.
4th Round, 111th Overall

With the 111th overall pick in the 2022 NHL Entry Draft, the Rangers selected forward Noah Laba. Laba, 18, skated for the Lincoln Stars in the USHL in 2021-22, notching 15 goals and 24 assists for 39 points in 50 games and a plus-7. With Lincoln last season, the Northville, Michigan native ranked tied for fifth in goals, sixth in points and seventh in assists. The 6-2, 191 pound forward has accumulated 58 points (24G-34A) in 96 games with Lincoln over the course of two seasons. He was named to the USHL All-Academic Team in 2020-21.

5th Round, 159th Overall

With the 159th overall pick in the 2022 NHL Entry Draft, the Rangers selected defenseman Vittorio Mancini.

Mancini, 20, completed his first season with the University of Nebraska-Omaha Mavericks in 2021-22, playing 38 games. The 6-3, 215 pound defenseman finished with five assists.

The Saginaw, Michigan native split his 2020-21 season with the Green Bay Gamblers (USHL), Hanhals IF (HockeyEttan), and Frolunda's J20 team. With Green Bay, he posted four goals and nine assists for 13 points and a plus-5 rating in 33 games.

5th Round, 161st Overall

With the 161st overall pick in the 2022 NHL Entry Draft, the Rangers selected forward Maxim Barbashev.

Barbashev, 18, tallied 15 goals and 27 assists for 42 points in 59 games for the Moncton Wildcats of the QMJHL in 2021-22. The Moskva, Russia native ranked tied for third on Moncton in points, fourth in goals and tied for second in assists.

In two seasons with Moncton, the 6-1, 183 pound forward has notched 21 goals and 31 assists for 52 points in 69 games.

6th Round, 191st Overall

With the 191st overall pick and the team's final pick in the 2022 NHL Entry Draft, the Rangers selected forward Zakary Karpa. Karpa, 20, skated for Harvard University in 2021-22, posting six goals and six assists for 12 points in 33 games and a plus-nine rating.

The 6-2, 185 pound forward played in the USHL in 2020-21 before going to Harvard, split between Omaha and Des Moines. A Newport Beach, California native, Karpa finished the 2020-21 season with 28 points (9G-19A) in 48 games played.

In addition, Karpa played two seasons with the U.S. National Team Development Program (2018-20).

New York Rangers 2022 NHL Entry Draft Selections

Name | Round | Overall | 2021-22 Team | Pos. | Ht.* | Wt.* | Born | Birthplace 

Adam Sykora | 2 | 63 | HK Nitra (SL) | LW | 5-10 | 172 | 9/7/04 | Piestany, SVK

Bryce McConnell-Barker | 3 | 97 | Soo Greyhounds (OHL) | C | 6-1 | 193 | 6/4/04 | London, ON

Noah Laba | 4 | 111 | Lincoln (USHL) | C | 6-2 | 191 | 8/4/03 | Northville, MI

Vittorio Mancini | 5 | 159 | Nebraska-Omaha (NCAA) | D | 6-3 | 215 | 5/26/02 | Saginaw, MI

Maxim Barbashev | 5 | 161 | Moncton (QMJHL) | LW | 6-1 | 183 | 12/18/03 | Moskva, RUS

Zakary Karpa | 6 | 191 | Harvard (NCAA) | C | 6-2 | 185 | 3/25/02 | Newport Beach, CA

* Note – heights and weights are provided by NHL Central Scouting
---
The Rangers have uploaded interviews from all of their draft picks on their YouTube page. To watch them all, go here: https://www.youtube.com/c/nyrangers
I watched all of them, where really, there's not much to be learnt. Everyone is excited and looking forward to the future. After all, what else would you expect them to say? They should be elated about the biggest moment of their lives.
As far as the future of these six teenagers go, who knows? The only thing we know for sure is that none of them will be on the 2022-23 roster.
Again, I'm not a draft guy, but I found it interesting that Drury and company didn't go with a better center with their first pick of the draft. However, by the end of the draft, half of their picks were centers.
The Rangers also avoided goaltenders during this draft. This made sense, since they currently have more goaltending prospects in their system than spots available.
As previously stated on this site – while drafts aren't meaningless, this 2022 draft was never going to be a big deal for the Rangers. They are in "WIN-NOW" mode, where they will be looking to both NHL free agency, and the trade market, to build what we all hope to be a Stanley Cup winning team in 2023.
If there's anything I want to see in the future as a result of this draft, it's this:
"Oh Joe, Adam Sykora, no relations to Petr Sykora Joe!"
---
During his Thursday interview with the media, Drury wouldn't tip his cap on how he will be filling in the gaps – and just as expected – as Drury is tight-lipped.
There are numerous avenues and paths that Drury can go down. Chicago is blowing it all up. Would they eat cap space and trade away Kane and/or Toews? Is Pierre Luc Dubois a real possibility? Can a reunion be had with either Strome or Copp? Will they splurge on Kadri, or will they seek out Scheifele from the Jets?
We'll find out soon enough – perhaps as soon as you read these words!
PLUGS TIME.
---
My first plug of tonight's blog – the mandatory plug for my book, "The New York Rangers Rink of Honor and the Rafters of Madison Square Garden".
As mentioned previously, the book is now available in hardcover, in paperback and in Kindle formats. To purchase a copy of the book, visit this link:
https://www.amazon.com/Rangers-Rafters-Madison-Square-Garden-ebook/dp/B09CM5N2WD
For those still looking for signed paperback versions of the book, I have re-ordered more copies. I now have a few signed copies for sale at $25 a pop (includes shipping price) through me directly. Here is all the information on that:
---
Here are my last few blogs, in case you missed them:
---
---
---
If you haven't already, subscribe to this blog for the next update:
---
I'll be back once the Rangers do something next week, if not earlier.
Thanks for reading.
LET'S GO RANGERS!
Sean McCaffrey
BULLSMC@aol.com
@NYCTHEMIC on the Tweeter machine