Greetings and salutations everyone and welcome to another blog here on BlueCollarBlueShirts.com. As you read these words, we are now only a short time away from July 13th, where come Wednesday at noon, the NHL's free agency period will officially begin.
As you'd suspect, there's a lot going on right now, not only in Rangerstown, USA, but throughout the entire league too. Heck, as I just typed this sentence, the Senators have traded Matt Murray to Toronto! (Nineteen-Sixty-Seven!)
Of course, due to where the Rangers play, combined with the fact that Chris Drury's team is in "WIN NOW" mode – if you were to believe everything that's out there, you know, during this summer season where lies are as popular and plenty as cold ice cream – then come the 2022-23 season, the Rangers will have 978678687967867896896 players under contract. (No wonder ticket prices have gone up!)
Seriously speaking here, outside of Johnny Gaudreau, Jack Campbell and Darcy Kuemper (with the latter two men being starting goalies, one area that the Rangers have locked down), I've seen both the media and Blueshirt backers speculate and suggest that the Rangers are in on everyone.
And this talk is not just limited to free agents either, as this chatter also includes every trade rumor imaginable.
Whether it's Nazem Kadri, Patrick Kane, Mark Scheifele, Pierre Luc Dubois, Evander Kane, Evgeni Malkin, Andrew Copp, Ryan Strome, Claude Giroux, Vincent Trocheck, Phil Kessel, Evan Rodrigues, Dylan Strome, Colin Blackwell, Nino Niederreiter, Dylan Larkin, The Ghost of Gordie Howe, and/or fifty other people – everyone has a source and a player that's linked to the Rangers right now.
Of course, Drury, this generation's version of Lou Lamoriello, is tight-lipped, so he's not telling anyone about his plans. Don't lose sight of that.
At this time of the year, it are the agents of these players who spread the news, both of the real and "fake" variety, in order to get the best deals for their clients. It's just part of the game.
Here's an idea – maybe that creep Adam Hermit, the guy who made up the lies about Tony DeAngelo (slander and false information that then Rangers' Team President, John Davidson, had to publicly refute), should become an agent? His expertise in the art of lying is unparalleled! Plus, Hermit doesn't retract anything after being busted for lying either, so he'll fit right in!
Never let the truth get in the way of a good story!
---
At this time, let's run through everything since I last left you, and in chronological order.
Up first, the most recent Rangers' departure, Alexandar Georgiev.
---
On Sunday, it became official – Alexandar Georgiev is now a member of the Colorado Avalanche, where as mentioned last blog – he is currently number one on their depth chart.
Also official? Georgiev just signed a contract that pretty much sets him up for life, especially when you consider his previous earnings with the Rangers. And should he perform well during these next three years, he may even get a bigger raise than the one he just received on July 10th.
On October 15th, 2020, Georgiev signed a two-year deal worth $4,850,00 overall ($2,425,000 annually) with then Rangers' general manager, Jeff Gorton.
Less than two years later, over the weekend, Georgiev signed a three-year deal worth $10,200,000 overall ($3,400,000 annually) with then Avalanche general manager, Joe Sakic.
(In case you didn't hear the news already; on Monday, Sakic was promoted and named as the Avalanche's President of Hockey Operations. In turn, Sakic's assistant general manager, Chris MacFarland, had the word "assistant" slashed from his title and is now the new G.M. in Colorado. And when you think about it – this is a pretty good move for Sakic. After winning the Cup, he can now only go down. In other words – if the Avalanche don't repeat, MacFarland can take the heat!)
One last time, congratulations to "THE BULGARIAN BEAST." I hope to see him again during the Stanley Cup Final, when the Rangers sweep the Avalanche by four consecutive scores of 4-0!
---
On Monday, July 11th, the Rangers opened up their annual development camp, where all of their prospects and draft picks got together.
The Rangers, who are not going to the Traverse City Tournament this year (they haven't returned there since the pandemic), had three noticeable omissions from this year's training camp.
These omissions (or at least omissions in my eyes) were Nils Lundkvist, Zac Jones and Tyler Wall. The Rangers later stated that Lundkvist and Jones have "graduated" past this developmental level. I'm not so sure about that, but I'll take their word for it!
Tyler Wall, as we'll later get into, wasn't offered a contract on Monday. I guess we all should've seen this coming when the Rangers posted the graphic above. (They posted it on Saturday.)
What bothers me about what should be a special event for Ranger fans, is that the fans are completely shut out from watching these practices and scrimmages. Instead, to get any information about these events, you have to rely on the NYR beat reporters, reporters who are too busy posting pictures of what they ate for lunch than covering the team.
Of course, that previous sentence doesn't apply to Larry Brooks:
I'm not really here to rag on the NYR beat again, but yeah – this isn't your grandfather's, nor your father's, beat anymore. It's mostly millennials who don't know the history, nor the topic neither, that they are covering. But hey, they eat well! And if you need them to talk about draft picks that they've never seen play before, they got you covered in that department too!
Somewhat similar to my thoughts from the NHL Entry Draft (linked below), the younger members of the beat all spoke in cliches about Monday's training session. "PLAYER X SKATES HARD!" "PLAYER Y HUSTLES!" Gee, I wonder what player isn't skating hard and hustling right now! I think you get what I mean.
For me (and I know this is because of my age and experience when compared to these folk, where at the same time, these younger members of the beat do provide a valuable service to younger fans/same generation – don't lose sight of that) – it's all just lazy observations, which is why as a fan, I wish I could watch all of this with my own two eyes – rather than relying on the words of someone who doesn't really know what they are talking about.
That stated, my issue isn't with the beat or with whatever type of parmigiana that they are currently eating. (They sure love posting pictures of what they eat!) It's with the Rangers.
Over the last eight years on this site, how many times have I said this – "despite the Rangers possessing both their own network, a network that has multiple channels and a very active YouTube account – the Rangers have decided not to air this event."
No joke, you have poverty franchises around the league airing their development camps on the internet. The richest franchise in the league (again, that owns their own network) can't be bothered. This is not new.
Unless the grand jackass of Banff, Alberta, Glen Sather, is at camp and teaching these guys the secrets of time travel – can anyone give me a reason on why these practices are withheld from the peepers of Ranger fans?
There's just no reason to prevent fans from seeing this. Instead, there are numerous reasons to air these practices (or any other event, such as a Chris Drury Zoom press conference) to the fans, including, but not limited to, the following:
— It keeps fans engaged during a slow period.
— It will increase ratings on the M$G Network, which then helps advertiser rates.
— It increases YouTube views/clicks, an internet medium which also creates revenue.
— Fans can learn about these new players, which then can open up other monetary streams, such as jerseys, specialized t-shirts, hats, etc.
Heck if I was running the show, with season ticket subscriptions down last season (and yes, this was because of the pandemic too), and with a major price increase for the 2022-23 season ahead; I would've allowed all season ticket holders to attend these practices as an incentive.
I know I've bitched about this 9678676879687969679 times before, but I've been to 25 different NHL cities. I've seen and heard what the other franchises do for their fans.
Of the 32 NHL franchises, the Rangers do the least for their season ticket holders and fans. Do you know why? Easy – the fan base is full of hardcore diehards.
The Rangers don't have to accommodate to us, because not only are they the most well-off franchise in the league – there will always be another fan to replace you. The same can't be said about many of the other fan bases around the league.
If you don't believe me, scour the internet and look at the other 31 teams. Live press conferences? Check. Free season ticket holder events, such as meet-and-greets? Check. The option to attend practices? Check. The Rangers are one of the few teams that don't do any of this.
Want another example? Just go back to any of the Drury Zoom calls. Not only were none of them streamed live – they were never uploaded to the internet either. Conversely, and just to give you the most recent example, when the Flyers signed Tony DeAngelo, they streamed his press conference live on both their website and on their social media accounts.
Want one more example? During the 2019 Traverse City Tournament, the Rangers had some person, whose hand looked like it got caught between Michael J. Fox and Gary Bettman, filming from what appeared to be a JVC Camcorder from the 1980s. You couldn't see anything.
The Minnesota Wild, not as cash-flushed as the Rangers, had a three camera shot, where in addition, they brought in announcers, had video replay, and also put some production value into it.
And oh yeah, this was the same tournament where Kaapo Kakko wore a Rangers' jersey for the first time, so you'd think that the Rangers would try to spice it up. Fat chance.
---
If you go by the NYR beat reporters, everything was great, great and great. No insight was to be found, where to be fair – it's tough to assess the first day of camp to begin with. Once the Rangers get to the scrimmage on Friday (which should be aired but you know it won't), then you'll really be able to get a true first impression.
What I can say for sure that impressed me, were the interviews that both Brennan Othmann and Will Cuylle gave:
---
---
Of the two interviews, it were Othmann's words that blew me away. The guy talks like a winner. He sounds like a winner. He acts like a winner.
You owe it to yourself to watch Othmann's interview, just to hear both the tone and inflection in his voice. Black-and-white print doesn't do it justice.
While not sounding cocky at all, he made it clear – he wants to be a Ranger. He doesn't want to go back to the Ontario Hockey League (OHL).
Again, listen to him say it, because he wasn't putting down the idea of playing in the minors, as if his shit doesn't stink, as fellow first-round picks before him did (Vitali Kravtsov and "Crybaby" Lias Andersson).
Othmann, as he's said before, once again compared his game to Matt Tkachuk's. The Rangers can sure use a guy like that.
While I was rooting for him anyway (just as I root for any Ranger) – he really made a fan out of me today.
Will Cuylle made it clear too – he wants to be a Ranger. While he wasn't as "brazen," for a lack of a better word, as Othmann was; obviously, Cuylle would rather be playing in New York than opposed to Hartford next season. (Cuylle is AHL eligible, Othmann is not.)
Cuylle also brought up the topic of leadership, having served his OHL team as their captain. He said he wanted to be a leader at camp too – a most positive trait to possess.
For those who want to follow the Rangers and their beat on Twitter when these development camp practices (and the scrimmage too) are going on, here's the rest of the schedule, courtesy of the Rangers' website:
Tuesday, July 12

Group 1: 9:00 AM-10:15 AM
Group 2: 10:30 AM-11:45 AM

Wednesday, July 13

Group 2: 9:30 AM-10:30 AM
Group 1: 10:45 AM-11:45 AM

Thursday, July 14

Group 1: 9:15-10:00 AM
Group 2: 10:15 AM-11:00 AM
Group 3: 11:15 AM-12:00 PM
Group 4: 12:15 PM-1:00 PM

Friday, July 15

10:00 AM-11:30 AM (Scrimmage)
---
Following the first day of development camp, Chris Drury qualified some of his restricted free agents, while passing on others. Here's who Drury kept, with my comments added:
— Kaapo Kakko – I think this was a no-brainer. Whether the plan is to trade him or not, at the very least, the Rangers had to qualify him, rather than letting him walk.
— Libor Hajek – I thought the Rangers had to qualify him too, even if it's for a potential trade. That said, Hajek is somewhat in a Rangers' "prison," as it looks like he has no chance of breaking out in New York. Professionally, another year as a routine healthy scratch/insurance policy (in fear of losing him if waived) is a wasted season for him.
— Tim Gettinger – I wasn't surprised about this one, but had Drury moved on, it wouldn't have been a big deal.
— Austin Rueschhoff – what I said about Gettinger applies here.
---
The names that Drury didn't qualify, and who are now set to become free agents, include:
— Jacob Elmer – no surprise.
— Justin Richards – this was mildly surprising, if only because the Rangers called him up and because he's still relatively young (24 years old).
— Ty Ronning – the least shock of all. As previously mentioned, when the Rangers had all of their COVID-19 issues during the 2021-22 season, Ronning was never called-up. The writing was on the "wall" right then and there, which brings us to…
— Tyler Wall – the biggest shock of all. When the Rangers first signed Wall to a two-year deal worth $1,850,000, I thought they would take their time in grooming him, whether it be to serve CZAR IGOR as his back-up or as potential trade bait. If you read this site all season, our Wolfpack correspondents, Danny Mack and Rich Murphy, said Wall had been struggling. Wall was also demoted to the ECHL too. Still, at 24 years old, you'd think the Rangers would keep him around for a bit before turning him into Brandon Halverson 2.0.
In other Rangers' goaltending news, in case you don't know this already, both Adam Huska and Keith Kinkaid are unrestricted free agents. The Rangers are most likely to move on from both of them.
Currently, of all Ranger goaltenders, only CZAR IGOR has NHL experience. The goalies from Rangers' development camp represent the rest of the netminders under contract.
You know how I feel, I'd go with Braden Holtby as Igor's back-up next season. (Check out the PLUGS segment for more on the other options that could be had here.)
With Wall, Huska and Kinkaid gone, I think we're likely to see a Dylan Garand and Olof Lindbom tandem in Hartford next season. I just don't see a rookie backing up CZAR IGOR. I think a cheap and established veteran is the best option.
---
While on the topic of restricted free agency, several interesting names around the league weren't qualified, which in turn, now makes them unrestricted free agents, names which include:
— Brendan Lemieux – the Kings seem to be going with skill over brawn. Lemieux will wind up somewhere. He'd be perfect in Philadelphia with his buddy Tony DeAngelo. Then again, he could become Sean Avery Part II for Torts – although Avery's antics, both on and off of the ice, were worse than Lemieux's agitating style of play.
— Sonny Milano – how many times have you heard Sam Rosen and Joe Micheletti mention that Milano, soon-to-be a former Duck, is from Massapequa, New York? Larry Brooks is already championing for the Rangers to sign him. However, and if you know your Rangers' history – more times than not, homecomings don't work out. For every Adam Fox and Brian Mullen, there are about ten times as many New York natives who fizzled out at M$G.
— Dylan Strome – could Ryan's brother replace him in the Big Apple? If the Rangers were to seek out any Blackhawk, I'd prefer Patrick Kane, as we'll soon get into.
— Danton Heinen – I'm surprised the Penguins let him go, as I thought he played well during the playoffs.
— Brett Howden – I don't envision a scenario where we'll see Howden 2.0 in New York. For what it's worth, he did play well in Vegas.
— Ilya Samsonov – somewhat of a surprise, even if his numbers weren't that great. That now leaves the Capitals without an NHL goaltender, which should only increase whatever deals Darcy Kuemper and Jack Campbell receive. When you include the Oilers and Leafs here (although the Leafs just traded for Murray), perhaps Cam Talbot will be elsewhere at the start of 2022-23 season.
---
As talked about at the top of this manifesto, there are a million rumors and reports flying around, some sourced, some just completely made up (especially by that Mickey guy on Twitter and his "Drop Dead Fred" friend), where quite frankly – I find it all entertaining.
While I don't believe anything Rangers-related unless Larry Brooks, Kevin Weekes, one of the esteemed Canadian reporters (Elliotte Friedman, Darren Dreger, Frank Seravalli, etc) and/or the team themselves report it – with nothing going on (despite my own personal goal of trying to finish up the two books I'm working on – more on that at the end of this blog) – it's easy to have fun with all of this.
A disclaimer before proceeding here. Just like a good old "Joker Poker"/"Broadway" machine that you'll see at your local Irish casino/dive bar, the following is for "entertainment purposes" only.
At the same time, this idea could become a reality, but the chances of this all happening are at around .0000001%, and even then – that number may be too high.
Two of the biggest names being linked to the Rangers and/or receiving traction right now are Patrick Kane and Nazem Kadri.
Of all the names that are being floated around out there, I'm going with these two only, not just because I'd like to see it, but because reputable people have brought it up, as opposed to some jackoffs on Twitter talking about it.
In case you didn't know, Elliotte Friedman, on Monday, said that the Rangers are interested in Kadri. (He also said that the Avalanche were interested in Kane.) Larry Brooks is pushing for Kane himself.
I've previously written about Kadri on this site, so check the archives for more on him. For now, we know he'll come with a high price tag.
When it comes to Patrick Kane – yes, I'm aware of the controversy surrounding him. (He was accused of a sexual assault in 2015.) That said, he was never charged with anything and the police ruled that he was a victim of a hoax. Furthermore, he was never accused of anything like this, both prior and following this allegation from 2015.
I'm not trying to make light and/or ignore any victim of sexual assault here.
All I'm saying is that Kane was never charged with anything and the police made him out to be the victim.
Of course, for some (and you know the type, the people who go on-and-on about whatever Tony DeAngelo did eleven years ago as a teenager, as if it were yesterday – but hey – #BellLetsTalk), they'll ignore the facts, and just keep making Kane out to be some sort of serial criminal.
Furthermore, like it or not, if you have talent – you'll always get second, third, fourth, and you get the idea, chances.
Need an example? Look no further to the NFL, where you have murderers, rapists, child abusers, drug users, wife beaters, illegal weapon hoarders, dog killers, etc, parading around on their fields. But don't take a knee – and that includes both Tim Tebow and Colin Kaepernick – two players who don't/didn't possess the talent of the NFL felons currently collecting paychecks today.
With that out of the way, let's close our eyes and dream.
---
Patrick Kane, a three-time Stanley Cup champion, currently holds a salary cap hit of $10,500,000. Obviously, the Rangers can't afford that. Kane also possesses a no move clause too, but with Chicago burning it all down, where not even the wildfires in California can compare, it is thought that Kane will look to move on and chase a fourth Stanley Cup elsewhere.
As I said during every blog last season – "WHY NOT THE RANGERS?"
Since I've written so much about Nazem Kadri on this site during the past month, let's just assume the Rangers sign him, and for whatever it will be, whether it's $6.5M – $8.5M a season. In addition, and for what it's worth, Friedman reported that Drury, and Lou Lamoriello of the Islanders, are not only interested in Kadri, but have "unique" ideas on how to obtain him.
Again, I'm not saying Kadri is coming to the Rangers. All I'm saying is if there is a will, there's a way.
(Furthermore, if the Rangers do land Kadri, that means that Drury would also be banking on his younger and cheaper players, such as Filip Chytil, Alexis Lafreniere, Vitali Kravtsov, Brennan Othmann, etc to step up into bigger roles.)
According to CapFriendly.com, the Rangers currently have $10,208,531 in cap space available. If they sign Kadri to say a $7,000,000 deal, that gives them little money left over to sign a cheap back-up goalie and Kakko, assuming the Finn is back next season. You would then flesh out the rest of your roster with your younger players and with your cheap veterans – aka the Kevin Rooney's of the world.
To add Patrick Kane, you'd have to get creative and do what Stanley Cup champions of the salary cap era do – exploit the weak and take advantage of loopholes.
And like a French person, you'd also have to be interested in a "menage-a-trois," which means you'd have to be up for a three-way trade.
The most recent and successful NHL three-way trade took place on April 10th, 2021, when the Lighting acquired David Savard from the Blue Jackets. Included in the trade were the Detroit Red Wings.
In this trade, the Lightning parted with a 2021 first-round pick and a 2022 third-round pick, picks that went to Columbus. They then sent a 2021 fourth-round pick to Detroit.
In return for parting with Savard and for these picks, the Blue Jackets retained 50% of Savard's $4,250,000 annual salary cap hit, while the Red Wings picked up 25% of it. In turn, what once was a $4,250,000 annual salary cap hit now became a prorated cap hit (due to the time of this trade) of $1,062,500.
While who knows if the Lightning would've won the Cup without Savard; all we know for a fact is that following this trade – they did win the Stanley Cup in 2021. That's all that matters.
In other words, if the Rangers really want to go ALL IN, and truly create the third "Bread Line" in all of franchise history (both a reference to previous Ranger Stanley Cup winning first lines and the dough this incarnation would be earning), not only would the Rangers have to make a trade with Chicago, they'd then have to find a third team too – a team that's struggling to reach the salary cap floor (Arizona, Buffalo, Seattle, etc).
If they could do that, Kane's salary cap hit would then become $2,625,000 for the Rangers.
But wait, there's more, as that figure would still be too high for the Rangers to accommodate.
There doesn't seem to be much of a future for Patrik Nemeth in New York. Do you know what the Swede earns? He carries a salary cap hit of $2,500,000.
If the Rangers could include Nemeth in this proposed three-way deal, theoretically, that would bring Kane's cap hit down to a paltry sum of $125,000.
One more time – I know this is a pipe-dream, but at the same time, would you rule any of this out either?
---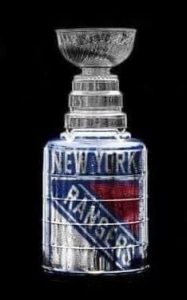 For this trade to ever happen (where Nemeth would have to be included too), of course, the Rangers would have to send picks and prospects to both Chicago and whoever the third team would be, the team that would take 25% of Kane's cap hit.
The Rangers have a stockpile of assets to choose from. Whether it's draft picks, Nils Lundkvist, Zac Jones, Kakko, Julien Gauthier, Hajek, or the kids from camp, the Rangers have options. (The only young assets that I think would 100% be off of the table are Brennan Othmann and Braden Schneider.)
If this ever happened, can you imagine the end result, with a top six that looks like this:
Kreider/Mika/Lafreniere
Panarin/Kadri/Kane
Combine that with you know, the 2022 Vezina winner CZAR IGOR, and a strong defense too, in addition to the role-players that the Rangers currently have under contract in their bottom six – as John Davidson says, "OH BABY!"
I will now turn off my Playstation.
PLUGS TIME.
---
My first plug of tonight's blog – the mandatory plug for my book, "The New York Rangers Rink of Honor and the Rafters of Madison Square Garden".
As mentioned previously, the book is now available in hardcover, in paperback and in Kindle formats. To purchase a copy of the book, visit this link:
https://www.amazon.com/Rangers-Rafters-Madison-Square-Garden-ebook/dp/B09CM5N2WD
For those still looking for signed paperback versions of the book, I have re-ordered more copies. I now have a few signed copies for sale at $25 a pop (includes shipping price) through me directly. Here is all the information on that:
---
Here are my last few blogs, in case you missed them:
---
---
---
If you haven't already, subscribe to this blog for the next update:
---
This will be a busy week. I'll jump back once the Rangers make their moves, as you know they won't be idle during free agency.
Until then, I'm back to my books, and figuring out how to go over the 1.2M Google Docs character limit!
Thanks for reading.
LET'S GO RANGERS!
Sean McCaffrey
BULLSMC@aol.com
@NYCTHEMIC on the Tweeter machine