Greetings and salutations everyone and welcome to another blog here on BlueCollarBlueShirts.com. If you pre-ordered a signed copy of my new book, "The New York Rangers Rink of Honor and the Rafters of Madison Square Garden", your book is in the mail. In addition, by now, you should have also received an email from me confirming that your order has shipped.
To just stay on the topic of the book here, before moving on to everything else tonight (and there's a lot to get into), I have about 40 or so extra copies of the book at my house. If you want a signed copy of the book, you can still order a copy by clicking the link below:
---
As noted previously, once I sell all of my extra copies, that will be it for signed copies for the time being.
For those of you looking to purchase an unsigned paperback copy or an electronic format of the book (Kindle), visit this link: NYR ROH & MSG Book.
Of note, if you visit the Amazon link provided above, you'll see some reviews of the book, where I'm happy to say that the early reviews from readers have been overwhelmingly positive.
In addition, and as I wrap up the plug for the book here, I don't know what took up more time – writing the book or dealing with the post office when mailing out all of the pre-orders! Obviously, I'm joking here, but at the same time, I put in a full forty hour work week when shipping, packing, signing and mailing out these books!
Of note, I also feel bad for post office employees too. I don't know if it's just my local post office or what, but during the three consecutive days that I was at the post office, there was only one clerk working during the majority of my time there. The poor people who had to wait on line behind me!
And oh, $15 to ship out a two-pound book to Canada seems insane to me too. After all, you can drive there – no flight required!
Moving on!
---
As it's been since last Friday, the biggest talk around Rangerstown, USA is the Rangers developmental camp/training sessions, with the pinnacle of the camp set to take place on 9/18 and 9/19 – which is when the Rangers rookies and prospects play a pair of games against the rookies and prospects of the Philadelphia Flyers. As mentioned last blog, and in a fact which still remains today – no word from the Rangers yet on whether these games will be televised or not. And really, what's the excuse NOT to air these games? After all, the Rangers already have advertising on the boards at their practice arena! ("It's all about the MONNNNNAAAAAY" – Costa L.!)
I'll have more about the Rangers developmental camp during tonight's blog, but I will remind you here that HISTORY, and not predicting the future, is my forte. In addition, I've found a lot of the reports emanating out of this developmental camp to be both repetitive and not much to be gained either. I'll explain why on the other side of the PLUGS segment.
When it comes to tonight's main event, I'm going to give you a jump-start on my NHL 2021-2022 season preview blog and take a look at the Metropolitan Division. As stated in the past on this site and during these blogs – I truly feel the Rangers will be a playoff team come the 2022 Stanley Cup Playoffs. And that's my story and I'm sticking to it!
I also want to thank everyone for their feedback to my last blog, especially regarding my rant on Ticketmaster and their "convenience fees", as many of you guys contacted me with similar stories and sentiment. Speaking of that blog, what a way to transition to the PLUGS segment of tonight's manifesto! Let's get the PLUGS out of the way and then get rockin' and rollin'.
Here are my last few blogs in case you missed them: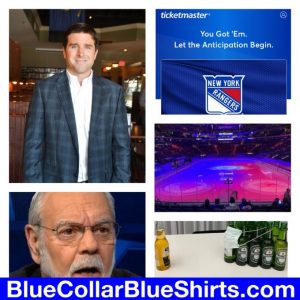 ---
---
---
As regular readers of this site probably know by now (and if you're new here, now you know), watching teenage boys play hockey has never been my thing. While I respect and admire the fans (Steve K. & Danny McG.) and writers that truly dedicate a bulk of their time in covering/watching these prospects – at the end of the day, it's just not for me. I think there are two reasons why I'm this way. Let me explain.
First off, until recently (as in during this "The Letter Era"), the Rangers usually loaded up on high-priced free agents, where not much time/ink was dedicated to the Rangers pipeline. While of course there are exceptions here, as both a 39-year old and during my adult lifetime, the Rangers have been burnt on so many of these prospects/highly praised draft picks time-and-time again, where I feel like the old adage of "fool me once, shame on you; fool me twice, shame on me" applies. Heck, to this very day, I still get a rash and some boisterous gas whenever thinking of Pavel Brendl and Jamie Lundmark!
Secondly, when it comes to assessing these prospects, who am I and what do I know? I don't know what NHL coaching and front office staffs are looking for, outside of generational talent like a Connor McDavid. I don't have an inside track. I'm not at these rinks. I don't know what these kids do in their personal time – stuff that's backfired recently for some players and teams, including Mitch Miller/Arizona Coyotes and Logan Mailloux/Montreal Canadiens.
(And when it comes to Miller and Mailloux specifically, while what they did was 10000000% wrong and shameful; at the same time, should they never get a chance again? After all, in both cases, these incidents occurred before either one was drafted by an NHL team. It's such a slippery slope here. As a society, we should always root for people to better themselves and to get a second chance, but at the same time, are some actions so bad, thus disqualifying these BOYS (not men) of ever having a second chance later in life? Who's to say? While I'm not defending either guy, at the same time, especially now, in this "cancel culture" society, should these two be removed from hockey forever? And of course, you also have to think of and be respectful of the victims here too. Again, who am I to make a decision on this, especially since I don't know what these guys are doing since their transgressions?)
To sum it all up here (and when it comes to the topic of future NHL entrants), I feel that as fans, in 99% of all cases, we rely on what we hear about these prospects, rather than on what we see. Unless you're a Pierre McGuire, an NHL scout or just a diehard super-fan who would rather spend your time watching inferior leagues than the NHL – it's just tough to grasp a true feel on these players, especially if you're like me and subscribe to the "eye-test" theory when it comes to watching professional hockey.
If there's ever been an NHL prospect in recent years that I truly followed and watched with my own two eyes, it was Igor Shestyorkin during his days in the KHL. You may have read me talking about those games once or 10000 times before! (And I think it's easier to assess goalies as a fan watching an international stream than it is with skaters, since the camera always zones in on the goalies. In most cases, you don't know what happens away from the puck with the skaters. That's all.)
And with that all said, let's get back to the Rangers developmental camp!
---
For nearly a week now, the Rangers have been running their developmental camp, where members of the NYR media have been allowed to attend. When it comes to the NYR beat reporter scene, you know my opinions already – Larry Brooks, by far, is the best. Everyone else is pretty much the same, where you can read any of their reports/articles and unless you saw who wrote it, you wouldn't be able to tell who did.
No one, outside of Brooks, breaks real news on the beat, nor has their own distinct style either. After all, if you read a non-Brooks Rangers article, 90% of those articles are just transcripts with not much insight provided. ("PLAYER X WAS AT CAMP AND TOLD ME HE'S EXCITED!" What an exclusive, especially when you have to pay to read such tripe!)
In addition, when it comes to a developmental camp full of young teenagers and twenty-somethings – what is really gained in these transcripts/interviews? No one is going to say anything crazy, look to offend or jeopardize their position in the organization. For example, Nils Lundkvist isn't going to say, "I'm here to become the #1 power-play quarterback of this team and everyone else can just standby." Tyler Wall isn't going to say, "Igor better watch out, I'm coming for that #1 spot!" And when it comes to all of these interviews in general, it all sounds like a "walking-on-eggshells" variety – everyone is happy to be there and everyone wants to work hard.
Ironically, when it comes to the NYR beat reporters, only Larry Brooks has pretty much shied away from sharing dozens and dozens of various video clips, gifs and pictures from the camp. Instead, Brooks has been commenting on the camp in his articles. This is what always gets me. Larry's articles receive the most reads and clicks, where the other members of the beat don't receive as much traffic as Larry since they all give it away on Twitter for free. You have to click Larry's articles to get his thoughts. This is Mike Francesa 101 here!
When it comes to the rest of the NYR beat, they are all sharing a bunch of clips from the camp, where really, outside of saying "ooh" and "aah", not much is learnt from these clips. After all, as a fan, what are you going to learn from a 15 second clip of Will Cuylle or Braden Schneider skating or shooting a puck, outside of the facts that they know how to skate and can shoot a hockey puck?
Furthermore (and I'm not trying to crap on anyone's parade here, I'm just trying to tell it as it is), you also have to factor in the quality of competition at these camps. You can look at any player from this camp, and whether it's the top rated guy at the camp (Lundkvist) or someone else – at the end of the day, these kids are all playing against other kids. In other words, you can't look at one clip or a reaction from a reporter and immediately equate what happens at a prospect practice to immediate NHL success. These kids are all playing against kids – and not against NHL men. I think you get my point here.
As a Rangers fan and as a hockey fan, I totally get it – we're all amped up and pumped for hockey to return. Many of us are thirsty for reports coming out of this developmental camp, especially since it's been a while since the Rangers last played and because the Rangers aren't participating in the Traverse City Tournament this year. If anything, this developmental camp has taken headlines away from the tedious topic of Jack Eichel. However, if there's one tedious topic that hasn't gone away, it's the topic of who the next captain of the New York Rangers will be.
I won't do my "Greatest Hits" here, aside from reminding you that I'm in the "Fox For Captain" camp. I only bring this topic up, because outside of both Gerard Gallant and Chris Drury watching these prospects practice (they aren't running the camp, the Rangers developmental coaches are), Chris Kreider also showed up at camp to take in the action. Immediately, as in nanoseconds, once Ranger fans saw Kreider at camp, the "KREIDER FOR CAPTAIN" stuff went into overdrive.
When it comes to Kreider's contention to become the next captain of the Blueshirts, my opinions on this remain the same. I wouldn't be opposed if it happened, but at the same time, if Kreider is to become the next captain of the franchise, why didn't this happen at the start of the 2020-2021 season? (And if you recall, prior to last season, I was in favor of Kreider getting the "C", and would prefer Kreider as captain over Zibanejad or Trouba. Check the archives of this site for more on this.)
Like most fan bases across pro sports, many Ranger fans do subscribe to the "instant gratification" stuff and always have a hot take to any development/story – and no matter how small or big that development/story may be. Ranger fans will argue about anything, even about simple and dumb things, such as how many ice cubes you get with your Garden soda. (I wouldn't be one of those people, because I'm drinking beer, and not a Coke or a Pepsi, at M$G!)
Prior to Kreider showing up at developmental camp, many in the Rangers fan base were villainizing and disparaging Kreider. Heck, many of those people were also arguing for Kreider to be bought out, since he's now nothing more than a "third line winger". Now, with Kreider showing up to camp, these same people previously burying Kreider now want Kreider as captain.
All of this stuff reminds us why Chris Drury and Gerard Gallant get paid the big bucks, because if they listened/responded to any of this daily chatter/white noise – they'd be sitting in the crowd with these fans and arguing about the amount of ice cubes in an M$G soda.
Again, while I'd prefer to see Fox become the next captain of the team, I wouldn't mind if Kreider got the "C" either. Anyone but Trouba! (And if it's Trouba, I'll support him anyway!)
To wrap up on this, I just wanted to point out the hypocrisy and get a laugh here regarding all of the inane babbling I've seen from some fans. On one day, Kreider is the worst thing to ever happen to the Rangers since Glen Sather; the next day, people are talking about Kreider as if he were Mark Messier. It never ends, but admittedly, it does provide good blog fodder!
---
When it comes to what's been actually going on at Rangers developmental camp, according to the NYR beat reporters, everything has been sunshine and rainbows. Everything is great, everything is amazing and if you take these reports to heart, these prospects could win the Stanley Cup right now! And if you haven't figured it out yet, yes I'm exaggerating for effect here.
To be serious, based on what's out there, guys like Nils Lundkvist, Will Cuylle, Braden Schneider and Morgan Barron seem to be breaking out of the pack a bit, and in that order. Even someone like Zac Jones, who got a lot of buzz last season (mostly from Mollie Walker of the NYP since both attended UMASS), now seems like a secondary thought.
However, and as mentioned, it's just hard to get a true feel of what these guys will bring if they ever make it to the NHL level. And really, outside of Lundkvist, and to a lesser extent Barron – it's hard to see where these rookies/prospects would slot in during the 2021-2022 season, barring injuries to members of the big club roster.
For what it's worth, while I'm not a prospects guy, I have enjoyed all the enthusiasm and positive reports coming out of this camp. I also liked how the Rangers, organizationally, have given these kids a tour of NYC, including a stop at a local FDNY firehouse during the 20th anniversary/remembrance of 9/11. (Anniversary is definitely the wrong word here, but you know what I mean.)
All in all, while I wouldn't put too much stock into the highlights coming out of this camp, at the same time, I'm happy to hear that everything is going well. Not everyone at this camp will make it to the NHL, but I wish them all the best moving forward. At the very least and with fingers crossed – some key pieces of a new Rangers core, a core that will hopefully will win a Stanley Cup one day, are at this camp.
---
Usually, whenever one talks about time periods, you say "Past, Present and Future". As you can tell, I'm going in reverse order here, as I have already talked about the future. Let's now talk about the present and then go to the past.
A few weeks ago, I gave a quick synopsis of the Metropolitan Division for the 2021-2022 season. I got a lot of feedback from that blog. where some said I was too brief. At this time, I just want to go deeper a bit, as I give you my preview and predictions of the division.
As mentioned, when it comes to these Metropolitan division teams, I see five of them qualifying for the 2022 Stanley Cup Playoffs. With the playoff seeding reverting back to three teams from each division and two wild cards from each conference; once again, I see the Metropolitan Division taking the two wild card spots away from the Atlantic Division.
I see the Washington Capitals, the New York Islanders and the New York Rangers taking the three top seeds of the division. When it comes to the wild cards, I see the Carolina Hurricanes and the Pittsburgh Penguins coming out of the division; and with the Philadelphia Flyers in the mix of things. While I think the Devils will be improved from their 2020-2021 campaign, I see them at the bottom of the division, with only the rebuilding Columbus Blue Jackets being worse than the team that calls Newark, NJ home.
At this time, let's take a look at the eight teams of the division and in the order that I see them finishing in.
---
WASHINGTON CAPITALS
As has been the case for a while, once again, the Capitals finished the 2020-2021 regular season with a top three finish. The Capitals have been "Stanley Cup" ready for a while, including winning the Stanley Cup during the 2018 Stanley Cup Playoffs. In turn, this Caps roster hasn't really changed much, with Alex Ovechkin, who could've became a free agent, re-signing with the team during the summer (and after the Seattle expansion draft), in what was one of the worst-kept secrets in hockey. Ovi, just like the Capitals organization themselves, wanted to finish his future Hall of Fame career with the franchise. There's a lot of honor in that, especially since as time goes on, you'll see less players remaining with one franchise throughout their entire career.
The Capitals had two significant losses this off-season, where they actually recouped one of those losses. After Seattle drafted goaltender Vitek Vanecek during their expansion draft, Vanecek was sent back to the Caps a week later, after Seattle signed Philipp Grubauer to become their first-ever starting net-minder. However, the Caps did lose defenseman Brenden Dillon during the off-season to the Winnipeg Jets. However, for the most part, the Capitals return with the bulk of their successful core, in guys like John Carlson, TJ Oshie, Nicklas Backstrom, Tom Wilson and Evgeny Kuznetsov; with Kuznetsov's future in Washington sparking much debate.
After winning the Stanley Cup in 2018 with Barry Trotz running the show from the bench, the Capitals are now on their second head coach since Trotz left Washington for the nomadic Islanders. After two first round exits under Todd Reirden, future Hall of Fame coach Peter Laviolette now has the reigns, where during the 2021 Stanley Cup Playoffs, the Capitals fared no better with Laviolette as they did with Reirden – as the Caps were ousted in the first round in five-games for the second consecutive season.
While the Caps are older, and as a roster, are one of the oldest teams in all of the NHL; as the Bruins have shown us and the Caps last season, older teams can be successful too. For how long remains to be seen, but the Caps should be one of the top teams of the division in 2021-2022 (if not the best where I have them pegged). However, the playoffs are a different story, but with a full preseason and training camp under Peter Laviolette, you'd have to think this team will become a playoff threat again, rather than reverting to what they were prior to the 2018 Stanley Cup run – two rounds and done.
Another thing to monitor, is as the season progresses and as the trade deadline approaches, the Capitals, always a playoff contender, should attract veteran rental players to help bolster their chances.
---
NEW YORK ISLANDERS
The Islanders didn't do much this off-season, but really, they didn't have to. After all, with two straight Eastern Conference Final berths under Barry Trotz, the Islanders didn't really need to tinker with their line-up.
Despite losing Jordan Eberle (Seattle) and Nick Leddy (Detroit), the Islanders still have a pretty strong team, where they added veteran Zach Parise to the mix. The Islanders also did a great job of shedding cap room in both the Leddy deal and with their trade of Andrew Ladd's contract (Arizona).
Like most successful teams, the Islanders have a good 1-2 combination in net, with Seymon Varlamov and Ilya Sorokin. However, come playoff time, who gets the nod, as Trotz used both goalies during the 2021 Stanley Cup Playoffs.
While Mat Barzal, and to a lesser extent Adam Pelech, are the "faces of the team", the Islanders are basically a group of veterans, where the system of the team carries the squad to deep playoff runs rather than any individual "super-starring" the team to the top.
Yes, I'm an Islander hater, but once again, just like their fourth line, "The Identity Line" – the Isles will be a force to be reckoned with. And yes, what I'm saying here is way too early, as it's September 2021 and not April 2022 – but I think the Isles will be great in the regular season, but come the playoffs, I see the Islanders taking a step back. The competition in the conference will be stronger, especially in the Metropolitan Division and I don't like the odds of the Isles making three consecutive ECF's.
---
NEW YORK RANGERS
Of course, I'll have a full preview of the Rangers 2021-2022 season as we get closer, but even if the Rangers weren't my team – I would still think that the Rangers will qualify for the 2022 Stanley Cup Playoffs.
I don't know if I said this before on this site or on social media, but I think when historians in the future look back at the Rangers 2020-2021 season, they'll put an asterisk on it and say it was a "Murphy's Law" season – as anything that could go wrong did go wrong, and there was plenty out-of-the-box stuff that happened too.
I know I've said this before on this site and multiple times at that – the Rangers aren't built to win a Presidents' Trophy – they are built for the playoffs.
Maybe I'm over-rating the Rangers as a three seed here, but even if it's a wild card berth, the Rangers will make the playoffs. They are just too talented not to and for the first time in "The Letter Era", they are also bringing Stanley Cup champions (Sammy Blais and Barclay Goodrow) and veterans (Ryan Reaves, Patrik Nemeth, etc) along for the ride.
Once known as the youngest team in the NHL, the Rangers are no longer a bunch of pimply faced kids anymore. While the Rangers do possess a ton of youth (Alexis Lafreniere, Kaapo Kakko, Filip Chytil, K'Andre Miller etc), the Rangers also have a good balance of star players and veterans (Artemi Panarin, Mika Zibanejad and Chris Kreider). And oh yeah, the Rangers also have a Norris Trophy winner (Adam Fox) and a goaltender who could challenge for a Vezina Trophy too (Igor Shestyorkin).
The Rangers have made a lot of changes since May 2021 and I think all of these changes have been for the greater good. With high expectations from owner James Dolan, expect the Rangers to return to the top of the division.
---
CAROLINA HURRICANES
I know, I know, I know – many fans, experts and people within the NHL think that the Carolina Hurricanes will win the division. After all, along with the Penguins and Islanders, the Hurricanes also have the best Vegas odds among all Metropolitan teams of winning the Stanley Cup in 2022 (+2000). However, those odds will always be flawed to me, especially with Toronto as the fourth-most favored team to win the Stanley Cup.
After nine playoff-less seasons, the Carolina Hurricanes have turned the corner under both head coach Rod Brind'Amour and with their "Bunch of Jerks" campaign. The Canes, who possess an amazing trio of talented players in Sebastion Aho, Andrei Svechnikov and Teuvo Teravainen, combined with their other youthful players, also added playoff experience this off-season in guys like Derek Stepan, Brendan Smith and others. And then there was the whole Jesperi Kotkaniemi offer-sheet. And I haven't even mentioned that the Canes also made a wholesale sweep of their goaltenders, moving on from both Alex Nedeljkovic and Petr Mzarek for Antti Raanta and Frederik Anderson.
And oh yeah – did I mention that Dougie Hamilton is no longer in Carolina either? However, Tony DeAngelo is, and if DeAngelo can have a season like he had in 2019-2020, he'll be a much better value than Hamilton and his high-priced contract with the Devils. (DeAngelo comes in at 1/9th price of Hamilton.)
The Canes are a franchise that have been on the rise during the last three seasons. However, come the playoffs, veteran teams, in both Boston (twice) and Tampa have ended the dreams of the Canes. Now, the Canes are a veteran team themselves, but at the same time, there's been so much roster turnover, where it feels like the Canes have changed too much. The Canes will now need time to gel and the skaters will also have to learn the tendencies of their new goalies too. That's why I think while the Canes will be a playoff team, they won't be at the top of the division as many predict them to be either.
---
PITTSBURGH PENGUINS
I know I use the phrase "as mentioned previously" a lot, but yeah – as mentioned previously, I think we've been at the beginning of the end with the Penguins for some time now, where a rebuild should be upcoming.
The Penguins will start the season at a major disadvantage, as both Evgeni Malkin and Sidney Crosby will be out. If there was anything about the Penguins that was questionable to me, I wonder why Crosby waited to get surgery until late into the off-season, rather than addressing his issues right away? To me, it looks like Crosby wants to be 100% for the Olympics more than anything else.
The Penguins last two playoff runs have been disastrous, as in 2020 they were upset by the upstart Montreal Canadians and in 2021, were bounced out of the first round by the Islanders in six games. It's also led to many people in Pittsburgh questioning the job status of Mike Sullivan. While Sullivan was the coach of the Stanley Cup winning teams of 2016 and 2017, people also have short memories and an attitude of "what have you done for me lately?" I don't think it would shock anyone if Sullivan was canned mid-season, especially in the event that the Penguins have a poor start. (Also keep in mind that the new Penguins front office didn't hire Sullivan either.)
The Penguins are one of the oldest teams in the NHL, despite featuring a young starting goaltender in Tristan Jarry, a Jarry who was just an absolute horror show in net during the 2021 Stanley Cup Playoffs. You can directly blame Jarry for the Penguins failure to get out of the first round last season. And if Jarry doesn't work out again, do you really want to hitch your wagon to Casey DeSmith or Louis Domingue?
The Penguins are just getting old. While Crosby, Malkin, Letang and Carter are no slouches, at the same time, it feels like their best years are behind them. If there's anything to the Penguins advantage here, it's that they always seemingly find a way to discover youthful talent, who step right up and deliver, in guys like Jake Guentzel (now a veteran), Bryan Rust, Teddy Bleuger and Evan Rodrigues.
While I have the Penguins as a wild card team here, it wouldn't shock me if they grabbed one of the top three spots of the division either. However, similar to the Rangers P.L. or "Pre-Letter", I just don't see the Penguins winning the Stanley Cup. Fortunately for the Penguins, and unlike the Rangers – at least the Penguins won the Stanley Cup multiple times during the Crosby era.
---
PHILADELPHIA FLYERS
The Flyers, who looked like they were back on the rise, took a stumbling fall down the ladder last season. Prior to their collapse, it looked like the Flyers finally had a true starting goaltender since the days of Bernie Parent in Carter Hart. However, call it the "Curse of The Flyers" or whatever you want, but for whatever reason, Hart, like many Flyer goaltenders before him, had a disastrous season during the 2020-2021 campaign.
Goaltending will always remain a huge issue for the Flyers, where if Hart can revert to what he was prior to last season, the Flyers will improve. If he doesn't, Martin Jones, another goalie who had a terrible 2020-2021 season, will then be tasked to shoulder the load.
The Flyers really focused on their defense during the off-season, adding Ryan Ellis, Rasmus Ristolianen and Keith Yandle to help their blue line and goaltenders. In addition, Yandle should also improve the Flyers struggling power-play.
It's going to be interesting to see how Kevin Hayes plays this off-season. After losing his brother to an untimely death, Hayes will professionally look to carry on his brother's honor with his play on the ice. Some use tragic events as an inspiration. Some can't overcome it. Without trying to sound too morbid here, as I wanted to address this horrible tragedy very lightly, I do think that Kevin Hayes will have a monster 2021-2022 season, as his team rallies around him, just like they previously did with Oskar Lindblom.
While the Flyers have improved their roster, one must also wonder about their aging core, in guys like Claude Giroux, Sean Couturier, and to a much lesser extent, Ivan Provorov (24 years old).
The Flyers will be well-coached under Alain Vigneault, but as the story goes, AV has always been the bridesmaid but never the bride, as he's never won a ring. I don't think that changes in 2022 either.
---
NEW JERSEY DEVILS
I don't think the Devils will be scaring the "hell" out of anyone this season. In fact, I think the opposite, as I see the Devils being "pitch-forked" themselves on most nights. However, the Devils, similar to the Rangers in recent seasons, are in the middle of a rebuild, where they are now starting to see light at the end of their tunnel.
The Devils are trying to build around a young core in guys like Jack Hughes, Ty Smith, Nico Hischier, Jesper Boqvist and others. In addition, the Devils were very active this off-season, giving Dougie Hamilton a whopping $9M per-season contract, which is 11% of the team's salary cap. Also eating up 11% of the team's salary cap is PK Subban, a Subban who becomes an unrestricted free agent at the end of the season. I don't expect Subban to make it through the whole season with the Devils, as he will most likely become a rental for some playoff contender. (And imagine if it's Montreal? The same Montreal who is without Shea Weber? Hmmmm, the story writes itself!)
Aside from the big Hamilton acquisition, the Devils also beefed up their roster by going after talent such as Jonathan Bernier, Tomas Tartar, Ryan Graves and others. Without question, the Devils should be much better this season than last season, but they also play in the toughest division in hockey. In other words, no playoffs for the red-and-black attack.
While I have the Devils in seventh place here, I think points-wise, they'll be much closer to fifth and sixth place in the division than they will be to eighth place.
---
Somewhat similar to what I said about Kevin Hayes, and kind of like what happened in Vegas during the 2017-2018 season after the horrific shooting prior to the season; Columbus also has their own tragedy to rebound from, as the team lost goaltender Matiss Kivlenieks after a Fourth of July fireworks accident. While I believe that the Blue Jackets will play with valor and pride when honoring their fallen friend, I just don't think this roster has what it takes to get out of the Metropolitan cellar.
Columbus, like Winnipeg, is a city that no NHLer wants to play in. Akin to the Islanders, you don't see "sexy" or big-name free agents looking to sign with the middle-America Ohioan team. In fact, the opposite is happening here, as pending free agents run away from Columbus whenever they are able to, something that first started during the days of Rick Nash.
The current Columbus roster seems shot to shit, as after losing players like Artemi Panarin and Sergei Bobrovsky two seasons prior, the team also said goodbye to David Savard last season and just lost Seth Jones this off-season. There's really no one to really rally around in Columbus, despite the Blue Jackets best attempts to market anyone possible.
In a way, it feels like Columbus, and not Seattle, is the new NHL expansion team, right down to a new head coach in Brad Larsen, a Larsen who replaces John Tortorella – a Torts' who has moved on to television after fulfilling his contractual obligations with Columbus.
It just feels while Columbus is able to churn out talent, just when the going gets good, the top stars leave for greener and better pastures. Until Columbus can attract star players and keep their own homegrown talent, it just feels like Columbus is on a hamster's wheel.
And after saying all of this – watch the Blue Jackets win the Stanley Cup. Hey, stranger things have happened!
Let's now wrap-up this manifesto with some closing news on the past and the Rangers alumni.
---
Yes, I'm aware – I have probably written a zillion words about Emile "The Cat" Francis, not only on this site but in my new book too. However, I do have to make mention of Emile Francis turning 95 this past Monday, especially since the Rangers didn't. You see, talking about Justin Richards and other Ranger prospects was more important to the franchise than talking about a legend that has a whole era named after him. I mean really, the Rangers couldn't have given "The Cat" a happy birthday wish on social media?
I'll refrain from going into repeat-mode here, aside from saying that I wish the Rangers gave "The Cat" more respect, rather than waiting for him to pass away to do so.
Speaking of "The Cat" and his era; Larry Brooks, in a new article on the NY Post which you have to pay $5 for (I've been reading the NY Post my whole life, think Brooks is the best reporter on the NYR beat, etc, but I can't justify paying $5 for a news service, especially when I get exclusive UFC shows as part of my $5 ESPN+ subscription), made mention that no current Ranger attended Rod Gilbert's funeral. (On side note, I recapped the Gilbert memorial ceremony, which you can read here: https://bluecollarblueshirts.com/9821/)
I saw many Ranger fans go nuts about this, and perhaps you think that I, as someone whose penchant is Rangers history, would go nuts about this too. However, this didn't really surprise me, nor am I shocked about this. After all, of the current Rangers roster, who do you think truly knew Gilbert? Maybe Chris Kreider? And it's not like these guys hit the bars and chain smoke anymore while bonding, as Gilbert and his peers did in his day. Think about it, like Gilbert and Duguay, who was the last Ranger to be "Page Six" partying gossip fodder? Theo Fleury?
I can't speak for anyone else and I don't know what the Ranger roster members have going on in life or if the NHL insane COVID rules impacted anyone from attending. And on a sidebar here, isn't it amazing Suzyn that the NHL currently has strict COVID restrictions in place, where a coach in Columbus had to re-sign because he didn't want to get vaccinated, whereas the NBA just said on Tuesday that vaccinations won't be required for anyone in their league? Hmm, makes you wonder.
If anything, I thought the only two people that had to attend Gilbert's ceremony/memorial from the Rangers were Chris Drury and James Dolan. Both were there.
---
In a response to my new book, "TrotsNJ" shared the above picture, where Frank Boucher and others were once honored in the old MSG Hall of Fame. Of course, that HOF (at least physically) is no longer in existence, but I thought this photo was worth sharing with you guys.
Also worth sharing with you is this Rangers memorabilia piece:
In our final piece of news for this manifesto, on September 10th, former Ranger Jack Egers passed away. Here is his obituary from https://www.legacy.com/obituaries/therecord-waterloo/obituary.aspx?n=jack-egers-smokey&pid=200108054:
Jack Egers passed away peacefully on Friday, September 10, 2021. Jack was a devoted family man and will be profoundly missed by his wife Wendy (nee Beteau), son Mark (Deanna) and daughter Cori (Rob). Cherished Papa of Jake (Rae), Luke, Sydney and Zack and great-grandfather to Levi. Dear brother of Kathy Mitchell (Mike), Bonnie Irvine (Steve) and predeceased by brothers Jim and Gerry and parents Weldon and Fay Egers and Bern and Marg Beteau.

Jack lived a life so full that it's hard to do it justice in a short tribute. At the young age of 15 he moved from his hometown of Lively, Ontario to play for the Kitchener Rangers where he met the love of his life, Wendy. He went on to have a storied career in the NHL with the New York Rangers, St. Louis Blues and Washington Capitals.

Among the many stories to be told of his career in the NHL, Jack is an original member of the Capitals, who claimed him in the 1974 NHL Expansion Draft, and holds the distinction of scoring the first winning goal for the team on October 17, 1974, against the Chicago Black Hawks. When his hockey career came to an end, Jack brought his family back to Canada where he became a firefighter with the Kitchener Fire Department (KFD), ultimately ascending to the rank of Captain. He always held dear the pride and brotherhood found with the KFD and all his first responder colleagues. But most of all, Jack took pride and treasured dearly the love of the family he and Wendy created and the close friendships he made along the way.

An avid story and joke teller, he was in his element entertaining anyone he crossed paths with in his captivating and charming way. He lived life to the fullest and spent much of his personal time golfing, hunting, fishing, and traveling. Suffice it to say he will be sorely missed by many. The family wishes to extend heartfelt thanks to Dr. Sohaib and the amazing ICU staff at Woodstock Hospital. Jack marveled at the care and compassion he received from everyone over the past couple of weeks and we are so grateful to you all.

To keep everyone safe in these times, the family will lay Jack to rest in a private ceremony and look forward to welcoming extended family and friends to a Celebration of Life in the coming Spring. In lieu of flowers, please consider a donation to the Canadian Pulmonary Fibrosis Foundation in Jack's memory. Arrangements entrusted to Brock and Visser Funeral Home, Woodstock, 519-539-0004. Expressions of sympathy may be given at http://www.brockandvisser.com
---
While historically, Egers will always be linked with the Washington Capitals, Egers also spent parts of four seasons with the Rangers during two separate stints during the Emile Francis era.
I know "ironically" isn't the right word here, but like any death, this news is sad. Had Rod Gilbert still been alive, he would've been the one to provide more insight on Egers, and from a personal perspective at that, as Gilbert had previously done during the passing of ex-teammates such as Bob Nevin, Jim Neilson and others.
It just feels like all of these recent deaths are a reminder that no one lives forever. For fans older than me, and I know there are many of you out there who read these blogs, it feels like players from our childhood are leaving us faster and faster as the years go by.
RIP JACK EGERS.
---
Finally as we wrap up here, a plug and a shout-out.
On Monday 9/13, "The Blueshirt Underground Show" returned with another award-winning episode. To watch the show, click the play button below:
---
Speaking of Ranger themed podcasts/shows, I'd also like to send my congratulations to Shawn Stein of the "Two Guys One Cup" podcast on the birth of his new daughter Samantha Stein. May she witness more Ranger Stanley Cup victories in her first forty years than her father did!
And while on "Two Guys One Cup", that podcast will return on late Thursday night/early Friday morning. Search for "2 Guys 1 Cup" on iTunes. Heck, I heard a "New York Rangers Rink of Honor and the Rafters of Madison Square Garden" book review is upcoming too! Must-listen stuff I tell ya!
---
If you haven't already, subscribe to this blog for the next update:
---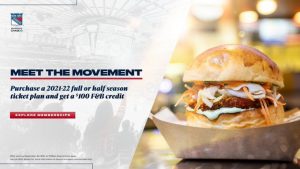 Up next: reading all of your reviews and feedback to "The New York Rangers Rink of Honor and the Rafters of Madison Square Garden." I'm also working on book number two, "The Best and Worst Trades in New York Rangers History (And Everything In-Between)". Working title! That said, I'm about 120 pages into it and if you read my first book, it will be just as detailed, as I will talk about every trade the Rangers have ever made prior to whenever I finish and release it. (Another scintillating 500+ page turner!)
Until next time…
Stay FABULOUS my friends.
As always here, thanks for reading and…
LET'S GO RANGERS!
Sean McCaffrey
BULLSMC@aol.com
@NYCTHEMIC on Tweeter