Greetings and salutations everyone and welcome to another blog here on BlueCollarBlueShirts.com. Once again, RIP #7, Mr. Ranger himself – Rod Gilbert.
The main event of tonight's blog will be a recap of Rod Gilbert's memorial service/tribute to his life ceremony, a service which took place on Tuesday 9/7/21. The Gilbert family, who previously sent out an open invitation to anyone who wanted to attend the service, also provided a stream of the ceremony to the public and to anyone interested in watching. As you can tell, I was one of the people interested in watching the stream/feed.
Watching the service is one thing. Recapping it (where the word RECAP is what I mean here, as this is not a review), is another thing. Very quickly, I want to explain why I'm providing a recap of Gilbert's service:
— Many of you may have missed the stream, where as of this writing, this stream is still available online. I'm not sure how long this stream will stay up, so for those of you who may have missed it – this is your chance to hear and read about some of the great stories which were told during the service.
— When writing my book and trying to find out information on some of the older legends of New York Rangers' history, it was tough. For example, there aren't many stories out there about what Andy Aitkenhead did in retirement. When people pass away and as time moves along, stories are taken to the grave. However, when it comes to someone like a Tex Rickard (who like Gilbert, had a very public funeral, which thousands of people attended), it was easier to get information. As someone who is a big fan and proponent of history, I think this service should have a recap of it somewhere for archival purposes.
— In the future, whether it's 50, 100 or 200+ years from now; fans and historians of that era will want to know about past legends and historical figures, including icons from the hockey world. Rod Gilbert is one of those people. Even for as silly as this site and these blogs can get, who knows – perhaps some historian or fan from the future will want to know more about Rod Gilbert.
In the event that this site is one day archived, perhaps those people can find these stories from this period of time. I know first-hand how all of this is extremely important – after all, just look at all of my stuff on Frank Boucher – writings which eventually turned into a book that I wrote and which created a life-lasting friendship with Frankie Baird. That said, this is about Rod Gilbert and not about me.
— Since this service was public, I don't feel like I'm crossing any lines or invading anyone's privacy. Had this service been a private event, I wouldn't have recapped this at all. The feeling I got after watching this was that the family wanted to share Rod Gilbert's life with everyone and I felt fortunate to be "let in" with this feed/stream.
— Lastly, as just a blogger and as just a fan – I choose to write about what interests me. I don't feign to care about prospects and draft picks from European leagues, which is why I don't write about that stuff. History has always been my passion and will always be my forte. This is a story that honors a legend and a story that also has historical significance. I just think it's important to have a recap of this event out there, as really, there were a lot of beautiful speeches at this event – speeches that I think Ranger fans should go out of their way to hear.
Outside of the Rod Gilbert service recap, I also have all the latest news and notes from Rangerstown, USA for you too. In addition, I also have an excerpt of my now released book, "The New York Rangers Rink of Honor and the Rafters of Madison Square Garden", which you can now purchase today at: https://www.amazon.com/Rangers-Rafters-Madison-Square-Garden/dp/B09F1D2G4V
Previously on this site, I have released chapters/profiles from the book on Art Coulter and Bill Cook. Tonight, I will be sharing an excerpt from the book on Tex Rickard – a man whose life really needs to be put on the silver screen and/or on a streaming service. (I may have mentioned this 789678967896896 times before!)
As I also mentioned the last time I wrote you here – Amazon jumped the scheduled release date of my book, where people who didn't want a signed copy are now receiving these books before the people who wanted a signed copy. Just to explain to everyone one more time here, especially since anyone who pre-ordered a signed copy of the book deserves an explanation – Amazon shipped unsigned copies of the book first and before sending my order of "author copies"; author copies which I'm signing and mailing out directly to you.
As of this writing, I'm being told that I will receive my order on 9/12. I already have all 500+ envelopes/boxes ready to go, as all that's left to do is sign the book and ship it out. Once I receive and ship to you, I'll email everyone who has pre-ordered a notification of shipment.
In addition, I'll have something like 40+ extra copies of the book once I get my shipment from Amazon. In other words, if you want a signed copy, there's still time left.
For those looking to pre-order signed copies, click the link below:
---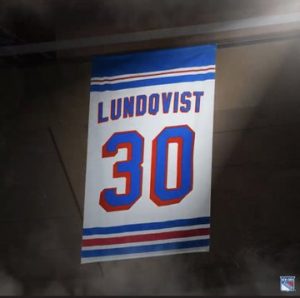 Before giving you the usual ramble about the PLUGS and everything else, I also want to mention this. This book is doing well on Amazon, where at one point, it was the #2 best seller in the hockey books department. Of course, those numbers don't include the pre-orders that I have received.
From the people who do have a copy of the book, I've received a ton of overwhelmingly positive feedback, and I'm truly grateful for that. I just can't wait to get these pre-orders shipped out, since anyone who pre-ordered the book is a true supporter of the project.
In addition, if you notice, I usually do 2-3 blogs a week on this site. This time, I'm over a week since my last blog on this site. The reason for that? Easy – I'm already 100+ pages into my second book, "The Best & Worst Trades in New York Rangers History and Everything In-Between". And yes – that's the working title. I know it's "wordy"!
Who knows when I'll get this second book done? For right now, I'm just taking advantage of some free time that I have. That said, this new book will explore EVERY trade in all of Rangers history, where of course, I'll make mention of the best and worst trades that the franchise has ever made. Of course, the hardest part of this book is cataloging every trade ever made, but I have made a dent into this project. Fingers-crossed, by this time next year, this book will be ready for sale.
And without you guys supporting "The New York Rangers Rink of Honor and the Rafters of Madison Square Garden", I wouldn't even attempt a second book. Thank you all.
With that all said, and as usual, before getting into the meat and potatoes of tonight's manifesto – the PLUGS segment.
Here are my last few blogs in case you missed them:
---
---
---
As mentioned, on Tuesday night, the family of Rod Gilbert provided a stream of Gilbert's service. As of this writing, the link is still active and you can watch the service for yourself here: https://boxcast.tv/view/rod-gilbert-public-visitation-ttecj7ebdu9im1nazy2w
I'll mention this again below, but this ceremony/tribute/service was presented in a light-hearted fashion, where while everyone attending was in mourning – this was solely about celebrating Gilbert's life. Many funny stories were told and many people were able to laugh while remembering Gilbert.
While this isn't about the alumni or peers of Gilbert that were in-attendance, many members of the Rangers alumni and Gilbert's peers were inside of the church. Of course, many of Gilbert's friends and peers couldn't make the service, either due to old age and/or the current restrictions & issues of air-travel during this pandemic. That's just another reason why this stream was offered publicly to begin with. In other words, I wouldn't make a big deal or have a concern over who was there and who wasn't there – and not that I think you would anyway.
(Of note: I'm hearing horror stories about traveling from the USA into Canada & vice-versa, and personally that scares me, since I have a trip to Vancouver planned in November. I have no problems with the vaccine or having to wear a mask in Canada (those are the rules and if I want to play I have to abide by them and I'm not looking to spark a debate on this issue here), so I'm hoping everything goes off without a hitch.)
Without further ado, let me now give you the recap of the event/service/ceremony/tribute.
---
The broadcast/stream opened up with some still shots of Rod Gilbert with his family and from his hockey career. During the presentation, multiple shots of Gilbert with his GAG line teammates were also shown. This collection of slide-show photos were a great tribute to not only Rod Gilbert, but to his fans and family as well. Even if you don't watch this entire stream, a stream which ran 84 minutes – you should at least watch the beginning, just to see these amazing pictures, with some of these pictures never-before-seen to the public.
Comedian and actor Joe Piscopo was the emcee/host/not sure of the proper word to use here of this memorial service, as this service was more of a "celebration of life" type of thing rather than anything else. And really, this was a good approach to take, because as mentioned on this site previously and as mentioned by Piscopo himself, Gilbert was sick and in pain for a while. I don't want my words to come off wrong here or to be misinterpreted, but at 80 years old, Gilbert lived a great life. I hope you understand what I mean. All life is precious, but eighty years old is a hell of a number. Obviously, someone younger passing away wouldn't allow such a "celebration" approach. That's all. I think you get what I'm saying right now.
Piscopo said he was asked by Judy Gilbert, Rod's wife, to be the host of this service. Piscopo then mentioned his relationship with the Gilbert's and infused some comedy into his opening speech. Piscopo mentioned that he "doesn't want to mourn" and said that Gilbert "always embraced life." Piscopo said Gilbert's death rocked everyone, but Gilbert loved life and loved enjoying life – which is why Piscopo and everyone wanted to celebrate Gilbert's life on this night.
Piscopo then made mention of Flyers legend Bernie Parent, a Parent who was one of Gilbert's friends and who was in-attendance. Piscopo then sang a version of Frank Sinatra's "New York, New York", which was tough to listen to due to audio issues. However, you could hear Piscopo work in "Mr. Ranger" and "Ranger for life" into the lyrics.
Piscopo then introduced Bruce Beck to the attendees. There were audio issues here too, as a priest had to fix Beck's microphone, which got a laugh out of the crowd.
Beck ran down Gilbert's accomplishments and talked about how the fans loved #7. Beck said Gilbert was "the best". Beck then said none of Gilbert's numbers and Hall of Fame distinction really tell the true story of Gilbert, as Gilbert was more than just that. Beck brought up his own debut into hockey broadcasting and how Gilbert calmed his nerves. Beck said he was friends with Gilbert for 39 years and brought up how he and his wife were friends with Gilbert and his wife.
Beck then brought up some funny golf stories with Gilbert and Gilbert's signature "waggle" while golfing. Beck also mentioned Gilbert's numerous charitable endeavors, including the Garden of Dreams and the Ronald McDonald charity. Beck also told a funny story about how Gilbert was "banned" from doing live interviews on NBC, not because of anything Gilbert said, but because Gilbert could talk forever.
Beck talked about the nicknames that he and Gilbert had for each other, where Gilbert used to call Beck "Bubba" and later on – "Chubba Bubba". Beck then brought up a funny story about Barry Beck himself. Beck also mentioned that JD was in-attendance.
Beck brought up how Gilbert was always a huge family man and told a story about Gilbert visiting Orlando, Florida. Beck then got choked up, while talking about the deep admiration and friendship he had with Gilbert. Beck said Gilbert was an "icon of greatness".
I want to mention and reiterate here, there's no way anyone can "review" a memorial service. Please don't twist around what I'm about to say next – Beck's speech was great. You could really appreciate the bond he had with Gilbert. That's all.
---
Piscopo then returned to the podium, where it was tough to make out what he said. However, as was evident, he introduced John Davidson, as JD spoke to the crowd next.
JD, Gilbert's ex-teammate and former Team President of the Rangers, mentioned that Barry Watkins was in-attendance. JD then brought up a charity harness race, where he was asked to race a horse. JD said he only attended because Gilbert was going to be there. JD mentioned how Gilbert was upset about being in the far lane, as the number 8 horse, as opposed to JD being the number 3 horse, thus JD being closer to the rail than Gilbert was. JD brought up Gilbert's competitive spirit and how Gilbert wanted to win the race. JD then said that Gilbert gained a 20-length lead and won the race. This was a funny story too and I'm glad I got to hear it.
JD talked about Rod Gilbert going into the Hall of Fame. JD mentioned the great turn-out this service received and said this was like a Rod Gilbert family reunion. JD also said how special this service is/was. JD then pointed out that Pete Stemkowski, Steve Vickers and Jean Ratelle were all inside of the church too. JD then said that Gilbert was loved by all.
JD then brought up the charity games the Rangers used to do (Super Skate, as presented by Christopher Reeve), and how he and Gilbert were part of it. JD mentioned in one game, you had the drummers of the Red Hot Chili Peppers and the Barenaked Ladies as the two goalies. JD said when Gilbert passed, how the drummer from the Barenaked Ladies reached out to JD and said how funny Gilbert truly was and how Gilbert made everyone feel needed.
JD said Gilbert was a great teammate and always treated everyone well. JD said how special it was for Gilbert, a native Quebecker, to become an icon in the World's Most Famous and Greatest City – New York City. JD said that Gilbert was a huge piece of NYC for over 50 years.
JD brought up that some of Gilbert's teammates had recently passed, such as Jim Neilson, Bob Plager and Bob Nevin. JD said he hopes all four of them are playing golf in heaven and mentioned how special all these men were/are.
Perhaps JD's best line of his speech, when talking about something Gilbert once said, was the following – "I can never retire from this job, there are still some Ranger fans I haven't met yet." No joke, that's a line for a T-shirt or a memorial plaque. It's also a line that I don't think I'll ever forget.
JD then wrapped up. As you'd expect, JD, as usual, was great in this public speaking role.
---
Up next at the speaking podium was Holly Burnaby, Rod's step-daughter. Holly said Rod nicknamed her "Holly Dolly" and always treated her like a real daughter.
Holly brought up how Gilbert came to NYC knowing no English and when he first went out to eat with his Ranger teammates, he'd let them order first and then tell the waiter/server – "same thing".
Holly said Gilbert told many of the same stories over his life, where her mother/Rod's wife Judy always acted like she heard these stories for the first time. Holly then joked about Gilbert's thick French accent, mentioning that when Rod first told her that he was marrying her mother, she had no clue what he was saying. That story got some laughs.
Holly mentioned how Rod would always take her to the Garden and brought up how the security guards during the 1993-1994 season would always refer to Rod as "Holly's Dad", where Rod would jokingly reply with – "hey, it's my number that's hanging from the ceiling!"
Holly said that Rod always preached how much family is important in life and his favorite phrase of "You Don't Stop!" and how that signature phrase would later turn into "What's your point?"
Holly said while Rod will always be "Mr. Ranger", he was always much more than that to his family. Holly brought up Rod's family nickname of "Grand-Pere", which means grandfather in French. Holly then said this morphed into "paper" for his seven grandchildren.
Holly said that Rod was always competitive, and he would always try to gamble on certain events, including on the outcome of reality TV shows. Holly also mentioned how Gilbert was always excited when the Jets won, even if that wasn't very often. (Her words, but my sentiment too!)
Holly then talked about some of her trips with Rod and how she will miss all of them now. Holly then brought up Rod's birthday, which was July 1st – Canada Day, and how Gilbert would always joke that Canada had a holiday for him. Holly then cleared up the date of Rod's passing, saying that Rod passed on August 19th, and not August 22nd as previously reported/thought. Holly said that August 19th is "National Humanitarian Day" – extremely fitting for Rod Gilbert.
Holly said that Rod is now watching everyone from the rafters above and closed her speech by saying she will always miss him.
Again, another great speech here. This was tough, because obviously I only knew Rod as a Ranger and not what he did in is day-to-day or family life. I felt like I was "let inside" into Rod's life here and Holly did a great job of illustrating Rod Gilbert, the person – and not just as a hockey player.
---
Joe Piscopo then introduced Tom O'Neill, a former CBS producer and an owner of a bar (TJ Tucker's) – a bar where Rod first met his wife Judy.
O'Neill then read a story that the family found on social media, after Rod's passing, from one of Rod's friends, Steve MacFarland. (I could be wrong on the last name, it was tough to make out.)
During the story, it was brought up that Rod Gilbert, and not Joe Namath, was the "King of NYC Nightlife" – something that stopped once Rod met Judy.
One funny story told here was that when Rod Gilbert was asked, "are hockey fights fixed like wrestling?", Gilbert responded with – "if they were, I would've won a lot more!" I'm cracking up as I type these words!
Tom said he was friends with Rod for 50 years and told a story from when they first knew each other, where Rod told Tom he had to go with him to a telethon. Tom said Rod mangled the pronunciation of a brand of watch on-air and how everyone laughed about it. Another good story here.
---
Joe Piscopo then introduced Brooke (no last name given) to the crowd, another step-daughter of Rod's. Brooke said she first met Rod at the age of 17 and mentioned how she couldn't google who he was at the time, but knew he was a famous hockey player. Brooke then brought up one of my famous lines – "never let the truth get in the way of a good story" and recounted some of Gilbert's infamous stories, including Rod's famous line of "You Don't Stop!"
Brooke brought up how Rod would attend her high school lacrosse games and would scream out "CHECK HER BROOKIE!", despite checking not being legal in those games. This got a laugh out of the crowd.
Brooke said that Rod gave her life advice and helped her get a job with "Saturday Night Live" and how this all led to a face-to-face interaction with Mike Myers. Brooke said Rod was also known as "The Mad Flasher", because he always loved to take pictures of his family.
Brooke also brought up how Rod was a deeply religious man and how he would attend church every Sunday, even when on the road. Brooke also mentioned that Rod would always abide by his religious beliefs in his daily life.
Brooke brought up all of Rod's charitable endeavors and how Rod always prided himself on always using his celebrity for positivity and for the greater good.
Brooke said that she was Rod's "gift concierge", as Rod always asked her to buy the best presents for her mother/Rod's wife Judy and told a story about a recent gift that Rod got for Judy.
Brooke said that while Rod was a HOFer, more importantly, he was a HOFer as a person and heaven now has a right-wing angel.
Again, another fantastic speech.
---
Up next to speak was Jean Ratelle.
Ratelle immediately expressed his sympathies to both Gilbert's family and his friends. Ratelle then told a story about first meeting Gilbert and how he knew from day one how he had to be on the same line as Gilbert. Ratelle also mentioned how all of this took place 68 years ago.
Ratelle said both he and Gilbert came from huge families and how they made it to New York together. Ratelle also brought up how the two played baseball together and how Rod once struck him out in 1958 – something that Gilbert would want known!
Ratelle said the two of them always loved hockey and how Rod always lived his life with enthusiasm, mentioning how Rod always said (in an entertaining fashion) how he discovered Ratelle.
Ratelle said the GAG line was always greater together than they were apart. Ratelle said playing with Gilbert and Hadfield was a dream come true and how much he loves seeing all three jerseys in the rafters of MSG.
Ratelle said he talked to Rod during the final days of Rod's life until Rod was no longer able to speak any more. Ratelle then wrapped up.
This was the shortest speech of the lot, as you could tell that Ratelle was visibly emotional about the loss of one of his closest friends.
---
Up next to speak was Boomer Esiason. Boomer said he knows everyone is wondering, "what am I doing here?" Boomer said he had a great relationship with the Gilbert family and how he had a 53-year love affair with Rod Gilbert, mentioning that he first attended games at the new MSG, aka MSG IV – the current MSG of today.
Boomer talked about attending his first Ranger game in 1968 and how Rod Gilbert immediately caught his eye. Boomer said as an athlete, Gilbert was easy to admire and said that is why he chose #7 as his own jersey number during his NFL career. Boomer said he always wanted to play hockey, but he could never skate and how he would play rec-league games in snow boots – while as a goalie. Boomer said when Gilbert first saw this, he told Boomer to give it up, which again, got a ton of laughs.
Boomer then told some stories from his Jet days, where it was brought up that while Rod was a Giants fan, he was a Jets fan for at least three years! Boomer then brought up his son's own affliction, which is Cystic Fibrosis. Boomer said when his son was only three years old in 1994, he took his son to all of the Rangers playoff games. Boomer then talked about when he first met Rod Gilbert later in life, while the two #7's were in Colorado at a charity event. Boomer then said how Gilbert always raised money for Cystic Fibrosis and the connection they had because of it.
Boomer said how he and Gilbert were once part of a charity sledding event in Colorado and how Gilbert was very competitive, just like Holly and JD had previously mentioned.
Boomer then brought up how Gilbert always raised money and was involved in the battle to cure Cystic Fibrosis. Boomer said that Gilbert once told him in the mid-1990's that his son was guaranteed to make it and would live a normal life. Boomer's son is now 30 years old. Boomer then said that his son is now married and was able to biologically produce a child – something that was unheard of (reproducing) when his son was first diagnosed with Cystic Fibrosis.
Boomer said Rod's legacy to him, was not only as an idol, but as someone who always raised money for Cystic Fibrosis. Boomer then thanked #7 before wrapping up. Another great speech here, and a lot of this stuff is probably unknown to most fans.
---
Joe Piscopo returned and then introduced a retired NYPD officer (lieutenant) named Luigi. (Tough to make out the spelling of Luigi's last name, so I won't attempt it here.) The two then sang Frank Sinatra's "That's Life", which was one of Rod's favorite songs.
After the song, we got another slide-show of pictures and clips of Rod's life and playing career. As a Rangers fan, this was awesome, as a lot of this footage is tough to find. Of note, to really hit home how Rod Gilbert truly was "Mr. Ranger", in a lot of his personal/family photos, he was often shown wearing Rangers gear. Also included during this montage was Rod Gilbert's jersey retirement ceremony and footage from his wedding ceremony.
Following the video, the Pastor of St. Monica's addressed the crowd. The priest said not everyone gets a wake like this, but Rod Gilbert was certainly most deserving. The priest also said that Gilbert will be buried tomorrow (Wednesday, 9/8). The priest then led the crowd into prayer.
After the prayer, the closed casket of Gilbert's was shown being taken out of the church, as it was then being brought to a local funeral home. This then concluded the ceremony/stream.
---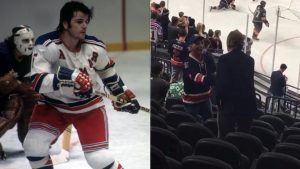 All in all, as a fan, I felt privileged to be allowed to watch this. Not only did the Gilbert family provide a valuable and excellent service to Rod's friends and family – they also allowed hockey/NYR fans to view this too.
I know I've said this about 7678968967967967896 times on this site, but this service, and hearing all of these stories, reminded me that I wished that Rod Gilbert wrote a "tell-all" autobiography. I'm sure his stories from his single-life would've been most entertaining!
In either event, RIP Rod Gilbert. If the Rangers ever decide to "bronze" someone in the form of statue – Gilbert, along with Adam Graves, would be my first two candidates for this honor.
For more on this service and from someone who knew Rod Gilbert personally, Dave Stubbs of NHL.com wrote an article about this tribute, an article which you can read here: https://www.nhl.com/news/hockey-hall-of-famer-rod-gilbert-memorial-service/c-326093538?tid=277548856
---
I know it's tough to switch gears here, especially when going from Rod Gilbert to Libor Hajek, but I just wanted to brush on the current Rangers news before closing out with the Ted Rickard excerpt from my new book.
On September 4th, the website CapFriendly reported that the Rangers had come to terms with their last remaining free agent, Libor Hajek:
#Rangers have signed D Libor Hajek
1 year / 2-way contract

NHL: $874,125
Minor: $70,000https://t.co/5QVBVNnXrl

— CapFriendly (@CapFriendly) September 4, 2021
On Tuesday September 7th, the Rangers confirmed the signing on their website, in a press release which you can read here: https://www.nhl.com/rangers/news/rangers-agree-to-terms-with-libor-hajek/c-326086104
Here's the short press release:
New York Rangers President and General Manager Chris Drury announced today that the team has agreed to terms with restricted free agent defenseman Libor Hajek on a one-year contract.

Hajek, 23, skated in 44 games with the Rangers this past season, registering two goals and two assists for four points, along with a plus-two rating and 10 penalty minutes. The 6-2, 203-pounder has skated in 77 career NHL games over parts of three seasons (2018-19 – 2020-21), all with the Rangers, registering three goals and seven assists for 10 points, along with 28 penalty minutes. 

The Smrcek, Czech Republic native was acquired by the Rangers in a trade with Tampa Bay on February 26, 2018. Hajek was originally selected by the Lightning in the second round, 37th overall, of the 2016 NHL Entry Draft.
---
It's funny as I write these words, as on Tuesday, I saw a ton of overreaction to this Hajek re-signing, with 99% of that reaction being overwhelmingly negative. By the reaction I read from some fans, you'd think that the Rangers and Chris Drury gave Hajek a contract that rivaled the contract of Jacob Trouba's!
For those more sane-minded, let's quickly break this contract down.
Hajek will earn $874,125 next season, providing he's on the Rangers roster. In other words, this salary is a drop in the hat. Heck, it's half of what Jack Johnson got last season!
If Hajek doesn't make the team, he's a $70K salary cap hit for Hartford – nothing that anyone should be shedding tears about. Then again, the younger fans of this franchise will always find something to gripe about all while ignoring bigger issues.
To me, and in my opinion, Hajek's signing is pretty much an insurance deal, meaning that if Nils Lundkvist isn't ready and needs time in Hartford (in order to get acclimated to the North American game), you now have Hajek and his NHL experience on stand-by. Even then, Hajek may not play for the varsity club next season – as he's about two or three slots away from the Top Six on the depth-chart among all Rangers defensemen.
Right now, the left-side of the Rangers defense pretty much seems locked up, with Ryan Lindgren, K'Andre Miller and Patrik Nemeth as your top three LD. While Hajek could go to the right-side, he's not bumping Adam Fox or Jacob Trouba. And if RD Nils Lundkvist needs time in Hartford, the Rangers also have other options, in guys like Zac Jones, Anthony Bitetto and Jarred Tinordi; with Tinordi recently being highly-praised by Gerard Gallant himself.
So yeah, signing Hajek on the cheap is the least of my concerns.
From what we've seen, and as we can predict, since I know it, you know it and everyone else knows it – the younger section of the Rangers fan base aren't exactly the most logical. After all, these are the same people that will scream about meaningless analytics and charts until they are blue in the face all season long – only for all of their bullshit to be disproved every season come playoff time. If I've said it once this off-season, I've said it 9767867896789 times – this Rangers roster is being built to win during the playoffs, and not to win a Presidents' Trophy or some sort of Steve Valiquette "EXPECTED STATS" award.
When it comes to the Rangers fan base on social media, we all know this – Twitter can be like the movie "The Warriors", where it's non-stop craziness, while Facebook tends to be a like a bale of hay, slowly moving side-to-side, like something out of an old Western film. If you look at the demographics, Twitter skews young, while Facebook skews older. Twitter is for hot takes, memes and nonsense, while Facebook is usually a place where people share pictures of their grandchilden. And there's nothing wrong with that.
(And when it comes to Instagram, and I know this isn't 100% true, as grown men use that service too – that place comes off like a bunch of teenage girls swapping baby-sitting stories and asking what to wear at whatever the equivalent of a sock-hop is in 2021.)
I say all of this, because all over Twitter, I already see Chris Drury being villainized as "Public Enemy Number One." Of course, this stuff comes from the "PAVEL BUCHNEVICH IS A FUTURE HALL OF FAMER" and the "WE DON'T WANT TOUGHNESS IN HOCKEY, WE WANT CHARTS" crowd.
It will be funny to see as the season goes along, who gets the brunt of the backlash from Ranger fans, as you know that's inevitable. While Gerard Gallant, Barclay Goodrow and Ryan Reaves are the likely top candidates from the younger fans – without question, it's Chris Drury who is the 1:2 favorite here.
As I've repeatedly said all off-season, and as I'd like to say it one more time here – it's my prediction that not only will the Rangers make the playoffs this season – I think they'll make some noise too. I think a lot of older fans share that opinion and we'll see who's right come April.
One last segment and it's go-home time!
---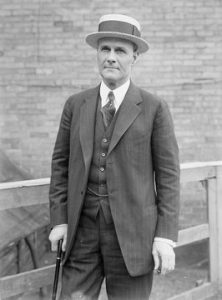 Finally, as we get to the end of this manifesto (hey, I had to make up for lost time), an excerpt from "The New York Rangers Rink of Honor and the Rafters of Madison Square Garden", a book which you can purchase here: https://www.amazon.com/Rangers-Rafters-Madison-Square-Garden/dp/B09F1D2G4V
When working on the book, I pretty much had a deep knowledge of everything I was writing about, where of course, I had to do some research while fleshing out on everyone who is profiled in the book. If there were two men who I really wanted to get into and write about the most, it were Phil Watson and Tex Rickard.
I know I've written so much about Tex Rickard on this site in the past, but I really think a lot of what he did and his life largely goes unknown. After all, away from hockey, like Forrest Gump, Rickard encountered many big names of his era, including Teddy Roosevelt, WC Fields, Jack Dempsey, Jesse James, Wyatt Earp and others. And then there was his whole double-cross against one of the biggest and most notorious bootleggers from the Prohibition Era too, in the former owner of the New York Americans – "Big" Bill Dwyer. It's that story with Dwyer which I'm about to share with you here.
At this time, let me present to you a passage from my new book which is an excerpt from Rickard's profile/chapter. Enjoy!
---
The following excerpt comes from "The New York Rangers Rink of Honor and the Rafters of Madison Square Garden":
During the autumn of 1925, Rickard was offered a chance to purchase an NHL team for New York City. Rickard was quoted as saying something akin to, "I don't see anyone interested in it, and I don't see how it can make any money." However, Rickard did install copper pipes into his new venue, which helped with freezing the ice.
Big Bill Dwyer, a famous New York City bootlegger in the days of American Prohibition, wound up purchasing the Hamilton Tigers out of Ontario, Canada. Tex Rickard would be the one to push Dwyer into the sale and for two reasons. The first reason was that Rickard didn't see any profits in hockey, but Rickard did have an arena where he could profit from someone renting his arena to promote hockey games. The second reason was that Dwyer, known as a criminal bootlegger, wanted a legit business, not only to help his reputation, but where Dwyer could also launder money, if necessary. As I said at the top of this, I told you a film or television series on Rickard's life would be interesting!
On December 15th, 1925, the New York Americans (or the Amerks, as they were known at the time) played the first-ever NHL game in NYC at MSG. As part of Dwyer's rental agreement with Tex Rickard, Rickard would rent out MSG to Dwyer, and in return, Rickard would not form his own team nor rent out MSG to a competing NHL club. Despite his reputation as an honest man, Rickard would soon put dollar signs above his word, as Rickard would go back on that promise in five months' time. This was totally out of character for Rickard, especially when one looks at how honest Rickard was during his days as a boxing promoter.
Of course, this is where it gets really interesting, especially for hockey fans.
Rickard had a pristine reputation throughout his life and was always known for being honest, too honest, if you will. Rickard, throughout his entire tenure as a boxing promoter, as a cost of doing business, would also make payoffs to mob figures, police officials and politicians to ensure his big boxing matches went off without a hitch. That is why it was so out of Rickard's character here to not only double-cross Bill Dwyer, but to stab a well-renowned criminal and bootlegger in the back – and without fear of any repercussions. Honestly, it's amazing that Rickard didn't lose his life over this double-crossing.
Seeing the success and well-attended houses for Dwyer's Amerks, Rickard quickly reached out to the NHL and bought an expansion franchise. Due to his "Tex" nickname, the team was unofficially known as Tex's Rangers, but officially, this new franchise was known as the New York Rangers. Obviously, Dwyer was livid and felt betrayed, but as time went on Dwyer would have bigger problems in life than ice hockey – the law.
According to all accounts, while Tex Rickard was proud of his hockey team, it was never the focus of his life. With a new young wife and child in tow (Rickard's third wife, as his two previous wives and children had passed away), and Rickard's duties with running MSG and boxing – Rickard's hockey team was the equivalent of an impulse toy purchase.
Originally hiring Conn Smythe to run the team, Rickard and his staff at that time quickly pivoted to Lester Patrick to oversee the club. While it was Conn Smythe who assembled the original Rangers – it was Lester Patrick who made history with them.
While Dwyer and Rickard were never hockey men by trade, it not only burnt Dwyer that Rickard and MSG were profiting from Amerk games, but how the Amerk franchise was also a struggling one. After all, Dwyer was paying Rickard to rent MSG while Rickard had the better team. Burning Dwyer even more was the fact that "Tex's Rangers" played at MSG for free.
In fact, during the entire existence of the New York/Brooklyn Americans (with the franchise folding during World War II, which in turn, ushered in the Original Six Era) the Amerks would never win the Stanley Cup.
Making matters worse for Dwyer and even better for Rickard was that in the second New York Rangers season which was the 1927-28 season, the Rangers would win the 1928 Stanley Cup. One could argue here that Rickard hired better hockey men than Dwyer ever did, with Conn Smythe assembling the team and Lester Patrick then taking the franchise over from Smythe.
Hockey-wise, Rickard would go out a winner, as Rickard passed away on January 6th, 1929, due to complications from appendicitis at the young age of 59. Rickard's funeral became a sight to be marveled, as the funeral drew people from all over North America due to the way Rickard connected with people in every city that he worked in.
Granted, Rickard did not care about hockey, but due to Rickard's success in boxing and his ownership of Madison Square Garden, Rickard founded the New York Rangers. Without Rickard, who was beloved by everyone (with the exception of Bill Dwyer!), there wouldn't be a New York Rangers franchise today. After all, while an NHL team in New York City would have always been a possibility (maybe the Amerks would've survived the World War II era), due to Tex Rickard, the team became the "Rangers" – a name that this team wouldn't have had, had Rickard not existed.
For Ranger fans, Rickard's legacy will always be as the founder of the New York Rangers. However, Rickard founded the Rangers in the final 2 1/2 years of his life. Rickard admittedly also did not found the team for the love of the game, as other hockey owners of his time did. Instead, Rickard founded the Rangers for the pure profit of it all. That doesn't make Rickard a bad guy or anything like that, but romanticizing Rickard's legacy or impact with the Rangers would be a pure exaggeration. That said, without Rickard, the Rangers and perhaps Madison Square Garden wouldn't exist today.
In the present day, I feel that many Ranger fans don't know how their team was founded, nor know how Rickard was the driving force behind it. While Rickard's legacy is in boxing, Rickard's legacy lives with every game that the Rangers play.
In October of 2015, New York Rangers alumni, Adam Graves, Rod Gilbert and Ron Duguay, all joined the grandson of Tex Rickard and the Fordham Prep Hockey team at Tex Rickard's gravesite in Woodlawn, NY. In a special ceremony, 86 years after Rickard's passing, everyone paid tribute to the founding father of the New York Rangers.
Like others on this list, I would argue that Rickard deserves his own banner in the rafters of Madison Square Garden. After all, without Rickard, there would be no Rangers or Madison Square Garden today.
---
If you haven't already, subscribe to this blog for the next update:
---
Up next: awaiting the arrival of my author copies from Amazon, so I can ship these books out to everyone who has pre-ordered.
And wouldn't you know it, we're under three weeks away from the first Rangers preseason game of the 2021-2022 season. This summer has most definitely flown by.
Until next time…
Stay FABULOUS my friends.
As always here, thanks for reading and…
LET'S GO RANGERS!
Sean McCaffrey
BULLSMC@aol.com
@NYCTHEMIC on Tweeter