Greetings and salutations everyone and welcome to another blog here on BlueCollarBlueShirts.com. It's 10PM – do you know where your self-entitled European child is? I kid, I kid!
What I'm not kidding about is the top story of Rangerstown, USA – Nils Lundkvist's request to be traded out of New York.
If you haven't already heard the news, on Thursday, the Hall of Fame scribe, Larry Brooks (the only reporter on the beat that breaks news), reported that Lundkvist has asked for a new NHL location, where in addition, the young Swede has made his intentions known – if he's not traded – he's not showing up to Rangers' training camp in three weeks time.
You can read Brooks' article/story here: https://nypost.com/2022/09/01/rangers-trying-to-trade-frustrated-nils-lundkvist/
I don't believe I have to say this again, but for whatever reason, I still have readers telling me that they don't believe what Brooks reports.
For the 78967866896976th time – Brooks is the only reporter on the Rangers' beat with any sources. While the rest of them are posting pictures of what they ate for brunch, Brooks is the only one on the beat to break real news.
Furthermore, and for many years now, whenever the Rangers want to leak a story (usually during contract negotiation time, where they then use the press to their advantage), they use Brooks as their conduit.
Need more? When James Dolan fired Jeff Gorton and John Davidson, who did Jimmy D. go to and then give his first public interview to in some time? Yep, Larry Brooks.
Want some irony? I had a few people tell me that they didn't believe Brooks when he said a month ago that the Rangers were interested in former Blueshirt, Jimmy Vesey.
On Friday, September 2nd – Vesey's return became *official – but more on that asterisk after we discuss Lundkvist.
---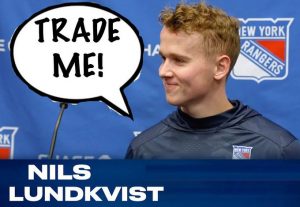 Maybe because there's not much else to talk about, as we still have three weeks to go until NHL training camps open for business, but I saw a ton of overreaction to Lundkvist's trade demand. I don't get it.
As Brooks laid out in his story, it's a numbers game. The Rangers can only dress three right-handed defensemen. Two of those players are locked-up to long-term contracts, the 2021 Norris Trophy winner Adam Fox, and new team captain, Jacob Trouba. The western Canadian Braden Schneider, the other rearguard involved in this equation, had a far more superior campaign than Lundkvist did last season.
In addition, when Lundkvist went down to Hartford during the second week of January 2022, it was Schneider who went up to New York – and that's where these two stayed for the remainder of the season.
Another numbers game? Only one player can quarterback the Rangers' power-play and there's just no shot in hell that Lundkvist is going to usurp Fox.
While I don't want to turn this into a debate between North American and European players; just two weeks ago, I dove into this subject. Rather than repeating everything in this space, you can read that blog here: https://bluecollarblueshirts.com/82222/
I only bring up Lundkvist's Swedish heritage for one reason – he now joins a recent list of Europeans, and for whatever reason, either couldn't hack it in New York or have been disappointing with the Rangers.
If you go back, and read what I first said about the Rangers at this time last year, I said that I felt that Lundkvist should've began the 2021-22 season in Hartford, mainly because the rinks in Europe are different than the North American surfaces.
Furthermore, and most importantly, the style of game/brand of hockey between the NHL and the inferior leagues in Europe are much different too. It was just my opinion that some sort of acclimation process to the North American game was required. Again – my opinion – not a fact.
As stated then and as I'm saying again now – I thought that Lundkvist was put into a bad situation – and something that first began before he was ever drafted.
---
Call it a string of bad luck or whatever phrase you want to use here, but from day one – lofty, and often unrealistic expectations (especially by excited European fans), have been bestowed upon Lundkvist. His North American career has also been plagued a bit, although through no fault of his own.
Not only was Lundkvist a first-round pick, he also soon became one of the players involved in one of the Rangers' "The Letter" trades, as orchestrated by then Rangers' general manager, Jeff Gorton.
Over four years following that deal, where Gorton shipped Ryan McDonagh and JT Miller for a collection of prospects and draft picks, players who turned into Vladislav Namestnikov, Brett Howden, Libor Hajek, Karl Henriksson and Lundkvist himself – it's safe to say that Gorton lost that trade – and lost it big time.
Want a deeper explanation about this trade? Just wait until I release "Tricks of the Trade – A Century-Long Journey Through Every Trade Made In New York Rangers' History!" And yep, I'll have another update about that title for you tonight!
When Gorton made this trade in February of 2018, he was banking on at least one of these young players eventually stepping up and becoming a pillar of the team. I think it's safe to say that never happened. Funny enough, of the lot, it's the seldomly used Libor Hajek who has any chance of playing for the club during the 2022-23 season.
While Lundkvist had no control over this trade, nor the Rangers selection of him either; he was then involved in another situation that he had nothing to do with.
On June 3rd, 2021, Lundkvist, who could've waited a year and then become a free-agent (as Jimmy Vesey had done many years prior), signed a three-year deal with the new general manager of the franchise, Chris Drury.
Prior to Gorton's firing and Drury's hiring, there was that whole situation with that Tony DeAngelo fellow, where if you don't know what happened by now – I don't know what to tell you!
When DeAngelo was exiled, wrongly or not, the Rangers had to replace #77's offensive production. The Rangers were hoping that Lundkvist would be that guy, and at nearly one-fifth the price too. (Lundkvist's low salary was beneficial for the Rangers – especially since Drury had to give Fox a major raise – and as the g.m. did.)
If that wasn't enough, once Lundkvist joined the team, he chose jersey #27 – McDonagh's old number.
It doesn't end there.
---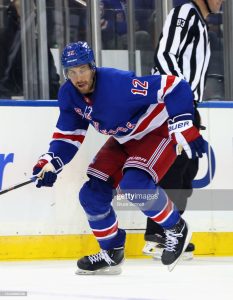 Prior to Lundkvist making the Rangers' roster out of camp, one thing was obvious – it was the American Zac Jones who outplayed the Swedish darling. However, Drury had just signed the Swedish Patrik Nemeth to a three-year deal during the off-season, with the hopes of the veteran rearguard being able to bring his countryman along, and help in Lundkvist's acclimation to the NHL. That never happened either.
(It also makes you wonder. While the plan was always Nemeth/Lundkvist, if Drury didn't land Nemeth, and had to sign a veteran North American defenseman instead, would it have been Jones who made the cut, rather than Lundkvist? If that happened, while Lundkvist may have still sought out a trade today, perhaps he would have had more value than he presently does.)
Rather than playing well and propping up Lundkvist; Nemeth had one of the worst seasons of his career, had personal issues off-ice, became a regular healthy scratch, and come the off-season – he was traded in a salary cap dump deal to the much heralded Arizona Coyotes. (Yes, that's a joke!)
To summarize: Lundkvist was hoped to help the Rangers post rebuild, then desired by the club to replace Tony DeAngelo, took Ryan McDonagh's jersey number, was outplayed by another young defenseman during camp, and his "Swedish babysitter" needed someone to clean up his own messes.
This was not an ideal situation, but at the same time – it's not like Lundkvist didn't get a chance either – he just wasn't ready. Who knows if he'll ever be ready, but this much we can say for a fact – his timing is poor. It happens.
With hindsight being 20/20, even had Lundkvist began his rookie season in Hartford – he was never going to wrest away the power-play quarterback position from Fox, nor was he going to bump Trouba down the line-up either.
The ascension of the promising Braden Schneider was just the cherry on top – and that's if you ignore that perhaps both Jones and Matthew Robertson are higher up on the depth chart than Lundkvist too.
Maybe this was a lot of "word salad" just to say that I can see why Lundkvist wants out. He'll never get a chance in New York. Again, he's somewhat a victim of timing.
In addition, and as Brooks described in his article, this isn't a Vitali Kravtsov or Lias Andersson situation.
Lundkvist is handling this with maturity, although perhaps he could have made his demands known earlier – although that's assuming that this demand just broke. (Brooks just happened to report it on Thursday – who knows how long this has really been going on?)
If there's anything that caught my eye when reading Brooks' story, it was this – Claude Lemieux, a long-time Rangers' nemesis, and the father of former Blueshirt Brendan, is Lundkvist's agent. Let's explore that for a bit.
---
If you do some googling, and land upon https://puckpedia.com/agent/claude-lemieux, you'll notice that Lemieux, who is President of the 4Sports agency, currently has 26 players inked to active NHL contracts, deals which pay these players a total of $246,787,505 ($60,858,335 annually).
Among Lemieux's clients? A few former Rangers, including his son Brendan Lemieux and Patrik Nemeth. Once Lundkvist is dealt (and as expected), that will mean that Lemieux no longer has any of his clients signed with the Rangers. Conspiracy? Probably not, but it is interesting to note!
Admittedly, Lemieux's name has been on my mind several times this summer, as he is one of the featured stars of the recently released ESPN documentary, "Unrivaled," a doc that used Adrian Dater's "Blood Feud" book (you can find my review of the book by clicking the book review tab of this site) as its main source.
Then, earlier this week, Brendan Lemieux joined a former Ranger himself, John Scott, on Scott's "Dropping the Gloves" podcast. You can listen to the episode here:
Catch the full episode here: https://t.co/qDppenUsxO

— Dropping the Gloves (@dropping_gloves) September 2, 2022
---
Real quick, the Ranger highlights from Brendan Lemieux's interview:
— He said the Tony DeAngelo situation wasn't as bad as the media made it out to be.
— He was never asked about his dirty hit on Ryan Lindgren from last season.
— He said that if he was still around during the Tom Wilson incident, while he doesn't know if that attack would have ever happened –  it wouldn't have taken the team until the next game to get their revenge.
— He liked the moves that Chris Drury has made thus far.
— He highly praised Kaapo Kakko, as the two played a lot on the same line together.
— He said that he understands that he's perceived as a villain (much like his father), but while it's a role he accepts – he doesn't go out of his way to be hated.
---
During the interview, Lemieux also talked about dear old dad and about asking out of New York. Lemieux didn't want to expand about why the father-and-son duo requested a trade, but he did say that he was interested in more playing time.
Fast-forward to today, doesn't that sound familiar? Lundkvist himself is now looking for a situation where he can earn playing time.
It should be noted, and understood, that it's an agent's job to get the best situation for their players. Hockey is a business. You can't make top dollar on the bench.
And while the Rangers wanted Nemeth gone too, let's face it – he'll get more playing time in Arizona, and a chance to resurrect his career, than he would've by remaining in New York.
Is Claude Lemieux the root of these Ranger departures? Maybe, maybe not, but it is something to keep in the back of your mind.
As far as Lundkvist's future goes? Good luck. I have no clue who Drury would be eyeing in return for him, but I'd imagine a center. Then again, if he's really ballsy, perhaps the Rangers' g.m. somehow figures a way to package Lundkvist to Chicago in exchange for Patrick Kane. However, that may be more fantasy-based than reality-based!
Lastly on this – and the only thing that matters – the Rangers were two wins shy from the Stanley Cup Final last season.
If Lundkvist wants to go, so be it. Drury, Gerard Gallant and the team have bigger fish to fry than worrying about the playing time of someone who has never done it before.
---
As you're aware of (and I don't think I have to go through my usual preamble again), I've been doing freelance work for Stan Fischler.
Of note, Fischler, and a fellow Rangers' historian, George Grimm, ran with one of my marketing ideas for the Arizona Coyotes next season, during Fischler's Friday column in "The Hockey News." You can read it here: Bluelines
One of my most recent assignments for "The Maven" was to write a story about Hobey Baker, where the topic of "sportsmanship" was the central theme.
As mentioned 7896786786796 times on this site before (hi Mike the Esquire, Rich M. and Dan M. – they love my exaggerations), I never know where these articles will appear in advance, as sometimes they are featured on NHL.com and other times they appear in "The Hockey News."
Furthermore, these columns usually get chopped up/edited due to space limitations, which is why I run them in-full here.
Before getting into Jimmy Vesey, and news on my upcoming books, here's my piece on the classy Hobey Baker. Enjoy!
---
A long time ago, in a galaxy far, far away, was one of the most tremendous American hockey players that had ever lived, Princeton proud Hobey Baker, who plied his wares during the early years of the twentieth century.
Today, the Pennsylvanian born Baker is most known for the "Hobey Baker Award," an award founded in 1981, and an award which is the collegiate equivalent of the NHL's Hart Trophy (Most Valuable Player).
While hockey fans of today may be familiar with the award in Baker's namesake – how many of these people are familiar with the life and career of one of the most superb American athletes of all-time?
During a time where collegiate and amateur athletics were most valued – Baker did it all – and did it at an unprecedented level.
The gifted and talented Baker never saw a sport that he couldn't excel in. In turn, not only did Baker take to the sports of baseball, track-and-field, swimming and everything else under the sun like a fish in water; but he also etched out a Hall of Fame career in both hockey (Class of 1945) and college football (1975) – the only man to be inducted into both of these Hall of Fame's.
Baker led an impressive life, a life centered in sports, where after two minutes or so on skates – he was already pulling off trick maneuvers and stunts.
Forgotten in the wayside of all of Baker's Hall of Fame sporting accomplishments is what's most important – sportsmanship.
Unlike today, hockey wasn't popular in Baker's day, when the rover was manning the rinks during the early years of the 1900s.
However, due to his electric and intoxicating style of play, Baker, whose name was often featured on marquees, not only created interest in the sport for American fans – he had Canadians raving about him too. And due to his modesty and humbleness – he wanted his name removed from these marquees – as he valued his team's accomplishments more than his own individual accolades.
Once seeing Baker play with their own two eyes, a pair of Hall of Fame players (Class of 1947), Lester Patrick and Fred "Cyclone" Taylor, were both in awe of the eventual charter member of the Hockey Hall of Fame.
While Baker's on-ice exploits left an imprint on anyone who ever saw him play, it was his level of professionalism off of the ice that endeared him to all.
Today, hockey fans are keen to the "handshake line" that takes place following every NHL playoff series. It was Baker who first started the tradition.
Baker, who was always unpretentious and shied away from all of the attention and praise that he received, would never disrespect an opponent – maybe a lesson to be learnt by the players of today.
Opposed to some of the athletes from this modern generation, Baker never hammed it up, nor would "The Blond Adonis" ever make himself the story. Instead, following all of his games, win-or-lose, he would privately enter the opposition's locker room and thank them for a well-spirited contest. He'd shake every player's hand too – the genesis of what we now see annually today.
Baker's days on the ice predated the NHL, but his memory as a class act player still lives on. While the hockey world has changed over the last one hundred years, can NHL players still learn from the examples and precedents that Baker once set?
Today, in a world where anything remotely considered as controversial will go viral – would it be such a bad thing if players adopted Baker's mentality? Sadly, I don't see it ever happening – after all, controversy creates clicks and clicks create cash.
Perhaps the last player to fully emulate Baker's grace was Syl Apps, a Hall of Famer himself (1961). However, and just like Baker, Apps is now the exception to the rule, a rule where chirping and predetermined fights amongst today's NHLers are abundant.
The former Lady Byng Memorial Trophy winner (1942) also presented himself as a class act during his days with the Toronto Maple Leafs. Instead of nasty words and dirty plays, Apps, like Baker, always played the game with honor and respect.
Suffice to say, these words aren't an indictment of the players of today, as many players, including Patrice Bergeron, Kyle Connor, Jaccob Slavvin, Nathan MacKinnnon, Adam Fox, Ryan O'Reilly, and a slew of others, are all model citizens. However, during the past decade, it are players and personalities, known for their abrasiveness, such as John Tortorella, Mike Milbury, Sean Avery, the Tkachuk brothers, Brendan Lemieux, Tom Wilson, Brad Marchand and others, who dominate headlines and generate the almighty "click."
Frankly, I believe a balance between players like Baker and App, and the brash players of today, is needed. As any good vs evil story goes – every Superman needs a Lex Luthor.
Furthermore, during a time where television right deals (and the monies they generate) are most important – you need colorful anti-heroes for the almighty television rating/money.
What should never be lost, no matter what side of the spectrum you fall on, is this – no sport handles traditions better than the NHL.
Whether a player is a class act or classless, Baker's founding of the handshake, the ultimate sign of respect between hero and foe, should always remain in hockey.
And despite what the media may portray – what's wrong with a true hero these days anyway?
---
As first hinted at a month ago by Larry Brooks, reported today by CapFriendly.com and then confirmed everywhere else; the Rangers and Jimmy Vesey will attempt another round together:
#NYR have signed UFA forward Jimmy Vesey to a PTO.https://t.co/4enJBMnM5c https://t.co/e9zqrzYMpe

— CapFriendly (@CapFriendly) September 2, 2022
---
The Rangers have yet to confirm the news, but more times than not, they wait a few days before making any sort of an official statement. In fact, the last story posted on NYRangers.com is about Trouba being named captain.
Similar to the Lundkvist story, there was a lot of overreaction about a potential Vesey return – but I don't see why anyone would be bothered about it.
The former Ranger will enter camp on a professional try-out contract which means that if he makes the roster – he would have outplayed most of the regulars in the bottom six.
Furthermore, and unlike others – I don't get bent out of shape about whatever the opening night roster will be, because after all – that won't be the roster come the playoffs.
For what it's worth, Vesey did okay last year in New Jersey. Plus, it's not like the Rangers signed another former Devil, P.K. Slewban! #76 still currently remains as an unrestricted free agent and available to any of the 32 NHL clubs who are willing to take a chance on the regressing and dirty defenseman.
At this time, some book updates, and a reprinting of one of the nearly 700 Ranger trades covered in my upcoming volume set – Vesey's arrival to New York.
---
My four volume set, "One Game at a Time – A Season to Remember" has already entered the hands of several of you readers, the readers who ordered the title off of Amazon.com.
On Friday afternoon, I received all of the hardcover copies that you guys and gals pre-ordered through me. I'm expected to receive all of the paperback copies tomorrow.
For all of you who have pre-ordered the title through me (signed copies), I will be shipping them out on Tuesday (post office is closed on Monday). I will send you an email once shipped.
For people who have not ordered yet, and want to support the site, click this link: https://bluecollarblueshirts.com/onegamebook/
If you get your order in by Monday, I can ship to you on Tuesday. You can also order unsigned copies through Amazon.
---
In an update on "Tricks of the Trade – A Century-Long Journey Through Every Trade Made In New York Rangers' History," I am finally in the editing process!
As mentioned before on this site, I'm not sure if this will be three or four volumes yet, as that will be decided during the editing and formatting process. However, the first volume of the book has been turned over to my editor, so we're almost there.
During the next few weeks, I expect to have all of the cover art done. Once the book is completely edited, and just like "One Game at a Time," then I'll start accepting pre-orders.
And I can tell you this – this trades book will be the best Rangers' history book on the market. I guarantee it! (Confidence, not cockiness!)
Without further ado, let's go back to July 1st, 2019, when the Rangers first traded Jimmy Vesey.
Note: the following is unedited copy of "Tricks of the Trade – A Century-Long Journey Through Every Trade Made In New York Rangers' History." There are still edits to be made. This is not the final version. And depending on whenever the book is released, I may have to go back and write about Vesey either failing or passing his try-out!

---
DATE OF TRADE: July 1st, 2019
RANGERS ACQUIRE: Third Round Pick of the 2021 NHL Entry Draft (#65 – Jayden Grubbe)
BUFFALO SABRES ACQUIRE: Jimmy Vesey
At one point, Jimmy Vesey, a left winger from Boston, Massachusetts, was thought to be a superstar of a new generation, and the face of a future Rangers' Stanley Cup victory. Instead, he wound up becoming Pavel Brendl 2.0.
Okay, perhaps I'm exaggerating when comparing Vesey to Brendl, in order to illustrate a point (and I am); but needless to say, the once lofty expectations bestowed upon the former #26 in Rangers' blue were never met.
Put it this way – when Vesey first became a free agent during the Summer of 2016 (and I'll explain how this happened in just a bit), you had New York City bar owners promising the 2016 Hobey Baker winner free drinks for life should he sign with the Rangers. (I wonder if these deals are still on the table?)
It wasn't just the bar owners politicking for Vesey to sign with the Rangers either. Local New York celebrities, including ones that had Ranger season tickets, such as Boomer Esiason, Susan "Oh, Oh, Oh" Sarandon, Noah Syndergaard, Muhammed Wilkerson, Justin Tuck, Jerry Ferrara and others, all made their pitches, in their attempts to sway Vesey to New York.
In the end, Vesey chose the Rangers and signed a two-year deal worth $7,550,000 overall ($3,775,000 per season) on August 19th, 2016.
Not even three years later, he was traded for a meaningless third-round pick.
It were the Predators who first drafted Vesey during the third-round (#66th overall) of the 2016 NHL Entry Draft.
Similar to Adam Fox; once drafted, Vesey decided to pursue a college career at Harvard University, rather than turning professional.
Once arriving at the Ivy League school in 2012; Vesey then spent the next four years of his life there and graduated in 2016. During his four years playing for the Crimson, he received a laundry-list of accolades, including the aforementioned Hobey Baker Award, MVP's, first team selections, and more.
As the 2015-16 collegiate season was approaching its conclusion, Nashville general manager, David Poile, came knocking again. Poile offered Vesey a contract, a roster spot, and a chance to compete during the 2016 NHL Playoffs.
Just as Fox would later do, Vesey wanted to call his own shots. By not signing with Nashville during this time, all Vesey had to do was wait a few months, and then he could sign with any NHL team that he wanted to sign with.
Obviously, Poile was upset, pissed-off and disappointed with Vesey. (And once Vesey joined the Rangers, he would always be booed whenever playing in Nashville.)
At the time, it was thought that Vesey wanted to play for his hometown Boston Bruins. Despite already spurning Nashville and knowing that Vesey had his eye on the black-and-gold – the Sabres traded for him anyway – as they gave up a third-round pick of the 2016 NHL Entry Draft (#76 – Rem Pitlick) in order to get an exclusive crack at him.
The Sabres must've really wanted Vesey, because prior to this trade, Vesey's agent informed them that he wasn't going to sign with them. His agent also told the Sabres that his client wanted to become a free agent once legally being able to do so. (And the irony that the Sabres would get their man in this particular trade – especially since Vesey, as he was in Nashville, was always booed whenever the Rangers were in Buffalo.)
Vesey stuck to his plan, and on August 16th, 2016, and after denying both the Predators and the Sabres of his services – became an unrestricted free agent.
Once becoming a player for hire, twelve teams, not including the Predators and the Sabres, lined up at Vesey's door. Vesey turned down seven of them right away and then whittled his choices down to five teams. It was during this time when you had the NYC bar owners and celebrities making their coos to Vesey; successful coos at that.
Now with the Rangers, and the spotlight on both he, and fellow rookie Pavel Buchnevich; Vesey went on to win the Lars-Erik Sjöberg Award – an award that honors the best rookie of a Rangers' training camp.
Things were looking good.
Vesey would have the best years of his career in New York. Following this trade, he became a struggling NHL journeyman. However, despite all of that, it's tough to explain why the Rangers quickly gave up on Vesey, as he had been playing well. The only reason that anyone could come up with is that the Rangers were trying to create more cap space to accommodate Panarin's deal.
Less than a year prior to this trade; on July 18th, 2018, Vesey signed a two-year deal with the Rangers worth $4,550,000 overall ($2,275,000 per season.) That meant that he was approaching the last year of his deal when going into the 2019-20 season.
At the time of this trade, where you must remember "The Letter" and "The Rebuild;" Vesey was only 26 years old and thought to be a piece for an eventual Stanley Cup run.
In his three years with the Rangers, Vesey scored 90 points in 240 games. While not hitting the expectations that many had of him, it wasn't like he was a total bust either. (For a comparison, in three seasons with the Rangers, Kaapo Kakko has scored 58 points in 157 games played. Do you want to give up on him?)
Once traded, Vesey said the following to NHL.com:
"I'm really excited to be a part of the Sabres and look forward to contributing to the team and seeing what we can do. 
"There's definitely been a little bit of evolution in my game. The past couple of years I've tried to work on my consistency and try to be more impactful on a nightly basis. Last year, something people might not know, and something that I'm proud about, is that I was able to work on the penalty kill aspect of the game and I saw regular minutes on the PK. I think that was just part of my maturity, now in my third year in the NHL and kind of knowing a little bit more about the defensive zone.
"At the end of the day, I still consider myself a goal-scorer and I think that's my trademark."
After posting goal totals of 16, 17 and 17 during his three seasons in New York City; now upstate in Buffalo, New York, Vesey only scored nine goals during the 2019-20 season, where to be fair – was the pandemic-shortened season. Had the season not been shut-down, he most likely would've cracked double-digits again.
That said, Vesey didn't shine as a Sabre. Come the off-season, the Sabres opted to move on from him. In turn, Vesey then signed a one-year deal with the Maple Leafs worth $900,000 – a far cry from the millions he had been making with both New York teams.
After only scoring seven points (five goals and two assists) in thirty games played during the 2020-21 season; Toronto waived him. The Canucks then claimed him on St. Patrick's Day of 2021, but Vesey didn't have much success in his new Canadian locale either.
During his twenty games as a Canuck, Vesey only picked up three assists. For a guy who was proud of his goal scoring, he only scored five goals during this season between his time on either side of Canada.
On September 14th, 2021, Vesey took another pay-cut, when he accepted a one-year deal worth $800,000 with the Devils – his fifth NHL franchise in a span of four seasons.
During the 2021-22 season, Vesey bounced back a little bit, as he scored eight goals and picked up seven assists for a total of fifteen points in his 68 games played for the red-and-black. However, he also finished with a career-low plus-minus stat of -24.
As of this 2022 writing, Vesey, who has scored 135 points in 422 NHL contests, is an unrestricted free agent. However, unlike the Summer of 2016, there won't be fourteen teams vying for his services; nor will a seven-figure deal be had.
Oh yeah, I almost forgot. Whatever happened to Jayden Grubbe?
Grubbe, a center from Calgary, Alberta, hasn't received an NHL contract – yet.
Currently, Grubbe is playing for the Red Deer Rebels (WHL), where as of this 2022 writing, is a team that he has played for during the last three seasons.
The nineteen year old is expected to play the 2022-23 season with the club.
When it comes to deciding a winner and a loser in this trade, once again, this is tough.
Vesey did have the best seasons of his career with the Rangers, but he never lived up to the hype. He then bombed his way out of three different NHL franchises following this deal, where soon enough, he may be signing with his sixth NHL club – if not with an AHL team or a European team.
On paper, if you consider the fact that the Rangers moved on from Vesey and put the money elsewhere and what happened to the Bostonian afterwards – this is a win. At the same time, who knows what would've happened had Vesey stayed in New York?
With Grubbe's immediate future undecided; at the end of the day, this was a win, even if you can speculate on what would've happened had Vesey stayed in an environment that he was doing well in.
Enjoy the free drinks.
---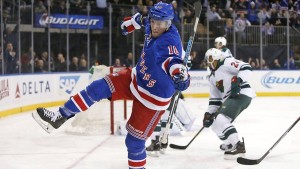 As I was putting the final touches on tonight's manifesto, the Vancouver Canucks announced that they have reached terms with J.T. Miller on a seven-year contract worth $56,000,000:
Vancouver Canucks General Manager Patrik Allvin announced today that the club has agreed to terms with center J.T. Miller on a 7-year contract worth a total $56 million. pic.twitter.com/UuW2G4xhOC

— Vancouver #Canucks (@Canucks) September 2, 2022
---
For the full press release on this contract signing, check out: https://www.nhl.com/canucks/news/canucks-and-jt-miller-agree-to-terms/c-335456944
This news isn't just relevant to Canuck fans. This story concerns fans of Stanley Cup contenders too.
Prior to this announcement, Miller was a top name of the NHL trade rumor mill, due to his status as a pending unrestricted free agent. He's now fully off of the board. Let the Patrick Kane speculation begin!
---
Before heading home here, I wanted to make mention of all the cool stuff I found when working on "Tricks of the Trade – A Century-Long Journey Through Every Trade Made In New York Rangers' History."
Perhaps once complete, I can share all of the items I came across – and acquired too.
Here's one of them:
FUN artiFACTS: here's Murray Murdoch's team presented watch after his 300th game with #NYR . The relative of Mark Messier, Ken Dryden & Don Murdoch won two Stanley Cups with the @nyrangers (1928 & 1933). pic.twitter.com/KXRolDHjHu

— BlueCollarBlueShirts (@NYCTheMiC) September 2, 2022
---
I know that wrist watches have somewhat become a thing of the past (unless you got big bucks and collect Rolexes), but I thought Murdoch's watch was an interesting piece of Rangers' past.
Of course, playing in 300 NHL games meant more in Murdoch's day than it does today, due to the amount of games on the NHL schedule; but in any event, I thought it was nice that the Rangers would give out items such as these to their players whenever celebrating milestones.
It's just a shame the Rangers don't honor these players today. But hey, I heard there is a book out there about that!
And yep, that's a segue-way to our final segment!
PLUGS TIME!
---
My first plug of tonight's blog – the mandatory plug for my book, "The New York Rangers Rink of Honor and the Rafters of Madison Square Garden".
As mentioned previously, the book is now available in hardcover, in paperback and in Kindle formats. To purchase a copy of the book, visit this link:
https://www.amazon.com/Rangers-Rafters-Madison-Square-Garden-ebook/dp/B09CM5N2WD
For those still looking for signed paperback versions of the book, I have re-ordered more copies. I now have a few signed copies for sale at $25 a pop (includes shipping price) through me directly. Here is all the information on that:
---
Here are my last few blogs, in case you missed them:
---
---
---
If you haven't already, subscribe to this blog for the next update:
---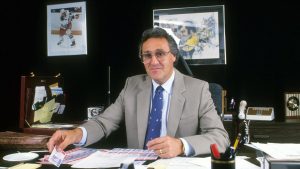 Up next for yours truly: rifling through pre-orders and completing "Tricks of the Trade!" Cross your fingers that the book comes out before the first puck drop of the 2022-23 campaign!
I'll be back next week, but until then, enjoy your Labor Day weekend. Real life returns soon! See ya Summer!
Thanks for reading.
LET'S GO RANGERS!
Sean McCaffrey
BULLSMC@aol.com
@NYCTHEMIC on the Tweeter machine