Greetings and salutations everyone and welcome to another blog here on BlueCollarBlueShirts.com. Be forewarned – I'm going to be jumping all over the place during tonight's manifesto!
Before kicking everything off, some quick plugs if I may. (And I may! After all, this is my site!)
Sometime Friday afternoon (8/19), yours truly will be profiled on "The Hockey News."
Stan Fischler wrote the feature (and duh – also interviewed me for it), as "The Maven" continues to go out of his way to showcase my stuff to a larger audience. I can't thank him enough.
I also feel like I've become a better writer for it, as Stan's edits/feedback/advice has worked wonders for me – including in my book writing. (He also provided the foreword for my upcoming "Tricks of the Trade" title.)
The greatest hockey historian of our time is now over ninety years old and doesn't have to be doing any of this for me, nor for anyone else either. Not only does he promote my stuff,  but he also promotes/works with many others – including getting them NHL press access. I've never asked, nor had any interest in receiving such credentials, because as they say, "there's no rooting in the press box." (There's also that pesky rule about no drinking while in there too!)
As both Stan and I have relayed to each other, this site allows me to write in one style, while my other stuff is written in a different (professional/less commas) style. In turn, I walk a fine line, as a "semi-professional writer." (And while book sales and being featured on bigger outlets than this site is cool – I do prefer writing in this conversational/bar room style.)
Once my profile is posted, I'll share the link on my social media accounts.
For those who don't follow me on social media, the link will appear sometime on Friday afternoon here: https://thehockeynews.com/tag/stan-fischler
---
As previously mentioned on this site (and as you all are aware), I've been doing freelance work for "The Maven" for nearly a year now, between his old "Java Jive" website, NHL.com and "The Hockey News."
The system we have (a system that works), is that Stan assigns me topics to write about, gives me a word count (that I routinely shatter), and then he edits/chops up what I wrote to suit whatever works best for his columns – columns, that unlike these blogs, do have a word count/space limitations to adhere to!
During tonight's blog, I'll be sharing the stuff that has proverbially hit the cutting room floor. Some of what's written below has already been featured, or will be featured, on "The Hockey News." However, what I'm sharing below are the complete/extended versions, as I feel they are worth sharing/printing here on this fan site/blog.
Following all of that, I will be sharing an upcoming chapter from my upcoming book, "Tricks of the Trade – A Century-Long Journey Through Every Trade Made In New York Rangers' History."
Previously on this site, I've shared chapters from what's either going to be a three or four volume set. This time around, I'm going to share with you a different style of chapter.
Rather than sharing a singular trade as I've been doing; instead, I'm going to give you a preview of how I'm covering each general manager. Tonight's sample chapter will cover the transition from Neil Smith to Glen Sather, a chapter which also includes material on Rangers' owner James Dolan and the Blueshirts' crown jewel of the 2000 NHL Entry Draft, Henrik Lundqvist.
Lastly (as I continue my shameless plugs), don't forget that my new four-volume set, "One Game at a Time – A Season to Remember," is now available for preorder.
You can either wait for the books to go live on Amazon.com or preorder today by visiting this link: https://bluecollarblueshirts.com/onegamebook/
However, before getting into all of that, the lede story of Thursday, August 18th – Nazem Kadri's decision to sign with the Calgary Flames.
---
Going into the 2022 NHL Free Agency period (which began on July 13th), newly minted Stanley Cup champion, center Nazem Kadri, was the top prize of the class. However, just one day prior to the opening of free agency, Flames' superstar, Johnny Gaudreau, made himself the head of the class when he decided to spurn the only team that he's ever known at the eleventh hour. (Ironically, Gaudreau basically did what John Tavares once did to the Islanders.)
Since that time, I've covered all of the NHL big name free agent signings on this site, including Gaudreau to Columbus, in addition to the limbo-status that Kadri found himself in.
In an attempt of both fairness and transparency, and in an effort to not go back on what I've previously said; prior to the start of free agency (and before Rangers' general manager, Chris Drury, signed Vincent Trocheck, while also moving on from both Ryan Strome and Andrew Copp at the same time), I thought that Kadri would have been a good fit for the Rangers.
That's not what happened and that's fine. It was just a thought. (Check the archives of this site, from July of 2022, for everything that I wrote about this and why I thought that Kadri would have worked in the Big Apple.)
When Johnny Gaudreau shocked the hockey world, and signed a long-term deal with the Columbus Blue Jackets, I immediately thought that Kadri would wind up in Calgary, and for three reasons:
One, with "Johnny Hockey" out of the picture, Calgary had the money to make it happen. (Following their moves from this off-season, on Thursday, they moved Sean Monahan to Montreal in order to accommodate Kadri's salary.)
Two, the Flames are looking for a new arena to replace their current digs, "The Saddledome." They needed something to soften the blow of losing Gaudreau and to restore faith back into their fan base.
Three, I thought the Flames needed to do something big, in order to get pending restricted free agent, Matt Tkachuck, to sign a long-term deal with them. While that didn't exactly happen, the Flames were soon able to turn a situation they had no control over into a best case scenario.
---
As Meat Loaf once sang, "two out of three ain't bad."
Brad Treliving, general manager of the Flames, has now pulled off one of the best cases of turning chicken shit into chicken salad.
Once Gaudreau left, Tkachuk decided to follow suit, and told Trevling that he would not be signing a long-term deal with the Flames. In turn, Treliving flipped Tkachuk to the Florida Panthers, and in exchange, received both Jonathan Huberdeau and MacKenzie Weegar.
Just less than a month following this blockbuster trade, Treliving landed Nazem Kadri.
On Thursday, Kadri and the Flames agreed to a seven-year pact worth $49,000,000 overall ($7,000,000 per season). Prior to this deal, it was rumored that Kadri was seeking over $9,000,000 annually.
When Gaudreau first left Calgary, coupled-in with Tkachuk's refusal to sign a long-term agreement with the club; it looked like the Edmonton Oilers would laugh their way to the top of the division during the 2022-23 campaign. Now, the "Battle of Alberta" has heated up again, with plenty of superstar names on each side.
While the Oilers (mainly their fans) can't be happy about the moves that the Flames have made this summer; another team that can't be happy themselves are the New York Islanders – despite whatever spin-job their fans may be presenting today.
---
Let me stop you right now – yes, I know that Nazem Kadri will turn 32 years old this October. Yes, I know that the contract may not look so hot during its latter years.
That disclaimer now out of the way (and as said on this site before); similar to when Ryan McDonagh first signed a long-term deal with the Tampa Bay Lightning, a deal that also looked like it wouldn't hold up during its final years – who cares about the latter years of Kadri's deal?
Do you really think Treliving, or any other NHL general manager, is worried about their 2028-29 salary cap? Most of these GM's won't even be with their current teams come that time.
Going into the "Kadri Sweepstakes," every team knew they would have to overpay for him. However, any team that was interested in Kadri was also interested in winning a Stanley Cup during the next three seasons.
Put it this way, and it doesn't matter what team you root for. If your team signed Kadri, and then you saw your team win the Stanley Cup in 2023, 2024 and/or 2025 – are you really going to be upset if your team doesn't win in 2026, 2027, 2028 and/or 2029?
Plus, once the NHL gets out of the aftermath of the pandemic; the salary cap will exponentially go up, where Kadri's annual salary of $7M, which currently takes up 8.48% of a club's salary cap, won't look as bad.
Who knows, should things continue to go well for the NHL (and how they are allowing Arizona to play in front of 5,000 fans – I do not know), that cap hit number of 8.48% (and we all know how important these numbers are), could go below the 5% mark – something that I'd remind the Ranger fans who think that Drury MUST trade Trouba after this season!
For nearly a month now (and prior to today), it was reported, speculated, rumored, telegraphed, Pony Expressed, you name it, it happened; that Nazem Kadri was going to sign with the Islanders. All that was left to do was accommodate salary cap space, whether that meant a trade of Josh Bailey, Seymon Varlamov or someone else.
When the news of Kadri signing with Calgary became official; Islander fans, who had previously been beating the Kadri drum, threw that drum away and played a different tune – "Kadri's old, his cap-hit sucks, and blah-blah-blah."
What once was an uplifting tune now sounded like the most depressing version of Nirvana's "Something in the Way."
---
I've said the following on this site many times before, in my books, on social media, and I've even scribbled it on the partitions of restroom walls too – the Islanders have a MAJOR problem when it comes to acquiring big-named free agents. Need evidence? Just talk to Artemi Panarin.
While the Islanders situation has improved under their new ownership; for nearly thirty years, the Isles have been mismanaged.
For whatever you want to say about James Dolan – he's always praised and applauded for presenting and providing the best amenities and accommodations in the league – whether it be hotels, air-travel, doctors, therapists, nutritionists, and/or whatever else you can come up with here.
While the Rangers have been taking private jets and staying in five-star hotels; for a long time there, the Isles (and yes, I'm exaggerating a bit to make a point here) were riding short buses and staying in cock-roach and hooker infested hourly rate motels. The players know this and that's why whenever a big name free agent has his choice of the Rangers or Islanders, they always sign with the Blueshirts – even if it means less money (especially when you consider the NYC tax-rate).
What's more concerning for the Islanders than ever before, isn't the Rangers. You can understand why players would rather play and live in NYC than play and live on Long Island – and I say that as someone who lives on Long Island myself (albeit, I'm only five minutes away from Queens).
What does it say to Islander fans, and the league in general, when two major superstars would rather take less money to play elsewhere, rather than play in a brand new state-of-the-art arena?
Johnny Hockey would rather play in virtual obscurity in Columbus, rather than play on Long Island. Nazem Kadri would rather play in front of Calgary rodeo fans, rather than play in a place where the fresh scent of horse shit permeates the air.
A new problem now awaits the Islanders. Will Mat Barzal become John Tavares 2.0? If the Islanders can't attract free agents, nor keep the stars that they have – how long before the IBS Arena becomes as empty as both the Barclays and Nassau Coliseum used to be? "Spirit of Halloween" stores must be foaming at the mouth at the opportunity!
While yes, I'll give the Islanders a pass on their poor 2021-22 season (eleven games to start the season on the road and their bouts with COVID-19); season ticket holders, the bread-and-butter of every NHL franchise (NHL teams make more money on their ticket sales than any other revenue stream – the same doesn't apply to the other major sports in North America), were burnt by the Isles last season.
Put it this way – if you bought insanely priced Islander season tickets for the 2021-22 campaign, how did you feel when just six weeks into the season, you saw that tickets could be had for $6 on the secondary market on any given night?
Isle fans, like most fans, are fickle.
As was evident during the Isles' 2021 Playoff run, the fans will come out if the team is good. However, if the team stinks like the horse manure that surrounds them – they draw as much interest as you have in somebody else's fantasy football team – none.
Presently, the Islanders basically enter the 2022-23 season with pretty much the same team that they had last year, with all of their veterans one year older, and with several young players a step closer to reaching the end of their contracts.
Sure, trades can be made, but unless the Islanders are going to rent someone (and again, if it comes to Rangers vs Islanders, Patrick Kane, the assumed top rental of the 2023 NHL Trade deadline, and people of his ilk, are going to choose the Rangers over the Islanders every time), it's going to be tough for them.
As I said following the Islanders' crushing 2021 Game Seven Eastern Conference loss to the Tampa Bay Lightning; I feel their window is closed. They will have to rebuild, and hope that Barzal stays for the ride. They will also have to hope that Lamoriello finally sees the light, and retires once and for all.
---
Recently, Fischler asked me to write something about three non-Ranger teams that I'll be taking an interest in this season. Some of this will appear on "The Hockey News" soon, but I know a large chunk of it will be edited out for time/space constraints. Since I have no such constraints/restraints here, below is why I'll be watching the Ottawa Senators, Anaheim Ducks and Nashville Predators this season.
---
As a devout disciple of the New York Rangers, there are three other teams that I will have a keen interest in during the 2022-23 season.
The Ottawa Senators, perhaps lowly no more, are at the top of the list.
It's been many lean years for the team hailing from the capital city of Canada, ever since being ousted in Game Seven of the 2017 Eastern Conference Final. Following their 2022 off-season, good times should be ahead.
While this present Ottawa team may not drum up a comparison to the "Silver Sevens," the Senators now possess an exciting roster.
The additions of veteran and experienced talent such as Claude Giroux and Cam Talbot, combined with perhaps the best trade made of the summer (when the Senators acquired dazzling young star Alex Debrincat for three draft picks), should have the Senators back in the playoff mix.
It's not just the new faces either.
Ottawa's young core seems like a pack ready to run, especially with talent such as Brady Tkachuk, Thomas Chabot, Josh Norris, Tim Stutzle and Drake Batherson all leading the charge.
In a league where all you need to do is reach the playoffs in order to become a contender – the Sens have as good of a shot as anyone.
For a team that has played in front of some paltry crowds during the last few seasons; both the Senators, and their attendance figures, should be on the rise. I fully expect them to nab a playoff berth this season – at Boston's expense.
Three thousand miles away from the traditional hockey city of Ottawa, Ontario, lies Anaheim, California – home of the not-so-mighty Ducks. Similar to their Canadian counterparts, it's been some trying years for the Quackers too.
After being swept during the first-round of the 2018 Stanley Cup Playoffs, the Ducks haven't reached the postseason since – however, not all faith is lost.
Currently, there is a changing-of-the-guard under the sunny skies of Disneyland – a new roster that Duck fans eagerly await.
Captain Ryan Getzlaf, perhaps a future Hall of Famer, is now retired. It are the two wonderkids, Troy Terry (67 points in 75 games) and Trevor Zegras (61 points in 75 games), who not only led the team in scoring last season, but are now the 1-2 punch of the franchise.
While Terry and Zegras should have brighter days ahead of them; they are also surrounded by a reliable bunch of veterans, who all possess deep playoff experience, players such as Adam Henrique, Cam Fowler, and Kevin Shattenkirk.
Adding a pair of ex-Rangers this summer, two top-six forwards who just came off an Eastern Conference Final run, Ryan Strome and Frank Vatrano, should only solidify the locker room, while also adding some scoring help.
But wait, there's more!
The Ducks also have a stud in the making, in the third-overall pick of the 2021 NHL Entry Draft, the nineteen year old Mason McTavish. If the Swiss centerman isn't ready to light lamps this season – he'll be doing so in the season that follows.
Bringing in the rear is the once unheralded secret in net, Jon Gibson.
Admittedly, last season, Gibson didn't perform as well as he had during previous seasons – but that's also a reflection of the Ducks' rebuilding years.
It's often thought that the Pacific Division is the weakest division in hockey – an advantage for the many young teams of the division.
While the Oilers should finish first (especially when you consider that the other teams in the division didn't improve as much); I expect the Ducks (who finished the 2021-22 campaign only sixteen points better than the last place Kraken), to go from second-worst to second-best in the division.
Give it up for David Poile, the general manager of the Nashville Predators, who is now entering his 24th season with the club – and as the only g.m. of franchise history.
While Poile has yet to see his cats claw their way to a Stanley Cup – the Preds have become a perennial playoff contender during the past two decades.
In a case of "should we or shouldn't we?"; Poile's team hasn't embraced a full rebuild yet, nor has he ever truly found himself on the hot seat in one of the hottest cities of the league – where today – the Predators have become one of the biggest tourist attractions of "Nashvegas."
The Predators, always in it to win it, have been eliminated from the playoffs in the first-round during the past four seasons. They were swept last season, but that first-round loss was easy to explain away – goaltending injuries and the fact that they were mismatched against the eventual Stanley Cup champs, the Colorado Avalanche.
There is a cause for optimism regarding their 2022-23 season.
Poile made Pred fans happy when he re-signed superstar center, Filip Forsberg, to an eight-year deal this summer. Had Forsberg walked, perhaps it would have signaled a rebuild. Instead, the Preds are gearing up for a return to the playoffs.
Roman Josi, the 2020 Norris Trophy winner, fell 1.28% shy of becoming a two-time winner of the award in 2022. In fact, he finished with more first-place votes (98) than winner Cale Makar (92).
Josi, as a result of salary cap issues in Tampa, will get a new face to join him on the blue line, a season-in and season-out leader, and a two-time Stanley Cup winner to boot, in the form of Ryan McDonagh.
McDonagh, the former captain of the Rangers, has played in 185 playoff games – the fourth-highest total among active NHLers. He may soon possess the highest total himself, depending on whatever Zdeno Chara (200 games played), Corey Perry (190 games played), and Joe Thornton (187 games played) do between now and the start of the season.
Nino Niederreiter is also a new face trading places. The right winger of 732 NHL games played should be a welcomed veteran presence for a club looking to become more than a first-round doormat.
Goaltender Juuse Saros, who prior to his injury suffered during the final week of the 2021-22 season, played admirably well during his first 82-game season as an NHL starter. The successor to Pekka Rinne has shown that he can shoulder the load, and with an improved defense in front of him – he may be in line for his best season yet.
Just like the Ducks and Senators, I envision the Predators as a playoff-bound team in 2023.
---
One last Fischler-related piece for you, before getting into the sample chapter of my upcoming book.
"The Maven" asked me to do a short bit entitled "THE BIG QUESTION," and fill in the blanks. Here's what I came up with:
THE BIG QUESTION: What do the Vegas Golden Knights do now?
The team from Sin City, now on their third head coach in five years, has found themselves in salary cap hell and at the derision of many throughout the league.
The franchise made the unpopular decision to jettison the face of their franchise, Marc-Andre Fleury, just last year, which led to the goalie's agent, Allan Walsh, into making several disparaging remarks (and that sword-in-the-back picture too) about the 31st team. Since then, it's been a downward spiral on the Las Vegas strip.
Prior to the news of VGK's starting goaltender, Robin Lehner, missing the 2022-23 season due to a hip injury; Vegas g.m. Kelly McCrimmon made several salary-cap dump trades, including the departure of center Max Pacioretty to Carolina, a player who is now also expected to miss a large chunk of the 2022-23 campaign, due to an Achilles injury.
The Knights, who have one of the best crowds in the league, will now have to find a starting goaltender, as current options, Laurent Brossoit, Michael Hutchinson and Logan Thompson don't feel suffice. However, who's left?
It will be up to Jack Eichel, Mark Stone and company to lift the Knights. If they can do so, it then proposes an interesting scenario.
If the Minnesota Wild, who are also wallowing in salary cap misery (due to their buy-outs of Ryan Suter and Zach Parise), aren't a playoff contender come the 2023 NHL Trade Deadline, could Fleury become the first returning conquering hero of Knights' history? I'm rooting for it – after all, who doesn't love a good redemption/comeback story?
---
Finally, the main event, the sample chapter of "Tricks of the Trade – A Century-Long Journey Through Every Trade Made In New York Rangers' History."
Here's what you need to know before proceeding.
When I cover the Ranger general managers during the book, including Lester Patrick (who succeeded Conn Smythe), I talk about the transition and why one general manager was fired/replaced and why the next general manager then took over. Then, during each trade profiled/recapped, I talk about the general manager some more.
In other words, what you're about to read next aren't the only words pertaining to Sather in the book. This is just his general manager introduction.
Just as you'll read about Neil Smith here, when I get to the Jeff Gorton era, I'm also talking about Sather again. (And since Sather has never left, I'm also talking about him once more, following Gorton's dismissal/Drury's hiring.)
The following sample chapter will give you a feel about how the general managers will be covered. It's also another example of why not only will this be the deepest (and best, if I say so myself), Rangers' history book out there, but how this book covers more than just every trade ever made.
(And yes, while I have to be my own best promoter – if I am not, then who? – I've shared my rough draft with a few people. They've all been blown away. I truly believe everyone will love this book once it's finally published, and hopefully by October 1st.)
Last note – this chapter is from my rough draft version, meaning that it hasn't been submitted to my editor yet. Be alert for typos!
Without further ado, the Glen Sather GM chapter.
---
GLEN SATHER
Tenure as Rangers General Manager: June 1, 2000 – July 1, 2015
Glen Sather, like Lester Patrick, Frank Boucher, Muzz Patrick, Emile Francis, Fred Shero and Phil Esposito; the new general manager had also previously played for the Rangers. And just like the men before him – Sather would later find himself behind the Blueshirts' bench too.
Sather, whose nickname is/was "Slats," earned this nickname due to all of the sitting that he did on the NHL wooden benches during his playing days – where the most success he had as a player took place during the height of the Emile Francis era.
And yep, Sather, like most general managers profiled in this title, is also featured in my first book. However, he's also the only man to be featured twice – in both the "Rink of Honor" and in the "Stink of Dishonor" sections!
Let's now get into how Neil Smith was replaced by one of his favorite trading partners, Glen Sather.
Historically, Smith is the last general manager in Rangers' history to exclusively work during the non-salary cap era. While the parameters of his job, from a league/era perspective never changed; his situation at Madison Square Garden most certainly did – big-time at that.
In a topic that we can fully explore during another book, "The Owners of the New York Rangers" (patent-pending/working title!), the year of 1994, while excellent for the Blueshirts on the ice – was also crazy off of the ice.
On August 22nd, 1977, Gulf and Western Industries, an American conglomerate, purchased the Madison Square Garden Company and all of its properties – including MSG itself, the Knicks and the Rangers.
At the time, Gulf+Western had acquired 81% of MSGC's stock and then paid another $60,000,000 to become the sole owner of the MSG corporation and its many holdings.
In June of 1989, Gulf+Western, which also owned Paramount Pictures, rebranded as "Paramount Communications Incorporated." By February of 1994, Viacom bought 50.1% of Paramount's shares for a cool price tag of $9.75 billion, which then made them the majority owner of Paramount.
Come July of 1994 (one month following the Rangers' Stanley Cup victory), the merger was completed, and officially, Viacom now owned Paramount, MSG and all of its properties.
However, Viacom never had any interest in owning MSG, nor its sports teams and television network.
Just a month after acquiring MSG and its holdings; on August 29th, 1994, Viacom sold everything MSG related (including the Rangers) to Cablevision and the ITT Corporation for $1.075 billion.
By 1995, Charles Dolan, the principal owner of Cablevision, named his 39 year old son, James Dolan, as the CEO of the MSG Corporation and its holdings. When asked about this move centered in nepotism, Charles replied, "no one else wanted it."
Just less than three years after buying MSG and its holdings together; on March 7th, 1997, Cablevision paid the ITT Corporation $600 million for sole ownership. Two years later, James Dolan became the chairman of everything MSG-related and its properties, where as part of his duties, he oversaw the day-to-day operations of both the Knicks and the Rangers.
During his tenure as the owner/CEO/chairman of both the Knicks and the Rangers; as of this 2022 writing – Dolan has now racked up a combined 56 seasons without a championship to his name.
However, while the bulk of Dolan's tenure saw him become very active and hands-on with the Knicks (and to no success); for the most part, the owner, not much of a hockey fan, has mainly left the Rangers alone. (Don't worry, we'll soon get into the Chris Drury era soon enough!)
When James Dolan took sole control, and with his interest more invested with the Knicks, rather than with the Rangers; he named Dave Checketts (then President of the Knicks – a title he first held in 1991 – and before Dolan took over), as the President of both MSG and the Rangers.
The point of all of this? The following:
Smith had to answer to a bunch of different people after winning the Stanley Cup in 1994 – including Dave Checketts – a team president that wouldn't pay Mark Messier following the Rangers' 1996-97 season, a campaign that ended with an Eastern Conference Final appearance – despite Smith initially wanting to retain his captain and face of the team. (Smith would later back/support his team president/boss, and we'll soon get into the moves he made during this time.)
Just like the person who hired Smith, Jack Diller (a Diller who just let Smith run his team); Dave Checketts wasn't much of a hockey man either. However, that didn't stop Checketts from constantly butting in.
Checketts is most infamously remembered for his ridiculous comments made during the Mark Messier negotiations, talks which took place in the Summer of 1997.
On July 29th, 1997, Checketts said, "how long should we pay for that cup? He played six years and won one cup. We made a financial decision. That's the end of it. I'm not going to cry any more over it because we're moving on."
While Messier would later return to the Rangers after three disappointing seasons in Vancouver (Messier and Checketts would literally "bury the hatchet" during Messier's returning press conference – a photo-op to show that all of the bad blood had subsided between the two men) – the Rangers haven't won a Stanley Cup since Messier last hoisted it.
Furthermore, with Checketts now involved and not allowing Smith to run his team the way he wanted to – the Rangers soon entered their "Dark Age" period.
Following Checketts' comments made on July 29th, 1997 – the Rangers wouldn't see the postseason again until the 2006 Stanley Cup Playoffs – five years after Checketts left MSG and the Rangers, following his "quit or be fired" resignation from May 15th, 2001.
As brought up repeatedly during these general manager segments – new owners and team presidents usually wanted their people in charge of the club.
Checketts, who had already blown off the 1994 Stanley Cup win (he evidently didn't understand the 54 year "curse"), soon grew sour with Smith.
With just four games remaining during the 1999-00 season, Checketts fired both Smith and then head coach, John Muckler.
Checketts wasted no time in ripping Smith to the media.
After saying that Smith's team was an embarrassment (keep in mind the tact and respect that Diller had when he replaced Esposito with Smith), Checketts also said:
"When one makes a decision like this, the sooner the better. I didn't see any reason to wait. I did not want to have the players scatter at the end of the season and leave unexplained what the issues are, why this group has performed the way it has."
Checketts continued, and then said the following about the Rangers' $61,000,000 payroll (and their failure to qualify for the 2000 Stanley Cup Playoffs) – a payroll that was tops in the league:
"I wish I knew and I'm going to find out. I'm going to spend a lot of time with the Rangers organization over the next two weeks."
Checketts, who had just wiped out the Knicks' braintrust (Ernie Grunfeld) a year prior, also said:
"It did not work out. The bottom line is the results here. I certainly expect a better effort than what I've seen during the last couple of weeks."
While Checketts' quotes don't hold up well; neither did Sather's quote, a quote "Slats" had said towards the end of his twenty-year tenure as the general manager of the Edmonton Oilers:
"If I had their [the Rangers] payroll, my team would never lose."
During Sather's first four years as general manager of the Rangers, four years that predated the salary cap era – the Rangers didn't reach the playoffs once.
In fact, once the salary cap era began, a byproduct following the 2004-05 NHL lockout, it was then, and only then, where the Rangers became playoff contenders. And while Sather did make some moves to build his playoff team – the biggest player transaction of them all had nothing to do with him.
Sather was hired on June 1st, 2000. While Sather most certainly knew the league, the former Ranger was new to his job, now as the head honcho of the club.
Three weeks following Sather's hire, on June 24th, 2000, the NHL held their annual NHL Entry Draft. Whatever Sather had planned for his Oilers, wasn't going to work with the Rangers. In addition, Sather had scouts to handle the draft, as he wasn't the point-man – he trusted the people that he employed.
Once the 2000 NHL Entry Draft commenced, it was Don Maloney, then the Rangers' Assistant General Manager and Vice President of Player Personnel (and who was retained by both Checketts and Sather after Smith's dismissal), who ran the draft table for the Blueshirts.
"I had no idea he was going to be this good." – Christer Rockstrom, the Rangers' Head of European Scouting, during a January 17th, 2022 interview conducted by the official website of the New York Rangers.
If you don't know who the "he" is, Rockstrom is talking about Henrik Lundqvist, the Rangers' seventh-round pick (#205th overall) of the 2000 NHL Entry Draft – a draft that Sather had nothing to do with.
Lundqvist, who struggled during international tournaments prior to his draft, had the eye of Rockstrom. While reflecting on the soon-to-be Hall of Famer during his 2022 interview, the scout who brought "The King" to New York also said:
"I was lucky to see him when I did. I remember he played one game against another Swedish club that season, and that team said after the game that they just could not score a goal against him. I was fortunate to watch him in practice on a few occasions. With his work ethic and focus, I thought there could be something there with him."
Also lucky? Glen Sather, who once when calling the shots, never saw a draft that he couldn't flub – including whenever selecting goaltenders – but more on Al Montoya once we get there!
Don Maloney, the former Ranger turned Assistant General Manager (he served the Blueshirts in this role from 1996-2007 and only left New York once being offered the GM job of the Coyotes on May 28th, 1997), said the following on January 17th, 2022, in regards to his team drafting #30 – a number that now hangs in the rafters of MSG today:
"We really didn't have any goalies in our system at that time. As we were progressing through the later rounds of the 2000 Entry Draft, we were asking the staff 'Is there any goalie still out there we should consider?' We were thinking about taking a college or European player, since he would have a little more time to develop than a North American player.
"As we were talking, everybody had their draft lists in front of them, and as players get selected, you cross those names off the list. I happened to be sitting at the head of the table and glanced over at Christer's list where he had his European goalie list out. When I looked at it, it was so unusual as all of the names on his list had been crossed out except one, the top name on his list. And it was Henrik Lundqvist.
"I pointed Henrik's name out to our Head Amateur Scout, Martin Madden, who was on board with the pick and the rest is history. My sole role on Henrik's selection was pointing out that we wanted another goaltender, Christer had a very good track record, and Henrik was the number one guy on Christer's list.
"Long story short, that's how we picked him."
This draft pick, one that again, Sather had nothing to do with (and as you'll soon read, Sather never had any plans of making Lundqvist his starter – Kevin Weekes just got hurt), was the bedrock player of the Sather era.
Prior to the Rangers' fluking their way into Lundqvist; Sather, who had just resigned from the Oilers days earlier, said the following during his June 1st, 2000 press conference:
"It's not like if you build a building on Madison Avenue, and it's up and over with. There's a challenge every day in this business to be successful. And I enjoy the challenge.
"I think my first responsibility is to try and build a winner. I still believe you can't buy a winner. It has to be built, through the draft and through trades."
Once again – no general manager bats 1.000, but to his credit (and I have to say this because through my opinions – and not facts – I will discredit Sather a bit during this chapter, and Dolan's strange obsession with him too – which I'll also explain) – Sather did have more hits than misses with his trades.
It was Sather's free agent signings and draft picks that were mostly utter messes – topics for another book!
And in the interest of being fair, and as you'll soon see – no one was more creative and niftier during the salary cap era than Sather – especially whenever exploiting salary cap loopholes.
In fact, if it weren't for the salary cap era, Sather may have never seen his team reach the playoffs – which probably wouldn't have bothered Dolan – but more on that relationship as we continue.
As we wind down here, here's another quote from this same press conference, from loudmouth Sather, that doesn't exactly hold up well over time:
"I don't think there is success unless you win the Stanley Cup. If you tell me the goal is to make the playoffs, I think you're short-sighting yourself."
By the end of Sather's fifteen year run in the big seat at 33rd Street and 7th Avenue, he became the longest-tenured General Manager in all of New York City sports' history to never win a championship.
Crazier than that – he wasn't even fired – he was allowed to step down on his own – after going all-in one last time (and failing) prior to the commencement of the 2015 Stanley Cup Playoffs.
Even more insane? Dolan then allowed Sather to pick his own successor (Jeff Gorton – who will be profiled next) – and then allowed "Slats" to continue to receive a paycheck, as a personal advisor to the owner!
For the sake of posterity, here's what Checketts said when he hired the worst g.m. of franchise history (my opinion – and based on the length of Sather's tenure and complete power):
"We don't want to just have a great year and win the Stanley Cup as a flash. We want to build a dynasty and have young players in our pipeline so we're not forced into a situation like we were last summer where you have to sign free agents to win."
Here's my opinion, which may also double-up as a fact – and while speaking as the voice of all Ranger fans – we would have settled for one Stanley Cup during Sather's error of terror.
Let's now take a look at it.
---
PLUGS TIME!
---
My first plug of tonight's blog – the mandatory plug for my book, "The New York Rangers Rink of Honor and the Rafters of Madison Square Garden".
As mentioned previously, the book is now available in hardcover, in paperback and in Kindle formats. To purchase a copy of the book, visit this link:
https://www.amazon.com/Rangers-Rafters-Madison-Square-Garden-ebook/dp/B09CM5N2WD
For those still looking for signed paperback versions of the book, I have re-ordered more copies. I now have a few signed copies for sale at $25 a pop (includes shipping price) through me directly. Here is all the information on that:
---
Here are my last few blogs, in case you missed them:
---
---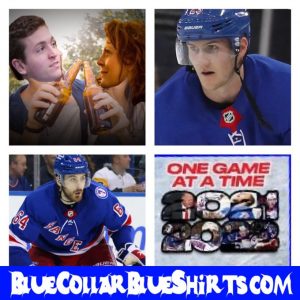 ---
If you haven't already, subscribe to this blog for the next update:
---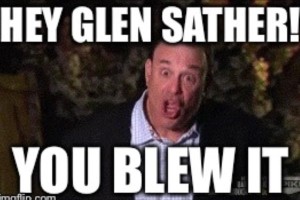 Up next for yours truly: rifling through pre-orders and completing "Tricks of the Trade!"
Enjoy the rest of your summer. I should be back Monday.
Thanks for reading.
LET'S GO RANGERS!
Sean McCaffrey
BULLSMC@aol.com
@NYCTHEMIC on the Tweeter machine