Greetings and salutations everyone and welcome to another blog here on BlueCollarBlueShirts.com. The winning streak is over.
Following a successful 4-0 road-trip (where the Rangers fought back in every third period of the loop), the Rangers couldn't find another comeback at M$G on Monday night, as the Flames torched the Blueshirts 5-1. To sum up this loss in one word, that word would be "TURNOVERS".
While it would be tough to question the Rangers effort in this match (as despite their issues, they never at one point in the game seemed to give up), the Rangers turned the puck over nine times in the first period. Conversely, in the same period, the Flames didn't turn the puck over once. By the end of the game, the Rangers had turned over the puck twenty times, as opposed to the Flames only turning the puck over six times.
Without question, turnovers did the Rangers in during this game. However, there were also other issues, including going 0-2 on the power-play, where during one of them, the Rangers, and in what's becoming an alarming trend, didn't even get a shot on goal.
In fact, the Rangers penalty kill had more shots on goal in this game than their power-play did. That's great for the penalty kill, but that's not great for the Rangers power-play – unless the Rangers power-play is going to score on their first shot of every said man-advantage.
The Rangers have been out-hitting the opposition in most of their games this season, where the Rangers out-hit the Flames 27-20 in this game. Even better, the Rangers face-off woes were corrected tonight, as the Rangers won 60.8% of all draws and by a tally of 31-20. However, despite this fortunate news, the Rangers could just never get going in this game, as the Flames dictated the pace, the flow and spent more time in the Rangers defensive zone than the Rangers did in the Flames defensive zone.
And for as good as CZAR IGOR was tonight, Jacob Markstrom was equally as good, if not better.
---
I know many people (whether they be fans, the media, bloggers, podcasters or whoever), usually have the mentality of a worst-case scenario after every loss. Admittedly, while this game was pretty crappy to watch, the sky isn't falling either. Like a win, this loss is just one game. That said, some things were inexcusable, and I'll soon get into that.
As someone with a "glass half-full" perspective, I think you just have to chalk this game up to the mantra of "Any Given Sunday" – meaning that any team can beat any other team in the NHL, no matter what the circumstances are. After all, not only did the Rangers lose 5-1 on Monday night, but so did the Stanley Cup champions, as the Buffalo Sabres, of all teams, knocked off the Bolts by a 5-1 final.
I don't know if saying "the Flames wanted it more" would be 100% true, but without a doubt, the Flames were more prepared than the Rangers were.
It should also be mentioned that the Rangers have played seven games during this season so far – which is tops in all of the NHL. For the Flames, this was their fifth game of the season, thus making them fresher than the stale bread that we've been seeing out of Artemi Panarin lately.
(Plus, after a long road-trip, teams don't practice once returning home. These players have to catch up with their daily lives. Returning home after a lengthy trip just breaks up what was working for a bit.)
In addition, and for what it's worth, Rangers head coach Gerard Gallant talked about the Rangers tough schedule (something I've talked about since the start of the season on this site) after the game. While Gallant didn't make any excuses, he did say that he hoped this game was more about the schedule (his team being tired a bit) rather than anything else. With three days off between now and Friday night's tilt with Columbus, we'll see how true that is.
---
While yes, "it's still early" – that excuse and statement will only last for so long.
Seven games into the season, the Rangers top 1-2 punch of Mika Zibanejad and Artemi Panarin have only scored one goal each – and that includes all the time that both men receive on the Rangers powerless play. Needless to say, for Mika Zibanejad, who many think has Rocket Richard Trophy material, and for Artemi Panarin, who we know has Hart Trophy material – this is no bueno.
As you know, as I know, and as everyone else knows – for the Rangers to have success in the regular season and into the playoffs, Zibanejad and Panarin must get going. If their lack of scoring issues continue, it will only be a matter of time before all of the headlines, regarding their failures to put pucks in net, take center stage.
Of the two, Zibanejad has been better, with his best work coming on the Rangers penalty kill, a unit where Panarin is not featured on. I know people don't put much stock into the plus/minus stat anymore, but it should be stated that seven games in, Zibanejad is +3, while Panarin is -4. And if you're an eye-test fan like I am, Panarin's -4 shouldn't shock you at all. (And if it wasn't for CZAR IGOR, Panarin's plus/minus stat may have cracked the double-digit territory.)
As fans, we're used to weathering the storms whenever our team isn't playing at their best or to their potential. However, what's so concerning, is that for the first time since joining the Rangers, Panarin has now become a defensive liability. He's made brutal turnovers all season, where more times than not, these "baked by the Breadman" turnovers go for a goal the other way – including game winners for the opposition (Dallas).
Just as bad? Whether it's a coincidence or not, Jacob Trouba, another fat cat on this team, is usually on the ice for these turnovers. In turn, Trouba can't make a play, where instead of squaring up or pestering the other team's shooter, he does this matador move, where he lazily and half-heartedly waves his stick and watches the other team score.
And I haven't even mentioned how Trouba just glides during these plays, rather than making a full rush. We saw this same exact type of play tonight – a goal for the Flames.
That said, while I've been tough on Trouba in the past on this site; I thought that once again, he had another decent game (for him) in this contest.
I'll get more into this during the game recap, but as I've always said on this site (and I'll keep saying it until it's no longer true) – Trouba is at his best whenever someone pisses him off or pops him one. We saw that tonight too. And yeah, as I also always say – maybe Gerard Gallant should slug him in the mouth before every puck drop.
---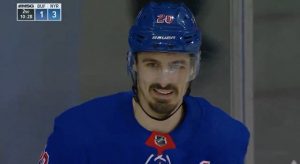 Whatever you think about Trouba, I don't think this is up for debate – he's insanely overpaid. That said, it's not worth going down that road again on this site. I've made my opinions on this very clear already. That said (I need a new go-to phrase), as of late, he's been more productive than both Mika and Panarin – which is a statement I don't think anyone would've said going into this season.
If there's been one highly-paid player that's been delivering all season, it's Chris Kreider, who throughout these first seven games, has been consistent and the best "fat cat". While Kreider has had better games than this one from Monday, he once again outshone Panarin, Mika and Trouba during a gloomy night at M$G.
For the Rangers to get rolling, they are really going to need to get their top six going. Kreider can't be the only one to be a positive force game-in and game-out – which is probably another thing no one expected to hear at the start of this season.
The Columbus Blue Jackets, while a bad team on paper (and a team that many had ranked to finish at the bottom of this division), are up next, where John Davidson's team is now 4-2. If the Rangers can treat the Blue Jackets like the team that many think that they are, maybe it will help get Panarin and Mika clicking again. With a four-game road-trip after this home game with Columbus, the Rangers are really going to need a win to build off of, before flying west to Seattle and western Canada.
---
Before getting into the news, plugs and game review segments, how about some updates on some New York Ranger related books? Let's start off with my book first, "The New York Rangers Rink of Honor and the Rafters of Madison Square Garden", as I give you some stuff about Bill Cook.
---
If you've read my new book already (and based on my correspondence with you guys, many of you have), during the Bill Cook chapter, I expressed my frustration with the Rangers organization for only giving Bill Cook an oil painting during his last appearance at M$G. As you can see above, that's a picture of Bill Cook receiving that painting.
To quickly recap here, Bill Cook, at 90 years old, was invited to M$G on January 10th, 1986. Despite the Rangers already setting a precedent for retiring jerseys (when they retired Rod Gilbert's #7 jersey seven years prior), the franchise opted not to retire Bill Cook's #5 jersey on that night – and as they should've done, at least in my opinion.
It should also be mentioned, that just a year following this Cook oil painting ceremony, the Rangers retired Eddie Giacomin's #1.
Of note: Giacomin and Gilbert never won the Stanley Cup. Cook, the team's captain for eleven seasons, won two Stanley Cups, where along with Frank Boucher and brother Bun Cook, the "Bread Line" dominated the NHL. More importantly, the Rangers had their greatest period of success under Cook, where in turn, the trio created hockey fans (paying customers) in NYC – a NYC that wasn't a hockey market at the time.
Whether you read my book or not, I don't mind. Just do a Google or Wikipedia search on Bill Cook, and when you see all of his accomplishments, you will become truly dumb-founded on the Rangers ignorant omission of Cook's #5 from their rafters.
My point to this story is that when the Rangers invited the 90 year old Bill Cook to M$G, where Cook had to fly from Canada to attend the event (no easy feat), the Rangers just gave him a lousy painting. Less than five months later, Cook passed away. Rather than giving Cook and his family an honor that would live on forever, the Rangers gave Cook a painting – a painting that Cook only had for a short time and a painting that has since been misplaced in the current day. (The Cook family thinks it was loaned to the Hall of Fame, but have no idea who has physical possession of it.)
It should also be mentioned that Cook was extremely grateful for the oil painting and for the ceremony that he received. He never said anything about wanting his jersey retired or anything like that, as he was too humble to do so. (In fact, Barry Beck, another #5, awarded Cook with the painting.)
Cook was just happy to be remembered as a "somebody" (his words), even if Cook wasn't just a "somebody". Without question, and this isn't up for debate, in January of 1986, the time of this ceremony – Cook was the greatest living Ranger. The Rangers really screwed up here.
---
While on the topic of my book, MSN.com just posted a review of it. If you haven't bought a copy already, and need a little nudge to do so, here's their review:
https://www.msn.com/en-ca/sports/nhl/frank-boucher-remembered-in-new-book/ar-AAPW2mh?ocid=mailsignout&li=AAggNb9&fbclid=IwAR0BclRnNZ7nLi78CDYYSvKVno987lEWb3kb6pYTNgf8d_5DqY6GAhhaAZY
---
And before getting into my own plugs, as mentioned last night, the iconic Stan Fischler is set to release a new autobiography on 12/9/21. For more on that book, check out:
---
And oh yeah, that Mark Messier guy is releasing an autobiography this week too, a book which you can find on Amazon.com. I hope to have a review of that book sometime on this site within the next two weeks.
---
Let's now get the PLUGS segment out of the way, and then get into all of the latest Rangers news and the 10/25 NYR vs CGY game review.
---
The first plug of tonight's blog – the mandatory plug for my new book, "The New York Rangers Rink of Honor and the Rafters of Madison Square Garden". And let me say this – thank you to everyone who has bought one, as my Amazon sales have exceeded all expectations, where for a limited time (that damn Mark Messier who just released a book!), my book was number one on the Amazon hockey book sales charts.
As mentioned previously, the book is now available in hardcover, in paperback and in Kindle formats. To purchase a copy of the book, visit this link:
https://www.amazon.com/Rangers-Rafters-Madison-Square-Garden-ebook/dp/B09CM5N2WD
For those still looking for signed paperback versions of the book, I have 9 copies left for sale for $25 (includes shipping price) through me directly. Here is all the information on that:
---
Lastly (and about 2500 words later), before getting into the news and game review of tonight's manifesto, here are my last few blogs in case you missed them:
---
---
---
Prior to Monday night's game, the biggest news in Rangerstown, USA was that both Ryan Strome and Kaapo Kakko were skating with the team on Sunday.
Kakko (who as talked about before, skated with the team all of last week), is now expected to return on Friday night. I use the word expected here, because as I said last time on this site, I figured Gallant and the organization would give Kakko some extra time to get ready, especially since the team had three days off in-between the game from tonight and Friday's tilt with Columbus. (Plus, with a winning streak, there was no rush to bring Kakko back either.)
In another update on Strome, after the game he said he did have COVID symptoms, hence his recent absence from the roster. I'm not exactly sure about the time-frame, but it will be interesting to see if he's allowed into Canada next week, when the Rangers go on their annual western Canada tour (Vancouver/Calgary/Edmonton). (As previously mentioned on this site, Canada has extremely strict COVID mandates on who and who can't enter the country right now.)
Here's a picture the Rangers released with the two linemates back at Sunday's practice:
Strome, who did play on Monday night, forced the Rangers to return a player to Hartford, where the team elected to send Morgan Barron down. I know some fans were going nuts about this, but as said numerous times already, Barron will only get better by playing top minutes at the AHL level, rather than playing 5-6 minutes a night on the Rangers fourth line.
Even better? Barron won't cry like a baby about this and fly to Russia.
However you feel about this roster move (many fans were clamoring for McKegg's return to Hartford), the bottom line is Barron is now the first call-up in the event anything else should happen. And as we saw on Monday night, in regards to Ryan Reaves, Barron may be back faster than you know it.
And for the fans who want McKegg back in Hartford, should Reaves be healthy and should Kakko be available on Friday – the Rangers will most likely send McKegg back to the Wolfpack.
Lastly while on this – I have never seen a fan base cry so much about fourth liners and seventh defensemen before. After all, it's not like these players have truly effected the outcomes of any of these games. For me, and as stated at the top of this write-up, I'm more concerned about the fat cats and the top six.
---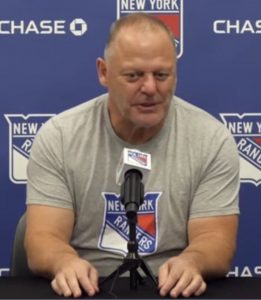 With Strome back in the line-up, Gallant returned Panarin to his favorite center and rolled out these lines:
FIRST LINE: Panarin/Strome/Goodrow
SECOND LINE: Kreider/Mika/Lafreniere
THIRD LINE: Gauthier/Chytil/Blais
FOURTH LINE: Reaves/Rooney/Hunt
Defensively, everything stayed the same from last game, except for Igor Shestyorkin returning to his rightful place in net.
---
BOX SCORE time. The following information and graphics come from the new world-wide leader in NHL coverage, ESPN.com:
SCORING:
PENALTIES:
TEAM STATS:
GOALIES:
| | | | | | | | | | | |
| --- | --- | --- | --- | --- | --- | --- | --- | --- | --- | --- |
| SA | GA | SV | SV% | ESSV | PPSV | SHSV | SOSA | SOS | TOI | PIM |
| 29 | 1 | 28 | .966 | 22 | 2 | 4 | 0 | 0 | 59:30 | 0 |
| | | | | | | | | | | |
| --- | --- | --- | --- | --- | --- | --- | --- | --- | --- | --- |
| SA | GA | SV | SV% | ESSV | PPSV | SHSV | SOSA | SOS | TOI | PIM |
| 37 | 5 | 32 | .865 | 30 | 1 | 1 | 0 | 0 | 59:55 | 0 |
---
I know I've said this many times, but what's one more – PUT STEVE VALIQUETTE ON THE ISLANDER BROADCASTS!
I watched the Islanders vs Golden Knights M$GN broadcast from Sunday night, and my biggest takeaway was this – Shannon Hogan is in the studio all by herself. Really? Every other New York team broadcast, whether it's the Knicks or Rangers, have three guys in-studio on most nights. Here, Islander fans are subjected to just Shannon Hogan.
Again, I really hope Henrik Lundqvist loves this new job and takes on a full-time role with the network. You don't need a marginal back-up goaltender next to one the best goalies of his own generation. The Islanders could really use an ex-player on their broadcasts, and who better than Islander alumni Steve Valiquette? It's a match made in heaven, as both the Islanders and Steve Valiquette are as Mickey Mouse as it gets.
You see, I'm a nice guy! I'm not asking for Vally to be fired or anything like that (it's bad karma to do such a thing), I'm just asking him to work different games!
The M$GN pregame and studio show was a mixed-bag, where Lundqvist once again was good in his new role while Vally, as usual, dragged the whole thing down.
I know this is all sounds redundant, but once again, Lundqvist was making great points throughout the broadcast (points that wound up being proven true, such as it's tough for teams to play well at home after a huge road-trip), while Vally was talking about his own career and cracking jokes at Lundqvist's expense.
We get it Vally – you're friends with Lundqvist and like to break his chops. However, I don't need to hear from a crappy ex-NHL goalie, and the worst back-up of Lundqvist's career, as he continues to make jokes that don't land about #30. It's already old and corny. Once was funny, twice was meh, everything else is excruciatingly horrendous.
Lundqvist also talked about how winning on the road bonds a team, while Vally went into his analytics, where once again, he plugged his own fake news stats company. This is where the differences really stand out between the two former net-minders, as Lundqvist is telling us human stories, real locker room stuff and what it's like as a player, while Vally busts out his meaningless arts & crafts and charts & graphs.
In news away from the goalies, Dave Maloney is back on-air, and I thought that as usual, he did a great job. Why not send Vally to the Islanders and throw Maloney into the studio? From there, you can use Michelle Gingras between the benches, a job she's done before.
One last time on this site – you don't need two goalies as analysts – you need a skater's perspective too.
If there was one thing the broadcast really tried to hammer home, it was that they love Jacob Trouba. Not mentioned, despite his $8M annual salary, Trouba won't even qualify for an Olympic team.
Also not mentioned – the exiled Tony DeAngelo is averaging a point a night, while prior to this game, Trouba had one assist in six games played. (And no matter how you feel about the two players, this much is true – the highest paid defensemen in the league are the ones that pick up points. Defensive defenseman always get the short end of the stick in this salary-cap era. And really, I don't even know if Trouba is a defensive defenseman either!)
To wrap-up here, one last note. The word "leadership" was brought up repeatedly throughout the broadcast, where all of this felt like I was watching an episode of "Pee-Wee Herman's Playhouse".
---
The first period of this game can be summed up fairly quickly (a rare feat for me!) – CZAR IGOR and turnovers.
Despite a few glimpses of life from the Rangers offense, this period was pretty much one long Ranger turnover, followed by monster saves out of Igor. After nine turnovers in the period, Igor finished up with fourteen saves.
As noted in the line-up segment, Ryan Strome's line, and not Mika's line, started the game.
A better note? Strome won every opening face-off of each period, where he finished the game with eleven wins during twelve face-offs, good for a whopping winning percentage of 91.7%! Without a shadow of a doubt, this was Strome's best game at the dot of his Rangers career.
Another stat? As noted by the M$G Networks, Strome skated a team-high 3.3 miles in the game. I know that stat is pretty meaningless, but it tells you that after recovering from COVID, Strome was at 100% and was healthy.
The big roster news from the first period is that both Ryan Reaves and Ryan Lindgren received injuries.
During his first shift, it looked like Reaves caught a skate in one of those infamous M$G ruts. (You know, ruts that have plagued that arena for the last 50+ years, yet still aren't fixed.) As a result, Reaves went to the locker room.
Reaves would later return to the Rangers bench in the game, but never took a shift following this injury. As I suspected at the time, and in what was later confirmed by Gallant, Reaves wanted to be with the team on the bench and not sitting in the locker room all by himself. His status moving forward isn't known yet, where I'm sure we'll get more about this when the Rangers practice again.
After the Reaves injury, Lindgren also went down the tunnel after a blocking a shot with his ankle. This was a minor contusion, and since we all know that Lindgren is tough-as-nails, I didn't think this would be a big deal. In turn, Lindgren returned to the game and as Gallant said, was fine afterwards.
Igor denied various Calgary shooters early on, which then set-up Julien Gauthier for a chance – another chance where Gauthier failed to score on. However, this time, you couldn't pin Gauthier for this one, as he had a Flames defenseman draped on him and tried a one-handed tuck. Markstrom easily snuffed this try out.
In what was big at the time, and now even bigger with hindsight, the returning Ryan Strome made a play from the NYR defensive zone, sending a home-run pass to Panarin. On this Panarin breakaway, Markstrom made his biggest save of the game. While this is a Rangers fan-site/blog, one also can't deny the great game that Markstrom had. Yes, Igor faced more shots and higher quality shots at that, but Markstrom, when called upon, was fantastic too.
With 11:03 remaining in the period, Igor continued his highlight reel season, denying Mangiapane's point-blank attempt. As the Rangers continued to turn over the puck, and as the two goalies traded saves, Igor made another big balls save, when he stopped Monahan, while the Flames centerman was dead-center and a foot away from #31 on the Blueshirts. This was huge Jerry, HUGE!
Right after this save, Trouba and Ritchie got into it, where yes – Trouba always plays better when ticked off. The two would earn off-setting roughing penalties here.
On the four vs four foreplay, with 70 seconds remaining in the period, all of the Rangers turnovers finally caught up to them. On a three vs two odd-man rush, Tanev beat Igor glove-side. 1-0 bad guys.
After the puck drop following the goal, once again Igor was tasked to make another huge save, where he came six feet out of his own net when he stopped Ritchie on a breakaway.
As the period expired, we remained 1-0 bad guys, where really, this could've been a 2-0, 3-0, 4-0 score. Then again, it could've been 1-1, had Panarin scored on his breakaway.
---
After our "SECOND PERIOD, WHAT DO YOU LOOK FOR HERE JOE?" line out of Sam Rosen, Strome won another face-off, but the Flames picked up where they left off, where they got the first several SOG of the period. Once Igor made these denials, Gauthier and Blais tried to hook up. No dice. Immediately after this failed scoring attempt, Mangiapane made it 2-0 bad guys, after a brutal turnover committed by Patrik Nemeth. As you may have noticed, the Rangers defense did Igor no favors.
3:45 into the period, Chris Kreider drew Backlund for a tripping call. The Rangers power-play was horrendous here, where they didn't even record one SOG.
And while speaking about the power-play, maybe it's time to shake it up?
How many times will this power-play try to set up Mika Zibanejad from Ovi's office, only for him to fail, fail and fail again? Maybe it's time to set up Panarin, the true sniper and the better shooter of the two, instead? Whatever the case, whatever the Rangers are doing right now on the power-play isn't working. I think you just need to go to your best player because Mika on the power-play is like watching repeats of a bad sitcom at 3AM on Comedy Central.
It was also around this time on the broadcast where we got a wide-shot of M$G, where once again, there were many empty seats.
As noted during the home-opener while talking about light crowds, I don't think being vaccinated is the biggest factor here. I think all of these Wall Street and white collar types, people who are now working from home, is what's plaguing the attendance. With no clients to take to games, and with these people out of the city, this is now two games where nearly every corporate seat was emptier and as lifeless as a Rangers power-play.
(And I also think insane ticket prices, coupled with Lundqvist now on the broadcast, are incentives to stay home as well. Flatten the M$G curve!)
As the period continued, the Strome line stood out, as everyone was trying to get to the net. Of the four Ranger lines (keep in mind the fourth line was down a man with Reaves unable to continue after his first shift), this line sustained the most offensive pressure. Unfortunately for the Rangers, Markstrom withstood it.
With 7:51 remaining in the stanza, Kreider, who previously drew a penalty, took one himself, as he was busted for holding Pitlick's stick. The Rangers PK blew out their previous power-play, where both Goodrow and Zibanejad got good shots on Markstrom. (All in all, the PK recorded four SOG, as opposed to two shots on the PP.)
At the end of the period, we remained 2-0 bad guys, where the power-play, the lack of scoring from the top six and the turnovers were abundantly apparent.
---
Going into the third period, for the first time since pretty much the 2014-15 season, I thought the Rangers had a good chance of making a comeback. After all, why should I think differently, especially after watching this recent road-trip? Sadly, that wouldn't be the case, despite Dryden Hunt bringing the Rangers within one at the 5:25 mark of the period.
On Hunt's goal, which made the game 2-1 bad guys, Trouba fired a shot from the point and both Rooney and Hunt were there for the rebound. Both went to push the puck in, with Hunt getting there first and Rooney slamming Hunt's stick with extra force and speed for the goal. Unfortunately, this would be the end of the Rangers comeback bid.
With 11:47 to go, and with the Rangers looking to tie, Blake Coleman got a rebound goal while Nemeth and Lundkvist were caught watching. 3-1 bad guys. This was also controversial, as prior to the play, Gauthier was high-sticked and without a call being made. That said, it's not like the Rangers power-play is a lock either!
Panarin would then make another brutal turnover, where this time, Igor denied the Flames of increasing the lead. However, with 8:28 remaining, and after more sloppiness out of the Rangers, Backlund pretty much sealed the deal, pushing the score to 4-1 bad guys. This is where Trouba did his lazy matador defense act, although it was his partner, K'Andre Miller, who got burnt here.
In an Al Michaels moment, the only thing left to decide here was if this game would hit the over of -5.5 goals.
With 1:36 remaining, Chytil was sent to the penalty box and all the Flames had to do was skate out the game. Instead, Mangiapane scored the Flames PPG with just 4.6 seconds remaining, which gave the bad guys a 5-1 lead. The over had hit! (Which is either good or bad news, as this could've been a bad beat for some, just like it was a bad beat for Igor, whose team forgot that the game wasn't over at the time of this goal.)
5-1 bad guys, your final from "The World's Most Expensive Arena".
---
I know many people like to go "gloom and doom" after every loss (where I have to wonder if these people think that the team should go 82-0 every season), but to me, this was "just one of those losses" type of games. Maybe I'm being too positive here, but really – you can't win 'em all.
If the Rangers effort was lacking, I'd be concerned. I don't think effort, as much as execution, was the issue. The Flames were just hungry and perhaps the Rangers were a victim of their busy schedule. I also agree with Henrik Lundqvist, as we've seen this so many times before – teams get hot during a road-trip, where it's tough to keep it going once you return home. If that's the case – too bad the Rangers don't have the Islanders schedule this season! (Thirteen straight games on the road, as the Isles get ready to open up their new "IBS" arena.)
---
Programming notes:
— My new piece for Stan Fischler's Java Jive will run on Wednesday, as I take a look at the Nashville Predators, the Bridgestone Arena and the city in general. If you haven't subscribed already, check out: https://www.thefischlerreport.com/
— I have a lot of stuff coming your way, where like that movie "Willy Wonka and the Chocolate Factory" (the Gene Wilder version, the only version that matters), "so much time and so little to do. Wait a minute. Strike that. Reverse it!"
Of the non-game review blogs, I should have more stuff on Bill Cook, something about the 1950 Stanley Cup Final, a Mark Messier book review and other projects that I want to get to. Maybe I'll get some of this stuff done on the plane, which brings me to…
— I'm going to Seattle on Thursday night, where I hope to catch the Rangers vs CBJ game at "The Angry Beaver", which is Seattle's number one hockey bar. As you know from my recent trip to Nashville, I don't like to spend a lot of my time in hotel rooms typing up blogs, but I think I'll get at least some time to write a few words about the NYR/CBJ game.
— Since I'll be in Seattle on Sunday, there will be no "live-tweeting" out of me during the game, outside of random pics and a few thoughts during intermissions/commercials. Like my trip to Nashville, I'll also post a photo gallery blog, followed by some game thoughts, where again, I think I can do this during my six-hour flight – as long as WiFi prices aren't insane!
— With three days off in-between games, I'm sure the team will make some news, especially with an update on Reaves. I'll try to post something between now and the Columbus game in that likely event.
— Lastly as I go home here, site numbers have been through the roof lately. Old readers know this, but newer ones may not, but I don't really care about site traffic. If I did, I'd break up these manifestos into 678678686896789 articles like everyone else does, rather than asking for one click, where with that one click, you don't get any ads or spyware, nor do you have to click multiple links.
Maybe it's because this site has been around for a while now, maybe it's the team playing well or maybe it's the book – but whatever the case, thanks for reading. I always try to answer every email, direct message and blog comment, even if it may take a while. I enjoy receiving your feedback and thoughts on the team as well.
---
If you haven't already, subscribe to this blog for the next update:
---
Tough loss tonight, but it's not the end of the world.
Until next time…
Stay FABULOUS my friends.
As always here, thanks for reading and…
LET'S GO RANGERS!
Sean McCaffrey
BULLSMC@aol.com
@NYCTHEMIC on Tweeter