Greetings and salutations everyone and welcome to another blog here on BlueCollarBlueShirts.com. Needless to say, the Rangers group from Saturday night in Boston, MA were significantly better than the crap that stained the ice in Newark, NJ on Friday night. Even head coach Gerard Gallant, who has been nothing but positive since taking over the Ranger reins, said as much.
If you follow me on social media, then you already know that I attended the Devils 7-1 drubbing of the Rangers on Friday night. The best thing about that game/night for me? This:
The worst thing about this game, outside of the final score? This:
Then again, outside of the final score, this may have been the worst thing in Newark from this past Friday night:
I don't want to go too crazy about Friday's game during tonight's blog, because one, that game is now dated and two, I cried enough on social media (@NYCTHEMIC on Twitter) about it. However, I'd be remiss if I didn't mention a few things from that horrid event, which I'll do so now:
— There was no effort at all. As I always do throughout every Rangers preseason on this site (including here in 2021 too), I always hammer home the point of "it's only the preseason". That said, while I don't care about final scores, what really concerned me was the lack of effort displayed. It was embarrassing and almost as bad as the new "Many Saints of Newark" movie.
(What a bad week regarding the word Newark for me! And I'll save you from a full-length rant on the new Sopranos movie here, but I will say that this should've been a mini-series instead of a movie. The whole movie just felt rushed, had too much crap crammed in, none of the characters were really developed, the plot was weak, there was nothing to root for (Dickie Moltisanti isn't Tony Soprano) and there was nothing to anticipate/keep you guessing, such as a war with New York, the FBI, who's a rat, who's getting whacked, etc.)
— I saw some people, including Rangers head coach Gerard Gallant, praise Julien Gauthier after the game, and to me, it just felt forced. I thought this was Gallant's way, and the media's way too, in their attempt to find something positive to talk about. I've embraced a "glass half-full" perspective on this site, and if you want to rave about a few mediocre-to-decent shifts that Gauthier had – you have problems. Especially when the Ranger fat cats didn't do much of anything. Sometimes you have to say what it is – that game was "utter shite". ("Still Game" reference!)
— Chris Kreider, who is in the cross-hairs of many Ranger fans (due to his new contract), once again did little of anything. However, because he has a previous history with the Rangers, it's easy for some to overlook the nights where he plays the role of "Casper Kreider". It's what many fans did during the final years of Henrik Lundqvist's career too. I can understand this point-of-view if it's yours. However, what is starting to bother me about Kreider (I'm not a Kreider-hater like some), is that he continues to talk a big game and says the right things, but less and less are we actually seeing Kreider living up to his words. He can be a great locker-room guy, and from all accounts he is – but at the end of the day he needs to produce on the ice.
That said, while I've been very nice and patient with Kreider (especially since this is the preseason), you know who remains as my target, even if I don't want what I'm about to say about this player to come off in that fashion. Of course, I'm talking about Jacob Trouba here.
There is no nice or dignified way to describe Trouba's performance from Friday night. In a word, Trouba "sucked". Whether it were the turnovers, letting the Devils skate right past him, being on the ice for a majority of the goals allowed, screening his goaltender, playing the "El Matador" defense or not backing up his teammates; whatever you want to focus in on here – Trouba was a nightmare.
If there's one thing you can say about my writings on this site, it's that I'm consistent. Yes, I wasn't a fan of Henrik Lundqvist's contract during his final years, but like Kreider, at least Lundqvist had positive moments and good years with the team. We are now in Year 3 of this Trouba deal and he hasn't even come close to sniffing the $8M a season he currently earns, and will earn, during the length of his 7-year deal worth $56M overall.
I'm also sick of Trouba's many excuses, such as "I need time to adjust to the big bad scary New York City or else I'll wet myself." (Of note: Trouba hasn't said those exact words verbatim, but you get the point!)
Whenever Trouba makes these excuses, it all feels very cowardly. After all, during Trouba's entire tenure with the Rangers, including this preseason, there have now been four right-handed defensemen during this tenure that have significantly out-performed and out-played Jacob Trouba. I haven't heard and/or seen these players make excuses regarding the burden of playing in NYC either. Again I ask – what's Trouba's excuse?
(And oh – can you name an NHL defenseman currently making $8M+ that's worse than Trouba right now? Hmmm.)
In Trouba's first season with the Rangers, Tony DeAngelo, making 1/8th the money as Trouba, was the fourth-highest scoring defenseman in all of the NHL. While scoring points isn't the only thing that makes a defenseman, in addition to DeAngelo not exactly being the best defensive-defenseman in the world; at the end of the day, DeAngelo made up for his defensive lapses by scoring goals and racking up assists. All Trouba had for his $8M was "I am not used to playing in a big city." Bullshit, especially considering that DeAngelo came to the Rangers from freaking Arizona.
In Trouba's second season with the Rangers, Adam Fox, like DeAngelo before him and also making 1/8th the money that Trouba gets, won the freaking Norris Trophy, where Fox's defense was far superior than DeAngelo's from the year prior and where Fox saw his point totals receive a huge uptick due to the DeAngelo situation with the Rangers. Where was Trouba? He was shooting pucks into the East River while the media pumped Trouba up as a candidate for team captain – something that still continues to this day.
In these four preseason games thus far (and yes, "it's only the preseason"), we've already seen Nils Lundkvist and Zac Jones dominate Trouba's work and production. If it weren't for the hard-salary cap/guaranteed contracts, and if this was a fair fight/competition, it would be Trouba going to Hartford – and not Lundkvist and/or Jones. And had Wade Redden not previously come along, which then allowed the Rangers to circumnavigate the hard salary cap until the NHL were forced to employ a "Redden Rule" – the NHL may have had to install a "Trouba Rule" instead.
I know this all sounds like I'm taking a steamy dump on Trouba and I'm killing his contract as if he were Lundqvist in 2019; but that's not my intent. I want him to play well. I don't want to talk bad about the guy at all. After all, he's a Ranger and if he plays well it helps the Blueshirts! However, I just can't stand Trouba saying all these grandiose things and the media politicking for Trouba to be captain, while watching Trouba play at an unacceptable level.
Even worse, and as mentioned many times on this site before; what grinds my gears is whenever there is a whistle and a scrum ensues afterwards, there's Jacob Trouba, all by himself, as the rest of his teammates push, shove, punch and get physical. At his size, Trouba should be the first one involved during these mini-melees, especially if he's in the running to become the next captain of the franchise. Instead, it's like he has a panic attack every time this happens, as if he were Tony Soprano! (Okay, I'll try to limit all of "The Soprano" references from this point on!)
While finishing up on Trouba here, I want to bring up something my dad said to me today. Very often, it feels like Trouba's best games are the games where someone lays a big hit on him or bothers him first. Like a boxer getting tagged, once Trouba gets hit, it's akin to waving smelling salts under his nose. Just think about it for yourself. Every time Trouba has a big game, it's whenever someone tries to take liberties with him first. That's when the adrenaline kicks in. Maybe Gallant should slug him in the mouth before every game if this is what it'll take to get a more consistent and productive Trouba on the ice!
I'll also say this one last time tonight and I ask you to keep this in your mind as you read-along – "it's only the preseason and blah blah blah." However, outside of Artemi Panarin, and despite Mika Zibanejad's lone power-play goal in the 7-1 loss from Friday night – the players I have termed as "The Fat Cats", aka the top-paid players on the team, haven't made anyone exactly jump for joy during this preseason. It's been the young players, and new talent, like Nils Lundkvist, Kaapo Kakko, Alexis Lafreniere, Will Cuylle, Sammy Blais and others all standing out the most.
With that all said (and now feeling cleansed and vented out after Friday night's disaster), Saturday night's game was a complete 180 – even if it felt like it was going to be another disaster from the onset. Of course, there's one caveat here, as we had two different groups play in these two games. If there's a trend so far, it's that Group One, the Mika/Kreider/Trouba group, hasn't looked so hot, while Group Two seem to be light-years ahead, and that includes a Group Two that didn't even play with Artemi Panarin, nor Adam Fox, on Saturday.
To shower more praise upon Group Two, they beat a Boston Bruins team featuring the Production Line, as opposed to Group One, who were blown out by the lowly New Jersey Devils. And as said, it's not about the loss to the Devils – it was about the lack of effort and how the Rangers looked helpless all game. The Rangers had every right to lose on Saturday night, but Group Two showed major resolve and never gave up – even when things got hairy and were hanging on by a thread.
I'm done talking about Friday's game for the rest of this blog, as I want to get into the good and positive stuff, which was the Rangers 4-3 overtime win in Boston on Saturday. And heck, for good measure, the Rangers also won a meaningless shoot-out after the win over the Bruins too – a result of a pregame deal reached by Gerard Gallant and Bruins coach Bruce Cassidy. (Both coaches wanted some "real-game" shoot-out practice.)
However, before getting into Saturday's win and all of the news, up first – the PLUGS segment!
---
The first plug of tonight's blog –  the mandatory plug for my new book, "The New York Rangers Rink of Honor and the Rafters of Madison Square Garden".
As mentioned previously, the book is now available in hardcover, in paperback and in Kindle formats. To purchase a copy of the book, visit this link:
https://www.amazon.com/Rangers-Rafters-Madison-Square-Garden-ebook/dp/B09CM5N2WD
For those still looking for signed paperback versions of the book, I have 21 copies left for sale for $25 (includes shipping price) through me directly. Here is all the information on that:
---
And of course, before motoring into the meat and potatoes of tonight's manifesto, here are my last few blogs in case you missed them:
---
---
---
Let me just breeze through the news for you here first, and then get into the game from Saturday.
Anthony Bitetto, Johnny Brodzinksi, Timothy Gettinger, Anthony Greco, Keith Kinkaid and Ty Ronning were all waived on Thursday. All of these players cleared waivers on Friday, where as a result, all of these players were then assigned to the Hartford Wolfpack.
When it comes to these transactions, two things surprised me, but I wasn't exactly shocked to the core here either. Those two things/players are Keith Kinkaid and Anthony Bitetto.
As mentioned all preseason on this site, I thought Keith Kinkaid would at least get one look. While the back-up job is pretty much Alexandar Georgiev's job to lose, I thought after last season, Kinkaid should've at least received thirty minutes of action during this preseason. Instead, and especially after Saturday's game, who knows? Maybe Tyler Wall could become the next back-up goaltender in franchise history.
What I'm really interested in seeing (and because I'm of the belief that the Rangers may have one goaltender too many at the present time), is what happens in Hartford? Assuming that Igor Shestyorkin and Alexandar Georgiev are your two Ranger goaltenders, that leaves you with Adam Huska, Tyler Wall and Keith Kinkaid in Hartford. Who is the odd-man out there? Will one of these three men be sent to the ECHL with the Jacksonville Icemen? This all boils down to a numbers game, where when it comes to the Rangers and Wolfpack, you only have four goaltending spots between the two teams, but have five goalies signed. Either a trade is coming, someone's going to the ECHL or someone will be wearing a suit whenever the Rangers and Wolfpack play.
I was also surprised that Anthony Bitetto was waived, not because I thought he was a lock or should've been guaranteed the seventh defensman slot, but because he had a decent preseason. Who knows how this will all shake out, but as talked about before, if you're the Rangers, you'd think they'd rather have a veteran on standby traveling with the team, rather than having a young kid/prospect getting minimal NHL minutes.
In other words, you'd rather see Zac Jones, Nils Lundkvist or whatever other young defenseman you want to name here, get top two pairing minutes in Hartford, rather than seeing these players scrolling around on their phone in the press box whenever the Rangers play. From an asset management perspective, you rather have Bitetto upstairs and not playing, rather than a player who could one day be part of the future.
Speaking of Ranger roster cuts, on Friday, the Rangers also announced that Brennan Othmann, this year's first-round draft pick, has now been assigned back to his junior team – the Flint Firebirds of the OHL. Everyone knew this was coming, so this isn't a major deal.
In addition, on Saturday morning, Gallant said that in preseason games five and six, that he will be using line-ups that will reflect the Rangers opening night line-up. In other words, with the Rangers having several days off right now, where they will have "team bonding" activities during this time (intense Parcheesi games I'm sure!), Gallant will be figuring out who to put on the ice and when, come game one of the regular season, in Washington.
It should also be mentioned here, that the team will be spending time in Rhode Island for the next few days as well. As far as the complete roster goes, that isn't known yet, but by the time you read these words, there's a good chance that Gallant and Rangers general manager Chris Drury may have trimmed more of the fat off of this roster.
Lastly, when talking about the Rangers finalizing their roster here, and as talked about before on this site; the two things to really look out for now is whatever happens between Jones & Lundkvist, and if Libor Hajek is either traded or waived. The status of everyone else is pretty much known at this point.
---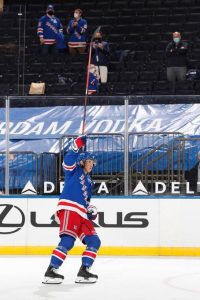 Three more news items before getting into Saturday's win.
During Friday night's debacle, Vitali Kravtsov left the game in the first period, with what was later described as a "lower-body injury". Gallant said that this injury shouldn't be much of anything, but it should be noted that Kravtsov didn't make the trip up to Boston either. His health status will be something to watch during these next few days.
When talking about the differences between former coach David Quinn and Gerard Gallant, Strome told the media that he rarely sees Gallant in the locker room, as opposed to DQ who was in the locker room all the time. Of course, the situations, the backgrounds and rosters that DQ and Gallant had were and are different.
In our final news note, Gallant said the Lafreniere switching sides experiment is now over. On Thursday, Gallant said the following about this topic:
"We're trying to just give them both opportunities. I know Kreider, with his speed and strength, if he gets in that right side, and gets going down that wing, and cuts him with that shoulder – it's pretty tough to stop him. We mentioned it to him [Kreider]. Lafreniere is a little bit more comfortable on the left side right now as a young player, so we're gonna give that a try. Kreids wants the opportunity on the right side too. He's a strong skater and I think you'll get a lot of opportunities going down that right wing, on his off side."
Let's now get into Saturday's game and overall thoughts from these first 240 minutes of preseason action.
---
In my eyes, while there were a few mistakes and a couple of things that made you groan during the first period, Saturday night's 4-3 overtime win over the Bruins was huge progress.
Very rarely do you disparage the number one star of the game (especially when it's a Ranger), but Alexis Lafreniere (game winning goal and an assist), wasn't even one of my three Ranger stars of this game. And don't twist my words or intention here – this is a good thing!
When it comes to three Rangers who stood out more to me than Lafreniere did on Saturday night, those three players were Tyler Wall, Sammy Blais and Nils Lundkvist. (Honorable mention: Kevin Rooney.) Of those three players, only Sammy Blais, like Lafreniere himself, is guaranteed a roster spot right now. For Wall and Lundkvist, their stock soared. While Lundkvist's name might be written into the opening night line-up (with an erasable ink pen for right now), it's more likely that of the two, Wall will be in Hartford soon enough.
What's also funny if not scary, about this preseason, that it's been Tyler Wall, and not Shestyorkin or Georgiev, the assumed two goalies come opening night, who has had the best preseason in net amongst all Ranger goaltenders. Again, you can only put so much into what happens during the preseason, but for Wall, this is all great stuff, especially after his poor season in Hartford from the 2020-21 season.
When it comes to Alexis Lafreniere tonight (who played on a line with Ryan Strome and Kaapo Kakko), he also looked good in this game. However, if it weren't for a fluke turnover by Bruins goalie Linus Ullmark, Lafreniere wouldn't have been named as the top star of the game or one of the three stars either. However, he did create that turnover and immediately scored after forcing it, so kudos to him. It's nice to see Lafreniere deliver in moments like these. Let's hope we see more of this in the regular season.
Away from Lafreniere, Blais and Lundkvist really stood out tonight and for the majority of the game. Blais crashed the net all game, even picking up a goal on a Nils Lundkvist blast from the point. (Lafreniere got the secondary assist on this goal, but make no mistake, this was all Lundkvist here.) After Blais and Lundkvist worked this magic, they would do the same thing two more times. While the latter two chances didn't go for goals, these were great scoring opportunities, where it looked like these two have some sort of chemistry already. Maybe this is a more of a "Hockey IQ" type of thing, in addition to Blais' willingness to crash the net, but whatever the case, you loved seeing these two on the ice.
In fact, Sammy Blais was so good tonight, that I even dicked around and made this silly picture:
Unlike Friday night, when Saturday's game was complete, there were no feelings of negativity at all. That said, there were a few eyebrow-raising moments in the first period, including Alexandar Georgiev, a Georgiev who has not exactly looked "lights out" this preseason.
However, despite a questionable first period (it is hard to solely blame him for all three goals allowed, but he does shoulder some blame), Georgiev rebounded in the second period, where admittedly, he did get some luck out of his iron. That said, he was also flawless in the period, stopping 11 shots in all in that frame.
This group of Rangers also beat the Bruins on Tuesday, where as mentioned previously on this site, featured a junior varsity team. In this game from Saturday, the Bruins had many of their starters/regulars playing, including the Perfection Line and their defensemen. In other words, the Rangers losing this game wouldn't have been a big deal. All you wanted to see was effort. And when it was all over, not only did the Rangers give you that effort – they won the damn game (and a bonus shootout too).
The first period was pretty much a mess, sans the final two minutes.
Libor Hajek, who is doing himself no favors right now, took a hooking penalty just 1:49 into the game. Fifty seconds later, and after some nifty passing from the Bruins top line, Pastrnak scored a crisp-looking power-play goal. 1-0 bad guys just like that, and where it felt like a continuation from the game 24 hours prior.
However, about 30 seconds after Pastrnak's goal, Ryan Strome got a fluky goal, cashing in on a wrap-around rebound shot. Of note, Hajek got the assist here, but this was more luck than anything else. Strome was in the right place, and at the right time, on this equalizer.
The second Bruins goal (every member of the Perfection Line scored tonight) came off the stick of Patrice Bergeron, in a goal that was very similar to Pastrnak's PPG. It was more slick passing out of the Bruins and Bergeron finished off Georgiev from "Ovi's Office". In other words, Georgiev was beaten on a PPG and then beaten by one of the best players in the league, and on a shot that Bergeron buries against any goalie on any given night.
The Rangers power-play, which has had issues, despite later picking up a PPG in this game; then gave up a short-handed goal. "The Rat" aka Brad Marchand, pretty much sent Rangers defenseman Matthew Robertson packing to Hartford, as Marchand deked Robertson so bad, that Robertson fell to the ice and then Marchand finished off Georgiev with a backhander. Of the three goals allowed by Georgiev, this was the one that needed to be stopped. Again, and while not trying to make any excuses here – Georgiev was beaten by the three best players on the Bruins. In addition, these three goals were pretty much the end result of one-on-one situations.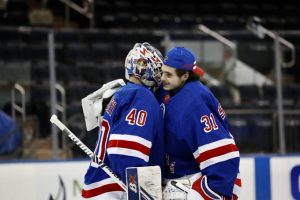 Down 3-1 just 13 minutes and change into the game, you felt a blow-out was on its way. Instead, the Rangers kept the Bruins off the scoreboard for the rest of the game.
After Kaapo Kakko (who as mentioned, looks like a new player out there), drew a hooking penalty out of Charles McAvoy, the Rangers then went on their second power-play of the game. This one would be successful, as this was when Lundkvist took his shot from deep and the puck deflected off of the body of Sammy Blais and past Ullmark.
Aside from Lundkvist & Blais connecting here, this goal was even bigger, because not only was this a PPG that put the game within reach; it was also a goal scored on one of those "wrap-around period power-plays". Rather than letting the Bruins PK1 unit get two cracks at killing this penalty (final minute of the first period and first minute of the second period), the Rangers took care of business. And really, after this goal, the whole game changed and in favor of the Rangers.
The second period felt never-ending at some points, as during one stretch of time, the Rangers didn't get a shot off for over nine minutes. Julien Gauthier would eventually snap the drought on an innocent backhander. I also want to say, despite Gallant and the media praising Gauthier, I still don't see where he fits into the line-up. Also hurting Gauthier's chances to get a roster spot is that while he does get chances, he just doesn't finish on them. There's just no reason to bump anyone else off of the roster for Gauthier – at least not yet. And yes, it's only the preseason, but when you're talking about the 12th and 13th forwards on this team right now, Gauthier, individually, needs to stand out in order to wear his new #15 jersey inside of M$G.
Speaking about one of the final forward spots on the roster, it was Kevin Rooney who bolstered his case (especially over Morgan Barron) on Saturday, even if it was already a near-lock that Rooney will be with the Rangers in Washington later this month.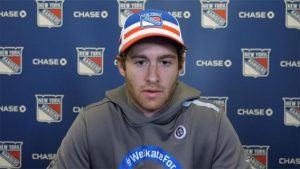 After forty minutes, and with the score still at 3-2 bad guys, it would be Kevin Rooney finding the tying goal.
With less than ten minutes remaining in the third period/game, the Bruins were on the power-play after a Dryden Hunt cross-check. During the Rangers penalty kill, Rooney got the puck, made a dash at Ullmark and drew McAvoy for a penalty as Rooney was all alone with Ullmark. As a result, Rooney was awarded a penalty shot – a penalty shot that Rooney perfectly cashed in. This was a rare short-handed penalty shot goal, not only for the Rangers, but in an NHL game in general.
In addition, this short-handed goal matched the Marchand SHG from earlier in the game. And with the Rangers eventually killing this Hunt penalty too & after giving up an early PPG in the game after the Hajek penalty – the Rangers PK finished the game 3-3. In-game improvements! Gotta love them!
The Rangers, who featured a talent roster that didn't match the roster the Bruins had on the ice on Saturday, held their own and erased the two-goal Bruins lead. Despite the final SOG tally of 36-19 Boston, the Rangers never petered out. Even better, it was Tyler Wall, in crunch time, who was superb, finishing with 11 saves on 11 shots faced and with not many of these saves being easy. However, despite the differences in talent and the SOG number, Lafreniere would score the game winner, another fluky goal at that – but hey, at the end of the day, all goals count the same.
In the 3 vs 3 overtime, the Bruins had the puck for 90 seconds straight. On a simple reset play, Ullmark went to pass the puck, but Lafreniere got some wood on it, forced a turnover and beat Ullmark. 4-3 just like that! You could even see it on the faces of the Bruins – they were pissed not only about this play, but were also mad about losing this game to these inferior Rangers too.
After the game, the two teams had their pre-arranged practice shootout. It took six rounds, but the Rangers won this too, after Rooney beat Ullmark again and with Sammy Blais scoring in the sixth and final round. Three quick notes on this shootout:
— Tyler Wall was fantastic, only giving up a goal to Pastrnak. I can live with that.
— The Rangers may have found their new shootout specialist in Kevin Rooney, something the Rangers last had with Mats Zuccarello. A fourth line journeyman center usually isn't your go-to shoot-out guy, but you can't argue with results either. Rooney may have Ullmark's number, but he at least deserves a look the next time the Rangers have one of these gimmicks.
— No one really expects much scoring touch out of Blais, but if he can do what he's here to do (hit and play physical) and pick up some points along the way – that's a win-win all-around.
---
If you were looking for a short blog on this site (they don't exist), Gallant's quick review/recap of the game sums up my feelings completely. Here's what the coach said after the win:
"It was a completely different night. I'm glad our team bounced back because I would have been pretty disappointed if we didn't play the way I expected us to play tonight after last night's game."
Well said.
Up next for the Rangers is probably watching some football on Sunday and then do their team-bonding stuff in Rhode Island. There will also be some roster-cutting too.
After a few more practices, the Rangers will finish out the preseason with a game at home with the Devils and with a Saturday night game in Bridgeport, CT against the nomadic losers known as the Islanders. After that, all eyes are on 10/13 when the Rangers kick off the season against the Capitals. You may have heard about this already.
Quick plug before going home here.
On Friday, October 1st, "The 2 Guys 1 Cup" podcast returned with another award-winning two-hour episode. To listen to the show, click the link below:
The Rangers season is officially under way, and after 16 episodes of off-season chatter, it's finally here! Quick breakdown of first 2 games, A long discussion about Lafreniere and other number 1 picks, and what is a "generational talent"? https://t.co/wTBs7ovhLD

— 2 Guys 1 Cup (@2G1CRangers) October 1, 2021
And here's a quick tease for "2G1C" – co-host Shawn S. tells a story about how he bumped into my dad last week! Everyone knows everyone on Long Island – and that's why Adam Fox should be the next captain of the team. (That's my story and I'm sticking to it!)
---
If you haven't already, subscribe to this blog for the next update:
---
Four preseason games down, two to go and where these final two games will give us a glimpse of what Gallant is planning for opening night.
Until next time…
Stay FABULOUS my friends.
As always here, thanks for reading and…
LET'S GO RANGERS!
Sean McCaffrey
BULLSMC@aol.com
@NYCTHEMIC on Tweeter