Greetings and salutations everyone and welcome to another blog here on BlueCollarBlueShirts.com. Can you believe there are some fans out there who believe the NHL regular season is meaningless and devoid of emotion?
On Tuesday night, at M$G, the Rangers played their first game of a four-game home-stand. The Blueshirts, who had won their last two games on the road, were hosting another top-four team of the division, and one of their oldest post "The Great Expansion" rivals, the Philadelphia Flyers.
The Rangers vs Flyers rivalry, now in its 55th year of existence, didn't disappoint tonight.
In the latest battle between the two I-95 teams, it were the Blueshirts over the orange-and-black attack by a final score of 1-0, following Chris Kreider's overtime goal scored with just 52 seconds remaining in overtime. Screw the shootout!
(Although I will admit – with the way these two goalies were playing – I wouldn't have minded the gimmick contest!)
As a result, the Rangers, who had sputtered prior to their road-trip out west, are now on a three-game winning streak.
Better than that? The Rangers are now in first-place:
While I will provide a full GAME REVIEW later on during this manifesto, here's the quick-and-dirty of tonight's 1-0 Rangers' overtime win:
Carter Hart, Carter Hart, Carter Hart and four posts – during a game that was looking like if the Rangers didn't have bad luck – they wouldn't have any luck at all.
After what was somewhat a slow and meandering first period; the Rangers' offense turned it on during the second period, where during those twenty minutes, the Rangers out-shot (attempted) the Flyers 33-8. That's not a misprint.
However, between Hart and all of the <dings> (Hart may have concussion-like symptoms after this game, due to all of the ringing in his ears) – the two warring teams entered the final frame with no goals on the board.
While the Flyers improved their play during the final frame (they couldn't have looked any worse), it soon became CZAR IGOR's time to shine.
The 2022 Vezina Trophy winner, who wasn't tested much during the first 55 minutes or so, came up with a pair of jaw-dropping saves on former Rangers' center, Kevin Hayes.
In a game featuring two goalies who haven't lost in regulation time yet (prior to tonight, Hart was 5-0-1 and CZAR IGOR was 5-0-2), both goalies kept those streaks alive.
Better than that (especially for Blueshirt backers), it is CZAR IGOR, and not Carter Hart, who now has win number six to his name.
But don't get it twisted, even if one of the Rangers' beat reporters foolishly asked Gallant after the game if this was Shestyorkin's best win yet (it wasn't – more on this following the GAME REVIEW segment).
Tonight was all about Carter Hart. It was also about a resilient Rangers' team, a team that could've thrown their hands in the air due to frustration, between all of the saves, posts & high and/or wide shots.
And while the three stars of tonight's game was complete fake news (Hart was third, Igor was second, Kreider was first – it should've been Igor third, Hart second and the goal posts first), who cares?
All that matters are the two points in the standings that the Rangers received following this win.
---
In a site/blog programming note, and as mentioned on Sunday (https://bluecollarblueshirts.com/103022/ ) – my "real-life" work schedule is about to change.
Originally, I was supposed to start my new hours on Tuesday (3pm- 11pm – UGH), but thankfully (at least for one night), that has been delayed by a day or two.
In other words, it looks like starting on Thursday, I will begin my new schedule, which means that these blogs will be posted later than usual.
This delay worked out for me tonight – because I would've been pissed-off with game spoilers (they are impossible to avoid) after this Rangers' roller-coaster of a win!
Let's get into all of the pregame stuff first, and then dive into everything else from this chain-smoking inducing Rangers' victory!
---
I don't know if you guys have been following these "Off The Boards with the Ryans" videos that the Rangers share on social media, but like Derek Stepan, Tony DeAngelo and Ryan Strome before them; this season, both Ryan Lindgren and Ryan Reaves are serving as alternating co-hosts for these entertaining bits.
Over the weekend and into Halloween, the Rangers released a two-parter where "The Grim Reaver" was the host.
While these videos don't really mean anything in the grand scheme of things; if anything is abundantly apparent from these short clips it's this – whenever the day comes, and #75 hangs up his skates for the last time – the M$GN should give Reaves a studio analyst job, pronto.
Take a look:
---
---
If you follow hockey on television like I do, then you'll notice this – more times than not, enforcers make for great studio analysts.
For whatever people think about Paul Bissonnette, this much is true – he serves a role.
Love him or hate him, and just like a heavyweight prizefighter – he has people talking either way – the goal of every TV executive.
While I believe that Reaves is easier to like (but I do know that "Biz Nasty" hams it up in his natural role as a "heel"), this is a fact – just like Henrik Lundqvist – he'd be a natural as a studio analyst.
Give me Reaves over Vagistat any day of the week, twice on Sundays!
Just food for thought.
---
After returning home from Phoenix late Sunday night/early Monday morning (depending on your lifestyle!), the Rangers took Halloween off.
On Tuesday, the team reconvened for a pregame skate, nine hours prior to puck drop against Philadelphia.
There were three stories coming out of the practice, all from the realm of "expected."
1 – Igor Shestyorkin would start. There's no reason to cool him off. Plus, this game was against a divisional rival.
2 – Filip Chytil, who did skate on his own, remains "day-to-day." Seriously, these Ranger-themed t-shirt companies are dropping the ball! There should be a Gallant "Day-To-Day" t-shirt out there!
3 – While Gallant wouldn't discuss the nature of the injury (some suspect concussion, others suspect a broken nose), Vitali Kravtsov will miss at least a week's worth of games.
I've wasted too much time talking about Kravtsov on this site, so you can check out my previous blogs from this season for more on him; but three quick points I want to reiterate before moving on:
1 – If he does have a concussion, then I think it was a poor choice to allow him to fly. Again, since I don't have all of the facts, this is just my opinion.
2 – If it's a broken nose (as many are claiming), then while the injury he sustained did look brutal in real-time; that "soft" word won't go away. I can list thousands of players who have broken a nose, a jaw, an ankle, a finger, whatever; where in each case – none of these players missed a game afterwards. But again, since we don't know what the injury is – this is also an opinion.
3 – For a team that wanted to accrue salary cap space all season, in anticipation of the NHL Trade Deadline – Kravtsov is doing them no favors. Almost a month into the season, the Rangers have only been able to accrue two days worth of extra cap space, via a 22-man roster.
Here's Tuesday's "TURK TALK," which took place following the practice, rather than two hours before the game:
---
While Gallant spoke for nearly six minutes, not much came out of this – aside from his comments on the injuries.
After ten games played, Gallant rated his team a 6/10, but that wasn't a shot at his players at all. He was being real. The team can be better – and the players know this too. No one was offended here – unless they wanted to be.
As he always does, Gallant praised every player that he was asked about. He also said the obvious stuff (at least obvious to me – maybe not to the ANALytical community) – top six players have different jobs/roles (and different expectations) when compared to bottom six players.
For some reason, some fans think that Sammy Blais (who has the best +/- rating on the team) should be lighting lamps like Zibanejad. If you're one of those people – you can't be helped!
In more from the land of the obvious – Gallant said it was unfortunate that Kravtsov can't stay healthy.
Again, Gallant never says anything negative about his players, nor should he. This isn't the old regime. However, I'm sure if you caught him off-record (maybe during a podcast interview, many years down the line), he'd admit that Kravtsov is kind of forced upon him and nothing is working out.
Put it this way – all Gallant cares about is winning. Kravtsov hasn't shown anything yet that he can help his head coach in attaining that goal.
Gallant's advice for Kravtsov? "You can't get stuck on what's happened and you can only move on."
Gallant, who also repeated that he wants all of his players to go to the net and paint ("good things happen"), said Kravtsov has to learn how to play safer, while remaining tough. And I wouldn't call that a criticism either – it's just the truth.
---
With no spare forwards available, and with Libor Hajek having the press box all to himself; here was tonight's line-up:
FIRST LINE: Kreider/Mika/Kakko
SECOND LINE: Panarin/Trocheck/Lafreniere
THIRD LINE: Vesey/Goodrow/Gauthier
FOURTH LINE: Blais/Carpenter/Reaves
FIRST PAIR: Miller/Trouba
SECOND PAIR: Lindgren/Fox
THIRD PAIR: Jones/Schneider
STARTING GOALIE: CZAR IGOR
BACK-UP GOALIE: THE HALAKNESS MONSTER
---
BOX SCORE time.
The following graphics and information come from ESPN.com:
SCORING:
PENALTIES:
TEAM STATS: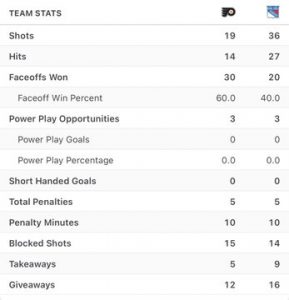 GOALIES:
| | | | | | | | | | | |
| --- | --- | --- | --- | --- | --- | --- | --- | --- | --- | --- |
| SA | GA | SV | SV% | ESSV | PPSV | SHSV | SOSA | SOS | TOI | PIM |
| 36 | 1 | 35 | .972 | 27 | 6 | 2 | 0 | 0 | 64:07 | 0 |
| | | | | | | | | | | |
| --- | --- | --- | --- | --- | --- | --- | --- | --- | --- | --- |
| SA | GA | SV | SV% | ESSV | PPSV | SHSV | SOSA | SOS | TOI | PIM |
| 19 | 0 | 19 | 1.000 | 16 | 3 | 0 | 0 | 0 | 64:07 | 0 |
---
Since Henrik Lundqvist (thankfully) was back, I'll quickly recap the M$GN broadcast.
As a generalization – this M$GN broadcast was infinitely better than the last two that we saw.
Part of that was because Lundqvist was back, while Sam and Joe, back in the arena, was the other reason. Also adding to the pleasantness was the return of Dave Maloney, who served the broadcast in-between the benches.
I know I say it a lot, but what's one more time – I'm such a huge fan of Maloney. You know that he takes these wins and losses to heart like any other fan. You also know when he's elated and when he's disgusted – and you heard some of that tonight.
Sieve Vagistat, who was patting himself on the back after Sunday's broadcast after predicting the most obvious scenarios (check that blog for the full 411), batted .000 tonight with all of his pregame analytical junk.
Among the nonsense:
— Vagistat says he expects more out of Shestyorkin. Not mentioned – what I said last blog – CZAR IGOR has a new two month heir in his house. I'm sure the lack of sleep has thrown off his schedule/routine somewhat. However, Vagistat's bullshit charts doesn't track real-life issues (the human element), so he's left dumb-founded – the usual.
And what happened? CZAR IGOR posted his first shut-out of the season tonight.
— Vagistat then told us that his fugazi charts told him that Carter Hart, and the banged-up Flyers, are a "paper-tiger" team and will fall apart.
And what happened? Hart had his best game of the season yet, and the Flyers, despite their walking wounded, took a point out of tonight's game.
— Vagistat said that John Tortorella doesn't like analytics. I'm sure Torts' response was, "who's Sieve Vagistat?"
And what happened? Again, the Flyers received one point in the standings, despite playing a game where analytics would have suggested a 10-0 Rangers' victory.
One more time folks – EYE TEST, EYE TEST, EYE TEST!
---
For the first time in a while, M$GN used Lundqvist similar to the way that TNT uses him, as they focused more on #30 and less on the worst back-up goalie of his era.
Lundqvist said a lot of things that both eye-test and old-time fans would agree with, including:
— Despite the intense rivalries with the Islanders and Devils – the Rangers and Flyers hate each other more. This has been evident since 1967 and was never more apparent during the days of the "Broad Street Bullies."
— John Tortorella knows what he's doing and always holds his teams accountable.
Lundqvist must've used the word "accountability" no less than ten times when talking about his former head coach. There was also some revisionist history here, but if you're going to spin the past – you may as well spin it in a positive manner.
And for what it's worth – Tortorella was one of the people who attended Lundqvist's jersey retirement ceremony last January. It's better to let bygones be bygones – even if Tony DeAngelo haters wouldn't subscribe to that theory!
Lundqvist said that he enjoyed and respected playing for Torts. (Many players who have played for Torts have all said the same – they hated playing for him in the moment – but realized how great it was afterwards.)
Torts' exit from New York was not discussed – but you can read more about this in my books or in this site's archives.
---
In honor of the 63rd anniversary of Jacques Plante becoming the first goalie to use the mask on a full-time basis (11/1/1959), M$GN did a nice segment on Lundqvist's masks.
While most of this was fluff, an interesting factoid came out of this.
At one point in his career, Lundqvist wanted to put a Lady Liberty logo on the "forehead" part on one of his masks. However, he was told by the Rangers that he wasn't allowed to do so, because that was Richter's thing and only exclusive to #35. Lundqvist understood and obliged.
For what it's worth – I never heard that story before – which is why I enjoy Lundqvist on these broadcasts.
Please M$GN, I beg of you – more stories like this, and less stories about Vagistat's bloody groin & his days in Flin Flon.
Once the M$GN pregame show ended and Sam & Joe took over; we had the return of "THE TACO BELL TAKE," where "The Fabulous One" spotlighted Artemi Panarin.
Also spotlighted? Somehow, Micheletti lost a ton of hair between Sunday and today. While who cares about this stuff, I'm hoping that "Jumpin' Joe" shaves his head. STONE COLD MICHELETTI anyone?
One last note about the game, before heading into the GAME REVIEW.
---
I'm not going to rehash the "Saga of Tony DeAngelo – A 7679666698686 Part Mini-Series" again. You can check the archives of this site or my "Tricks of the Trade" book for everything TDA-related.
However, one thing is now evident, especially after watching DeAngelo's return to M$G last season with Carolina, and now coupled with tonight's game.
Tony DeAngelo is the most-hated player in the league today, as voted by the fans at M$G.
In fact, when it comes to players/men who Ranger fans hate the most; very quickly, DeAngelo has now joined "legendary" company such as Mike Milbury, Wayne Simmonds, Sidney Crosby, Brad Marchand, Adam Henrique, Martin Brodeur, everyone from the 2014 Los Angeles Kings, and yep – Denis Potvin himself.
(And yes – this is just a short-list of names!)
Just as was the case last season (especially during the playoffs) – DeAngelo was vociferously booed anytime he touched the puck tonight. The boos, louder than all of the <dings> that Hart heard tonight, never stopped. In fact, the jeering just got louder as the game continued.
Again, while I'm not going to re-live "The Life & Times of Tony DeAngelo" tonight, and despite being a fan of his (I thought he was a good Ranger) – I didn't mind all of the booing.
After all, he's a Flyer – all Flyers should be booed to kingdom come!
That said, outside of the "POTVIN SUCKS" whistle, a dated one at that, where I'd also reckon that 99% of the people doing it couldn't pick Potvin's face out of a police line-up – today, as of this 11/1/2022 writing – I can't think of a player, outside of Potvin, that Ranger fans hate more, than DeAngelo himself.
While I don't know if we'll ever get a "DeAngelo Whistle," two things are now true:
1 – DeAngelo, especially now in Philly, will never redeem himself to Ranger fans.
2 – All of the booing gets to him. We saw this in the playoffs and we saw it again tonight.
In other words, keep on booing him – and I say that as someone who thought he got a raw deal out of New York!
One last parting statement on this:
"Once a Ranger, Always a Ranger" applies to 99% of all men who ever wore the Rangers' sweater. The other 1%? Tony DeAngelo.
Heck, even Justin Braun got a warm applause tonight!
GAME REVIEW time.
---
FIRST PERIOD:
While tonight's game later became one that you won't forget anytime soon; the first period was kind of a slog.
No joke, just three minutes and change into the contest, the Flyers had iced the puck five times. In other words, Sam Rosen didn't get a chance to belt out his patented, "GOOD PACE JOE!"
In what wound up being a one-goal game, the Flyers almost struck first and just 4:34 into this period.
Travis Konecny put a shot on CZAR IGOR. Igor gave up a rebound and slid to his left. Konecny grabbed the rebound, wrapped around the goal, and just as he was about to deposit the puck into the right side of the now vacated net; Ryan Lindgren, double nickel himself, blocked the shot.
While Hart would receive four saves from his post tonight; Igor received one save out of his left-defenseman.
In a statement that accurately describes the performances of three men – Vincent Trocheck, Kaapo Kakko and Jacob Trouba – they were excellent, with the two forwards a shade above their captain.
Ryan Lindgren deserves heavy praise too, as his performance was just as good as the trio named above.
I thought that Kakko (4 SOG, second-best to only Kreider who had 7 SOG) had one of the best games of his career tonight.
I don't know what the ANALytics say, nor do I care, but from my own two peepers – no one was more involved in generating offense, and playing defense, than Kakko.
After Kakko was stopped seven minutes or so into the period; we then had our first <ding> of the game, when Lafreniere made a beautiful pass to Trocheck, as #16 stood in the paint. This should've been 1-0.
We'd have to wait for nearly sixty minutes of game time later for that score.
With 11:15 to go, it was Kreider's turn to crash the net, where Kakko found his fellow winger. However, #20, tonight's only scorer, went wide.
Kreider also took a penalty here, a BS penalty assessed against him.
While going for the puck in front of Hart's net, Kreider was boxed for holding the stick of Nick Seeler, despite the defenseman blatantly hooking Kreider.
I should say – the officials weren't very good tonight. However, had the Rangers lost, I wouldn't have blamed them, but either way – they were dreadful, as they missed calls all game.
It were the Rangers' PK1 unit, and not the Flyers' PP1 unit, that had more scoring chances during these two minutes.
Hart had to stop Trocheck on a mini-breakaway. It was also during this time, that DeAngelo, the quarterback of the Flyers' power-play, really heard it for the first time.
During this successful kill, Kakko tripped a Flyer (his name is escaping me), but I guess this wasn't called because the penalty on Kreider should've never been called in the first place.
I'll give the officials this – they made several make-up calls, while ignoring other penalties, in order to atone for their mistakes. At least that's something.
CZAR IGOR made three saves during this PK, where after his third-and-final save, Jimmy Vesey made a huge clear and prevented a Flyer rebound goal.
As Sam and Joe noted all of the hate that DeAngelo was receiving, "I THINK THEY ARE BOOING HIM FOR HALLOWEEN JOE!" (okay – he didn't really say that – but just go with it for the joke); Igor made his fifth stop of the game on Farabee, and with 6:40 to go.
As the two teams started to limit the scoring chances, the Rangers received two GOOD LOOKS during the final sixty seconds. Hart stopped Lafreniere, and when Lafreniere went to set-up Fox, the puck took a bad hop and over Fox's stick.
And without knowing this for fact – I thought the ice was terrible tonight. This is usually the case early into the season and when the Knicks are back.
I counted six different times where players just fell down, while the puck also took some weird bounces tonight.
2022 and this stuff still happens.
No score after twenty minutes. Here's what I said at the time:
Scoreless after 20. 1P Thoughts:
— Flyers are playing as expected – despite what the silly line of -290 #NYR
— SOG 8-7, Hits 14-7 R; FO's 9-8 Philly
— Second line looks good again
— Kind of an "advertised" game, if you know both teams.
— Lindgren & the iron 1 save
LGR!

— BlueCollarBlueShirts (@NYCTheMiC) November 1, 2022
---
SECOND PERIOD:
In a sentence, here's how you can summarize the middle twenty minutes of this game:
"The Rangers did everything but score."
The Rangers were balls-to-the-wall all period and it immediately started at puck drop.
Not even ninety seconds in, Hart stopped Miller, Fox, Kakko and Trouba, where it was evident that #24 and #8 were hellbent on scoring.
Also evident? The Rangers, despite their many SOG and shot attempts, gave Hart a break, as half of these tries went wide or high, with Zibanejad as the worst offender.
Down to 13:13 remaining, Mika found Kakko right in the paint (Gallant has stressed that his players hang out in crease – and they are most certainly abiding to his wishes). In turn, Wade Allison tripped Kakko thus giving the Rangers their first power-play of the match.
Just as was the case all period – the Rangers did everything but score here, where after phenomenal stops on Mika, Panarin, Kreider and Fox – Hart had racked up four saves during this Flyers' kill.
The Rangers' PP1 unit spent their entire shift in the Flyers' zone, where I should also say this – I have no clue what the time of possession stats were, but it felt like the Rangers spent 99% of this period attacking.
As we hit the halfway mark of the period/game, Kakko initiated a scrum after crashing Hart's net. At the time, these two were the two best players of the game – where I'd still say that following this contest.
Kakko again, and now under ten minutes to go, created more offense, when he tried to find Lindgren in the paint. No good.
Want more Kakko? Under eight minutes to go, Kakko found Zibanejad wide-open. <Ding>
In a period where the Rangers were completely snake-bitten in, Rosen remarked something that Vagistat has never said while at the Ramrod: "IT WON'T GO IN JOE!"
Due to all of the dings and wide & high shots; down to 6:30 remaining, the SOG stat for this second period was 11-3, Rangers. However, it felt like 30-3 (and that's what the shot attempt stat reflected).
Down to 6:57 remaining, Panarin took his fifth o-zone penalty of the season, when he knocked off Justin Braun's helmet, a roughing call.
This penalty temporarily stunted the Rangers' momentum.
As the fans continued to let hear DeAngelo hear it; Kreider received a breakaway while the Rangers were short-handed.
<DING> – but with the benefit of hindsight being 20/20 – a ding that Kreider wouldn't forget.
Following the kill and after Hart continued to dress-up as Patrick Roy for Halloween; we remained scoreless after forty minutes.
However, these two teams weren't ready to go to the locker room yet:
THE FIGHTING W THE FUCKING ORGAN MUSIC IN THE BACKGROUND AND IGOR JUST WATCHING IS SENDING ME SO BAD pic.twitter.com/WxeS8hNyhg

— just a girl (@kreidtastrophe) November 2, 2022
---
Five Fast Facts:
One, I absolutely loved this – and from both teams. Neither team were going to go down easy.
Two, the NHL should be fined for screwing around with the schedule this season. Similar to the Islanders, the Rangers only play the Flyers three times this season. Rivalries draw and they are the best games.
Three, Julien Gauthier never wants to see the four walls of a Hartford hotel room ever again. When he tried to chokeslam Sanheim, as if Gauthier was "The Undertaker," I popped huge!
Four, for all of the whiners who say "fighting should be removed from the game," look at this. EVERY FAN, no matter who they were rooting for, were all on their feet and making noise.
Five, the officials loused up again. For some reason, the Flyers got a power-play out of this. Whenever you see these scrums, and unless something violently blatant had occurred – then all of these penalties should be off-setting. I would say the exact same thing had the Rangers received a power-play after this.
A bonus thought? This:
How did Lindgren get an extra two minutes here?
If anyone should've got the double-minor, it was Gauthier after doing his "WELLLLLL….. it's THE BIG SHOW" chokeslam.
Here's what I said, in real-time, after forty minutes of action:
Scoreless after 40. 2P Thoughts:
— I don't know what's louder, the horseshoe rattling around Hart's five-hole or the three posts #NYR hit.
— SOG 21-11, Hits 20-10 NYR; FO's 17-14
— Flyers PK 2-2, NYR PK 1-1
— You know something wacky will lead to the GWG.
LGR!

— BlueCollarBlueShirts (@NYCTheMiC) November 2, 2022
---
THIRD PERIOD:
I won't lie. I really thought that the Flyers were going to win this game once this final frame began.
After all, we've seen this so many times in the past, where the Rangers do everything but score, and in return, the other team gets some sort of fluke/cheap goal for the game-winner.
At the time, and due to all of the cat-calling, I thought a puck was going to deflect off of the ass of Tony DeAngelo and past CZAR IGOR. I even posted this opinion publicly, as a way to REVERSE JINX myself. And thankfully, we didn't see TDA score the game winner. Instead, Kreider "DID IT!" ("DID IT" is a registered trademark of Nick Adams!)
Henrik Lundqvist also felt a deflection or cheap goal would win this game, but he had the conviction to say this during the intermission segment – "The Rangers will win this game."
However, and to be fair – both of us were wrong – a deflection, ugly or cheap goal didn't produce the game winner. A streaking and breakaway Chris Kreider "DID IT." (Hi Nick!)
---
The Rangers' penalty kill was successful, as Goodrow and Trocheck were the stars during these opening two minutes.
At the 2:17 mark, Igor stopped OLD FRIEND Lloyd Braun.
Trocheck and Lafreniere, who like everyone else, did everything but score; missed the net again, as Trocheck found Lafreniere and the shot from the slot went wide.
Down to 16:56 remaining, you thought a goal was coming, after Braun tripped Trocheck.
The Rangers' PP1 unit, not as strong as their first outing, but strong enough; once again, did everything but score.
Fox kept three pucks in the zone, but the ensuing Ranger shots went high or wide – where if you haven't noticed already – was a theme tonight.
Down to 14:34 remaining, Lafreniere found himself all alone with Hart. While in the paint, Lafreniere pushed the puck into the post (not technically a <ding>, but we can go with that, as it was the fourth post that the Rangers hit in this game).
Talk about bad luck.
With the Flyers looking better during this period, the Rangers' offense was somewhat stifled a bit after this post job.
Down to eight minutes remaining, the Rangers picked it up again but Hart stopped both Lindgren and Mika.
Two minutes later, Igor misplayed a puck, but thankfully, Trouba was there to bury a Flyer into the corner boards, thus preventing a turnover and a goal the other way, as we saw a few games ago.
As we hit 4:35 left on the clock, it looked like the Rangers would finally put this game away, as Tony DeAngelo, rattled by all of the heckling, threw a puck over the glass.
This was the worst Rangers' power-play yet, but it wasn't for a lack of trying – it was for a lack of execution, especially after Panarin fanned on a wide-open one-timer from the circle.
Now with 3:06 on the clock and 32 seconds left on the power-play; the Flyers put another puck over the glass. However, despite visual evidence that Panarin had not touched/deflected the puck – that's what the officials ruled anyway, thus preventing the Rangers' from a 5 x 3 power-play.
Once the Flyers pulled off their kill, and with some help from their friends; this is when CZAR IGOR dialed it up.
Down to 2:30 to go, CZAR IGOR made a swooping BESSIE save on Kevin Hayes, on a puck that had game winning goal written all over it.
Over a minute later, Igor, down on his side like a porn star waiting entry; #31 extended his body, desperately threw his glove to his left post, and boom – stopped Hayes – AGAIN.
These two saves kept his team alive. It also allowed the Rangers to continue to play for two points.
We remained 0-0 after regulation time.
And I don't know if I'd consider tonight's game as a true goalie's duel (four posts, the Lindgren block and the fact that Igor only had to make nineteen saves) – but it was a "goalie's delight" (think "Rapper's Tonight – as I did when making tonight's blog header photo).
More important than anything else – the goalies did their job whenever tasked.
---
OVERTIME:
As many of these 3 x 3 overtimes are – this was another hectic and frenetic near five minutes of action.
Mika Zibanejad, who couldn't win a draw despite four tries (in the future, I'd let Trocheck take these zone faceoffs in overtime), watched his former teammate, Kevin Hayes, get denied by Igor for the third time in as many minutes.
After Hart stopped Kreider and Fox, Panarin almost took another o-zone penalty, but thankfully, the refs ignored this infraction – a non make-up call.
With Tony DeAngelo now looking jumpy out there, and with Zibanejad and Kreider caught out there for over a minute, this happened with 52.8 seconds remaining:
CHRIS KREIDER WINS IT IN OVERTIME! #NYR pic.twitter.com/xyx6sLuQRu

— Rangers on MSG (@RangersMSGN) November 2, 2022
---
1-0, GOOD GUYS, THE GAME WINNING GOAL FROM CHRISTOPHER JAMES KREIDER!
As teased, after hitting the post earlier in the game while on a breakaway – this time – Kreider wasn't going to be denied.
And after tonight's game – the Rangers should remove those two nets from M$G, auction them off for "The Garden of Dreams," and buy two new nets – perhaps ones with friendlier posts!
Here's your favorite coach and mine, after the game:
---
Gallant knows it – his team should've won in a blow-out, but sometimes, these things happen.
Fortunately, we're not talking about the Rangers getting "GOALIE'D" tonight.
And I still can't believe the mook who asked Gallant if this was Igor's best game yet.
Nothing against Igor, as we all know that I've been singing his praises since 2017 when he was in the KHL – but he only made three tough saves in this game – all on Hayes.
This game was all about the Rangers continuing to dominate in the offensive zone, where on this night, they had no puck luck at all. Hart didn't help matters either.
However, the only thing that matters is two points in the standings.
The Rangers will try to extend this winning streak to four games on Thursday night, when they host the Bruins.
The game is an ESPN/HULU exclusive – so you won't have to suffer through Vagistat. The Rangers will also be wearing their cash-grab reverse-retro retread jerseys during the contest.
As stated, my new schedule will most likely start by then, so I won't have a recap up until early Friday morning.
Until then, don't forget to purchase "Tricks of the Trade!" All details are located below as it's now…
PLUGS TIME!
---
My first plug of tonight's blog – the mandatory plug for my book, "The New York Rangers Rink of Honor and the Rafters of Madison Square Garden."
As mentioned previously, the book is now available in hardcover, in paperback and in Kindle formats. To purchase a copy of the book, visit this link:
https://www.amazon.com/Rangers-Rafters-Madison-Square-Garden-ebook/dp/B09CM5N2WD
For those still looking for signed paperback versions of the book, I have re-ordered more copies. I now have a few signed copies for sale at $25 a pop (includes shipping price) through me directly. Here is all the information on that:
---
My four-volume set of books, "One Game at a Time – A Season to Remember," is a game-by-game recount of the Rangers 2021-22 campaign.
My second title as an author, "One Game at a Time – A Season to Remember," is now available in eBook, paperback and hardcover formats.
To obtain signed copies, visit: https://bluecollarblueshirts.com/onegamebook/
To purchase all four volumes on Amazon, visit: Amazon.com – "One Game at a Time."
---
"Tricks of the Trade – A Century-Long Journey Through Every Trade Made In New York Rangers' History," a four-volume set of books that meticulously covers every trade made in franchise history, is now on sale.
All four volumes of the title can be purchased on Amazon.com and are presented in three different formats – eBook, paperback and hardcover.
To purchase Volume I: Conn Smythe (1926) – Craig Patrick (1986), visit Amazon.com
To purchase Volume II: Phil Esposito (1986) – Neil Smith (2000), visit Amazon.com
To purchase Volume III: Glen Sather (2000-2015), visit Amazon.com
To purchase Volume IV: Jeff Gorton (2015) – Chris Drury (2022), visit Amazon.com
To purchase signed copies of all four volumes, visit https://bluecollarblueshirts.com/tricksofthetrade/
---
Here are my last few blogs, in case you missed them:
---
---
---
If you haven't already, subscribe to this blog for the next update:
---
Don't forget to order my new four-volume set of books, "Tricks of the Trade!"
If you don't order through me, all four volumes are now available on Amazon.com
For more details, check out: https://bluecollarblueshirts.com/tricksofthetrade/
Original Six match-up on Thursday. See ya after the game.
Thanks for reading.
LET'S GO RANGERS!
Sean McCaffrey
BULLSMC@aol.com
@NYCTHEMIC on the Tweeter machine