Greetings and salutations everyone and welcome to another blog here on BlueCollarBlueShirts.com. At least the TNT broadcast was entertaining tonight.
As someone who has adopted the glass half-full mentality ever since the new regime took over, let me kick off tonight's manifesto by looking at the positives from Wednesday night:
— The Islanders did a tremendous job in honoring Stan Fischler. In fact, they couldn't have done a better job. Kudos to them, and I must tip my hat to new Isles' ownership, a group that relishes in their history – rather than ignoring it.
— The TNT broadcast, and as it usually is, was absolutely superb.
— Ryan Lindgren continued to display his WARRIOR abilities.
— At least I didn't pay $200 to attend this game – as I had originally planned on doing.
— My new four-volume set of books, "Tricks of the Trade – A Century-Long Journey Through Every Trade Made In New York Rangers' History," are finally on-sale over at Amazon.com (Search the title or my name – full press release tomorrow.)
— The Rangers' latest third line, this time a combination of Jimmy Vesey, Barclay Goodrow and the returning Julien Gauthier, looked great.
However, that also brings us to a laundry list of negatives, including:
— While it's great for Vesey, Goodrow and Gauthier that they were the best forward group on the ice – that's not great for the Rangers themselves.
— Once again, the Rangers' top-six were completely stifled. Panarin, after scoring points in each of the first six games of the season (and multiple points at that), is now on a two-game pointless streak.
— A worse streak than that? The Rangers have now lost five of their last six games – and the schedule, as talked about last night, doesn't get any easier from here.
— The BFF duo, Zibanejad and Kreider, look perplexed and can't find twine.
— The Rangers' power-play, which was absolutely electric during the first two games of the season, has cooled off, and considerably so at that.
— Maybe the power-play is like a modem. Someone pull the plug and then plug it back in!
---
I don't want to say "I told you so," because after all, I wasn't rooting for this to happen and I take no joy in bringing this up, but the facts are the facts – if you go back and read my Rangers/Sharks review, I mentioned how I thought that former Rangers' bench boss, David Quinn, gave the entire league a blueprint on how to stop the Blueshirts' successful power-play.
Some of the feedback I received was valid, where many believed that the Rangers' failure on the power-play was just a one-time thing, an aberration if you will.
The Rangers haven't scored a 5 x 4 power-play goal since that game. (They scored a 5 x 3 power-play goal against Columbus – a lucky one at that.)
Hell, the Rangers are barely scoring any goals since that loss to the Sharks, where worse than that – they were shut out by the Father Finkin' Islanders tonight.
---
Both during and after the game, I had several readers ask me – "what do you think is wrong? How would you fix the Rangers?"
My response – if I knew – I wouldn't be writing these daily manifestos! I'd have an NHL head coaching gig instead!
Seriously, for all of the hockey I've watched over the years, all of the research I've done on hockey history, all of the conversations I've had with accomplished people in the hockey world – and for the life of me – I just don't have an answer to explain the Rangers' troubles.
Sure, you can look at injuries, the salary cap and all of that jazz – but even still – this is a team that came out like gangbusters to start the season.
I know that some readers thought I was overreacting to the two losses to the NHL bottom-feeders, the Sharks and the Blue Jackets, but as said then, and as I'm saying again – those losses were inexcusable.
As first stated after both of those losses – you don't want to start any negative trends.
Today, the Rangers are full of negativity.
I just can't explain it – the team goes out and beats Stanley Cup contenders and then edges the Stanley Cup champs, the Colorado Avalanche, to a shootout – but for whatever reason – they haven't been able to handle their own business against the dreck of the league.
If you have the answer, feel free to contact both Chris Drury and Gerard Gallant the next time you're in Tarrytown, NY.
And for the people who may say "turnovers" and "over-passing," don't bother.
The Rangers' latest malaise is much more than these generic criticisms – criticisms that you can say about all 32 NHL clubs.
---
If there's one negative trend that's now seriously alarming, it's the fact that the Rangers have become slump-busters.
While I brought this up last night, about how other teams view the Rangers (due to the Rangers' finish last season, teams are taking them serious, and rarely, will you see a back-up goalie on the other end of the ice) – that's no excuse. Neither is the schedule (back-to-back games) – all teams go through it.
During their last few games, the Rangers gave the 0-5 Sharks their first win of the season. A game later, and with Columbus coming off of a shellacking 24 hours prior, the Rangers got plastered themselves.
Tonight, the Isles, losers of their last three games prior to this match, righted their ship with this signature victory over their rivals.
These three games should've been six points in the standings for the Rangers. Instead, they got one (loser's point/overtime loss against the Sharks).
And poor Jaroslav Halak.
While I'm not saying that Halak is anywhere as good as Mets' pitcher, Jacob deGrom, this point is true – "The Halakness Monster" is getting no goal/run support at all.
In his three starts (0-3) as a Ranger, the former "Ranger Killer" is getting killed himself – a 4-1 loss to the Jets, a 5-1 loss to Columbus and now a 3-0 loss to the Isles.
Three games played and only two goals in support. You're not going to win many games like that.
Could have Halak made an extra save or two during his three games? Sure. Would it have mattered? No.
Simply put – you can't win if you can't score.
---
In some irony (due to Halak's success against Lundqvist's Rangers), during the height of the Lundqvist Era, #30 also had to deal with low scoring games. However, the team was designed to win that way, as the majority of the Rangers' salary cap space was heavily invested in goaltending and defense. That doesn't apply today.
While CZAR IGOR can steal games; the Rangers just can't afford these long-stretches when all of their high-paid forwards, where some of them take up over 10% of the salary cap, just go ice-cold.
Of course, what I said last night is all that matters (TNT's Rick Tocchet also said this during the broadcast) – this team will only be judged by what they do in the playoffs.
And while we still have 90% of the schedule remaining – you don't want to see this spiral out of control.
In league where loser points can propel a team into playoff positioning – the Rangers don't want to play with fire and fall too far behind in the standings. Just ask these same Islanders about this and how their season went last year.
Let's now get into the pregame news, before fully exploring this game itself.
---
As far as any fall-out from Alexandar Georgiev's win over the Rangers from Tuesday night, "The Bulgarian Beast" confirmed what we all knew – he wanted to beat his former team.
Shocker.
Perhaps this simple one word response to an NHL Instagram post, the word "yes," will become bulletin board material when the Rangers visit the champs in December.
Until then – this is all pretty much meaningless.
Next.
---
Around 2PM Wednesday, three-and-a-half hours before "The Turk" was set to speak to the media, the Rangers announced that they had recalled Julien Gauthier to the main roster.
I really don't want to bury any fans (which is why I'm going to leave their very public comments out of this), but when I saw some Blueshirt backers say, "I BET THEY ARE SCRATCHING <Insert Bottom Sixer here>," it just told me how clueless those people were.
For the 767896896786789678968th time this month, and in a point we'll hit all season until the trade deadline – the "a-word," as in the salary cap "accrues."
Simply stated – the Rangers aren't going to bloat their roster to 23-men unless injuries force them to.
Unfortunately for Drury and company – injuries have cut into the goal of "accruing" salary cap space all season.
Once the news of Gauthier's return hit the streets of Rangerstown, USA, it meant one of two things – either Mika Zibanejad (who took a nasty hit during the final seconds of overtime on Tuesday night) or Vitali Kravtsov (who looked like he had suffered a shoulder injury during the same game) were hurt.
Come 5:30PM, we found out – Kravtsov is injured – again.
Remember those "KRAZY 4 KRAVTSOV" loons I was talking about last night, you know where in some cases, you have these grown men stalking his family all over Europe (I'm not making this up) – all of them took major offense at the notion that maybe Kravtsov isn't tough enough to play in the NHL.
Their talking point? "WAAAAAAAAAA, I LOVE TEENAGERS! I DIDN'T SEE ANYONE COMPLAINING WHEN BLAIS GOT HURT BY P.K. SUBBAN LAST SEASON! DOES ANYONE KNOW IF I CAN BUY KRAVTSOV'S DNA OFF OF NHLSHOP.COM?"
Okay, they didn't really ask the NHLShop.com question!
After all – some of these people just stalk these young players in the streets, where I'm sure they also chase him with scissors, in order to get a hair for their "hair doll." (See the movie "Slackers!")
All jokes aside (we need some comedy and levity tonight), if it wasn't obvious – P.K. Slewban SLEWFOOTED Blais. Blais' toughness, nor endurance, was never in question.
Kravtsov has played in three NHL games this year, where due to injuries, he has only been able to complete one of them.
I know, I know, I know – I'm sick of talking about Kravtsov too.
However, what I also know is this – I just wrote 2,000 pages on every trade made in the history of the franchise. You may have heard about this!
I'd have to really add it all up, but I'd reckon to guess that about 20% of all trades usually have this sentence attached, "a change of environment could be the best thing for him."
That's where I'm at with Kravtsov, where there is no need to run through his history again.
Once again – get well soon #74.
---
With Kravtsov joining Filip Chytil on the "day-to-day" list, here's what "The Turk" went with tonight, where I want to stress this – injuries or no injuries – this was another inexcusable loss.
Furthermore, and to go back to what I wrote several weeks ago, when Wayne Gretzky said on-air what I've been saying from day one on this site – stats and analytics don't matter. The final score does.
(And during his post-game interview, Gallant also dismissed the notion of analytics. I knew I liked him for a reason!)
Here was the line-up:
FIRST LINE: Kreider/Mika/Kakko
SECOND LINE: Panarin/Trocheck/Lafreniere
THIRD LINE: Vesey/Goodrow/Gauthier
FOURTH LINE: Blais/Carpenter/Reaves
FIRST PAIR: Miller/Trouba
SECOND PAIR: Lindgren/Fox
THIRD PAIR: Hajek/Schneider
STARTING GOALIE: THE HALAKNESS MONSTER
BACK-UP GOALIE: CZAR IGOR
---
BOX SCORE time.
The following graphics and information come from ESPN.com:
SCORING (or lack thereof):
PENALTIES:
TEAM STATS:
GOALIES:
| | | | | | | | | | | |
| --- | --- | --- | --- | --- | --- | --- | --- | --- | --- | --- |
| SA | GA | SV | SV% | ESSV | PPSV | SHSV | SOSA | SOS | TOI | PIM |
| 41 | 0 | 41 | 1.000 | 32 | 8 | 1 | 0 | 0 | 60:00 | 0 |
| | | | | | | | | | | |
| --- | --- | --- | --- | --- | --- | --- | --- | --- | --- | --- |
| SA | GA | SV | SV% | ESSV | PPSV | SHSV | SOSA | SOS | TOI | PIM |
| 29 | 3 | 26 | .897 | 20 | 5 | 1 | 0 | 0 | 59:46 | 0 |
---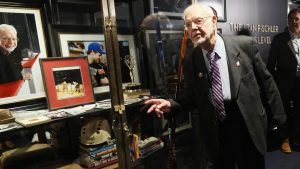 I talked a lot about Stan Fischler last night, so I won't go into repeat-mode tonight.
However, I will say that the Islanders did a great job in honoring "The Maven" on Wednesday night.
No joke, they practically built a museum for him! Meanwhile, the Rangers ignore eight men from their rafters. I don't think I have to run it all back to you for the 786786696th time.
Maybe that's another reason why I'm so disgusted and frustrated with tonight's loss – although I am happy for Stan.
The Islanders posted a photo gallery and a story of the ceremony. You can find it here: https://www.nhl.com/islanders/photos/stan-fischler-press-level/g-336841106/p-336840842
Congrats to "The Maven."
The Islanders really went out of their way for him, and with journalism/reporting standards down across the board, where it's never been lower – you won't see people like Fischler in the years to come – he's one-of-a-kind.
---
Again, without sounding redundant, as I've raved about TNT before (but I always want to praise the things that I like whenever I can) – I thought tonight's broadcast was absolutely phenomenal.
And hey, what a good night for "The King!"
It must've been a great experience for Hank to actually work with people who have done something in the NHL; rather than rolling his eyes whenever a seven-foot jackass starts blabbering on about his homemade arts-and-crafts charts & graphs.
You know how much time I spend talking about these broadcasts, where you also know that I'm not a fan of the M$GN broadcasts.
For as much as I can't stand Sieve Vagistat, and for as sad as it is to listen to Rosen lose another marble game-by-game; conversely, this TNT broadcast, as their name would suggest, was dynamite.
TNT did an excellent job in covering both teams, including their past, present and future.
The studio panel, Lundqvist, Rick Tocchet and Anson Carter, had natural chemistry. And while I have no issues with Paul Bissonnette (but I know that many do) – Lundqvist was more than a suitable replacement for Mr. "Biz Nasty."
As opposed to those stupid M$GN segments, where Sieve Vagistat role-plays and pretends that he was an accomplished NHL goaltender; Lundqvist did the same for TNT – and was far superior than the worst back-up goalie of his era.
On the call were Kenny Albert and Edzo, two men who also have a natural chemistry together. Neither man blew a goal call tonight – instead – the refs did that!
When compared to ESPN who usually ignores these types of things; both Albert, Edzo and Keith Jones (in-between the glass) brought up the Fischler ceremony, where all three campaigned on-air for "The Maven" to get his rightful due – a Hall of Fame induction in Toronto.
Both M$GN and ESPN come off as "too stuffy," meaning over-produced. Not TNT. Everything just comes off as organic, and where it seems like you're hanging out at a bar with these guys – where if you notice my writing style – that's what I try to do too. That's why I really enjoy these TNT broadcasts!
And while I can't profess that I'm a fan of Denis Potvin – TNT also did a nice segment with him, where the former Islander was promoting his new "Potvin Socks." It only took 43 years for him to come up with that – and the less said about the allegations of his physical abuse of women – the better.
Enough dilly-dallying. Let's get into the GAME REVIEW, where this may become the shortest review of the season.
---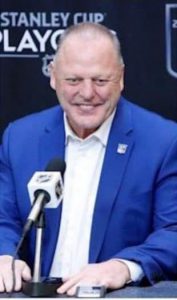 FIRST PERIOD:
As a general blanket statement – and if you don't already know this – I don't get caught up in the gobbedly-gook – you know, analytics.
I also don't obsess over traditional stats either. I just care about wins and losses.
In other words, while "The Turk" and some fans were happy about the Rangers' 41 shots on goal tonight – of that barrage – I'd venture to guess that Ilya Sorokin, perhaps a Vezina Trophy contender this season, was challenged maybe 4-5 times – and that may even be an exaggeration.
Furthermore, a few weeks back, I attended the final preseason game at the IBS Arena, when both of these teams squared off. This game felt like a carbon-copy of that contest, where the only difference was tickets to this game cost a heck of a lot more.
I don't know if boring is the right word, but most of this game felt like a never-ending slog.
I'm not saying that the Rangers didn't put forth any effort. I'm just saying that they could never execute, nor did you ever think that they would either.
Vincent Trocheck, who went 15-4 at the circle last night, went 3-6 tonight. While his faceoff numbers pulled a 180, his willingness to get involved in both scrums and post-whistle theatrics remained the same.
Just a minute in, he was pushing and shoving Islanders. He then took the first Rangers' shot of the game, although he blasted the puck right into Adam Fox. Thankfully, no injury to the 2021 Norris Trophy winner.
At the 2:10 mark, we received our first sighting of Julien Gauthier. Now wearing #12, Gauthier turned on the jets, streaked to the net and was then was stoned by Sorokin, following the Russian's right-pad save.
Gauthier, who was later criticized on this broadcast for never scoring (warranted criticism if I say so myself), at least put the puck on net here.
While he still can't score in an 1800s brothel with fistfuls of $100 bills in his hands – at least he wasn't missing the net as he usually does.
The early minutes of this game saw both teams over-pass their way out of scoring chances, especially at the five-minute mark, when the Islanders had two GOOD LOOKS at Halak, only for Parise, on the third GOOD LOOK, to whiff while in the slot.
K'Andre Miller, who had an up-and-down game, made two strong plays early too.
At the 5:34 mark, Ryan Lindgren high-sticked Oliver Wahlstrom. In other words, the 2018 first-round Islanders' pick, the player the Rangers passed on, had already accomplished more than Kravtsov has done in his NHL career.
(You can also say that Gauthier now has had a better 2022-23 campaign than Kravtsov too.)
The Rangers killed this penalty, but just 58 seconds after Lindgren was released, the other starting LD of this team, Miller, was boxed, following #79's tripping of Anthony Beauvillier.
The Islanders were buzzing around Halak during these two minutes, but credit to both Halak and the Rangers – the penalty kill held-up.
The Rangers' third line was really the only positive forward trio of this contest. After Carpenter was stopped point-blank by Sorokin, the Isles' netminder then stopped a Vesey SOG.
In what later became a turning point of the game (with the benefit of hindsight), with 5:36 to go, Kaako blew by three Islanders, and just as #24 was about to tap the puck past Sorokin – the goaltender kicked out his leg – and boom – Kakko no longer had the puck on a string.
This was a hell of a play from Kakko – but an even better play made by Sorokin.
Down to 3:55 to go, we had some captain-on-captain crime, when Trouba laid out Anders Lee with a hit. The "TROOOOOOOOO" chants soon bounced all over the stable.
The Rangers had three power-plays in this game, where the third line drew two of them. The other power-play? An Isles' delay of game.
In other words, only the third line drew penalties tonight.
With 51 seconds to go, both Vesey and Gauthier came close to scoring. However, Lee tripped Vesey, so the Rangers had one of those wrap-around power-plays.
As the power-play was about to start, Kenny Albert reminded us that the Isles' penalty kill has been flawless this season, having denied all 22 power-plays that they've faced during this young campaign.
After tonight, the Isles' penalty kill is a perfect 25-0.
And let me say this – yes, I know that the Sharks and Isles have good penalty kills. Still, that's no excuse – especially when you have about $50M of talent on your first power-play unit. (5/8ths of the salary cap too!)
The Rangers' power-play should be feasting, rather than being beasted.
So yep, as you now know – the Rangers' power play didn't score during these final fifty-one seconds of the first frame.
0-0 after one period. Here's what I said at the time:
Scoreless after 20. #NYR open 2P on 1:09 PP. 1P Thoughts:
— Rangers have had some scoring chances, having trouble scoring again.
— Third line = best line
— SOG 14-9, Hits 16-15, FO's 6-5 all #NYR
— Mika and Kreider seem snakebit, just get one and they'll get going.
LGR!!

— BlueCollarBlueShirts (@NYCTheMiC) October 27, 2022
---
SECOND PERIOD:
With Potvin now temporarily in the TNT broadcasting booth; the Hall of Fame Islander watched his team kill off the remainder of the Rangers' power-play.
Once returned to full-strength, the third line (who probably should've received power-play time – especially with how flat the PP1 unit looked tonight), went back to work.
Just 1:55 into the period, Vesey set-up Gauthier, which forced another "Ranger Killer," Jean-Gabriel Pageau, into taking a penalty, when he tripped the former Hobey Baker winner.
This Rangers' power-play was as lifeless as Terry Schiavo. There was nothing doing at all.
And again – I have no explanation for this recent outage, outside of thinking that David Quinn showed the league how to stop the Rangers' power-play.
At points, the Rangers did look like a team that played last night, especially at the 8:44 mark, when Kyle Palmieri stuck with a broken play, beat the Rangers' second line and third pair – and then beat Halak too.
1-0, bad guys. The game winning goal too. Ugh.
And oh – you know how I was previously talking about the Rangers being "slumpbusters?"
Without double-checking, they have to be leading the league in giving up "firsts," such as "first goal of the season," "first win of the season," and "first point of the season."
This was Palmieri's first goal of the season. Josh Bailey would soon join him.
As Jones was talking about Gauthier's inability to finish, while Albert brought up how the Rangers are 0-2-2 whenever giving up the first goal of a game; Kreider almost sneaked one by Sorokin with 10:20 to go. Kreider, as talked about last night, continues to have bad luck.
Most of this period, and really, this game as a whole, felt sloppy and disjointed.
While the Rangers logged a ton of shots, there were never any rebounds to be had, nor any true sustained zone time either.
Down to 6:44 remaining, Fox tripped Beauvillier while behind Halak's net.
It was during this penalty kill where Lindgren continued his WARRIOR act:
Ryan Lindgren is an absolute warrior, unreal penalty kill shift from the Rangers' d-man!#NYR pic.twitter.com/Bci6pZLVfg

— Hockey Daily 365 l NHL Highlights (@HockeyDaily365) October 27, 2022
---
The Islanders pretty much did everything but score on this power-play – and they can thank Lindgren for that.
Once returned to full-strength, both Fox and Hajek were denied by Sorokin.
Then, with 2:25 to go, Sorokin tried to make flashy glove pass to one of his defenseman, where he almost threw the puck into his own net. That's a break the Rangers would have received last season, when everything was going right. It's not a break they got tonight.
Down to thirty ticks remaining, Sorokin stopped Panarin, on what was the best Rangers' chance since Sorokin's save on Kakko.
We remained at 1-0, bad guys, after two periods.
Here's what I said at the time:
1-0, filth, after 40 mins. 2P Thoughts:
— I have no answer on why #NYR can't score during these recent games. Does GG?
— Feels like a game from the peak of Lundqvist Era – but NYR has a much more powerful offense than those days.
— SOG 30-20, Hits 29-25 R, FO's 16-13 Isles

— BlueCollarBlueShirts (@NYCTheMiC) October 27, 2022
---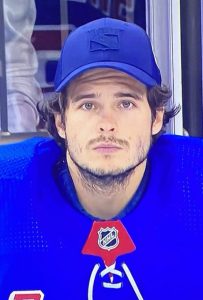 THIRD PERIOD:
For the Rangers, this period may have well been played at a graveyard, because they were dead as a door-nail.
At one point, the Rangers almost made it interesting, when just seconds into the period, Adam Fox found iron.
And yep, when things aren't going good, you hear more <dings> than you usually do. Ask Panarin. Ask Trocheck. Ask Kreider. Ask Trouba. Four players, who like Fox tonight, have came a millimeter away from tying a game this season.
Once Fox hit the post, the TNT cameras caught Sorokin grimacing and wincing a bit. In turn, the goalie was stretching something out, as he looked like he was in pain.
Did the Rangers challenge him? Nope. The Islanders controlled the game and allowed their goalie to recover.
Put it this way – once Sorokin looked like he was ailing – the Isles then had the next six SOG of the game, where on the sixth, Josh Bailey redirected a puck past Halak.
2-0, bad guys, and with 14:23 to go.
And while I was hoping to "reverse jinx" myself at the time – this is when I knew it was GAME OVER.
Down to 13:07 remaining, Romanov tried to get a puck away from his goalie, but instead, tossed the rubber over the glass. In turn, the Rangers received a power-play, and a chance to strike within one.
Check that, make that a FAT CHANCE.
This Rangers' power-play was better than their first two, but it ended with the same result – no goal.
If any stat is truly telling, it's this – just as the clock was winding down to ten minutes remaining, Sorokin had 41 saves to his ledger. That's the number he finished the game with, as the Rangers did jack shit during these final ten minutes, outside of allowing Kyle Palmieri to score his second goal of the season (and the game).
I don't know what the officials were doing here, as it was clear as day that Palmieri had scored at the 15:22 mark. However, the zebras pulled a Wayne and Garth and said "GAME ON," only for the NHL/Toronto to "horn in" about thirty seconds later.
Either way, and unlike the video replay rule from Tuesday night that the NHL has yet to address – the NHL got it right here.
3-0, bad guys. Ugh.
If there's anything else worth mentioning, it's that Gallant, now down by three, didn't pull Halak in order to try to bust-up Sorokin's shut-out.
While I doubt the Rangers would have come back anyway; I'm just not a fan of waving the white flag.
Of course, I say this as a fan, and as someone who is more invested in the NYR/NYI rivalry than Gallant is.
3-0, filth, your final from the arena that smells like horse manure.
If you want to press the panic button – I won't stop you. However, I'm not sure if an emphatic slam, as if you were slamming a payphone (remember them?) is warranted – yet.
Talk to me in a week about this.
---
Here's Gallant after the game:
---
At least Gallant was able to laugh this loss off. I know I can't.
Furthermore, this is now the third interview this season where "The Turk" was praising the other goaltender.
Yeah, getting "GOALIE'D" happens – but at some point – your explosive offense needs to blow down these walls.
And when Tarasov from Columbus is one of these stone walls? Give me a break.
The final grain of salt in the wound? Look at the NHL scores from this season.
More times than not, you're seeing scores of 4-1, 5-2 and 6-3. The "other goalie played well" excuse is going to get tired and old – and quick at that.
I hate to sound so down and negative (I am keeping my faith – NYR, your 2023 Stanley Cup champs!), but I can't ignore the truth either.
Without a shadow of a doubt, AND THIS CAN NOT BE DEBATED – this is the worst stretch of "The Turk Era."
During these past few nights, the Rangers gave OLD FRIEND, David Quinn, his first win in San Jose. They were then embarrassed by a bad Columbus team, a franchise where OLD FRIEND, John Davidson, serves as team president. Following that, an overtime loss to OLD FRIEND, Alexandar Georgiev, where #40 out-played CZAR IGOR.
And tonight, a 3-0 loss to your most-hated rival? This felt like hearing news that your pet requires a major life-or-death surgery.
The team will practice before heading out west for another back-to-back set. The flight there won't be fun. Hopefully, the return flight to New York is.
I'll be back between now and Saturday, as I will have a full press release on "Tricks of the Trade." You can now order copies on Amazon.com and signed copies through me.
Thanks for the support. I don't run ads or ask for money on this site. All I ask is that you buy my books!
PLUGS TIME!
---
My first plug of tonight's blog – the mandatory plug for my book, "The New York Rangers Rink of Honor and the Rafters of Madison Square Garden."
As mentioned previously, the book is now available in hardcover, in paperback and in Kindle formats. To purchase a copy of the book, visit this link:
https://www.amazon.com/Rangers-Rafters-Madison-Square-Garden-ebook/dp/B09CM5N2WD
For those still looking for signed paperback versions of the book, I have re-ordered more copies. I now have a few signed copies for sale at $25 a pop (includes shipping price) through me directly. Here is all the information on that:
---
My four-volume set of books, "One Game at a Time – A Season to Remember," is a game-by-game recount of the Rangers 2021-22 campaign.
My second title as an author, "One Game at a Time – A Season to Remember," is now available in eBook, paperback and hardcover formats.
To obtain signed copies, visit: https://bluecollarblueshirts.com/onegamebook/
To purchase all four volumes on Amazon, visit: Amazon.com – "One Game at a Time."
---
Here are my last few blogs, in case you missed them:
---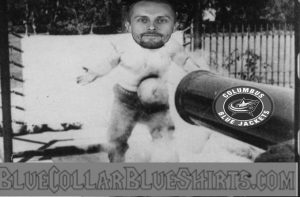 ---
---
If you haven't already, subscribe to this blog for the next update:
---
Don't forget to pre-order my new four-volume set of books, "Tricks of the Trade!"
If you don't pre-order through me, all four volumes will also be on sale over at Amazon.com
For more details, check out: https://bluecollarblueshirts.com/tricksofthetrade/
The Rangers return to play on Saturday, in "The Big D," against the Stars.
Thanks for reading.
LET'S GO RANGERS!
Sean McCaffrey
BULLSMC@aol.com
@NYCTHEMIC on the Tweeter machine