Greetings and salutations everyone and welcome to another blog here on BlueCollarBlueShirts.com. That was fun! I hope these people with their charts, graphs, heat-maps and hieroglyphics didn't jump off of the bridge just yet. Then again, maybe I don't hope that! (I kid, I kid!)
Obviously, the fourteenth game of the season is nowhere close to a "MUST-WIN" game. However, for the Rangers, they really needed a big win, if only to fan the never-ending flames that the ANALytical crowd incited. And on Saturday night, in Columbus, the Rangers did just that, knocking off their divisional rival by a final score of 5-3.
As mentioned on this site during the Rangers four-day break, not only were bloggers, fans and podcasters selling "gloom and doom", and flat-out lied in other cases (IGOR HATES HIS TEAMMATES AND IS FURIOUS), but many members of the NYR beat were doing the same. After all, they had to generate clicks somehow, and quoting ANALytical websites like Natural Stat Trick, Evolving Hockey, and the rest of those never-ending snoozefest bores wasn't going to be enough.
Rather than mentioning the obvious things that weren't in the Rangers favor (as I did, as I'm patting myself on the back here like a 1990's Barry Horowitz), such as the schedule, new coach, new systems, new players, needing time to gel, etc; the media and others led you to believe that the Blueshirts, despite their Bill Parcells record of 7-3-3 (you are what your record says you are), were toast.
Instead, in their first game back from the break, the Rangers burnt the Blue Jackets to a black crisp themselves, in a game where the Fat Cats, for the first time this season, not only carried the heavy lifting – but presented CZAR IGOR a W in the win column too.
---
Sure, the first period of this contest made you say "oh no, not again"; but come the second period, the Rangers exploded for three goals, imposing their will on the inferior Blue Jackets.
And even had the Rangers not kicked this second period field goal, the team absolutely dominated the period, where shots were frequently whizzing towards the net of the Blue Jackets. Whatever was said after the first intermission must remain on Gallant's brain, as the team had one of their best periods of the season. Keep it going!
Even better? The Rangers, after so many third period failures this season (especially recently), clamped down and out-played their opponent. Yes, you need scoring to get to this position of a game, but you must also be able to close out teams too – as the Rangers did tonight.
While I'll get more into this during the game review segment of the blog; if anyone impressed me tonight, it was a common whipping boy on this site, in Jake "The Mistake" Trouba. #8 in white, after a disgraceful first period, woke up, turned it on and wound up having not only one of his better defensive games of the season – but his absolute best offensive game of the season as well.
After all, with the much cheaper Tony DeAngelo picking up two assists in Carolina's 3-2 win over St. Louis on Saturday night, as the former Ranger challenges Adam Fox for most points among all NHL defensemen; Trouba picked up two points himself – an assist on a Kreider goal and with the game winning goal, after receiving a perfect pass from Barclay Goodrow.
For the first time this season, the players I have dubbed as "The Fat Cats" collectively put it altogether. Panarin, Strome, Trouba and Kreider all had multi-point games. Mika Zibanejad, the other fat cat, not only was great defensively and on the PK, but picked up an assist on the power-play too.
And while on special teams, the Rangers, who didn't have their best performance of the season in this department tonight, were good enough and better than the opposition, going 1-2 on the power-play and 2-3 on the penalty kill. As I always say, special teams swing games and special teams helped swing this game in the Rangers favor.
Yes, it's all rah-rah for right now, but I always like to give you the full picture during these intros.
While I'm not trying to piss on your parade here, I'd be remiss if I didn't bring up the "Where's Waldo Wonderkids", Kaapo Kakko and Alexis Lafreniere, where both players, after every game, continue to have their woes magnified. This fact won't change until they start playing to their potential.
---
Very often after victories, we do tend to gloss over negative things. After all, who wants to harp on bad stuff after a big win?
That said, I present these stats for you, then I will jump back into my often-mocked "glass half full" outlook!
Fourth liner Dryden Hunt: Seven SOG and four hits. In addition, Hunt, and his patchwork fourth-line, played remarkably once again. The Rangers, hands-down, through these first fourteen games, have their best fourth line since the Vigneault years.
Second liner Kaapo Kakko and third liner Alexis Lafreniere: Zero SOG combined (again). How can one argue that they deserve power-play time, when they can't get going offensively 5 vs 5?
Of the two "youts" tonight, Kakko was much more noticeable, where as it has been the case, had bad puck luck derail him from his first point of the season.
Kakko made a few good passes in this game, but every time, his teammate couldn't finish. Kakko also had a chance to go for an empty net goal late (thus thwarting the monkey on his back), but declined the opportunity, showing unselfishness instead, by giving Panarin a try at a hat trick. (Panarin missed.)
Lafrienere, who actually has points this season when compared to the pointless Kaako; had another tough night out on the third line, where if you didn't check the box score – you may have not noticed that he was even dressed for this game. The only time Lafreniere was somewhat noticeable, was late into the game, where his line controlled the puck and killed some clock like a football team. Even then, Trouba dominated this zone possession. (More in the game review.)
I'm not here to bust out the shovel, and dig a shallow grave on these two – but yeah, the budding concerns about the two lottery picks are starting to blossom a bit. There is fruit on that vine.
I think what makes all of this worse, is that you are seeing all of these other players, also in their sophomore and junior seasons, racking up points all over the league. (And just wait until you see the kid with the Mercer nameplate on his back on Sunday night – if you haven't already.)
Of course, there is one out here for the Wonderful Waldos', (where Lafreniere gets more of a pass than Kakko, due to the respective minutes that they receive). Unlike other younger players across the league, these two are playing on a team with not only playoff hopes on their mind, but on a team that hopes to make noise in the playoffs too. In other words, this isn't Buffalo, Detroit, Ottawa, etc. The Rangers are trying to compete with the Carolina's, Washington's and Islanders of the division.
We know what Vitali Kravtsov thought, when he cried and took his puck back home to his mother's bosom in Russia – it's tough to crack into the Rangers top six. It's even tougher to crack into the Rangers first power-play unit, where a bulk of points are garnered.
All you can hope, is just like Panarin tonight, these two will eventually figure it out. Then again, as mentioned a few blogs back – salary-cap wise, it wouldn't be the worst thing if Kakko doesn't have his breakout season this season. For cap purposes, it would be better if Kakko had those seasons in the seasons to come, during his bridge years. (And yes, I know that's a crappy way to think, but it's the system the NHL desires.)
---
As far as any big news coming out of this game, and before getting into the usual segments of these game reviews/recaps; CZAR IGOR was roughed up in this game, with only 6:45 remaining in regulation. I'll get more into the play during the game review segment, but to fast-forward a bit here – CZAR IGOR is fine and not expected to miss any time. Rather than suffering an injury, Igor was pulled for concussion protocol purposes, with #31 passing these league mandated tests.
In addition, after the game, and I'll get more into this in a bit – if Gallant so desires, Igor is available to play tomorrow (Sunday) night at M$G, in the home game against the surging New Jersey Devils.
In other words, there's no need for an immediate emergency call-up of Hartford's Keith Kinkaid.
PLUGS time, and then everything else.
---
The first plug of tonight's blog – the mandatory plug for my new book, "The New York Rangers Rink of Honor and the Rafters of Madison Square Garden". And let me say this – thank you to everyone who has bought one, as my Amazon sales have exceeded all expectations, where for a limited time (that damn Mark Messier who just released a book!), my book was number one on the Amazon hockey book sales charts.
As mentioned previously, the book is now available in hardcover, in paperback and in Kindle formats. To purchase a copy of the book, visit this link:
https://www.amazon.com/Rangers-Rafters-Madison-Square-Garden-ebook/dp/B09CM5N2WD
For those still looking for signed paperback versions of the book, I have 5 copies left for sale for $25 (includes shipping price) through me directly. Here is all the information on that:
---
Here are my last few blogs, in case you missed them:
---
---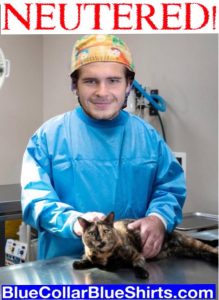 ---
As talked about all last week (check the PLUGS segment for more), Filip Chytil's "day-to-day" status was touch and go. On Saturday morning, we found out that Chytil was officially ruled out for this game when he didn't travel with the team to Columbus. In turn, Greg McKegg was recalled from Hartford.
Here's what the Rangers said about McKegg's call-up, via their Twitter page:
UPDATE: Greg McKegg has been recalled from the Hartford Wolf Pack. Filip Chytil (upper body) has been placed on IR.
Of note (and this is a statement and not an indictment), Chytil is now the third consecutive player to wind up on the IR after Gallant gave out a status of "day-to-day". Previously, both Kaapo Kakko and Ryan Reaves were listed as "day-to-day", only to wind up on the IR themselves.
It should also be mentioned that both Kakko and Reaves were only on the seven-day IR and were then quickly able to return. Only time will tell if Filip Chytil is able to return as quick, as he does have a history of being injury prone, hence the Eddie Gieck, of "The BSU Show", coined "Filip Brittle" nickname.
Lastly on Chytil, his status on the IR is retroactive to when he first got injured, so in theory, he could return against the Devils. However, if he is able to return, do you really want to bump Barclay Goodrow as your third line center? Perhaps it's time to experiment with #72 on the wing, in steed for "Goalless Gauthier".
---
With Chytil's status cleared up, here is the line-up that Gallant went with for this game:
FIRST LINE: Kreider/Mika/Blais
SECOND LINE: Panarin/Strome/Kakko
THIRD LINE: Lafreniere/Goodrow/Gauthier
FOURTH LINE: Hunt/Rooney/Reaves
FIRST D-PAIR: Lindgren/Fox
SECOND D-PAIR: Miller/Trouba
THIRD D-PAIR: Nemeth/Lundkvist
And in net, the one and only CZAR IGOR Shestyorkin.
---
BOX SCORE time.
The following information and graphics come from the new world-wide leader in NHL coverage, ESPN.com:
SCORING: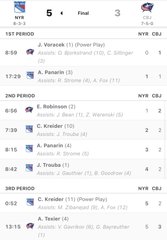 PENALTIES:
TEAM STATS:
GOALIES:
| | | | | | | | | | | |
| --- | --- | --- | --- | --- | --- | --- | --- | --- | --- | --- |
| SA | GA | SV | SV% | ESSV | PPSV | SHSV | SOSA | SOS | TOI | PIM |
| 41 | 5 | 36 | .878 | 28 | 1 | 7 | 0 | 0 | 57:27 | 0 |
| | | | | | | | | | | |
| --- | --- | --- | --- | --- | --- | --- | --- | --- | --- | --- |
| SA | GA | SV | SV% | ESSV | PPSV | SHSV | SOSA | SOS | TOI | PIM |
| 2 | 0 | 2 | 1.000 | 2 | 0 | 0 | 0 | 0 | 6:45 | 0 |
| 34 | 3 | 31 | .912 | 28 | 0 | 3 | 0 | 0 | 53:15 | 0 |
---
A few things on the M$GN broadcast, before getting into the game review.
Despite my desire of wanting to see this happen (but as expected), John Davidson didn't reunite with Sam Rosen on the broadcast. It would've been cool to see, as it would've been more about Rosen than anything else – but needless to say, I think we had a better shot of seeing Kravtsov in the line-up tonight – or Kaako picking up a point!
(That Kakko shot was such a Mike Francesa thing to say! <Grins, sips Diet Coke and a "BackAftuhDis".)
Henrik Lundqvist wasn't part of the festivities tonight. For those keeping track, it looks like he's keeping his Saturday nights free, and who can blame him?
Steve Valiquette, who my opinions on his work are well-known, wasn't that brutal tonight. Like Trouba's goal from this game – perhaps pigs are flying with this statement!
In fact, I have to give Vally credit where credit is due, as during the pregame portion of the broadcast, Vally went on-and-on, in his prediction of Chris Kreider having a huge game against the Blue Jackets and their goaltender Elvis Merzlikins. What happened? Kreider matched his best offensive performance of the season (ironically against these same Blue Jackets, during a game played on 10/29/21), backed by two goals.
Of course, Vally also plugged his fake news stats company, and just like these fat cats who picked up multi-point games – plugged his imaginary stats company twice.
But it wasn't all bad. Vally urged Panarin to shoot more, mentioning that #10 has been more "pass-first" than anything else. In turn, Panarin had his most offensively prolific performance of the season, scoring two goals, coming close to a hat-trick twice and had six shots on goal, only second-best to Hunt.
In closing the pregame show, Vally would later be validated again, when he said that the Rangers can't just gain a lead and then take it easy. Of course, that's a no-brainer of an analysis, especially when talking about this team, and really, whenever talking about any game in the league in general.
Game review time.
---
The first period of this game was the Rangers worst, but it's not necessarily how you start – it's how you finish.
Weird stat? Ryan Strome, taking eleven face-offs, finished with a win-loss record of 3-8. The three wins? During each opening face-off of each period. Go figure.
Artemi Panarin, juiced-up in his return to Columbus, received a negative crowd reaction all game, similar to the boos and derision that Adam Fox received last Saturday night in Calgary. I guess we've learned that small-market fan bases can carry a grudge. And as the game went on, unlike Fox in Calgary – Panarin gave Columbus fans something to boo about.
In Kakko's first display of bad "luckko"; early into the game, Trouba found the young Finn centered in front of Merzlikins with a perfect pass. Kakko couldn't handle the pass, and on the other end, Miller hooked Ranger killer Oliver Bjorkstrand.
The Rangers first shot on the PK was solid, where once again, Barclay Goodrow really stood out. During the multiple Ranger penalty kills throughout the game, Goodrow was winning face-offs, clearing pucks and even putting pucks on goal.
After the kill, Igor made a few saves. In more bad "luckko" for #24 in white, Kakko, wide-open, shot a puck wide.
8:09 into the frame, Sammy Blais (who some reporters couldn't figure out the meaning of "The Bull" nickname – horrendous in their usual display of ignorance), was sent to the box after cross-checking Alexandre Texier, a Texier who was very noticeable in this contest – especially in the latter stages of the final stanza.
As Sam Rosen reminded us that Jakub Voracek was scoreless this season (and for the 6795675675558557th time in nearly ten minutes of game time elapsed), you knew it was coming and it came.
Fifty seconds into the CBJ power-play, Voracek picked up his first goal of the season, as Jacob Trouba screened Igor, went on one knee and even better, didn't make an attempt to block the shot. 1-0, bad guys, where you were already moaning about the Rangers second defensive pair. The Rosen Jinx lives on.
The griping about the second defensive pairing would continue, as both Miller and Trouba, with an emphasis on Miller, were giving up odd-man rushes left-and-right. Miller, trying to follow up a solid performance against Florida, had a rough go of it, falling down three times in this period, where after landing on the ice, CZAR IGOR was forced to make denials after each slip.
With the Rangers not doing much offensively, and with CZAR IGOR forced to clean up the mistakes from the second pair, the fourth line had a great shift. Once changing, the Strome line, the top line of this game, picked up a sloppy tic-tac-toe goal – but hey, all goals count the same!
Here's Panarin picking up his first full-strength goal of the season:
Love Panarin's reaction to watching this goal 😏 😏 😏 pic.twitter.com/wh08ufNFrc

— Rangers on MSG (@RangersMSGN) November 14, 2021
1-1, GOOD GUYS, with just 2:31 remaining in the period.
On this goal, Strome made a clean pass to Fox. Fox then dished to Panarin, where the puck was deflected by a CBJ defender, only to still find its target. On the shot, Panarin nearly flubbed, as rather than hitting the white twine behind Merzlikins, Panarin shot it at the Columbus goalie. However, Merzlikins wound up punching the puck into his own net. Sometimes it's good to be lucky, but even so, Panarin was in the right place, and at the right time, and baked up the first Rangers goal of the game.
Right after the goal, Robinson blew by the Trouba and Miller pairing, but CZAR IGOR said "nyet" again. With 68 seconds to go in the period, Igor made a pair of saves, stopping Bjorkstrand on his first shot and deftly kicking out his left leg during the rebound opportunity.
After one period, we remained 1-1, where the SOG favored CBJ by a tally of 12-9. You were just happy this game was tied, as the two Russians, Panarin and CZAR IGOR, did their job, while you were cursing out Trouba and Miller again. However the "EFF YOU'S" for Trouba would quickly turn into "EFF YEAH'S!"
---
After our customary line out of Rosen, the "SECOND PERIOD, WHAT DO YOU LOOK FOR HERE JOE?" question; 3:16 into the period, Miller tried to clear the puck twice but failed on both attempts. Not a great game for him tonight.
Six minutes into the period, the Rangers only had one shot on goal. However, that wouldn't last long.
After Merzlikins stopped a streaking Kevin Rooney; at the 6:56 mark of the period, Eric Robinson ripped a shot from the face-off circle to the right of CZAR IGOR. 2-1, bad guys, in a rare occurrence where this goal allowed was solely on the goaltender, and not on the Rangers defense or skaters themselves. No one is perfect.
This Columbus lead would last for only 43 seconds. Up next, three Ranger goals, scored in a rapid succession of 63 seconds.
Sit back and enjoy this Rangers field goal:
So that's 🔟 for Kreider 👀 pic.twitter.com/RnqzS84GBy

— Rangers on MSG (@RangersMSGN) November 14, 2021
2-2, as Trouba, simple and effective, found Kreider right near Merzlikins, with #20 backhanding a puck right through the five-hole. 36 seconds later, Panarin gave the Rangers the lead:
You just can't let Panarin get this look. Stromer with the saucer 🛸 pic.twitter.com/GQnMlf7MNf

— Rangers on MSG (@RangersMSGN) November 14, 2021
3-2, GOOD GUYS.
Panarin, looking like an angry kid, was in shoot, shoot, and shoot mode all game. On this goal, Panarin shot the puck, Strome grabbed the rebound and then fed his favorite winger for another shot on goal – where this time, Panarin expertly wristed a puck past two Blue Jackets and Merzlikins himself.
27 seconds later, Trouba joined the party:
Trouba makes it 3 in a row #NYR just pure energy pic.twitter.com/rIyoHExBap

— Rangers on MSG (@RangersMSGN) November 14, 2021
4-2, GOOD GUYS!
Pigs are flying folks, as Trouba scored his first goal of the season tonight, after easily depositing a puck past Merzlikins after a perfect set-up from Barclay Goodrow, with #21 really standing out as of late.
With 8:13 to go in the second frame, Julien Gauthier, who can't buy a goal, at least drew a penalty, as Yegor Chinakhov was nailed for a trip.
The Rangers power-play (while not coming up with a goal here), shot any puck within a mile radius, where Merzlikins was forced to make four saves in all. Other shots were either off-net or blocked. Panarin and Kreider were most noticeably in the zone here, firing away on all opportunities.
With 4:31 remaining, Ryan Reaves saw Merzlikins put on the ski-mask, as #75 had his first of two shots robbed by the BJ's netminder.
90 seconds later, Bad Luckko Kakko had Ryan Strome for a goal, but at the last second, Bjorkstrand broke up Stromer's scoring chance.
As Igor continued to protect the two-goal lead; with 34.1 seconds left in the period, the Rangers received another power-play, after Boone Jenner cross-checked Lindgren right in front of CZAR IGOR. There's never a good time to take an offensive zone penalty, but the Rangers appreciated it. Even better, they would soon cash in on the opportunity.
After forty minutes, the Rangers still had Columbus doubled-up 4-2.
And after being poorly out-shot in many periods all season, and after a 12-9 Columbus SOG advantage after the first period – the Rangers had the lead in the SOG department, with a whopping 28-18 showing. Do the math!
From this point, all that was left to do was slam the door, which admittedly, has not been a Blueshirts strength lately.
---
The Rangers, looking to extend their lead; almost saw it via a Panarin hat-trick, but the Breadman missed a vacated net, and rang a puck off of the crossbar instead. However, no matter, as at the 52 second mark of the period, Kreider matched his buddy, and scored a second goal himself – a power-play goal – finishing Merzlikins off after receiving a sweet pass from Zibanejad. 5-2, GOOD GUYS!
Of note, Fox had the secondary assist here, setting this power-play goal up and giving Mr. Norris a two-point game as well.
From this point on, with another "dreaded three-goal lead", all that was left to do was close out – but it wouldn't come without a scare.
Just a minute later, after Kreider's PPG, Rooney was boxed for holding Robinson. The Rangers PK did their job again, where we also saw CZAR IGOR clear a puck too.
As the clock went tick-tick-tick, Merzlikins prevented a true blow-out, denying Reaves once again from picking up his first goal of the season.
As we got under ten minutes remaining in regulation, Panarin kept shooting anything rubber that came his way, but would never find his illusive third goal.
In an M$GN crew moment, I jinxed everything, where I said the following on Twitter with under seven minutes to go:
Looking ahead… Igor wasn't tested too much tonight, would be okay to go tomorrow against a divisional opponent. Maybe let Georgiev take the easy start against crappy Montreal & Igor rested and ready for offensive happy Toronto?
With 6:45 remaining, Texier scored, after deflecting a puck by Igor. 5-3, good guys.
On this goal, Patrik Nemeth violently shoved Texier into CZAR IGOR (every goalie loves that), right after the puck went by the Rangers goaltender. Igor took a shot to the head here, through no fault of Texier, even if Kreider did take exception. (Kreider probably didn't see how Igor went down – he just saw that Igor was down).
Rangers trainer Jim Ramsey rushed onto the ice, where initially it looked like CZAR IGOR was okay. However, Igor would go to the tunnel, where speculation about his status ran rampant. However, after the game, we found out that this was just a concussion protocol issue. (More on this below.)
Now up by two, the struggling Alexandar Georgiev was in net, where admittedly, your asshole puckered up like a tight guitar string.
After giving up a quick shot on goal; the Rangers, like Jon Taffer from "BAR RESCUE", "SHUT IT DOWN". Even the Miller and Trouba pairing got in on the action, where with the third line, they shaved off about 40 seconds of clock in the CBJ zone.
With 2:15 to go, Merzlikins went to the bench for the extra skater. If there was anything frustrating about this, it is that despite all this ton of time with no goalie in net, the Rangers couldn't find the dagger goal. Fortunately, they wouldn't give one up either.
After the Kakko/Panarin play (which was described earlier), and a few icings later, the Rangers held on to win the game, 5-3.
Georgiev (who would've been crucified had he blown this), hung on too. At least that's something positive for #40.
5-3, GOOD GUYS, your final.
---
Here's Gallant, after the game:
---
Two things of note here:
One, Gallant fully cleared Igor and made no bones about it – there is no injury issue with Igor. Crisis averted, to say the least.
Two, I thought Gallant summed up the second period and on perfectly – every player played to their role. If this can continue, the Rangers will be successful.
I should also mention here, that prior to the game, during Gallant's pregame interview (and unlike last weekend in Alberta), the head coach wouldn't confirm that he would be splitting his goalies during this back-to-back set.
If we know anything about Gallant's track record, both as a head coach of the Rangers and elsewhere; when it comes to his goalies, he rarely gives his starter back-to-back games, unless there are playoff implications.
While it's most likely that Georgiev goes tomorrow, I think it's time to see what Igor can do on a back-to-back, especially knowing that he's 100%. Let me expand on this point.
Igor wasn't tested much tonight, and with a divisional and major rival at M$G on Sunday night in the Devils – why not go with your best possible line-up? From there, you can give Georgiev the crappy and broken down Montreal Canadiens on Tuesday and then have a fresh Igor ready to go against the toughest team of this stretch – the Toronto Maple Leafs. And if you want to give Georgiev one more game after that, you can give the back-up the inferior Ottawa Senators too.
After all, the Rangers just played both the Leafs and the Senators late last month (both on the road, like these two upcoming games next week), where Igor beat the Leafs and Georgiev beat the Senators. Why mess with something that has worked – especially when you consider that these two goalies now have some familiarity with those shooters?
We'll find out how it all goes down tomorrow night, at "The World's Most Expensive Arena".
---
If you haven't already, subscribe to this blog for the next update:
---
Up next: Rangers vs Devils, the first meeting between these "Battle of Hudson" teams. (Shout-out to NO FLEX – a NO FLEX who has been unusually pessimistic lately! You can read his Ranger recaps at https://newyorkpuck.com/)
And lastly before signing off, not only did the Rangers have a great night out on Saturday – so did their active alumni:
Pavel Buchnevich and Michael Del Zotto scored power-play goals tonight. Tony DeAngelo had two assists. Cam Talbot picked up another decisive victory. Kevin Hayes had an assist. JT Miller scored a goal. And Brady Skjei scored his first goal of the season. Trouba and Skjei scoring on the same night? BUY A LOTTO TICKET!
See ya tomorrow night.
Stay FABULOUS my friends.
As always here, thanks for reading and…
LET'S GO RANGERS!
Sean McCaffrey
BULLSMC@aol.com
@NYCTHEMIC on Tweeter