Greetings and salutations everyone and welcome to another blog here on BlueCollarBlueShirts.com. What a perfect sports weekend to start the New Year – where I'm assuming that you don't root for the "Same Old Jets!"
And as the great Artie Lange (and my favorite comedian of all-time too) once asked, "what's the difference between the Jets and your wife?"
The answer? "The Jets will always eff you!"
As we now move away from "Gangrene," and for fellow fans of all things blue; following the Giants dismantling of one member of the animal kingdom, the Colts, thus securing Big Blue's berth in the NFL playoffs; just three hours later, the Rangers put down another member of the animal kingdom on their own, the Panthers.
And wouldn't you know it? This latest Blueshirts' victory put them right back into a playoff berth too!
Even better?
All of this took place before the best show on television today, "Yellowstone," aired at 8PM on the Paramount network – where for both the head coach of the Giants (and a huge fan of the Rangers too) Brian Daboll, and Rangers' bench boss, Gerard Gallant – the first day of 2023 was pretty "paramount" for them too!
That all said, I found the Giants' victory to be more of a statement game than the win that the Rangers enjoyed in Florida.
But hey – as long as the Blueshirts won.
I guess what I'm getting at here is that I "EXPECTED" the Rangers to handle the Panthers. A loss would've felt like the contents of a kitty litter box.
While this match wasn't a "MUST WIN" game, as many others were alleging that it was; for the Rangers, they should beat a bad Florida team – especially a Panther team that was playing their third game in four nights.
I just want to see the Rangers win again on Tuesday night, when they host the red-hot and first-place Hurricanes.
But we can get into all of that at the end of tonight's manifesto.
After all, who wants to start the New Year off on a negative note – especially following this excellent weekend!
---
On New Year's Eve 2022, I posted a mini state of the Rangers' blog here: https://bluecollarblueshirts.com/123122/
When I posted that blog, I wasn't expecting too many people to read it, due to the New Year, it's the weekend and because most people were either drinking or hungover! However, nearly 10,000 people clicked that link, which shocked me more than both Zibanejad and Panarin scoring tonight!
After all, and as opined last night in this space – I am very critical about how the two highest-paid forwards on the team have been performing thus far this season.
(Also of note: I think the uptick in traffic was because the name "Alexis Lafreniere" was featured in the headline – as every Canadian across "The Great White North" is heavily invested in his current status. His recent scratch is not only the talk of the town here in New York – but everywhere else too.)
Truth be told, while both #93 and #10 were able to get on the board against the Panthers; at the same time – each "FAT CAT" scored a fluke goal too.
But hey – if you don't shoot – then you can't score – and not shooting the puck has plagued "The Breadman" all season.
I saw a lot of celebration following these two combining for three goals tonight. And hey – I totally understand it. Heck, I was cheering myself.
However, I still remain weary, as one good game against a terrible and tired team doesn't change everything that I wrote last night. (It is a step in the right direction though!)
Since I want to remain positive (remember my old "glass-half full" mantra?); I'll leave it at that and also hope that I see these two score again on Tuesday night.
---
Away from the two players who take up 25% of the Rangers' salary cap; I thought there were other causes for celebration tonight, including the following:
— Kaapo Kakko picked up two assists – and both of the primary variety. While some people will always consider multi-goal games as the best games that a player has played all-season (and that is a valid opinion/take); I thought this match was arguably one of Kakko's finest games yet.
— As I've previously written, Kakko's performance in Florida brings me back to this: Kakko is the team's best right-winger, where admittedly – perhaps that's by default. Whatever the case, among the first-round forwards; it's Kakko, not Lafreniere, not Chytil and not Kravtsov either, who has been able to stay healthy and play well.
— It's also why it's so hard for Gallant to go back to that Lafreniere/Chytil/Kakko (third) line – because Kakko should be playing on the top line. The other two? Not so much.
— Chris Kreider was noticeably more alert tonight, and was later rewarded, following his one goal and one assist showing.
— Jacob Trouba, who leads the team in brutal turnovers this season, didn't make one tonight. He led by example and had one of his better games of the season.
— Braden Schneider, and not K'Andre Miller, may be the Rangers' defenseman who steals a Norris vote or three from Adam Fox. Once again, Schneider, the youngest player on the team, was the best "kid" of the game.
— Speaking of Fox, he recorded his 200th career point in this game – which made him the 15th fastest NHL defenseman to ever hit that milestone.
— As we all know, the Rangers are/were extremely fortunate that the 2021 Norris Trophy winner didn't want to play anywhere else, besides for his favorite hometown team. Just ask Calgary and Carolina if you don't believe me!
— In what felt like a "pregame gamble," and I'll explain this later on during the GAME REVIEW; Gallant gave Jaroslav Halak the nod in net tonight. In turn, Halak won his third game in a row – and looked good again. The Rangers went wire-to-wire all game and Halak never blew a lead.
— I thought the fourth line looked extremely engaged. Between Blais forechecking, Gauthier drawing penalties and with Goodrow remaining as one of the more consistent players on the team; this new trio held up their own end of the bargain.
I'll save the non-sugar coated material for the GAME REVIEW.
However, before getting there, the pregame news and notes.
---
Prior to today's late matinee, Gerard Gallant met with the media for ninety seconds, where nothing of note was said – aside from the fact that the head coach reiterated that Lafreniere was playing, while not revealing who the healthy scratch would be.
As predicted and explained in this space last night (what a shameless self-pat on the back – what a maroon!); by the time the puck was dropped, we found out who would be joining Libor Hajek in his regular seat in the press box – Jonny Brodzinski.
For the sake of posterity, here was the first "TURK TALK" of 2023:
---
Here was Sunday's line-up:
FIRST LINE: Kreider/Mika/Kakko
SECOND LINE: Panarin/Trocheck/Kravtsov
THIRD LINE: Lafreniere/Chytil/Vesey
FOURTH LINE: Blais/Goodrow/Gauthier
FIRST PAIR: Lindgren/Fox
SECOND PAIR: Miller/Trouba
THIRD PAIR: Harpur/Schneider
STARTING GOALIE: THE HALAKNESS MONSTER
BACK-UP: CZAR IGOR
---
BOX SCORE time.
The following graphics and information come from ESPN.com:
SCORING:
PENALTIES:
TEAM STATS:
GOALIES:
| | | | | | | | | | | |
| --- | --- | --- | --- | --- | --- | --- | --- | --- | --- | --- |
| SA | GA | SV | SV% | ESSV | PPSV | SHSV | SOSA | SOS | TOI | PIM |
| 28 | 5 | 23 | .821 | 15 | 7 | 1 | 0 | 0 | 56:36 | 0 |
| | | | | | | | | | | |
| --- | --- | --- | --- | --- | --- | --- | --- | --- | --- | --- |
| SA | GA | SV | SV% | ESSV | PPSV | SHSV | SOSA | SOS | TOI | PIM |
| 28 | 5 | 23 | .821 | 15 | 7 | 1 | 0 | 0 | 56:36 | 0 |
---
This was one of the better broadcasts of the season – but of course – you knew I would say this.
With Sieve Vagistat still "day-to-day;" John Giannone worked the studio solo, while going to Sam Rosen, Joe Micheletti and Dave Maloney, all in Florida, for analysis.
This was all refreshing as we didn't have to hear about "East-West passing," "I called Hank today Johnny," and whatever the gerbils are doing in Vagistat's "Royal Road." (Yes, the gerbil is a "South Park" reference!)
Even better, especially as a fan of the New York Football Giants? M$GN was running the Giants' post-game prior to this Rangers' broadcast.
Why do I bring this up? As Daboll was leaving the podium, and when speaking about Big Blue's playoff future, he hit Gallant's signature line – "ONE GAME AT A TIME!"
---
Once Giannone and friends hit the airwaves; aside from the news about Brodzinski's scratch, we were informed that THE HALAKNESS MONSTER, and not CZAR IGOR, would be starting.
Since I don't like to play the 20/20 hindsight game with you on this site, I'll now share with you what I said at the time:
I'm still surprised Halak is starting. Not a "MUST WIN" game or anything like that, but with only one back-to-back set all month, I'd go with Igor, especially since this team has pissed away so many points this season. #NYR

— BlueCollarBlueShirts (@NYCTheMiC) January 1, 2023
---
To expand on this thought, and even following the win – I still would've went with CZAR IGOR tonight.
While I'm not down on Halak like many are (blogs and tweets don't lie – I ALWAYS bring up his lack of goal support) – I just thought this was a game that the Rangers could ill-afford to lose, and in turn, I would've went with my ace.
That said, kudos to Halak and Gallant, as the back-up made a winner of himself, the team and the head coach too!
And this – there's no way in hell that Halak should be starting on Tuesday against Carolina – and I think we all know that it will be CZAR IGOR looking to shut down the team who he defeated during the second-round of the playoffs last season!
---
When it comes to the pregame analysis; Micheletti and Maloney echoed a lot of what I said last night on this site.
While I don't think they read what I wrote and then plagiarized me (and let me be clear about that!), as everything I wrote was fairly obvious for fans from the EYE TEST realm (and perhaps people over the age of 21 too!); both ex-players brought up Mika's issues with scoring, how Panarin needs to be a bigger factor, the greatness of B-Schneids, how the young forwards aren't living up to their expectations and etc.
There was also this poignant remark from the FABULOUS Micheletti:
"As a young player, the one thing you can't do is have your effort questioned. The last few games his effort was off. You can make mistakes, but your effort can't be off. [This Lafreniere scratch/story] is nothing."
Bingo!
That said – while I don't think that Lafreniere moped around tonight – I didn't think he did that much to stand out either.
However, we'll get into Lafreniere, "the kids," and everyone else on the team, as it's now time for the GAME REVIEW!
---
FIRST PERIOD:
As a generality, the Rangers pretty much owned this period. However, their strong start would later be matched by the Panthers, as it was the home team, and not the road team, that dominated the early minutes of both the second and third periods.
While this game was played on New Year's Day – it felt like Halloween in Sunrise, Florida.
After all, the 2,500 or so fans that attended this game were either dressed up as Ranger fans or as empty seats!
For all of the talk about everyone wanting Arizona punted to Houston – it's amazing that the Panthers continue to call this swamp city home.
(I've been to Sunrise before to see the Rangers play – and there is absolutely nothing going on in that town. While the city is about a 45-minute drive away from Miami; if the goal is for the Panthers to draw fans, while remaining in Florida too – then they'd be better suited in Miami rather than in Sunrise.)
Face-offs, a problem for the Rangers all season, were once again a headache tonight, as the Panthers won 57.1% of them. However, Zibanejad (10 of 21 tonight, good for 47.6% – a near season-high for him), won the first draw.
After that, it was all Rangers – and the overpaid goalie too, Sergei Bobrovsky.
While Bobrovsky has struggled ever since stepping foot into Palm Tree Town; the former two-time Vezina winner reverted to his prime during the first period. However, by the end of the game, the new "same old Bob" finished with five goals allowed and a putrid save percentage of .821% – and all for a cap hit of $10M!
Egads!
At just the 54 second mark, Bobrovsky (Bob from now on), stopped Kreider on a two-vs-one, as CK20 had received a great pass from his BFF, MZ93.
This is where you first thought, "oh no, not again" – but by the end of the game, both Mika & Kreider finished with multi-point affairs.
The much-talked about Lafreniere took his first shift at the 2:13 mark. I thought he'd have some pep in his step, and he did skate around a lot, but aside from one shot on goal tonight – he was barely involved. I don't know if it's a confidence issue or what; but obviously, the regression continues.
Following Bob making a save on Fox; at just the 3:24 mark, the fourth line drew their first of two penalties, as former Ranger, Eric Staal (who of course scored later on in the game – as Sam Rosen was begging for it to happen), hooked Blais.
As Rosen was going on-and-on about how the Panthers' penalty kill had given up eight power-play goals in four of their last five games played; just a minute into this Rangers' two-man advantage; it was Halak, and not Bob, who made the best save during this time, after stoning Sam Bennett.
As the Rangers' first power-play unit, etched in stone forever (Gallant will shake-up his lines, but he won't dare to tinker with this quintet), continued to come up empty-handed, and as the power-play was set to expire; the PP2 unit came on and Kakko missed the net from a few feet away. (Bob got a small piece of this, but the net was wide open.)
The end result? The Rangers' power-play were now one of their last eighteen – despite five shots on goal here.
As the seven-minute mark hit, the Rangers were out-shooting the Panthers 12-2 – but remained tied at nil-nil.
As we approached the half-way mark of the period, the Panthers finally put together their first shift of sustained pressure, as previous to this – the Rangers had spent 99% of the game in the Florida zone, with the other 1% being Bennett's try while short-handed.
With Halak doing his job, and with 9:07 remaining; resident NHL agitator, Matt Tkachuk, tried to get cute. All three members of the fourth line retaliated and we then had our first scrum of the game.
Down to 7:30 on the clock, Ekblad broke-up a Trocheck chance, where to be fair, the second-line center was waiting for his team to catch up, as the Rangers were on a shift change.
However, Trocheck, who must've been pissed about being stripped like a Florida woman looking to make money "the hard way;" sought revenge and roughed-up Anton Lundell with 7:24 remaining.
The Rangers' penalty kill, and as they'd really do all game, forced their will all over the Panthers.
With 56 seconds remaining on the Florida power-play, and following four separate Ranger clears; Bennett bowled over Halak – an interference penalty.
Now with the teams experiencing "foreplay;" the Rangers would soon pick up the first goal of the game:
Mika scores the Rangers' first goal of 2023!

(via @NYRangers) pic.twitter.com/IBhiKd8hBw

— Rangers Videos (@SNYRangers) January 1, 2023
---
1-0, GOOD GUYS, on a fluke, but hey, they all count too, goal from Mika Zibanejad.
Funny enough – this was recorded as a power-play goal, as the officials determined that #93 scored just one second after the 4 x 4 had expired.
(Television reviews showed that Zibanejad had scored one second prior to the commencement of the power-play – but to be fair – the TV clock isn't the same as the officials' clock.)
Either way, go figure – a rare power-play goal for the Rangers – and what counts as their second PPG in nineteen tries.
This goal was another example of why I always say that the EYE TEST means more than both ANALytics and the black-and-white stats too – because if you just looked at the box score, then you'd see that the Rangers went 2-4 on the power-play tonight – and then assume that they had rectified the errors of their ways.
This goal wasn't that at all.
Heck, this goal wasn't even the end result of a real shot on goal either, as after Mika split two defenders, he lost the handle and the puck then trickled through Bob's five-hole.
However, and one more time – every non-Florida party involved needed this – the Rangers' power-play stats, Zibanejad himself and the team, who after owning this period, were finally up where it mattered – the scoreboard.
Of course, Sam Rosen was upset about this and then went into Florida cheerleader mode – aka, the usual.
Following Rosen and Micheletti giving us their "Ode to Carter Verhaeghe," Trouba broke up a big-time Panther scoring chance.
Following a Gauthier shot that went wide, and Lindgren (still looking for his first goal this season) almost capitalizing too, we remained at 1-0 as the horn went off.
Here's what I said at the time:
1-0, GOOD GUYS, after 20. 1P Thoughts:
— #NYR played well, Florida looked like the contents of a litter box, but go figure, the only goal was a fluke one, on brand for this season.
— SOG 15-8 #NYR; Hits 9-4, FOs 10-9 FLA
— PP 1-2, but again, fluky – they'll take it.
— LGR

— BlueCollarBlueShirts (@NYCTheMiC) January 1, 2023
---
SECOND PERIOD:
As previously mentioned – the start of this period was all Florida.
Twenty-six seconds in, Halak stopped the hardest shot in hockey, a backhander, and off of the stick of the often-injured Aaron Ekblad.
Fourteen seconds later, Florida smashed the post so hard <DING> that even Sam Rosen heard it.
If that wasn't enough, and right after chipping the paint off of the post; Miller got back and prevented the Panthers from scoring an easy two-vs-one tap-in goal.
Halak then made a pair of saves on Cousins.
All of this took place in no less than two minutes.
As the Rangers were practically looking for a life-preserver; at just the 3:38 mark, Julien Gauthier (who else?) drew a penalty – a tripping infraction committed by Eric Staal.
The Rangers' power-play didn't do much of anything here, where by the end of it, they were officially 1-3, but in reality, were now 0-2.
Down to 12:50 remaining, Halak put on the ski mask again and robbed a monster Montour shot from the slot.
Thirteen seconds later, Blais took another retaliation penalty (this is what led to him being scratched a few games back in the first place), when he elbowed Josh Mahura in the mush.
The Rangers' penalty kill barely broke a sweat here. Halak had to make one measly save, while Zibanejad & Kreider put together two scoring chances.
Once returned to full-strength, the player that I'm giddy over, and maybe you're giddy about too, Braden Schneider; #4, like a late 1990s Brittney Spears, "Did It Again."
Take a look:
Mika magic!

(via @NYRangers) pic.twitter.com/IU2dAa8jBo

— Rangers Videos (@SNYRangers) January 1, 2023
---
2-0, GOOD GUYS with 9:30 remaining!
While Zibanejad gets credit for the goal (and as he should), and while Kakko made a hell of a pass too – this goal doesn't happen without the best player since the days of Ron Greschner to wear #4 on his back, Braden Schneider.
(My apologies to Kevin Lowe! And my full disrespect paid to Michael Del Zaster!)
Following another monster save from Halak; Schneider got the puck out of dodge, joined the rush and then found Kakko adjacent to the area known as "Gretzky's Office." The Finn then flipped the puck to the Swede, and boom, 2-0, GOOD GUYS.
For all of the talk about the first-round picks, the kids, or whatever other label that you want to use – Schneider is still the best of the lot for my money – especially when you consider the lack of NHL experience he has when compared to the rest of them.
For a third-pair defenseman, who arguably should be receiving top four minutes too – none of the players who have recently figured out the art of shaving, such as Kakko, Lafreniere, Kravtsov, etc – have been as reliable, nor as consistent, as B-Schneids.
In fact, and since it's 10PM as I write these words; let's do a "KIDS WATCH," as I ask you the following PSA question:
"It's 10PM. Do you know where your kids are?"
(This joke/reference may not land for readers outside of NY – look it up!)
Kakko – he played well tonight.
Kravtsov – one shot on goal, a forgettable one at that, and where I had to check the box score to see if he played.
Lafreniere – as mentioned, he didn't stick out at all, nor rose to the challenge. He finished with one SOG and with a -1 in the box score.
Chytil – (who I don't really consider as a kid, but many do) – one SOG and a 42.9% performance at the dot.
Miller – he made some strong d-plays tonight, but also finished with a team-low -2.
Schneider – +1, and as he, and his new partner, Ben Harpur, have been doing this whole time – wasn't on the ice for one goal allowed.
In fact, and as we'll get into this later – I thought that Schneider was even more noticeable, OFFENSIVELY, than the $11.6M man, Panarin.
Speaking of Panarin; with 8:37 remaining, he took a dumb o-zone penalty when he crosschecked Montour.
If Brodzinski and others have been scratched this season for taking bad o-zone penalties, then do you think that the same will apply to #10? I think not!
The Rangers' PK, the best road PK in the league (but 13th overall – which also tells you about the Rangers lack of success at M$G), were phenomenal (again) during these two minutes. All of the usual suspects, Kreider, Mika, Vesey, Kakko, Fox, etc all did their jobs.
However, now returned to full-strength, and with 6:03 to go, Nick Cousins got one past Halak.
2-1, good guys.
On this goal, Halak got a piece of it, but the rubber took a Florida bounce.
However, even without this "puck luck" – Colin White was left totally unprotected and would have most likely scored on a potential rebound chance anyway.
It was also around this time when Sam and Joe plugged an upcoming Mike Richter and Henrik Lundqvist "CHALK TALK," where the two franchise goalies will meet and talk war-stories with Ranger fans on 1/10. (I kind of want to attend this!)
And not for nothing, but shouldn't the M$GN be filming and airing this?
After all, what other content, aside from live sporting events, do they have to air that will be better than this? Hours upon end of JB Smoove and that methed-up gambling guy?
With the Rangers' first line clicking, and with the team looking to regain their insurance goal; that's exactly what happened with 4:16 to go:
Kreider finishes off another Kakko assist!

(via @NYRangers) pic.twitter.com/wIzaNgXFcd

— Rangers Videos (@SNYRangers) January 1, 2023
---
3-1, GOOD GUYS, as Kakko made one of the best passes of his career, and all Kreider had to do was say "excuse me," and pot the puck into Bob's vacated net.
This is where Fox (secondary assist) picked up the 200th point of his career.
Congrats to the greatest Rangers' defenseman since the days of Brian Leetch!
Down to 2:35 to go, Harpur crushed Eric Staal into the boards, which earned him a deserved boarding penalty.
The Rangers' PK, now 3-3 at the time, almost made it 4-4; but with 57.1 seconds left on the clock, Halak kicked a Verhaeghe shot right to the awaiting stick of Bennett.
3-2, good guys.
This was another puck-luck type of a goal, as the ricocheted rubber couldn't have landed on Bennett's blade any better.
This 3-2 score was also how we remained as the horn went off.
Here's what I said at the time:
3-2, GOOD GUYS, after 40. 2P Thoughts:
— #NYR have looked good, but this could be bigger than a one-goal margin.
— SOG 23-21 NYR; Hits 14-10, FOs 22-15, FLA
— Nice to see Mika score – can't be a one-game thing
— Is Panarin playing?
— PP continues to struggle.
— FINISH

— BlueCollarBlueShirts (@NYCTheMiC) January 1, 2023
---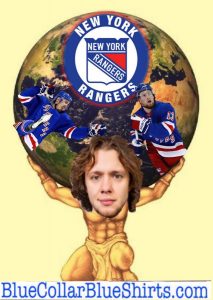 THIRD PERIOD:
Just as they did during the first few minutes of the second period; once again, the Panthers controlled the opening minutes of this final frame.
Nine seconds in, Halak recorded his first save of the period. By the 1:15 mark, Halak added three more.
And just as they did during the second period; the Panthers took another horrendous penalty to stunt their momentum, as at the 1:16 mark, Verhaeghe high-sticked Trouba.
This penalty put the Cats away for good, as just 22 seconds later – Vincent Trocheck scored the eventual game-winning goal, a true power-play goal to boot, as Kreider found the open center for an easy goal.
4-2, GOOD GUYS.
However, this crazy period was nowhere near done just yet.
No less than ninety seconds later, and at the 2:53 mark; Marc Staal's older brother (the former Rangers' great wasn't much of a factor in this game, as it looks like he will finish his excellent career without a Stanley Cup), Eric, beat Halak while the goalie was partially screened.
4-3, good guys – and the last Panther goal of the contest.
After a Rangers' third line icing around the 5:00 mark; the fourth line came on and buried the puck deep, which allowed the team to regroup.
Down to 12:25 remaining, Mika tried to set-up Kreider for his second goal of the game, but CK20 got too deep before he could register a high quality SOG.
Thirty seconds later, Trocheck turned the puck over on a failed clear, and where Halak bailed out this line again with a big save.
As we hit 11:27 remaining, Schneider came up with a big shot block and had Panarin sprung for a breakaway, but as he does a lot – #10, rather than going straight to the paint, slowed down, waited for everyone to catch up – and then made one of his wild and crazy passes to nowhere.
However, no less than two minutes later, and with 9:56 remaining in regulation – Panarin redeemed himself – albeit only somewhat in my eyes.
As Trocheck was looking to go hard to the net; the puck took a bounce, and similar to Bennett's goal that was scored earlier; the puck landed perfectly on Panarin's blade.
To his credit, rather than making another one of his usual wacky passes to only God knows where – "The Breadman" immediately shot the puck – and scored too.
5-3, GOOD GUYS.
And yes – I hate to sound so down on Panarin.
Furthermore, I hope that I'm not coming off as a gluten-free hater of "BREAD;" but we all know how great this guy can be (he was a Hart Trophy candidate for the Rangers during his first season in New York) – where I just want to see this guy dominate every game. Is that an unrealistic ask?
Heck – I'll settle for pure domination just 50% of the time!
Down to 8:24 remaining, and with their fourth two-goal lead of the game (and this one would never be erased); Kakko and Goodrow had GOOD LOOKS at the net, but played it conservative as the team was changing.
I saw some fans get on these two for not shooting the puck – but why take chances when up by two?
Three minutes later, and somehow and someway, Kreider didn't hit the net on a breakaway.
No matter, because at this point, Florida had quit and were just going through the motions. Panarin's goal had broken them.
However, "Some People Call Me Maurice," Paul, bench boss of the Panthers, pulled Bob with 2:45 remaining.
(And yes, I only expect 25% of this audience to get this Steve Miller Band reference!)
As I like to say on this site, two conflicting statements can be true.
On one hand, the Rangers played a tight defensive game from this point on. However, with nearly 3:00 of an empty net to shoot at – the Rangers couldn't put this game away either.
Much like the Jets on Sunday (oooooh, I'm going here) – they couldn't pick up the touchdown.
However, no matter, as once the final horn went off, the final score was 5-3, and in favor of the GOOD GUYS!
Here's your favorite coach and mine, "THE TURK," following the game:
---
What a shock – yours truly agreed and liked everything Gallant said – yawn!
What I really enjoyed was how Gallant praised Halak and reiterated that his back-up goalie was a big part of his team. That has to make "THE HALAKNESS MONSTER" happy too.
I also got a kick out of Gallant laughing about Mika's first goal being credited as a power-play goal – as he knew what it was – and how the Rangers should've had a power-play following it too!
As stated at the top of this – this was a hell of a sports weekend.
While I had this blog ready to go earlier; I wanted to wait until the end of the Islander/Kraken game (played at 8PM EST) to post this.
Why? Because following the Isles' pathetic 4-1 loss to the Krakheads, the standings now read as this:
While I'm having my fun kicking the Islanders when they are down – this is true too – tonight was another example of how hotly contested, both this Metro Division, and Eastern Conference, truly are.
As we are now three games shy of the 50% mark of the season – one loss – and you're out of playoff positioning.
One win, and the two points gained, can catapult you right back into a playoff berth.
It's up to the Rangers to end the Hurricanes eleven-game winning streak on Tuesday night.
Following the events from last year's playoffs; I'd expect the team from Raleigh to have this game circled. Let's see the Rangers piss in their cornflakes on Tuesday night.
If I don't post anything on Monday here, see ya after the Canes/Rangers game.
What a weekend – plus – I don't have a 5AM train on Monday to catch! Winning!
And do you know how you can win even more too? By buying my books, which brings us to…
PLUGS TIME!
---
My first plug of tonight's blog – the mandatory plug for my book, "The New York Rangers Rink of Honor and the Rafters of Madison Square Garden."
As mentioned previously, the book is now available in hardcover, in paperback and in Kindle formats. To purchase a copy of the book, visit this link:
https://www.amazon.com/Rangers-Rafters-Madison-Square-Garden-ebook/dp/B09CM5N2WD
For those still looking for signed paperback versions of the book, I have re-ordered more copies. I now have a few signed copies for sale at $25 a pop (includes shipping price) through me directly. Here is all the information on that:
---
My four-volume set of books, "One Game at a Time – A Season to Remember," is a game-by-game recount of the Rangers 2021-22 campaign.
My second title as an author, "One Game at a Time – A Season to Remember," is now available in eBook, paperback and hardcover formats.
To obtain signed copies, visit: https://bluecollarblueshirts.com/onegamebook/
To purchase all four volumes on Amazon, visit: Amazon.com – "One Game at a Time."
---
The greatest volume-set of books on Rangers' history today!
"Tricks of the Trade – A Century-Long Journey Through Every Trade Made In New York Rangers' History," a four-volume set of books that meticulously covers every trade made in franchise history, is now on sale.
All four volumes of the title can be purchased on Amazon.com and are presented in three different formats – eBook, paperback and hardcover.
To purchase Volume I: Conn Smythe (1926) – Craig Patrick (1986), visit Amazon.com
To purchase Volume II: Phil Esposito (1986) – Neil Smith (2000), visit Amazon.com
To purchase Volume III: Glen Sather (2000-2015), visit Amazon.com
To purchase Volume IV: Jeff Gorton (2015) – Chris Drury (2022), visit Amazon.com
To purchase signed copies of all four volumes, visit https://bluecollarblueshirts.com/tricksofthetrade/
---
Here are my last few blogs, in case you missed them:
---
---
---
If you haven't already, subscribe to this blog for the next update:
---
Don't forget to order my new four-volume set of books, "Tricks of the Trade!"
If you don't order through me, all four volumes are now available on Amazon.com
For more details, check out: https://bluecollarblueshirts.com/tricksofthetrade/
Thanks for reading.
LET'S GO RANGERS!
Sean McCaffrey
BULLSMC@aol.com
@NYCTHEMIC on the Tweeter machine