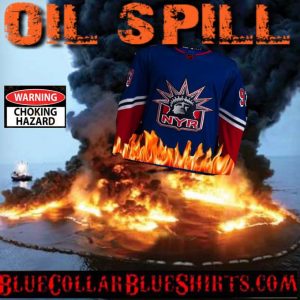 Greetings and salutations everyone and welcome to another blog here on BlueCollarBlueShirts.com. Absolutely unacceptable.
Not only should the Rangers burn those horrid reverse retro Liberty jerseys (now 0-3 this season), they should also rip off the diagonal letters of R-A-N-G-E-R-S from their traditional jerseys – and then replace them with these letters – P-A-T-H-E-T-I-C.
I guess I'd be lying if I said I was at a loss for words after watching the Rangers inventing a new way to lose during their matinee game against the Oilers from Saturday (after all – I have a lot to say right now); but like most of you – I watched the Blueshirts' latest collapse in utter silence.
For the final twenty minutes of this game, MSG should've just pumped Simon & Garfunkel's "Sound of Silence" through their loudspeakers.
And you could see it coming the whole way.
Just like watching a car accident taking place in real-time while from a distance – a head-on collision that you couldn't prevent – all you could do was scream "NOOOOOOOOO" in slow-motion, as if you were in a television show or movie.
When the final horn signaled the conclusion of this horror show, I felt like Al Pacino at the end of "The Godfather Part III." Don't remember that scene? Here you go:
---
To be honest, I don't even feel like recapping this game today – and I never say that. That's how bad this game was. However, I shall march on.
Before getting into the Rangers' latest disaster; if you haven't already checked it out, I think you should read my "Quarter-Pole Report Card" blog, which was posted yesterday on this site.
The reason I bring this up? Easy. A lot of what was said there pretty much took place today.
Here it is:
---
If you read my Rangers/Ducks game review blog from Wednesday night, and my report card from yesterday, then none of the following events from today's game should surprise you:
— The Rangers, the biggest slump-buster of the league, allowed the Oilers to right their sinking ship. That's the Rangers' way.
— As many visiting teams have done during their trips to the Metropolitan area this season; the Oilers had lost a pair of crushing games to both the Devils and to the Islanders. In a response, the Rangers put out the welcome mat and allowed Edmonton to stomp all over them.
— The Rangers, who are absolutely hellbent on creating feel-good moments for their opponents, as if every team they play is a "Make A Wish" kid (and where the Blueshirts always give up firsts to the other team too), did it again.
— However, this time, it wasn't just one negative first – it was a bunch of them, including allowing Evan Bouchard to score his first two goals of the season. For good measure, they allowed Dylan "Who?" Holloway to score the first NHL goal of his career too.
— CZAR IGOR continues to struggle at home – and always allows one "WTF" goal per game – despite making a bevy of highlight reel saves before-and-after said allowed "WTF" goal.
— Mika Zibanejad, now in 22 games played, has only one game to his name where he has scored an even-strength goal – the Rangers' 8-2 blow-out win over the Red Wings. (He scored two of these goals during that contest.)
— Artemi Panarin, much better today than he has been (that doesn't say much), extended his goal drought to twelve consecutive games.
— Jacob Trouba, who looked like he was recovering from his injuries as of late, was brutal towards the end of this game.
— The Rangers allowed another struggling goalie to get a bounce-back win against them. The only difference this time, is that Jack Campbell, a complete mess in Edmonton, didn't stand on his head like other legendary net-minders of the league, you know, goalies such as Martin Jones, Daniil Tarasov and Connor Ingram. Instead, the Rangers told Campbell to take the third period off.
— The Rangers, once again, couldn't play a complete sixty-minute game. While their opponent didn't play a sixty-minute game either; that didn't matter – the Rangers were more than happy to let the Oilers off of the hook.
— Sam and Joe, who wouldn't shut up about McDavid and Draisaitl all game, had their wishes fulfilled, when #97 assisted on #29's game-winning power-play goal.
— In a new twist, and for whatever reason; Bill Pidto, during his "M$GN 150" second intermission segment, and with the Rangers up 3-0 at the time; went on-and-on about using the word "shutout" and how announcers can jinx their teams. Why this idiot spent a minute talking about this while the Rangers had a shutout is beyond me.
The Oilers then scored four straight goals to win the game.
And no, I'm not blaming Pidto for this loss – but why even joke around like this – especially with the Rangers in a state of fragility?
---
In my present state of anger and despair, I apologize in advance if I'm all over the place. This game was just an absolute train-wreck and it's going to be tough to put this team back together.
And if you're a real glutton for punishment – just take a glance at the Metropolitan Division standings.
I do want to say, the lede story, among everything else, is the following – "WHAT'S NEXT?"
Getting to Monday night, when the Rangers play next (when they host the red-hot Devils), is going to feel like an eternity.
However, before getting into the GAME REVIEW and the post-game of this fiasco – some pregame news and notes.
---
A few stories from the land of Rangerstown, USA – stories that have nothing to do with the team of today – but just like this loss – all negative.
The sleuths at the NY Post (not the regular beat reporters) posted two stories about the Rangers on Saturday.
The first one had to do with the moron who assaulted a Tampa Bay Lightning fan following Game Five of the 2022 Eastern Conference Final.
Here's the link: https://nypost.com/2022/11/26/sucker-punching-rangers-fan-msg-sued-by-lightning-supporter/?utm_campaign=iphone_nyp&utm_source=twitter_app
As reported by the Post, the fan wasn't even jailed for his actions. What a precedent to set.
In other words, if you're feeling pissed-off about a loss, then feel free to knock someone out cold. Your punishment for your transgression? A few anger management classes.
One of the victims is also going after M$G for allowing the assault to take place, where he's blaming the Garden staff for over-serving this ossified idiot.
Truthfully, while this is an isolated incident – you can expect the prices of booze to continue their increase at M$G.
The reason why it costs $50 for a beer at M$G is a deterrent, and in theory, a way for fans not to over-indulge.
Of course, most fans imbibe elsewhere before games – and then have a few beers at the game to keep their buzz going.
In other words – I don't blame the booze vendors at M$G for the actions of one asshole. But to save face – I'm sure M$G will increase their prices on the nectar of the gods – but they were going to raise prices anyway.
Another negative Rangers-related story, and as also reported by the Post, had to do with the estate/will of the deceased Rod Gilbert.
You can read that story here: https://nypost.com/2022/11/26/rangers-icon-rod-gilberts-kids-battle-stepmom-over-will/?utm_campaign=iphone_nyp&utm_source=twitter_app
I'm sure I'm not the only person who personally knows of a story about a family being torn apart over greed, following the passing of a loved one.
Fortunately, while I've never experienced this myself – I do know of several people who no longer talk to family members because they felt screwed in regards to a potential inheritance.
Currently, Gilbert's adult children are fighting with their step-mother over what they feel is owed to them.
None of these stories ever have a happy ending. This is all just ugly – much like the Rangers on Saturday.
---
I covered the Rangers practice from Friday during the "Quarter-Pole Report Card" blog.
I just want to say the following before moving on – I know that people will bitch about Vitali Kravtsov remaining as a healthy scratch – and suggest all of their "PROPOZED LINEZ" too – but really, I don't think it matters – at least not today.
Bottom line, the Rangers had a three-goal lead. They blew it.
Collectively, where only Ryan Lindgren gets a pass (he was injured – and the second he went down – that's when the implosion took place), the team shit the bed and wet their pants.
With both Lindgren in the locker room and Halak on the bench – the Rangers had eighteen players on the ice. Not one of them could prevent this meltdown.
All you needed was one guy to step up, make one play here, one play there and this loss never happens.
Instead, they all failed and in turn – have no one to blame but themselves.
And oh yeah – in my eyes, this was the ABSOLUTE WORST LOSS OF THE SEASON – where I feel like I say that two or three times a week. Not good.
However, despite the disgusting and brutal losses to the Islanders, Sharks, Blue Jackets, Predators and Ducks – the other contenders for "worst loss of the season" – this one takes the cake.
Up 3-0 and you give up four straight goals. Fugly.
And yep – because this loss was a culmination of all of the other ones – it hurts even more.
---
Here was today's matinee line-up:
FIRST LINE: Kreider/Mika/Panarin
SECOND LINE: Vesey/Trocheck/Goodrow
THIRD LINE: Lafreniere/Chytil/Kakko
FOURTH LINE: Blais/Carpenter/Gauthier
FIRST PAIR: Lindgren/Fox
SECOND PAIR: Miller/Trouba
THIRD PAIR: Hajek/Schneider
STARTING GOALIE: CZAR IGOR
BACK-UP: Jaroslav Halak
---
BOX SCORE time.
The following graphics and information come from ESPN.com:
SCORING:
PENALTIES: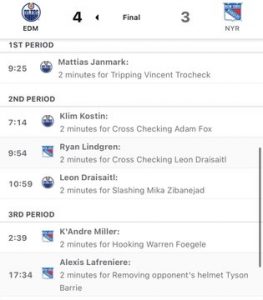 TEAM STATS:
GOALIES:
| | | | | | | | | | | |
| --- | --- | --- | --- | --- | --- | --- | --- | --- | --- | --- |
| SA | GA | SV | SV% | ESSV | PPSV | SHSV | SOSA | SOS | TOI | PIM |
| 23 | 3 | 20 | .870 | 16 | 4 | 0 | 0 | 0 | 60:00 | 0 |
| | | | | | | | | | | |
| --- | --- | --- | --- | --- | --- | --- | --- | --- | --- | --- |
| SA | GA | SV | SV% | ESSV | PPSV | SHSV | SOSA | SOS | TOI | PIM |
| 32 | 4 | 28 | .875 | 24 | 0 | 4 | 0 | 0 | 58:47 | 0 |
---
While the second period of today's game was basically a mirage, and also a harbinger of what was to come; prior to the start of the third period, this felt like a perfect day in Rangerstown, USA.
After all, for the first time in what feels like forever – the useless Sieve Vagistat wasn't there!
Of course, by the time this game ended – my foolish optimism was pissed on – just like how the Rangers continue to urinate points away, game-by-game – or as Gallant would say, "day-to-day."
I gotta admit – it's hard to be cheery right now – and praise what I liked. This loss was that bad.
However, I thought Rupp was great and much better than Vagistat.
As opposed to the seven-foot braying jackass – Rupp never brought up his own career – unless asked by Giannone.
And the only time Giannone asked Rupp about his career, is when he asked the former Ranger about playing at 1PM. (Rupp said you just have to eat your pregame meal at 7AM.)
In other words – there were no stories about bloody groins or playing minor league hockey in Russia. You also didn't hear the following today:
— "EAST-WEST PASSING!"
— "ANALytics."
— "HIGH DANGER CHANCES!"
— "ROYAL ROAD!"
— "EMPTY CALORIE SHOTS!"
Instead, Rupp actually talked about the players and what the teams do.
Rupp brought up that the Oilers have a leaky defense – and right when he said that, I thought he earned his M$GN "reverse curse" stripes:
Rupp is talking about the leaky Oilers' D – and how they always get caught puck watching. Can Rupp break the reverse curse on these broadcasts? #NYR

— BlueCollarBlueShirts (@NYCTheMiC) November 26, 2022
---
The great Dave Maloney also took part of the best pregame show of the season. He talked about the value of Vincent Trocheck, while also tip-toeing around the chemistry, or lack thereof, issue with Artemi Panarin.
Rupp and Maloney, working together for the first time this season, had some witty banter with each other, where the former captain pointed out that only John Giannone has a full head of hair. That was pretty funny.
To close out the pregame, and especially with the weaker of the two Oiler goalies in net (Jack Campbell, instead of Stuart Skinner); Rupp predicted a big NYR win – just because of the Rangers' defense and goaltender.
Welcome to Rangerstown again Mike Rupp, now in your new role.
Once Sam Rosen and Joe Micheletti hit the airwaves, and as expected – the two raved about McDavid and Draisaitl. No one raves about the other team more than these two.
And fortunately for them, after lubing up for nearly 58 minutes of game-time, without being able to release themselves following a McDavid or Draisaitl goal – they finally got that goal that they seemingly and desperately desired.
In all of sports, there's not one other home-team announcing duo that sounds as elated as Sam & Joe whenever the opposing team scores.
NOT ONE.
Ugh, GAME REVIEW time, where I feel like I'm going to skip over a lot, due to my own pure rage and resentment of how this game played out.
---
FIRST PERIOD:
Say it with me folks, as this opening line has become commonplace this season:
"It wasn't all bad…"
Both teams were pretty much in the same boat when entering this game.
Not only were the Rangers and Oilers on the wrong side of last year's Conference Finals; but both teams are currently struggling this season.
And despite heavy hopes, neither team currently has a playoff berth as both squads are outside-looking-in.
Another similarity? Both coaches, in an attempt to pick up their respective scoring (and more importantly – pick up a win too), broke up the balance of their top-six forwards.
For the Oilers, that meant putting McDavid and Draisaitl together. For the Rangers, that meant putting Zibanejad and Panarin together.
While Panarin was on the wrong side of some video reviews today; by the end of it – the Oilers' 1-2 scoring punch knocked out the Rangers' 1-2 lack of scoring punch.
Say what you want about the video reviews and everything else, but don't lose sight of this either:
The Rangers' power-play went 0-3 today. With the game on the line, McDavid & Draisaitl connected for a power-play goal to give the Oil the big comeback victory – arguably their biggest win of the season to boot.
Prior to the game winning goal, the Rangers actually did a good job of containing McDavid and Draisaitl. Heck, even Zibanejad beat McDavid during all three opening face-offs of each period too.
One thing was evident early – Gallant wanted nobody else, besides the Fox & Lindgren pair, to cover the two best players in the league.
Once again, Fox & Lindgren, who in my opinion, are the two best skaters in Rangers' blue this season, did their job.
Better than that? Just 2:20 in, the #23 & #55 pair produced the first goal of the game:
BEAUTIFUL pass from Foxy to Laf 🙌 pic.twitter.com/SyqGpblIbc

— Rangers on MSG (@RangersMSGN) November 26, 2022
---
1-0, GOOD GUYS, as Fox, from the lower half of the circle, found Lafreniere, wide-open in the paint, for the easy tap-in goal.
Unfortunately, by the end of this game – I don't think anyone will remember this goal.
They'll remember Lafreniere's stupid penalty instead.
And as mentioned during the Quarter-Pole Report Card – Lindgren has been more noticeable from an offensive perspective – even if this goal was all about Adam Fox – and not anybody else.
But yes, this is true too – Lafreniere was in the right place and at the right time – meaning that he did perfectly position himself – but this goal doesn't happen without Fox's deft passing skills.
Following the goal, and for the next eight minutes or so, there were a lot of icing and offside calls. Giannone also reported that a weight was lifted on the Rangers' bench, following Lafreniere's goal – as the 2020 first overall pick hadn't scored in a while.
Again, by the end of this game – the weight of this loss partly falls on #13's shoulders.
Down to 10:44 remaining, Igor hugged the post and stopped Draisaitl. Nine seconds later, Trocheck drew Janmark for tripping.
During this Rangers' power-play, their first of the game, Fox had to break up a McDavid breakaway.
When the Rangers regrouped and then entered the Oilers' zone, they soon had Campbell flopping all over the place. I thought he was having a seizure.
(While this wasn't a "MUST WIN" game for either team – it was a game that both teams needed – which is why I'm surprised Campbell got the nod.)
Down to 9:13 remaining, Panarin, FINALLY, shot the puck. Good things happen when you shoot, as is evident by this clip:
rangers are offside and the goal is nullified. pic.twitter.com/nIXvq8kMDf
— zach (@zjlaing) November 26, 2022
---
2-0 GOOD GUYS… or so we thought.
As everyone in Rangerstown, USA dusted off their Panarin Pom-Poms (patent pending); Micheletti, like all of us, was talking about how Panarin needs to keep shooting and trust in his offense.
However, the Oilers challenged this goal for offside. Upon replay, Panarin's dancing at the blue line showed that he was a c-hair offside. The officials quickly wiped the goal off of the board.
What should've been the end of an eleven-game goal scoring drought; instead, that negative streak remained in-tact.
I've said this 7867868967896789698 times before, but what's one more time – I hate, hate, hate these video replay reviews on plays like these.
Was Panarin offside? Yes – but it had nothing to do with the goal that was scored.
Again, if we were to review every single one of Wayne Gretzky's 894 goals, how many of them would be taken back, due to "The Great One," or one his teammates, being offside by less than a millimeter?
I don't mind taking goals away if the offside is egregious, but when you're fighting over hairs – I just don't think this was the original intention of these reviews.
However, it's the rule, and as long as head coaches can ask officials to take away goals over something that has nothing to do with a goal being scored – every bench boss in the league will exploit this rule – a rule that needs serious rectification over the summer.
My hatred of this rule aside (and I'm not just saying this because this call went against the Rangers – I say this whenever this happens) – I thought the officials got this all right – they weren't originally sure if Panarin was offside, so they let the play continue, rather than blowing their whistles. Once the goal was scored minutes later (okay, I'm exaggerating, it was probably about 25 seconds or so), they reviewed it and did what the rule-book told them to do.
Following the review, the Rangers still had 48 seconds remaining on the power-play, but just over-passed themselves to kingdom come.
Down to six minutes remaining, a pair of former teammates in Carolina, Warren Foegele and Vincent Trocheck, collided near the Rangers' blue line. This was accidental. Trocheck had to go to the locker room after this, but would later return with 1:27 left in the period.
As the two goalies exchanged saves; down to 2:12 remaining, Lindgren did a hell of a job of preventing McDavid from going to the slot.
Rather than #97 getting a one-on-one opportunity with #31, #55 pushed the perennial Hart Trophy winner to the boards.
As Trocheck was getting ready to return, it looked like Panarin had snuck a puck past Campbell after a shot from the lower circle to the right of the goaltender. The officials reviewed this one too, but there was no evidence that the puck went in. (And based on the replays that the M$GN showed us – I didn't see anything that suggested that Panarin had scored here either.)
In other words, Panarin, pretty much feckless during the past ten games or so, looked rejuvenated here. He could've had two goals, but like many on this team this season – couldn't get puck luck or a break.
With twenty seconds remaining, Kakko made a great keep in the Oilers' d-zone, got the puck to Chytil, the center found Lafreniere, and the left-winger then ran into an Oilers' defenseman before he could get a good shot on goal. Trouba grabbed the loose puck following the block, but he couldn't score either.
1-0, GOOD GUYS, after twenty minutes. You really thought the Rangers were going to put it together, but as they always do – they'd soon find a way to blow this – and in epic fashion.
Here's what I said at the time:
1-0, GOOD GUYS, after 20. 1P Thoughts:
— This could easily be 4-0 #NYR right now
— A hell of a start – but this team is prone to taking a period off – can't let that happen today
— SOG 10-9 NYR; Hits 9-all, FO's 11-all
— Fox is gonna win the Norris again
— #10 is hungry

— BlueCollarBlueShirts (@NYCTheMiC) November 26, 2022
---
SECOND PERIOD:
This period was all Oilers, but somehow, by the end of it, the Rangers won this frame 2-0.
Edmonton was all over New York early, especially when Igor was forced to deny Puljujarvi on a 3 x 2 odd-man rush.
After surviving about three minutes of a continuous Oiler attack; Kakko got to Campbell. Once again, from a distance of two feet or less, Kakko couldn't lift the puck, much less put it on net – another blown opportunity – and a huge exhale on the Oilers' bench too.
And yep, in another one-goal loss, and despite playing well – Panarin didn't score and Kakko couldn't bury a puck either.
Sometimes, you make your own breaks. Instead, the Rangers are just broken.
After what felt like 45848488484854 Ranger turnovers; Igor made five tremendous saves in the first five minutes of this period. He just couldn't make these saves when it mattered most.
At the 7:14 mark of the period, and with the Oilers on their all-out barrage; the Rangers did receive one break here, when Kostin cross-checked Fox while in the Rangers' d-zone.
The Rangers' power-play was miserable, so much so, that the second power-play unit came on the ice with fifty seconds remaining – a rarity.
By the time the power-play ended, and with 10:30 remaining, the Oilers were out-shooting the Rangers to a tune of 7-1 – and with many other road-team shot attempts either being blocked, shot high and/or wide.
As we neared the half-way mark of the game/period; with 10:06 to go, the officials assessed Lindgren with a fugazi cross-check penalty. Supposedly, Lindgren cross-checked Draistaitl. In reality, Draisaitl skated into Lindgren.
Miller, subbing in for Lindgren on the first penalty kill unit, looked great and created back-to-back clears. The second clear allowed Zibanejad to streak up ice with the puck, but Draisaitl slashed #93 before he could get to Campbell.
The end result – 56 seconds of foreplay, followed by a 1:04 Rangers' power-play. Nothing happened during all of this, outside of Kakko fanning on a shot from the slot.
Once returned to full-strength, and with 7:00 to go; the Oilers were out-shooting the Rangers 8-2 in this period.
In what eventually became the second goal wiped off of the board due to a video replay review; with 5:28 remaining in what was an all Edmonton period; Sammy Blais got the puck, wrapped around Campbell's net and found Braden Schneider wide-open in the right circle.
In what could've been 2-0, GOOD GUYS, and in what should've been Schneider's third goal in as many games; the officials got it right – Ryan Carpenter's left skate caught a tiny piece of Campbell's right skate as the puck was set to enter the net.
Again – the officials got this right.
That said – Carpenter barely made contact with Campbell. There was no way Campbell would've stopped this. However, the rule is the rule, and the league will always protect their goalies.
In other words, we remained at 1-0, after what felt like an hour-long review.
The Rangers, at least temporarily, looked like they gave a shit and wouldn't be denied.
Up next, and with 4:06 remaining, the first of two Ranger goals scored within a time-span of thirty-three seconds:
THAT ONE COUNTS! CHRIS KREIDER! pic.twitter.com/ToGuWReO8x

— Rangers on MSG (@RangersMSGN) November 26, 2022
---
2-0, GOOD GUYS!
Again, here's Lindgren, more offensively-minded these days, putting a puck on net. Campbell couldn't handle the rubber, the puck took a nice bounce to Kreider, and #20 then scored his tenth goal of the season.
To make up for the second disallowed goal of the game, the Rangers then scored their second goal of the period:
BACK TO BACK! 🐐🐐🐐🐐🐐 pic.twitter.com/yrSYJtMRUe

— Rangers on MSG (@RangersMSGN) November 26, 2022
---
3-0, GOOD GUYS, where wouldn't you know it – there's Julien Gauthier scoring again – his fourth goal of the season – his career-high.
On this goal, the pair of French-Canadians, Blais & Gauthier, had a two-vs-one odd-man rush. After Campbell made the initial stop, the duo stuck with the play and #12 was soon rewarded.
Man – does Julien Gauthier hate Hartford!
At the time and with the period winding down, I said this:
Games like these is why you get so infuriated when they lose to teams like the Ducks #NYR

— BlueCollarBlueShirts (@NYCTheMiC) November 26, 2022
---
Little did I know – I'd be more infuriated than I was on Wednesday night – and it only took about thirty minutes or so in real-time for that ire to hit me.
Once the period concluded, we remained at 3-0. Here's what I said at the time:
3-0, GOOD GUYS, after 40. 2P Thoughts:
— Another Igor highlight reel – 14 saves, felt like 100
— TEAM EFFORT.
— SOG 23-17 EDM; Hits 14-13, FO's 19-17 #NYR
— NYR PP 0-3, but that stat doesn't tell the whole story – overturn goal & an abbreviated PP
— FINISH THEM. NO BS!

— BlueCollarBlueShirts (@NYCTheMiC) November 26, 2022
---
 TURD THIRD PERIOD:
HORROR.
I can't relive these entire twenty minutes all over again, so I'm just going to bullet-point this final frame.
However, before doing so, it was during this second intermission where Pidto did his shutout jinx junk.
It was also right before this period where we were inundated with LIVE GAMBLING ODDS commercials, where fans were encouraged to drop their life savings on the Rangers winning this game by four or more goals. (I forgot what the odds were, but they were pushing a Rangers' puck line of -3.5 goals.)
And yep, I wonder what the odds would've been on an Oilers' comeback win? I'm sure that paid a pretty penny – where the Oilers earned their money in this period. The Rangers did not.
<DEEP BREATH>
Here we go:
— Right away, Sam and Joe brought up how McDavid and Draisaitl hadn't scored yet. The reverse curse never fails.
— A minute later, Shestyorkin made a tough save on McDavid.
— Down to 17:21 remaining, and still-up by three, Miller hooked Foegele. Yeah, this is going to sound like hindsight being 20/20 – but why are you taking penalties with a three-goal lead?
— Just one second after the Oilers' power-play had expired, Evan Bouchard, scoreless on the season, beat Igor.
— 3-1, good guys. A blah goal to allow – but still, a two-goal lead with 15:20 remaining.
— Now approaching 13:00 left on the clock, Ryan Nugent-Hopkins collided with Lindgren and then bowled over Igor, which forced #31 to lose his mask.
— Lindgren left the game at this point. Prior to going to the tunnel, we saw Lindgren favoring either his left shoulder or arm on the bench and talking to Jim Ramsey. Also, despite making contact with Shestyorkin – no penalty was called on RNH.
— Let me spell this out for you – WHEN LINDGREN LEFT THE GAME, THE RANGERS WERE LEADING 3-1.
— And is often the case whenever Lindgren isn't out there – his agent comes out smelling like a rose. This latest Rangers' collapse is evidence of how valuable #55 is.
— Right after Lindgren left the game and with 12:28 to go – Bouchard scored his second goal of the season – a blast from the point. Prior to the goal, the Oilers kept the puck in the zone twice, including a soccer kick, while Schneider, Hajek and the third line chased around like chickens with their heads lopped off.
— 3-2, good guys.
— During the third line's next shift, and with 10:00 remaining – they had a 3 x 2 odd-man rush – only to over-pass themselves into a turnover – rather than a SOG.
— Following the third line's failure to shoot the puck; just twenty seconds later, Dylan Holloway scored his first goal of the season, during a play that left Trouba absolutely baffled. 3-3. Three-goal lead blown. Disgusting.
— Down to 8:00 remaining in a game that despite everything, could've still been won; the Rangers had only one shot on goal at this time.
— With 5:40 to go, Campbell lost his stick and was as shaky as Michael J. Fox on a rickety roller-coaster. The Rangers' Fox just missed from scoring a potential game winning goal.
— A minute later, Gallant shuffled his lines for whatever reason, when he flip-flopped Panarin and Vesey.
— Down to 2:26 remaining, and where you were thinking, "just get to overtime;" Lafreniere took the worst penalty of his career, when he decided to rip off Tyson Barrie's helmet. Not only was this penalty stupid – this penalty wasn't of the prevention variety either. This was just an act of frustration during a heated battle at the boards.
— Once this penalty was called, you knew what was coming up next – I even predicted it:
Timeout with 2:26 to go and the inevitable 97 or 29 PPG coming up. #NYR

— BlueCollarBlueShirts (@NYCTheMiC) November 26, 2022
---
— Just 24 seconds into the Oilers' power-play, McDavid went high-to-low with Hopkins, and the man who knocked Lindgren out of the game then found Draisaitl, to the left of Igor, near the paint and wide-open.
— 4-3, bad guys.
— For whatever reason, and despite the Rangers attacking – Igor didn't leave his net for the extra attacker until there was only 1:12 remaining.
— As the Rangers had over a minute of a 6 x 5 empty net attack; they didn't put one shot on goal during this time.
4-3, bad guys, your final – the ABSOLUTE WORST LOSS AND PATHETIC EFFORT OF THE SEASON.
---
Here's Gallant after the game:
---
You know that I'm a Gallant guy, and while I know it's his job – he was way too calm for me.
I'm also not sure if he has a fix for all of these piling-up losses either. (And I don't know who does.)
I mean, just take a look at what he said verbatim, in black-and-white, courtesy of Adam Rotter, who transcribed this interview at https://nyrangersnews.com/2022/11/26/what-gerard-gallant-said-after-the-loss-to-the-oilers/#more-195493 :
Can you explain what happened, "Wish I could…couple of dumb penalties didn't help it."
On defending guys like McDavid and being beaten by other players, "I thought we played a great two periods, exactly the way we wanted to play and then we come out in the third period and get careless and sloppy and we always talk about putting pucks behind defensemen and making them play in their own zone and when we turn pucks over they end up in the back of the net, they get momentum, we play too much time in the d-zone and that is what happens."
How do you stop periods from like this happening again, "I don't know what to say to you…we talk about it between periods, we talk to the players, sometimes it just happens. It's disappointing, we had a couple of timeouts, we tried to reset and get it going again. Mistakes happen and then they get four goals in the third period for no reason other than us giving them the opportunity, two dumb penalties, both goals and a couple of goals in-between."
Do you have an update on Lindgren's injury, "upper body, day-to-day, I don't know nothing right now."
Did you like the first two periods, "Yea, I was happy, we played pretty good hockey, contained them as munch as we could. They had 3-4 real good scoring chances, but besides that I thought we contained them and did a really good job."
Did you feel, as the players said, that they got too passive in the third, "It looked like that. It's never been the message before, but it looked like that. We were real passive, we let them skate in our zone and we just stood there watching. You jam up the slot a little bit, but you jam up the slot and watch them pass the puck back and forth. The first two periods we did a good job, down low we created chances, had a lot of zone time, I thought, changed our game."
On the veterans leading after this, "They better have a chat. There's a lot of guys responsible, it's a team collapse, not one guy. Sure, the penalties, you are disappointed with those penalties, but it's a group of guys that…that can't happen. You are playing the two best players in the world and we sit back and watch them dominate that third period."
Do you feel there is a mental aspect to this since it's happened a few times, "I'm worried about tonight, I don't remember when it happened, I don't remember any other period this year, four goals scored against us. We might have had some bad periods, but I don't remember a four goal period….for tonight, we were awful, it's embarrassing, it's not acceptable, but I'm just going to talk about tonight, I don't remember the other ones, too long ago (smile)…"
---
This was as bad as it gets.
At least Gallant didn't try to sugar-coat this one, with his usual cliches of, "we worked hard, we played hard, the other goalie had a great night, and blah-blah-blah."
I don't think Gallant should be fired as many are suggesting, but something needs to change here. Where's the accountability?
However, with an abundance of no-move clauses and a tight salary-cap to boot – it's largely up to this group to figure it out – or be left out come the playoffs.
If anyone knows how to fix this team, show up in Tarrytown, New York on Sunday morning.
And yep, I kind of expect the Rangers to beat the Devils on Monday night, a temporary reprieve – only to then get shut-out by Cam Talbot and the Senators on Wednesday.
I have a lot more boiling up inside of me but I think I said what needed to be said today.
One last parting thought – the Rangers will practice and talk to the media twice between now and Monday night.
It doesn't matter what they say.
Talk is cheap.
Actions speak louder than words and the current actions of this club are pitiful and puny.
Every fan who attended this game on Saturday, where the get-in price was $225, deserves a refund. Take it out of the salaries of Panarin and Trouba if you have to.
What a shit-show.
PLUGS TIME!
---
My first plug of tonight's blog – the mandatory plug for my book, "The New York Rangers Rink of Honor and the Rafters of Madison Square Garden."
As mentioned previously, the book is now available in hardcover, in paperback and in Kindle formats. To purchase a copy of the book, visit this link:
https://www.amazon.com/Rangers-Rafters-Madison-Square-Garden-ebook/dp/B09CM5N2WD
For those still looking for signed paperback versions of the book, I have re-ordered more copies. I now have a few signed copies for sale at $25 a pop (includes shipping price) through me directly. Here is all the information on that:
---
My four-volume set of books, "One Game at a Time – A Season to Remember," is a game-by-game recount of the Rangers 2021-22 campaign.
My second title as an author, "One Game at a Time – A Season to Remember," is now available in eBook, paperback and hardcover formats.
To obtain signed copies, visit: https://bluecollarblueshirts.com/onegamebook/
To purchase all four volumes on Amazon, visit: Amazon.com – "One Game at a Time."
---
"Tricks of the Trade – A Century-Long Journey Through Every Trade Made In New York Rangers' History," a four-volume set of books that meticulously covers every trade made in franchise history, is now on sale.
All four volumes of the title can be purchased on Amazon.com and are presented in three different formats – eBook, paperback and hardcover.
To purchase Volume I: Conn Smythe (1926) – Craig Patrick (1986), visit Amazon.com
To purchase Volume II: Phil Esposito (1986) – Neil Smith (2000), visit Amazon.com
To purchase Volume III: Glen Sather (2000-2015), visit Amazon.com
To purchase Volume IV: Jeff Gorton (2015) – Chris Drury (2022), visit Amazon.com
To purchase signed copies of all four volumes, visit https://bluecollarblueshirts.com/tricksofthetrade/
---
Here are my last few blogs, in case you missed them:
---
---
---
If you haven't already, subscribe to this blog for the next update:
---
Don't forget to order my new four-volume set of books, "Tricks of the Trade!"
If you don't order through me, all four volumes are now available on Amazon.com
For more details, check out: https://bluecollarblueshirts.com/tricksofthetrade/
Thanks for reading.
LET'S GO RANGERS!
Sean McCaffrey
BULLSMC@aol.com
@NYCTHEMIC on the Tweeter machine