Greetings and salutations everyone and welcome to another blog here on BlueCollarBlueShirts.com. "Eichel-Mania" (or at least the most recent version of this craze), is finally over, with Jack Eichel now as a happy member of the Vegas Golden Knights.
However, before getting into Jack Eichel and the rest of the NHL news, as usual on this site – let's talk about the New York Rangers.
I brought this question up a few weeks ago, and it's worth discussing again – who plays their first game of the 2021-22 NHL season first – Vitali Kravtsov, Jack Eichel or Evander Kane?
Currently, Kane is serving a 21 game suspension, and even worse for him – the San Jose Sharks want nothing to do with him either. Whether or not the Sharks move on from Kane remains to be seen, but really, what team is going to want to trade for Kane, who has become a daily walking negative headline? The guy just can't get out of his own way, and continues to make one bad decision after another.
While I'll have more on Eichel later; as of this writing, the newest member of the Vegas Golden Knights is prepping for his artificial disc replacement surgery. If all things go well, Eichel may be able to return right after the Olympic break, when NHL games resume during the final week of February.
For Vitali Kravtsov, as mentioned a few blogs ago, he's currently on loan to his KHL home team of the Traktor Chelyabinsk. The Rangers, on Wednesday 11/3, confirmed this news themselves, posting the following at https://www.nhl.com/rangers/news/rangers-loan-vitali-kravtsov-to-traktor-of-khl/c-327540034?icmp=int_web_nyr_news_rightrail :
New York Rangers President and General Manager Chris Drury announced today that the team has loaned forward Vitali Kravtsov to the Traktor Chelyabinsk of the Kontinental Hockey League (KHL).

"After discussions with Vitali and his representation, we decided a loan to Traktor was in the best interests of both him and the organization," said Drury. "We think very highly of Vitali and the Rangers development staff will continue to work with him to reach our mutual goal of him some day being a New York Ranger."

"I want to thank the Rangers for working with me, and appreciate the open and honest conversations we have had during this process," said Kravtsov. "While this has been a challenging time for me personally, I believe having the opportunity to return to Traktor and work on my game is the best thing for me right now. My main focus is getting better every day to continue towards my goal of playing hockey for the New York Rangers."
Kravtsov, 21, skated in 20 games for the Rangers last season, tallying two goals and two assists for four points. In 2019-20, Kravtsov made his North American debut with the Hartford Wolf Pack of the American Hockey League (AHL), recording 15 points (6G-9A) in 39 games.

The Vladivostok, Russia native has played five seasons with Traktor and compiled 30 goals and 25 assists for 55 points in 148 games. The 6-3, 193 pounder won the 2017-18 "Aleksei Cherepanov (Best Rookie) Award" in the KHL after posting seven points (4G-3A) in 35 regular season games. That playoff year, Kravtsov notched 11 points (6G-5A) in 16 playoff games.

In 2018-19, Kravtsov was named to the KHL All-Star team in a season that saw him tally eight goals and 13 assists for 21 points in 50 games.

Kravtsov was selected by the Rangers in the first round (ninth overall) of the 2018 NHL Draft.

---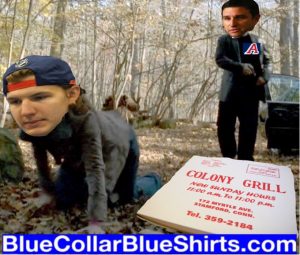 As a condition of this loan, Kravtsov can only return to America once Traktor's season is complete. If the team doesn't make the playoffs, their last game will take place on March 1st, 2022.
If you're an optimist, and in a perfect scenario where Traktor doesn't qualify for the KHL playoffs; Kravtsov would then be able to join the Rangers, where the Rangers have a chunk of games between 3/1/22 through 4/29/22, and help the team during the final grind to the playoffs.
One quote from Kravtsov that has created a major buzz in Rangerstown, USA was this one:
"My main focus is getting better every day to continue towards my goal of playing hockey for the New York Rangers."
After everything that has happened, this quote suggests that Kravtsov is now open to returning to the Rangers. While sure, that could be the case – in my eyes, I think this was pure lip service and a way to "make good".
This Kravtsov marriage has been a disaster from day one. Kravtsov is probably one reason why Rangers General Manager Chris Drury canned Nick Bobrov, head of European scouting, during this past summer. (Lias Andersson may be another reason.)
For Kravtsov to have any sort of trade value at all, the illusion of that he still wants to be a Ranger must be out there. Yes, I'm speculating here, but just think about all of this.
Drury needs to boost the value of his asset. By having Kravtsov rot, and not allowing this loan, it serves both Drury and the Rangers no purpose. It also doesn't help if Kravtsov buries the franchise either, because Drury, who is dealing from a position of weakness anyway, will only be weaker with Kravstov twiddling his thumbs.
In turn, I think this is a "you scratch my back, I'll scratch yours" type of deal, where Drury is giving into Kravtsov and the Russian's desire to play for his home team. In return, Kravtsov is praising the Rangers organization and even teasing a return – as if we should be so honored to have him grace us with his mercurial presence and insane demands.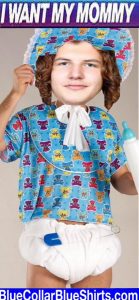 Similar to the Eichel story, for now, this Kravtsov story has settled down, where from this point on, it's really about tracking Kravtsov's stats and play in the KHL. And let me throw this out there – imagine if Kravtsov is sent down to the VHL again? Oh boy! I don't even think his blankie and pacifier will help him in that situation!
This much is known for now – while Kravtsov can still be traded at any point, he can't return to the NHL until Traktor's season is over. Maybe the Rangers do give Kravtsov a third chance, with the thinking of "third time is a charm." However, how many times can you be burnt by this guy before saying enough is enough?
I think another thing to consider, in regards to Kravtsov's future, are injuries. If the Rangers are the walking wounded in March, Kravtsov may be an extra and "free" trade deadline type of an acquisition. If the Rangers are fully healthy, and/or another player emerges; then it's easier to not placate Kravtsov.
Either way, I'm glad this story is on pause, at least for the immediate future. As you may have gathered, I'm sick of this whole story and Kravtsov's actions.
---
In another press release issued from the Rangers this week, the team has announced that they have agreed to terms with forward Matt Rempe.
Here's how the Rangers covered this story, courtesy of https://www.nhl.com/rangers/news/rangers-agree-to-terms-with-forward-matt-rempe/c-327545882?icmp=int_web_nyr_news_rightrail :
New York Rangers President and General Manager Chris Drury announced today that the team has agreed to terms with forward Matt Rempe on a three-year, entry-level contract.

Rempe, 19, has scored four goals in 10 games this season for the Seattle Thunderbirds of the Western Hockey League (WHL). His four goals are tied for the third-most on the team.

Over the past four seasons, the 6-7, 207-pound Rempe has split his time between the Thunderbirds and the Spruce Grove Saints of the Alberta Junior Hockey League (AJHL).
With Seattle, he has compiled 17 goals and 23 assists for 40 points in 65 games. He set WHL career-highs in 2019-20 when he registered 12 goals and 19 assist for 31 points in 47 games. In 2019-20, he was named the "Most Improved Player" on the Thunderbirds.

A Calgary, Alberta native, Rempe has skated in 45 games with Spruce Grove, tallying four goals and eight assists for 12 points.

Rempe was selected by the Rangers in the sixth round (165th overall) of the 2020 NHL Draft.

---
Similar to other minor transactions, this deal was pretty much a given, where it wasn't a matter of if it was going to happen – it was just a matter of when. Rempe is now in the Rangers fold and will remain with his WHL club for time being.
Perhaps Rempe will have a chance to make the Rangers roster next season during training camp, but Rempe may not be a real possibility until the 2023-2024 season.
All the best to Rempe on achieving his dream.
---
I talked about this a few blogs ago, but when it comes to Alexis Lafreniere, I think a lot of the overreactions and fear about #13's performance is much ado about nothing.
This is what I wrote just last week, in a response to these never-ending "JUMP OFF THE BRIDGE" stories on Lafreniere:
— The majority of these players, including Panarin and Zibanejad, are struggling this season.
— Lafreniere has two game-winning goals this season. He also has the most five vs five goals on the team too.
— Lafreniere entered this league like no other #1 overall pick that preceded him, due to the COVID-19 pandemic.
— Lafreniere hasn't even played a full 82 game schedule yet. In fact, he's only played in 63 career games – a far cry from the accepted 200 game water mark when it comes to assessing young players.
— Lafreniere is now on his second head coach despite not even playing two full seasons yet.
— Unlike most #1 picks, Lafreniere has never been the focus of the Rangers. The Rangers won one of the wackiest lotteries ever when they got the rights to draft Lafreniere #1 overall. In turn, Lafreniere wasn't the savior or the go-to guy like other #1 picks.
— Until this season, Lafreniere was never a regular in the top six and even then, he's not the first or second option on the power-play, where he had a lot of success on during his junior days.
— And in a comparison to another former #1 pick and French Canadian in Guy Lafleur, it took Lafleur three full seasons to start hitting his potential and that was with a stacked Montreal Canadiens team. Plus, Lafleur had to deal with Marcel Dionne, drafted #2 in that same 1971 NHL Entry Draft, out-playing him. It's not like any other 2020 NHL draft pick looks light years ahead of Lafreniere right now, where you would then have to second-guess the Rangers selection of Lafreniere.
---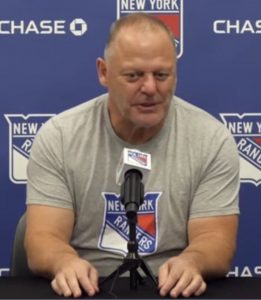 After Thursday's practice, as the team gets ready for a back-to-back set against the "Battle of Alberta" teams; not only did Gallant confirm that he would be giving a start to each of his goaltenders (Gallant wouldn't say who would start what game, but as mentioned on Tuesday, I think it will be Igor vs Edmonton, Georgiev vs Calgary and then Igor gets Florida at home on Monday), the head coach also had Alexis Lafreniere skating with the fourth line.
The second Mollie Walker (NYP) and Colin Stephenson (Newsday) reported this, Rangerstown, USA was set ablaze. I just don't understand these intense overreactions.
After all, just because a player starts on one line, it doesn't mean that player is on that line forever.
And if you're not aware, none of these lines are set in stone, where Lafreniere could take one shift with the fourth line on Friday (and it's not even confirmed if that's where Lafreniere will start), and then play the rest of the game on any of the other three lines.
Here's Gallant on Lafreniere from his Thursday chat with the media:
---
If there was anything that I didn't agree with 100%, it was when Gallant said that he "wasn't sending a message" to Lafreniere. How can anyone take this comment as an undisputed truth? You just don't start a player on the first line at the start of the season, and after game ten – you then have that same player on your fourth line.
How else is Lafreniere supposed to react to this? Of course this is a message, as Gallant also added that he wants to see more out of the #1 pick of the 2020 NHL Entry Draft. Then again, maybe Gallant has a different definition of the word "message", as former President Bill Clinton once did with the term "sexual relations". (I've been obsessed with the new Monica Lewinsky "True Crimes" show on FX, hence this reference!)
However you decipher all of this, whether this is tough love, Gallant playing a motivational mind-game or what; whatever the case, we can ascertain that Gallant wants more pop out of his twenty year old player. In my opinion, this is Gallant making sure that Lafreniere doesn't rest on his laurels or his reputation alone, as the coach tries to push, in an effort to get maximum productivity out of his player.
Some are taking this as Gallant singling out Lafreniere. I'm not sure if that's 100% true, because while some players are struggling, most players are playing to their role. Sure, Mika and Panarin are not where they should be, but they are racking up points, even if some of the secondary assists are a tad fugazi. However, Mika and Panarin (and the others) do have a track record, which Lafreniere doesn't have yet – at least not in the NHL.
Maybe it's because I'm a "glass half-full" type of person, but I think all of this will eventually become a nothing story. Even better, maybe this will be a turning point for both Lafreniere and the Rangers, as #13 rises to the next level.
Switching gears here, a topic everyone loves – Rangers defensemen.
---
To address some of the "JACOB TROUBA IS YOUR NEW HENRIK LUNDQVIST" feedback that I've been receiving, including from friends of the site, Jon "Roc" and Shawn Stein of the "Two Guys One Cup" podcast (a great show, give it a listen on iTunes), let me say the following and then hopefully never have to talk about this again:
In a word – no. Trouba is not my new Henrik Lundqvist. The only thing the two have in common is that they both got insane contracts, contracts that were salary cap killers. After that, the two players, and their role with the Rangers, couldn't be anymore different.
That said, I will say, at least I'm consistent, as all of my stuff on Trouba and Lundqvist is/was about the salary cap, so I fully understand these accusations which have been bestowed upon me!
As I've said 7896786789678678967896 times on this site, that's what the NHL has designed with their horrible hard salary cap system, a system where salary cap hits are just as important as any other stat on the back of a trading card. I hate this, but it's just the way it is. Thanks Bettman!
Obviously, the two players in question here play different positions. That is key here.
In addition, and I brought this point up recently when talking about Adam Fox's new deal; but when it came to Henrik Lundqvist, he was paid for what he had done, and not necessarily what he could do moving forward. That's why the Fox deal is so great, because for the first time in a long time, the Rangers are paying a homegrown player for what he is going to do – and not 100% off of what he has previously done. (Of course, the Norris win boosted Fox's worth, but during his new contract, it's easy to envision many more Norris Trophies and nominations.)
I don't want to do another whole blog on Henrik Lundqvist, because all of that is old, done and part of my "Greatest Hits" collection. But yeah, just one year into his new deal, his back-up Cam Talbot was out-playing him. Then Antti Raanta out-played him. Then Alexandar Georgiev out-played him for a short time. And of course, at the end, it was time to move on to the future with CZAR IGOR SHESTYORKIN.
And have I mentioned on this site before that I correctly predicted that the Rangers would buy-out Henrik Lundqvist out of his contract – the ultimate sign of a bad contract? I think I may have said this once or a million times!
We all know why Lundqvist became the highest-paid goaltender in the league, beginning with the 2014-15 season, despite the trend of high-paid goaltenders not winning a Stanley Cup during this salary cap era of the NHL. (Andrei Vasilevskiy became the first to do so last season.)
Lundqvist was rewarded for years of excellent play, and more importantly – was the face of the franchise and the player that most fans paid to see. Was Lundqvist's contract the best thing for the Rangers on the ice? I would say NO, and emphatically at that. However, was Lundqvist's contract the best thing for Rangers business? Hell yeah, even I can't debate against that.
Jacob Trouba, who hasn't done a thing thus far to earn the money he's currently earning, differs from Lundqvist in so many ways. Here's a quick bullet-point list:
— During Lundqvist's contract, there were better players who weren't playing (Talbot, Raanta and even Shestyorkin, who had to waste time in Hartford before joining the roster). In the case of Trouba, while his contract stinks, he is still better than the alternatives. Sure, some fans may want Zac Jones instead, but at the very least, Trouba belongs on the ice, even if he's a fifth or sixth defenseman. Long story short, Trouba isn't taking a spot from anyone and/or holding anyone else down, where yes, the positions these two play is the biggest factor.
— For everything I've ever said about Lundqvist's deal on this site, I would be hard-pressed to say that he didn't deserve it. (Which always pissed me off, while in comparison to Mark Messier, you know, the captain who WON a Stanley Cup and snapped a 54 year old curse.) What did Trouba do to deserve his?
— Lundqvist was a home-grown product, who while having his issues (don't forget how he forced Tortorella out of town), carried the team for so many years. Conversely, Trouba wanted to play in New York, and for no one else, where it's still mind-boggling to understand why former GM Jeff Gorton overpaid him, as he could've got Trouba for less money. At least you can understand the business reasons why Sather gave Lundqvist his deal.
— I have heard many "HEN-RIK" chants at M$G over the years. In three years, I haven't heard one "TROU-BAH" chant.
---
I don't know how many times I have to say this, but similar to my former point that you can't win a Stanley Cup with a high-priced goaltender; when it comes to NHL defenseman, you should only give big contracts to offensive-defensemen.
I know that sounds like an oxymoron, but when you take a deep dive at the high-priced defensemen contracts of this league, 99% of them are awarded to the d-men who pay tribute to Bobby Orr and Doug Harvey – and not true defensive-defensemen. It's just the way it is. Furthermore, the majority of all high-paid defensemen are also the quarterback of their team's first power-play unit, which Trouba is not a part of.
(This is why Fox is worth every penny, and then some, as not only does Fox log the most amount of 5×5 minutes among all NYR d-men, he's also on the team's first power-play and penalty kill units.)
I've done many rants on Trouba before, where one thing that's always stuck with me are the excuses Trouba made during his first season here.
And yes, we are forced to talk about salary cap hits all the time, where it's extremely noticeable that during Trouba's run here, that both Tony DeAngelo and Adam Fox (other RD of NYR) significantly out-played Trouba and for 1/8th the money. That's a fact – not an opinion.
Prior to starting this blog tonight, I appeared on my buddy Russ B.'s "THE E.A.T." podcast. As mentioned on this site before, I don't like doing podcasts, because I feel like I say everything I have to say on this site already. I know – this isn't the best thing for promotion, especially with a book out, which is why I'm starting to do more of these.
On an aside, you can view my appearance on the podcast here:
And in case the video above doesn't play (YouTube restrictions), you can click this link to watch my appearance:
The E.A.T. Podcast Episode #25
---
I bring this podcast appearance up, because I was going to originally make this point tonight, but host Russ B. made the point before I could put it in print – is it necessarily a bad thing if Kaapo Kakko doesn't hit his potential this season?
With high-priced contracts that the Rangers are committed to, in Adam Fox, Mika Zibanejad, Chris Kreider, Artemi Panarin, Igor Shestyorkin and Jacob Trouba himself; the Rangers and Chris Drury are going to have to make tough decisions in the future, as they try to fight the never-ending battle against the salary cap.
Of the high-priced deals, I'm fine with all of them – except for Jacob Trouba.
The Rangers are spending way too much for Trouba right now, where come the future, the Rangers will have to figure out what to do with Kaapo Kakko in the off-season, and then with K'Andre Miller, Alexis Lafreniere and others in the off-season that follows.
I don't think this is a blasphemous thing to say, but if amnesty clauses ever returned, I think Trouba would be the Rangers candidate. (Keep in mind, Trouba was a Gorton signing, and not a Drury signing.)
With an extra $8M to play with, and the more affordable Zac Jones & others in the pipeline, it would be easier to go cheaper on defense (especially with Fox in tow) and then spend on Kakko, Lafreniere and whoever else.
And to quickly go back to Kaako here, if he doesn't break out this season, it will help the Rangers cap issues in the years to come, where with a bridge deal, hopefully Kakko breaks out then, when he's not earning maximum money.
A huge season out of Kakko right now will only make things tougher, cap-wise, come the off-season. And yes, it's a shame to have to think like that, where once again – Thank You Bettman!
---
Like Henrik Lundqvist, and like Tony DeAngelo (more on him in a bit), Trouba may eventually be bought out come the end of his contract, when a buy-out wouldn't cripple the Rangers salary cap.
However for now, and for the next few seasons, the Rangers can't have another Shattenkirk 2.0 situation on their hands, and have Trouba's dead money on their books. For better or for worse (where as you may have noticed, I'm on the side of the latter), Trouba will be with the Rangers for some time.
Moving forward, Trouba can't just be a guy who eats up minutes and only plays well when he's pissed off. And on an aside, can you name any other team in the league that come next season, will have $17.5M dedicated to their top two right defensemen? Hmmm….
Similar to Lundqvist, and perhaps contrary to popular opinion –  I don't want to be bitching about Trouba's contract every single day. That said, it is hard not to.
In a perfect world, Trouba would be earning $2M-$3M a season and none of us would make a peep. Instead, we'd be raving about the value of the deal and how well Trouba is doing. However, with that $8M price tag, Trouba is not living up to his contract – a point I don't think anyone would disagree with.
(And yeah, you can blame K'Andre Miller all you want, but it wasn't that long ago where the words "Brady Skjei" appeared where Miller's name currently is. How much longer can you blame all of Trouba's partners, and not the man himself? Just food for thought!)
I hope that Trouba becomes the defenseman that the Rangers paid him to be. If that doesn't happen, he'll just be another name, in a long list of names, to have peaked elsewhere and then got rewarded by the Rangers.
A contract that the Rangers were once correct on, and a player who delivered before the Rangers bought that player out? Tony DeAngelo.
---
One last thing on Trouba here.
In ten games played, Jacob Trouba, at $8M, has zero goals, two assists and a plus/minus of 0, where that plus/minus stat is gravely misleading, due to CZAR IGOR covering up a lot of Trouba's (and his partner K'Andre Miller's) mistakes.
In nine games played, the exiled-from-New York Tony DeAngelo, at $1M, has two goals, eight assists and a plus/minus of 11.
Yes, it's extremely early into the season, but DeAngelo, as predicted in this space, is a point-per-game player. Trouba has been anything but – and again, in a league where high-priced defensemen must rack up points.
(And I won't bring up the Pionk/Trouba stuff, because no one, yours truly included, didn't say one word about that trade. It was always the money Trouba was being paid that was a concern – and not the swap of the defensemen themselves. Yes, I understand all of the Pionk/Trouba comparisons, but that's all 20/20 hindsight, where in the case of DeAngelo, it isn't.)
I know, I know, I know – the Tony DeAngelo comparisons will get old, as he's no longer here, where it's like talking about former Rangers such as Mats Zuccarello, Carl Hagelin, Kevin Hayes and others. However, unlike those names, the Rangers didn't make a hockey trade or move with DeAngelo – Jeff Gorton's own ego forced DeAngelo out of town.
Maybe it's because I'm a self-professed "historian" now (that and a $20 bill will get me a beer at M$G), but when I think of Tony DeAngelo no longer with the Rangers, and when watching Adam Fox, this all feels like a repeat of history, in regards to Brian Leetch and Sergei Zubov; where Zubov was quickly traded by the Rangers and then went on to have a Hall of Fame career.
(And I'm not suggesting that DeAngelo is a future Hall of Famer. I'm just saying that Fox and DeAngelo, in their present state together, could've been the most electric offensive-defensemen Rangers duo since those days of Leetch and Zubov. That's all.)
Like other topics discussed tonight, I won't do my "Greatest Hits" here, but I am happy to see DeAngelo do well. Heck, after a "Gordie Howe Hat Trick" from this past Thursday night, the Carolina Hurricanes fans, in Raleigh, gave DeAngelo a rousing standing ovation during DeAngelo's post-game interview. I've never seen Ranger fans do that for Trouba.
And when it comes to all of the unwarranted hate that hockey fans (you know, the ones that also say #HOCKEYISFOREVERYONE and #BELLLETSTALK), throw towards DeAngelo – it shows you that the whiners on social media are just that – whiners on social media. Catering to, or kowtowing to these people who never stop complaining, is a mistake no GM should make.
Need proof? Look at this:
7-0-0 and another unbelievable crowd to back this team in a high-energy, high-emotion game.

6 goals for the #Canes, 12 players on the scoresheet & a Gordie Howe Hat Trick later, this is what hockey is all about. #LetsGoCanes pic.twitter.com/JVm5SL1Bit

— Abby Labar (@abbylabar_) October 30, 2021
I've never hid my opinions on this site, even if they are/were contrary to the norm – I thought DeAngelo became a victim of "cancel culture" in New York, and to get rid of him over a slammed penalty box door was ridiculous – especially since the Rangers needed players that gave a damn. (Another player that cared last season and was shipped out? Brendan Lemieux.)
Again, it's early, but I do wish the best for DeAngelo, even if I hope that the Canes lose every game (except whenever they play the Islanders, Flyers or Devils!)
And that interview that I posted above – didn't that feel like a baby-face WWE promo? He had the crowd eating out of his hand – something you wouldn't expect to see if you solely read fans on social media ragging on this guy all day – only because he voted for someone they didn't vote for. (And as stated on this site before, these players could vote for Kim Jung Un for all I care – just play well and win!)
If DeAngelo can keep this up and stay out of any controversies, while he did lose a year of his career – he'll once again be earning $5M+ – life-changing money.
And to wrap up on Carolina, the team with the six ex-Rangers, most in the league – they are 9-0, where Raanta is winning games in net, Derek Stepan and Jesper Fast are scoring goals and Brady Skjei… well he's been Brady Skjei! (Brendan Smith has been a healthy scratch on some nights.)
(Of note: refer to my previous blogs on Carolina. I don't think this is an ex-Ranger thing – this is an NHL veteran and salary cap thing, where the Canes collected quality veterans and for much less than what the Rangers previously paid these guys. It's just a coincidence that these guys once played for the Blueshirts.)
Let's continue the alumni conversation.
---
Former Ranger Marian Gaborik posted the following on Thursday:
— Marian Gaborik (@MGaborik12) November 4, 2021
In response, the Rangers said the following:
"Congratulations on an incredible career Marian Gaborik and thank you for the memories – we'll always cherish the time you spent with the Rangers."
---
Gaborik, the Rangers best scorer during the Tortorella years, was traded in April of 2013, in a trade where the Rangers received Derick Brassard, Derek Dorsett and John Moore – three players who played significant roles for the Rangers during their Stanley Cup run of 2014.
Gaborik, who followed the mini Jagr era, was a player who picked up the scoring for the Rangers, where he finished with two seasons of 40+ goals and 75+ points.
Of course, and because it always works this way, once leaving the Rangers, Gaborik eventually found himself with the LA Kings in 2014 – the team who dashed the Stanley Cup hopes of the New York Rangers.
Gaborik, who had been on the IR and hadn't played since the 2017-2018 season, is now a retired member of the Rangers alumni. Maybe he'll pop back up at the Garden during Henrik Lundqvist night? Whatever happens – all the best to Gaborik moving forward.
---
One last update on the alumni.
On Thursday morning, Ron Duguay and his "Up in the Blue Seats" podcast crew returned, where admittedly this episode wasn't as great as last week's. After all, how do you top Mark Messier?
However, the show did have another former Rangers captain on the show in Dave Maloney.
To listen to the show, click below:
— Ron Duguay (@RonDuguay10) November 4, 2021
If there's anything coming out of the show, it's this – Dave Maloney said he's currently working part-time at a local liquor/wine store. That may explain his red nose – I kid, I kid!
Seriously, during an eight or so minute interview, Maloney said he was bored during the pandemic and took part-time work at this liquor store, where he seems to be really enjoying it. By the sound of it, Maloney took this job to kill time – and not because he's in any sort of financial peril.
The name of the store is mentioned on the podcast, for anyone looking to get a bottle of booze autographed by the former captain!
And now, some thoughts on Jack Eichel.
---
Unless you've been living under a rock, you're probably aware by now that the Jack Eichel saga has reached its conclusion.
As first broken by Darren Dreger, and then confirmed by everyone else, Jack Eichel is now with the Vegas Golden Knights.
Here's how VGK covered the story:
🚨 OFFICIAL 🚨

The Golden Knights have acquired Jack Eichel and a conditional pick from the Buffalo Sabres in exchange for Alex Tuch, Peyton Krebs, and two conditional picks.

JACK EICHEL IS A GOLDEN KNIGHT!!! #VegasBorn pic.twitter.com/T8hLG2BcZI

— Vegas Golden Knights (@GoldenKnights) November 4, 2021
Following news of the trade, Jack Eichel granted Elliotte Friedman of SportsNet an exclusive interview, an interview which you can watch here: https://www.sportsnet.ca/nhl/article/jack-eichel-discusses-trade-request-desire-disc-replacement-surgery/
---
Like everyone else, I'm happy this story is over, where following this trade, the next story will be about Eichel's comeback and how he plays after his surgery. However, we're several months away from that.
The biggest winner here is Jack Eichel himself, who can now get the surgery that he desires. That was always the main issue to me, because the longer this dragged on, the worse Eichel's health became. Now, he can get his neck repaired and go on to play hockey – and go on to live his life too.
Even better, from a hockey perspective? The Sabres never made the playoffs during Eichel's tenure with the club. Despite being an expansion team, Vegas has made the playoffs in each of their four seasons – and most likely five straight seasons after the conclusion of this 2021-22 campaign.
---
As far as any "HOT TAKES", I have a few:
— Vegas wins this trade in my eyes, just like any team does when acquiring the best player involved.
— Poor Marc-Andre Fleury, who was dealt out of town from the franchise he loved. With MAF's contract off of the books, it allowed Vegas to make this trade in the first place.
— Vegas, who doesn't seem to care about developing talent via the draft (or the salary cap either), now have some monster long-term deals on their books. They better win the Stanley Cup this season, because they will be right up against the salary cap ceiling, like Michelangelo painting the Sistine Chapel, in the years to come. Beginning next season (since Vegas has most of their star players on LITR right now), Vegas will have to shed more parts in order to become cap-compliant.
— We waited what felt like years for this trade to be done, and this is the best Buffalo got back? We've heard many rumors about what Buffalo could do and who they could acquire, and at the end of the day, this is what they settled on? At the very least, I guess it's great that Buffalo didn't have to retain any of Eichel's salary.
— Poor Sabre fans, who despite the team's current record, looks like they will continue to be watching other teams in the playoffs – and for many seasons to come. Something has to be done about the franchise's losing culture, especially since Sabre fans are one of the best fan bases in all of the league.
— And as noted at the top of this season – Vegas remains in "WIN-NOW" mode, where this may be their "last best chance" of doing so, especially with Colorado struggling and with salary-cap problems ahead.
---
From a Rangers perspective, despite all of the different trade packages that were floated out there, unless the Sabres were willing to send Eichel to a state-rival (not a divisional rival, or a real rival at all, despite that whole 2018 "Winter Classic" promotion), the trade was never going to happen. And once the Rangers paid Mika Zibanejad, that ended any chance of Eichel landing in New York.
At the start of negotiations, and as reported by Larry Brooks and others, the Rangers wanted the Sabres to retain some of Eichel's salary. That was a no-go from the jump. The Sabres also wanted Alexis Lafreniere or Kaapo Kakko included in the deal, where again, that was a no-go too.
Simply put, Filip Chytil, Vitali Kravtsov, Zac Jones and a draft pick wasn't going to cut it, despite the lesser package that the Sabres received here from a Western Conference team, and where Buffalo desired Eichel to go anyway – as if the Sabres would be seeing any of the 31 other teams with Jack Eichel in the playoffs.
With Eichel officially in Vegas, the Rangers will soon have to make a decision with Ryan Strome, who will be an unrestricted free agent this summer. Sure, the Rangers could search for a second line center somewhere else, but Strome has been a great Ranger, a player that their star player (Panarin) loves playing with and a big part of the locker room.
In other words, especially with Chytil not developing so great – it's time to give Strome a new deal.
Good luck to Jack Eichel, as he tries to get his career back on track.
PLUGS time and a few last words!
---
The first plug of tonight's blog – the mandatory plug for my new book, "The New York Rangers Rink of Honor and the Rafters of Madison Square Garden". And let me say this – thank you to everyone who has bought one, as my Amazon sales have exceeded all expectations, where for a limited time (that damn Mark Messier who just released a book!), my book was number one on the Amazon hockey book sales charts.
As mentioned previously, the book is now available in hardcover, in paperback and in Kindle formats. To purchase a copy of the book, visit this link:
https://www.amazon.com/Rangers-Rafters-Madison-Square-Garden-ebook/dp/B09CM5N2WD
For those still looking for signed paperback versions of the book, I have 8 copies left for sale for $25 (includes shipping price) through me directly. Here is all the information on that:
---
Here are my last few blogs in case you missed them:
---
---
---
If you haven't already, subscribe to this blog for the next update:
---
Up next: back at it tomorrow night, recapping the Rangers/Oilers game. Maybe I can get the Messier book review done between now and the game, but most likely, I'll do it next week, when the Rangers have several days off.
Stay FABULOUS my friends.
As always here, thanks for reading and…
LET'S GO RANGERS!
Sean McCaffrey
BULLSMC@aol.com
@NYCTHEMIC on Tweeter