Greetings and salutations everyone and welcome to another blog here on BlueCollarBlueShirts.com. Embarrassing.
On Friday night, following a Kevin Lowe #4 retirement jersey ceremony in Edmonton (a ceremony that the M$G Networks couldn't be bothered with to air), the Edmonton Oilers, in front of many members of both the Oilers and Rangers alumni, including Mark Messier, Jari Kurri, Glenn Anderson and Esa Tikkanen; came back from a three goal deficit to beat the Rangers by a final score of 6-5.
Going into this game, I think many fans would've been happy to get a point from the red-hot Oilers. While that wound up being the case, no Ranger fan is happy about this one, as once again, the Rangers, like a bad football team that trades touchdowns for field goals, traded two points for one, as a result of the overtime loss.
There will be a lot of finger-pointing after this game. Jake "The Mistake" Trouba, the grossly overpaid defenseman, was once again on the ice for the majority of opponent goals allowed, as he had great views of four different Oiler goals in all. Due to the five Ranger goals scored in the game, his plus/minus stat didn't take that bad of a hit, as he finished up the game with a -1.
Trouba's partner, the struggling K'Andre Miller, was on the ice for three Oiler goals and had another negative game in the plus/minus department, finishing the game with a -2. As has been the case, the second pair defensemen played like an outhouse "number two".
And of course, Alexandar Georgiev, who unexpectedly started this game (most media members and fans, including myself, thought that CZAR IGOR would man the net in this one), wasn't that hot himself, where already, many fans are clamoring for the demotion of the Bulgarian, while screaming from the roof-tops for the arrival of Keith Kinkaid. Even Rangers alumni Ron Duguay is calling Georgiev a "minor league goalie".
---
While you can go after the horrid second pair defensemen, and also go off on Georgiev too – the bottom line is this – once again, the Rangers didn't give a full sixty minute effort and it bit them in the ass. You can't expect to play well for only 25 or so minutes and win, and certainly not against this Edmonton squad.
Yes, the other team is paid to play hockey too, and yes, the Oilers are a great team, featuring the most explosive duo in all of the NHL in Leon Draisaitl (3 points) and Connor McDavid (3 points.) Conversely, the Blueshirts heralded 1-2 punch of Mika Zibanejad (2 points) and Artemi Panarin (1 point) were no match for the men in orange – especially in crunch time and with the game on the line.
And if you're not aware – it's in crunch time, where your superstars have to show up. The Oilers stars did, and the Rangers stars did not.
Despite the GOOD GUYS racing out to a 4-1 lead in the second period, you never felt like the Rangers could put this away – despite M$GN analyst Steve Valiquette saying the Rangers could put away any team just one game ago. As usual, Vally was wrong about that assessment against Vancouver, and that statement blew up in his face again after this contest.
The Rangers showed flashes of brilliance and offensive proficiency in short spurts, but most of this game was dominated by the Oilers.
There were about 6-7 different shifts, where the Oilers spent 90 seconds or more in the Rangers defensive zone. The Rangers, possessing the dreaded "three goal lead" (a point that resident mook Joe Micheletti wouldn't shut up about), could never stomp out the Oilers. Eventually, the Rangers wound up having dirty oil all over their snowy white jerseys – as a result of watching Connor McDavid jet by them when the game was on the line during crunch/clutch time.
Blame whoever you want, but at the end of the day, the Rangers couldn't hold a lead and just got man-handled during the back halves of the first and second periods. They were also flat-out dominated in the third period as well, despite Mika Zibanejad's go-ahead goal with twelve minutes and change remaining in regulation.
---
There were some interesting stories going in and coming out of this game, where Gallant's line-up eats up all headlines.
As talked about last night, Gallant did indeed put Alexis Lafreniere on the fourth line in this game, where outside of one shift, the #1 pick of the 2020 NHL Entry Draft was barely noticeable. Ditto the other wonder-kid on this team, in Kaapo Kakko. Both finished the game with one shot on goal each – something that some fans are up-in-arms about, especially after "Krybaby Kravtsov" scored two goals earlier in the day, during his KHL season debut for his hometown club of Traktor. It should be mentioned, and in an attempt to be fair – the Oilers aren't an inferior team from the KHL either.
The other questionable move, and as mentioned, saw Georgiev in the barrel, rather than CZAR IGOR.
For a while, especially with the team up 4-1 during the second period, and where the Rangers new third line of Sammy Blais, Filip Chytil and Kevin Rooney were motoring – it looked like Gallant had pressed all the right buttons. By the end of the game, while you can't take away the great performances that the third line had – you can question why Georgiev even started this game.
As noted on this site in the past, I don't really get crazy about lines and goalie starts.
Sure, I wanted to see Igor play tonight, as I wanted to see him against one of the best offensive powerhouses in the league. At the same time, Georgiev had to play eventually, but of the two Alberta teams, I thought that Igor should've took the start against the better team – as was the case during the last Rangers road-trip, when Georgiev played the weakest team on paper on the schedule (I know, all games are played on the ice and not on paper), when #40 suited up against the Ottawa Senators.
Do the Rangers win this game if CZAR IGOR started tonight? Probably. However, Georgiev did start and you can only expect so much from your back-up.
Is it Georgiev's fault that the team gave up odd-man rush after odd-man rush and that the penalty kill couldn't kill one Oilers power-play? Is it Georgiev's fault that he was left all alone in overtime, one-on-one, with a former Hart Trophy winner in Draisaitl? And was it Georgiev's fault when the other Hart Trophy winner, in Connor McDavid, who scored the goal to push the game to overtime, streaked by four (Yes, FOUR!) different Rangers and beat him? Hmmm.
---
I know many people do the "doom and gloom", and "trade this guy, and send this guy to Hartford", stuff after every loss, but it should be mentioned that despite this bad-taste-in-your-mouth loss, the Rangers are currently 6-2-3 – good for second place overall in the best division in hockey – the Metropolitan division. That said, had the Rangers won their three overtime games instead of losing them – the Rangers would have 18 points, which would then have them tied with the 9-0 first place Carolina Hurricanes.
I can't predict what Drury and Gallant have up their sleeves, but yeah, Georgiev has regressed and isn't the same goalie that we saw from seasons ago.
Furthermore, K'Andre Miller, the once "PRAYING MANTIS", who was amazing during his first stretch of games during his rookie season, has been anything but since those first few weeks of his career. Sure, Trouba stinks too – but the stench permeating out of the #79 blue sweater has been much worse.
Will the Rangers give Keith Kinkaid and perhaps Zac Jones a look sooner than later? Who knows? After all, the Rangers record is pretty solid. Also keep in mind that the team has only played three home games this season, where admittedly – that is an excuse, even if Gallant has brought this fact up.
For the Rangers, they'll have to bite their lip and move on, especially with a game against Calgary in less than 24 hours from now. With that in mind, let's hit all the regular segments of a game review blog, where up first, and and as usual – the PLUGS segment. (Feel free to scroll past the PLUGS if need be, but hey – I'm trying to sell some books here!)
---
The first plug of tonight's blog – the mandatory plug for my new book, "The New York Rangers Rink of Honor and the Rafters of Madison Square Garden". And let me say this – thank you to everyone who has bought one, as my Amazon sales have exceeded all expectations, where for a limited time (that damn Mark Messier who just released a book!), my book was number one on the Amazon hockey book sales charts.
As mentioned previously, the book is now available in hardcover, in paperback and in Kindle formats. To purchase a copy of the book, visit this link:
https://www.amazon.com/Rangers-Rafters-Madison-Square-Garden-ebook/dp/B09CM5N2WD
For those still looking for signed paperback versions of the book, I have 7 copies left for sale for $25 (includes shipping price) through me directly. Here is all the information on that:
---
Here are my last few blogs in case you missed them:
---
---
---
---
As mentioned at the top of this, prior to the game, the Oilers retired Kevin Lowe's #4 jersey, in a ceremony that the M$G Networks couldn't be bothered with. Instead, and I shit you not, M$GN ran an old David Quinn "M$G Shorts" show instead. Horrible producing, which has been the case for the network all season, including where once again – this broadcast was plagued with horrendous audio issues.
And wouldn't it be nice if the Rangers took a page out of the Oilers playbook, and retired a #4 themselves, for former captain Ron Greschner? In fact, I heard there is a book out there that makes the case for Greschner's induction into the rafters of M$G as well!
With Lafreniere being sent a message (and way more on this at the end of this blog, where fair or not, Gerald Gallant absolutely destroyed New York Post reporter Mollie Walker after the game for even bringing this topic up), the head coach skated the following lines:
FIRST LINE: Kreider/Zibanejad/Goodrow (Not bad, but Goodrow can't hang with his linemates.)
SECOND LINE: Panarin/Strome/Kakko (They had chances, but this isn't horseshoes and hand grenades.)
THIRD LINE: Rooney/Chytil/Blais (By far, the best line of the game.)
FOURTH LINE: Lafreniere/McKegg/Hunt (It's bad when McKegg is more noticeable than Lafreniere and Kakko.)
Defensively, we had this:
FIRST PAIR: Lindgren/Fox (Top pair, as usual.)
SECOND PAIR: Miller/Trouba (BRU-TAL, as usual.)
THIRD PAIR: Nemeth/Lundkvist (These two were alright, as Lundkvist returned to the line-up, replacing Tinordi.)
And in net, Alexandar Georgiev, where while I wouldn't blame him for every goal allowed, his stats took a beating after this game.
---
BOX SCORE time.
The following information and graphics come from the new world-wide leader in NHL coverage, ESPN.com:
SCORING:
TEAM STATS:
GOALIES:
| | | | | | | | | | | |
| --- | --- | --- | --- | --- | --- | --- | --- | --- | --- | --- |
| SA | GA | SV | SV% | ESSV | PPSV | SHSV | SOSA | SOS | TOI | PIM |
| 25 | 5 | 20 | .800 | 0 | 0 | 0 | 0 | 0 | 63:27 | 0 |
| | | | | | | | | | | |
| --- | --- | --- | --- | --- | --- | --- | --- | --- | --- | --- |
| SA | GA | SV | SV% | ESSV | PPSV | SHSV | SOSA | SOS | TOI | PIM |
| 39 | 6 | 33 | .846 | 0 | 0 | 0 | 0 | 0 | 63:27 | 0 |
---
Two things I said before this game? I thought the Rangers would win 3-1 and I thought Gallant looked relaxed during his pregame press conference. Now, as I write these words, my "Nostradamus" skills look like shit – much like the Rangers themselves from the third period on.
Steve Valiquette, who I usually dissect on these blogs, wasn't that bad for the second consecutive broadcast – even if he had to bombard us with his fake news stats from his silly stat company. Don't tell me about EXPECTED stats – tell me the real stats.
Then again, Vally did try to give us one real stat tonight, when he said the Oilers have the 29th most (third least) amount of power-play ice time. Not mentioned? The Oilers score so fast on their power-plays, that they aren't racking up a full two minutes. And as we later saw, the Oilers scored two power-play goals in this game, going 2-2 on the night. Of note: the Rangers power-play went 1-2, where one goal was the difference.
If there was anything major or "SHOTS FIRED" out of Vally, it was when he brought up Lafreniere's demotion, saying that not only is Lafreniere on the proverbial "hot seat" – but so was Kaapo Kakko. Vally even said that if the two wonder-kids continue to struggle, they could very well find themselves in Hartford. This was the first time this season where we heard anything controversial and negative about the club – despite their winning record.
And for what it's worth, I don't think Vally is wrong here at all – it was just weird hearing him say it, especially on this homer network. After all, look at the end of Marv Albert's career on this network after he criticized the crappy Knicks. That said – it's not like Dolan cares about the Rangers or watches these broadcasts anyway, as he does with his basketball franchise.
---
The first period of this game started off so promising, where you were actually shocked about the Rangers fast start. After initially surviving a three vs one Oilers scare, where Miller and Georgiev may have stained their underwear, just 1:53 in, this happened:
hot start from our guys in Edmonton! pic.twitter.com/Wrmd3hzrNz

— Rangers on MSG (@RangersMSGN) November 6, 2021
1-0 GOOD GUYS, as Filip Chytil fired an innocent wrister at a stick-less Koskinen for the first goal of the game. At the time, this looked like a nothing shot, but it found the back of the net and you'll take a goal any way you can get it. And again, while Kakko and Lafreniere may have been sent messages – it's the 2017 first-rounder who received it.
And hey Part I: the returning Lundkvist and Sammy "Pavel Who?" Blais picked up assists here as well.
And hey Part II: this was NOT a good night for the goaltenders (or for fans of any sort of defense in general), as both of these goalies received sunburns on their necks from the red light behind them.
No joke, most of this first period was one odd-man rush after another, although these teams didn't pour on the goals until later on. And it's not like the defense was that great – these players either shot wide, high or found iron.
Greg McKegg had one rare defensive highlight of this first period, when he stripped Koskinen while playing a puck from behind the net.
In one of Georgiev's better plays, #40 denied McDavid on one shot, and then made a perfect glove save off of a deflection to preserve the lead, where the three words of "preserve the lead" won't pop up again during this blog.
During a two vs one odd-man rush, Strome opted not to dish a puck to a wide-open Kakko on the weak side, rather shooting the puck himself – a rare save for Koskinen.
With 1:49 to go in the period, the Rangers, after losing a crucial defensive zone face-off, saw Zach Hyman play clean-up, and score on a rebound opportunity. And yes, Trouba and Miller were on the ice for this one – aka the usual.
Right after the goal, Miller and Trouba got split apart again, where this time, Georgiev made the stop on the Oilers attempt.
In the final minute of the period, Ryan Lindgren crushed McDavid with two back-to-back hits – something that Oiler fans weren't happy about, as the previously dead-as-a-doornail crowd woke up, with a loud "REFS YOU SUCK" chant.
After one period, a period where the Rangers started out hot in, only to slow down as the period progressed; we remained at 1-1.
Of note, at one point, the SOG in this period were 9-3 Rangers. At the end of it, it was 13-10 Oilers, as McDavid's crew out-shot the Rangers 10:1 after the Rangers first nine shots on goal. That's telling.
---
After our usual comment out of Sam Rosen, when he asks Micheletti, "SECOND PERIOD, WHAT DO YOU LOOK FOR HERE JOE?", the Oilers got a SOG on Georgiev, where Rosen told us "glove save by Zibanejad". Bless Sam's heart. Sam would also beg for a penalties to be called, just so one of these teams would have a power-play. Like Micheletti, both of these two were jinxes, where yes, I'm aware that jinxes aren't real, but hey – we have to find someone to blame for this loss! (I kid, I kid!)
2:52 into the period, Filip Chytil intercepted a pass and on the turnover he created, set up Kevin Rooney for his third goal of the season:
🎥 @NYRangers pic.twitter.com/WbUAXUhHeh

— Rangers Videos (@SNYRangers) November 6, 2021
2-1, GOOD GUYS! What a night for Chytil, who you can only hope keeps this going. This can't be a one-and-done type of game for him.
And while on Rooney – is he the best depth signing of the Jeff Gorton era? I think so.
Just 1:19 later, Chris Kreider, the most consistent "fat cat" on the team, doubled the Rangers lead:
🚨 It's a power play goal! 🚨

🎥 @NYRangers pic.twitter.com/6kIpk3FG2K

— Rangers Videos (@SNYRangers) November 6, 2021
3-1, GOOD GUYS!
Of note: ignore the "power play goal" comment. This was an even-strength goal, where Koskinen wanted this one back. But hey, how about Chris Kreider, who now has eight goals on the season and is now scoring on wristers, snap shots and breakaways? He's not just picking up goals exclusively with screens and deflections.
With 14:24 remaining in the period, Kassian went to the box for slashing, giving us our first power-play of the game.
What was noticeable here (and after I've been saying this for a while now on this site), it was Artemi Panarin, and NOT Mika Zibanejad, who was set-up in the circle – aka Ovi's Office. Ironically, it would be Mika Zibanejad scoring the PPG here, as Ryan Strome fired a shot/pass from the side boards and the puck deflected off of Mika's skate and right past Koskinen. 4-1, GOOD GUYS!
If you're an optimist, this is the time to close your browser. 4-1, Rangers, enjoy your night.
For realists, this was the peak of the game for the Rangers. It was all downhill from here.
Immediately after going up 4-1, Micheletti brought up the dreaded three goal lead stuff and said the Rangers would have to score more. He'd be proven right, but did he have to say it?
Just like the back end of the first period, the Oilers then took control of the second half of this period. This all started with 11:56 remaining, when Draisaitl was boxed. The Rangers power-play, perhaps letting off of the gas, were absolutely dominated here, as it was Georgiev, and not Koskinen, forced to stop pucks.
The Rangers, like a Benny Hill sketch, just chased the Oilers around. While playing this game of tag, a game they never could win, Ryan Strome was penalized with 7:07 remaining. As the Rangers were twenty seconds away from killing the penalty, Ryan Nugent-Hopkins made a home run pass, connecting with Jesse Puljujarvi for the power-play goal.
Is this a shot Georgiev would want back? Of course. At the same time, the Oilers have the best power-play in the league, and you can't take penalties against them. 4-2, with under five minutes remaining.
With the Rangers looking frazzled, despite their two goal lead; Dryden Hunt made a great defensive play on McDavid, where #97 got a shot on goal anyway. Save for Georgiev.
After another scary shift out of Miller and Trouba, where the Oilers had the puck for over a minute in the Rangers zone, the horn went off, as we remained at 4-2 after two periods.
Even up by two, you just had a bad feeling, especially since the three Ranger goals came in a quick burst, while the Oilers pretty much dominated the majority of the period.
And what's that old saying? "Win the period, win the game." I guess a new saying should be "Don't give up a field goal in the third period and win the game."
---
Continuing their Halloween theme, the Rangers were scary to watch in this third period. They just looked overwhelmed and outmatched for the duration of these final twenty minutes.
In a play that looks much worse with hindsight, at the start of the period, Mika tried to set-up Kreider for a one-timer, but the pass was off. Instead of going up 5-2, Mika tripped McDavid near the Rangers blue line.
Just seconds into the Oilers power-play, Barrie, all alone, blasted a puck past Georgiev. 4-3. Yes – Trouba was on the ice for this one.
2:35 later, Jesse Puljujarvi scored his second goal, a rebound goal, as Trouba and Miller were watching. Yep, the dreaded three goal lead reared in its ugly head and the game was now tied at four goals a side.
And for everything I say on this site, I think everyone can agree on this – CZAR IGOR protects his skaters plus/minus stats much better than Georgiev does!
As you were just waiting for the inevitable fifth Oilers goal, 7:18 into the period, it would be #93 in blue putting the Rangers ahead, after a hell of a rip. 5-4, GOOD GUYS, but unfortunately – the last Ranger goal of the game.
As the clock went tick-tick-tick, and as you were puckering up your asshole in preparation for the Oilers eventual 6×5 empty net attack; Connor freaking McDavid put an end to that idea and split four Rangers, including defensemen Trouba and Nemeth, and showed us why he's the greatest player in the league today. After embarrassing four Rangers, McDavid had one last laugh at Georgiev's expense, tying the game with just 2:59 remaining after a backhander. If you didn't see this goal, it's definitely worth going out of your way to find.
5-5, where while you were mad about the score, you also just wanted the Rangers to get the point in the standings.
Oh yeah Part I – after this goal, the Oilers were out-shooting the Rangers in this period by a tally of 14-3. So that wasn't good.
Oh yeah Part II – if you like watching Ranger opponents score goals, you must be extremely envious of Trouba. No one has seen more opposing goals this season. Even better – he always has the best view in the house whenever these goals are scored.
As we got under a minute, Ryan Lindgren's stick was blatantly held in front of a referee. No call, as the Oilers got some home cookin' here.
After sixty minutes, we remained at 5-5.
---
With 1:33 remaining in the overtime period, and where if this game went to a shoot-out, it may have taken until the New Year to settle it due to these two goalies; Adam Fox and Mika Zibanejad got caught, Leon Draisaitl was left wide open in front of Georgiev – and bada-bing, bada-boom, 6-5, in favor of the Oilers, your final.
Yuck.
Yeah, the optimist in me says that I'm happy that the Rangers got a point, but it would've been less crushing had the Rangers got blown out. To lose in this fashion is like getting a never-ending prostate exam from Dr. Sausage Fingers.
And now, perhaps for the most interesting thing coming out of the game – Gallant's post-game interview.
---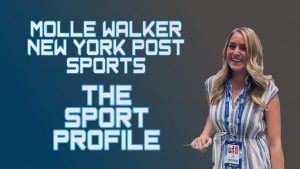 If there are two things I've been bringing up a lot lately on this site, it's the following:
— All the never-ending "JUMP OFF THE BRIDGE" Alexis Lafreniere stories, where I once again addressed this topic in full last night. Refer to the blog that's plugged above for more, as I'm not going to write that all out again here.
— Gallant's treatment of the younger members of the media, where before tonight, it was Vince Mercogliano getting the brunt of Gallant's disdain.
---
Following the game, we had a crash collision between Walker's obsession with Lafreniere's ice time and Gallant having no time for bullshit questions.
Let me be clear here. Do I get why Walker has Lafreniere as her lede story? I guess, but to bring up Lafreniere in relation to this loss is not accurate and doesn't apply. After all, if Lafreniere was playing well, he would've been promoted to the first, second or third line during the game. Lafreniere was noticeable on only one shift tonight, and he didn't play a factor in the end result of this game.
That said, I understand why Walker asked her question, but it was definitely poor-timed. The Lafreniere stuff, for as much as I think it is much ado about nothing, it's also something for an off-day – and not after a brutal loss like this one.
And lastly, before sharing the video of Gallant showing his fangs, let me also say this – at least Gallant will rip up reporters no matter who they are, male or female! He's an equal opportunity media shredder!
Here's Gallant:
Gallant's response to @MollieeWalkerr when asking about Lafrenière who played 9 minutes #NYR

(Better audio)pic.twitter.com/UfoFvAZzbt

— Stat Boy Steven 🇳🇱 🇮🇪 (@StatBoy_Steven) November 6, 2021
---
Few things on this before closing out:
— Gallant was so friendly with Walker and Stephenson earlier in the day, where for the first time this season, he let them know prior to the game (after the pregame skate) who his starting goaltender was going to be. Previously, Gallant told the media that he'd never divulge such information.
— The Rangers social media accounts, and their YouTube page, have pulled this clip. It should be mentioned that when Gallant went off on Mercogliano, that clip was not edited and still remains on all of the Rangers social media accounts and YouTube page.
— As mentioned repeatedly – these younger media members are finding out that Gallant is not David Quinn!
---
Of course, because we live in a PC world and where everyone wants to cancel everybody – many fans are going off on Gallant for responding this way. Have these people ever seen Brooks vs Torts?
And if your response is "that's no way for Gallant to talk to a female", isn't that sexist? After all, all of these female reporters want to be treated like their male counterparts, and as we can see here, Gallant talked to Walker just as he does to Mercogliano.
Walker just caught Gallant at the wrong time and asked a question that really had nothing to do with the game. It happens.
It should also be noted, that Walker, who tweets out quotes immediately after press conferences, hasn't said anything about this, even some four hours after the game. Mercogliano also had the same silent response when Gallant previously went off on him in Toronto.
While Walker may not feel so great right now, as this is her first public take-down by a Rangers head coach – at the end of the day, it's part of the job. You just gotta roll with the punches and move on.
And really, since these people see each other all the time, I wouldn't be shocked if Gallant apologized to her between now and tomorrow night's puck drop against the Flames. No one wants to harbor hostility with someone they have to see every day.
Plus, with the Rangers scrubbing the clip, that should tell you all that you need to know.
---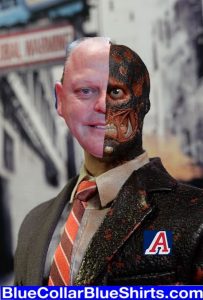 If you haven't already, subscribe to this blog for the next update:
---
Up next: Rangers vs Flames tomorrow, in Calgary. Of note, I'll be watching the UFC PPV while the game is going on as well. Go "Thug Rose" and Colby Covington!
Stay FABULOUS my friends.
As always here, thanks for reading and…
LET'S GO RANGERS!
Sean McCaffrey
BULLSMC@aol.com
@NYCTHEMIC on Tweeter