Greetings and salutations everyone and welcome to another blog here on BlueCollarBlueShirts.com. In a word, this loss to the Flames was "horrendous". That said, I will try my best to entertain you, especially after this pathetic display of what the Rangers called professional hockey on Saturday night. After all – misery loves company.
On a night where M$G was hosting one of the most loaded UFC PPV cards in some time (the show actually produced the fourth-highest gate in the HISTORY of M$G, where a previous UFC show currently holds the all-time M$G gate record), some 2,400 miles away in Calgary, it were the Rangers who came out like a preliminary fighter and were then thrashed wire-to-wire.
Unfortunately, unlike an MMA fight, there was no referee to stop this match and Ranger fans had to suffer through sixty minutes of Blueshirts futility. And if there were hockey judges, like judges at a UFC fight – this game would've received a score of 0.0.
There's no way to sugarcoat this one, nor can I give you the glass half-full speech – this game was a pure "hoover", which is a nice way of saying that this game SUCKED.
The Rangers were "out-" everything in this contest, where the team was out-matched, out-played, out-hustled, and out-coached by the Flames.
You can go up-and-down the line-up and find anybody and everybody to hang after this game. Usual whipping boys, Jake "The Mistake" Trouba and K'Andre Miller, were once again horrible. Artemi Panarin and Mika Zibanejad, that heralded Rangers 1-2 punch were nowhere to be found, where once again, the opposing team's top stars out-performed (see, another out- here), #10 and #93 in blue. In addition, Patrik Nemeth and Jarred Tinordi didn't exactly have the best games of their lives either.
The two wonder-kids, Alexis Lafreniere and Kaapo Kakko had another "Where's Waldo?" game, where admittedly, Kakko had the better game of the duo. Still, the two draft lottery picks combined to have only one shot on goal in this game, with Flames goalie Jacob Markstrom seemingly laughing while denying the young Finn during this paltry attempt.
And for all of that belly-aching about Alexis "LaFourthLineiere" needing more ice-time, as a reason for his lack of production? Ha! If it wasn't for Trouba wiping him out with friendly-fire, you wouldn't have even noticed that he was on the ice.
---
It's not just the two hopeful bedrock pieces of the future struggling either. All of the fat cats, including Zibanejad, Panarin, Kreider, Strome and Trouba; had a disgrace for the ages, where it looked like they were paying tribute to former Buffalo Bills kicker Scott Norwood all night long.
While the bumbling fat cats did get some shots on goal (a rarity, as the team finished with 22 SOG in all), it felt like 99.9% of all shot attempts were sent wide. Someone is going to have to clean the rubber marks off of the boards at the Saddledome. After all – how dare these boards, littered with ads, be besmirched by such garbage!
Speaking of garbage, the M$GN broadcast was no better, as once again the feed was plagued with audio and visual issues. I've seen better A/V work during my days in junior high school homeroom, and those days took place over 25 years ago.
M$GN and the Rangers are only a billion dollar plus organization, but for whatever reason, after several games of these issues, no one seems to care about this at all. It seems that the number one priority is super-imposing ad graphics on the ice and on the glass – everything else be damned.
Another person who shouldn't come out of this loss unscathed is Rangers head coach Gerard Gallant, whose team looked ill-prepared for the second game of a back-to-back. Yes, the schedule isn't in the Rangers favor, but the Rangers aren't the only team that plays back-to-back's either.
Furthermore, and I don't think this is a case of hindsight being 20/20, as I, and most of you thought this too – CZAR IGOR should've started against Edmonton. Rather than gaining two points in one game against the Oilers, the Rangers leave Alberta with one point after two games.
More concerning – giving up back-to-back touchdowns (six goals) in consecutive games – where I'd put more blame on the team, rather than finger-pointing the goalies themselves.
And oh yeah – remember how last night, I said I'd rather be blown out than lose in the fashion that the Rangers lost to Edmonton? Scratch that, as this loss was painstaking to watch and there's not one good thing to take out of this game – unless you want to rant and rave about an Adam Fox highlight reel goal, a goal that was immediately called back (and correctly at that), due an offside review replay.
---
If you're trying to make excuses, you do have a few outs for the Rangers abysmal showing in these two games with the Flames.
In the 5-1 loss to the Flames at M$G from twelve nights ago, the Rangers were returning from a four-game road-trip. I talked about all of this at the time, where yeah, it was easy to give the Rangers a pass after sweeping that trip.
In this loss, the Rangers were playing their fourth game of this most recent four-game road trip, and played a rested Calgary, while the Blueshirts also played less than twenty four hours prior to this puck drop, in the 6-5 overtime loss to the Oilers.
Are the Rangers a victim of their schedule? I think there is something to that (and Gallant better hope that's the reason), but for the first time this season, the effort didn't seem to be there. I can understand being gassed out (not in a Dutch Oven/fart under your covers way), but there was no point in this game where the Rangers had any pop or juice to them. Once it was 3-0, the Rangers pretty much accepted their fate.
---
As I always say on this site, special teams swing games. While that statement may not be 100% accurate when describing this loss tonight, as the Rangers flat-out played like dog poo all game, including both on special teams and five vs five; but once again, the Ranger special teams were dominated. Then again, maybe that statement is 100% true tonight, because after all, it was a power-play goal, the first goal of the game, that held up as the game winning goal.
The Rangers went 0-3 on the power-play and could never find a momentum goal, despite numerous chances. If the Rangers weren't shooting high and wide on these chances, they were then shooting right into the "C" on the chest of Jacob Markstrom.
The Rangers penalty kill, who had a decent streak for a while there, once again gave up another goal tonight during the first Flames power-play of the game. On the Flames second power-play, just seconds after the power-play expired, the Flames scored again. From there, and after a Rangers goal that was called back (it was the right call, more on this in the game review segment of tonight's manifesto), the Flames never looked back. The Rangers were toast.
We are now twelve games in and two weeks away from Thanksgiving, one of the benchmarks of the NHL season. When do you start worrying about Panarin, Mika, Kakko, Lafreniere and the others? When does the excuses turn into fear?
Yeah, it's only one bad game (and the worst of the season), but without CZAR IGOR, this team would have a record that rivals the Arizona Coyotes. And even CZAR IGOR can't do it all, as we saw tonight – but even then, despite the six goals allowed (not all of them are on him) – if you can't score, you can't win. And that's what happened in Calgary on Saturday night.
And with the Florida Panthers up next, and with no rest for the weary (yes, the NHL schedule-makers did the Rangers no favors this season, that's an excuse I'll allow you to make), the team once referred to as the "Puddy Tats" are no more.
Heck, the Panthers are playing much higher on the food chain than their namesake suggests, as they've been "lions" of this NHL jungle. The team from Sunrise currently sits in first place in all of the league, with an astonishing 10-0-1 record.
And if you're a pessimist, how about this? The first-place Panthers played the second-best team in the league on Saturday too, where the Panthers knocked off the previously undefeated Carolina Hurricanes by a final score of 5-2. If you thought the home loss to the Flames was bad two weeks back, Monday night's game at M$G against the Panthers could be the smackdown of all smackdowns.
---
Recently, some of you, including long-time reader of this site, user name "Zap"; have been getting on me for my overwhelming positivity, my glass-half full perspectives and for being overall optimistic about this team. After all, four Stanley Cups in 95+ years – what's to smile about?
I tell you this here, because for new readers of this site (site traffic has really exploded ever since the book came out and with my stuff on "The Fischler Report"), I don't want to be negative. I didn't start this site to moan and groan. There's no joy in being miserable, as the two words would suggest.
That said, I can't go "Bob Ross" on you here, and paint a picture of happy trees and mellow scenery. This game was truly a wake-up call for the team. They know they sucked, as they said as much after the game to the two members of the NYR media that actually bothered to travel to Calgary to cover it.
This will be a long flight home for the Rangers. Instead of swash-buckling beers, ripping boisterous farts and having loud games of poker, the six-hour trek will be a somber one. That all said, my opinion remains unchanged – this is a playoff team, where yes, I'm going back to my optimistic side here – this game is something to learn from.
Before motoring on here, I also want to say this – as noted above, it wouldn't shock me if the Panthers clawed up and tattered Ranger blue on Monday. However with four days off after that game, the Rangers must then wake up and pull the nose up. (And how stupid is it to have all these three games in four nights, followed by multiple nights off? The Rangers are currently in such a situation, and once returning on Saturday, will once again play three games in four nights. So much for player safety!)
A week from now, there will be no more time for excuses. It's time for the team to play consistent, and for the love of the hockey gods – play a complete sixty minute game too – where the Rangers only have one of those this season. (The win over Columbus.)
PLUGS time, and then everything else, including the game review.
---
The first plug of tonight's blog – the mandatory plug for my new book, "The New York Rangers Rink of Honor and the Rafters of Madison Square Garden". And let me say this – thank you to everyone who has bought one, as my Amazon sales have exceeded all expectations, where for a limited time (that damn Mark Messier who just released a book!), my book was number one on the Amazon hockey book sales charts.
As mentioned previously, the book is now available in hardcover, in paperback and in Kindle formats. To purchase a copy of the book, visit this link:
https://www.amazon.com/Rangers-Rafters-Madison-Square-Garden-ebook/dp/B09CM5N2WD
For those still looking for signed paperback versions of the book, I have 7 copies left for sale for $25 (includes shipping price) through me directly. Here is all the information on that:
---
Here are my last few blogs in case you missed them:
---
---
---
In an update to the Mollie Walker/Gerard Gallant/Alexis Lafreniere story from last night – there isn't much to talk about. Walker didn't address the issue on social media or in her column, despite about 67867867896789696 tweets asking her to. I don't blame Walker for ignoring all of this for two reasons:
Anyone who has ever taken a journalism class will tell you that as a journalist, you should never become part of the story – a fact that's often lost in this new-age world of reporting.
When it comes to social media drama, it's best to ignore negative attention. Something else will always pop-up, and whatever you're involved with, will quickly become forgotten, as everyone talks about whatever the latest "controversy" is going on, in this era of attention deficit disorder.
In turn, I think Walker handled this perfectly, even if I didn't agree with her line of questioning. She has a job to do and she took her shot.
And as I said last night, I wouldn't be surprised if Gallant apologized to her privately anyway. (A public apology may have been received as a "sign of weakness", and Gallant isn't a man who wants to give up his control or power over the media either.)
Speaking of Lafreniere, he was returned to the third line for this game. Let's get into the line-up now.
---
Greg McKegg, the Rangers veteran utility forward, was sent to Hartford on Saturday, once news of Ryan Reaves being healthy enough to play came to light. The funniest thing about this, is that after Friday night's game, most fans would've preferred K'Andre Miller and Alexandar Georgiev, and not McKegg, on a plane to Hartford.
With Reaves back in the line-up, the Rangers were once again 100% whole, although that didn't last very long, as Filip Chytil was injured early during the first period after a collision with Sammy Blais. As a result, Chytil never returned to the game and afterwards, during his post-game press conference, Gallant had no update on Chytil's status.
Here was what Gallant went with tonight:
FIRST LINE: Goodrow/Zibanejad/Kreider (Goodrow is really starting to stick out like a sore thumb on this line, but none of these guys could execute tonight.)
SECOND LINE: Panarin/Strome/Kakko (Panarin continues to embrace his new "hero-ball" play, but with no results to show for it. Strome was one of the biggest offenders of shooting every and any puck wide tonight. Kakko was barely a footnote, nor was noticeable.)
THIRD LINE: Lafreniere/Chytil/Blais (I forgot that Lafreniere even played. If it wasn't for the Walker story, I wouldn't even be aware of the fact that he dressed for this.)
FOURTH LINE: Hunt/Rooney/Reaves (The best line of the game, and that's a horrible thing for the team overall.)
Defensively, we had this:
FIRST PAIR: Lindgren/Fox (Fox was the best skater of the game, but Markstrom was better.)
SECOND PAIR: Miller/Trouba (Yuck.)
THIRD PAIR: Tinordi/Nemeth (Lundkvist got the night off, as Gallant went with toughness over offensive skills with Tinordi. That said, it's not like Lundkvist would've made much of a difference.)
And in net, CZAR IGOR, who had his worst game of the season, where admittedly, his black-and-white stats are much worse than how he actually played. There's only so much he could do. You could question Igor about two of the goals he allowed in this game, where it doesn't really matter, as the game was already decided by the time those pucks went in.
To simplify – CZAR IGOR wasn't the issue here. The team in front of him was.
---
BOX SCORE time.
The following information and graphics come from the new world-wide leader in NHL coverage, ESPN.com:
SCORING:
PENALTIES: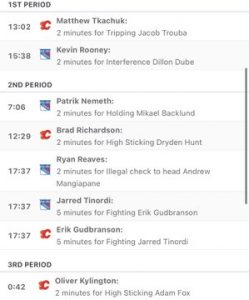 TEAM STATS:
GOALIES:
| | | | | | | | | | | |
| --- | --- | --- | --- | --- | --- | --- | --- | --- | --- | --- |
| SA | GA | SV | SV% | ESSV | PPSV | SHSV | SOSA | SOS | TOI | PIM |
| 22 | 0 | 22 | 1.000 | 16 | 0 | 6 | 0 | 0 | 60:00 | 0 |
| | | | | | | | | | | |
| --- | --- | --- | --- | --- | --- | --- | --- | --- | --- | --- |
| SA | GA | SV | SV% | ESSV | PPSV | SHSV | SOSA | SOS | TOI | PIM |
| 37 | 6 | 31 | .838 | 25 | 1 | 5 | 0 | 0 | 60:00 | 0 |
---
I have to be open and admit this here – while I watched this entire game, I was also watching the UFC PPV from M$G as well, as the two broadcasts both started at 10PM. Come 12:30AM, when this game ended, I wished that I did what Lundqvist did – by blowing off the M$GN broadcast and just solely focusing my attention on the UFC.
Of note, the best analyst on the M$G Networks returns on Monday night.
Steve Valiquette, who hasn't been at his worst lately, opened up the broadcast by saying that CZAR IGOR and Jacob Markstrom were the two best goalies in the league. Andrei Vasilevskiy may like to have a word here.
In Vally's defense, during one of the intermissions, he later corrected himself and said that Igor and Markstrom were the two best goalies of this season thus far, and not overall.
In something straight out of this millennial world, John Giannone, during the bullshit "Bud Light Bar" segment (where these two never have a pop or a belt), said "we're at the bar Vally, so you know what that means, bring out your computer." Just once, I'd love to see these guys shotgun a beer and slam home a shot. That would be good TV – then again, what does the M$GN know about good television?
As far as anything else on the broadcast, for some reason, during one of the intermission segments, Vally went on-and-on with another one of his meaningless war stories, where he verbally fellated ex-Islander Rick DiPietro. Talk about one of the worst goalie tandems in all of hockey history, Humpty Dumpty and the Seven Foot Jackass. Sounds more like a buddy-cop series on "Netflix".
And as mentioned previously on this site, and as I was reminded again when watching the Islanders/Jets game that took place before this game – poor Shannon Hogan is all by herself in the studio during those Islander broadcasts. Why not have Vally spew his nonsense and bore Hogan to tears with his war stories and save us from having to hear his tripe – especially with Lundqvist now part of the team?
Lastly – as you'd expect, Vally plugged his fake news stat company, as he always does, where it should be stated that not one person with one functioning brain cell gives a damn about his made-up "EXPECTED" stats; stats which are solely created in the eye of the beholder.
Ugh.
Let's now try to get into this game review, where as I write these words, I'm dreading it, as it's not worth my effort – just like the lack of effort the Rangers displayed. In fact, since it's late, I think I'm going to breeze through a lot of this.
---
In a game where the Rangers had as much appeal as Brad Aldrich, the Flames faithful made their voices heard, and loudly at that, once the puck dropped and all the way throughout the game; where the fans in red booed ferociously whenever Adam Fox touched the puck.
If you're not aware, the Flames, who originally drafted Fox, were once brushed off by #23, as the current reigning Norris Trophy winner wanted nothing do with the Alabama of Canada. Instead, Fox remained in college, and was then traded to Carolina, where while in Carolina, Fox once again rebuffed an NHL team, thus forcing his trade to the Rangers – his favorite and hometown team.
Fans of the Flames haven't forgotten how Fox wanted nothing to do with them, where admittedly, all of this negative response was comical, as despite a 6-0 score, Flame fans wouldn't relent, even busting out "YOU SUCK FOX" chants as the final horn went off. You'd think they'd be praising their own team, but instead, Fox was the center of their attention.
And due to the Rangers sucking ass tonight, what could've been a funny post-game interview didn't take place, and as you'd imagine.
---
This was sixty minutes of pure pain, as right away, CZAR IGOR was forced to make save on Pitlick. Following that save, at the 2:16 mark of the first period, Filip Chytil and Sammy Blais collided in the neutral zone, sending Chytil to the trainers room for the rest of the game. This looked bad too, especially since Chytil needed assistance off of the ice.
And sadly, this seems to always be the case for Chytil during his short career. Play well for a few games and then suffer some sort of freak injury, where he's out for a bit and then needs a ton of time to get back to where he was. Injury prone? Maybe. Bad luck? Definitely. As a result of this, Mika Zibanejad was double-shifted a lot throughout this game.
In our first of what felt like 67867897678967896789676 million Ranger shot attempts that went wide; Panarin found a wide-open Lindgren, who air-mailed a puck nowhere near Markstrom.
After a good shift out of the top line and the Fox/Lindgren pairing (a rare occurrence in this game), the fourth line then came on, where Markstrom made his best save of the game at this point, stopping a Hunt to Rooney attempt. Right after, Trouba shot wide – the norm.
With 6:58 to go in the period, Trouba drew Matt Tkachuk for a trip. Immediately after the face-off, the Flames forced a turnover and Backlund would get off a good wrister, where like most Ranger chances, this shot went wide. At least Backlund was on the PK here.
Mika and Panarin, who had their chances here, once again did their horseshoes and hand grenade act. Once failing on this power-play, the Flames got a jack-in-the-box odd-man rush attempt, where CZAR IGOR was able to survive this one scare of many.
With 4:22 remaining, it was the Rangers turn to go to the box, as Rooney was nailed for interference. And if we've seen this once, we've seen it 78678678967968968967896 times before; after the Rangers failed on their power-play and then took a penalty themselves, the opponent immediately scored. This time it was Sean Monahan, who ripped a perfect one-timer after an equally as perfect pass from Tkachuk. 1-0, bad guys, a PPG, with 3:58 left in the first period. Nothing Igor could do here.
And if you're keeping track, yep, you guessed it, Trouba was on the ice, as he continues to hone his craft of pretending to be a deer-in-headlights. No one does it better. Heck, with Jagermeister (whose logo is a deer) being one of the Rangers sponsors – perhaps Trouba could become their spokesman.
As we surpassed the two-minute warning, Adam Fox made a hell of a highlight reel play, almost rivaling McDavid's goal from last night, when he got the puck, took his time, walked it in, made his move and then backhanded one past Markstrom. 1-1, or so we thought. Upon replay, it was obvious that Sammy Blais was off-side and clearly at that.
And yes, as I always say whenever one of these plays/reviews happen, no matter the team, I hate these calls. This offside had nothing to do with the goal. Yes, this was the correct call, but these ticky-tacky calls are horrible for the game. However, you can't be mad about the Flames for taking this highlight reel goal off of the board.
The worst part about this? With this erased goal, this ultimately snapped Fox's point streak. And while reflecting, this was pretty much the turning point of the game too.
After twenty minutes, we remained 1-0 bad guys, where once again, Igor had the heavier workload than his counterpart, as the Flames had a 9-7 SOG advantage.
---
The second period was a disaster.
Thirty seconds into the period, Mika showed us that he had a pulse and was playing, where once again, he shot wide. Right after, Kaapo Kakko, during the only shift where he seemed to be offensively-oriented, stuck with a puck, made a play and got a SOG – right into the center of Markstrom's chest. That would be it for Kakko offensively in this game, where Sam and Joe then tried to cover up for him, by raving about his great defense (-1 on the night.)
After a lot of big hits from both sides, it was K'Andre "Remember when they called me a PRAYING MANTIS?" Miller shooting wide, where you have to wonder if he was blind-folded when shooting. In turn, Rosen raved about the shot.
During an odd-man rush, Ryan Strome had the net all to himself, but instead of shooting and perhaps going for a "puck on pads" play, opted to stop, let Markstrom regroup and then fed a trailing Chris Kreider, where Kreider, like most of these Ranger shots on goal, found the crest of Markstom's jersey.
Jacob Trouba, who I imagine even wears a ski-mask when his check is direct-deposited, then collided with Lafreniere in the offensive zone. This led to a turnover, which Igor cleaned up, denying Dube of a sure-goal. After the freeze, Igor was forced to make another save, as Mika lost another defensive zone face-off. It never ends.
With 12:51 to go, Nemeth was sent to the box. The Rangers would actually kill this penalty, but seconds following the kill, Brad Richardson got his first goal of the season (of course), scoring on a rebound with 10:43 to go in the period. 2-0 bad guys.
Speaking of bad guys, Jacob Trouba was worse than ever here, where he stood next to Igor, and may as well have had a cigar in one hand and a cognac in the other, as he stood like a statue and watched. Seriously, no one has seen more opponent goals than Trouba this season. Islander fans must be jealous of the guy.
Seriously, can't Trouba slam a penalty box door or something? Maybe he can tweet out "Let's Go Brandon"?
With 8:40 remaining in the second frame, and in a rare display where Trouba wasn't out there with his thumbs two feet into his coolie and touching his intestines; Johnny HOCKEY (it's spelt G-A-U-D-R-E-A-U Joe, and not G-O-O-D-R-O-W! No joke – Rosen really said this last broadcast), gave the Flames a three goal lead, scoring a tap-in goal while Fox, Kreider and Lindgren were in Igor's paint. 3-0 bad guys, and one of those puck luck goals, where the Rangers weren't holding a lucky lottery ticket here.
Right after this, the Flames came a pubic hair away from going up 4-0. Instead, they'd have to wait for the third period for that to happen.
It was also at this time, where it was abundantly apparent that the Rangers top stars (once again, and after being embarrassed by McDavid and Draisaitl last night), couldn't hold a candle to the opponent's superstars.
With 7:31 remaining, the Rangers got another power-play, when Hunt drew Richardson for a high-stick. Of course, the Rangers power-play failed again, where in a new wrinkle, they did this Washington Generals act, where they shot every puck wide rather than putting it on net.
For good measure – Trouba turned over the puck in the offensive zone as the power-play expired. At least he's consistent – although he's consistently awful.
At this time, I remarked on social media that the Rangers needed a fight to get them going. That would happen, as Tinordi traded dukes with Erik Gudbranson, where there was no winner, as both men threw hands for about a minute, before the refs stopped it and before either man could drop to the ice.
What started this, was a Ryan Reaves penalty, when he hit Mangiapane in the head, as the man in red went low. This was an accident, but that didn't stop the "Hockey Night in Canada" broadcasters from crying about this, as tears dripped down their faces, while asking for Reaves to be suspended.
Goodrow was the best player during this Rangers PK, but it were the Flames with a 3-0 lead after two periods.
---
Down 3-0, and already victims of blowing back-to-back multi-goal leads in third periods, I was hoping for a role-reversal and a Rangers comeback. Fat chance.
Just 42 seconds into the period, Oliver Kylington high-sticked Adam Fox, which gave me hope of a Rangers goal at the time. This was the best Rangers power-play of the game, but Markstrom was better, stopping a point-blank shot out of Fox and then making a highlight reel glove save on a Strome rebound. Once Markstrom made those saves, and once this Flames PK was successful – you knew this game's result had been decided.
6:42 into the period, Gaudreau pretty much sealed the deal, if it wasn't sealed and delivered already, beating Igor on a shot that Igor would most likely want back. 4-0, bad guys. At least Sam, as usual, flubbed the call, shrieking out, "IT'S A SAVE, OH NO, IT WENT IN JOE." That gave us something to laugh about too – during this Flames laughter of a win.
With 6:47 remaining, Milan Lucic scored, after a puck deflected off of Nemeth and went over Igor's glove. 5-0, bad guys.
If that wasn't bad enough, with 5:07 to go, Matt Tkachuk did his Patrick Kane "hands" impression, made a move and beat Igor. Pure goal scorer's goal. 6-0 bad guys, and all that was left to do was play out the clock.
6-0 Flames, your final. If you stayed up for this one, you're a true fan.
---
As stated, while I'm rooting for the Rangers to win (duh), I wouldn't be shocked if the Rangers get annihilated again on Monday. However, come Saturday, no more fooling around.
Sorry for shitting on the team so much tonight, but what else am I supposed to say? This game was a severe embarrassment, with not one silver lining to find.
---
If you haven't already, subscribe to this blog for the next update:
---
Up next: Rangers vs Panthers on Monday, where I expect M$G to be half-empty. Enjoy your football Sunday, which I know is impossible if you root for one of the teams that call "MetLifeless" home!
Stay FABULOUS my friends.
As always here, thanks for reading and…
LET'S GO RANGERS!
Sean McCaffrey
BULLSMC@aol.com
@NYCTHEMIC on Tweeter