Greetings and salutations everyone and welcome to another blog here on BlueCollarBlueShirts.com. That was freakin' horrific.
Before beginning, I have to thank all of you for the overwhelming feedback to last night's blog (usually weekend postings don't fare well from a site traffic perspective, but for whatever reason, this one did).
And in case you missed my "The Top Twelve Most Hated Villains of Rangers' History (And Ten "Dishonorable" Mentions Too)," you can find it here: https://bluecollarblueshirts.com/11522/
(Several of you guys and gals also said this would be a good book idea. And the biggest name that many of you thought that I omitted? Derek Sanderson. However, I had to draw the line somewhere!)
Furthermore, if you missed last night's blog, you may want to read it before proceeding, because I can guarantee you this – Saturday night's posting was much more entertaining and livelier than tonight's blog.
(I can only work with the material I'm given!)
In fact, before proceeding and reviewing the Rangers' Sunday night sordid affair against their Original Six rival, the Detroit Red Wings; let's fast-forward to the final camera shot that the M$GN provided for us:
Jaro Halak not happy, destroys his stick, after the OT loss #NYR pic.twitter.com/2NH4KcdbCV

— Rob Taub (@RTaub_) November 7, 2022
---
If anything personifies the age-old adage of "actions speak louder than words," then it's Halak's multiple stick slams following Dominik Kubalik's game-winning power-play goal scored in overtime.
Heck, I think it's safe to assume that Halak spoke for every resident of Rangerstown, USA with this act of frustration.
There's a lot of finger-pointing to go around tonight, but don't get it twisted – not one finger should be pointed at Halak. However, there are a few middle fingers to throw around!
For whatever reason, and mainly because Halak currently has an 0-3-1 record – some fans are jumping on the $1,500,000 back-up goaltender. Not me.
For the people who are criticizing Halak, I have to wonder if they even watch these games. It's not like this is a case of Marty Biron or Ondrej Pavelec.
Once again, Halak played well. His team, sans fifteen minutes or so, did not.
And unless you had your head buried in the sand, then you know this is true – if it wasn't for Halak – then the Rangers wouldn't have even came out of this mess with a point in the standings.
As someone who tries to give you the glass half-full perspective, if there was anything positive tonight, outside of Kaapo Kakko, Adam Fox and Halak himself, it's this:
There are a lot of negative vibes circling around the Rangers and their fan base right now, where following Gerard Gallant's post-game interview – these floodgates have every right to be open.
As mentioned many times before on this site – once a head coach criticizes his team – it then gives the fans the right to do the same.
Put it this way: if you're familiar with my writing style and the format of these game review blogs, then you know that I never jump right to the post-game.
However, I have to break the mold tonight, because really, and for the first time since he took over the Rangers' bench, not only did Gallant sound despondent and without answers – the head coach also called out his players and the officials:
---
Yes, "it's only game and blah blah blah," and yes, "it's still early" too; but as someone who has watched every interview that Gallant has ever done since becoming the head coach of the Rangers – I've never seen him in this way before.
As you can tell from the video above, Gallant seemed like a man without answers, especially whenever asked about his struggling and under-performing squad.
He wants them to play fast, but that's not working. He wants them to play physical, but that's not working either.
And trying to stay healthy? Forget about it.
The power-play, the second-biggest reason for the Rangers' success last season (CZAR IGOR being the first), has mainly been hit-or-miss, where more times than not – it's been a swing-and-a-miss.
And as mentioned numerous times on this site – you never hear Gallant call out his players.
While admittedly, the black-and-white quote looks far worse than in the fashion and tone that "The Turk" delivered it; the fact is he did say the following, when talking about Chris Kreider and his third period demotion to the fourth line:
"He deserved to be where he was at… but he wasn't alone."
Those four words, "but he wasn't alone," gives Gallant an out.
At the same time, it was Kreider who was punted to the fourth line. Not Mika Zibanejad. Not Artemi Panarin. Not Vincent Trocheck. Not Alexis Lafreniere.
Not Kaapo Kakko either – who out-played all five of these top-six players tonight.
And to give you the whole story, as the sect of Kreider haters that parade the streets of Rangerstown, USA will ignore this fact – come the overtime, Gallant opened the bonus frame with Kreider, Zibanejad and Fox.
During the overtime, K'Andre Miller took a penalty, one that looked blatant (to his credit, and more on him in a bit – even Sieve Vagistat blamed #79 for this boneheaded infraction), but Gallant, and again, for the first time during his tenure – called out the officials for the call when he said:
"I thought it was a bad call."
We'll see if that opinion earns him a fine, as the NHL is strict about their head coaches criticizing their inept officials.
---
Due to Gallant's words and actions – I think it's safe to say that some people will paint Kreider as the goat for this loss.
And while Kreider does deserve some of the blame, and just like the head coach said – he wasn't the only one to stink up the joint.
For all of Mika Zibanejad's power-play success – he still hasn't scored an even-strength goal after thirteen games played. And winning only four of sixteen faceoffs tonight didn't help matters either.
Artemi Panarin, aside from assisting on Mika's power-play goal tonight, was feckless in a game that the Rangers should have dominated.
Vincent Trocheck, who does get a lot of scoring chances, seemingly has 99% of them either blocked, shot high or deposited right into the webbing of the opposing goaltender's glove.
Jacob Trouba and K'Andre Miller, broken up tonight (check out last night's blog for more), didn't look hot at all, where #79 was much worse than #8.
While you really shouldn't get on the fourth liners for a loss – I still don't know what Ryan Carpenter does here.
Sammy Blais, still trying to find his game after missing nearly a year of action, doesn't provide any offensive pop.
For all of the money that the Rangers have tied-up with their big name players, what does it say when Kaapo Kakko (5 SOG), Jimmy Vesey (4 SOG) and Julien Gauthier (3 SOG) were your team-leaders in the SOG department?
Yes, there are high hopes for Kakko, but let the other two sink in.
Vesey made the team after a successful PTO. If it weren't for the never-ending injuries – Gauthier wouldn't even be here in the first place.
---
While you can't go by what the Vegas odd-makers say (after all – the house never loses – gamblers do); what does it say when the Rangers couldn't handle business against a middle-of-the-road team, especially with these following advantages:
— The Red Wings played 24 hours prior and had to fly from Detroit to New York.
— The Rangers had two days off prior to this game.
— The Red Wings started their back-up goalie, Alex Nedeljkovic, who has horrific numbers this season (recapped last night).
— The Red Wings had to listen to jackhammers and excavators humming all day, first starting at 6AM.
In turn, the Rangers entered this game as -267 favorites. And again, while gambling means nothing – whenever the Rangers have been heavy favorites this season – they always find a way to lose.
---
While yes, the Rangers received one point in the standings because of their goalie – when do all of these pissed-away points start adding up? I guess we'll know for sure come April 2023.
I know I received some criticism following the San Jose and Columbus games, where some of you guys & gals thought that I was overreacting.
How do you feel now?
And what's the answer to fix this mess? As Gallant said, "I don't know."
What I do know is this – with each passing year, and because of the hard salary cap – the NHL's ultimate goal of league-wide parity gets tighter-and-tighter with every season.
While you can't live in the past, and moan & groan about the departures of Andrew Copp, Tyler Motte, Frank Vatrano and Justin Braun; both the name-brand Rangers, and the young talent that was hoped to pick up the scoring for the recently departed, have not lived up to expectations.
And with the Metropolitan Division arguably better than ever before – the Rangers have to right this ship – and they have to right it fast.
Yes, the Rangers are in third-place, but they easily should be in first. (Again, I can't shake those losses to the Blue Jackets and Sharks – but one day – I hope to get over it!)
Furthermore, last season, this team pretty much had a playoff spot sewn up by January. They officially clinched with nearly three weeks to spare.
While I'm not saying to rip up your tickets and cancel the parade; I am saying that this season is shaping up to be much more grueling than last year's campaign, where these pissed-away points will be the difference between home ice and perhaps a favorable first-round match-up too.
With that all out of my system, let's now talk about this 3-2 loss, a debacle in its truest form.
---
I gave you both a preview and the rundown of the line-up and current injuries last night. Check that blog out if you missed it. In turn, here was tonight's line-up, a line-up that changed during the third period (full details in the GAME REVIEW segment):
FIRST LINE: Kreider/Mika/Kakko
SECOND LINE: Panarin/Trocheck/Lafreniere
THIRD LINE: Vesey/Chytil/Goodrow
FOURTH LINE: Blais/Carpenter/Gauthier
FIRST PAIR: Miller/Fox
SECOND PAIR: Jones/Trouba
THIRD PAIR: Hajek/Schneider
STARTING GOALIE: THE HALAKNESS MONSTER
BACK-UP GOALIE: CZAR IGOR
---
BOX SCORE time.
The following graphics and information come from ESPN.com:
SCORING:
PENALTIES:
TEAM STATS:
GOALIES:
| | | | | | | | | | | |
| --- | --- | --- | --- | --- | --- | --- | --- | --- | --- | --- |
| SA | GA | SV | SV% | ESSV | PPSV | SHSV | SOSA | SOS | TOI | PIM |
| 29 | 2 | 27 | .931 | 26 | 1 | 0 | 0 | 0 | 62:20 | 0 |
| | | | | | | | | | | |
| --- | --- | --- | --- | --- | --- | --- | --- | --- | --- | --- |
| SA | GA | SV | SV% | ESSV | PPSV | SHSV | SOSA | SOS | TOI | PIM |
| 36 | 3 | 33 | .917 | 24 | 9 | 0 | 0 | 0 | 62:43 | 0 |
---
Since Henrik Lundqvist made the right decision and skipped this game – I also made the right decision and skipped the M$GN pregame show.
However, before I could find my remote and flip back to the NFL Redzone channel; I heard Sieve Vagistat bring up his legendary career – again. Thankfully, I found my remote and got the hell away from the seven-foot jackass.
And to skip ahead before getting into the GAME REVIEW; during every intermission and post-game segment that the Clairol King was involved in, he must've said "east-west passing" no less than 7896955678678567856785 times.
At one point, this braying donkey, who is trying to push these "east-west" passing stats to the foolish marks who will sell for his bullshit, was trying to make a mountain out of a molehill regarding Zibanejad's first period power-play goal.
It made me wonder – has Sieve Vagistat ever seen Alex Ovechkin play hockey before? Or is his head so far up his five-hole that he's never seen "The Great Eight" whenever the Capitals have a power-play? (And you can use Steven Stamkos as an example here too.)
And I'm not making the following up either:
For what feels like the 897678968796789789678967896th time since this arts-and-crafts, charts & graphs, bozo became an ANALyst on the M$GN – he once again brought up his bloody groin from his playing days.
One, he's repeated this story, that only he finds funny, too many times to count. Not even John Giannone, in the role of Robin Quivers, is laughing.
Two, no one wants to hear about his crotch.
Three, the Rangers just lost a terrible game, and this is his expert "ANALysis?" Talking about his groin?
Four, what did any of this have to do with the game itself?
I could go further about this, and make an Artie Lange inspired joke, where I question how Vally even has a job on the M$GN – but I'm too classy for that.
However, he remains brutal. Give Dave Maloney the gig.
GAME REVIEW time.
---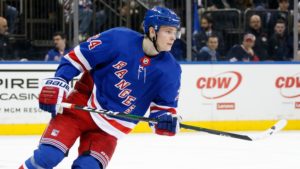 FIRST PERIOD:
In something else that I've said a lot this season, even as many times as Sieve Vagistat brings up "east-west" passing, it's this – "it wasn't all bad."
The Rangers played a great first period, but for whatever reason, whether Detroit found their legs after these first twenty minutes or what – the Blueshirts quickly folded like a cheap Vagistat suit.
In a trend that began at the start of the contest and then lasted through the very end – Dylan Larkin won the game's first faceoff over Zibanejad. Larkin won 18 of 26 faceoffs tonight for a winning percentage of 69.2%. Zibanejad finished at 25%.
(And since I was hard on him earlier, I should mention that Carpenter finished with 10 wins in 12 draws tonight, for a game-high faceoff winning percentage of 83.3%.)
In one of his routine daily jinxes, although this one wouldn't come to fruition until the end of the game; Sam Rosen mentioned that in Detroit's six wins, they've only given up five goals. The Rangers scored two tonight – woo-hoo!
Austin Czarnik, playing for the injured Filip Zadina (Sam and Joe spent about ten minutes reading the laundry list of Red Wing injuries – the usual – as they love making excuses for the other team), almost scored a minute into the game, but as would be the case all night – Halak was rock-solid.
2:45 into the game, Julien Gauthier, who has no fear of contact, drove to the net. Ned made the save on this shot, but Gauthier was slashed by Filip Hronek.
In other words, no less than three minutes in, the Rangers had a power-play and a chance to go-ahead.
They didn't – at least not yet.
Ned stopped two Zibanejad one-timers (EAST-WEST PASSING – OMG OMG OMG!), while the Red Wings blocked three other Ranger attempts – where blocked shots also became a story tonight. The Wings blocked 22 in all, where nine of these denials took place within the first eight minutes of this game.
Since it's the Rangers' way; once failing on the power-play, they took a penalty themselves, when at the 5:04 mark, Trouba was boxed for holding the stick of Lucas Raymond.
In another theme from this contest, the Rangers' penalty kill was absolutely atrocious (GET WELL SOON LINDGREN), but Halak was in the zone. In turn, #41 was the team's best PKer, where he was officially credited with nine short-handed saves in total, where in my opinion, he should've been credited with eleven.
On this PK, Halak made four huge stops to keep this game scoreless. I also counted a fifth save during these two minutes, but for whatever reason, the official scorers' didn't credit Halak for an initial save, where the puck then hit the post after making contact with Halak first. (In other words – this wasn't a true <ding>.)
Long story short – Halak was a beast on this penalty kill.
Once returned to full-strength, Trocheck, from a foot away, shot a puck dead-center into Ned's glove. On the next Rangers' possession, Miller drove to the net but lost the handle at the last second.
Then, with 10:46 remaining, this happened:
Kakko with the patience and the Finnish 🙌 pic.twitter.com/9wgFvJGWoj

— Rangers on MSG (@RangersMSGN) November 6, 2022
---
1-0, GOOD GUYS, as Kakko collected the loose change and buried a puck after a broken play.
On this goal, Trouba blasted a puck at Ned (good things happen), Kreider got the rebound, Kakko retrieved the puck, and boom, just like that.
And while nearly everyone on this team needs to pick up their scoring – this goal had to feel great for Kakko. He's been playing well all season, even if his scoring statistics won't suggest as much. That's why the EYE TEST > ANALytics.
Of note – this was Kreider's 200th assist of his career – a fact that he won't be able to enjoy after tonight's mess.
As the two goalies continued to exchange saves (both played extremely well tonight, where I wouldn't blame either one for the five total goals allowed); the Rangers honored "OLD FRIEND" Andrew Copp, but for whatever reason – M$GN declined to show this "Thank You" video to us. Instead, Henrik Lundqvist, worth over $100,000,000, and his Caesar ads, was considered to be more important by the network.
With 4:09 remaining, Ben Chiariot committed one of the dumbest and most blatant penalties of all time, when he intentionally cross-checked Sammy Blais from behind. You could've called boarding, roughing, unsportsmanlike conduct, cross-checking, and about a thousand other things, but the officials decided on "interference."
Sixty-five seconds into the Rangers' power-play, Zibanejad, on his third one-timer of the game (EAST-WEST PASSING, OMG OMG OMG!), buried a puck following a feed from Panarin:
like clockwork 👌 pic.twitter.com/H5KeZ0fRrv

— Rangers on MSG (@RangersMSGN) November 6, 2022
---
2-0, GOOD GUYS!
Two things to note here:
One, this was Zibanejad's second SOG of the game. He'd never put another shot on goal for the remainder of the match.
Two, sans the saves that Halak would later make – this was the beginning of the end.
Just as was the case earlier in the game, when the Rangers first had their power-play; with 2:30 remaining, Chytil hooked Perron, thus reciprocating and allowing the Wings to go back on the power-play.
Once again, Halak was the best penalty killer. Depending on how you feel about his work from the third period, he made the best save of the game during this particular penalty kill:
WHAT A SAVE! pic.twitter.com/98xRLcNzTz

— Rangers on MSG (@RangersMSGN) November 6, 2022
---
Yeah – sometimes it's better to be lucky than good – but Halak was in the correct position and all Raymond could do was fire a puck into the right pad, following this near-perfect tic-tac-toe play.
2-0, GOOD GUYS, after one period. Who knew at this time that not only would the Rangers blow the "dreaded two-goal lead," but that they would completely unravel once the intermission hit.
Here's what I said in real-time:
2-0, GOOD GUYS, after 20. 1P Thoughts:
— I feel validated with all of my Halak opinions – give him some goal support and he'll be fine. He's my first star thus far.
— #NYR PK is abysmal despite 2-2. Lindgren's absence is apparent.
— Time for Mika to score 5 x 5.
LGR!

— BlueCollarBlueShirts (@NYCTheMiC) November 6, 2022
---
SECOND PERIOD:
This period was a complete fiasco, and I just don't understand how the Rangers fell apart.
Yes, the other team is paid to play hockey too – but even so – the Rangers looked absolutely lost during this middle frame.
After Zibanejad lost another faceoff, come the next Rangers' possession, Panarin made one of his patented cross-ice passes to nowhere.
Come 17:25 remaining, Chytil had Schneider set-up for a perfect one-timer, a shot that had 3-0 written all over it, but the 2022 Calder Trophy winnner, Mo Seider, broke it up.
I haven't brought up Chytil and his return yet. That's probably because he wasn't too noticeable, as he tries to recover from the 8767868976796th injury of his career.
More times than not, it takes him a few games to get back to where he was, before getting injured again. Let's hope this time, he can stay healthy for a substantial amount of time (as he was during the 2022 Playoffs and at the start of this season).
At just the 2:56 mark of the period, and with Halak screened; Chiarot fired a shot from the center of the Rangers' blue line (NORTH-SOUTH OMG OMG OMG – maybe Vagistat should carry a compass with him), and at the last second, Matt Luff deflected the puck past Halak.
2-1, good guys, where I don't think that Luff's deflection even mattered. This had seeing-eye goal all over it.
As Trocheck missed the net, and as another Trouba Bomb was swatted away; Halak then stopped Seider with 13:15 remaining.
As the period progressed, this much was evident – the Rangers looked like the team that had played 24 hours prior. Whatever momentum and mojo they had during the first period evaporated like ice cream on a hot summer day.
At the 8:37 mark of the period, and following an elongated Rangers' attack (about 45 seconds or so) from the first line; Detroit immediately marched up ice, watched Kreider, Zibanejad and Kakko make a poor change, and then enjoyed a 3 vs 1 odd-man rush.
To his credit, Halak denied two shots during this, but also gave up rebounds. On Detroit's third try, Pius Suter scored.
2-2, two-goal lead gone just like that.
With 10:42 remaining, the officials made a god-awful call, when they decided to bang Fox for interference. He wasn't even moving and Chiarot had skated into him. No matter for these zebras.
Again, Halak remained as the team's best PKer. The only time the Rangers received clears here is whenever Detroit shot the puck high or wide, which in turn, led to ricochets out of the zone.
For whatever reason, with 7:37 remaining and a TV timeout ahead; Sam and Joe praised the work that Brennan Othmann is currently doing in the OHL. This was just a reminder that Vitali Kravtsov took a roster spot from him and how stupid and archaic the current NHL rules are in regards to age restrictions.
Following Panarin fumbling a perfect pass delivered to him from Trocheck; Chiarot tackled Kreider with 6:45 remaining. No call.
To quickly recap – a stationary Fox received an interference penalty four minutes prior. Chiarot tackles Kreider to the ice and this infraction was ignored. You can see why Gallant blew up a bit at the officials tonight.
Following a decent shift from the fourth line and the Miller/Fox pairing (but no SOG); Detroit soon got the puck, which led to Kakko breaking up a Wings' 3 x 2 odd-man rush.
Finally, as this period felt like it was an hour long, due to multiple goalie freezes, icings, offsides and other calls that earn whistles (except for Chiarot's attack on Kreider), we remained tied at two-all.
Here's what I said at the time:
2-2 after 2. 2P Thoughts:
— That period could've put a raging cokehead to sleep. Very long and very boring.
— Complete 180 from 1P.
— SOG 24-18, FO 18-17 #LGRW; Hits 15-14 #NYR — Wouldn't pin either goal on Jaro
— Kakko best Blueshirt forward.
— -267 favorites lmao!

— BlueCollarBlueShirts (@NYCTheMiC) November 6, 2022
---
THIRD PERIOD:
After one of the worst periods of the season, this is when Gallant made all of his changes, as "The Turk" went with this:
FIRST LINE: Panarin/Mika/Kakko
SECOND LINE: Vesey/Trocheck/Blais
THIRD LINE: Lafreniere/Chytil/Goodrow
FOURTH LINE: Kreider/Carpenter/Gauthier
FIRST PAIR: Miller/Fox
SECOND PAIR: Hajek/Trouba
THIRD PAIR: Jones/Schneider
However, I think Jones played just one shift during this period and that was that.
I don't know what Jones did that Gallant didn't like, because outside of Fox, no one looked particularly good.
In turn, Fox was double-shifted and played a career-high 29:38.
There are two ways to look at that figure – it's a testament to Fox's durability, but at the same time, you do run the risk of burning him out early into the season – not a good thing – especially with Lindgren out.
---
With the lines all scrambled and mass confusion abound; just 2:22 in, Czarnik blew by four Rangers. Once again, Halak bailed out his team.
As Micheletti kind of took shots at Kreider and continued to repeat that it's a shame that Halak hasn't had much help in any of his starts; the goalie made another save. However, Halak wouldn't really be tested again, that is until the end of the game.
Down to 15:54 remaining, Panarin had Ned fooled out of his jock during a wrap-around, but despite the net being vacated – Panarin elected not to shoot, and forced a pass for another turnover instead. It's not a surprise that he only finished with one shot on goal.
A minute later, Gauthier went to the net, and as he was about to score; Chiarot crushed him with all of the force of a TROO TROO Train hit. This hit was legal. It was also a hit that would've sent Kravtsov to the ICU.
(Gauthier never whimpered and remained in the game. In fact – Chiarot, and not Gauthier, was hurting after this collision.)
Down to 13:45 remaining, and this was sad to watch – the big Miller hit the smaller Copp. The result? Miller bounced off of Copp. That's one way to keep those Willie Huber comparisons alive.
As we hit 12:30 remaining, Trocheck had a mini-breakaway. Rather than skating closer to Ned, he shot from a distance – an easy save for the red-and-white goalie.
As Kreider, Gauthier, Trouba, Vesey and Chytil went wide; now under ten minutes remaining, Ned stopped a shot on goal – off of the blade of Kakko – as the Finn looked like he was single-handedly trying to will his team to victory.
Now approaching the FOXWOODS FINAL FIVE mark, Sam Rosen had an orgasm when talking about the Liberty jerseys, as the Rangers will wear those cursed threads against the Isles on Tuesday. I'm sure that will work out well.
The rest of this period was similar to what we saw at the start of the game.
Halak made two game-saving denials, first stopping Kubalik on a breakaway and then saying no to Hronek, who was camping in the blue paint, following a pass made by Copp.
The Rangers may have played better during this final frame, but if it wasn't for Halak, they would've never had the chance to finish with the loser's point tonight.
2-2 after sixty.
Here's what I said at the time:
Tied at 2 after 60. 3P Thoughts:
— Both goalies have been great. Halak with three lights-out saves.
— At least #NYR gets a point here, but they should've had two by now.
— Kakko remains as the best forward.
LGR!

— BlueCollarBlueShirts (@NYCTheMiC) November 7, 2022
---
OVERTIME:
Following Panarin, Kreider, Mika and Trocheck doing nothing but turning over the puck; just 1:44 into the overtime, Miller held Perron's stick. This was the penalty that Gallant was upset about, but I don't know – I thought this was a valid call.
If there was anything to be steaming over, it was the fact that during the Wings' delayed attack prior to the Rangers touching up; it was that Perron was able to waltz into the Rangers' zone and then deliver a spinorama shot – while all three Ranger skaters watched. Halak made this save – but this scoring chance should've never happened. LAZY.
Following a Detroit timeout to set-up their 4 x 3 power-play; Perron found Kubalik all by his lonesome, standing in Halak's paint, for the easy tap-in game-winning power-play goal.
3-2, bad guys. 3-2, bad guys, your final.
YUCK.
And oh yeah, I should mention this – at the Rangers' request, the officials double-checked this goal for offside. No less than five seconds later, the officials signaled good goal.
Game over.
---
I don't want to keep wallowing in the misery here, so real quick:
Following the game, Zibanejad gave an interview where he sounded choked up and on the verge of tears. That wasn't a good look. I get he's in the moment and all, but he sounded like a defeated man.
Jacob Trouba spoke and just gave generic statements, where he sounded robotic. In a way, I guess Mika's interview was better, because you felt how much this loss hurt him.
I recapped Gallant's interview at the top of this, so no need to reiterate what he said.
The Rangers will practice tomorrow, but due to a lack of roster options – it's tough to figure out what changes can really be made.
I guess the biggest change would be a tinker of Gallant's top-six, where maybe he puts Mika and Panarin together – a combo the head coach always goes with whenever chasing a goal – and as we saw tonight – the Mika/Kreider BFF bromance be damned.
Up next is the final game of this four-game home-stand, where as mentioned, the Rangers will host the Isles.
Once again, the Rangers will find the Isles in unfortunate circumstances, as the Islanders play Monday night against the Flames, which means that the Rangers will catch the Islanders on the second half of a back-to-back. However, does that even matter?
The Rangers haven't beaten a team on the second-half of a back-to-back all season. And the fact that they will be wearing those wretched Liberty jerseys? I don't care if they are a -10000 favorite – outside of my usual 4-0 bet – I'd stay away.
Monday's practice should be interesting.
And before closing, and in another personal update – I'm waiting for my new 3PM-11PM work-shift to begin. Hopefully that begins on Wednesday – as I don't want to miss a Ranger/Islander game – even if the Blueshirts are in deep doo-doo right now.
PLUGS TIME!
---
My first plug of tonight's blog – the mandatory plug for my book, "The New York Rangers Rink of Honor and the Rafters of Madison Square Garden."
As mentioned previously, the book is now available in hardcover, in paperback and in Kindle formats. To purchase a copy of the book, visit this link:
https://www.amazon.com/Rangers-Rafters-Madison-Square-Garden-ebook/dp/B09CM5N2WD
For those still looking for signed paperback versions of the book, I have re-ordered more copies. I now have a few signed copies for sale at $25 a pop (includes shipping price) through me directly. Here is all the information on that:
---
My four-volume set of books, "One Game at a Time – A Season to Remember," is a game-by-game recount of the Rangers 2021-22 campaign.
My second title as an author, "One Game at a Time – A Season to Remember," is now available in eBook, paperback and hardcover formats.
To obtain signed copies, visit: https://bluecollarblueshirts.com/onegamebook/
To purchase all four volumes on Amazon, visit: Amazon.com – "One Game at a Time."
---
"Tricks of the Trade – A Century-Long Journey Through Every Trade Made In New York Rangers' History," a four-volume set of books that meticulously covers every trade made in franchise history, is now on sale.
All four volumes of the title can be purchased on Amazon.com and are presented in three different formats – eBook, paperback and hardcover.
To purchase Volume I: Conn Smythe (1926) – Craig Patrick (1986), visit Amazon.com
To purchase Volume II: Phil Esposito (1986) – Neil Smith (2000), visit Amazon.com
To purchase Volume III: Glen Sather (2000-2015), visit Amazon.com
To purchase Volume IV: Jeff Gorton (2015) – Chris Drury (2022), visit Amazon.com
To purchase signed copies of all four volumes, visit https://bluecollarblueshirts.com/tricksofthetrade/
---
Here are my last few blogs, in case you missed them:
---
---
---
If you haven't already, subscribe to this blog for the next update:
---
Don't forget to order my new four-volume set of books, "Tricks of the Trade!"
If you don't order through me, all four volumes are now available on Amazon.com
For more details, check out: https://bluecollarblueshirts.com/tricksofthetrade/
Thanks for reading.
LET'S GO RANGERS!
Sean McCaffrey
BULLSMC@aol.com
@NYCTHEMIC on the Tweeter machine