Greetings and salutations everyone and welcome to another blog here on BlueCollarBlueShirts.com. Have you forgotten about Thursday night's loss to Boston yet? I know that I'm still trying to!
And I'm not even kidding – the recent Rangers' malaise (if you can call a 6-4-2 record a "malaise"), is now receiving league-wide attention.
In a way, that's a good thing – that means that most pundits and hockey people believe that the Rangers should be a Stanley Cup contender. They just haven't been playing like one – yet.
Even a former Ranger, John Scott, is one of these critics, as the alum suggested on his own "Dropping The Gloves" podcast that Blueshirts' general manager, Chris Drury, should immediately trade both Kaapo Kakko and Alexis Lafreniere!
Pump the brakes on that talk! I'm not even going to debunk such nonsense – it's not worth my time!
Instead, we'll talk about "Rangers' Reality" tonight.
As teased on this site last blog, the main event of tonight's manifesto will take a look at the most hated villains of Rangers' history – where admittedly – the recent booing of Tony DeAngelo was the "inspiration" for this now updated list.
However, before getting into this unofficial list of nefarious scoundrels; let's first catch up with the recent news from Rangerstown, USA.
---
Following four games played in six nights; on Friday, November 4th, the Rangers took the day off.
A day later, on Saturday, the Rangers reconvened in Tarrytown, NY for practice.
As expected, Ryan Lindgren wasn't at the practice. He still remains "day-to-day," where as you know by now – can mean anything.
If there's anything official about Lindgren's status, it's the fact that he wasn't placed on the injured-reserved list.
While head coach Gerard Gallant (Saturday's "TURK TALK" is posted below) didn't 100% rule-out Lindgren for Sunday; it's highly doubtful that #55 will be in the Rangers' line-up for their late matinee tilt with Gallant's former team, the Detroit Red Wings.
As noted about 97867867868767969 times before on this site, general manager Chris Drury, and his goal of trying to accrue extra cap space all season via a 22-man roster – that dream has become a nightmare.
Due to injuries, Drury has only been able to bring his club down to 22-men for a time-span of only 48 hours. (And no matter what you think of him – Drury lost Dryden Hunt in the process too.)
In fact, Gallant, during his Saturday talk with the media, brought up the recent rash of Ranger injuries, where the bench boss also said that during his tenure in New York thus far, he's never experienced so many injuries before – especially not this early into a season.
As we approach the one-month mark of the season, for the Rangers, it's been a never-ending case of "one-step forward, two steps back" – as anytime one player is ready to return, it feels like two other players are contending with ailments.
This remained the case on Saturday, as Filip Chytil is now ready to return, while both Lindgren and Vitali Kravtsov remain out.
Speaking of the returning Rangers' center (and man, oh man, is his return welcomed), here's #72 following Saturday's practice:
---
As you can tell – Chytil is ready to get back on the ice.
While Gallant said that he was still waiting for the medical staff to clear Chytil (where it was implied that Gallant was just waiting for official confirmation from the doctors); it would be a shock if #72 doesn't play on Sunday.
The practice itself was a strange one, at least from a line-up aspect.
With Ryan Lindgren absent and Jacob Trouba out for maintenance (it does feel that the captain has already missed a lot of practices this season – and I'm not saying that as a criticism – I'm just saying it's something worth noting); right-winger Ryan Reaves filled-in for the defense.
Kravtsov, who like anyone else injured in the NHL, as no one knows with 100% certainty what's currently plaguing him; #74 returned to practice, albeit wearing a non-contact jersey.
Too bad he can't wear a non-contact jersey during the games – it would save him from some pain and headaches.
In other words – Kravtsov is nearing his return, but will most likely remain out on Sunday.
Due to the injuries and players not available for practice, here's what Gallant went with during the morning skate:
FIRST LINE: Kreider/Mika/Kakko
SECOND LINE: Panarin/Trocheck/Lafreniere
THIRD LINE: Vesey/Chytil/Goodrow
FOURTH LINE: Blais/Carpenter/Gauthier
FIRST PAIR: Miller/Fox
SECOND PAIR: Jones/Schneider
THIRD PAIR: Hajek/Reaves
Here's what Gallant said after the practice:
---
Gallant made it clear, without saying these words verbatim – Reaves isn't in the old Brendan Smith situation, when #42, a natural defenseman, would play forward whenever needed. Instead, "The Grim Reaver" was just filling a spot for practice.
While not confirmed, it's expected that Reaves will be scratched for the second time this season on Sunday.
Defensively, Gallant was honest about his thought process.
"The Turk" said he would not consider the idea of moving Braden Schneider to his off-side, which is somewhat ironic, considering how he's used Lafreniere.
Of course, these are two different situations, but it's also worth bringing to your attention.
The head coach also brushed upon the topic of "staleness," where he said that of course, he doesn't want to see anyone injured, but at the same time – it allows him to get different looks and put together new pairings.
In other words, we may see a defensive pairing of K'Andre Miller and Adam Fox on Sunday, while Trouba teams-up with Zac Jones. (This also means Hajek/Schneider, a pair that's been used several times this season.)
Goaltending-wise, Gallant wouldn't tip his cap either way. Instead, and as he always does, he praised both of his goalies.
However, and this is just my opinion – I'd expect to see Jaroslav Halak start on Sunday, and then see an awaited BFF match-up of CZAR IGOR vs Ilya Sorokin on Tuesday, when the Rangers host their arch-nemesis, the Islanders.
---
The Rangers host the Detroit Red Wings, an Original Six rival, on Sunday.
On Saturday, goalie Ville Husso and the spoked-wheel shut-out the Islanders, 3-0, in Detroit. In other words, expect Alex Nedeljkovic (1-2, 4.96 GAA, .871 save percentage) to start against the Rangers.
And again, while this is opinion-based – whenever it comes to facing an opponent on the second half of a back-to-back, I rather play that team after a win, rather than following a loss (especially after a bad loss).
Hopefully, the Red Wings had a few pops on their short flight to New York – and then enjoyed a night out in the Big Apple too!
As far as who to look out for, captain Dylan Larkin leads the red shirts with 14 points in 11 games played. The 27-year old left-winger, Dominik Kubalik, also has 14 points in 11 games.
New addition, David Perron (and don't we all expect him to return to St. Louis at some point this season?), has played well with his new club, with 7 points in 11 games played. Hopefully this "7-11" player plays like a "slurpee" on Sunday!
Andrew Copp, following a slow start for his hometown team, is starting to pick it up a bit, as he now has 6 points in 11 games played.
Of course, the two young sensations in the Motor City, left-winger Lucas Raymond and the 2022 Calder Trophy winner, defenseman Mortiz Seider, are two players to monitor. Both players picked up a point in Saturday's win over the Isles.
The Red Wings, under g.m. Steve Yzerman, really focused on adding veterans to their roster this off-season.
While the "it's still early" disclaimer applies; the Red Wings are currently third-place in the Atlantic Division (6-3-2, 14 points.)
And for what it's worth, after Sunday's game, the two teams will rematch in Detroit four days later, on Thursday, November 10th. (Hence this extended look at the Red Wings.)
While the rebuilding Wings are over-performing thus far (especially when compared to the Rangers); the Blueshirts are a whopping -240 favorites – despite it being thought that Halak, and not CZAR IGOR, will tend the Rangers' net.
Of course, home ice, and the fact that Detroit is on the second-half of a back-to-back, are the two big reasons why the Rangers are such favorites.
It should be interesting to see how the Rangers come out tomorrow, especially since they've struggled with consistency during their first dozen games.
If the Rangers aren't scoring touchdowns against great teams, then they are struggling to score one or two goals against league bottom-feeders. Detroit is somewhere in the middle of the pack and the Rangers can't afford to give up another two points in the standings – especially under these conditions.
---
While it doesn't happen often (I really only go back and look at my predictions and report card grades, rather than anything else); sometimes, I do go back and reread what I've previously written on this site.
As mentioned last Tuesday night, when the Rangers hosted the Flyers, I was surprised to hear the vociferous boos that former Ranger, Tony DeAngelo, received from the Garden Faithful.
Let me clarify – I did expect to hear boos for DeAngelo – I just didn't expect to hear boos all game.
While I wasn't shocked that DeAngelo was initially jeered, especially after what we saw during the second-round of the playoffs last season; it did make me think about the following two things:
One, has there ever been a former Ranger to receive such a negative reaction, like the ones DeAngelo has garnered thus far, in all of franchise history?
Off the top of my head, Tom Poti (check out "Tricks of the Trade" for more on him) immediately came to mind. To a lesser extent, so did the names of both Wade Redden and Bobby Holik, but even then – they were nowhere as despised as both DeAngelo and Poti were.
Two, two years is a long amount of time.
Just look at DeAngelo for the evidence.
When I first wrote that top ten list over two years ago, DeAngelo was the fourth-highest scoring defenseman in the NHL and was primed to receive a new contract with the Rangers (which he did get).
We all know what's happened since, where for the purpose of tonight's list – the former #77 of the Rangers has worked himself onto it.
---
Before presenting "The Top Twelve Most Hated Villains of Rangers' History (And Ten "Dishonorable" Mentions Too)" list with you, a few disclaimers and qualifying statements:
— Not that I feel like I have to mention this for the 67867867896th time (but I never know when a new reader will find this blog/site) – as usual, this list is solely my own opinion and based on what I've seen and heard.
— (And if this list was just 100% true to me and my feelings, rather than considering how the majority feels – then Tony DeAngelo wouldn't even be on it and Sieve Vagistat would be number one! However, I'm compiling this list via a "popular vote," where voices of Ranger fans at M$G, and not on social media, speak the loudest.)
— Lists like these are used to drive debate and have fun with. What you're about to read next isn't the end-all, be-all. It's just a fun, or perhaps a heated way, to look at villains from Rangers' history.
— And now as a nine-time author (I'm working on a tenth book right now) – this idea, expanded to one hundred men, with detailed profiles too – would be both a fun and depressing book to write. Maybe one day!
---
Lastly, I want to preface this list by saying the following – as you'd expect, in the history of the Rangers, their most hated opponents are the New York Islanders, the Philadelphia Flyers, and the New Jersey Devils – where all of these geographical rivalries started after "The Great Expansion" of 1967.
While players from other franchises, such as the Pittsburgh Penguins, Chicago Blackhawks and the LA Kings make the list; for the most part, this list, and as you'd expect, is dominated by Islander, Flyer and Devil alumni.
(And if I ever turn this idea into a book – then you'd see more Canadiens, Leafs, Red Wings, Blackhawks and Bruins – the Rangers' oldest rivals – once intense battles that have waned over the years, due to NHL re-alignment/expansion.)
Without further ado, I present to you "The Top Twelve Most Hated Villains of Rangers' History (And Ten "Dishonorable" Mentions Too)."
---
DISHONORABLE MENTIONS:
Most of the names below have been previously covered on this site and in my two Ranger history titles (plugged below), "The New York Rangers Rink of Honor and the Rafters of Madison Square Garden" and "Tricks of the Trade – A Century-Long Journey Through Every Trade Made In New York Rangers' History."
Furthermore, there are many other names (and buildings too – like the Bell Centre in Montreal), that you can include below, but I just wanted to hit the biggest ones.
In turn, a quick blurb on each, and in an order of no importance:
— Bryan Trottier (Islanders/Rangers) – the former Islander-legend-turned-Rangers'-head-coach was never welcomed at M$G. He didn't even last a season in his new position, despite submitting then Rangers' g.m., Glen Sather, a hand-written note that was longer than one of these blogs! Once sacked, he never coached again.
---
— Glen Sather (Rangers) – the worst general manager in the history of NYC sports (Fifteen years and no championships). "Slats," who today, is still employed by Rangers' owner James Dolan (as a consultant – and also the man who is suspected of spearheading the firings of the previous regime); the successful (and Hall of Fame) g.m. of the Oilers never lived up to his big talk and reputation. In fact, Sather's best years in New York took place when forced to work under the constraints of a hard/fixed salary cap.
---
— Ted Green (Bruins) – when a team-president puts a bounty on your head, as former Rangers' president, William Jennings, once did in 1965, then you know that you're despised. Said Jennings on December 27th, 1965, following a Rangers/Bruins game that featured Green committing a bevy of infractions, "I think the Bruins have wild animals on their team. When bears run wild in Maine, the state declares a bounty for shooting the bear. I declare a bounty on Green."
---
— Blake Comeau (Islanders/Penguins/Blue Jackets) – now at 36-years old, the currently unrestricted free agent of 909 games played (he last played for the Stars during the 2021-22 campaign, six games in all), didn't really do anything that offensive, that is, except to become a Henrik Lundqvist killer. Aside from the brand names of the NHL (Sidney Crosby, Alex Ovechkin, etc), no one had more success against "The King" than Comeau.
---
— Red Kelly (Leafs/Red Wings) – the only reason why the Hall of Famer and eight-time Cup champion appears on this list is because he turned the Rangers down. In 1959, and following a clash with then Detroit boss, Jack Adams; "Trader Jack" sent Kelly to New York. Kelly said he'd rather retire than play for the Rangers. Instead, Kelly wound up in Toronto and then won four Stanley Cups.
---
— Maurice "Rocket" Richard (Canadiens) – similar to the recent names of today, Richard only appears as a mention because of his overwhelming success against the Rangers.
---
— Phil Esposito (Bruins/Rangers) – Unlike his peer and Hall of Fame teammate in Boston, Bobby Orr; during the height of the early 1970s Boston clubs, Esposito was a bit more cocky than #4. A two-time Cup champion, with one of those wins at the expense of the Rangers (1972), Esposito said he'd rather die than joining the Rangers in 1975. However, he eventually reported to New York, where he then questioned the team's commitment to winning (and he wasn't wrong either). While Esposito had success on Broadway as a player; his tenure as the club's g.m. was a tedious time, and where he earned his "Trader Phil" moniker.
---
— Bruce Boudreau (Capitals) – update – he can now hear Ranger fans!
---
— Alex Ovechkin (Capitals) – with the passage of time, I believe that more and more Ranger fans see Ovechkin in the same the way that I do – one of the best of all-time. He's more disliked due to his success against the Rangers than anything else, although in recent times, his friendship with Vladimir Putin is a point of derision for some.
---
— Mario Lemieux (Penguins) – just like other superstars and Hall of Famers, "Super Mario" is only mentioned because of his success (especially in the playoffs) against the Rangers.
---
THE TOP TWELVE MOST HATED OPPONENTS IN NY RANGERS HISTORY
12. JEAN-GABRIEL PAGEAU (Senators/Islanders)
The man known as "JGP" has a special place in the black heart of Ranger fans, due to his performance against the Blueshirts during the 2017 Stanley Cup Playoffs, where the then Senator become both a Lundqvist and Ranger killer.
During a second-round series that the Blueshirts entered as heavy favorites; the thought-to-be lowly Senators upset the Rangers in six-games, where Pageau was the MVP of the series.
In Game Two of the series, Pageau scored four goals – including a late third period goal to tie the game at 5-5, and then the game-winning goal in double overtime too. For kicks, he then scored the final goal of the series – an empty netter.
With hindsight being 20/20; in a way, Pageau helped usher in the Rangers into "The Letter"/rebuild. Had the Rangers beat the Senators in 2017 as many expected – who knows – maybe they could've used that momentum to beat the defending Stanley Cup champions at the time, the Penguins – and then win the Cup too.
We'll never know – and you can curse out Pageau for that.
Earning Pageau even more Rangers' hatred was the date of February 24th, 2020, when he was traded from the Senators to the Islanders. Once on Long Island, Pageau then signed a six-year deal worth $30,000,000 overall with the club. He's remained as a thorn in the Rangers' side ever since.
---
11. WAYNE SIMMONDS (Flyers)
Coming in at number 11 on this list is a former Flyer, Wayne Simmonds. Simmonds, during his days with the orange-and-black, was a known Rangers' agitator. In a way, he was a throwback to the days of the "Broad Street Bullies."
Even worse for the Rangers and their fans? The fact that Simmonds had the ability to back-up all of his trash talk and hard hits.
Simmonds also kicked it up a notch whenever playing the Rangers, as it felt like he had a "Gordie Howe Hat Trick" in him during most games against the Rangers. (He usually picked up two of the three stats required.)
"The Wayne Train," similar to other pests around the league, was one of those players that you would've loved to have on your team, but hated if he was on the opposing team.
In his most nefarious act, during the 2015-16 campaign, Simmonds sucker-punched then Rangers' captain, Ryan McDonagh. The punch put McDonagh on the shelf.
A week following the attack and during a Valentine's Day rematch, Dylan McIlrath quickly challenged Simmonds to a fight. To Simmonds' credit, who adhered to the adage of "Old Time Hockey," Simmonds accepted the fight like a man.
At the end of the day, Simmonds was a Rangers' killer and someone the team always had to keep an eye on whenever #17 hopped over the boards and onto the ice.
---
10. ALEC MARTINEZ (LA Kings)
Depending on your age and duration of fandom, you may have Alec Martinez as one of your most hated Ranger rivals.
For newer and younger Ranger fans, defenseman Alec Martinez will always be etched in their minds, following his Stanley Cup clinching goal scored in the double overtime period of Game 5 during the 2014 Final.
Regardless of your age and/or length of fandom – this goal will always go down as a goal that should've been waved off due to goaltender interference.
After ruining the Rangers' Cinderella run of 2014; Martinez continued to punish the Rangers – and he continued to light-up Lundqvist in games played following that infamous goal too – including scoring game winning goals against Lundqvist and the Rangers during regular season affairs.
Martinez, post-expansion, is the lone player from the Western Conference to make this list. That's how devastating that goal was in 2014.
To this day, the mention of Martinez's name will illicit major groans from Ranger fans.
---
9. BRAD MARCHAND (Boston Bruins)
Truth be told, I felt an obligation to add Marchand's name to this list – especially after recent events, where he played a mental game with Mika Zibanejad during the 2021 season and then provoked Artemi Panarin into throwing a glove at him from the Rangers' bench during the 2021-22 campaign.
Furthermore, in polls conducted amongst NHL players, year-in and year-out, Marchand is voted as the dirtiest player in the game – a role which he cherishes – and personifies.
Marchand, a future Hall of Famer in his own right, has been a Rangers' killer over the years, with seemingly no end in sight.
On February 17th, 2020 Marchand found himself in a feud with Ryan Lindgren. Much to the delight of Ranger fans, Pavel Buchnevich then knocked "The Rat" into next week during that same game.
Like many rivals, no matter the team on the other end; the most hated rivals are the players who find success against their opponent.
Marchand has had no issues with the Rangers during his career – at least not from a lack of success perspective.
---
8. ADAM HENRIQUE (NJ Devils)
May 25th, 2012 is another day of Rangers' infamy.
After once leading the 2012 Eastern Conference Final 2-1, the Rangers quickly found themselves down 3-2 in the series. In the series-clinching Game 6 goal of that ECF, Adam Henrique beat Henrik Lundqvist just 1:03 into overtime, thus eliminating the Rangers from the 2012 Stanley Cup Playoffs.
While the Rangers would eventually feature better clubs than their 2012 version during the Henrik Lundqvist Era (2014 and 2015); this was their first real chance to win the Stanley Cup during this period of time.
Rather than Lundqvist making the save on Henrique, and then hoping for a potential Rangers' goal to push the series to a Game 7, in an ode to the 1994 Eastern Conference Final; instead, Henrique became another prominent figure of the Battle of Hudson rivalry – the Devils' equivalent of Stephane Matteau.
Just like Alec Martinez, who also scored a series clinching goal against Lundqvist during the playoffs; following this particular crushing goal, Henrique continued to haunt the Rangers during regular season contests.
While certainly, there have been much more talented Devils in New Jersey; it is Adam Henrique who sunk the hearts of Ranger fans more than most.
---
7. TONY DeANGELO (Rangers/Hurricanes/Flyers)

Really, what's left to say that I haven't already said, either on this site or in my books?
Again, I'm not going to dive into everything DeAngelo here – that's another whole four-volume set of books. (And one day, when he's retired – a DeAngelo autobiography would be a must-read.)
Perhaps a product of his generation, DeAngelo found himself with a lot of free-time during the pandemic, where most of that time while cooped-up in his house was spent by arguing politics with Ranger fans.
And as anyone will tell you – no matter how you feel on politics – when you're a public figure – you're always going to piss-off 50% of your fan-base whenever you weigh in on the subject – and for as right or wrong as that is.
Following his unprecedented dismissal out of New York; since that time, DeAngelo has played for two Ranger rivals, the Canes and the Flyers.
While I thought that a lot of the DeAngelo hate was exclusive to social media; in every appearance at M$G since moving on, he's been booed – and booed every single time whenever he touched the puck.
Of anyone formerly associated with the franchise, including Bryan Trottier – I can't think of any member of the alumni that's received more vocal disdain than DeAngelo himself.
While playing for the Canes and Flyers hasn't helped matters; it's his pandemic-era time with the Rangers that started the snowball down the hill.
Just like anything else from "The Social Media Era;" political debates, while always personal and nasty since the beginning of human civilization, they have become more intense and heated than ever before. DeAngelo found this out the hard way. (And I'll save you from repeating my Adam Fox story here for the 8678676876876th time!)
---
6. BOBBY HULL (Chicago Blackhawks)
In what may surprise you, especially for younger fans, Bobby Hull enters this list at the sixth slot.
Prior to Hull jumping to the WHA during the Fall of 1972, he was part of two Blackhawks teams that ousted the Rangers from Stanley Cup contention.
In the most infamous series, and during the Emile Francis years (in this specific case – 1971); Hull scored two game winning goals during the Stanley Cup Final penultimate series, thus eliminating the Rangers and blowing up their chances at the Cup.
Following the emotional Pete Stemkowski triple overtime goal scored in Game 6 of that 1971 semifinal series; it was Hull who then scored the game-winning goal in Game 7.
While the Rangers reached the Stanley Cup Final in 1972; many believe that 1971 was the Rangers' best chance at the Cup during the Francis era.
In an era which would later be known as "We Did Everything But Win" (check out George Grimm's book with the same title), Bobby Hull was a major thorn in the Rangers' side.
Hull became a bigger villain in his later years, due to the documented reports of his penchant for beating women.
Despite Hull's status as a known woman-beater; the NHL still celebrates "The Golden Jet" to this very day, as the league continues to bury their head in the sand about Hull's sordid past. (Ask Potvin about this too!)
And because there is no shame in their game (talent will get you through anything), the Rangers also tried to get Hull to return to the game following his 1981 retirement.
After several exhibition games played, both sides felt that Hull was better off retired – much to the dismay of the women in Hull's life.
---
5. MARTIN BRODEUR (NJ Devils)
In the history of the New York Rangers, no other opposing goalie was more detested than the Hall of Fame red-and-black goalie in New Jersey, Marty Brodeur.
Brodeur's history with the Rangers is well-known.
After Brodeur and his Devils lost the 1994 Eastern Conference Final (you may have heard about this series); Ranger fans then had to watch one of their most hated rivals win three Stanley Cups – and reach several other Stanley Cup Finals too.
While Mike Richter and the 1994 Rangers were able to handle Brodeur and his future Hall of Fame teammates; during Brodeur's later years, the Henrik Lundqvist Rangers struggled against the Devils, most notably during the heart-sinking 2012 Eastern Conference Final.
As you may have heard, and due to his personal life – Ranger fans often serenaded Brodeur with "Uncle Marty" chants.
There was also the feud between Brodeur, and then Rangers' fan favorite, Sean Avery, where Avery (no saint himself) famously referred to Brodeur as "fatso."
That all said, the "fatty uncle daddy" is in the Hall of Fame and is considered as a "Mount Rushmore" NHL goalie.
In the present day, Avery makes videos on his bike and has been in-and-out of legal trouble, due to his harassment of people who dare park their cars whenever he's on the prowl.
While no Ranger fan can ever deny Brodeur's legendary accomplishments; Ranger fans can still hate the bastard – a hatred that still burns deep to this very day!
---
4. THE BROAD STREET BULLIES (PHILADELPHIA FLYERS OF THE MID 1970s)
Up front here, I openly admit – I'm cheating a bit by listing the Broad Street Bullies as one individual here. However, that shows you how hated his team truly was.
Obviously, for fans who lived it or know their history; Bobby Clarke (Wayne Gretzky's favorite player) and Dave "The Hammer" Schultz, were the two biggest faces of this Philadelphia franchise at this time – a franchise which just completely owned the NHL. More impressive? They also changed the course of the league.
During the mid-1970s, the Flyers were the team that broke up the success that the Bruins and Canadiens had recently enjoyed.
As the first team of the Great Expansion of 1967 to win the Stanley Cup (twice); these Flyers forced teams around the league to not only adjust their playing strategies, but to adjust their rosters too.
During the heyday of the Broad Street Bullies, Cups were won by being physical, and not by scoring pretty goals.
In hindsight, it was the Rangers' loss to the Flyers during the 1974 playoffs that soon became the beginning of the end for the Emile Francis era of Rangers.
A season later, following the Rangers' embarrassing first-round exit, courtesy of the Islanders – the Rangers blew it all up, where nearly every fan-favorite was either traded or waived.
Similar to Brad Marchand of today, who is universally hated around the league; the Flyers, as a collective unit, had the same reputation during this epic run.
However, while Brad Marchand is more of a pest and known to lick people; these Flyers would also get their licks in, but not with their tongues. They did it with a five-knuckle shuffle.
---
3. SIDNEY CROSBY (Pittsburgh Penguins)
As mentioned several times – when it comes to rivals, the players that have the most success become the most hated. The same principle applies to the future Hall of Famer, and three-time Cup champ, Sidney Crosby.
While Crosby's exploits against the Rangers are widely known; when it comes to his career and comparisons, he's more associated with Alex Ovechkin, rather than being truly known as a Rangers' rival.
When it comes to the Rangers' and their rivals, Crosby, without a doubt, is more hated than Ovechkin.
While both players have been Ranger killers over the years; I find most Ranger fans to have the same mind-set as me – they respect "The Great 8."
And hell, truth be told, and I think other Ranger fans will admit this too – I was happy for Ovi when he won the Cup in 2018. (Who celebrated a Stanley Cup victory better than Ovi?)
During the Crosby years, while Crosby has had no problem shining against the Rangers in regular season matches; following the 2008 playoffs, the Rangers usually fared well against the Penguins come the Stanley Cup tournament.
However, an embarrassing loss suffered during the 2016 Stanley Cup Playoffs pretty much unofficially signaled the end of the Lundqvist Rangers' chances at a Cup – in addition to ushering in the eventual Rangers' rebuild.
Crosby has been in the middle of many controversies with the Rangers over the years.
Whether it's all of his Olympic diving, the water bottle incident, or making a fool of Lundqvist by scoring goals off of the back of his head – #87 in the black-and-yellow has usually held his own against the Blueshirts.
Need a more recent example? Do the Rangers defeat the Penguins during the 2022 Stanley Cup Playoffs had Trouba not knocked Crosby out for several games of the series?
As we saw in 2022, and as we have seen throughout Crosby's career – he's always been a game-changer.
---
2. MIKE MILBURY (Bruins/Islanders)
Mike Milbury has the distinction of being the lone individual on this list, to not only be hated as a member of two different franchises, and not only hated by NYR fans of two different eras – but to be universally hated by Ranger fans as a player, a coach, a general manager and as a broadcaster. Congrats Milbury!
When it comes to Milbury, where do you begin?
Of course, the shoe incident from 12/23/1979 is Milbury's biggest claim to fame as a Rangers' hated opponent.
Many words have been written about that game, words that have previously appeared on this site.
If there was anything taken from that game (in regards to NHL history) – it was Milbury's role in this incident – which then led the NHL into installing higher boards between the fans and the players on the bench.
After being a scumbag against the Rangers as a Bruin; Milbury, now with the despised Islanders, would either hold a head coach or front office role (and sometimes both at the same time), starting in 1995 and lasting all the way through 2007.
During this period of time, Milbury had many derogatory things to say about the Rangers, a trend that continued through 2020, prior to his firing from NBC as one of their studio-analysts.
In a world where everyone has to be at politically correct attention at all times – neither ESPN, nor TNT, have offered the former long-time NBC employee a role with their current NHL television rights packages.
If there is anything yours truly can appreciate about Milbury, then it is that he's always been true to his heart and has never steered off-course with his hatred of the Rangers.
The feeling is mutual, not only from this blogger, but from every resident of Rangerstown, USA alike.
As you reach the end of this list, it is no surprise that two people with Islander affiliation claim the top two spots.
While Milbury is severely hated by Ranger fans, the next person on this list tops the cake.
---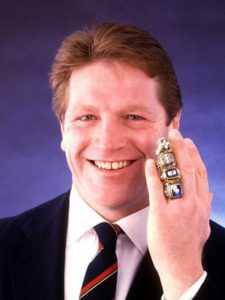 1. DENIS POTVIN (Islanders)
I mean, who else? Of course it's the mook that took 43 years to come up with the idea of "Potvin Socks!"
Denis Potvin, the third captain of the Rangers' biggest enemy, the Islanders; number five not only won four Stanley Cups as the leader of the blue-and-orange – he was also the reason for multiple Ranger playoff exits.
Ever since the date of February 25th, 1979, Potvin has remained as the biggest heel of Rangers' history.
To this very day, after crushing Ulf Nilsson during a Ranger/Islander game, which led to Nilsson breaking his ankle and missing the rest of the season (many feel that this injury cost the Rangers the Stanley Cup in 1979 – a topic of debate for another day) – Potvin has been Public Enemy Number 1.
Needless to say, Potvin has his own special place in the annals of Rangers' history.
To this very day, and over forty years since the original incident; during every Rangers' game ever played since that game from 1979, Ranger fans do the "Potvin Whistle," which ends with the infamous "POTVIN SUCKS" chants.
Just think about it. It is my belief, which is substantiated by talking to people and from what I know, that at least 95% of Ranger fans, if not more, don't know the origin of the "POTVIN SUCKS" chant – nor could they pick Potvin's face out of a police line-up neither.
When it comes to goof or custom-made jerseys, the biggest non-Ranger player jersey you'll see at M$G – "POTVIN SUCKS!"
Like Brodeur, like Crosby and like many others on this list; Potvin was a major Rangers' killer, who is not only hated because of his hit on Nilsson (a hit that was actually clean when you really look at it), but also because of his Hall of Fame career.
Unfortunately, Povtin had many of those Hall of Fame moments against the Blueshirts.
When making this list, I debated about many spots. After all, everyone's hated here. There's no universal right answer when it comes to spots #2 through #12.
One spot I didn't debate about was this one.
Without a shadow of a doubt, Denis Potvin is the most hated individual in all of Rangers' history – a "legacy" that continues to this very day.
---
I was originally going to include a piece on the history of the "MacBeth Cup" tonight. However, this blog has gone on long enough, so I'll save that walk down memory lane, and how it relates to today, next week.
See ya tomorrow night, following Wings/Blueshirts.
PLUGS TIME!
---
My first plug of tonight's blog – the mandatory plug for my book, "The New York Rangers Rink of Honor and the Rafters of Madison Square Garden."
As mentioned previously, the book is now available in hardcover, in paperback and in Kindle formats. To purchase a copy of the book, visit this link:
https://www.amazon.com/Rangers-Rafters-Madison-Square-Garden-ebook/dp/B09CM5N2WD
For those still looking for signed paperback versions of the book, I have re-ordered more copies. I now have a few signed copies for sale at $25 a pop (includes shipping price) through me directly. Here is all the information on that:
---
My four-volume set of books, "One Game at a Time – A Season to Remember," is a game-by-game recount of the Rangers 2021-22 campaign.
My second title as an author, "One Game at a Time – A Season to Remember," is now available in eBook, paperback and hardcover formats.
To obtain signed copies, visit: https://bluecollarblueshirts.com/onegamebook/
To purchase all four volumes on Amazon, visit: Amazon.com – "One Game at a Time."
---
"Tricks of the Trade – A Century-Long Journey Through Every Trade Made In New York Rangers' History," a four-volume set of books that meticulously covers every trade made in franchise history, is now on sale.
All four volumes of the title can be purchased on Amazon.com and are presented in three different formats – eBook, paperback and hardcover.
To purchase Volume I: Conn Smythe (1926) – Craig Patrick (1986), visit Amazon.com
To purchase Volume II: Phil Esposito (1986) – Neil Smith (2000), visit Amazon.com
To purchase Volume III: Glen Sather (2000-2015), visit Amazon.com
To purchase Volume IV: Jeff Gorton (2015) – Chris Drury (2022), visit Amazon.com
To purchase signed copies of all four volumes, visit https://bluecollarblueshirts.com/tricksofthetrade/
---
Here are my last few blogs, in case you missed them:
---
---
---
If you haven't already, subscribe to this blog for the next update:
---
Don't forget to order my new four-volume set of books, "Tricks of the Trade!"
If you don't order through me, all four volumes are now available on Amazon.com
For more details, check out: https://bluecollarblueshirts.com/tricksofthetrade/
Thanks for reading.
LET'S GO RANGERS!
Sean McCaffrey
BULLSMC@aol.com
@NYCTHEMIC on the Tweeter machine