Greetings and salutations everyone and welcome to another blog here on BlueCollarBlueShirts.com. At least I got the 4-0 final score correct tonight. Ugh.
Bah humbug.
The Rangers, who had won eight of their last nine games heading into the Christmas break; once returned from unwrapping presents – they were absolutely emasculated at M$G on Tuesday night.
Aside from CZAR IGOR, who due to his team's piss-poor showing, had his numbers take another nose-dive on home ice – no one showed up – that is, except for the Washington Capitals – and the posers masquerading around as competent NHL officials too.
During the Rangers' most recent winning streak, I had frequently used the phrase "TEAM-WIDE EFFORT." In comparison (and again, sans the goaltender), this was a "TEAM-WIDE LOSS."
There's a lot of blame to go around tonight, in perhaps a loss that can best be described as "Murphy's Law;" as anything that could go wrong went wrong – and badly wrong at that.
In an order of no importance, here were the major factors in this waste of three hours (and my lack of sleep too – that damn 5AM train that I have to catch on Wednesday morning), that took place on Tuesday night at The World's Most Expensive Arena:
— Mika Zibanejad extended his goal drought to eight games.
— The Rangers (while wide-open) shot wide and/or high no less than 25 times – where these numbers don't include blocked shots.
— Vincent Trocheck, who may as well have been wearing a Scott Norwood jersey tonight, was the team's biggest offender in this department. At times, it felt like he was paying tribute to Gene Carr.
— Artemi Panarin couldn't hit the blindside of a barn either.
— Jacob Trouba continues his bouts with terribleness, including when he screened CZAR IGOR on the Capitals' double insurance, see ya next time, goal.
— Vitali Kravtsov, who got a chance to play on the top line, absolutely stunk. He was manhandled too.
— I had to check the box score to see if Alexis Lafreniere had even played tonight. (Update: he did.)
— It were the team's "bottom"/depth players on this night, Jimmy Vesey, Barclay Goodrow, Jonny Brodzinski, Julien Gauthier, Ben Harpur and Braden Schneider, that finished without a minus in the +/- stat. Every other "FAT CAT," "KID," and whatever other adjective you want to use here, finished with negatives in this category.
— Gauthier must be banging a wife of one of these officials, because there is no other valid explanation to be made when trying to figure out how these "Three Blind Mice Zebras" missed two blatant infractions committed on number twelve – including a Matt Irwin slewfoot – which took place no less than eighteen inches away from the nose of one of these inept referees.
— The Rangers, despite some missed calls, still had five power-plays – and went 0-5.
— To continue down this road; the officials, who had their heads firmly lodged in their five-holes all game; allowed a late second period Erik Gustafsson goal to stand – despite clear-as-day contact being made with CZAR IGOR. The head clown in the Foot Locker employee outfit actually said, "there was no contact made." (Video below, where yep, you guessed it – Igor was bowled over.)
— Darcy Kuemper, who has had a season with more downs than ups; now healthy in Washington, shut-out the Rangers. Inexcusable.
— And oh – the Rangers are now 1-5 in those disgusting reverse retro cash grab Liberty jerseys. BURN THEM!
---
Really, and one more time, except for CZAR IGOR – there's nothing positive to say tonight.
While some people are breaking out the "rust" excuse from their "excuse rolodex" – lost in all of that – the Capitals had the last three days off too.
They also flew to New York on Tuesday – so the Christmas break, in my opinion, can't be used as a "cover-up."
Fact of the matter is this – this game, especially against a divisional rival, counts. The jet-lagged visitors, the Capitals, had no problems showing up tonight.
I know it's easy to chalk this loss up to the Christmas break, but to do that – I think that's burying your head in the sand.
Had this game been the Rangers third in four nights, or fourth in six nights, and had the Caps had two days off to recharge their batteries too – then yeah – go ahead – I'd accept the "scheduled loss" excuse.
However, this game was played under similar conditions and the Rangers came out as flat as a plate of warm piss on a hot summer day.
Following tonight's scores around the league, the Rangers also took a major hit in the standings – a cruel reminder in regards to how fast playoff positioning can turn on a nightly basis:
If there was any "silver lining" to come out of these sixty minutes of dreck, it's this – hopefully, this game will be a wake-up call for the Rangers.
It's also a reminder that you can't lolly-gag through these games.
While this contest was absolutely horrid and putrid, and where the union painters at M$G will be very busy when removing all of the rubber marks that the home team left on the boards tonight – I can't imagine back-to-back games of this either.
Between the miserable officials, all of the skaters ice cold, all of the shots that missed the net, and everything else that plagued this affair – I don't know if you can do all of this again – even if you tried.
It's just a shame that CZAR IGOR's numbers had to be sacrificed – again.
Let's cover all of the pregame news and notes first, and then get into everything else, including the GAME REVIEW.
---
Following four days off for the Christmas break; on Tuesday, prior to tonight's game, the Rangers reconvened for practice in Tarrytown, New York.
Not much really took place at the morning skate, where the only news item on ice was that "The Turk" was going to use the same lines against Washington as he had used during the majority of this past Thursday night's game. (The Rangers' 5-3 win over the Islanders at M$G –  I know – it feels like that game took place an eternity ago!)
As far as off-the-ice news, it was CZAR IGOR's Christmas, and not Captain Trouba's Christmas, that was the top topic of discussion. (Check out https://bluecollarblueshirts.com/122522/ for more on the Rangers' "Great Eight.")
As first reported by Isles' beat reporter Ethan Sears (who over the break, also wrote a "riveting" article about what sweater Tony Romo was wearing on Sunday, as if Sears was a modern day Joan Rivers); CZAR IGOR hosted two members of the Rangers' most-hated rivals, the Fishsticks, at his palatial estate on Christmas Day.
As you'd most likely suspect, Ilya Sorokin, Shestyorkin's brother of the barrel (and best friend), was one of the guests. The other one chowing at "Igor's Tea Room" (the Russian equivalent of "Casa La Nonna Trocheck"), was Isles' defenseman, Alexandar Romanov – who during his short time at Belmont, has become a major thorn in the Rangers' side.
When this story was first reported, it was met with all sorts of reaction – some sane, some insane, some humorous, some serious and where novice opinions, almost as clueless as Sears' Post peer, Miss "I Don't Give a Shit" Mollie Walker, also flew around left-and-right.
I'm not going to rehash the history between the Shestyorkin and Sorokin families for the 789678967896789678th time on this site, but if you don't know, know you know – the families are long-time friends – and where that friendship goes back to when these two, as tykes, were stopping pucks on frozen Moscow ponds.
While it's no coincidence that the two Russians are two of the top goalies in the NHL today; it is a coincidence that as adults, they now find themselves on either side of one of hockey's most-heated rivalries, "The Battle of New York," Rangers vs Islanders.
Admittedly, in a different era, two stars from opposing teams would not be passing the salt-and-pepper around the table during the holidays – and this includes all of the iconic Canadians from different eras.
Need an example? Google "Esposito, Phil," and read all of his thoughts on the Rangers prior to being dealt to New York. Heck, just read "TRICKS OF THE TRADE" (ordering information in the PLUGS segment) for the full 411.
To go even further, while Hockey Canada has always been successful; since first putting a national super-team on ice, whether it was the Summit Series or the Olympic Games (when NHLers were first allowed to participate), there was always some sort of bad blood to overcome.
Whether it was Esposito's Bruins and the Montreal Canadiens or the 1980s Stanley Cup Islanders vs Oilers feud – more times than not, these players never associated with each other.
Obviously, today, things are different – and this isn't just exclusive to hockey either.
Whether it's star NFL players trading jerseys after games, baseball players exchanging signed balls, or even Alex Ovechkin, arguably the greatest player of the salary cap era, collecting signed sticks and jerseys for his massive collection – players from rival teams get along away from their work space – the ice.
And really, the salary cap, free agency and this modern era as a whole, all plays into these less than hostile conditions from years ago.
After all, it's not like the old days, where a player would spend the majority of his career with one team, and perhaps take on a second club towards the end of it.
Today, it's very common to find players who play for 5, 6 or more than 7 teams during the course of their careers.
---
Long story short, as I'm wasting too much time on what's really a non-story on a slow news day (especially following 96-hours of no news); as long as Igor & Ilya aren't sharing Borscht and Smirnoff on their off-days during a potential playoff series between the two teams – then I'm glad they had a "счастливого Рождества!" (Merry Christmas!)

And really, when you think about it – the way the two comrades have reconnected in New York is somewhat akin to going away to college for the first time, and finding someone who went to a high school nearby where you graduated from.
However, in this case – these two have known each other – and to sit back and criticize them for spending the holidays together is the work of a "Grinch."
Switching gears, and going back to Rangerstown, USA; once again, Vitali Kravtsov, and his placement on Gallant's first line, was all the rage on Tuesday. It also led to a hilarious edition of "TURK TALK," one that you can watch/listen to here:
---
As mentioned, I got a huge kick out of Tuesday morning's "TURK TALK."
As usual, the clueless birdbrain millennial members of the beat were practically salivating and panting like a dog looking for a bone, when asking the head coach about their favorite Russian. He was the only player they talked about.
While Double G would only speak in pleasantries in regards to #74 (Gallant never slams individual players to begin with – but he will collectively call out the team if things aren't up to snuff – and as he did following Tuesday's game), "The Turk," while speaking highly of the young Russian, also spun all of his answers, where he gushed over Goodrow instead.
In a case of "Men vs Boys" (don't give me the gender stuff – this is just an expression); once the reporters who believe in Santa, and who probably watch "The Masked Singer" too, were done with their elementary questions; Larry Brooks, the Hall of Fame scribe, took over and kicked it up a notch with some interesting questions.
When speaking about Ovechkin, Brooks asked "how come we don't see coaches have players shadow superstars like the days of old?"
I enjoyed this question, because I never really thought about how a once popular style has somewhat become the dodo in today's NHL.
After all, to just go back thirty years or so, when Gallant was manning the ice for the Red Wings; the Rangers had Jan Erixon in their line-up, a Swede whose nickname was "THE SHADOW," due to his strong defensive play and where he was always tasked to shut down the opposing team's top star.
To go back even further than that, just look at a Rangers' legend himself, Walt Tkaczuk, and his work against Phil Esposito during the 1972 Stanley Cup Final.
Emile Francis asked number eighteen to shut down one of the best goal scorers in NHL history – and that's what the German-Canadian did, as Esposito didn't score one goal in the six-game series. (And there is no reason to rehash the end result of that series!)
You know what's funny – I saw a few media reports following Gallant's press conference – where Brooks' question wasn't covered. Instead, all of these reports went into Marcia Brady mode – "Kravtsov! Kravtsov! Kravtsov!"
As far as Gallant's answer to Brooks' question, the head coach kind of chuckled a bit, and said "I don't know." Gallant brought up how "shadowing" was popular in his day, but as the game has evolved, that defensive strategy has fell to the wayside.
And before you pan "The Turk" for his "I don't know" answer – it's not just him – it's the whole league. It's very rare you see shadows anymore, and when you do, it's usually during the latter games of a playoff series.
When it comes to Kravtsov on the top line – Gallant, as he said a few weeks back, said he wanted to slowly bring Kravtsov up, and used a word that I enjoyed – "deserved."
Gallant wanted Kravtsov to earn a top-six spot. There's nothing wrong with that – where perhaps the flip-side to that equation is this – it only boosts #74's trade value, should that Patrick Kane trade (Kane being linked to the Rangers won't end until something finally happens) come to fruition.
And as mentioned – Gallant raved about Goodrow – and said that he felt his fourth line from Thursday night was his "top line."
Arguably, that wound up being the case once again tonight.
As talked about over the weekend on this site – when you look at Zibanejad's goal drought (no goals in last eight games played) and Panarin only recently starting to heat up – it's very easy to see why the man from Prince Edward Island had these opinions.
Finally, as far as anything else – Gallant said "no changes."
In other words, both Sammy Blais and Libor Hajek remain as healthy scratches – where it should be noted that similar to Goodrow, Gallant really went out of his way to praise Ben Harpur – perhaps words that Hajek may have not exactly wanted to hear.
(As previously mentioned on this site – with the recent scratching of Blais, and considering each player's cap hit – I kind of wished Chris Drury maintained Reaves over Blais. Of course, Reaves may have found himself as a healthy scratch, which is why #75, now in a contract year, was dealt to begin with. For Hajek, he just needs a new change of scenery. It's just not going to happen in New York for him.)
---
Here was tonight's line-up:
FIRST LINE: Panarin/Mika/Kravtsov
SECOND LINE: Lafreniere/Chytil/Kakko
THIRD LINE: Kreider/Trocheck/Vesey
FOURTH LINE: Goodrow/Brodzinski/Gauthier
FIRST PAIR: Lindgren/Fox
SECOND PAIR: Miller/Trouba
THIRD PAIR: Harpur/Schneider
STARTING GOALIE: CZAR IGOR
BACK-UP: Jaroslav Halak
---
BOX SCORE time.
The following graphics and information come from ESPN.com:
SCORING: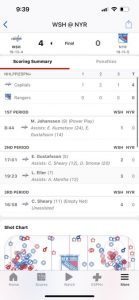 PENALTIES:
TEAM STATS:
GOALIES:
| | | | | | | | | | | |
| --- | --- | --- | --- | --- | --- | --- | --- | --- | --- | --- |
| SA | GA | SV | SV% | ESSV | PPSV | SHSV | SOSA | SOS | TOI | PIM |
| 32 | 0 | 32 | 1.000 | 19 | 13 | 0 | 0 | 0 | 60:00 | 0 |
| | | | | | | | | | | |
| --- | --- | --- | --- | --- | --- | --- | --- | --- | --- | --- |
| SA | GA | SV | SV% | ESSV | PPSV | SHSV | SOSA | SOS | TOI | PIM |
| 29 | 3 | 26 | .897 | 22 | 3 | 1 | 0 | 0 | 58:06 | 0 |
---
At one point – this night looked so promising.
With Henrik Lundqvist in Sweden (he will be honored tomorrow night by his Swedish team, the Frolunda Indians) and Sieve Vagistat MIA (praise the hockey gods); Mike Rupp returned to the M$GN studio.
I had a good feeling once I saw that Rupp was there – but that feeling quickly subsided when I saw that the Rangers would be wearing those cursed Liberty jerseys tonight.
(And to be clear – I'm not blaming the Rangers' threads for this loss – but you can't ignore how horrible they've been whenever wearing those stinky sweaters – and ever since those jerseys first came into existence.)
Rupp opened the broadcast with a prediction that would prove to be 50% accurate, when he said, "both teams will come out sloppy and slow after the lay-off." The Rangers made him a winner, the Capitals did not.
John Giannone brought up how Ryan Lindgren's brother, Charlie, had won eight of his last nine games for the road team – and how Kuemper had been struggling. You know how those reverse M$GN jinxes go – Kuemper then pitched a shut-out.
From there, nearly three hours of a Capitals broadcast.
Seriously, and especially whenever listening to Sam Rosen and Joe Micheletti fawn over the Rangers' opponent all game – I believe that a proctologist has a less shittier job than Ranger fans do, whenever listening to these bumbling buffoons.
No joke, for three hours on this Capitals' broadcast bonanza, all you heard about was Alex Ovechkin, the Capitals' numerous injuries, what a great job Peter Laviolette is doing, how the Caps "work hard Joe," the D.C. power-play and everything else "All Washington, All The Time" imaginable – where I was shocked that these bozos didn't bring up the infamous Bobby Carpenter trade too.
However, the architect of the second worst trade in Rangers' history, Phil Esposito, wound up being the answer to the Cadillac Trivia question. (Only Ranger to score on his goaltender brother.) So at least there was that!
To be fair, while this game became the equivalent of a ten-car pile-up; M$GN didn't know that would be the case.
Aside from praising Barclay Goodrow at the top of the broadcast; after that, Sam and Joe gang-banged the Capitals, as if they were porn star (and Washington fan), Mia Khalifa: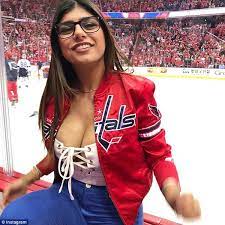 Ugh, let's breeze through this game review, because one, I have to be up in just a few hours, and two, as the old adage goes, "if you have nothing nice to say, then don't say anything at all."
However, it's going to be tough to live by that adage – but I'll do my best!
---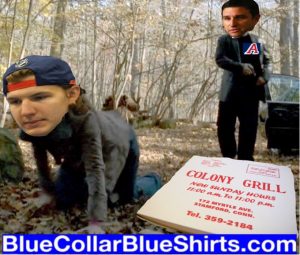 FIRST PERIOD:
I have to mention this – following what was now thirty straight minutes of M$GN lifting up their skirts and asking Alex Ovechkin to enter them (and I don't mind the Ovi praise – as talked about recently on this site – he is arguably the greatest player of the salary cap era) – Larry Brooks, who has let his political beliefs impact his thoughts on "The Great Eight" – released an article at 7:05PM, shaming the Russian for his friendship with Putin.
I don't care about politics on this site, nor do I even want to get into the subject – but I do understand that Ovechkin has a long relationship with Putin that goes way back, long before the Russian President's recent bout of insanity with the Ukraine.
However, I just don't know what a hockey player can do to prevent a world leader from doing what he's doing.
Long story short – whatever weight you put into Ovi's friendship/relationship with Putin – you just can't ignore the obvious – he's an excellent future Hall of Fame player – and does a ton of charity work too – philanthropy that often goes unnoticed.
(One kind gesture that M$GN caught tonight? Ovi finding a Caps' fan in the M$G audience, and throwing the kid a free puck. He does this all the time, and there are plenty of stories of him taking young fans into the Caps' locker room, even on the road. All of this just creates new NHL fans for life. If it wasn't for the Putin stuff, then he'd be better known as one of the best ambassadors of the league.)
---
For some reason (and I never question Gallant's coaching decisions to begin with); the Filip Chytil line started the game. I didn't get this, only because #72 is the worst faceoff center on the team.
Funny enough, by the end of the night, only the Czech finished with a winning faceoff percentage on the team (54.5%). The team's leading center at the dots, Trocheck, went 46.2%, while Zibanejad, never a peach at the circles, went 42.9%.
The first five minutes of this game were as Rupp predicted, where during this time, the Caps iced the puck no less than five times. Of course, since the Caps pummeled the Rangers at the dots tonight – it didn't matter.
Just 1:45 into the game, and following a bad Rangers' change; CZAR IGOR stopped Mantha on a Caps' 2 x 1 odd-man rush. In total, Mantha finished with four shots on goal, where on all four of these shots – #31 came up with a robbery save each time. No joke, a weaker goalie in net – Mantha may have had a hat trick.
At the 4:10 mark, Kravtsov had a breakaway, but whether he heard footsteps, choked, wanted to defer to the veteran Panarin or just got scared – he allowed defenseman Trevor Van Riemsdyk to catch up – and prevent a clear shot on goal.
Come the 4:32 mark, Trocheck, the league-leader in <DINGS>, yet didn't hit one iron tonight, put his first of 9867867896789678967896 shots on the boards. I would've rather heard the <DINGS> than the <THUDS> tonight.
At the 7:25 mark, a miracle – Kravtsov didn't need a trip to the ICU after this:
Won't be able to throw Kane around like that. Heah's Mink, backaftuhdis. #nyr https://t.co/03MrztNEFv

— BlueCollarBlueShirts (@NYCTheMiC) December 28, 2022
---
I was fine with Dmitry Orlov rag-dolling the malcontent around – because that's what you see in the playoffs. It's also what I like to see out of Trouba.
However, what I wasn't fine with was the Rangers being penalized for less.
In other words – no consistency from these officials.
Following Orlov's man-handling of Kravtsov; just 22 seconds later, Lindgren was boxed for slashing Sheary. Fine, this was a legit call.
What wasn't a legit call, ONLY BECAUSE ORLOV'S INFRACTION ON KRAVTSOV was met with a "Wayne & Garth, Game On" reaction; was when Kreider was boxed just 21 seconds later, for "holding" M$GN's favorite son, Alex Ovechkin.
If this was a two-minute minor, then Orlov deserved five minutes.
If it were up to me (and it's not – you may have heard) – I would've allowed both plays to go uncalled – but when you choose one over the other – it then makes you wonder about these officials and the 78967867896789689676 gambling ads that you see every broadcast.
End result? The Caps, now on a 5 x 3 power-play, scored just 36 seconds into it, as Trouba bonked a puck into his own net, as Marcus Johansson was crashing CZAR IGOR.
1-0, bad guys, at the 8:44 mark.
I know that many people wanted Trouba tarred-and-feathered after this play – but this PPG was a belated X-Mas present from the officials. I just can't blame anyone for being on the wrong side of a 5 x 3 PPG being scored.
As fans screamed, "THESE REFS SUCK;" the Rangers killed off the Kreider penalty, where Vesey & Schneider fell an inch shy of scoring a short-handed goal at the end of it.
As Sam & Joe sung the praises of the Caps' back-up goalie who wasn't playing (what other broadcast does that?); Kuemper made his first of five saves on Zibanejad – as the $8.5M center can't buy a goal these days – and as his eight-game drought would suggest.
Following CZAR IGOR denying Johansson from scoring goal number two; down to 7:25 remaining, the Rangers went on their first of five failed power-plays, after Jensen closed his glove on a puck (delay of game).
Let me sum up all five Ranger power-plays for you right now, as all of them went like this:
Mika wide, Mika one-timer stopped, Mika wide, Panarin wide, Fox won't shoot, Panarin wide, Mika wide, Kreider stopped, PP2 comes on with 45 seconds or so, they don't shoot, and rinse-wash-repeat.
By the end of this Caps' penalty kill, the Rangers were out-shooting them 13-6 – but still trailed where it mattered.
Following a long Washington attack that kept the Rangers' first line chasing for over a minute in their own zone; "Double A" (not Arn Anderson), Alex Alexeyev, pulled a Trocheck – <DING> – and with 1:35 remaining.
For good measure, the Rangers, who pretty much said "the hell with this," watched CZAR IGOR make a monster save on Lars Eller with twenty seconds left in the period.
1-0, bad guys, after our first frame.
Here's what I said at the time:
1-0, bad guys, after 20. 1P Thoughts:
— It took a questionable penalty & a 5×3 Caps PPG to beat Igor.
— #NYR ,rusty to start, came on strong at the end. They'll rebound.
— SOG 13-8, Hits 8-7 Rangers; FO's 15-7 Caps
— DK made 4 saves on the NYR PP
— Mika = 7G+, no goals

— BlueCollarBlueShirts (@NYCTheMiC) December 28, 2022
---
SECOND PERIOD:
Again – while the officials were absolutely the drizzling shits tonight – the Rangers did have five power-plays – and two of them before the refs cashed in their Fan Duel accounts.
At just the 32 second mark, Orlov tripped Mika.
With a chance to tie the game early into this middle period, the Rangers' successfully executed their power-play Houdini act – where to be fair – Kuemper did make one nice save during this, following a Fox-to-Kreider deflection attempt.
Down to 15:48 remaining, and now returned to full-strength; CZAR IGOR robbed Mantha, while bailing out Fox & Lindgren in the process – and for good measure – stopped Milano's rebound try too.
A minute later, Kuemper came up with a decent save himself, when he stopped Chytil from the slot.
As the Rangers' first line just looked completely over their heads and totally out-matched; the second line came on and Vesey came close to setting up Kreider – but the saucer pass was broken up – and with eleven minutes left to be played.
After what was about ten minutes without a Rangers' shot on goal – the bullshit.
With 7:42 remaining, Gauthier streaked to the net, and the leader in Rangers' power-plays drawn this season was blatantly tripped by Gustafsson. No call.
Despite no evidence of this puck actually going into the net; the officials went to video replay – where I am to assume they just admired their no call.
A few seconds later – the officials said no goal – and no penalty either.
While the officials most certainly loused this up – at the same time – the Rangers, one more time, went 0-5 on the power-play tonight and couldn't hit water from a boat.
Still, this should've been called, just so the Rangers could've went 0-6 (and later, 0-7).
As Gallant was flipping out on the bench; once returned to play, the Rangers immediately gave up a three-vs-one odd-man rush, with Trouba as the lone man back – which led to another monstrous save for CZAR IGOR.
As Rosen gleefully reported that the Rangers were now over ten minutes without a SOG, and now with under four minutes to go; Gallant shook up his lines again.
The Kravtsov first line experiment was over, as he and Goodrow flip-flopped. I saw one ardent "KULT OF KRAVTSOV" member defiantly scream, "GALLANT PULLED KRAVTSOV OFF THE FIRST LINE IN RECORD TIME!"
Of course, Goodrow was "demoted" from the first to fourth line just six minutes into the first period the last time the Rangers played.
Never let the truth get in the way of a good story though – am I right?
During Gallant's roster reshuffling; Trocheck and Panarin were back together, with Kakko joining them for the ride for some reason; while Kreider was reunited with his BFF, Missing Mika.
I know that many fans have these crazy over-reactions to all of these line changes, and I somewhat get it; but for me, I don't get too caught up in them.
After all, more times than not, these in-game moves have worked out for the head coach. It just didn't work tonight.
No one bats 1.000 – and with the way the Rangers were playing – I didn't think that any combination was going to lift this sorry bunch.
Despite the Rangers shooting at the boards as if these pieces of wood and glass owed them money; the score was still 1-0, bad guys, as we hit three minutes remaining.
However, after Trocheck's 78967896786789696th shot that blasted the boards; the Caps went up the other end of the ice and Gustafsson scored with 2:59 remaining.
2-0, bad guys.
Gallant immediately challenged this goal for goaltender interference, and on replay, it was crystal-clear and extremely evident – Sheary had collided with Igor.
For these officials – and much like the KULT OF KRAVTSOV – they didn't let the truth get in the way of a good story either:
No one knows what Goalie interference is 🤷 #NYR pic.twitter.com/MUCbdO3kcA

— David 🏒 (@DaveyUpper) December 28, 2022
---
How these officials stated "no contact was made," is beyond me.
Between the erroneously assessed Kreider penalty to now this – the Caps received a pair of goals.
While the Rangers, and as Gallant would say in his post-game interview, looked like "garbage;" at the same time – perhaps with trained officials – we would've had a scoreless game after sixty minutes – and at least one undeserved point in the standings too.
Since Gallant lost this challenge – one that he was not happy about – the Caps got a power-play out of this.
The Rangers' PK survived here, and I mean survived, as Sheary hit the post with just one second left on the power-play.
However, now under a minute to go, and officially with 36.7 seconds remaining; Trouba screened Igor and Eller shot the puck through perhaps "The-Not-So-Great-Eight's" wickets, and the seeing-eye rubber then went past CZAR IGOR too.
3-0, bad guys – and a brutal backbreaking goal to allow.
That was pretty much it for the Rangers.
Here's what I said once this misery came to an end:
3-0, bad guys/officials, after 40.
— Should be 1-0, but to be fair #NYR ain't doing much either.
— Trocheck is having a Gene Carr tribute game.
— SOG 23-20, FO's 22-15 Caps; Hits 14-all
— Rust is probably a factor, but FAT CATS, besides Fox, don't look hot
— Comeback!

— BlueCollarBlueShirts (@NYCTheMiC) December 28, 2022
---
THIRD PERIOD:
These final twenty minutes were pretty much dog crap – as the Rangers not only threw in the white towel – they cried into it too.
Let's just hit the low-lights:
— Not even thirty seconds in, CZAR IGOR prevented this game from being 4-0.
— The Rangers continued to shoot at the boards as if their lives depended on it.
— 1:02 in, Fox drew Sheary for high-sticking. The Rangers' power-play then went 0-3.
— At the 4:25 mark, Gauthier was dangerously slew-footed by Irwin – and right in front of an official. While the power-play wouldn't have mattered – Gauthier could've been seriously injured here and this was arguably a dirty play – perhaps worthy of a suspension too.
— With Gauthier allowed to be hacked, whacked, kicked and licked – this is when I thought that he must have some sort of extra-marital affair going on with a wife of one of these officials. There's just no other way to explain these consecutive no-calls.
— At the 8:10 mark, Kravtsov led a 3 x 2 Rangers' odd-man rush. Turnover and no SOG.
— At the 10:00 mark – the "new" Rangers' first line and first pair, now down by three goals, had multiple GOOD LOOKS – but didn't put one puck on net.
— It was also around this time where the feeling of "garbage time" hit, as this team was doing nothing productive.
— With 4:56 to go, Irwin the Slewfooter tripped Brodzinski.
— Down by three, Gallant pulled Igor for the 6 x 4 empty net power-play attack.
— After nearly two minutes of the Rangers shooting at the ads on the boards; Sheary put the game away with an empty netter with 3:02 to go. If that wasn't bad enough, the officials also called for a stoppage, as Jensen was down hurting while the Rangers were attacking – perhaps a whistle that won't get as much play as the Rangers were dead as a door-nail by this point.
— With 2:27 remaining, the Rangers went on their fifth-and-final power-play, an interference call on Hathaway.
— Gallant kept Igor in net this time, which I didn't really understand. What's the difference in losing 4-0 or 5-0? At the very least, and I know how anemic this power-play was – I would've at least attempted to break up Kuemper's shut-out.
4-0, bad guys, your final.
There have been many poor games this season, but when it comes to coming out flat, and then remaining that way all game – I can't think of a flatter game.
At least in the Rangers' losses to the bottom-of-the-barrel teams of the league – they hit the post one or ten times.
Tonight, and like Larry David in "Curb Your Enthusiasm," I wondered it the Rangers "respected wood," as they punished the boards all game.
Here's Double G. after this mess:
---
I pretty much agreed with Gallant's comments: the team looked like garbage, you can't blame the break for this loss, the Caps showed up; the Rangers did not and the officials sucked.
What wasn't mentioned, and I don't think this should be lost either – despite the Rangers winning ways prior to the break, in two of their last three games played, "four-point" games against divisional rivals – the Blueshirts lost both of them (Pittsburgh and Washington) on home ice.
The Metro Division is the toughest division in hockey. The Rangers will have to find a way, because as we saw tonight – one bad night and you're quickly back to "outside-looking-in."
The Rangers will return for their first full practice in several days on Wednesday, and then will jet-set to the Sunshine State for a pair of games with the Lightning and Panthers.
Expect the Bolts to look for some revenge, after being embarrassed on national television during the Rangers' home-opener.
A positive thought to close out: Gallant's team usually rebounds – plus – they can't be any worse than they were tonight.
Choo-Choo time for me.
PLUGS TIME!
---
My first plug of tonight's blog – the mandatory plug for my book, "The New York Rangers Rink of Honor and the Rafters of Madison Square Garden."
As mentioned previously, the book is now available in hardcover, in paperback and in Kindle formats. To purchase a copy of the book, visit this link:
https://www.amazon.com/Rangers-Rafters-Madison-Square-Garden-ebook/dp/B09CM5N2WD
For those still looking for signed paperback versions of the book, I have re-ordered more copies. I now have a few signed copies for sale at $25 a pop (includes shipping price) through me directly. Here is all the information on that:
---
My four-volume set of books, "One Game at a Time – A Season to Remember," is a game-by-game recount of the Rangers 2021-22 campaign.
My second title as an author, "One Game at a Time – A Season to Remember," is now available in eBook, paperback and hardcover formats.
To obtain signed copies, visit: https://bluecollarblueshirts.com/onegamebook/
To purchase all four volumes on Amazon, visit: Amazon.com – "One Game at a Time."
---
The greatest volume-set of books on Rangers' history today!
"Tricks of the Trade – A Century-Long Journey Through Every Trade Made In New York Rangers' History," a four-volume set of books that meticulously covers every trade made in franchise history, is now on sale.
All four volumes of the title can be purchased on Amazon.com and are presented in three different formats – eBook, paperback and hardcover.
To purchase Volume I: Conn Smythe (1926) – Craig Patrick (1986), visit Amazon.com
To purchase Volume II: Phil Esposito (1986) – Neil Smith (2000), visit Amazon.com
To purchase Volume III: Glen Sather (2000-2015), visit Amazon.com
To purchase Volume IV: Jeff Gorton (2015) – Chris Drury (2022), visit Amazon.com
To purchase signed copies of all four volumes, visit https://bluecollarblueshirts.com/tricksofthetrade/
---
Here are my last few blogs, in case you missed them:
---
---
---
If you haven't already, subscribe to this blog for the next update:
---
Don't forget to order my new four-volume set of books, "Tricks of the Trade!"
If you don't order through me, all four volumes are now available on Amazon.com
For more details, check out: https://bluecollarblueshirts.com/tricksofthetrade/
Thanks for reading.
LET'S GO RANGERS!
Sean McCaffrey
BULLSMC@aol.com
@NYCTHEMIC on the Tweeter machine