Greetings and salutations everyone and welcome to another blog here on BlueCollarBlueShirts.com. Wasn't it just yesterday that people were complaining about Dryden Hunt in Gerard Gallant's line-up?
And heck – whatever happened to "SHESTY RELEASE US?"
Time sure flies – to say the least.
Also true? The following: if you're reading these words on Christmas Day – then you my friend are a diehard fan – no ifs, ands or buts about it!
Before getting into the main event of tonight's mini manifesto, where I will give you one or two wishes/gifts for every member of the club; let's first get all of the happy horseshit alliteration & pleasantries out of the way first:
Merry Christmas, Cherish Your Chanukah, Blessed Boxing Day, Have a Killer Kwaanza, Happy Holidays, Enjoy Your Earth Day and may your Winter Solstice Be Wonderful!
And a big happy birthday to your second-cousin, Loser Lou, twice removed (Aunt Annie's divorce sure was nasty) – and who you may or may have not seen during these past five years too!
(Yes – the poor comedy featured above may have been influenced by a mixture of whiskey and egg nog!)
I think that covers it all! Let's now talk about the Rangers.
---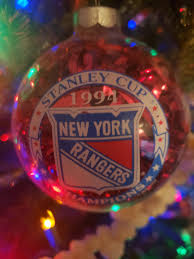 As far as any news out of Rangerstown, USA – there isn't any.
Really, perhaps the biggest story right now concerns Jonny Brodzinski – who as mentioned last time in this space – is awaiting his second child to be born, as his wife is due to pop any day now.
While obviously, this is a major life event for the Brodzinski's; for the Rangers, should this birth take place on Tuesday, 12/27, when the team hosts the Washington Capitals – then maybe #76 will get a "PTO Day" – where in this case, "PTO" is an acronym for "paid time off" – and not "professional try out."
Whenever JONNY HOCKEY's child arrives; in any event – don't expect Brodzinski to ask the Rangers for any paternity time!
(And fortunately – the Rangers are home until December 28th before traveling during their annual New Years' trip to Florida. In other words – I hope that Mrs. Brodzinski gives birth prior to the Blueshirts joining the snowbirds in the Sunshine State!)
As far as anything else; while I don't know how every roster member on the team celebrates Christmas, nor do I know their views on religion either (and for the record – I don't care what they believe in – just win) – I will say, this has to be a tough time for the players and coaches who don't call North America home on a full-time basis.
The Rangers, who will reconvene for practice on Monday, December 26th, their first day back following this mini three-day break; for both the Europeans and the Russians on the team – they can't exactly jet-set to their home countries during this 72-hour vacation.
While I'm sure that these players have made suitable arrangements for the high holidays – I'm sure they'd rather be spending time with their own families (parents, siblings, etc) – especially since the younger Europeans & Russians on the team don't have their own immediate families just yet – such as Kaapo Kakko, Filip Chytil, Vitali Kravtsov, etc.
Of course, none of this is new, nor does this exclusively apply to the Rangers either. It's just the way it's always been done – where to be fair & to give the league credit – they give their players this time off. The other professional leagues that are currently active right now, the NFL & the NBA, do not.
You know what I expect to hear following the break? How team captain, Jacob Trouba, hosted these players at his NYC condo during Christmas.
Say what you want about Trouba, but there's a reason why he's the captain – for times like these.
Whether it was putting up Frank Vatrano and Andrew Copp at his home last year, planning the team's annual Halloween party, picking out the team's playlist in the locker room, organizing multiple charity drives, or perhaps, and most importantly, as the conduit between the players and their bosses; Trouba is always at the center of it.
And yep, and despite who you may have wanted as captain for your favorite team – these are just some of the examples about why the club, and unanimously at that, all wanted Number Eight as their leader.
---
Back on November 25th, around Thanksgiving time, I posted my "New York Rangers at the Quarter-Pole Report Card."
You can read that report card here: https://bluecollarblueshirts.com/22qprc/
As I've been doing for nearly nine years now, I usually run these report cards at the 25% and 50% marks of the season, and then do a final report card at the end of each campaign. (I usually don't do a 75% mark report card, because more times than not, the team is always involved in a 3 of 4 or 4 of 6 game-stretches during that time, and the information becomes dated as soon as I post it.)
Currently, the Rangers are 19-11-5 after 35 games played. They are also six games shy of 41 games played – the 50% mark of the season. And along the way, there have been a few trades, line-up/roster reshuffles and importing to & exporting from Hartford.
Originally, I was going to "cheat," and write the "Half-Way Mark of the Season Report Card" tonight; but I figure I can do that after the New Year – assuming I have the time! (My pesky job, and my new overtime laden schedule, continues to get in the way!)
And really, I do hope to pen that blog, because as we all know – what we saw through the first twenty-five games or so hasn't been the same during the past ten games played – at least not from a win/loss perspective.
(You can argue that the Rangers have somewhat been the same, but only recently, have they received "puck luck"/fortunate bounces. Conversely – they still have no problem hitting the iron!)
Rather than getting "serious" with a report card tonight; instead, I "present" to you pure corniness – "The New York Rangers Christmas Gift Wish List!"
I'll list every player, the head coach and the general manager below, with one or two things I'd like to see happen for each man – and gifts that they'd like to receive too!
And for giggles and wiggles – a few thoughts on the polarizing fan base as well!
Ho-ho-ho – let's go!
---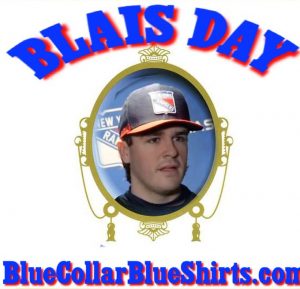 SAMMY BLAIS: A goal. Heck, a few goals! There's no reason to rehash a negative topic on this day, but as we all know – it hasn't been easy for Blais ever since the P.K. Slewban incident.
---
BLAIS HATERS: A Xanax. Heck, a few Xanax's! There's no reason to rehash a negative topic on this day, but as we all know – these collection of "fans" have done nothing but cry about Blais ever since the day Pavel Buchnevich was shipped out to St. Louis – IN A SALARY CAP DUMP trade – a fact that's often forgotten.
Keep in mind, these are also the same people that say "PLAY THE KIDS" about 87678686966 times per game.
Between his cap-hit and roster-space – #89 became the odd-man out.
But I will be fair – perhaps the Rangers could've received a better package in return for "Captain Happy."
---
JONNY "HOCKEY" BRODZINSKI: A happy and healthy new-born child – and a full-time roster spot.
---
FILIP CHYTIL: A happy and healthy 2023 – and where Gallant never mutters the words "day-to-day" whenever speaking of the Czech!
---
ADAM FOX: The 2023 Norris Trophy – and the Conn Smythe too!
---
JULIEN GAUTHIER: A permanent residence in New York and without ever having to dine on Hartford cuisine again.
(Although I've heard good things about those 7-11 sliders where the Wolfpack howl!)
---
BARCLAY GOODOW: Some respect on his name, especially from these no-nothing millennials!
Goody (his friends and family call him "Barks"), the two-time Stanley Cup champion, is having the best individual seasons of his career with the Rangers; yet all you ever hear about is whatever line he's on – where #21 has excelled on all four of them this season. Only Jimmy Vesey can say the same.
---
LIBOR HAJEK: a permanent residence outside of New York – and a chance to make it elsewhere.
He hasn't been bad this season and he's not on Santa Gallant's "naughty list" either – but he needs a fresh beginning.
Simply stated: he'll never wrest the sixth defenseman position all to himself.
---
JAROSLAV HALAK: a few more wins – and goal support too.
---
BEN HARPUR: a stress-free 2023 NHL Trade Deadline.
If he can keep up his good work behind the blue line, then general manager Chris Drury won't be as desperate when trying to attain a depth-defenseman.
(And let's face it – if Glen Sather was still here, then the Rangers would be linked to Jakob Chychrun right now – especially since no other g.m. made as many trades with Arizona as Slats once did – where it didn't hurt that one of his former assistants, Don Maloney, was running the show in the desert either.)
---
KAAPO KAKKO: A twenty goals, twenty assists and a forty points plus season.
The Finn, as of late, has shown us that he received one early X-Mas present – confidence. He most certainly unwrapped that gift this past Thursday night.
Currently, #24 has nine goals and six assists – numbers that everyone would like to see increase prior to the commencement of the playoffs.
---
VITALI KRAVTSOV: full medical coverage – by a Chicago health care provider.
---
THE KULT OF KRAVTSOV: a history lesson. Read my books or google names such as Pavel Brendl, Jamie Lundmark, Manny Maholtra, Hugh Jessiman, Lias Andersson, etc.
---
KRAVTSOV TRUTHERS: Patrick Kane becoming the first Ranger since the days of Eric Lindros to wear the number 88 on his back – but not at the expense of Kakko, Alexis Lafreniere, K'Andre Miller, Braden Schneider or anyone else besides Kravtsov!
---
CHRIS KREIDER: A return to the All-Star Game.
While there will always be some people who will always ride #20 – often lost in that junk – the man who many wanted as captain is currently having the second-best season of his career – where perhaps Gallant deserves some credit too?
---
ALEXIS LAFRENIERE: The ability to put it all together.
Currently, the 2020 first-overall pick has five goals and twelve assists – numbers somewhat beneath a player of his status – even if his beginnings took place under unorthodox conditions (the pandemic, veteran players slotted higher on the depth chart, etc).
---
RYAN LINDGREN: A game without pain.
No one bleeds and plays hurt as often as #55 does.
Another present? The 2023 Steven McDonald Extra Effort Award – where there will be heavy competition this year for the most prestigious accolade exclusive to a Ranger.
(Other candidates for this award include Fox, Schneider, Vesey and Goodrow.)
---
K'ANDRE MILLER: Amnesia – only in regards to his start of this 2022-23 season!
Whether he was reminded that he's playing during a contract year or what – #79 has turned it on as of late – and will force Drury into some salary cap finagling this summer.
---
ARTEMI PANARIN: A return as a contender for the Hart Trophy – and as he was following his first campaign in New York, the 2019-20 season.
When "The Breadman" bakes – the Rangers are tough to stop. We just need more deliveries – especially in net (nine goals in thirty-five games played – where he's only recently started to pot pucks).
---
BRADEN SCHNEIDER: A nice, fat and juicy contract – prior to his rookie deal expiring.
Then again, this may be a present that Drury wants more than Schneider – as game-by-game, #4 only increases his value in the league – which is why his name is often linked in trade rumors.
However, the Rangers won't deal him, but everyone wants a piece of B-Schneids! I don't blame them!
---
IGOR SHESTYORKIN: A full-time nanny to alleviate the pressure of a new child at home.
As mentioned all season, his numbers at home versus his numbers on the road are night-and-day.
If #31 can play at M$G the way he does away from it – then the 2023 Vezina Trophy is a lock for the hopeful repeat winner.
---
VINCENT TROCHECK: An all-expenses paid trip to the voodoo capital of the country, New Orleans, where once there – some witch doctor exorcises the goal posts and crossbars from the Eyetalian's repertoire!
In fact, as I write his name – all I can hear are <DINGS> and <CLANGS>!
And yes – "Eyetalian" is a nod to "The Godfather Part II!"
---
JACOB TROUBA: Full health, goals scored and a turnaround on his turnovers!
From all accounts, the captain is a great guy – he's just not playing so great right now.
Maybe it's just me, but I always like to see good people get rewarded. I'm hoping that Trouba's 2023 trumps the end of his 2022.
---
JIMMY VESEY: A new contract.
For the best $750,000 player in the league today; should #26 continue his successful ways – then he'll receive a lot of attention over the summer – where the Rangers may not be able to afford him – especially with two new horses soon to hit the stable – Will Cuylle and Brennan Othmann.
---
MIKA ZIBANEJAD: One of his patented hot streaks.
Funny enough, it was always Zibanejad's BFF, Kreider, who was thought to be the streaky one. Entering the break, Mika has the same amount of even-strength goals as the Rangers' third pair d-man, Braden Schneider (4).
Go figure, despite the Rangers winning eight of their last nine games played; Mika is currently on a seven-game goal drought – kind of incredible when you consider that he was the league's best goal-getter (over a time-span of three months) just two years ago.
---
RANGERS HEAD COACH GERARD GALLANT: A heated cushion – for his perhaps once hot, now cold-as-ice, seat!
He also deserves respect from the fans – and the media too.
Just because he doesn't publicly divulge everything on his mind doesn't mean that he doesn't have a plan.
Furthermore, I trust in Turk – especially when compared to the bird-brain beat reporters, who sans Larry Brooks – don't know anything besides the food menus at M$G!
---
RANGERS GOALTENDING COACH BENOIT ALLAIRE: Two rings – a Stanley Cup ring and a Class of 2023 Hall of Fame ring.
---
RANGERS GENERAL MANAGER CHRIS DRURY: A major salary cap increase – although "The Grinch," Gary Bettman, may ruin that gift.
As was the case last off-season, Drury is going to have to use his fingers, toes and an abacus to figure out this cap-crunch – especially with players like Lafreniere and Miller due for new deals.
---
RANGERS OWNER JAMES DOLAN: A 1990s chill pill!
From banning innocent bystanders from M$G, to being reported as "concerned with Gallant" (although I never bought those reports – and as stated at the time – after all, no one besides Brooks has access to Dolan and these current reporters have presented more fake news than any other crop of beat reporters of franchise history) – "The Big Shot," Jimmy D., needs to sit back, relax and let Drury do his thing.
A better present?
Like a Scientologist – a complete "DISCONNECT" from Glen Sather – ONCE AND FOR ALL!
---
RANGERS PLAY-BY-PLAY MAN SAM ROSEN: More time with his grandkids – via retirement.
As mentioned often on this site; sadly, there will be a generation of fans who will only remember the Hall of Famer for his senile/twilight years – and not what brought him to Toronto.
---
RANGERS COLOR ANALYST JOE MICHELETTI: The ability to lose the word "FABULOUS" from his vocabulary – and the inability to praise Ranger opponents on a nightly basis.
---
RANGERS PART-TIME STUDIO ANALYST HENRIK LUNDQVIST: An Emmy – and a new partner in-studio too!
---
RANGERS FULL-TIME STUDIO ANALYST SIEVE VAGISTAT: A one-way trip to the IBS Arena at Belmont, where once there – the ex-Isle can sling his manure with Shannon Hogan, rather than upon Ranger fans!
---
NEW YORK RANGER FANS – The fifth (and long overdue) Stanley Cup of franchise history.
I'd also like these fans to buy my books too – I need to do more road-trips this season, which brings us to…
PLUGS TIME!
---
My first plug of tonight's blog – the mandatory plug for my book, "The New York Rangers Rink of Honor and the Rafters of Madison Square Garden."
As mentioned previously, the book is now available in hardcover, in paperback and in Kindle formats. To purchase a copy of the book, visit this link:
https://www.amazon.com/Rangers-Rafters-Madison-Square-Garden-ebook/dp/B09CM5N2WD
For those still looking for signed paperback versions of the book, I have re-ordered more copies. I now have a few signed copies for sale at $25 a pop (includes shipping price) through me directly. Here is all the information on that:
---
My four-volume set of books, "One Game at a Time – A Season to Remember," is a game-by-game recount of the Rangers 2021-22 campaign.
My second title as an author, "One Game at a Time – A Season to Remember," is now available in eBook, paperback and hardcover formats.
To obtain signed copies, visit: https://bluecollarblueshirts.com/onegamebook/
To purchase all four volumes on Amazon, visit: Amazon.com – "One Game at a Time."
---
The greatest volume-set of books on Rangers' history today!
"Tricks of the Trade – A Century-Long Journey Through Every Trade Made In New York Rangers' History," a four-volume set of books that meticulously covers every trade made in franchise history, is now on sale.
All four volumes of the title can be purchased on Amazon.com and are presented in three different formats – eBook, paperback and hardcover.
To purchase Volume I: Conn Smythe (1926) – Craig Patrick (1986), visit Amazon.com
To purchase Volume II: Phil Esposito (1986) – Neil Smith (2000), visit Amazon.com
To purchase Volume III: Glen Sather (2000-2015), visit Amazon.com
To purchase Volume IV: Jeff Gorton (2015) – Chris Drury (2022), visit Amazon.com
To purchase signed copies of all four volumes, visit https://bluecollarblueshirts.com/tricksofthetrade/
---
Here are my last few blogs, in case you missed them:
---
---
---
If you haven't already, subscribe to this blog for the next update:
---
Don't forget to order my new four-volume set of books, "Tricks of the Trade!"
If you don't order through me, all four volumes are now available on Amazon.com
For more details, check out: https://bluecollarblueshirts.com/tricksofthetrade/
Thanks for reading.
LET'S GO RANGERS!
Sean McCaffrey
BULLSMC@aol.com
@NYCTHEMIC on the Tweeter machine