Greetings and salutations everyone and welcome to another blog here on BlueCollarBlueShirts.com. Much better!
This too – it took 72 hours to get that bad taste out of your mouth following the loss to Boston – but it was worth it tonight!
However, what happens next?
Similar to the loss to Boston, this win over Florida was only one game out of 82.
After all, the Rangers, who play two more games prior to both their bye week and the annual NHL All-Star break, won't see a third-stringer in net in either of these upcoming contests – when they travel to Toronto on Wednesday and then host the Vegas Golden Knights on Friday.
That stated – we can worry about those two games once we get there.
For now, it's all about celebrating the Rangers' 6-2 victory over the Panthers – where needless to say – was a final result that the doctor ordered.
For the Panthers, they may need to see a veterinarian after this one, where the Cats' third-string goaltender, Alex Lyon, needs a check-up – or perhaps a return to the AHL!
Following a rough weekend in the world of New York sports, where both the Buffalo Bills and New York Giants were embarrassed out of the NFL divisional playoff round; come Monday – everything was all good again.
Not only did the Rangers handle business on Monday, but so did the Leafs, in their 5-2 laughter over the crappy Islanders.
The combined Rangers' win and Isles' loss, the Nassaumen's ninth defeat in their last ten games (oh… that felt so good to write!), gave the Blueshirts some extra breathing room in the standings:
After 72-hours of doom-and-gloom from the millennial/analytical/clueless/moronic fans of this fan base – you know – the same old bunch of dolts who proclaim on a daily basis, "GALLANT DOEZN'T KNOW WHAT HE'S DOING, LAFRENIERE AND KRAVTSOV MUST PLAY SIXTY MINUTES A GAME," and one of my new favorites, "GALLANT NEEDS TO BE FIRED AND SENT TO THE SUN;" on Monday night, and with new trios of forwards assembled – the Rangers had one of their most successful games of the season yet.
And oh, I also got a kick out of one basement blogger (I don't know if this phrase is even fair – because he still lives with his parents after all – SAD!), the 46-year old from Staten Island – and following the Bruce Boudreau firing in Vancouver – profoundly stated, "THE RANGERS MUST FIRE GALLANT AND HIRE BOUDREAU!"
Never change, never change.
And funnier than all of that – this was the same person (not worth naming this flip-flopping bozo, a man of no convictions), who expertly proclaimed just eighteen months ago – "FIRE DAVID QUINN! THE RANGERS MUST HIRE GALLANT!"
Again, never change, never change!
---
Following the Rangers' dreadful loss to Boston on Thursday night, and now returned to M$G on Monday – the team produced as great of a "feel-good win" as any.
Just look at the box score for the evidence, as up-and-down the new line-up, there were multi-point games galore.
Better than that? For a team that has lacked forward scoring as of late – all three lines got on the board too.
As mentioned, both Panarin and Zibanejad picked up three-pointers. Jimmy Vesey scored the game-winner, where his linemates, Barclay Goodrow and Vincent Trocheck, who I'm now anointing as the "TVG Line" (thanks for the helper Nick L.), both assisted.
And that line that everyone likes to refer to as the "KID LINE;" you know, the three-first round picks who are all adults, including center Filip Chytil, now in his sixth season in the NHL?
Now back in the Rangers' bottom six, as the team's third line; Kakko, Chytil and Lafreniere all finished the match with multi-point games too, where imagine this – the 2020 first-overall pick snapped his eighteen-game goal drought and scored a puck-luck & gritty goal – his sixth of the season.
And without pissing in anyone's cornflakes – I do wonder how much of this goal had to do with Lyon in net – rather than Lafreniere himself – but hey – it's a start – but it can't be a highlight/rarity either.
It doesn't end there.
The two most successful Rangers of the last three seasons, the 2021 Norris Trophy winner Adam Fox, and the 2022 Vezina Trophy winner, CZAR IGOR; the pair of 2023 NHL All-Stars also shined.
For what feels like the tenth time in his career, Fox scored his tenth goal of the season too, the game's opener, on a backhanded breakaway.
Better than that, Fox (first-star of the game) also assisted on two goals – and finished the contest with a game-high plus/minus rating of +5. (Lindgren, Fox's partner, also finished with a +5. Currently, Fox's +17 leads the team, as Lindgren and Zibanejad each share a +15 rating a piece.)
CZAR IGOR, who was tested frequently-and-often tonight, while the same couldn't be said about Lyon until the latter stages of the game; held down the fort and finished with 33 saves on 35 shots faced.
Of the two goals allowed, one was a power-play goal and the other was a 6 x 5 goal.
In other words, CZAR IGOR didn't give up one even-strength goal, and more important than that sans the win itself – boosted his home numbers – numbers which certainly needed a lifting.
If there was anything to truly nitpick over, then it was the new fourth line of Kravtsov, Leschyshyn and Gauthier – where to be fair – this mix-matched trio played together for the first time tonight.
This line registered only one shot on goal – a Gauthier backhander.
That said, for a head coach that is currently stressing defense right now – this line, which averaged nine minutes of action, didn't allow one goal either. And to me, that's the biggest takeaway from their performance.
The only way this night could've gone better for the Rangers?
If CZAR IGOR had scored an empty net goal – and as he came about eighteen inches or less away from doing.
It will happen one day!
Before getting into the complete GAME REVIEW; up first, all of the pregame news and notes.
Let's roll, as yes – that 5AM train to work is approaching very fast in my future!
---
In case you missed it, I covered all of the news from Saturday here: https://bluecollarblueshirts.com/12123/
A day following the Rangers' open practice on M$G, Sunday; the franchise had a busy day. Here's how it went, in chronological order:
At 11AM, the Rangers reconvened at their training facility in Tarrytown, NY, where head coach Gerard Gallant used the same forward lines and defensive pairings as he had done on Saturday – sans the one obvious change – Jonny Brodzinksi wasn't there – as he was in limbo after being waived just 24-hour prior.
As far as the practice itself, it was business as usual.
Following the skate, at around noon Sunday, Gallant, who had just spoken to the media for nearly eight minutes on Saturday; held another "TURK TALK," where this time, it eclipsed the ten-minute mark.
Check it out:
---
For those who don't have the ten-minutes available to watch Sunday's "TURK TALK," Adam Rotter transcribed the entire thing here: https://nyrangersnews.com/2023/01/22/updates-from-the-rangers-on-sunday-9/#more-196544
While Gallant spoke for a lengthy amount of time, there wasn't really much said. In fact, most of this "TURK TALK" felt like a teacher talking to pupils, as most of the questions were both rudimentary and elementary – which sadly, is expected out of this current crop of millennial beat reporters.
For whatever reason, the birdbrain youngins' of the Rangers' beat can't figure out this: Jimmy Vesey and Barclay Goodrow are good hockey players.
After peppering Gallant with questions regarding these two, while trying to compare them to every check line they've heard others write about; the biggest takeaway from Sunday's "TURK TALK" took place – Double G's thoughts on Sammy Blais.
Here's the head coach on the player who we all know has never been the same since being "Slewbann'd" last season:
"It's been real hard, there is no doubt. He had an extremely bad injury, as we all know, last year and he didn't play at all. He comes back this year and things haven't gone the way he wanted them. For us or for Sammy. He's sitting there with no goals and I think five assists and he's played some okay hockey at times and other times it looks like he is a step behind, again. We just want him to keep working and have a positive attitude and in this game things change in a hurry.

"We are hoping for the best with him, keep working, stay with a positive attitude and when you get back in, try and contribute. It's not about, I don't want Sammy to go out and think he's gotta be a 10-hits in a game player or start fighting more, it's not it. It's about getting back up to speed and getting some confidence and catching a break here sooner or later because he's a good kid and he's worked hard, has a good attitude and things just haven't gone his way and he's going to have to wait and when the opportunity comes again hopefully things will break for him."
---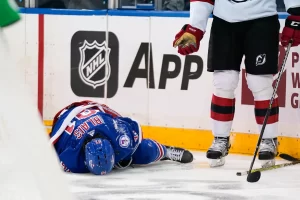 I've written so much about Blais and the Slewban incident before, that I don't think I have to remind you of my previous missives tonight.
Simply stated: Slewban derailed Blais' career, to the point where I wonder if we are seeing the beginning of the end of #91 in the NHL. It's been that bad.
At the very least, Blais, who is earning $1,525,000 this season and will become an unrestricted free agent over the summer; barring some miraculous turnaround, won't be earning such a salary during the 2023-24 campaign; much less make seven-figures. And that's assuming he maintains his status as an NHLer.

When Minnesota and "OLD FRIEND" Ryan Reaves returned to town two weeks back, I said in hindsight, perhaps it should've been Blais, and not "THE GRIM REAVER," who should've been dealt to the Wild. (You can read my full thoughts here: https://bluecollarblueshirts.com/11023/ )
When the Rangers waived Jonny Brodzinski on Saturday, I was thinking this – "Why JONNY HOCKEY? Why not Blais?"
After all, we are fully aware of the "a-word," as in accrue; as the Rangers look to boost their cap coffers ahead of the March 3rd NHL Trade Deadline.
Brodzinski, whose cap hit is only $762,500, runs the Rangers 50% of Blais' cap charge.
It's a cold business, as designed by Gary Bettman and company; but for as cruel as it may be, especially since Blais never asked to be put on the shelf – Brodzinski is the better option among the two – largely due to being cheaper than Blais.
I know I've said this a few times on this site during the past few months – but I don't envision any scenario where Blais is a Ranger next season – assuming he makes it through the trade deadline.
Speaking of Brodzinski, we also have news on him.
---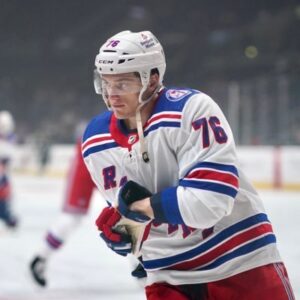 From the "ISN'T IT AMAZING SUZYN" files: After being waived on Saturday, come 2PM Sunday, Brodzinski cleared waivers. Just two hours later, at 4PM, #76 was in Providence, Rhode Island, where now back to his role as the team captain of the Wolfpack; spearheaded Hartford's 4-3 overtime win over one of their biggest rivals.
For a topper, Brodzinski scored the first goal of the game. However, for a player who earned a "penalty prone" reputation during his most recent stint with the Rangers – he took two penalties too.
While all of this was going on; former Ranger, Dryden Hunt, was placed on waivers by the Toronto Maple Leafs.
Hunt, who was previously waived by the Rangers, only to be claimed by Colorado the next day; was later traded by the Avalanche to the Leafs, where much like his stay in Denver – his time in Toronto was equally as short.
On Sunday, while Hunt's future remained in limbo, I was wondering if the Rangers would take a shot at bringing back the $762,500 Hunt, but only under one condition – they waive Blais in the process.
After all, if "Hunt Part II" didn't work out – the Rangers could've always waived him again.
However, none of this happened.
Come 2PM Monday, no one had claimed Hunt and the man of three teams this season was then assigned to the Toronto Marlies (AHL).
Speaking of the Rangers' alumni, they too were in action on Sunday.
---
At 1:30PM on Sunday, in East Meadow, NY, the alumni from the two New York hockey teams played a charity game in front of a sold-out crowd of 1,500. While the Islanders won the game – the real winners were the kids who will benefit from the over $50,000 in monies raised.
For both teams, two "new" members of their respective alumni made their debuts, where I expect you will see both Johnny Boychuck (NYI) and Brian Boyle (NYR) at more of these gatherings/events/charity games.
Ron Duguay, who has solely been representing the Rangers for over thirty years now, remarked following the game, "Brian has officially retired after playing an alumni game!"
Of course, should an NHL team come knocking at the door of the 38-year old, who last played with the Penguins last season – then I'm sure that retirement may be placed on hold for Boyle. The same may also apply to Duguay too!
From all accounts, the fans, the alumni, Northwell and the Islanders themselves – this new annual tradition was another raving success.
Of course, you wouldn't know much about this game from the Rangers themselves, as they only posted a short blurb about it once the game concluded.
In comparison, the Islanders covered the game live on their social media accounts, complete with video and then ran a full story afterwards.
For whatever reason, the Rangers are just hellbent on ignoring their alumni – but I'm sure you're well aware of my opinion on this topic!
RETIRE FRANK BOUCHER's #7 ALREADY!
---
At 5PM Monday, two hours prior to tonight's puck drop; Gallant held his final pregame "TURK TALK."
Gallant confirmed the line-up and stated that CZAR IGOR would get the nod in net too.
Here's the brief chat:
---
Here was the line-up from Monday night:
FIRST LINE: Panarin/Mika/Kreider
SECOND LINE: Lafreniere/Chytil/Kakko
THIRD LINE: Vesey/Trocheck/Goodrow
FOURTH LINE: Kravtsov/Leschyshyn/Gauthier
Defensively, everything stayed the same:
FIRST PAIR: Lindgren/Fox
SECOND PAIR: Miller/Trouba
THIRD PAIR: Harpur/Schneider
STARTING GOALIE: CZAR IGOR
BACK-UP: THE HALAKNESS MONSTER
PRESS BOX: Hajek & Blais
---
BOX SCORE time.
The following graphics and information come from ESPN.com:
SCORING:
PENALTIES:
TEAM STATS:
GOALIES:
| | | | | | | | | | | |
| --- | --- | --- | --- | --- | --- | --- | --- | --- | --- | --- |
| SA | GA | SV | SV% | ESSV | PPSV | SHSV | SOSA | SOS | TOI | PIM |
| 25 | 5 | 20 | .800 | 18 | 2 | 0 | 0 | 0 | 56:04 | 0 |
| | | | | | | | | | | |
| --- | --- | --- | --- | --- | --- | --- | --- | --- | --- | --- |
| SA | GA | SV | SV% | ESSV | PPSV | SHSV | SOSA | SOS | TOI | PIM |
| 35 | 2 | 33 | .943 | 29 | 3 | 1 | 0 | 0 | 60:00 | 0 |
---
Come 6:30PM, I tuned into the M$G Network. Once I saw that Lundqvist wasn't there, and that I was asked to endure thirty minutes of the useless Sieve Vagistat, I flipped back to the NHL Network.
A half-hour later, I returned to the M$GN, where Sam and Joe opened up by talking about Gallant's new lines. They were extremely giddy about Lafreniere/Chytil/Kakko being reunited.
However in my eyes, and in a line that I'm now dubbing as "THE TVG LINE" (yes, that's a horse racing channel reference – and as assisted to me by reader Nick L.); I thought the three workhorses, Trocheck (T), Vesey (V) and Goodrow (G) were absolutely phenomenal.
Trocheck, and is always the case, led all Ranger centers at the dots, finishing the game with thirteen wins on twenty draws for a winning percentage of 65%. At one point, #16 had won eight of nine, where most of his losses took place during the final nine minutes of the game – and with the Panthers' net empty.
The often under-appreciated Goodrow remained effective at both ends of the ice, and picked up an assist on Vesey's game-winning goal.
Vesey, the best player that $750,000 can buy today; not only scored the game winning goal, but could've had a hat-trick too. During the first period he hit the post – and Lyon received a fortunate bounce. In the final frame, Lyon actually came up with his best save of the game, robbing Vesey of what would've been goal #2 for him.
The three blue collar players (players that I appreciate the most – hence the name of this site) all finished with a plus/minus rating of +1 – and weren't on the ice for any goal allowed.
After talking about the Rangers, and as they usually do; Sam and Joe then laid some thick and heavy praise on behalf of the Panthers. Thankfully, and in a complete 180 from Thursday night – Sam and Joe pretty much ended their cheerleader act here.
After all – it's not like the Panthers gave them much material to work with!
GAME REVIEW time!
---
FIRST PERIOD:
Here's a general statement that applies to the first 45 minutes or so of this game – the Rangers rarely challenged the third-string goalie in the visitor's net.
When the finally did, at the 7:56 mark of the third period – the Rangers scored two goals within fourteen seconds – and then put this game to bed.
Prior to that, it felt like the Rangers were playing with fire again – but fortunately – this time they weren't burnt.
Against a better goalie (and with an inferior goalie in their own net too) – who knows what would've happened?
And how about this fact before getting into the meat and potatoes?
This was the second of three games that the Rangers will play with the Panthers – the same amount of times that the Rangers play both the Islanders and Devils this season.
Yep – the NHL schedule-makers failed us fans!
---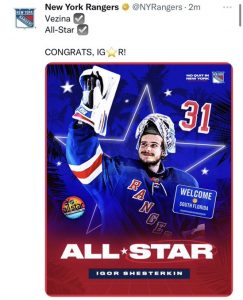 At the 2:25 mark of the game, CZAR IGOR, after giving up a goal on the first shot he faced last game, made a stop this time, as he did on Smith.
No less than a minute later, and at the 3:03 mark of the contest, this happened:
FOXY makin' it looook so easy!!

Rangers lead 1-0 pic.twitter.com/Ac3TSdQT0l

— Rangers on MSG (@RangersMSGN) January 24, 2023
---
1-0, GOOD GUYS – just like that!
While Panarin got the primary assist here (and Zibanejad was credited with the secondary assist); make no bones about it – this was all Adam Fox.
Following a soft pass from Panarin, which should've been intercepted or broken up three-times over; somehow, the Panthers whiffed, Fox got the puck – and #23 then "out-Foxed" the Lyon with a backhanded breakaway goal.
Another highlight reel play, of many, for my candidate for the 2023 Norris Trophy!
On the Rangers' next shift, and with the new second line on the ice – it looked like Vesey had made it 2-0, but the puck hit the post right at the ice level and took a bounce & a pounce for the Cats.
Down to 15:36 remaining, and following an early start that was all Rangers' – a momentum killer – as Lafreniere would serve the Blueshirts' lovely too many men on the ice penalty.
After some strong PK work from Zibanejad and Fox; the PK2 unit came on. Miller got lost in the coverage and CZAR IGOR came way out of his net to challenge Carter Verhaeghe, who then beat #31 with 14:04 remaining.
1-1 – and another short-handed goal afforded by the Rangers.
This goal gave the Panthers some life – but they wouldn't have nine of them tonight.
Down to 12:10 remaining, #10, the $11.6M forward, whiffed at an open net while a foot away. For good measure, he then turned over the puck too – but Trouba bailed out "The Breadman" and came up with a shot block on the Florida odd-man rush that ensued.
Two minutes after that, Lafreniere, as if he was ingesting super horse strength steroids, muscled a pass to Kakko. The puck had too much juice on it and the Finn couldn't handle what could've been an easy one-timer had the pass been better delivered.
As we hit 9:13 left on the clock, CZAR IGOR came up with an odd-man rush save, his best save of the game at this point in time, when he said NYET NYET to Montour.
Under seven minutes remaining, the SOG stat read as such: Florida 7, New York 1.
In other words, while the Rangers had a shooting percentage of 100% (THE ANALYTICS!); not one forward had registered a SOG either. Thankfully, that would change.
With 5:24 to go, and the Rangers now being out-shot 8-1; Lindgren was generously gifted a SOG, as a puck that was sailing wide, and gloved by Lyon, was recorded as a SOG.
Still – the Rangers were looking for their first forward to challenge Lyon at this point in time, where to be fair – let's not forget Vesey's post job either, which doesn't count as a SOG.
In another game that was looking like the Rangers would be flat in following a long layoff; the Panthers who had taken the momentum from the game following the Blueshirts' penalty, then took one of their own.
With 4:07 to go, Nick Cousins ignorantly boarded and cross-checked Kreider in front of two officials. This was totally unnecessary – and it worked out for the Rangers.
Since the Rangers' top line was just on the ice (I'm not making this up – the young members of the Rangers' beat didn't pick up on this fact); the PP2 got a rare chance to start a Rangers' power-play.
Following their 30 seconds of action, the PP1 unit, 1 of their last 25, took the ice. By the end of it, they became 2 of their last 26, as this happened with just 2:39 remaining in the period:
IT'S A POWER PLAY GOAL!! MIKA MAGIC!

Rangers lead 2-1 pic.twitter.com/rWnjyGHwcS

— Rangers on MSG (@RangersMSGN) January 24, 2023
---
2-1, GOOD GUYS – a power-play goal for DJ MIKA, who prior to this shot/goal, sent a puck wide on his predictable one-timer – while also watching Fox hit a post too.
Perhaps even rarer than a Rangers' PP1 unit PPG here?
A long-distance cross-ice pass from Panarin that actually connected with its intended target!
I don't mean to sound so negative, so I'll leave it at this – I just want to see this more often. These long power-play droughts are just maddening!
And oh – this goal was Mika's 250th career goal – as he's now 25% of the way there to 1,000! (Ovi who? I kid, I kid!)
With 63 ticks left to be ticked, Harpur took exception to the antics from Lomberg.
For whatever reason, this pussy cat, who looked like he was two feet shorter and weighed one hundred pounds less than the Rangers' d-man, was trying to goad Harpur into rearranging face. Harpur wouldn't take the dumb penalty – and also pointed out the size differential between the two.
Down to 38 seconds remaining, and in a freak accident play; Chytil and Bennett clicked skates, and where it looked like the Czech had accidentally slew-footed his fellow center.
No penalty was called here, as this was unintentional (Chytil didn't even see Bennett behind him); but Bennett needed assistance to the locker room after this.
Fortunately, while Bennett missed some time; he later returned to the game.
No joke, this injury looked significantly worse than what it turned out to be.
As the period was set to expire, Kakko and Chytil almost connected for the insurance goal, but no dice.
We remained 2-1, GOOD GUYS, after twenty minutes.
Here's what I said at the time:
2-1, GOOD GUYS, after 20. 1P Thoughts:
— Not exactly the best period of #NYR hockey, but I'll take the lead – and the FAT CAT points too.
—SOG 8-7 FLA, Hits 9-6 NYR, FO's 11-11, both PP's 1-1 too
— Anyone who says Karlsson for the Norris is shot. It's Fox's to lose.
LGR!

— BlueCollarBlueShirts (@NYCTheMiC) January 24, 2023
---
SECOND PERIOD:
The Rangers, just as they did twenty minutes prior; had trouble registering shots on goal.
On the first shift, Forsling pleaded his case to an NHL official, as he wanted an elbowing penalty assessed to Trouba.
In another rarity, akin to Haley's Comet – the official made the right call – a no call – as Forsling had skated right into Trouba's elbow – while Trouba's back was facing him no less.
If anything should've been called here, it should've been two minutes for crying!
During the first two minutes, each goalie came up with a good save, as Igor had stopped Lundell, while Lyon made one of his best saves yet – a Lafreniere-to-Chytil deflection/tip try.
As the Panthers had more spring in their paws; Goodrow prevented a Florida two-vs-one odd-man rush and one-timer attempt with 15:15 to go.
Right after that, and with the first line back on the ice – Reinhart hit the iron right where the post and crossbar intersect – a break for the Rangers – but at the same time – the Rangers heard two <DINGS> of their own too.
Down to 13:00 remaining, the Panthers were out-shooting the Rangers 8-1. A minute later, Bennett returned to the game.
As we hit the half-way mark of the period/game, Igor had amassed ten saves in this period. Lyon then recorded his second, on Gauthier's lone shot of the game.
So again, while the score at this time was 2-1, in favor of the home team – CZAR IGOR was doing the heavy lifting. That fact may get lost following the bushel of goals the Rangers would go on to score.
Down to 9:00 remaining, and as Panarin actually made a strong defensive play in the Rangers' zone, the SOG counter was up to 11-2, in favor of the Cats.
Right after that, CZAR IGOR made his best save of the game, on a Barkov shot during a Florida 3 x 1 odd-man rush.
Again, it felt like the Rangers were looking to give this game away – but the goalie wasn't having any of it.
During this TV timeout, and where the game SOG stat read as 19-8, I got a huge chuckle out of this tweet:
Mollie is the girl you bring to see your fav team play and she looks at everything but the game on the ice. #nyr https://t.co/Abl2pSFArk

— Pucker Up (@PuckerUp13) January 24, 2023
---
Funnier than that? This tweet, as posted by a woman, was met with multiple responses that stated, "HOW DARE YOU INSULT A WOMAN! AS A WOMAN, YOU'RE NOT ALLOWED TO DO THAT!"
I guess I'm also extremely guilty of BESMIRCHING someone from my own gender. After all, as a fellow white man over the age of 40 years old – I'm not exactly the biggest fan of Sieve Vagistat!
"HOW DARE A MAN CRITICIZE ANOTHER MAN! THINK ABOUT THE HORRIFIC CRIME YOU'RE COMMITTING AGAINST YOUR OWN GENDER! FOR SHAME, FOR SHAME!"
And not for nothing, I didn't think that @PuckerUp13, if that's her real name, was wrong either.
But hey – MOLLIE DON'T GIVE A SHIT!
---
Down to 6:00 remaining, Lyon prevented a Vesey-Goodrow-Trocheck tic-tac-toe goal.
This save led to another TV timeout, where I didn't know whether to laugh, cry or shake my head, as Sam Rosen excitedly blurted out, "OH JOE, THE RANGERS WILL BE HOSTING A BLACK EXPERIENCE ON FEBRUARY 8TH AGAINST THE CANUCKS JOE! THE BLACK EXPERIENCE JOE!"
Really? "The Black Experience?" That's the best slogan/tag-line that the Rangers could come up with?
I don't know, maybe it's just me, but when I hear "THE BLACK EXPERIENCE" – it sounds like an attraction ride at a theme park!
"COME DOWN TO SIX FLAGS AND WITNESS THE BLACK EXPERIENCE ROLLER COASTER! LIMITED TIME ONLY!"
Again, I'm white, so I can't really tell you much about "THE BLACK EXPERIENCE;" but in my estimation – I don't think being black, or any other race, gender, creed, whatever; is an "experience." It's your way of life. It's who you are.
And if Sam and Joe open that broadcast by wearing blackface, in order to promote the "experience" – then I think that the M$GN will be looking for two new announcers too!
All jokes aside, my point – I just think the word "experience" is a poor choice of wording. All that money for a PR department and that's the word they settled on.
And I can't wait for the March 17th game, when the Rangers will be celebrating "THE IRISH EXPERIENCE!"
"Oh Joe, check out my shillelagh Joe! It's only two inches Joe! WHISKY DICK JOE!"
"Sam, limp dicks work hard and are absolutely fabulous!"
---
After being told all about the various theme park experiences at M$G; one of the hardest-working, sandpaper, lunch-pail, blue collar – you name it, that's what it was – goals of the season:
JIMMY V. with the rebound!!!

Rangers lead 3-1 pic.twitter.com/0B9u8RTbh5

— Rangers on MSG (@RangersMSGN) January 24, 2023
---
3-1, GOOD GUYS and with 4:57 remaining – as the new second line hung together and Vesey buried the loose change following Goodrow's pass.
And as mentioned, this wound up being the game-winning goal too.
How about this?
At the time, Vesey had scored his eighth goal of the season. In other words, just as many as Lafreniere (5), Kravtsov (3) and Blais (0) combined.
That stat would soon change.
Following a monster block from Lindgren on a Bennett blast; with 2:50 remaining, a questionable penalty.
On this play, Harpur attempted a sliding block on Tkachuk. However, Kakko pushed Tkachuk from behind right into his planked-out defenseman, and in turn, #5, and not #24, was given a two-minute minor.
The Panthers had cat-scratch fever during these two minutes – but CZAR IGOR prevailed.
The Rangers would enter the final frame up by two goals.
Here's what I said at the time:
3-1, GOOD GUYS, after 40. 2P Thoughts:
— Feels like #NYR are lucky to be up two – but I'll take it.
— SOG 22-12 FLA; Hits 17-11, FO's 22-21 NYR
— The Vesey/Goodrow/Trocheck line will need a moniker soon
— Igor's best work took place this period
— FINISH!

— BlueCollarBlueShirts (@NYCTheMiC) January 24, 2023
---
THIRD PERIOD:
For a team that has mightily struggled against third-string goalies – the Rangers bucked that trend.
On their first shift, the new second line continued to motor, and this is where Lyon made his best save of the game, an all-out robbery on Vesey.
Up next, a loose puck found a fluky way to Tkachuk; but Igor stopped it. Twenty seconds later, and with 17:40 remaining, Harpur prevented Verhaeghe from striking within one.
As the five-minute mark came-and-went, the SOG stat read as 2-2. At this point of the game, and with the Rangers up by two, you didn't mind a more defensive/conservative approach – although that's not exactly what would transpire next.
Down to 12:25 remaining, Lafreniere had a breakaway but didn't score. As you were just rolling your eyes and wondering if this kid would ever score in the NHL ever again; 21 seconds later, this happened:
LAF!! Rangers up 4-1 pic.twitter.com/EzUkBWkiSt

— Rangers on MSG (@RangersMSGN) January 24, 2023
---
4-1, GOOD GUYS, as Lafreniere finally scored his sixth goal of the season.
While this wasn't a goal scorer's goal; it was reminiscent to the Vesey goal that was scored earlier.
This entire line hustled and applied pressure; and what originally looked like a goal for Kakko, as it looked like Lyon had booted it in following Kakko's shot; upon replay, it was shown that #13's stick got there as the puck was set to the cross the goal line.
Perhaps a fluke goal here – but no one needed this more than Lafreniere.
And again – we shouldn't be celebrating these Lafreniere goals as it were Christmas Day – you know, an event that takes place once a year – as this was #13's first goal of 2023.
In other words – I hope this is the start of something big.
Fourteen seconds later, Mika said "GAME OVER." Take a look:
MIKA MAGIC x2 tonight!!

Rangers up 5-1 pic.twitter.com/5kSzU7Ih6s

— Rangers on MSG (@RangersMSGN) January 24, 2023
---
5-1, GOOD GUYS – and the final dagger.
Down to 10:00 remaining, the Rangers almost scored again, but Verhaeghe prevented a puck from going in. Since he couldn't help himself, Micheletti focused more on this one play than the five goals that the Rangers had actually scored!
Also at this time? Paul Maurice, who quit on the Jets last year, and currently has his cats clawing on for dear life in the standings, pulled Lyon.
Here's the GOOD, BAD and the UGLY:
The ugly: This actually worked, as Barkov scored with 8:58 left on the clock. 5-2, good guys.
The bad: The Panthers left their net empty for a total of over six minutes. (Maurice only returned Lyon to his cage whenever there was a face-off in the Florida zone.) It wasn't until there was 3:11 remaining, where the EMPTY NET ASSASSIN, Filip Chytil, to do what he does best.
The good: CZAR IGOR came this-close of scoring his first goal. M$G roared at the attempt, where the familiar sounds of "I-GOR!" bounced around the iconic ceiling.
Also worth noting: Igor, from 200 feet away, came closer to hitting an empty net than Panarin did, as #10 missed the net, while all alone, and from ten feet out.
Of course, now with a 6-2 score and an inevitable Rangers' victory; down to 2:27 remaining, Sam and Joe gushed over the Bruins. They just can't help themselves!
6-2, GOOD GUYS, your final from M$G.
The Rangers needed this one, and while I'm happy about everything – I also don't lose sight of the fact of who the opposing goaltender was either.
Here's the head coach following the game:
---
As you may imagine, Gallant, the man of the hour, too sweet to be sour, was extremely pleased with his team tonight.
He also cracked a joke too – maybe he'll change his lines again on Wednesday.
To paraphrase the great Al Borland, who frequently told Tim "The Toolman" Taylor – "I don't think so Turk."
I may be back tomorrow (Tuesday). If not, see ya Wednesday night, with a Rangers/Leafs review.
LGR!
PLUGS TIME!
---
My first plug of tonight's blog – the mandatory plug for my book, "The New York Rangers Rink of Honor and the Rafters of Madison Square Garden."
As mentioned previously, the book is now available in hardcover, in paperback and in Kindle formats. To purchase a copy of the book, visit this link:
https://www.amazon.com/Rangers-Rafters-Madison-Square-Garden-ebook/dp/B09CM5N2WD
For those still looking for signed paperback versions of the book, I have re-ordered more copies. I now have a few signed copies for sale at $25 a pop (includes shipping price) through me directly. Here is all the information on that:
---
My four-volume set of books, "One Game at a Time – A Season to Remember," is a game-by-game recount of the Rangers 2021-22 campaign.
My second title as an author, "One Game at a Time – A Season to Remember," is now available in eBook, paperback and hardcover formats.
To obtain signed copies, visit: https://bluecollarblueshirts.com/onegamebook/
To purchase all four volumes on Amazon, visit: Amazon.com – "One Game at a Time."
---
The greatest volume-set of books on Rangers' history today!
"Tricks of the Trade – A Century-Long Journey Through Every Trade Made In New York Rangers' History," a four-volume set of books that meticulously covers every trade made in franchise history, is now on sale.
All four volumes of the title can be purchased on Amazon.com and are presented in three different formats – eBook, paperback and hardcover.
To purchase Volume I: Conn Smythe (1926) – Craig Patrick (1986), visit Amazon.com
To purchase Volume II: Phil Esposito (1986) – Neil Smith (2000), visit Amazon.com
To purchase Volume III: Glen Sather (2000-2015), visit Amazon.com
To purchase Volume IV: Jeff Gorton (2015) – Chris Drury (2022), visit Amazon.com
To purchase signed copies of all four volumes, visit https://bluecollarblueshirts.com/tricksofthetrade/
---
Here are my last few blogs, in case you missed them:
---
---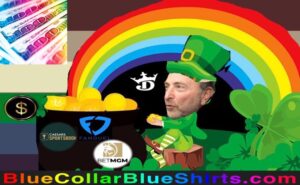 ---
If you haven't already, subscribe to this blog for the next update:
---
Don't forget to order my new four-volume set of books, "Tricks of the Trade!"
If you don't order through me, all four volumes are now available on Amazon.com
For more details, check out: https://bluecollarblueshirts.com/tricksofthetrade/
Thanks for reading.
LET'S GO RANGERS!
Sean McCaffrey
BULLSMC@aol.com
@NYCTHEMIC on the Tweeter machine