Greetings and salutations everyone and welcome to another blog here on BlueCollarBlueShirts.com. Never a slow news day, never a slow news day!
Following the Rangers' bounce back win from Monday night (full game review here: https://bluecollarblueshirts.com/12323/ ); on Tuesday, I thought that I could spend my free time, after completing my shift at my "real job," by tackling some writing assignments tasked of me by "The Maven," Stan Fischler.
While I will share one of my latest pieces for Fischler with you at the end of this blog, one that will later appear on "The Hockey News" website (I think on Friday, but not 100% sure just yet); I didn't get a chance to finish the rest of my "homework" for "The Maven," as the Rangers had a pretty busy day themselves.
In what's now becoming trend, during his daily "TURK TALKS," Rangers' bench boss, Gerard Gallant, will sometimes allude to something or make a throwaway comment – where within a time-span of 24-48 hours – a major event will then take place.
Whether the head coach is talking about his lines, struggling players, players on the brink, or something else; more times than not this season – Gallant's words haven't been cheap. Instead, action usually follows these words – and as they did again on Tuesday.
Prior to Monday's game, and as recapped on this site (read last night's blog for everything); Gallant opened up on Sammy Blais, where he acknowledged that #91, and through no fault of his own (that dastardly P.K. Slewban), isn't where he, nor where the head coach neither, wants him to be.
Previously this season, Gallant had said similar words about both Alexis Lafreniere and Vitali Kravtsov, where following Double G's thoughts – the two were then demoted in the line-up and/or made a healthy scratch.
And it's not just the younger players on the team either.
Whether it was Jonny Brodzinski's frequent o-zone penalties (which returned him to Hartford), Jacob Trouba (who was then split up from his usual partner K'Andre Miller for a stretch of games) or Artemi Panarin's lack of chemistry with Vincent Trocheck; Gallant soon followed up on his public thoughts – with action.
Furthermore, and with the benefit of hindsight, Gallant also made some cryptic comments about both Ryan Reaves and Dryden Hunt prior to their departures.
And to be fair – this stuff isn't just exclusive to negativity either.
Just as what happened on Tuesday, and in the other examples listed above; earlier this season, Gallant raved about players punching above their weight, such as Barclay Goodrow, Jimmy Vesey, K'Andre Miller and Julien Gauthier, where following these comments – these players, and others – then received more playing time and/or more action on the Rangers' power-play (Miller is the biggest example of the latter).
As discussed last night on this site; following the win over the Panthers, Gallant said:
"Honestly, I wasn't overly happy with most of the night, but things ended up and it's a win. However, we turned over a lot of pucks during the first two periods in the neutral zone and gave up a lot of chances. We were in control of the game and got those two goals to make it 3-1 and that was big, but I just didn't think we played well enough. We got some breaks, some puck luck and breaks, but our game wasn't real good."
Perhaps replacing the familiar cry of "NO QUIT IN NY" should be "NO COMPLACENCY IN NY!"
Rather than riding high following a four-goal differential on the scoreboard; the Rangers took action.
And here's some food for thought: as the Rangers, just like the rest of the league, prepare for the NHL trade deadline; I think Gallant, Drury and the entire organization are trying to get a look at as many players as possible – and line-up combinations too – where following March 3rd – that's where I think you'll really see the Rangers kick it in high gear – and with a steadier, day-in & day-out line-up to boot.
---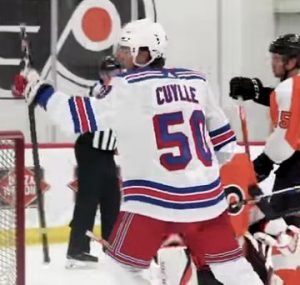 The Rangers posted a press release on their website on Tuesday afternoon, one that you can read from its original source here: https://www.nhl.com/rangers/news/rangers-recall-will-cuylle-from-hartford/c-340350870?icmp=int_web_nyr_news_rightrail
Here's how the team covered the call-up of Will Cuylle and the demotion of Sammy Blais:
New York Rangers President and General Manager Chris Drury announced today that the team has recalled forward Will Cuylle from the Hartford Wolf Pack of the American Hockey League (AHL). Sammy Blais has been assigned to Hartford for conditioning.

Cuylle, 20, has skated in 39 games for Hartford this season, tallying 13 goals and seven assists for 20 points. Among Wolf Pack skaters, he ranks first in goals and third in points.

Across two seasons with Hartford (2022-23, 2020-21), the Toronto, Ontario native has registered 15 goals and 10 assists for 25 points in 57 games.
The 6-3, 211 pound forward played three seasons with the Windsor Spitfires of the Ontario Hockey League (OHL), notching 163 points (91G-72A) in 184 games. In 2021-22, as captain of the Windsor, he posted 43 goals and 37 assists for 80 points and a plus-22 rating. He ranked tied for sixth in the OHL in goals last season. In the 2021-22 postseason, Cuylle recorded 31 points (15G-16A) in 25 games, ranking fourth in the OHL in playoff points, third in goals and fourth in assists.

Internationally, Cuylle helped guide Team Canada to a gold medal at the 2022 World Junior Championship, where he posted four points (2G-2A) in seven games.

Cuylle was originally drafted by the Rangers in the second round, 60th overall, of the 2020 NHL Draft.
---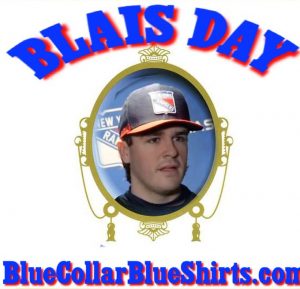 Trust me, I'm no seer or Nostradamus here, but last night's blog title included the following words: "Blais' Days Numbered."
I won't rehash "The Life & Times of Sammy Blais" again tonight; but as we all know, it's been a grueling ordeal for him.
And just like most of you – when I saw that Blais was being sent down to Hartford for "conditioning" – rather than being "waived" – I was shocked too.
As laid out on this site for the past two weeks; that infamous "a-word," as in "accrue," and how it relates to the salary cap & the Rangers' quest to accumulate more cap space to play around with ahead of the March 3rd NHL trade deadline – in theory, should make Blais expendable.
"In theory."
Rather than wiping Blais' contract off of the books, either by having some other team claim him or transferring some of his salary to Hartford; instead, the Rangers will continue to carry Blais' annual cap hit of $1,525,000, while adding another player to their roster, Will Cuylle and his cap hit of $828,333.
But keep this in mind – all of this could be temporary.
After all, following both Wednesday's game in Toronto and Friday's home tilt against Vegas; the Rangers will then have the next nine days off – where during that time – I'd expect various cap machinations – including a Cuylle return to Hartford – for as temporary as that may be.
In what's funny (or at least to me); earlier this season, I mentioned that Lafreniere couldn't be sent to Hartford outright, as he had to clear waivers. However, I also said that perhaps the Rangers could send him to the 'Pack on a conditioning assignment. I wonder if that could still be on the table, although I suspect that won't be the case.
What we do know for a fact is that Blais, and just like Libor Hajek last season, will spend the next two weeks in Hockeytown, USA, aka Hartford, Connecticut, on this "conditioning assignment."
And should Cuylle come out like gangbusters?
Who knows, then maybe the Rangers will officially waive Blais, and his contract, from their books.
For now, what we also know is this – the Rangers aren't willing to give up on Blais just yet. If they were, then they would've just waived him on Tuesday.
Again, I'm just surprised that the Rangers will continue to carry Blais' cap-hit in the interim; but since I'm not there, nor have access to the Rangers' brain-trust either – I suspect that this is small step in an eventual plan that will later be revealed.
---
Following Rangers' practice from Tuesday in Tarrytown, NY, and prior to the team's flight to Toronto; Gallant held a lengthy and newsworthy "TURK TALK" with the media. Here it is:
---
For a full transcript of the interview, Adam Rotter has you covered here: https://nyrangersnews.com/2023/01/24/updates-from-the-rangers-on-tuesday-13/#more-196610
Here's what I deemed as the most important stuff from Tuesday's "TURK TALK":
— Gallant wasted no time and flat-out said that Will Cuylle will play on Wednesday, in his hometown of Toronto.
What really caught my ears is when Gallant brought up how this will give Cuylle a chance to play in front of his friends and family & how important that would be for him. Gallant, a former player himself, knows how special this will be for his newest forward.
And for the head coach?
He knows that he will have a jacked-up player looking to play balls-to-the-wall in front of his relatives – where we now have those two little words again, "IN THEORY" – this should work out.
---
— Gallant kind of glossed over Sammy Blais being demoted.
After talking about Blais at-length over the weekend; there wasn't much else to say. What had to be said was already said.
Gallant just took the company approach and pretty much said the same stuff – it's been tough for Blais, everyone wants him to be better, he works hard but isn't getting results, he has no luck, and hopefully this conditioning stint will jump-start him.
---
— Gallant wouldn't 100% say if Vitali Kravtsov will become the odd-man out, but practically confirmed that would be the case.
I've talked about what I perceive to be Gallant's relationship with Kravtsov all season; where following both "TOOTHGATE" and the "DIARRHEA DEBACLE" – I think that's when the head coach kind of had enough.
Of course, and where injuries and a struggling team played a part of this – Kravtsov, and perhaps begrudgingly, and following a conversation from Drury too (if the plan is to trade Kravtsov, then you won't get much in return if he doesn't play – because nobody is actively seeking "damaged goods"); #74 then skated with the Rangers' second line – where he didn't really capitalize on this newfound opportunity.
I thought Gallant's comments from Tuesday on Kravtsov were telling:
"He's been fine, but again, he's not a fourth-line player. Kravy did OK, he's played OK, but he's not built for a fourth line – he's built to play in a top-nine position. If we decide that's something that's going to shake down tomorrow, then we'll see. I wish he'd score more, I wish he'd finish more checks and stuff like that, but overall he's played about 20 games in a row, in that area, and he's been okay.

"He still gets knocked off the puck too easily for me and there are little things in his game that have to get better.

"He's still a young player, still inexperienced with NHL games. I always say to the guys 'make me play you, make me keep you in the lineup.' Whether it's him tomorrow or not, and it sounds like it's going to be him right now, but I haven't made that decision. We'll decide tonight when we sit down with the coaches, but Cuylle is going in, that's for sure."
Similar to Blais – I really don't see Kravtsov suiting up for the Rangers during the 2023-24 season – assuming he's not traded by March 3rd.
Plus, the Rangers will have to work a new kid in their line-up by then too – Brennan Othmann.
---
As far as anything else, Gallant praised Adam Fox – because after all, why not? He's the team's best player!
---
Here's what Cuylle had to say on Wednesday, now in his first official interview as an NHL roster member:
---
I brought this up before when covering previous Cuylle interviews – I like his confidence.
While I didn't think that the soon-to-be 21-year old (his birthday is February 5th) stood out during preseason; I did like that he believed in himself.
As he said again on Tuesday – he wants to be here.
While playing for Hartford was nice – that's not the goal – the NHL, in this case, via the Rangers – is the goal.
And as mentioned before – I really think the opportunity to make his NHL debut in front of his friends and family will go a long way. It's support and a kind gesture from the organization on his first day on the job.
As far as anything specific from his interview on Tuesday, I did like the fact that he acknowledged his role as a scorer in Hartford; but how he was going to embrace his new role as a fourth-liner for Gallant and the Rangers.
In other words – no ego.
Cuylle, prior to being assigned to Hartford during training camp, said the following:
"I think I just have to show a really good physicality and really good compete. I think my game is obviously being a power forward, being really good on the forecheck and just making things happen offensively. And just being really good defensively, as well as bringing a really good consistent 200-foot game."
He'll get that chance Wednesday night in Toronto, where he is expected to skate along Jake Leschyshyn and Julien Gauthier.
Speaking of the Rangers' line-up, sans what's expected to be the Kravtsov for Cuylle substitution; everything else from Monday night should be the same in Toronto – including our new favorite line, "THE TVG LINE!"
I'll have a full recap of the game for you tomorrow night on the site.
Up next, my latest for "The Maven."
---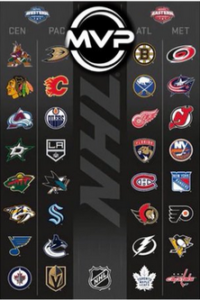 As usual whenever writing for Fischler – I don't know when the following words will appear on THN – but I do know that they will be chopped up/edited to fit his space constraints – restrictions that I don't have on this site!
Without further ado, here are my MVP's for every single NHL club, as we approach the 2023 All-Star Break.
---
NHL MVP's at 2023 All-Star Break
ANAHEIM DUCKS: General manager Pat Verbeek, and not "The King of the Michigan," and the face of the NHL 23 video game too, Trevor Zegras, is the real MVP of Hollywood. As the worst team in the NHL, "The Little Ball of Hate" has his ugly ducklings primed for the draft lottery, with a rich prize to be claimed should he win it, Connor Bedard.
---
ARIZONA COYOTES: Desert Dog fans who have bought themselves officially licensed team ear muffs – to block out the never-ending noise surrounding defenseman Jakob Chychrun – a young defenseman who may wind up old and near-retirement by the time the 'Yotes eventually decide to trade him.
---
BOSTON BRUINS: Despite a myriad of Beantowners enjoying seasons to remember; look no further to head coach Jim Montgomery, who has personified the word "comeback" – and who also has black-and-gold boosters saying, "Bruce Cassidy who?"
---
BUFFALO SABRES: Tage Thompson, who else? Currently on pace for a 100+ point season, the right-winger exchanged from St. Louis, prior to their 2019 Cup victory for Ryan O'Reilly, could end the Sabres' eleven consecutive seasons-and-counting playoff drought. Josh Allen who?
---
CALGARY FLAMES: While the former Panther, Jonathan Huberdeau, has struggled following his big blockbuster trade over the summer; Nazem Kadri, one of the biggest prizes of free agency, has delivered. The 2022 Stanley Cup champ, now earning $49M for the next seven seasons in rodeo-town, leads his new team in goals – and will represent the Flames at the 2023 All-Star Game too.
---
CAROLINA HURRICANES: Cases could be made for '23 All-Star Andrei Svechnikov, and to a lesser extent, team captain Jordan Staal too; but I believe that head coach Rod Brind'Amour is at the top of list – where the captain of the only Cup winner of franchise history (2006) remains supreme. Not many coaches get more out of their players as the bench boss in Raleigh does.
---
CHICAGO BLACKHAWKS: Fans who still have their DVDs from the recent glory years of 2010, 2013 and 2015. It's been tough times for the Original Sixers – both on and off ice. It's also a long road ahead for the Indian head – where the departures of the two greatest pillars of this era, Jonathan Toews and Patrick Kane, are soon expected.
---
COLORADO AVALANCHE: Mikko Rantanen, on pace to hit the century-mark in points this season, has played valiantly when trying to defend Denver's '22 Cup victory. As the team with the most man-power lost this season, including team captain Gabriel Landeskog, perennial Hart Trophy candidate Nate MacKinnon and a few games lost from '22 Norris winner, Cale Makar too; it's been the Finn doing all of the heavy lifting.
---
COLUMBUS BLUE JACKETS: "Johnny Hockey," Mr. Gaudreau himself, admittedly only by default, gets team MVP "honors" here. Following his much discussed, and perhaps "controversial" summer; the former Albertan, now in small city Ohio, has scored nearly twenty points more than any other coat. However, for nearly $10M a season – you'd think he'd have more than one power-play goal to his name after nearly 50 games played.
---
DALLAS STARS: Having signed a four-year deal prior to the season, a pact that pays him $7,750,000 per season; the 23-year old left-winger, Jason Robertson, is making a winner out of his general manager, Jim Nill. Not only should the Michigan native surpass 100 points this season – he should smash that benchmark total too.
---
DETROIT RED WINGS: The now three-time NHL All-Star and captain of the spoked wheel, the 26-year old center, Dylan Larkin, remains as Motown's biggest hit. However, how long will that tune play, especially since Larkin, now on the last year of his present five-year deal, is set to become an unrestricted free-agent this summer? Compounding matters? As now an eight-season veteran – Larkin has only seen the postseason once – during his rookie year.
---
EDMONTON OILERS: Connor McDavid. I think this one is self-explanatory – but as the story goes – #97, currently enjoying one of the best regular seasons of his career (and that says a lot) – will need to get it done in the playoffs one day too.
---
FLORIDA PANTHERS: Andrew Brunette, the first runner-up in the 2022 Jack Adams voting, was unceremoniously canned in Sunrise after the team's first-round loss to the Lightning last season – where as the interim head coach, following the early departure of then Florida bench boss, Coach Q; led the Cats to the Presidents' Trophy. With Paul Maurice now in town, after he quit on the Jets last season; the best team of last year's regular season is currently outside-looking-in at a 2023 playoff berth. As Florida fails, Brunette is now an assistant coach with the red-hot Devils – and should soon receive a second shot to call a team his own too.
---
LOS ANGELES KINGS: Kevin Fiala has more than delivered during his first year in La-La Land. As the main piece of a salary cap dump trade made by Minnesota; the left-winger then signed a seven-year extension worth $55.125M with the silver-and-black. Not only is he the team's leader in assists and points; he will also represent his new club at the '23 All-Star Game.
---
MINNESOTA WILD: Kirill "The Thrill" Karpizov has lived up his nickname this season, as he flirts with another 100-point season – where his performance from this 2022-23 campaign may be even more impressive than the one that preceded it, due to the salary-cap situation in the Land of 10,000 Lakes.
---
MONTREAL CANADIENS: The team's trainers/medical staff. Outside of their peers in Colorado, no one has been busier, as names such as Cole Caufield, Jonathan Drouin, Joel Edmundson, Jake Evans, Brendan Gallagher, Kaiden Guhle, Mike Hoffman, Mike Matheson, David Savard and Juraj Slafkovsky have all spent time on the table. And this list of names doesn't even include both Shea Weber and Carey Price – two players currently on the shelf – and who have yet to announce any form of an official retirement.
---
NASHVILLE PREDATORS: With a one-two punch of center Filip Forsberg and perennial Norris Trophy candidate, Roman Josi; perhaps it's Pekka Renne's successor, a fellow Finn, Juuse Saros, and who will represent "NashVegas" at the '23 All-Star Game, who stands tallest. While Saros' numbers may not scream the word "Vezina", that's largely due to the team in front of him, as on most nights, he's kept the yellow-shirts alive in every game played.
---
NEW JERSEY DEVILS: For your consideration – the 2019 first-overall pick, Jack Hughes, during his first three seasons in the show, finished with point totals of 21, 31 and 56. As Hughes approaches fifty games played this season, and sixty points too – there's a good chance that the '23 All-Star may surpass 108 points this season alone – his totals from the first three years of his career.
---
NEW YORK ISLANDERS: Jon Ledecky, arguably the most-friendliest team-owner amongst his 31 peers, finally got his brand new building running like a well-oiled machine in Elmont. However, what he had prior to the doors opening at the UBS Arena – a playoff team – doesn't seem to be the case this year. As an owner who doesn't interfere, it will be interesting to see how Mr. Ledecky, and his partner, Scott Malkin, react should the doors be shuttered once again come Spring.
---
NEW YORK RANGERS: Adam Fox. For a team boasting a 2020 Hart Trophy Finalist (Artemi Panarin) and the 2022 Vezina Trophy winner too (Igor Shesterkin); it's the 2021 Norris Trophy winner, a Harvard alum, that remains as head of the class in the Big Apple. Put it this way: Fox is having a better season now, when compared to his Norris winning performance from the pandemic-shortened 2021 campaign. The '23 All-Star may add his second Norris to his mantle soon enough.
---
OTTAWA SENATORS: Eugene Melnyk's daughters, Anna and Olivia, who will soon stand to profit on the sale of their recently deceased father's team – an investment that set him back $92M in 2003 – and stands to net his kin anywhere from five-to-eight times that amount. For a franchise that needs a new barn, and maybe one day, a playoff-bound team to fill it; what's best for Melnyk's kids is to wash their hands of the Senators – a club who haven't won a Stanley Cup since their "Silver Seven" days.
---
PHILADELPHIA FLYERS: Kevin Hayes, in Year Four of a seven-year deal that pays him $7,142,857M annually, and now at the age of thirty, is enjoying the best season of his career. The center, who has career-highs of 25 goals, 32 assists and 49 points, is currently a few games away from shattering all of these numbers. Hayes, who will play in his first All-Star Game in February, may also draw interest at the trade deadline too, due to the Flyers' desperate need of a true full-blown rebuild.
---
PITTSBURGH PENGUINS: Sidney Crosby. 'Nuff said. No longer "The Kid," the lifeblood of the Steel City continues to average over a point-per-game – and may score 100 points again this season – not too shabby for a 35-year old who many alleged was no longer in the prime years of his career.
---
SAN JOSE SHARKS: Erik Karlsson, who is finally coming close to earning his insane annual salary of $11,500,000, is enjoying a comeback season – but on a bad team – and where the loss of Brent Burns (CAR) has artificially increased EK65's power-play time and numbers. Some fans of the Swede are campaigning for a 2023 Norris Trophy on his behalf, but despite his high point totals, the former two-time winner (2012 and 2015) isn't playing for a contender, nor plays defense in the same manner as current candidates for this prestigious piece of hardware do.
---
SEATTLE KRAKEN: It's easy to argue for '23 All-Star Matty Beniers, and the two-time Cup champ Andre Burakovsky too; but in my eyes, no one has been more valuable than the now 33-year old goaltender, Martin Jones – a backstop, formerly long-time of San Jose, and who had a horrendous time in Philadelphia last season. While Jones' GAA and save percentage statistics may not jump out at you – his win total does. After experimenting with a carousel of goalies last season; Jones has become the first stable net-minder of franchise history.
---
ST. LOUIS BLUES: Prior to injuring his wrist during the Blues' final game of 2022; Vladimir Tarasenko, who previously asked out of St. Louis and is set to become an unrestricted free agent this summer, was enjoying another All-Star season. He was then named to his fourth All-Star affair in January. However, good news for the Blues, and perhaps future rental suitors too – VT91 is expected back soon.
---
TAMPA BAY LIGHTNING: In what's really a "pick'em," among a cast of recent two-time Cup champions, including Andrei Vasilevsky, Victor Hedman, Steven Stamkos and Brayden Point; perhaps no one has been better for the Bolts than Nikita Kucherov. The right-wing Russian, who is already filling up his second trophy case, was recently named to his fourth NHL All-Star game.
---
TORONTO MAPLE LEAFS: While I believe that the soft-spoken captain John Tavares is more well-rounded, especially from a maturity perspective; it's still the first-overall selection of the 2016 NHL Entry Draft, Auston Matthews, who is the face that runs the place. AM34 may not hit sixty goals as he did last season, but he has a great chance of scoring fifty.
---
VANCOUVER CANUCKS: The season ticket holders in British Columbia not only have my respect – and my sympathies too – but their dedicated devotion is the only thing valuable about this franchise today. As the old adage goes, "if you have nothing nice to say, then don't say anything at all." Moving on!
---
VEGAS GOLDEN KNIGHTS: Little-known goaltender, Logan Thompson, who prior to this season, had only logged twenty games in the NHL, is now very well-known today. He's also a 2023 NHL All-Star – and if it weren't for Linus Ullmark in Boston – perhaps a strong favorite for the 2023 Vezina Trophy too. Entering this season, it was thought that goaltending would be the biggest weakness in Sin City. Instead, it's the people between the pipes who have been the biggest strength on The Strip.
---
WASHINGTON CAPITALS: Alex Ovechkin. I mean, who else? As everyone watches "The Great Eight's" chase of "The Great One;" perhaps lost in all of that is that #8 has shown no signs of slowing down. With many Capitals beginning the season on the injured-reserve list; Ovechkin has kept his team in playoff contention despite these numerous absences, including such talent as Nicklas Backstrom, Tom Wilson, Carl Hagelin and others.
---
WINNIPEG JETS: Connor Hellebuyck, the 2020 Vezina Trophy winner, is currently competing for the 2023 award. Due to Hellebuyck's performance in net this season, the goalie has his team flirting with not only first place in the Central Division, but in all of the West too.
---
Back at it tomorrow night, where all the best of luck to the newest Ranger, Will Cuylle!
PLUGS TIME!
---
On Tuesday night, our pals over at "The Blueshirt Underground Show" returned with a new episode. To check it out, click the play button below:
---
My first plug of tonight's blog – the mandatory plug for my book, "The New York Rangers Rink of Honor and the Rafters of Madison Square Garden."
As mentioned previously, the book is now available in hardcover, in paperback and in Kindle formats. To purchase a copy of the book, visit this link:
https://www.amazon.com/Rangers-Rafters-Madison-Square-Garden-ebook/dp/B09CM5N2WD
For those still looking for signed paperback versions of the book, I have re-ordered more copies. I now have a few signed copies for sale at $25 a pop (includes shipping price) through me directly. Here is all the information on that:
---
My four-volume set of books, "One Game at a Time – A Season to Remember," is a game-by-game recount of the Rangers 2021-22 campaign.
My second title as an author, "One Game at a Time – A Season to Remember," is now available in eBook, paperback and hardcover formats.
To obtain signed copies, visit: https://bluecollarblueshirts.com/onegamebook/
To purchase all four volumes on Amazon, visit: Amazon.com – "One Game at a Time."
---
The greatest volume-set of books on Rangers' history today!
"Tricks of the Trade – A Century-Long Journey Through Every Trade Made In New York Rangers' History," a four-volume set of books that meticulously covers every trade made in franchise history, is now on sale.
All four volumes of the title can be purchased on Amazon.com and are presented in three different formats – eBook, paperback and hardcover.
To purchase Volume I: Conn Smythe (1926) – Craig Patrick (1986), visit Amazon.com
To purchase Volume II: Phil Esposito (1986) – Neil Smith (2000), visit Amazon.com
To purchase Volume III: Glen Sather (2000-2015), visit Amazon.com
To purchase Volume IV: Jeff Gorton (2015) – Chris Drury (2022), visit Amazon.com
To purchase signed copies of all four volumes, visit https://bluecollarblueshirts.com/tricksofthetrade/
---
Here are my last few blogs, in case you missed them:
---
---
---
If you haven't already, subscribe to this blog for the next update:
---
Don't forget to order my new four-volume set of books, "Tricks of the Trade!"
If you don't order through me, all four volumes are now available on Amazon.com
For more details, check out: https://bluecollarblueshirts.com/tricksofthetrade/
Thanks for reading.
LET'S GO RANGERS!
Sean McCaffrey
BULLSMC@aol.com
@NYCTHEMIC on the Tweeter machine