Greetings and salutations everyone and welcome to another blog here on BlueCollarBlueShirts.com. Best win of the season.
In the past on this site, I have warned you that perhaps I do "live in the moment," and as a result, can get lost during a post-game euphoria with a recency bias. However, that doesn't apply tonight.
Without a shadow of a doubt, the Rangers 5-2 neutering of the Florida Panthers on Tuesday night, was easily their best team-wide victory of the season – especially when you consider all of the circumstances going into this game.
When you compare this game to the many other victories from this season; yes, the team has scored more goals. And yes, the team has allowed fewer goals too. And heck, these Rangers even declawed this Florida Panthers team, best in the league, earlier this season.
However, the Florida Panthers are red-hot right now and are at the peak of their powers. Conversely, the Rangers are not – or at least they weren't prior to this game!
Entering this game, the team from the Sunshine State (with hardly ever any fans in-attendance), set a league-record for the most amount of goals ever scored in the month of January, as the team finished off the first month of 2022 with an astonishing 75 goals for.
In tonight's game with the Rangers, the Panthers, who had just scored eight goals against the Columbus Blue Jackets just 24 hours prior, only scored two.
And while you can never truly play the "if this happens, then that happens game" (as every play in a game is independent to itself) – it should be noted that both Florida goals in this contest were the end result of some questionable defense out of Libor Hajek.
Had Adam Fox, the top skater on the team, and the current reigning & defending Norris Trophy winner, had played – who knows? Maybe this would've been a shutout victory for the Rangers tonight.
However, Fox didn't play. Hajek did.
When the triple zeroes flashed on the scoreboard around 9:35PM EST, the Rangers, coming off of a putrid performance against Seattle (which may have been impacted by the schedule, and as noted on Sunday), knocked off the hottest and best team in all of the NHL.
Even better – everyone contributed in this one, as the team, currently without Adam Fox, and in addition, two of their regular forwards too (Kaapo Kakko and Filip Chytil); collectively, they all embraced the "NEXT MAN UP" adage, and won an absolute war.
If you weren't entertained by this game – hockey isn't for you.
---
While I'll have plenty to say during the game review segment; what I said on Sunday should also be reiterated here.
Following the Rangers fortunate 3-2 defeat of the Seattle Kraken; head coach Gerard Gallant, for the first time this season, publicly ripped his team to shreds. As said at the time, I felt this was a motivational tactic, and a way for "The Turk" to make sure that his team didn't look ahead to their upcoming two-week vacation.
It worked.
Yes, the first period of this affair wasn't the best; but at the same time, you have to consider the quality of competition too.
As mentioned about 7863784683348763847387 times before on this site; very rarely, does any team in the league play a perfect and flawless sixty minute game.
If anything stood out the most tonight, it was the team's heart. They never gave up.
At times, this game felt like "Sparta on Ice," starring the Rangers and Panthers. Puck battles, one-on-one bouts of physicality, never giving up an inch, and just scratching & clawing (pun somewhat intended here), were all on display at "The World's Most Expensive Arena."
(And speaking of Sparta, tonight was Gallant's 300th win as an NHL head coach.)
And while you can't take any credit away from the Rangers themselves; I suspect, and it's my belief too – that all of this was because of Gallant's fiery "kick-in-the-ass" post-game missive from Sunday afternoon.
Yep, talk about Kreider for the Hart if you want. Talk about Fox for the Norris. And of course, talk about CZAR IGOR for the Vezina as well. However, also talk about Gerard Gallant, in year one with his new club, as a Jack Adams contender too.
---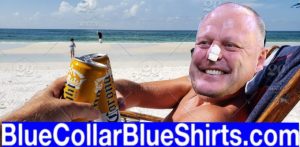 Speaking of Gallant; at this time, let's get the pregame NEWS segment out of the way, and then dive into this game itself.
Following the snoozer with Seattle, Gallant's Gang reconvened for practice Monday morning, where Filip Chytil took his first skate with the team since being deemed as "day-to-day."
After his damning statements about his own team on Sunday, Gallant was back to his usual cool, calm and collected self on Monday. Here's "The Turk" from Monday afternoon:
---
I know I've been raving about Gallant all season long, but in either event, I enjoyed what I heard here.
On Sunday's blog, I mentioned that I thought the schedule was a major factor in the Rangers sluggish performance against the Krakheads. While Gallant wouldn't say that following the game, he did bring it up on Monday. Of course, Gallant wouldn't use the schedule as an excuse – but the fact that he brought it up tells you all that you need to know.
As we are all aware of, for the past month, the Rangers have had a rotating roster, due to both injuries and omicron.
Gallant brushed on this fact during his interview, where just like all of us, the head coach is looking forward to the break. With two weeks off, the team now can return to full health, get some full practices under their belt, and then go back to rolling out four regular/consistent lines.
Of course, should General Manager Chris Drury make a trade during the next two weeks; this scenario would give the Rangers a jump-start ahead of the NHL Trade Deadline. Should such a transaction occur, whoever that player is, in turn, will then get more time to get used to his new surroundings and teammates.
(And as mentioned before on this site, I have no inside information on what Chris Drury is thinking and what he's looking at. What I do know for a fact, is that the Rangers do have salary cap room to accommodate a rental with a high price tag, but of course, playing the waiting game may be best – only because selling teams will then be more desperate to make something happen. In other words, in theory, the Rangers may have to give up less later on, for the exact same return that they could get today/during these next two weeks.)
Gallant also praised Chris Kreider, where without saying these words verbatim, the head coach pretty much said that the longest-tenured Blueshirt is the lifeblood of the Rangers power-play. That was apparent once again on Tuesday night.
A day later, Tuesday, game-day, the Rangers tweeted out the following:
With Barron recalled, it hinted that Filip Chytil would not be able to return for this game with Florida.
Two hours prior to puck-drop, Gallant confirmed that Chytil wouldn't be playing.
While not directly saying it, Gallant teased that the Rangers were being precautionary with the Czech. Rather than returning Chytil to the line-up at 90%, 95%, 99% or whatever other number you want to use here – the Rangers played it conservatively.
And really, I don't blame Gallant and company for doing so. There was just no point in re-aggravating Chytil's injury for just one game prior to a two-week break. Now, #72 in blue can use these next two weeks to get back to 100% health. And if you're Chris Drury, it gives you a healthy player for future trades, should the ex-captain explore those roads.
---
Here's what "The Turk" went with for this final game before the All-Star break:
FIRST LINE: Kreider/Mika/Lafreniere
SECOND LINE: Panarin/Strome/Hunt
THIRD LINE: Barron/Goodrow/Gauthier
FOURTH LINE: McKegg/Rooney/Reaves
Defensively, we had this:
FIRST D-PAIR: Lindgren/Schneider
SECOND D-PAIR: Miller/Trouba
THIRD D-PAIR: Hajek/Jones
And in net, CZAR IGOR.
---
BOX SCORE time.
The following information and graphics come from the new world-wide leader in NHL coverage, ESPN.com:
SCORING:
PENALTIES: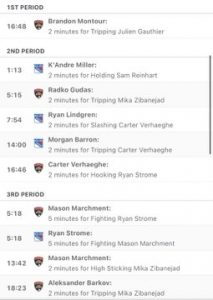 TEAM STATS:
GOALIES:
| | | | | | | | | | | |
| --- | --- | --- | --- | --- | --- | --- | --- | --- | --- | --- |
| SA | GA | SV | SV% | ESSV | PPSV | SHSV | SOSA | SOS | TOI | PIM |
| 34 | 4 | 30 | .882 | 29 | 0 | 1 | 0 | 0 | 57:16 | 0 |
| | | | | | | | | | | |
| --- | --- | --- | --- | --- | --- | --- | --- | --- | --- | --- |
| SA | GA | SV | SV% | ESSV | PPSV | SHSV | SOSA | SOS | TOI | PIM |
| 36 | 2 | 34 | .944 | 29 | 2 | 3 | 0 | 0 | 59:32 | 0 |
THREE STARS:
---
I know I've said this in the past, but I'll say it one more time here and that will be the end of it from me.
Many hockey (and Ranger) fans complain about how the league doesn't make the money that they should, how they want the salary cap to go up, and about 786786789678968969 other things. Then, when the league strikes a great deal for their game rights, everyone cries about that too.
Tonight's game wasn't on the M$G Network, which soured some fans. However, it's my opinion, that if you can cry about this on the internet, then you probably can figure out how to find a streaming site too – whether it's a legal or illegal stream.
What also strikes me as funny, is that for all of these people who were complaining about trying to figure out ESPN+ and/or Hulu – is that all of these people have Netflix and/or Amazon Prime.
If my 71 year old dad can figure out how to use ESPN+, then everyone else can too. After all, what were all of you guys and gals doing during the pandemic anyway? Using streaming services!
And yes, I should admit, that I think the ESPN+ price point is perfect.
For six bucks, and as a huge fan of both the NHL and the UFC – I get every game and fight from both of these entities. (I was a day one ESPN+ subscriber, because of their UFC package. Getting all of these NHL out-of-market games for the same price was a very welcomed addition.)
I understand that everyone wants every game broadcasted on network or cable television; but you have to have your head in the sand (or even better, the litter box of the Panthers), if you can't see that streaming is the way of the future.
My prediction? In five-years, cable will go the way of the dodo.
While it won't be permanently extinct; to watch anything of quality, you'll have to have streaming services. After all, just look at all these brand new televisions that are released every year – they all have streaming packages built-in, and streaming buttons on their remote controls too. (I noticed this just yesterday, when adding my ESPN+ account to my dad's brand new TV!)
If you want to watch every game that the Rangers play, you'll have to embrace the new reality. Or at the very least, click out of some ads whenever visiting the NHL66 website, or whatever illegal streaming site pops up – following the very likely shutdown of NHL66 in the near-future.
(Illegal streaming sites URL's come-and-go, but illegal streaming will always remain.)
---
Since this was an ESPN+ game, we didn't have a pregame show, outside of the (legal) streamer telling us that the Rangers and Panthers were playing. Despite the lack of pregame coverage, this was still better than having to listen to Vally – a perfect way to enter this Rangers vacation!
Even better? There was a post-game show, where a real member of the Rangers alumni, and a successful NHLer too, Ryan Callahan, broke down the Rangers victory.
Similar to the old WWE campaign from twenty years ago, where the wrestling conglomerate told fans to "get the 'F' out," (previously, the WWE was called the WWF, but a legal battle with the World Wildlife Fund changed that), I'd like to see Ranger fans start a new campaign:
"GET THE 'V' OUT AND REPLACE IT WITH A 'C'!" (Patent pending!)
If you rather listen to Vally, that's your problem. To each their own!
For me, I much rather listen to Cally. Plus, much like AJ Mleczko (in-between the benches for ESPN tonight), who also is a product of Islander broadcasts – Vally is a member of the Islanders alumni himself. Who needs that?
I'll take Captain Cally and Henrik Lundqvist as our featured analysts over the current product of today.
Game review time!
---
It should be mentioned, that the start of this game saw Ryan Reaves on the first line with Mika and CK20, only to go back to his regular spot on the fourth line, where Alexis Lafreniere then returned to the top line.
As you read these words, I haven't watched any of the post-game interviews, nor read any of the post-game reports either. (I only do that after finishing these blogs, as I don't want to be influenced by anyone else when writing my own stuff).
However, since today marked the first day of "Black History Month," it's my opinion/reasoning on why Gallant gave Reaves a shift with the first line when opening the game. I don't know this for a fact, but "Black History Month" or not, this didn't bother me either way – especially since I've been a day-one fan of the Reaves trade!
After wondering if Ranger fans, who always scream through the National Anthem anyway, would ever start to belt out the word "GALLANT" during the song ("O'er the ramparts we watch'd were so gallantly streaming"); I tweeted out the following, once seeing Reaves ready for puck drop:
CZAR IGOR vs Spencer Knight. Reaves starts on the first line, presumably for black history month. Wouldn't mind seeing him there for the whole game anyway. #NYR

— BlueCollarBlueShirts (@NYCTheMiC) February 2, 2022
---
Wouldn't you know it, just 35 seconds after tweeting that, this happened:
Mika deflects it PERFECTLY

(via @NYRangers)pic.twitter.com/wkka7AThwd

— Rangers Videos (@SNYRangers) February 2, 2022
---
1-0, GOOD GUYS, just 35 ticks in!
Okay, okay, okay – I know that Reaves didn't get the goal here, but nevertheless, Mika was trying to find "The Grim Reaver" for the tally. However, instead, defenseman Gus Forsling made contact with the puck, but the intended result was still the same – a quick goal for the Rangers!
For Mika, this was his 18th goal of the season, as he continues to erase the memory of his poor start from the top of this 2021-22 campaign. (You would have to be a real asshole to call him Rika Zibanenash, am I right? Oops!)
And for a team full of adages, here's another – "it's not how you start, it's how you finish!"
And for the analytical losers, who go through boxes of Kleenex daily when sobbing about the Rangers five-vs-five game – here's a quick five-vs-five goal from the center. The Rangers would eventually get another one too.
(And I still don't understand why people care how goals are scored, who scores them, and if they are "good lookin'" goals or not. All I care about are wins and losses! I still think these analytical bozos never equate that the other team is paid to play hockey too.)
CZAR IGOR's first save of the game came after a shot out of Sam Bennett. Need I remind you, had Jeff Gorton not made his silly ultimatum around this time last year – that he probably could've dealt Tony DeAngelo for the now-Floridian center? What could've been!
The first five minutes of the period were particularly good.
After Mika's goal, and a few saves from #31 in Broadway Blue; Lafreniere hustled to break up a potential icing and Zibanejad soon forced a turnover. However, the Rangers then fell into old habits, where they barely got shots on goal, but when you have CZAR IGOR in net – the goaltender always gives you a chance to drop these bad habits.
(For what it's worth – I've seen Mike Richter in his prime. I've seen Henrik Lundqvist in his prime. Neither were as strong in the department of puck-handling as the CZAR currently is. This would play into the game later on.)
Near the five-minute mark of the period, the Panthers had their first sustained attack, where the Cats spent nearly fifty seconds in the Rangers zone. CZAR IGOR stopped a knuckle-ball puck, with the precision of a knuckle-ball catcher. (Think Doug Mirabelli, formerly of the Boston Red Sox, a catcher who exclusively caught for knuckle-baller Tim Wakefield.)
7:30 into the game, it was evident that Mika came to play, as you noticed him on every shift – and not just because he scored a goal. Ditto CZAR IGOR, who quickly amassed a bunch of saves early on. (This would be his toughest period, as the Rangers turned it around during the final forty minutes.)
After Duclair almost had a chance to go one-on-one with the Vezina one; Julien Gauthier was easily taken down by repeat-offender Radko Gudas. This Gudas play wasn't dirty, but he made Gauthier look like a child.
With Florida coming on, and with 10:40 to go; the Panthers had an odd-man rush, where Owen Tippett ripped a puck past CZAR IGOR. 1-1, or so we thought.
"The Turk" quickly challenged this goal for offside, where on the replay, it was evident that the Panthers got too giddy and crossed the blue line early. This successful challenge not only preserved CZAR IGOR's shutout – but also bailed out Hajek and Jones too.
That wouldn't last long though.
As Islander cretin AJ Mleczko was praising and willing the Panthers into the goal, that's exactly what happened next.
With 9:16 remaining, "old friend" Anthony Duclair tied the game, where he buried a puck past Igor while on the rush. For the former Duke of NY, this was his 19th goal of the season. (13th goal on the rush too – tops in the NHL.)
(And while I, and several of you guys too, were fans of Duclair at the time, and didn't like the trade of him either; this much is true – he's a different player now and he's matured. He may not be the player he is today if he didn't go through all of the bouncing around, as Florida may have given him last chance of six! And I doubt he'll ever represent himself as his own agent ever again too! And yep – talent always earns more chances. Just look at Evander Kane, now in Edmonton.)
But yep, either way, the curse of "every ex-Ranger must score against the Rangers" once again proved true.
In addition, Libor Hajek didn't look too hot here. He'd foul up later in the game too, where it's my opinion, while Hajek hasn't been truly bad (or at least not as horrible as others make him out to be) – he does struggle against top/elite competition.
If you look at Hajek's two worst games of the season, it's this one and the game in Vegas. Any other game, and against inferior competition, he's been reliable/serviceable as a third-pair d-man.
Following Duclair's goal, the Rangers continued their ten-minute stretch without a shot on goal, where they mimicked their previous issues with this.
After Igor denied Bennett on a spinorama backhanded attempt; Morgan Barron, back in the line-up, exhibited some solid forechecking, and with 6:50 to go.
Thirty seconds later, CZAR IGOR flashed the cow once again, where he denied Lomberg of a goal. This SOG gave the Panthers a 10-3 SOG advantage. They'd later increase it to 14-3.
With the Rangers offense coming up deficient, I started to wonder – "when will CZAR IGOR just leave the net and join the rush?"
Once Spencer Knight denied a Panarin-to-Miller hook-up; on the other end, CZAR IGOR was tasked again to make another big balls save. He did just that.
With 3:12 to go, Julien Gauthier drew Brandon Montour for hooking. This penalty was much-needed, as the Rangers would get to employ their power-play attack, even if it was Fox-less.
This power-play wasn't very good at all.
Following the Florida kill, where the ESPN+ announcers pretty much etched Hajek's name on a gravestone; we remained tied at 1-1 after twenty minutes of play.
Without question, CZAR IGOR was the star of this period. As he always does, he kept the Rangers chances alive, and he'd soon be rewarded with his 22nd win of the season. (22 wins in 29 games, where none of his seven losses (OT included) were on him. That's why he's a Vezina candidate!)
---
The second period started out badly for the Rangers, as Igor quickly made a save on Weegar. Immediately after, K'Andre Miller held Sam Reinhart. Florida quickly pulled Knight for the extra attacker, and after about a 40 second attack; the Rangers netminder made a huge glove save on Forsling.
Now on the PP, and just 63 ticks into the period; the Panthers scored a goal eerily similar to the one Lafreniere scored against Seattle.
Just 2:18 into the period, Barkov rang a puck off of the post, and Reinhart easily skated by Hajek for the tap-in PPG, a puck that was deposited into Igor's vacated net. Bad puck luck for the Rangers here, although Hajek could've played this better. 2-1 bad guys.
As you started to get that "oh no" feeling, the Rangers never gave up. Up next was a ferocious display of physicality, where the team was hellbent on winning every individual battle.
Following back-to-back SOG from McKegg and Lafreniere; just 69 seconds (nice) after Reinhart's goal, the number one overall selection picked up his second straight goal in as many games:
Laffy with goals in back-to-back games!pic.twitter.com/j6coJaxCi5

— Rangers Videos (@SNYRangers) February 2, 2022
---
2-2!
On this goal, Kreider (two goals, one assist tonight), got his apple here, after getting the puck to #13. Lafreniere took a backhanded shot, and the puck trickled past Knight – on a shot that the Florida goaltender should've stopped. However, that's Knight's problem and not mine.
This goal was huge, as it quickly erased Florida's lead and pumped some life into the Rangers. You could also see that Knight was getting jumpy and jerky a bit too; because after this goal, and on the next Rangers possession, Knight froze a long-distance puck, a puck he should've easily been able to move up ice.
With 14:45 to go, Lafreniere tried to return the favor to a teammate, but his ill-advised pass didn't go nowhere. Fortunately, Zibanejad quickly retrieved the puck, which then resulted in Gudas tripping #93 in blue.
This Rangers power-play was better than the first one, but despite the man-advantage, the Rangers didn't get a SOG. It wasn't for a lack of trying though, as the Panthers blocked 3-4 shots during this PK.
Now back at even-strength, that wouldn't last long, as with 12:06 to go, Lindgren was boxed for slashing Carter Verhaeghe, a former teammate of Barclay Goodrow.
Igor was the team's best penalty killer here, where he preserved the 2-2 tie.
Now under ten minutes to go in the second stanza, Knight made his best save of the game, where he denied Kreider on a Trouba rebound. Knight's luck would soon be broken.
Kreider and Trouba would soon team-up again, where the duo tag-teamed Mason Marchment with a big hit. Keep that in mind.
With six minutes to go, it was Morgan Barron's time to enter the penalty box, as he tripped Verhaeghe.
This time, it were the Ranger skaters who dominated the penalty kill. In fact, Mika almost had Kreider for a breakaway goal, but #93 in blue had too much juice on a pass.
After the kill, Strome forced a turnover. With 3:14 to go, Verhaeghe, who had already drawn two penalties, was sent to the box himself, after hooking Panarin's favorite center.
Now on their third power-play, the Rangers went to the well for another adage – "third time is a charm."
About forty seconds into the Rangers power-play, this happened:
CHRIS "POWER PLAY" KREIDERpic.twitter.com/JMMUF5cX9T

— Rangers Videos (@SNYRangers) February 2, 2022
---
3-2, GOOD GUYS!
It's a shame CZAR IGOR doesn't get the assist here, as he made this play happen.
After Igor got the puck to fellow comrade Panarin; "The Breadman" moved the puck to Strome, and #16 in blue made a perfect pass, which led to Kreider's redirection goal. How sweet it is!
Now with 2:35 to go, you could see that the Rangers were feeling it. What's that word that DQ used to say? Oh yeah – "SWAGGER!"
After Knight denied Goodrow on a tip-in attempt; Igor robbed Reinhart with 88 seconds left to play.
Following Igor's save, we saw Gallant screaming at the officials about something. On replay, we saw that Marchment had laid a blind-side hit on Strome, a hit that should've been called as interference. This too, would play later into the game.
As we got to the end of the period, the Rangers remained up 3-2.
The SOG stat, which the Rangers were dominated in during the first period, now read as 27-22, visitors – but by the end of the game, the Rangers would fall one shot on goal shy of evening up the statistic. That said, who cares about that when you win 5-2!
---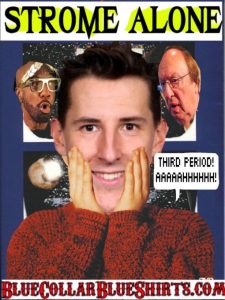 Going into the third period, I said the following:
Should not be forgotten that Florida have had their best periods against #NYR in the third. Gotta keep playing physical!

— BlueCollarBlueShirts (@NYCTheMiC) February 2, 2022
---
I'm happy to report that's EXACTLY what the Rangers did.
In what felt like a period straight out of the playoffs, both teams were willing to battle and showcase their brawn.
As the Rangers continued to win o-zone draws (a huge improvement at the dot tonight), McKegg beat out an icing call with 16:37 to go, but the refs called the Rangers for icing anyway. These officials as of late have really been prone to mistakes.
Five minutes and ten seconds in, Igor denied Lundell with a beautiful blocker save.
Eight seconds later, Marchment, who was a hitting machine himself, including the blind-side hit on Strome during the second period; finally was called out – and by Ryan Strome himself.
I know Strome doesn't have a tough guy reputation, but when called upon, he always sticks up for his team. In this case, he just stuck up for himself, where he won this fight against Florida's left-winger.
This was a hell of a fight, where Strome was willing to eat punches in order to land punches. And at the end of it, he dropped Marchment down. (If I was judging this as if it were a UFC fight, I'd give Strome a 10-9 round decision!)
Once in the penalty box, Strome jaw-jacked Marchment. We then saw Strome icing his bloody knuckles and reddening left cheek – all with a smile on his face. Two words – "HOCKEY PLAYER."
Two more words? "RE-SIGN STROME!"
After the fight, Ekblad had a chance for a blast, but his stick broke.
In a game that was now a dog-fight, and very entertaining at that (my favorite type of a hockey game) – the Rangers remained strong, where Knight was forced to stop Goodrow, McKegg and Reaves.
With 10:24 remaining in regulation, there was Jacob Trouba, never shy of getting dirty himself, winning a puck battle in order to give his team possession of the rubber.
The Rangers, who blocked fourteen shots in all tonight, really came up for their goalie in this period, where they blocked a bunch of shots.
Then, with 8:30 remaining, Igor gave up a juicy rebound, but all five Rangers on the ice quickly swarmed the puck, and if this was "social distancing" – wouldn't let the Panthers come within six feet of the puck.
As this game rivaled a playoff contest, with 6:18 to go, Marchment returned to the box, this time for high-sticking Mika.
A minute later, Zibanejad, from the boards on the same side as the penalty box, made a perfect pass, to Chris Kreider, who was all alone in the paint. BANG.
4-2, GOOD GUYS. A two-goal lead for the Rangers – and a lead that was never in jeopardy, unlike the last three consecutive games played.
As Igor continued to make denials, Knight went to the bench. After surviving over a minute of the Panthers empty net attack, with 1:37 to go, Barkov tripped Mika. Game over!
It should be mentioned Part I: that Mika drew three penalties tonight. The Rangers scored two PPG's off of them, including with 41 seconds left on the clock, as Panarin put a puck into Florida's empty net. 5-2 GOOD GUYS!
It should be mentioned Part II: that Kreider could've easily had the empty net goal himself, which would've given him a hat trick. Instead, he let Panarin score the goal. Team leader, great chemistry, and it's something like this that won't be lost on the rest of the team.
It should be mentioned Part III: up 4-2, and with the Panthers net empty while on their own PK; I didn't know what to root for – a Kreider hat-trick, a Strome Gordie Howe hat-trick or CZAR IGOR's first ever career goal. I'm just glad I didn't bet on either of these scenarios, as it was Panarin who put the Cats to sleep.
5-2, GOOD GUYS, your final – in not only a statement win, but in the most entertaining game of the season. Enjoy the break!
---
With the win, instead of having to listen to these horrible young reporters & social media users whine about five-vs-five and analytical stats; us fans, the fans who understand what it takes to win games – we can enjoy these next two weeks.
Had the Rangers lost this game, it would've been two weeks of "doom and gloom." And while that may happen anyway – with this big win, it would be my advice to ignore such nonsense!
As I've been saying ever since Chris Drury was hired – this team will not only make the playoffs – they'll make noise too. Tonight's victory strengthens my belief in my own prediction!
I fully expect Drury to bolster his troops by the deadline.
The Stanley Cup playoffs, the most unpredictable in all of sports, and a sixteen-team field that's always wide-open, should only inspire the Rangers. They have as good of a chance as any.
Currently, the Rangers have the best goalie in the league. They have the best defenseman in the league. They have a Chris Kreider, who is enjoying the best season of his career. They have their best fourth line since the AV peak years. They have one of the best coaches in the league too. And if Mika and Panarin could have a showing of the ages – watch out.
PLUGS time!
---
I haven't listened to it yet, but following the game, "2 Guys 1 Cup" returned with a post-game episode. To listen to it, click this link: https://linktr.ee/2G1CRangers
And while I haven't listened to it yet, co-hosts Shawn & Roc are always entertaining and informative.
While on NYR podcasts, on Wednesday night, "The Blueshirt Underground Show" returns, live on YouTube. Search for the show at 7PM on 2/2/22.
On Thursday night, 2/3/22, friend of the site, Ricky Otazu, debuts his newest podcast. To listen to the show, check out: https://www.sportstalknyradio.com/ and/or follow @RickyOtazu16 on Twitter. I think I will be a guest on it soon enough.
Of course, the podcast everyone will want to hear on Thursday, will be "Up in The Blue Seats," and whatever Ron Duguay's response is to a week's worth of mainstream talk about his relationship with Sarah Palin. I haven't talked to Duguay about it, but you have to figure he has to at least mention what's going on during the program.
---
The hardcover version of my book, available now at Amazon.com
The first plug of tonight's blog – the mandatory plug for my new book, "The New York Rangers Rink of Honor and the Rafters of Madison Square Garden".
As mentioned previously, the book is now available in hardcover, in paperback and in Kindle formats. To purchase a copy of the book, visit this link:
https://www.amazon.com/Rangers-Rafters-Madison-Square-Garden-ebook/dp/B09CM5N2WD
For those still looking for signed paperback versions of the book, I have re-ordered more copies. I now have 2 signed copies for sale at $25 a pop (includes shipping price) through me directly. Here is all the information on that:
---
Here are my last few blogs, in case you missed them:
---
---
---
If you haven't already, subscribe to this blog for the next update:
---
Up next: a two week break for the Rangers and an All-Star Game on February 5th.
I will definitely return during these next two weeks, even if the updates may be short.
One blog idea that I have (although I'm not sure if anyone besides me and a few others would really care), would be M$GN's television ratings and in regards to the Rangers. There's a lot of interesting things that you may not be aware of. (Somewhat a spoiler: despite gambling advertisers trying to reach an impressionable 18-36 demo, M$GN draws a much older crowd.) Let me know if this interests you.
That said, the bulk of my free time will be spent working on books #2 and #3.
(And again – I must thank everyone for purchasing book #1. As you can tell from all of the road-trips I've taken this season, book sales have financially supported all six of the road games that I attended. Those sales also paid for never-ending rising costs to keep this site active too. I thank you all. Plus, I rather sell books than ever put an ad and/or spyware on this site!)
As of now, I'm about 85% done with the rough draft. And just like the first book, this book, "The Best and Worst Trades in New York Rangers History (And Everything In-Between)" (working title), will be one of a kind.
Right now, the project is up to 800+ pages, and I haven't even got into the Sather era yet, as the book dissects every trade that the Rangers ever made, each era, what these players did at the time, why the trade was made, what the players & team did after, and everything else that you could conjure up.
And poor Diane Eck, my amazing editor who will have to edit this monstrous project in the near-future!
(And with this project looking like it will be over 1,000 pages – I will be releasing volumes to make these texts easier to read. However, I'll also offer the 78686696679678678 pound edition of the book, with every volume combined in one book – exclusive for people who dare risk throwing their back out when carrying this book around!)
In other words, this book isn't just a list of trades – it's completely detailed and goes into extreme depths, when discussing every trade ever made. With over 600+ trades in franchise history, obviously, this is a huge project. (And one that I have thrown my hands up over a few times! I think I've already put 200+ hours into this book as is, and I have many more to go!)
(And damn that Phil Esposito, who has given me carpal tunnel syndrome!)
Enjoy the win and the two weeks off!
And support the podcasts that I plugged earlier. They all work hard and come from a right place.
As always here, thanks for reading and…
LET'S GO RANGERS!
Sean McCaffrey
BULLSMC@aol.com
@NYCTHEMIC on Tweeter