Greetings and salutations everyone and welcome to another blog here on BlueCollarBlueShirts.com. Here's a first for this site – a blog where both Bruce Jenner and Sarah Palin receive coverage.
(Quick note to start. Last night, I posted my "New York Rangers Mid-Season Report Card." You can read that blog here: https://bluecollarblueshirts.com/22ms/. As many of you have pointed out, there was a typo in that blog regarding Ryan Lindgren's grade. It has since been corrected, as Lindgren's grade is a B+, rather than the D- that was originally listed. Pardon me Joe!)

On Thursday night in Columbus (where Ranger fans were subjected to five cannonballs), the heavily-favored Rangers laid an egg, where they lost to the struggling Blue Jackets by a final score of 5-3.
Despite racing out to a quick 2-0 lead; the Rangers soon took their foot off of the gas a bit, in an eventual loss that felt like something straight out of the David Quinn era.
As both Sam Rosen and Joe Micheletti mentioned about 786789686896789678967896986786789 times tonight on the broadcast; the Blue Jackets were massacred the night before, where they dropped a 6-0 decision (and gave up an unheard of 62 shots on goal in the process) to the Calgary Flames.
Rather than adding to their divisional opponent's misery; the Rangers let the Blue Jackets off of the hook, where the Blueshirts allowed the lowly CBJ to rebound after a horrific affair just 24 hours prior.
Some Ranger fans may look at this loss as a "trap game." They may also mention that the team could have been focused on Friday's night game, when the franchise honors Henrik Lundqvist. In my opinion, I don't think any of these scenarios are the case at all. To me, the Rangers just blew it. (And is any game truly a "trap game" when you're up 2-0 right away?)
Plus, aside from Chris Kreider and Mika Zibanejad (and to a lesser extent, Alexandar Georgiev, a player who won't be on the ice on Friday) – who else, of all current players on this roster, has a relationship with Henrik Lundqvist?
Every team in the NHL is due for a stinker, and despite a third period where the Rangers put twenty shots on goal – they could just never find the equalizer. (Columbus' fifth goal was an empty net goal.)
That said, the Rangers found a bad time to crap the bed, because as a result of all games played on Thursday night, the standings now read as:
This was a bad loss, considering the quality of competition.
This was also really the first time this season, where the Rangers just looked out of it during a game against an inferior team, and against a team that has no shot at the playoffs this season. Of course, it should also be mentioned that the Rangers hit three posts in this game (two from Goodrow, one from Trouba).
In addition, struggling goaltender Joonas Korpisalo had a full-sized horseshoe up his five-hole, especially when he absolutely robbed Julien Gauthier, on what would've been a game-tying goal during a Rangers power-play, late into the third period.
For a team full of adages, cliches and mantras this season, here's one more – "Shit Happens."
No team goes 82-0 during an NHL season, so one loss doesn't bother me – even if this defeat was most certainly disappointing.
Going into this game, I thought that the Rangers would easily handle business, but here's one more adage for you – "that's why they play the games on the ice."
And perhaps had CZAR IGOR played (more on that below), maybe he makes that one extra save that would've given the Rangers an extra two points in the standings. We'll never know.
However, if Gallant went with CZAR IGOR tonight, and then started Georgiev on "Lundqvist Night" – you know that many Ranger fans would be crying, even more so than usual – especially the ones who paid four figures to attend Friday night's contest.
Tomorrow (or tonight, by the time you read this) is a big night for the Rangers. Pregame coverage of Lundqvist night starts at 5:30PM – or in other words, two-and-a-half hours before puck drop. (And with fans in the building extremely early – I'm sure that M$G will set an all-time high in beer and concession sales too.)
However, before getting into the anticipated game review segment, there is a TON of news to talk about, both Lundqvist-related and non-Lundqvist related as well.
Let's roll.
---
Before getting into the news regarding the present Rangers, we have some news about the alumni – and no, I'm not talking about Henrik Lundqvist right now (at least not yet), as the Rangers former franchise goaltender has seemingly done about 7896789678896788 different media interviews during the past 72 hours, including an appearance on the "The Tonight Show Starring Jimmy Fallon."
The big news of the day is centered around Ron Duguay, the former Rangers Lothario that used to take up a ton of space in the New York Post's "Page Six" column. Ironically, and some forty-odd years later – Duguay currently works for the Post today, as a podcaster of the Rangers-centric "Up in the Blue Seats."
During past episodes of "Up in the Blue Seats," Duguay has shared tales from his playboy days on Broadway, where he's talked about his past relationships with Cher and Farrah Fawcett. (The recaps of these stories can be found in the archives of this site.)
However, while giving both fans and gossip-hounds some nuggets, he's never really shared every detail either. It's why I've always said on this site that I'd love to see him write a book one day.
(Prior to his passing, I always hoped that both Rod Gilbert, and Ron Duguay as well, would write tell-all books. When it comes to "Mr. Ranger" himself, I always wanted to see him rebuke and talk about the negative comments his peers, like Phil Esposito and others, had said about him in their own books and/or interviews.)
Just prior to Christmas, on "Up in the Blue Seats," Duguay, who does the podcast with Post reporter Mollie Walker; the former Ranger mentioned that he was planning on meeting his co-host for the first time face-to-face, prior to a Rangers game with the Tampa Bay Lightning. Duguay also mentioned, that aside from Walker, he was looking forward to catching up with old friend Phil Esposito.
On the following episode of "Up in the Blue Seats," it was told that Duguay had blown off his trip to Tampa, as rather than making a short drive to the city from his Sunshine State home, instead, he took an impromptu flight to Alaska. It was then brought up by the show's producer, Jake Brown, that Duguay had a lady friend in Alaska. Duguay teased that he'd mention her name on the episode that followed, but that never happened.
On Wednesday night, January 26th, we officially found out who Duguay's mystery woman from Alaska was.
After being spotted on January 13th in Tampa, Florida, as Duguay and his gal-pal, were seen in the Lightning press box at the time, and as first reported by radio show host Jay Recher; the two were then spotted again together on Wednesday night at an Italian restaurant in New York City. Duguay's squeeze? Former U.S. Vice-President candidate Sarah Palin:
I don't want to get into the political aspects of this story. If you want the political slant to this story, just Google "Ron Duguay + Sarah Palin." That said, the main bugaboo of this story was that Sarah Palin had recently tested positive for COVID-19, and was out dining with Duguay, where the couple were also spotted at other NYC locations.
Not mentioned in any of these (negative) stories, was if Palin had since tested negative, as the media jumped on this story (which was then spun to serve whatever political agenda that media outlet had) like a dog on a bone.
It should be mentioned that the former governor of Alaska has always talked fondly about hockey in the past. While we don't know how the two met, which has to be a story into itself – Duguay had recently appeared at several charity/fund-raising events in his native country of Canada.
Funny enough, as Ron Duguay's name once again returned to the gossip sites, just as his name appeared in these gossip columns some forty years back; Duguay and company released a new episode of "Up in the Blue Seats" on Thursday morning, which you can listen to here:
New Up In The Blue Seats podcast drops tomorrow morning feat. Mike Rupp @Rupper17, @NYP_Brooksie & replaying my interview with @NYRangers legend @HLundqvist leading up to Henrik Lundqvist Night @TheGarden on Friday 🏒

Come join us @RonDuguay10 @MollieeWalkerr @AndrewHarts 🔥 pic.twitter.com/piLMHG8zPk

— Jake Brown (@JakeBrownRadio) January 27, 2022
---
The newest episode of the podcast was recorded prior to Duguay's name making headlines.
It should also be mentioned that while Duguay had previously teased talking about his female friend from Alaska, all of that talk was soon dropped and never spoken about again. I'm sure next week's episode will feature some talk about Duguay and Palin's relationship, since the cat is now out of the bag.
It should also be interesting to see if Sarah Palin shows up tomorrow night, at M$G, during "Lundqvist Night."
Speaking of #30, he's been making the rounds himself, although without a former VP candidate by his side.
---
As mentioned, and as you'd imagine, Henrik Lundqvist is the talk of the town right now, where the Swede has done about 789678686896 interviews and appearances. These blogs, which already go on long enough already, would be ten million words tonight if I recapped all of these interviews/appearances. Instead, I'll just hit the highlights.
Up first is something that the Rangers put out themselves, as celebrities, athletes, and kids impacted by their meetings with Lundqvist, all spoke out about #30:
Last Friday, Henrik thought he was sitting down for a preshow rehearsal with Vally. Instead, what he got was a tribute to the innumerable lives he has touched throughout his 15 seasons as a #NYR.

Here's to you Henrik. Congratulations. #30Forever | @budlight pic.twitter.com/SFIuX7iNSc

— New York Rangers (@NYRangers) January 27, 2022
---
I thought this was a nice little video, where the only thing I noticed was that Justin Tuck wasn't a part of it.
If you don't know, Justin Tuck, the former New York Giant, is a "giant" Rangers fan. Of any NFLer, and really, of any non-NHL athlete (except for maybe tennis legend John McEnroe), it's the former #91 in Giants blue who has seen Lundqvist play the most. Maybe the Rangers have something else planned with Tuck, and where I wouldn't be shocked to see Tuck at M$G on Friday night either.
Larry Brooks, king of the Rangers beat reporters, had an exclusive interview with the man he dubbed as "The King" so many years back. To read it, check out: https://nypost.com/2022/01/27/henrik-lundqvist-reflects-on-his-rangers-rise-to-greatness/
During the interview, it was mentioned that John Tortorella would be in the building, as I am to assume that Torts and Lundqvist have since repaired what once was a fractured relationship. That's good to hear. Statistically, Lundqvist had the best seasons of his career under Torts, including his Vezina win.
Outside of Mats Zuccarello and Cam Talbot, who we already knew would be in the building on Friday night; it was also confirmed that both Ryan Callahan and Dan Girardi would be there. It should be interesting to see who else shows up, where I think Jaromir Jagr would be the "biggest get." And if #68 doesn't show up, I'm sure he'll send in a video instead.
Another name to keep an eye-out for would be Sean Avery.
Avery and Lundqvist became fast-friends on Broadway, but according to the controversial forward, the relationship between the two hasn't been as hot as it used to be.
Avery and Lundqvist, who were also business partners (the two invested in bars/restaurants), also ran hot-and-cold with John Tortorella too. In other words, if Avery is there, I hope someone has a camera to capture the Torts/Avery interaction, especially since Avery has been very critical about his former head coach over the years.
And this all goes back to Larry Brooks too in a way, as everyone knows about the relationship that Brooks and Tortorella had/have. For as stormy as the relationship between Brooks and Tortorella was/is, the opposite is true about Brooks and Avery, where over the years, it was made apparent that Avery once was one of Brooks' biggest sources.
Over the years on this site, I received a lot of negative comments about my opinions regarding Lundqvist's demeanor on-ice, where I often felt like Lundqvist was never shy to throw a teammate under the bus. In his interview with Brooks, Lundqvist talked about these interactions: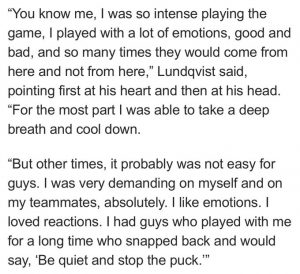 At least you now know that my thoughts were accurate!
If anything, I just wish that Brooks had asked a follow-up question, "would Derek Stepan be one of those guys who snapped back at you?"
Lundqvist night tomorrow will be huge, as the Rangers are going all-out for this, as this will be the most profitable game of the season. Surprisingly, after asking for outrageous amounts of money for this night, the game isn't sold out – at least not yet.
Following a hysteria where the "get in" (lowest) price to enter the building started at over $650; tickets can now be had for $250. With rumors of a snowstorm this Friday night, and with many tickets still available on the resale market, I'd expect ticket prices to continue their descent.
(Of note: I always think these nights are better on TV anyway, because you can see everything. Half of M$G is obstructed, so many fans who paid these astronomical prices will see the back of Lundqvist's head and won't even see his jersey in the rafters either.)
That's the alumni news. Let's talk about the present Rangers.
---
On Wednesday, Gallant spoke to the NYR media. You can watch his near nine-minute interview here:
---
During the presser, Gallant mentioned that Chytil still remained day-to-day, and that Patrik Nemeth was still out with a "personal issue."
"The Turk" also praised many of his players, including Chris Kreider, Mika Zibanejad, Braden Schneider, Libor Hajek, and Julien Gauthier; with the latter having been promoted to the Rangers top line.
Gallant also spoke about the struggling Alexis Lafreniere, where he said the following about #13's ice time:
"If it was 2-3 minutes I would [be concerned], but when it's 8-10 [minutes], 11-13 [minutes], no.

I wouldn't want to play a kid for 2-3 minutes in a game, that isn't right, there is no development there – but 8-12-15 minutes, that is a big part of the game, an important part of the game.

It's not your top-end players playing that, but the third and fourth line, sometimes, that is the way the game goes and how it ends up. It's not because we are disappointed in their play. When you are playing your top guys 20-21 minutes certain nights, it happens."
On Gauthier's try-out with Mika and Kreider, Gallant said:
"He's getting a chance to play with some guys because some guys are hurt. It opens the door for him. Same with Libor, when Libor didn't play a bunch of games, it opens a door for him and gives him an opportunity. They are young players, take it and run with it – and make the coaches look bad – that is what we want."
---
On Thursday morning, now in Columbus, the Rangers announced the transactions listed above. These were pretty much "road-game" dealings, as the Rangers, like any other NHL team, have been advised to carry extra players whenever on the road. We'll see if taxi-squads are halted following the All Star Game.
Gallant spoke again to the media prior to Thursday night's game, where he confirmed that Alexandar Georgiev would get the nod in Columbus, while CZAR IGOR would start on "Lundqvist Night."
"The Turk" also made mention of the drubbing that the Blue Jackets received on Wednesday night, when JD's team gave up 62 shots, in their 6-0 loss to the Calgary Flames.
As Gallant always does, he also preached "one game at a time," and said that he knew Columbus would be out for blood, following their embarrassing loss from the night prior. Unfortunately, that wound up being the result.
As far as anything else, Gallant said that Chytil didn't make the trip to the cannon city, but there was a chance that he could be available on Friday.
---
Here's what "The Turk" went with on Thursday night:
FIRST LINE: Kreider/Mika/Gauthier
SECOND LINE: Panarin/Strome/Goodrow
THIRD LINE: Lafreniere/Barron/Hunt
FOURTH LINE: McKegg/Rooney/Reaves
Defensively, we had this:
FIRST D-PAIR: Lindgren/Fox
SECOND D-PAIR: Miller/Trouba
THIRD D-PAIR:  Hajek/Schneider
And in net, Alexandar Georgiev.
(Of note, by the second period, Lafreniere and Gauthier were flip-flopped.)
---
BOX SCORE time.
The following information and graphics come from the new world-wide leader in NHL coverage, ESPN.com:
SCORING:
PENALTIES:
TEAM STATS:
GOALIES:
| | | | | | | | | | | |
| --- | --- | --- | --- | --- | --- | --- | --- | --- | --- | --- |
| SA | GA | SV | SV% | ESSV | PPSV | SHSV | SOSA | SOS | TOI | PIM |
| 36 | 3 | 33 | .917 | 29 | 0 | 4 | 0 | 0 | 60:00 | 0 |
| | | | | | | | | | | |
| --- | --- | --- | --- | --- | --- | --- | --- | --- | --- | --- |
| SA | GA | SV | SV% | ESSV | PPSV | SHSV | SOSA | SOS | TOI | PIM |
| 18 | 4 | 14 | .778 | 13 | 0 | 1 | 0 | 0 | 57:44 | 0 |
---
The M$GN broadcast, as it often is, was a shit-show on Thursday. If anyone had a "trap game," and was looking ahead to Lundqvist Night, it were these bozos.
To open the broadcast, Steve Valiquette cockily stated, "fans who were detractors of this team must now eat their words." Of course, Vagistat, and his impressionable legion of young fans ("Vally's Virgins"), are/were these people. After all, it's been the Clairol Chart King who has been whining about the Rangers analytical stats all season.
After plugging his fake news chart company; Vally then said that he was surprised that the Rangers defensemen were picking up a ton of points. Of course, Adam Fox leads the team in both assists and points. I had no clue what Vally was going for with that comment.
Vally, who has some sort of grudge against Georgiev (the legendary Hall of Fame goalie of 46 games would then bury Georgiev on this broadcast once again), started talking about the Bulgarian, without ever bringing up how Georgiev played a lot of the NHL's top teams, and played these teams when the Rangers were impacted by COVID the most.
Following his comments on Georgiev; Vagistat then made-up some numbers, and as usual, then presented his opinions as facts. Rather than saying "Mika Zibanejad has been hot ever since 11/30/21," Vagistat pulled out his "Good Will Hunting" chalkboard, just to tell us what our eyes have already told us.
And then, just prior to puck drop, Vally told us how he's been collecting old Lundqvist gear/equipment. You'd think he would have done so already, especially when he was carrying Hank's bags around. I wonder if Vally still has the pen-and-paper that he first used when collecting Lundqvist's daily coffee order?
---
Sam Rosen and Joe Micheletti, and has been the case as of late, sans one game in Philly; remained in the studio for this road-game. As mentioned 7867867867867896 times before, it hurts the quality of these broadcasts whenever the cackling Sam and Micheletti-head aren't in the arena.
Micheletti is at his best when he's inside of the arena, and when he can call out away-from-the-puck action. Rosen, who can barely see and hear anything these days, is at an extreme disadvantage whenever calling one of these games off of a monitor.
While Sam Rosen didn't flub any goal calls tonight (which is usually a common occurrence), he confused Boone Jenner as "Bruce Jenner" all night. This may have been better than Rosen confusing Brett Pesce for Joe Pesci and Nolan Patrick for Nolan Ryan, as the well-deserved Hall of Famer has done in the past.
At the very least, it made the broadcast entertaining, especially on a night where the Rangers didn't play at their best.
If there was anything that was just mind-boggling, as we've already have come to accept Rosen's regressions and name mix-ups; it was Rosen's obsession with Sean Kuraly. At one point, I thought Rosen was going to read off Kuraly's social security number and blood type.
And while I don't blame Micheletti for this, because I was thinking the same thing myself; but he talked about CBJ's loss to the Flames incessantly, including into the third period – and when the Rangers were trailing by two goals.
Between Bruce Jenner, the Flames and Sean Kuraly; at times, I forgot that these two were the Rangers hometown announcers.
Game review time.
---
There were three Rangers that particularly stood out tonight. Two of those players were from the Rangers second line, in Barclay Goodrow (one goal, two posts and a team-high six SOG) and Artemi Panarin (one goal and two assists.)
The third player was Braden Schneider, who not only picked up his first career assist tonight, but also picked up his second career assist as well.
For your consideration: in 25 games this season, Nils Lundkvist has one goal and three assists, and not a hint of physicality to him.
In seven games this season, Braden Schneider now has one goal and two assists, and most certainly brings the "kickass" to the ice as well.
We all know that the Rangers (Chris Drury) will be active, prior to the NHL trade deadline expiring. Whether it's Lundkvist, Jones or Miller, it's very easy to envision one of the three being dealt away for help. The ascension of Schneider, despite his limited sample size of games, makes any one of the three expendable.
---
As Joe Micheletti pulled out the shovel, and tossed dirt on the grave of Columbus, just 1:29 in, this happened:
12th goal of the year for @artemiypanarin

7 game point streak for Foxy📈 pic.twitter.com/K1CSv80OpR

— Rangers on MSG (@RangersMSGN) January 28, 2022
---
1-0, GOOD GUYS, and just like that.
On this goal, Adam Fox got the puck to "The Breadman," and number ten in Rangers white showed off his skills, wristed a puck with pure wizardry behind it, and right past Korpisalo. And after many recent crappy first periods, this was encouraging to see.
Just as encouraging, was at the 4:44 mark of the period, and just a tad shy of three minutes after Panarin's goal, when this happened:
a perfect redirection from Goody for the 2nd goal!

Branden Schneider's 1st career assist
Bread's 2nd point of the night pic.twitter.com/zZampQBiuZ

— Rangers on MSG (@RangersMSGN) January 28, 2022
---
2-0, GOOD GUYS!
Not even five minutes in, the Rangers had raced out to a 2-0 lead, as Braden Schneider fired a puck at Goodrow, and #21 was able to deflect it past Korpisalo off of his skate. (NOT A KICK!)
At this point, you felt the rout was on and that the Rangers came to do what they were supposed to do. That wouldn't be the case. In fact, the Rangers would only score one more goal in this game, and only after over forty minutes of game-time later.
Just a minute after Goodrow's goal, Gustav Nyquist blatantly kicked a puck into Georgiev's net, after some miscommunication from the Rangers defense. No matter – or so you thought, as the refs upheld this goal, despite an obvious kicking motion out of the CBJ centerman.
Just like goaltender interference, no one knows how these kicked-in goals will be ruled, as there is no consistency from NHL officials.
While it would be an excuse to say that this was the turning point of the game; especially since despite this bullshit goal being allowed, the score was still 2-1 and the Blue Jackets stink this season – this literal "kick" helped CBJ kick it up a notch.
Under a minute after Nyquist's "Pele" goal, Goodrow was boxed for tripping ex-Flyer Jakub Voracek. The Rangers elite penalty kill gave up one here, as Zach Werenski wristed a puck from the blue line, and at the last second, Bruce Boone Jenner deflected the puck past Georgiev. 2-2, and at the 7:28 mark of the period.
I don't know if CZAR IGOR would've stopped either one of these goals, contrary to popular opinion – a loud opinion at that, following the final result of this contest.
The first goal shouldn't have been allowed. The second one was a perfect power-play deflection/tip goal. However, to blow a 2-0 lead in just under three minutes – well needless to say, that was extremely frustrating to watch.
At the ten minute mark of the period, Gauthier made a good individual effort to get the puck into the zone, but following a Rangers turnover, the CBJ had an odd-man rush. However, and as they'd later do in the game – they got too giddy and jumped offside, which negated their scoring threat.
As the period progressed, Mika found Gauthier for a one-timer, but no dice.
With 5:21 to go, we got more bullshit, as Ryan Lindgren was erroneously boxed for holding Bjorkstrand. Of course, Lindgren was also tripped on this same play, but no call.
Georgiev, where I don't think it's fair to pin him for the first two goals allowed, did look especially jumpy and jerky during this penalty kill, and where he was pretty much erratic and overplaying pucks all night. It seemed like he was moving around too much, akin to George Costanza playing "Frogger" in NYC traffic.
After a shaky rebound afforded to Voracek, the Rangers got their kill.
Now back to five-vs-five, Hunt made some wacky ass pass, where it looked like he was trying to slap-shot a puck to a teammate from cross-ice. Turnover.
In a late CBJ scoring chance; Laine split the Ranger forwards, but Ryan Lindgren was there to deflect Laine's shot into the netting.
After one period, we remained tied at 2-2.
Following a strong first five minutes, the final fifteen minutes of this period were as turbulent as a Spirit Airline flight during a thunderstorm.
And despite the Rangers unraveling a bit, I never felt that they'd lose this game. I pretty much maintained this feeling all game – until CBJ scored their empty-netter.
For a Blueshirts team that has rebounded and overcome much adversity all season, it just didn't happen tonight.
---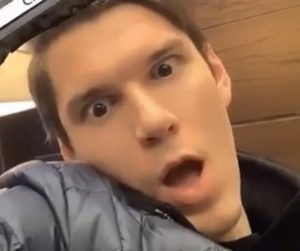 After Rosen flubbed Jenner's name a few times, he then asked his normal question that he asks at the start of any second period – "SECOND PERIOD. WHAT DO YOU LOOK FOR HERE JOE?"
For the first time in literally forever, I cracked up at Micheletti's response, when "Jumpin'" Joe replied with, "I don't know – maybe play better?"
At least Micheletti is honest! And heck, he wasn't wrong either!
As Micheletti assessed CBJ's defense as "soft," a word that every hockey player hates; Panarin skated by three CBJ players, put on the moves, and then shot a puck just wide. He did all of this untouched.
While Sam Rosen read Sean Kuraly's Wikipedia profile on-air; Georgiev and Korpisalo then exchanged saves.
In what may have been the turning point of a 2-2 game; Barclay Goodrow, after a perfect pass from Fox, rang one off of the iron. This woke up the crowd, as this meeting of rubber and iron sparked chants of "CBJ! CBJ! CBJ!"
The Rangers fourth line soon swarmed 'Salo, but the CBJ netminder held strong, where he then stopped Rooney with #17 in his paint.
After a defensive breakdown, where Miller drifted and Trouba was left to watch; with 13:42 to go, Rosen's favorite player, Sean Kuraly, tipped a puck past Georgiev while in the slot. 3-2 bad guys.
Again, was this Georgiev's fault? I don't think so. Does Igor make this save? I don't know either, but admittedly, I think he would've made a stop on at least one of these four CBJ goals – even if these goals weren't really on Georgiev either. (And shouldn't that be the case anyway? After all, Igor is a Vezina candidate. Georgiev is a back-up.)
Alexis Lafreniere, more noticeable than usual tonight (especially during the third period), tried to find Hunt for a backdoor goal, but Korpisalo broke up the pass at the last second, and with 9:40 to go in the period.
Schneider (3 SOG tonight), was stopped over a minute later.
Now under eight minutes to go, CBJ had a long attack in the Rangers d-zone. Adam Fox tried to clear the puck twice, but the end result was a turnover, and worse than that – a puck in the back of Georgiev's net.
Two things.
One – this was an uncharacteristic play out of Fox. No one is perfect. I'm over it. To harp on this would be ludicrous.
Two – again, was this Georgiev's fault? CBJ were all over him and a turnover from a foot away led to a goal.
4-2 bad guys.
And to think – this all started with a goal that was soccer'd in.
With 4:50 to go, Georgiev gave up a juicy rebound to Kris Jenner's ex-husband, but fortunately, CBJ wouldn't make this a three-goal lead.
With 3:21 to go (and I said this on Twitter at the time too), Georgiev made his first clean glove save of the game.
And to be clear, while I don't think you can 100% fault Georgiev for any of the goals allowed, at the same time, he was as jittery as a crack addict without a fix.
Under a minute to go, Goodrow hit the post again, after making a great play towards Korpisalo's net. The CBJ goalie definitely owes his post a steak dinner after this game.
4-2 bad guys after forty minutes. Helping CBJ here was the fact that they didn't put the Rangers on the power-play – yet.
---
The third period was the Rangers best, but it was another example of another adage – "too little, too late."
Despite twenty SOG, and one post from Trouba too – the Rangers only scored one goal in the period. It wasn't enough.
I should also mention here, that during this second intermission, Vally really ripped into Georgiev for throwing his arms in the air after a CBJ goal. To be fair, Vally did say that this could've been a solo act of frustration at himself, rather than Georgiev being mad at his teammates after a turnover.
(And some reporters have hinted that Georgiev doesn't get along with his teammates too, but none of that stuff has been confirmed or commented on.)
What also should be said here, is that Valiquette NEVER said this when Lundqvist used to do the same thing that Georgiev did on this night.
In fact, when I brought up Lundqvist doing this (and repeatedly at that); many years ago, Vally chastised me on Twitter for saying so. Fast-forward to today, and Vally had no problem bringing this up in regards to Georgiev doing this. Just sayin'.
Also just sayin'? I really did appreciate Lundqvist admitting these faults/flaws (no one is perfect) to Larry Brooks today. In addition, every goalie should be mad after giving up a goal. It's part of the game/human nature. Of course, if Georgiev (or any other goalie) is blaming their teammates for a goal allowed – it's bad optics.
At this point in the game, Jacob Trouba wasn't angry just yet. He soon went into "Incredible Hulk" Trouba mode during the final frame, where he was hitting any dark blue jersey in his sight, and also fired the puck repeatedly at Korpisalo.
However, this was all too little too late, and it's the same old song and dance – Gallant should slap Trouba in the mouth prior to every game, because the best version of Trouba is an irate Trouba. We saw that in this third period.
About a minute or so into the period, Fox was pinned to the boards by Chinakhov. I should be clear here, Chinakhov's hit/play was clean, and there was nothing dirty about it. However, Fox then left the game and never returned.
To fast-forward, following the game, Gallant assured everyone that Fox was okay, and then gave his usual spiel – "Fox is day-to-day." Whether or not Fox plays against Minnesota is undetermined.
Now down to five defensemen for the rest of the game, the Rangers went into "shooting-gallery mode," where they had so many chances to run away with this game.
At the 5:55 mark, Hunt drew Jake Beane for holding.
On the Rangers power-play, Panarin fed Mika for a one-timer from Ovi's Office. 4-3, bad guys, and with lots of time remaining, as there were still 12:48 left to play. Unfortunately, this would be the last Rangers tally of the game.
With 11:37 to go, the Rangers quickly found themselves back on the power-play, as once again Bean was sent to the box, this time for interfering with Rooney.
I should remind you that the power-play was without Fox, but Trouba did well when substituting on the PP1 unit, including his ding off of the post. However, this also meant that Gallant went with two defensemen on his PP2 unit, where both Miller and Schneider were featured.
In what was the best save of the game; towards the end of this man-advantage, Lafreniere made a perfect pass to a streaking-to-the-net Julien Gauthier, where #15 in Rangers white, and who entered the game with a poor 5.9% shooting percentage, only saw that number worsen after Korpisalo's robbery save.
Unlike many other chances that Gauthier gets – this failure to convert wasn't on him. Korpisalo just made the best save of his season.
With CBJ getting their kill, they then had a long attack in the Rangers zone (against the fourth line), but the Blueshirts survived.
With 6:12 to go, #79 tried to show us some "Miller Time," as the defenseman tried a coast-to-coast play, only to be stopped by Korpisalo. (Miller previously converted on a similar play this season.) A few seconds later, Korpisalo denied Goodrow during a stuff-in attempt.
After Korpisalo stopped Goodrow again, and following a crazy cross-ice turnover from Panarin (he's good for 2-3 of these a game these days), Schneider was denied.
With 2:30 to go, Gallant took a timeout. He also pulled Georgiev here, because the Rangers were firing on all cylinders and it felt like it was only a matter of time before they would get the tying goal, especially with an extra skater.
Just sixteen seconds into the Rangers 6×5 attack, Rosen's homie, Sean Kuraly, buried the long-range empty netter. 5-3 bad guys.
The Rangers would get another power-play late in this game, as Rooney drew Nyquist for an infraction. No matter, as Korpisalo would deny the Rangers PP1 unit, and the PP2 unit didn't even look at the net during the final thirty seconds of regulation.
5-3 CBJ, your final.
While rarely do you ever see an NHL team play a full sixty minute game; once again, the Rangers took a full period off and this time – it came back to bite them.
---
I don't have much else to say. Tough loss. Rebound tomorrow.
PLUGS time!
---
The hardcover version of my book, available now at Amazon.com
The first plug of tonight's blog – the mandatory plug for my new book, "The New York Rangers Rink of Honor and the Rafters of Madison Square Garden".
As mentioned previously, the book is now available in hardcover, in paperback and in Kindle formats. To purchase a copy of the book, visit this link:
https://www.amazon.com/Rangers-Rafters-Madison-Square-Garden-ebook/dp/B09CM5N2WD
For those still looking for signed paperback versions of the book, I have re-ordered more copies. I now have 2 signed copies for sale at $25 a pop (includes shipping price) through me directly. Here is all the information on that:
---
Here are my last few blogs, in case you missed them:
---
---
---
If you haven't already, subscribe to this blog for the next update:
---
Up next: the most profitable night in perhaps all of New York Rangers history.
As always here, thanks for reading and…
LET'S GO RANGERS!
Sean McCaffrey
BULLSMC@aol.com
@NYCTHEMIC on Tweeter